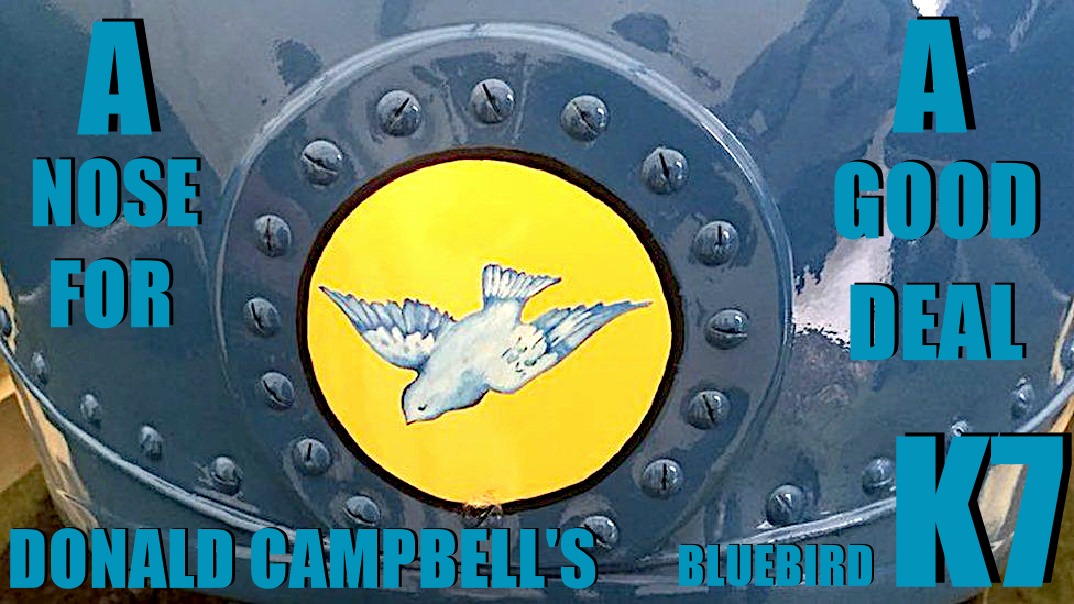 Raised in 2001, and lovingly restored, the K7 has been the subject of a long running legal dispute with the Ruskin Museum in Cumbria, and the Campbell family. Diver and engineer, Bill Smith, claims rights of ownership, since over 50% of the restored vessel is replacement parts. The Cumbrian museum is refusing to acknowledge the engineer's right to run and operate the K7, despite them not contributing to the restoration. Any way you look at it, the dispute between the BE1's designer/builder and Don Wales, bears striking parallels. The Campbell's tend to fall foul of contractual obligations, as soon as they are required to cough up for services rendered.
[LEFT] OCTOBER 2016 TALK & DINNER - The talk started with the early career of Sir Malcolm, then Donald Campbell, and finished with a look at Don's own records. The lecture started at 6.45 pm with refreshments from 6.15 pm and Dinner at 8.00pm. Lecture (including canapés and wine) were £15.00 per person. Don is the grandson of Sir Malcolm Campbell MBE and the nephew of Donald Campbell CBE, who between them broke over 20 World Land and Water Speed records in their various Bluebirds.
[RIGHT] The lovely Tonia Bern-Campbell seen here with Don Wales (DW) in July of 2014, both in attendance for the 50th Anniversary of Donald Campbell's truly legendary world land speed record in 1964. The 50th anniversary of the water speed record is the 31st of December 1964 - giving DC the double. Needless to say, such an achievement is unlikely to be equaled by any person in the WSR/LSR arena - and that includes any surviving member of the Campbell family. It would be fair to say that DW has been trying for around 18 years to attain the world land speed record for electric vehicles - unsuccessfully - leaving the record safe in US hands, with the Buckeye Bullet and Ohio State University.
Donald Campbell would not have stood still for that. He was remarkably patriotic. In the same 17 years Richard Noble and Andy Green have raised the world land speed record significantly (to 763mph) and are looking to top 1,000 mph with Bloodhound in the next few years. That takes care of the land speed record, but in the same 17 years Nigel MacKnight has been unable to raise the world water speed record with Quicksilver. All of this points to how utterly determined Donald Campbell must have been, making a nonsense of Sir Malcolm doing his best to stop him - having brought him up surrounded by high speed machinery. The old saying: 'They don't make them like they used to,' springs to mind. Thankfully, there will always be another generation of hopefuls. Sadly, Tonia passed away on 14th June of 2021, at her home in Palm Springs, California.
DON'S VEHICLE TIMELINE: 1991
Born on the 23rd of September 1960, Donald Charles Wales entered into the land speed record arena after 1991 at the age of 31, having agreed to drive an electric car called Bluebird 9 Electric (BE1) for the conceptual design engineer Nelson Kruschandl. Prior to that his only racing experience was in go-carts - not that that seems to matter with LSRs. He was thus a late starter compared to Nick Ponting, Craig Breedlove, or indeed, his own son Joe.
Nelson's project was designed to highlight the lack of infrastructure for Electric Vehicles in the UK and all over the world. Back in 1991 the conceptual designer was thirty to forty years ahead of his time with his cartridge exchange system, where only now in 2018 is there a cold shiver running down the backs of politicians as to the Climate Change Act 2008 and the new law that petrol and diesel vehicle sales in the UK must cease by 2040. It is only now dawning on Theresa May, Michael Gove and the rest of her Cabinet, the scale of the problem they are facing, where the Dti has been blocking funding to infrastructure projects with potential, in favour of a mythical hydrogen economy for over 20 years. A hydrogen economy - may come to pass - but not in our lifetime.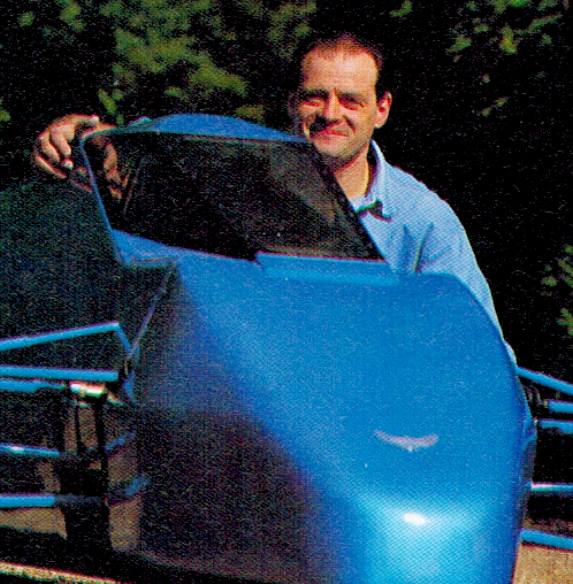 The inventor who, it appears, persuaded Don Wales to enter the LSR arena, Nelson Kruschandl, happily promoting the Bluebird Electric 1 (BE1) and of course Don Wales in 1993, as seen in this picture from Autocar & Motor magazine August 25th edition 1993. This car was conceived, designed, built and paid for, by the inventor. Nelson was frequently mistaken for a member of the Campbell family. Not unsurprisingly, since he is part Scottish but from the Hunter rather than the Campbell Clan. Don't let his name fool you, his family were colonials at one time. We don't think that the Clan rivalries of old played a part in the team splitting up in 1997, because Don did not know of the connection at the time. No doubt someone will clarify if that is not so.
Nelson seems to have been a trigger, converting Donald to magnetic, rather than combustion propulsion. Donald met Nelson at the Bexhill 100 event in East Sussex where Nelson was giving demonstrations along the seafront in his hand built prototype 2.8 litre fuel injected V6 petrol engined, joystick controlled car. It is probable that the performance of the aluminium bodied joystick test bed, called "The Borzoi" (after the famous Russian hunting dogs), had more than a little to do with Don deciding that Nelson could build fast cars, because it was quick, with a 0-60 time of 3.9 seconds and a top speed of 170mph. In addition to the demonstration runs that Nelson was giving [no Youtube yet], he also had a live patent application for the "joystick" control system: GB2218187, finally granted in June of 1992. Imagine that, a car with no steering wheel or foot controls that was this rapid. It took several months communicating for Kruschandl to get Wales to join his project.
Nelson had been working on Sir Malcolm Campbell's K3, at the Filching Manor Motor Museum, at the time owned by Paul Foulkes-Halbard. The then curator of this museum near Polegate in East Sussex was Steve Holter, who was researching a book that he was writing on the Campbell family (Leap Into Legend), and so learned of Donald Wales and his mother Jean Wales (née Campbell), from Leo Villa - or that may have been the other way round since Leo died in 1979.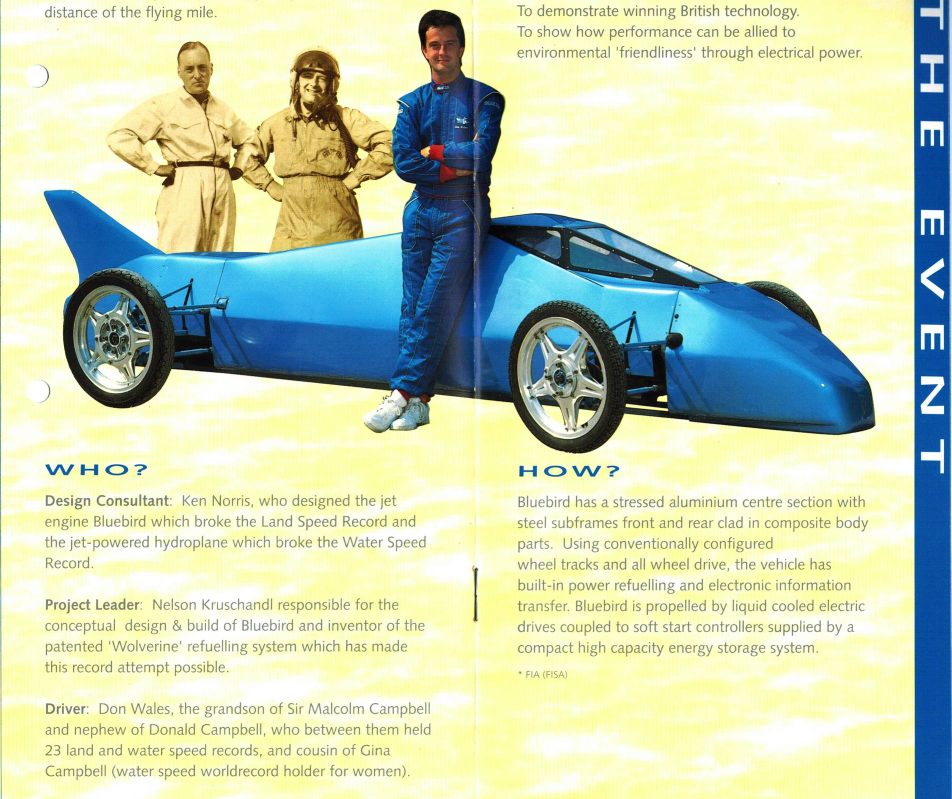 This is the centre page of a brochure produced to attract sponsors to the BE1 project for 1995/6. Don is seen here centrefold, modeling against the Bluebird Electric 1. The patented cartridge exchange refueling system is cited as the key technology for the attempt. Not a bad looking car and as it turned out, quite fast - more than capable of taking the 175mph record at the time (at Bonneville). This car achieved 160mph unofficially on a section of closed road with 80kW (107hp) motors - the short length of useable road being a limiting factor. She was designed to use 160kW (214 hp) motors for the WLSR attempt - all wheel drive. The BE1 chassis was so light that it could be lifted above the head with one hand. The cartridge refueling system further reduced the mass of the vehicle between runs.
By October of 1995 Kitcars International had picked up on the story, publishing the article above. You can see that this is the same photograph used in the brochure above. It was taken in front of Filching Manor, near Polegate in Sussex with kind permission of Paul Foulkes-Halbard - a great friend of Nelson's now departed.
Anticipating the impending attempt by Lighting Rod the Bluebird Electric car had to be upgraded as the land speed record was sure to rise above 200 mph soon - and that is exactly what happened - Lightning Rod snatched 215 mph in October 1997. Don Wales is pictured in this edition of Auto Express beside the BE2 (top) and the BE1 (lower). The top picture is seen below in expanded form. LSR teams need to keep one eye on the competition, and even predict the moves of other teams, if they want to stand any chance of staying in front as the team to beat. The BE2 is thought to be one of the most beautiful land speed record cars ever. It is soon to be part of a permanent display as a tribute to automotive art.
Some years after meeting and after quite a bit of PR had been generated by Kruschandl and his cars, he and Donald (Don) formed a company together called Bluebird Electric Limited, which company was set up by Alex Spofforth (Spofforths) to accept funds for Nelson's LSR project vehicles from sponsor companies. This was under the terms of a License Agreement (long since terminated) to their company to use his revolutionary EV refueling system and car designs (then the subject of a 2nd patent application GB2253379).
Thus Don became an advocate for electric vehicles and since meeting Kruschandl (who is now a consultant on sustainable EV infrastructure) Don has banged the EV drum loud and clear - and continues to do so today in diminishing capacity as his name as a brand in LSR circles fades to obscurity. Despite the obvious shelf-life issue, Nelson is quoted as saying that he is "...proud to have converted this relation of the Campbell clan to clean electricity," after all those years of his ancestors polluting the atmosphere.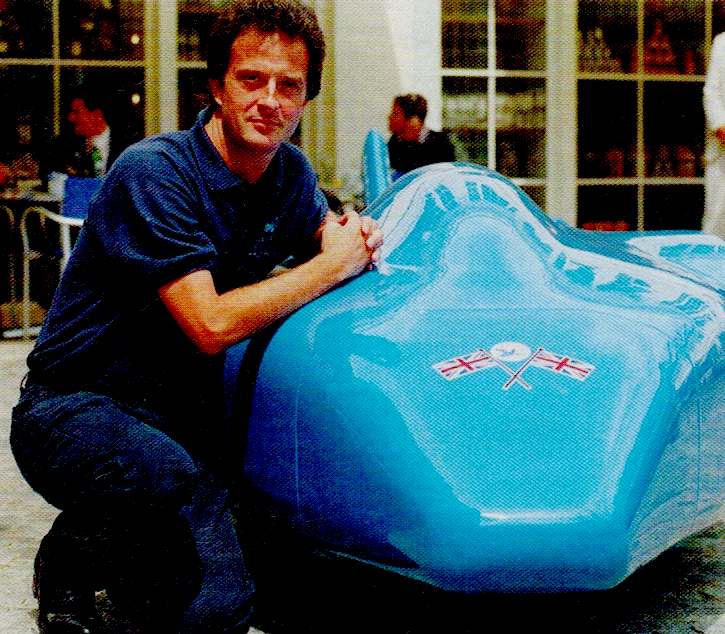 STUNNER - This beautiful electric car was designed and built by Kruschandl in 1997. It featured his patented battery cartridge exchange system using four of the pneumatic servos that were tried and tested in the BE1 above. It is painted a proper bluebird blue which proved to be troublesome with insects taking a shine to the color, an amusing phenomenon still unexplained. The car held the potential to raise the LSR well above 300 mph before Ohio State University even got a look in with their Buckeye Bullet - as per a presentation that Kruschandl and Neil Carr-Jones gave to a board of directors for one of Sir Terence Conran's companies in old London town, when the inventor was still backing Don. The car above was built at workshops in what is now Herstmonceux Museum, an early electricity generating station that is on a monument protection programme with English Heritage.
The move by Don to a hasty conversion based on a formula ford without means of replacing the batteries (see below) proved to be a backward step for his racing aspirations that, in our opinion, failed to reward sponsors with the acclaim in World Land Speed Record terms that Bluebird Electric Ltd had promised its backers. At the time Don was the sole director making all the decisions. The change in direction is bound to have unsettled prospective sponsors, where the BE2 technology was billed as being superior in brochures, introducing confusion as to what must have appeared an illogical decision on Don's part, filled with the potential for problems, where confidence in any proposal is paramount concerning sponsorship and associated agreements. Sponsorship is a form of advertising that offers better value in terms of PR than might be purchased with regular advertising.
STAR CAR - What a beauty!! If the above BE2 car had been run at Pendine Sands, the calculations showed that it would have been sure to top 200 mph. The car was to have been fitted with DC motor multiples of either 160kW (214 hp) or 320kW (429 hp), belt driven to all four wheels, as per the recommendations of Ken Norris, the power upgrade only being dependent on sponsorship levels. Kruschandl had advised that 214 hp would be sufficient to obtain a decent result in the UK and that 400+ hp would be needed for Bonneville, but that the car was easy to upgrade with simple bolt-ons.
The BE2 was of course much lighter than its contemporaries (or the Sheffield Formula Ford car that Bluebird Electric Ltd produced) by virtue of the cartridge based instant recharging system, meaning that the BE2 could do three runs with no weight penalty. See the chassis of this car below. The BE2 only needed to carry the energy for one run at a time, not enough energy for two or three runs at the same time. No other electric racing car in 1997/98 had such a feature. The BE3 is thought to be the only car at present that does, with the necessary permissions of BMS. Oddly enough, Don and his son Joe, continued to run electric cars - without battery exchange - right into 2011, even staying with outdated Nickel Cadmium battery technology. That's like entering a front engined car in a modern mid-engined Formula 1 race: bound to fail.
We find it rather surprising that having at first embraced the technology of the future in terms of EV infrastructures and the National Grid, that both Don and Jo Wales appear not to have realised what harm they may have done to the migration to low carbon transport, by abandoning the concept that got them into electric racing.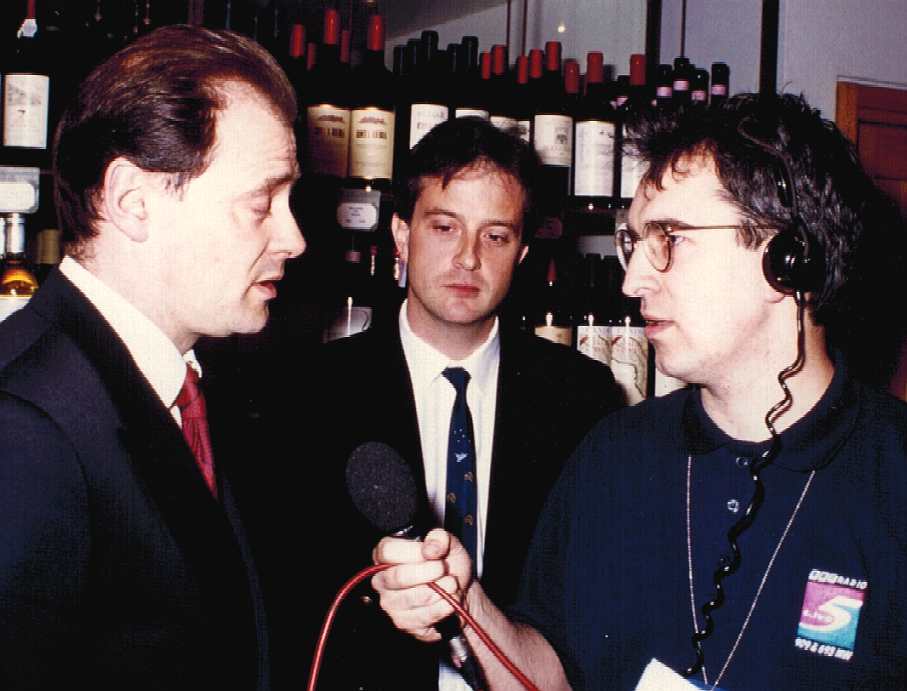 DESIGN GENIUS - Nelson Kruschandl being interviewed by the BBC with Don Wales ready to say his piece in 1996/7 at or near the Bluebird Store, London. NOTE: Mr Wales is not associated with current projects supported by Max Energy or Bluebird Marine Systems.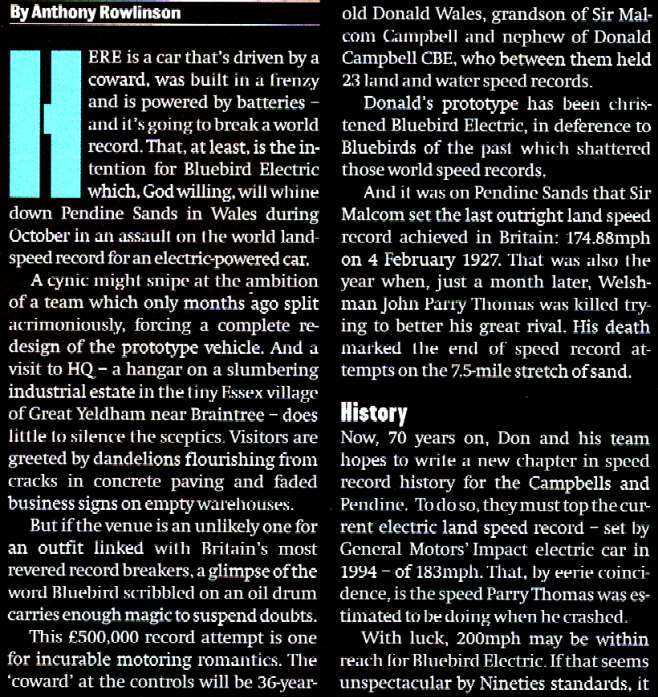 The above article written by Anthony Rowlinson, is an extract of that accompanying the picture of the Bluebird Electric 2 (BE2) above. In this article Don, rather strangely, admits to being a coward. We take this to mean that he needs to be sure of his safety? We understand that the forward driving position of the BE2 was something that Wales had mentioned (it is alleged) as causing him problems, even though there was a safety cage that detached from the main frame in the event of an accident. Craig Breedlove's Spirit of America Sonic had a forward driving position as did the CN7, and that did not bother him. Donald Campbell or Steve Fossett.
It is a matter of fact that the car produced independently by Don in 1997 (seen above at the Bluebird Store in London), with a central seating position, failed to get anywhere near (around 116mph) the 200 mph he was aiming for. This must have been very disappointing for his backers and an object lesson to anyone entering the LSR arena. There are designers and then there are designers. A designer worth his salt is up to speed with current technology, hence can design many years ahead. Make sure you get your sums right. Calculate and make performance graphs to back up any theory.
The Humberstone/Sheffield car was already outdated before it was converted. Don't just slam some batteries into a converted racing frame (in this case a Formula-Ford) and hope for the best. The car above was converted by Chris Humberstone and used motors from Sheffield University. You can see this display (rather embarrassingly in our opinion) on display at the Lakeland Motor Museum, Old Blue Mill, Backbarrow, Ulverston, Cumbria LA12 8TA. Formerly it was on display at Brooklands Museum in Surrey.
The designer of the Bluebird-Electric 1 and 2, had provided a performance graph to Don for the Humberstone/Sheffield car after Wales had suggested he would not need cartridge exchange to take the world record. This graph showed that a record speed was highly unlikely, but Wales ignored the calculations, in throwing all his toys out of his pram. The graph provided showed that the car with 'Sheffield' motors would not have sufficient energy for high speeds in two directions. And that is exactly what happened. The 'Sheffield' car ran out of power after the first run and had to be towed back to the start line. It must have been a steep learning curve for Don, just to put on a show. It goes without saying; at his sponsors expense. God did not come into it. It was the new project manager's responsibility, once the original team had split.
1997
Since 1997, Don Wales has driven a number of vehicles for other companies and land speed record teams, as a sort of freelance jockey. In duality, he also maintains his own project goals, aiming at the outright record for wheel driven electric cars. At this stage we wonder what stopped him from continuing with a CMN-8 Mach 1.1 type of project, so following in the footsteps of his grandfather and uncle - in being progressive futurists. To our mind he seems to have got caught in some kind of a LSR rut with sub 200mph vehicles. At the age of 56 (2016) and with a young son (now with some experience), there is still time to get things into top gear and have a crack at a sound barrier multiple on land, or maybe even the 400mph barrier on water. Admittedly, that would take some gumption.
This car from 1998 was converted from a Formula Ford by Chris Humberstone, then fitted with composite bodywork. Motors were from Sheffield University designs for synchronous machines. The tires were by Michelin. It competed in the unlimited weight category - over 1,000kg. The car was never capable of attaining a world record, being way too heavy with a high rolling resistance. As an exhibit, it is an example of how not to design a land speed record car. It was all show and no go - a sheep in wolves clothing. We prefer the opposite approach; a wolf in lambs clothing. The crazy thing is that this car was exhibited at the Science Museum in London as some kind of a technological leader - to which there can be only one retort: "Bullshit baffles brains." Lightning Rod, driven by Ed Rannberg, achieved 215mph in 1997, a year before, and White Lightning, driven by Pat Rummerfield, a quadriplegic, drove his electric steed to 254 mph in 1999, a year later. These were the technological leaders and the yardstick to be measured against. Compared to the world leaders, in our view, a speed of 116 mph in 1998 is more of a LSR humiliation than an achievement. What was the Science Museum thinking of. Unless they were displaying the car as a modern relic? *NOTE: This car does not feature built in cartridge exchange technology.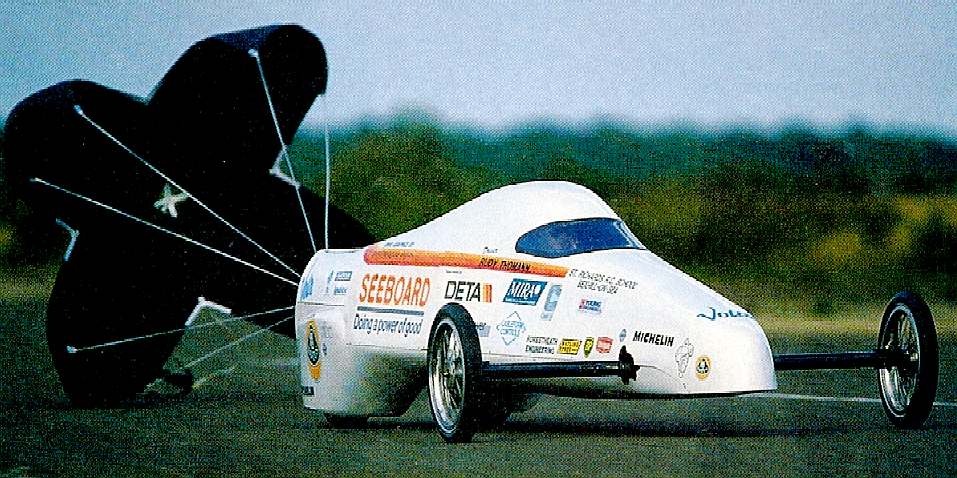 SCHOOL PROJECT - To put things in perspective, the Volta (above) was built by students at St Richard's School in Bexhill, under the tutorage of Peter Fairhurst. It is now on display at Bexhill Museum. This car achieved 106 mph in the under 500kg category in 1993 on lead-acid batteries. Had it carried more batteries, such as to topple over into the 1,000kg class, it could have gone considerably faster. Alternatively, if the lead-acid batteries were replaced by nickel-cadmium, we would still be looking at a 10% speed increase = 116.6 mph. Volta was sponsored by Seeboard (now owned by EDF Energy) who paid for the motor, Deta batteries (who donated the batteries) and Lotus, who provided free consultancy on the aerodynamic design via an ex St Richard's student. The important thing to remember here is that this was a school project in 1993 and as such was quite a performer.


LSR ART - These two pictures demonstrate how aerodynamic the BE2 is. Even today you'd have a job to improve on the super-slippery shape. The tailfin is yet to be re-attached after the car was installed in the showcase at Campbell Hall, Herstmonceux Museum in Sussex, that will permanently house this exotic land speed record sculpture behind laminated glass, for generations to come. If ever a vehicle deserved special display it is this one. Please note that these photographs are Copyright © 11 August 2016 Bluebird Marine Systems Ltd. You will need permission from the company to reproduce these pictures, except for private review or study.
1998
In May 1998 Don set a new UK National Record for an electric car at 116mph at Elvington Airfield, only just managing to beat the record set by St. Richards School, Bexhill, with their under 500kg car Volta. Peter Fairhurst built this car for under £50,000, which puts things into perspective when measured against the hundred thousand pounds + that the 'Sheffield' car cost Don's sponsors, and that was after not paying the designer of the original BE2, so steering the Campbell legend into choppy waters yet again. Donald Wales claimed to have been inspired to take up battery power after his young son Joe developed asthma and is quoted as saying in 1998:
"If I can show that electric cars do not have to be slow and cumbersome, I will have made a lasting mark for the health of my child."
2000
With a new electric car, Don increased the British record, first to 128mph and then to 137mph on Pendine Sands, Wales in August 2000. This did not even dent the world electric car records, then standing at 245 mph, set by Pat Rummerfield in White Lighting in October 1999.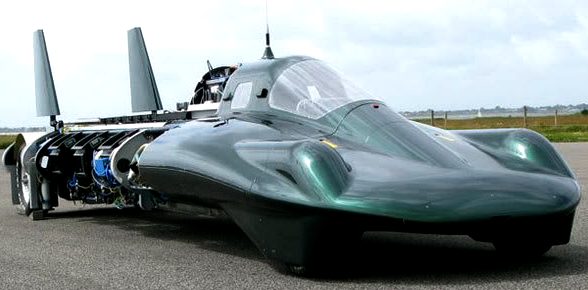 This steam turbine powered car (380bhp) uses 12 water tube boilers fuelled by liquid propane. The car was mainly built on a farm at Lymington in Hampshire. The small team of 15 persevered after many setbacks. The car was driven by Charles Burnett first, thus demonstrating it was safe to the crowd, and then Don Wales, setting a number of new Guinness World Land Speed Record for a steam powered car at Edwards Air Force Base in California, with an average speed of 139.843mph for a measured mile. A point of note is that Donald Campbell, Don's uncle was very cautious and would not have the color green near any of his cars, so would not have entertained driving this car, suggesting that Wales is not superstitious. Wales may have no problems with the color green, but seems to be having trouble finding a 200+mph steed. We mean an actual steed, not one of the fancy paper exercises that was sufficient in days gone by to release the purse strings of dewy eyed Campbell fans. Show us some steel and carbon fibre.

Chairman of the Royal Automobile Club's Awards Sub-Committee, John Wood, is quoted as saying:

"No one is going to suggest that this vehicle represents a major technical breakthrough, a relatively small improvement has been won at a cost of enormous complexity but it is unquestionably a triumph of determination, persistence and absolute refusal to give up in the face of adversity............"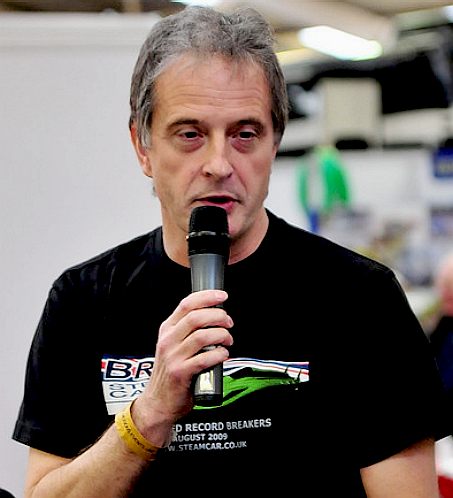 Don in his Steam Car 'T' shirt speaking about the project. Or, was it karaoke night!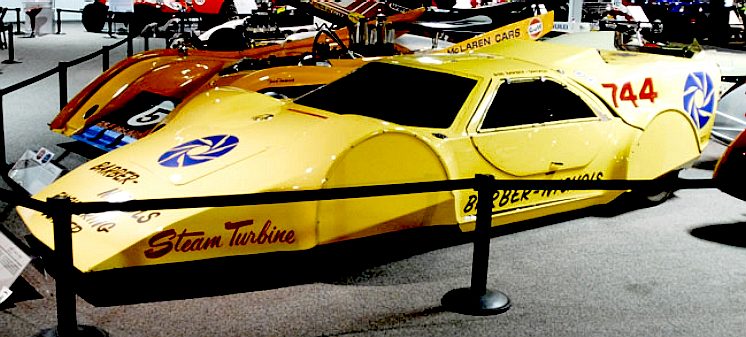 Much as we admire the efforts of the British team, the 'Barber Nichols' Steamin' Demon is still the world's fastest steam powered car, no matter how crude the styling, nor the fact that the record speed was only recognized at local US sports body level. This turbine powered car was built by Jim Crank in 1977. Jim was a steam car buff, who purchased the engine from Lear Motors and built the body with help from Fiber Fab and Volkswagen of America. He attempted to break the Land Speed Record for steam-powered cars set in 1906 by Stanley Steamer's "Stanley Rocket" at 127.656 mph. Success came on August 19, 1985, when Robert (Bob) Barber drove a rebuilt Barber-Nichols Steamin' Demon at Bonneville to a new record of 145.607 mph. This remains the current world record. The 250 hp Steaming' Demon weighs 5,000 pounds, 1,000 pounds of which represents the stainless steel boiler. The boiler holds 60 gallons of water. When the pedal hits the metal, the steam reaches 1,000 degrees Fahrenheit at a pressure 900 pounds per square inch. The super heated, high pressure steam then feeds into a 60,000 rpm turbine. Imagine how much faster this car would be with better streamlining? Right now there are two US teams battling it out, trying to better Bob Barber's record: 'Steam Speed America' and 'Steam Team USA.' Let us hope they get the FIA in on the act, to prevent any splitting of hairs and technical victories. Sport should be sportsmanlike.
2001
In 2001 Don Wales, working with Martin Rees, David Hammond-Williams and a new designer, Paul Sparrow, launched another bid to build a WLSR car for Bonneville Speed Week, at the same time proposing service stations for electric vehicles with battery exchange as set out years before in GB patent 2253379. Don and his partners seems to have generated a whole lot of media buzz in February of this year via the BBC, but nothing seems to have come of it that we can track down. Unlike his ancestors, Don does not seem to have produced a fully worked out technical study to back up his project. What we mean by this is that there are no technical drawings of these vehicles, calculations or technical specification - hence the proposal does not give the impression of any real commitment to any one design concept, rather the opposite. At least nothing ever seems to be published to give potential sponsors something to hang their hats on. That is only our impression, and please supply us with such drawings, etc, if they are or were produced. We will be pleased to include them. If we were being asked to invest in any of these projects we'd like to see more than fancy artwork. We are not swayed by polystyrene artworks in full size either.
BBC NEWS FEBRUARY 14 2001 - The new Bluebird E3 electric car will be powered by four wheel-mounted motors effectively harnessing double the power of its predecessor. Frustrated by the confines of Pendine Sands, the project team now hopes to benefit from the vast expanses at Bonneville, USA, where the new car will have a longer run to challenge for the record. First, they must find the necessary sponsorship to build and test the E3 before it is unleashed on Bonneville. Bluebird Electric - with Don Wales at the wheel - hopes to continue the legacy this year or next with another British triumph for the record books. The holders of the current UK record hope to have constructed and tested the new Bluebird E3 in time for a possible record attempt in October at the Bonneville salt lake flats, Utah.
BBC NEWS FEBRUARY 14 2001 - A technology company from west Wales has developed a new commercial system for powering electric vehicles, with the aim of creating hundreds of new jobs. Bluebird Technologies Ltd has focused its attention on the serious mission of turning the multi-trillion car industry on its head.

Based in Pendine, Carmarthenshire, the company has devised a two-pronged approach to the inherent problems associated with electric power. "Dyson has done for the vacuum sector what we are trying to do in ours, finding day-to-day solutions that are cost-effective and reliable," said project manager Martin Rees.

The company is confident that it can put the new technology into production and create "three to four figure employment" within 10 years. Bluebird has drawn on the technology behind its glamourous record-breaking electric cars, using an array of materials and product testing. The company's vision is based round two simple but highly effective breakthroughs.

The development of a pioneering drivechain does away with the need for belts and is seen as the next step forward for electric vehicles. The second concept of Interchangeable and rechargeable batteries is another radical concept that will push back technical boundaries, said Mr Rees. The record breaking cars are constructed out of other futuristic materials - lightweight steel, carbon fibre and plastics - from companies seeking to test their own products.

BTL has begun talks with several unnamed companies to commercially develop its ideas and put them into production in Wales. Project director Martin Rees said the company's goal would be to build a new range of commercial vehicles, which would cost just 75p in fuel costs for a journey between Cardiff and Swansea. Mr Rees said companies and organisations could expect to see their transportation costs reduced by up to 75% - a massive incentive for many firms hit by escalating fossil fuel costs. Vehicles would initially be limited to journeys of 50-60 miles and require re-charged batteries.

But Mr Rees said the plan was to work within those constraints and it has come up with battery recharging stations and a range of other simple measures to make electric vehicles commercially attractive. "We have tackled the idea of electrically-powered vehicles in a completely different way," said Mr Rees. "We aim to build bespoke vehicles round the system." Potential clients include local authorities, who would run their own recharging depots for commercial fleet vehicles, where technicians would simply replace spent batteries with recharged ones. The changeover would take no longer than filling up a tank with fuel. "By being creative and innovative, we are taking the thinking behind electric power into different sectors," explained Mr Rees. "We could well be seeing an assembly plant for these vehicles and we envisage three to four figure employment within 10 years. "There are some fine, skilled workers here and I would like to see this benefit the region."
[This is basically the patent (GB2253379) concept of the original BE1 designer Nelson Kruschandl - it would now be illegal to use the trade name Bluebird in connection with battery exchange where a registered trademark is extant, or indeed, the blue coloured bird logo on a land speed record car, for the same reasons, without the permission of the TM proprietors. Note also that Bluebird Technologies has been wound up.]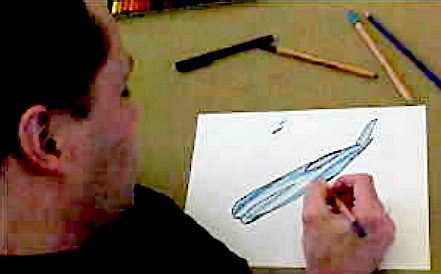 BBC NEWS FEBRUARY 14 2001 - Bluebird designer Paul Sparrow hopes he has come up with the winning formula to turn a paper concept into a record-breaking car.

The Bluebird E3 is a marvellous looking creation, with its sleek lines and classic feel. Bluebird Technologies unveiled the E3 at Auto Motex in London last autumn and caused quite a stir. "The whole concept of Bluebird is to be innovative," said Mr Sparrow.
"The look of the vehicle is 100% of it. One of the key issues is the frontal area, which is a lot smaller. "What led the design was what other people had done and the mistakes that were made in trying to apply them to the design."

The 36-year-old has been designing for 12 years and joined Bluebird 18 months ago with the brief of turning his creative vision to serious ends. "The Bluebird is not like a racing car, with the need for compression into the ground, which loses the energy," he said. "The air flow goes round the vehicle - as much underneath as above." Inspiration for the E3 was drawn from one of the car's "ancestors". "The influence for the design would have to be the 1964 record car which Donald Campbell drove. I saw what had been done before with that and took it on," he explained.

"The wheel arches coming out of the body of the '64 car was what artistically grabbed my attention. "Aerodynamically, the E3 is very good; we are not just putting a big body over the wheels. "This is not like a normal land speed record car - any weight draws on the energy and makes it less efficient and we have been keen to look at new technology. "We could not just put any big motor in there and make it go for it. "It is more about getting the latest materials in there and seeing how that applies to other products we are developing." This may mean a decision between a carbon fibre or composite body. "The more time and finances that we get, the more time we have to get it right," Mr Sparrow added.

Safety, for instance, is a key issue. "The drivechain is something special we have been looking at, which transfers power to the wheels and all the time reduces the weight. "Instead of driving two wheels, we are driving four." Ironing out the potential problems will come with tests on the car.

Mr Sparrow is hopeful that his radical "shark fin" tail, which goes straight through the car, will take Bluebird on to a new level. "The fin will also direct the car from underneath - the wind tunnel testing will determine whether it is a good idea or not, but I am optimistic it will work. "I would be elated to see the record broken in a car that I have designed."
2009
Don broke the World Land Speed Record for a steam car in August 2009 in the British built car 'Inspiration' on Edwards Air Force base in California. The two-way average speed was 148mph over the measured one Kilometre. Not quite the speeds of his ancestors yet, but certainly heading is the right direction and it was nice of the Steam-Team to offer the ride, after Charles Burnett had already broken the record.
This car from 2000 had a steel spaceframe and rear wheel drive. It is rather ungainly looking and was soon uncompetitive, with many production EVs (ordinary road cars) being able to outperform it today. It was though not designed to challenge the world record. After a battery upgrade it achieved 148mph before crashing at Pendine in 2011. *NOTE: This car does not feature the built-in Bluebird™ cartridge exchange technology and is not licensed by BMS to use such method of recharging. We doubt that anyone will be building replicas of this car, unlike the K7 and Daytona Bluebirds that inspire so many people around the world. Quality design is important to attain legendary status. The K7, known affectionately in the 60s as "the blue lobster" is one of the most reproduced water speed record boats in the world.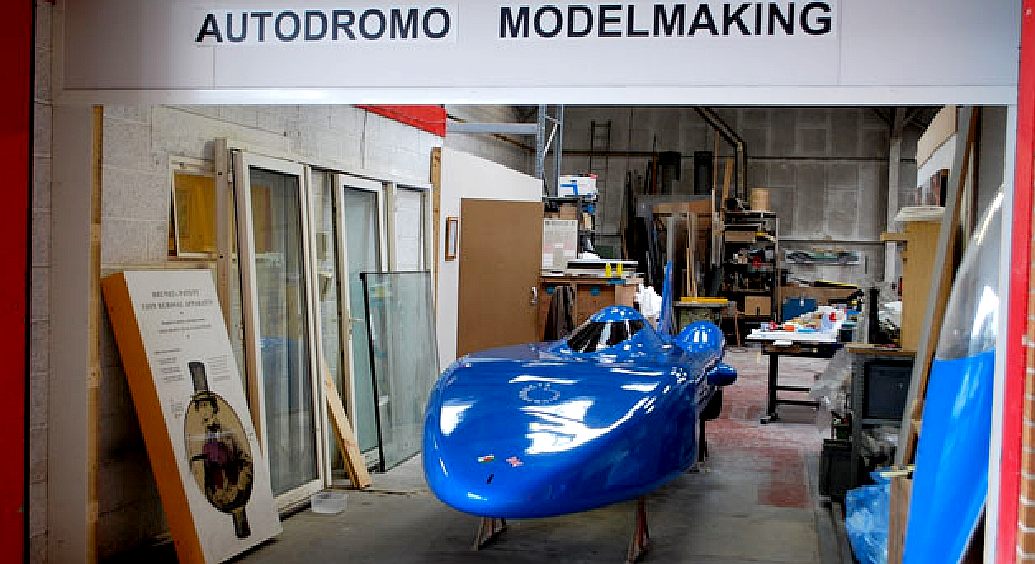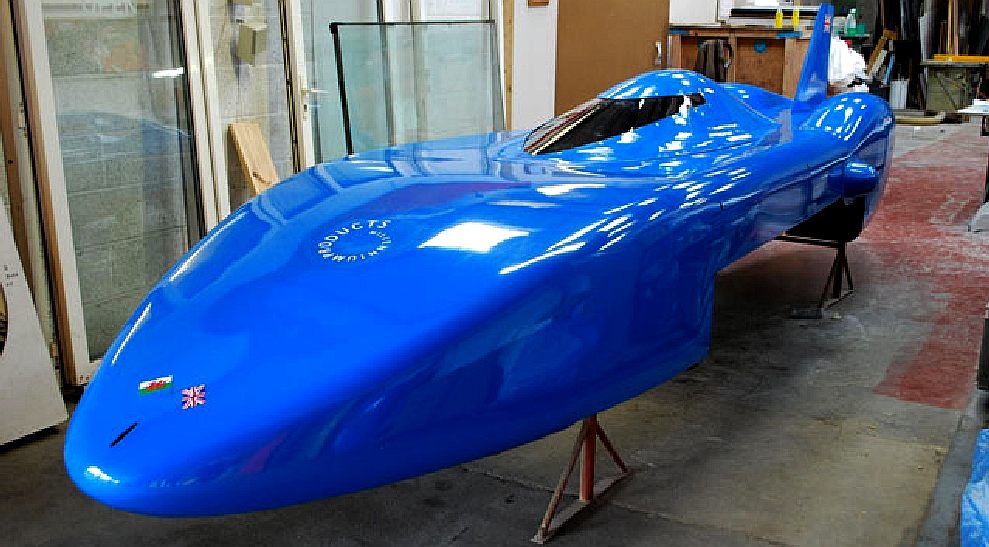 During 2011 Autodromo Ltd worked with Don Wales on his fated Bluebird car and a variety of other projects including the production of the 1:1 scale mock-up of a proposed 3 point hydrofoil for record and racing use - as seen below. They created the newer aerodynamic canopy and other GRP parts for the Bluebird record attempt on Pendine Sands in August 2011 where Joe Wales came a cropper on the sand.
In September 2012 Nick Ponting set a new British Electric Land Speed Record of 151.6mph (244km/h) at Elvington Airport in the Nemesis, a modified Lotus Exige sponsored by Ecotricity. Then in June of 2013 Lord Drayson successfully raised the BELSR to 204.185mph in his electric McLaren racer. This was a rise of 53mph or 35%. Congratulations to his Lordship. Take that drivetrain and put it into a streamlined body, and this format might stand some kind of chance against the Buckeye Bullet at Bonneville.
2010
On Saturday 22nd May 2010 Don broke the World Land Speed Record for a lawnmower when he achieved 86.069mph. Now you may see this a regressive step for a racing Campbell, but it is another notch on the belt and did keep him in the public eye, for an event in 2011.
2010 - Back to his Go-Kart roots. Don waves to an audience sitting on a machine that can presumably cut the grass in record time - or at least it did until Honda sharpened up their blades. Our question is: why would the grandson of Sir Malcolm Campbell get involved with what we can only describe as a sideshow record like this? Given that Don is not a landscape gardener or otherwise involved in grass cutting, would he not have been better served concentrating on the main event. If that is his agenda was/is to carry on the Campbell tradition of excellence. We can though see the funny side of it.
In line with regulations, Don Wales cut grass outside Pendine's Museum of Speed with the "Project Runningblade" machine, before taking to the Sands for his run. Clare Hansley-Boyd, spokeswoman for the team, said that sand conditions meant the going was relatively slow and that the record attempt had been hampered by headwinds. But the record was set after an afternoon of meticulous preparations which included course inspections and test drives. Once all preparations were complete, the record attempts took place over a measured mile in one direction, with the driver returning within an hour. One glaring omission is that the team seem to have forgotten to paint their cart blue!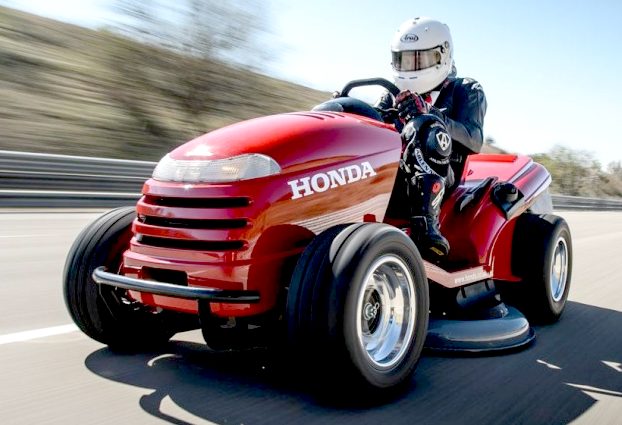 LATEST: In April 2014 Don's record was shattered by the above Honda, taking the new record to 116 miles per hour - a staggering 30 mph, or 35% increase in speed. Honda are involved in the grass cutting business. It must pain Don to know that this Honda lawn mower achieved an equivalent speed to his first electric record attempt. Ouch! Beaten by a lawn mower. That's not all, Don's then partner in LSR racing, Martin Rees, builds (or built) electric milk floats. We wonder if his 2009 record car was based on a high speed milk delivery vehicle - and how many were sold? Also, at such high speeds does milk churn to butter?
2011
In July of 2011 Joe Wales crashed the 2000 model Bluebird at Pendine Sands. This would be the car's last outing where two other electric cars have since set the bar for the British record well above that attainable using outdated technology.
AUTODROMO MODEL MAKERS - This is a very interesting looking craft and one that we'd like to feature if anyone might be able to help with drawings and specifications. Perhaps the project might be due for a re-launch or re-branding. We'd certainly be interested in helping if we can. But, the speed would have to be substantially higher than the advertised 70mph if such a project is to be viable in PR terms. Perhaps 200 mph should be the initial target speed?
Autodromo Limited are based in West Wales. They are specialists in producing architectural models; exhibition models and interactive displays. They work in the automotive, aeronautical and marine models fields and claim a portfolio across 2 decades, with clients that include Bloodhound SSC, Ferrari, Williams, the Imperial War Museum, Duxford Air Museum, 1001 Inventions, Bluebird (not Bluebird Marine Systems) Red Bull, Aeristech, Connaught Engineering, SS Gt Britain, Bristol City Museum, At Bristol Science Centre, Nimbh Billlings Architectural, Building Design Partnership, NHS Donor Registry and many others.

Their services range from fabrication equipment in metal, wood and plastics with the finishing resources of a fully equipped spray booth, electroplating, centrifugal metal casting and polyurethane resin moulding. They also offer laser cutting and CNC machining, design and development in CAD combining both traditional skills with contemporary developments in the prototype industry for one off projects and sculpted hand-made pieces.
AUTODROMO CONTACTS - Unit 6, West Wales Business Park, Redstone Road, Narberth
Pembrokeshire, SA67 7ES, United Kingdom. Tel: +44 (0)1834 860999 Contact Directors Andy Cann ( Design Director) or Harriet Addyman (Managing Director) with your enquiries. Other contacts include: Rhiannon Robson - Graphic Design, Ian Moore - Graphic & Web Solutions, Mike Evans - Electronic Engineering & Computer Programming, Christopher Jefferson - Education & STEM, Pauline Le Britton - Education/Arts & Workshops. Email: sales@autodromo.co.uk
The current electric WWSR stands at 98.8 mph for the very compact hydroplane built by Michael Bontoft with which he set a new world record in October 2008 as the accompanying Youtube shows. To put things in perspective, Sir Malcolm didn't do much better in a Rolls Royce Merlin engined hydroplane with 2,300 horsepower (1715Kw). It took Bontoft, from Castle Rock, 18 months to build the boat (shown below) in his garage, which cost him about $30,000. There is a lot to be said for "backyard specials". The lithium polymer batteries worth $14,000 were donated by the Korean company, Enerland Division of A123 Systems. The boat uses a 70hp motor running at 133 volts. In February of 2009 the record was ratified by the Union Internationale Motonautique (UIM record 3681), the European governing body for boat racing events. At the same time, Bontoft also set a national record with the American Power Boat Association (APBA) at 98.252 mph. The previous UIM and APBA records were 50 and 70 mph respectively. That's not bad for an £18,000 boat, representing great value for his sponsors. Congratulations Michael.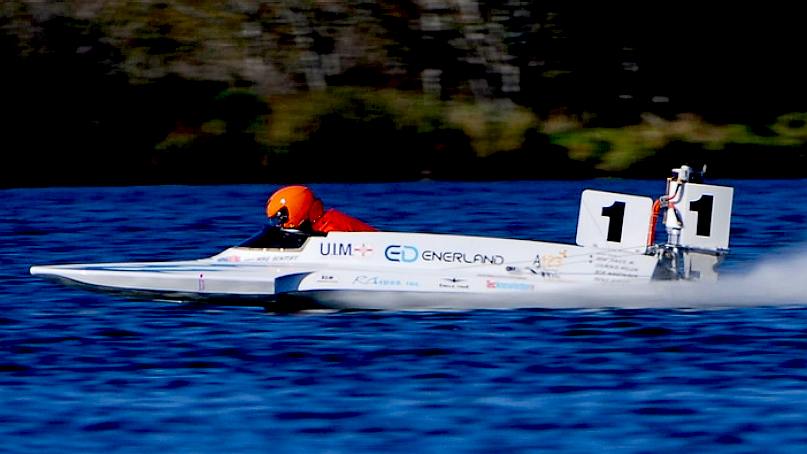 ELECTRIC WSR - It is estimated that it would take about 400hp (300Kw) to raise the electric WWSR to 200 mph. A more aerodynamic form is sure to be required at those speeds such as to contain power consumption and prevent the boat from flipping, a phenomenon that is common to hydroplanes that go fast. Ken Warby seems to have a handle on that problem, with his Spirit of Australia jet boat. Any designer should perhaps start with air control devices (as if airborne) and work backwards to the water interface. We understand that Mr Wales suffered from irritable bowel syndrome in the past, and admitted in the August-September edition of Auto Express 1997 that he was a coward. Presumably then needing extra assurance as to safety at high speeds. Of course there is nothing wrong with being cautious. But would he drive a vehicle sitting up front like his uncle did in the CN7? The BE1 had such a driving position and Don did not like it.

The aquatic pond-skater insect is a potential case study for any high speed design, by virtue of the evolution of special body parts. The tiny hairs on the legs of this animal provide both a hydrophobic surface as well as a larger surface area to spread their weight over the water. The middle legs are used for rowing and so have particularly well developed fringe hairs on the tibia and tarsus to help increase movement through the ability to thrust. The hind pair of legs are used like rudders for steering. When the rowing stroke begins, the middle tarsi of gerrids are quickly pressed down and backwards to create a circular surface wave in which the crest can be used to create forward thrust. The semicircular wave created is essential to the ability of the water strider to move rapidly since it acts as a counteracting force to push against - a bit like surfing down the crest of a wave. As a result, water striders often move at 1 meter per second (2mph) or faster. A man walking at a brisk pace achieves 5 mph. This tiny bug performs far better pro rata and on water! We can learn from nature.
There has also been some press on the subject of an electrically powered water speed record boat, though as of June 2014, that idea seems not to have been in the press lately and we do not have any updates to report. We know that Don's cousin Gina Campbell was into racing boats and even took a record briefly, but gave up racing speedboats when her craft flipped at around 160mph in an accident that reminded her of her father's fatal run in the Bluebird K7 jet powered hydroplane designed by Ken Norris and his brother Lewis. If anyone has any idea what happened to this project we'd like to hear from you.
On his website Don was showing what looked like an elongated version of his 2000 car for 2011, only with a pointed nose. We cannot find any published technical arrangement for this artwork. We'd like to know who the designer was and what motors and batteries were specified, for what target speed.

Don's 2011 electric car drawing. The upright (Union Jack) tail fin is straight from Richard Noble's Thrust vehicles, and a British Airways theme of old made famous by Margaret Thatcher, probably more appropriate for jet powered cars. The cockpit is very Batman, a theme that seems to have carried over with a 2013 bid to start a Formula E racing team (see below). All it needed was Kim Basinger to complete the picture, and perhaps a coat of black paint. This concept seems to have been abandoned according to Chris Ward's website. Chris Ward makes limited edition 'themed' watches as one of the main selling features.
Don Wales congratulates Mike Dean on winning the Malcolm Campbell trophy
Ref: (model boats)
2012 14 NOV - FUTURE CAR CHALLENGE

Don Wales ist der Enkel von Malcom Campbell und der Neffe von Donald Campbell. Wie seine Verwandten, welche über 20 Geschwindigkeitsrekorde zu Lande und auf dem Wasser brechen konnten, ist Don dem Geschwindigkeitsrausch verfallen. Er hat zwar wie Malcom und Donald Benzin im Blut, aber nicht nur. Don ist selbst Rekordhalter von einem weltweiten Geschwindigkeitsrekord, zwei amerikanischen und acht Rekorden in England. Derzeit laufen seine Vorbereitungen auf einen weiteren Weltrekord. Nächstes Jahr will er über 350 Stundekilometer schnell sein, in einem Elektroauto.
Kein Wunder also, dass Don die Einladung des königlichen Automobilclubs annahm, am 3. November 2012 zum Start der Future Car Challange nach Brighton zu kommen. Fasziniert informierte sich der Engländer mit dem weltberühmten Onkel über die Technik des von der Windreich AG in Eigenregie elektrifizierten Fahrzeugs – und räumte diesem spontan die größten Siegeschancen dieses Effizienz-Wettbewerbs nach London ein. Don sollte Recht bekommen. Der "Windreich Me 1" auf Basis eines Messerschmitt Kabinenrollers belegte Platz 1 in den Klassen "Most Energy Efficient Sportcar" und "Best Pure Electric Vehicle". Darüber hinaus eroberte der Zweisitzer die Herzen der zahlreichen Zuschauer und gewann die Publikumswahl "The Best Future Car".
Die Future Car Challenge (FCC) ist weltweit der bedeutendste Wettbewerb für energieeffiziente Mobilität. Angetreten waren alle führenden Automobilhersteller, Universitäten und Hersteller von Kleinserien, angetrieben mit Elektro-, Hybrid-, Hydrogen und ICE-Antrieben. Veranstalter ist der Royal Automobile Club (RAC) in London. Die automobile Elite traf sich zum dritten Mal im Seebad Brighton, um sich auf dem Weg über Landstraße, Autobahn und Stadtverkehr nach London mit der Konkurrenz zu messen. Ziel war, in einem knapp vorgegebenen Zeitfenster maximal energieeffizient zu fahren. Der Sieger wurde bestimmt, indem die verschiedenen Konzepte durch eine von der Universität London entwickelte Äquivalenztabelle vergleichbar gemacht wurden. Weit über 100.000 interessierte Zuschauer feierten mit den Fahrern den Zieleinlauf in London´s Regent Street.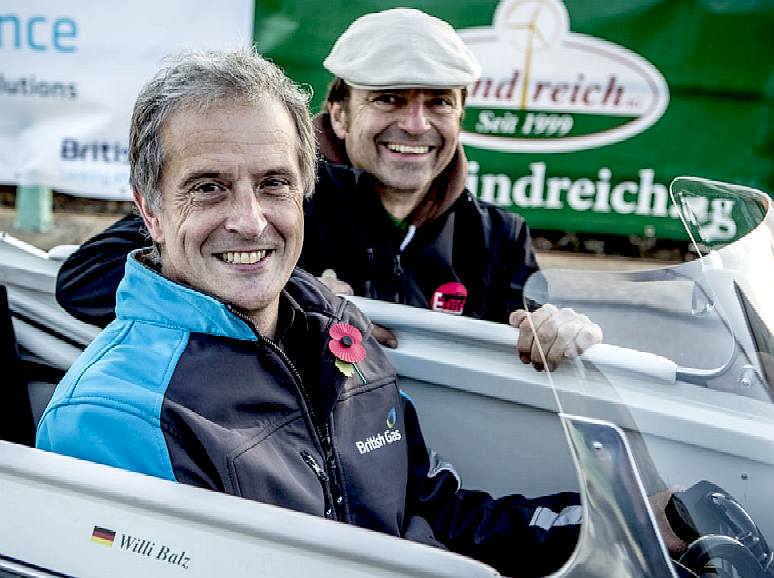 Don Wales tries out an EV set for the Future Car Challenge
2013 MAY 10 - BROOKLANDS
An Evening with Don Wales - Don Wales, World Land Speed record holder for a car driven by steam and holder of various other Land Speed Records, will give a talk in the Napier Room in the Clubhouse about his experiences from the hot seat. He will also talk about his grandfather, Sir Malcolm Campbell MBE and his uncle, Donald Campbell CBE, who between them broke over 20 World Land Speed Records.

Ian Glover, President of Bloodhound SSC 1 K Club will give a short update on the supersonic car project that will attempt to break the World Land Speed Record at over 1,000mph.

The evening is to raise funds for The Sam Beare Hospice, in memory of Pat Greene. Tickets are £10 and are available from the Hospice on 01483 881752. Tickets must be purchased in advance. Please arrive between 6pm and 7pm to visit the Museum and purchase food & refreshments, ready for a 7.15pm start. There will be a raffle and auction and the evening will finish at around 9pm.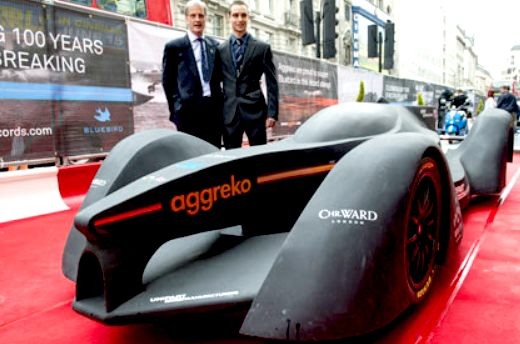 COD PIECE JUNE 2013 - This shell for a proposed Formula E racing car was on display outside the The Theatre Royal Haymarket. It was a real attention getter - but for all the wrong reasons - it's got to be the ugliest racing car concept that we've seen, looking from the front like a demented gnat about to take a bite with its proboscis, or alternatively a cod-piece from the Black Adder series. The mock-up was billed as the new Bluebird GTL Formula E prototype, an electric circuit racing car. This body (an aerodynamic abomination) got a lot of blog comments about 'Batmobile,' influences. The car was on display with Sir Malcolm Campbell's record breaking K3 Boat (owned by Karl Foulkes-Halbard) his Sunbeam 350 LSR car (owned by the National Motor Museum) and other vehicles as part of a centenary celebration of Campbell record breaking. Sir Malcolm famously named his Sunbeam racer "Blue Bird" having seen Maurice Maeterlinck's play at the Theatre Royal. Alex Spofforth (Don's accountant) had helped him in previous land speed record breaking attempts and was onboard (hoping) for what looked to be a promising venture, but it never materialized. We suppose the looks of this car and Joe's crash in 2011 had something to do with that. Why on earth this vehicle was not painted blue, and a bit more business like in its design escapes us. The team soon abandoned this concept, but was it too little too late? Chris Ward was the timing partner for this project. NOTE: The above car did/does not feature the Bluebird™ battery cartridge recharging system and has nothing to do with the systems or vehicles being developed by BMS.
2013 JUNE - LONDON HAYMARKET
For 2013, Don Wales planned to launch an electric Formula E circuit racer and a limited edition electric coupe at the September 2013 MotoExpo event that was to be held at the National Motor Museum, Beaulieu. This was also to include the launch of a proposed Bluebird DC50 sports car, now confirmed that its debut will be postponed indefinitely. We do admire Don for attempting to launch two very demanding projects at about the same time, especially so where he was seeking partners for a serious Formula E team and his son Joe had crashed an electric land speed record car two years earlier. That crash must have had an effect on the confidence that potential backers would have needed to invest, plus of course the quality one might expect of a production car from a 'new' marque with no track record. Unless of course the proposed car was badge engineered. Badge engineering in prevalent in the motor industry and we would not be surprised if something like that was on the cards, where Don's company: Bluebird Electric Limited does not, or did not employ any automotive designers for R&D, nor does the company maintain workshops that could develop such a machine.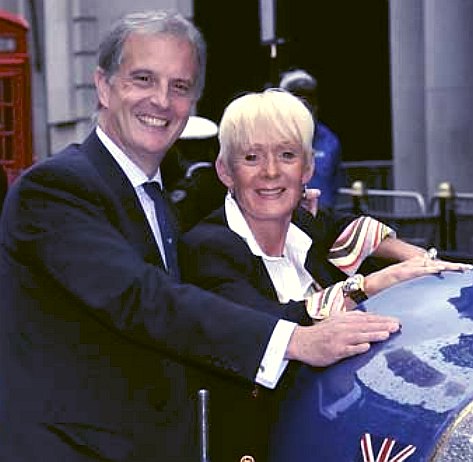 Cousins: Don with Gina Campbell in London

The DC50 was set to make its first appearance at the Sustainable MotorExpo but that event had to be cancelled until April or July 2014, and then appears to have come off the agenda. According to media reports, the new Bluebird DC50 was to have a limited production run of only 50 units to coincide with the 50th anniversary of the land and water speed records broken/set by Donald Campbell back in 1964 (lsr 403.135 mph CN7 and wsr 276.33 mph K7). Tonia Bern-Campbell took a trip across the pond to talk about her experience with the famous speed king at the National Motor Museum at Beaulieu.

Whenever the proposed DC50 car is revealed and on the assumption that such an event takes place at some time in the future, it is billed to have an electric engine which can produce up to 360bhp. There are as yet no official figures or other specifications, more a shopping list, suggesting to many that the picture provided to the media is more a design-study to test market reaction, than to launch an actual built (fully developed) vehicle. The proposed electric sports car is billed to be a two-seat coupe which is to feature electrically operated scissor doors. If it does go into production it will only be available in one color; Bluebird Blue. But what is bluebird blue? It seems to us from the vehicles that carry that name that there is no single (pantone) color, where each vehicle appears to have a different shade from the next.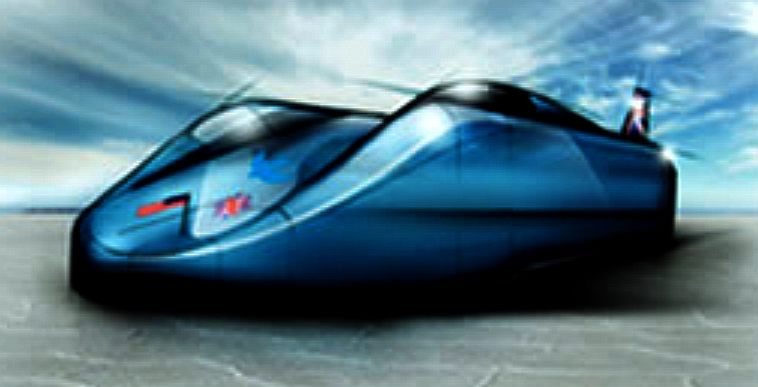 We are not quite sure who's car this is? It does not seem to appear on any of Don's official websites or in press releases, but maybe is another of the artworks for a future concept LSR car. It is very much like the Buckeye Bullet in that there are two wheel arches with a hollow leading to the cockpit - and once again the Union Jack tailfin. If anyone can help with information, we'd be obliged. The marketing approach in 2014 is a far cry from the Kruschandl days when a vehicle was typically produced upfront, with drawings and motor specification. If Don had rolled out a Bluebird DC50 in the flesh, one can imagine that there would have been a long list of customers. Provided of course that the price was sensible.

Artwork for the proposed Bluebird DC50 - The claims are bold for an upstart electric supercar, promising a sub-1000kg curb-weight, 45/55% front/rear weight distribution, and either 240bhp, 280bhp or 360bhp drivetrains. Don also claims 0-60mph in 'less than six seconds' with a top speed limited to 140mph. A full battery recharge cycle is claimed in four hours with a range for the 240bhp version stretching to 200 miles. Options include a bespoke-trimmed cabin with a built-in Apple iPad driver interface incorporated into a 'unique floating dashboard' and Bluetooth connectivity as standard. If the car gets into production, we somehow doubt that having an iPlayer will matter to prospective buyers. *NOTE: This car does not feature the BMS Bluebird™ built in cartridge exchange technology. We have not seen any chassis or motors, or design drawings for that matter, to be able to comment on the validity of any claims. Isn't Photoshop grand.
2014 FATHER & SON - ROCKINGHAM
In 2014, according to the Formula E postings as to competitors, Don Wales is no longer listed as a proposed competitor in the forthcoming Formula E series for this season.
Advertised widely for 2014, is an event billed as one hundred years after Sir Malcolm Campbell first took to the track in a Bluebird racecar. According to many website articles the world famous name in motor racing and speed records is returning to the racetrack with a new electric racecar design.

Sir Malcolm's grandson, Don Wales, is now leading the charge back onto the track, following 10 years of development into pioneering the use of electric technology in racecars.

Back in the 1920s Sir Malcolm Campbell broke a number of speed records in Bluebird cars and boats before his son, Donald, continued the family tradition, achieving double world records on land and water in 1964. Bluebird is now continuing its father and son heritage with the Bluebird Charity Trophy for Father/Sons at Rockingham.

The new unique format of fathers and sons racing together was developed by Rockingham who also decided that the event would be a great fundraiser for deserving charities. To make the Charity Race happen they have partnered with Bluebird.

With six celebrity pairings and 24 Pro-Am Father and Son teams, the charity event will help raise funds for a number of good causes.

Don Wales, Sir Malcolm Campbell's grandson, has been the driver and Team Principal of the electric Bluebird land speed record car since its inception in the 90s.

He commented: "Electric car technology is central to everything we are doing at Bluebird and this is another opportunity to demonstrate our engineering and motorsports development. Creating the Bluebird Trophy for fathers and sons is a great way of showcasing our advancements whilst raising funds for good causes."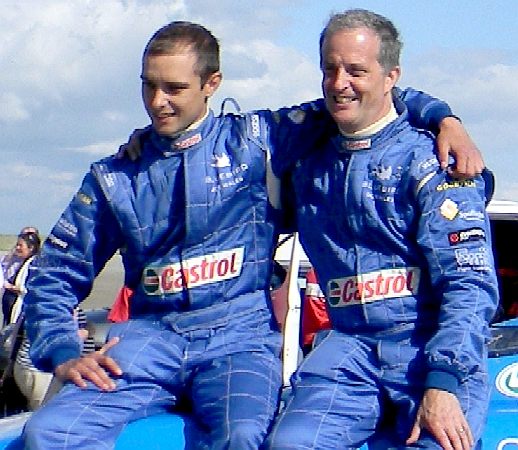 Chief Executive of Rockingham, Peter Hardman is quoted as saying:
"We are delighted to see our idea become a reality in the Bluebird Charity Trophy for Father/Sons and look forward to making significant sums for some very deserving charities. Moreover, to mark the race with the return of Bluebird to the track in what will be the first electric car race in the UK just makes it even more special for Rockingham".

This is also a real success for Electric Corby to help bring Bluebird and electric racing to Rockingham and is another demonstration of Northamptonshire being the leading county in motorsport and high performance technologies.
The race is part of the 2014 Dunlop MSA British Touring Car Championship at Rockingham Motor Speedway (that's the UK's Rockingham, not the one in North Carolina). Bluebird will enter an electric vehicle in a race that will feature six celebrity teams as well as two dozen father-son racing teams. The family bent makes sense, since Bluebird is named for a car Sir Malcolm Campbell, Wales' grandfather, who raced a century ago. Campbell set a number of land speed records, as did his son Donald Campbell.

Last summer, Bluebird said it was preparing to make 50 Bluebird DC50 electric sports cars that would have 360 horsepower and a 200-mile single-charge range. The company was also readying its GTL electric race car designed for the Formula E all-electric racing circuit set to debut later this year in Beijing. By last September, though, Bluebird's plans were delayed indefinitely, so this announcement is good news. Check out Bluebird's press release below.
Artwork for the proposed Rockingham Fathers & Sons, Bluebird Trophy
PRESS RELEASE: BLUEBIRD TO RETURN TO THE RACETRACK WITH PURPOSE BUILT ELECTRIC RACECAR

- New electric Bluebird car to race 100 years after Sir Malcolm Campbell first raced in a Bluebird at Brooklands

- The Bluebird Charity Trophy for Father/Sons at Rockingham has been created to run 30 Bluebird racecars on the 6th - 7th September 2014

- Father and son format will see a mix of professional and semi-pro pairings raising money for charity

100 years after Sir Malcolm Campbell first took to the track in a Bluebird racecar, the world famous name in motor racing and speed records is returning to the racetrack with a new electric racecar design.

Sir Malcolm's grandson, Don Wales, is now leading the charge back onto the track, following 10 years of development into pioneering the use of electric technology in racecars.

Back in the 1920s Sir Malcolm Campbell broke a number of speed records in Bluebird cars and boats before his son, Donald, continued the family tradition, achieving double world records on land and water in 1964. Bluebird is now continuing its father and son heritage with the Bluebird Charity Trophy for Father/Sons at Rockingham.

The new unique format of fathers and sons racing together was developed by Rockingham who also decided that the event would be a great fundraiser for deserving charities. To make the Charity Race happen they have partnered with Bluebird to manage the event as part of the Rockingham round of the 2014 Dunlop MSA British Touring Car Championship on 6-7th September.

With six celebrity pairings and 24 Pro-Am Father and Son teams, the charity event will help raise funds for a number of good causes.

Don Wales, Sir Malcolm Campbell's grandson, has been the driver and Team Principal of the electric Bluebird land speed record car since its inception in the 90s.

He commented: "Electric car technology is central to everything we are doing at Bluebird and this is another opportunity to demonstrate our engineering and motorsports development. Creating the Bluebird Trophy for fathers and sons is a great way of showcasing our advancements whilst raising funds for good causes."

Peter Hardman, Chief Executive of Rockingham, said: "We are delighted to see our idea become a reality in the Bluebird Charity Trophy for Father/Sons and look forward to making significant sums for some very deserving charities. Moreover, to mark the race with the return of Bluebird to the track in what will be the first electric car race in the UK just makes it even more special for Rockingham".

This is also a real success for Electric Corby to help bring Bluebird and electric racing to Rockingham and is another demonstration of Northamptonshire being the leading county in motorsport and high performance technologies.

Full details of the race and cars will be revealed at a launch event to be held at Rockingham in the spring.

For further updates on Bluebird please visit www.bluebirdspeed.com or follow them on Twitter @bluebirdspeed or on Facebook Bluebird Speed Records.

All driver enquiries to Rockingham Raceway: www.rockingham.co.uk


Electric Corby, Corby Enterprise Centre, London Road, Priors Hall Park, NN17 5EU

E: info@electriccorby.co.uk T: +44 (0) 1536 560222

Enterprise House, 30 Billing Road, Northampton, NN1 5DQ. Tel: +44 (0)1604 609 393 Fax: +44 (0)1604 627 401 E: info@northamptonshireep.co.uk

ROCKINGHAM - THE BLUEBIRD TROPHY FOR FATHERS AND SONS AT ROCKINGHAM

Make history by being part of the first ever electric car race for fathers and sons.

The opportunity to team up and race the new Bluebird electric race cars to raise money for our nominated charities.

Qualification will be through pre-race events at Rockingham on 12th or 19th August 2014. The top 20 driver pairings will qualify for the final race and join 6 legendary father and son pairings.

Final race (with practice & qualifying) at the Rockingham round of the Dunlop MSA British Touring Car Championship on 6th and 7th September 2014.

http://www.rockingham.co.uk/bluebird/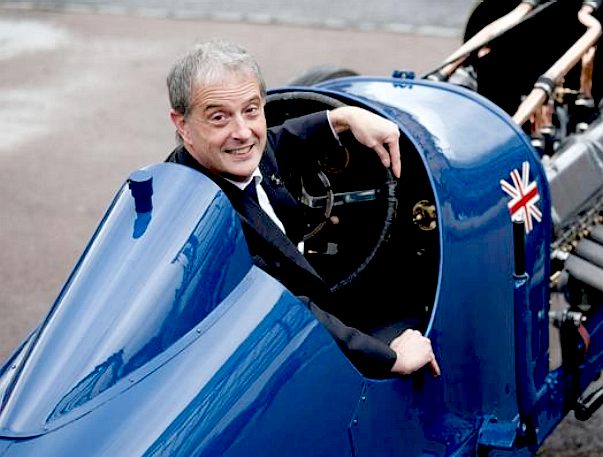 DON WALES - looking rather uncomfortable in his grandfather's Sunbeam Blue Bird. This is the car that really started it all. Well, that and the play by Maurice Maeterlinck. It was already a record holding vehicle before Captain Campbell purchased it, renamed it and painted it blue - not as well as the current paint job by all accounts. Sir Malcolm used a brush and did not wait for the paint to harden before taking it out for a spin.
In July of 2015 the Sunbeam Blue Bird that once belonged to Sir Malcolm was taken to Pendine Sands by the current owners, The National Motor Museum at Beaulieu. The media flocked to see the speed ace's grandson dress up for the cameras, to commemorate 90 years of cars on Pendine Sands. If there was sufficient interest the Blueplanet BE3 could take to the Sand for a high speed dash - once again seeing the Blue Bird legend in action on four wheels.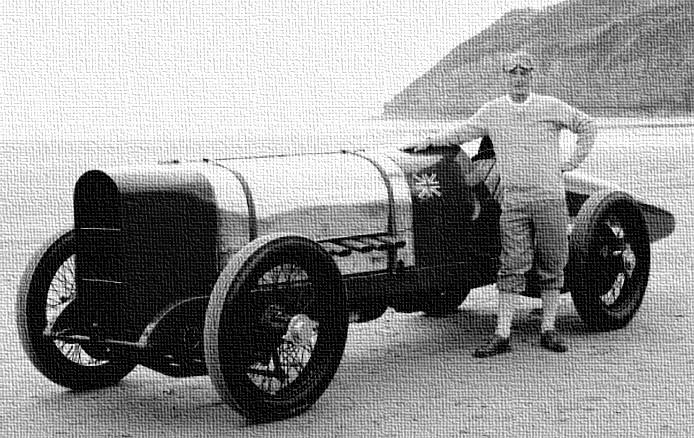 PENDINE SANDS - played host to another historic motoring occasion as the 90th anniversary of Sir Malcolm Campbell's 150mph World Land Speed record was marked.

Hundreds of spectators gathered along the beach as Sir Malcolm's grandson, Don
Wales, took the wheel of Blue Bird, the 350hp Sunbeam, for a low-speed media opportunity and what amounted to a massive public relations exercise for the National Motor Museum at Beaulieu. Two iconic pictures from the original run were re-created.
The Sunbeam Blue Bird has been in the museum's care since 1957, and following a complete mechanical re-build, was fired up again last year - the first time it had been heard in public in over 50 years.
AUTODROMO, SEPTEMBER 2015 - 1935 Bluebird 1:12th Scale Model Edition
Bluebird Speed Records in collaboration with Autodromo Ltd were set to produce a strictly limited edition model run of 100 pieces of Sir Malcolm's famous 1935 Blue Bird car. The model specification was set to have exceptional detail including removable engine cover showing the Rolls Royce Type R engine that powered this remarkable record breaker.

The model will be based upon the record attempt at Daytona Beach where on the 7th February Sir Malcolm Campbell achieved a record speed of 276.82 mph. Other features billed may include machined and polished aluminium wheels with rubber tyres and a fully detailed cockpit interior with glazed instruments.

Overall length is said to be around 690mm and is to be displayed on Daytona inspired base with museum quality acrylic plastic cover. Each model is to feature individually etched edition plaques showing its edition number and details recording the record success. The claim is/was that: "This will be a truly worthy edition to any high end model collection."

The price for each model will be £3840.00 and deposits of £1500.00 are now being taken to secure numbers in this edition. If you might be interested in reserving a model or would like further information please contact:
Martin Rees, Bluebird Speed Records, The Bluebird Centre, The Old Market, Melville Street, Pembroke Dock, Pembrokeshire SA72 6XR. Tel: +44(0)1646 687771 – Mobile: +44(0)7940 275962
or Andy Cann, Autodromo Ltd, Narberth, Pembrokeshire SA67 7ES. Tel:+44(0)1834 860999
www.bluebirdspeedrecords.com 08/09/2015 By tobester
Harry on January 31, 2012 at 9:35 pm said: "Cant wait to see this as it happens, I mean being built, I know there is going to be that big lump of an engine, what an amazing thing. I really hope that the journey of the build is going to be seen !, At the end of the day, I would want to see the finished model, just to think on it a while. Every one is an adventure, best shared." (Ref: http://outhaus.biz/autonews/?p=7)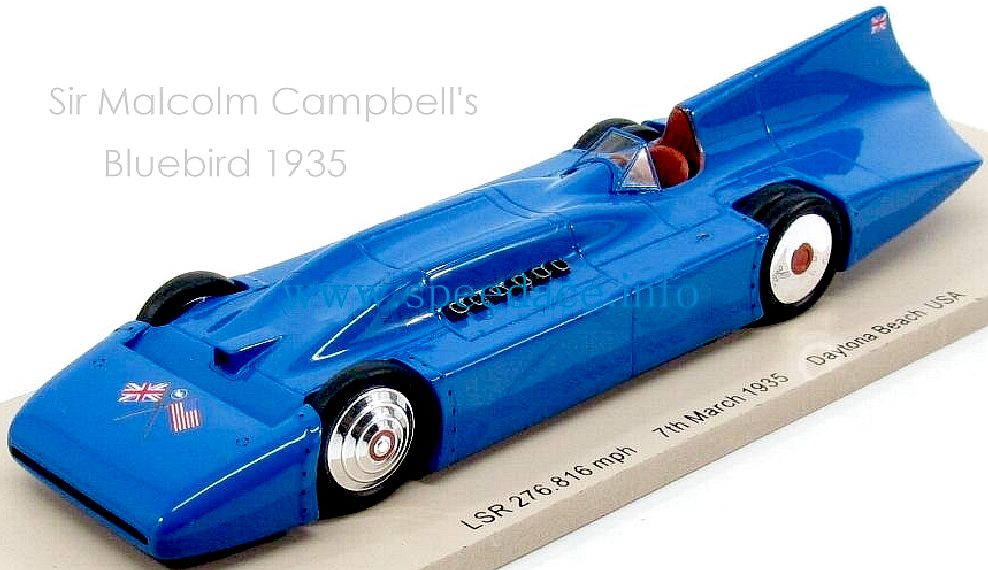 A scale model replica of the 1935 Blue Bird, Daytona LSR record car of Sir Malcolm Campbell that is sold in the US in the $hundred dollar range.

Two resin models of Sir Malcolm's 1935 Blue Bird land speed record car at 1:44 scale.
Another model replica of the 1935 Blue Bird, Daytona LSR record car of Sir Malcolm Campbell, this time at 1:1 scale. This one was sure to have cost a lot more than the £3,840 pounds for the Autodromo models.
DC50 LEGEND
DC50 is the engine rating of the latest Ecostar DC50 (project BE4) for 2014. This is not a vehicle produced by Don Wales or his company: Bluebird Electric Limited, but is based on (inspired by) a registered design from 1997 by Nelson Kruschandl, now the property of Bluebird Marine Systems Ltd., after an IP buyout. The latest BE4 design features the patent *Bluebird™ energy transfer system using either fuel cell, or battery instant recharge technology via cartridges. These cartridges are designed to work with and encourage the infrastructure build of low cost service stations, to include the introduction of fuel cells. Interestingly, DC50 is also the model number of a Dyson vacuum cleaner.
The new Ecostar DC50 (project BE4) [right] compared to the original Tomcat drawings [left] *NOTE: Both of these electric sports cars feature the patent Bluebird™ built in cartridge exchange technology that is derived from the original 'Bluebird Electric' land speed record designs from 1995/6. The Ecostar car features gull-wing doors. The DC50 and BE3 vehicles are the only cars licensed to use the Blue Bird logo on their bodywork and advertising, etc. The next question that is sure to be asked is: what color will the Ecostar be? Will it be bluebird blue? When asked the designers said: "The answer to that question is that there there will be no flies on us." The latest shades of blue are very popular with most car makers offering striking metallic and pearlescent blues in 2014. There is no single "bluebird" blue (pantone) reference. Both Sir Malcolm and Donald painted their vehicles is a wide variety of colours. It seems the paint used was that which was either conveniently available, or maybe, the fancy of the day. This car is a fitting tribute to celebrate the achievements of Ken and Lewis Norris in designing both the car and the boat that gave Donald Campbell his land and water speed double in 1964. It was July 16th 1964 for the land speed record at Lake Eyre, and the 31st of December 1964 for the water speed record at Lake Dumbleyung. PLEASE NOTE: For the avoidance of doubt, the Ecostar DC50 is not a Don Wales or Bluebird Electric Limited project.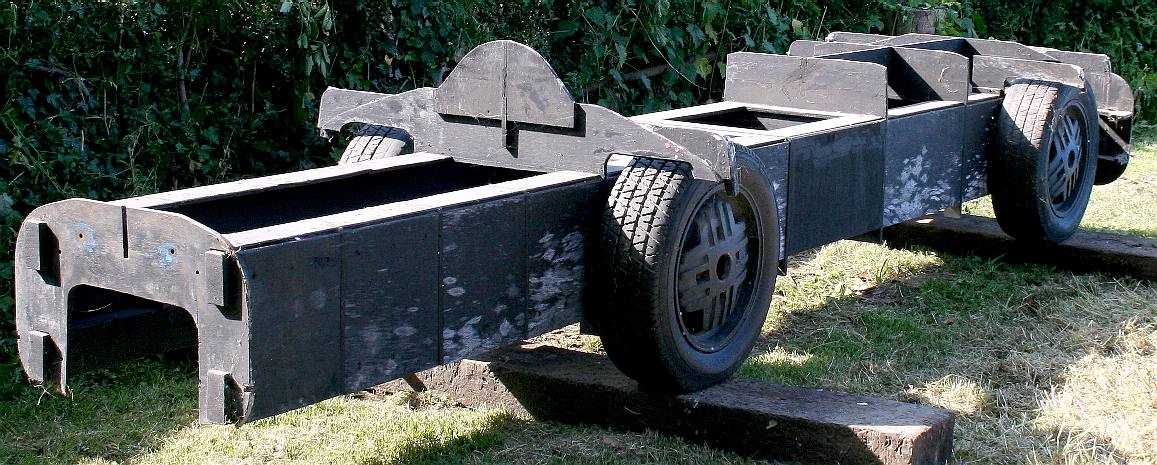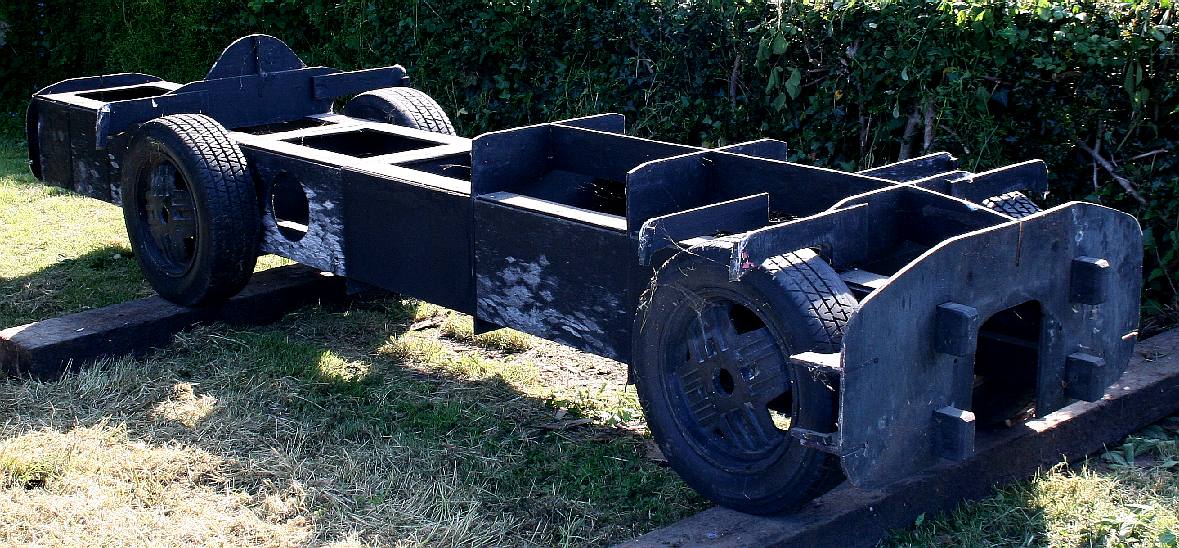 The chassis of the genuine Bluebird Electric 2 is shown here incomplete in June 2016. The forward cockpit looks very much like a carbon fibre formula one safety cell - with substantial composite beams going aft to the rear wheels. All four wheels were driven in this design, using a synchronous setup to provide equal torque to each wheel, hence reliable traction on the salt surface at Bonneville. The wheels shown in these pictures were only for transport purposes, mounted on dummy axles. Details of the actual transmission and suspension were never revealed by the designer, who, apparently, was never paid for his work.
When working for Donald Campbell, Ken Norris never revealed the full details of his designs until he was paid, ensuring that invoices were settled. Other suppliers who were less cautious are on record as being unhappy about non-payments in relation to the K7 and CN7. Many of course were paid and many provided services, etc., on a free basis in return for some tangible media returns. The frame above was displayed several times in 1997, but not as seen here - it was usually enveloped in GRP bodywork - as seen above and below. Please note that these photographs are Copyright © July 2016 Bluebird Marine Systems Ltd. You will need permission from the company to reproduce these pictures, except for private review or study.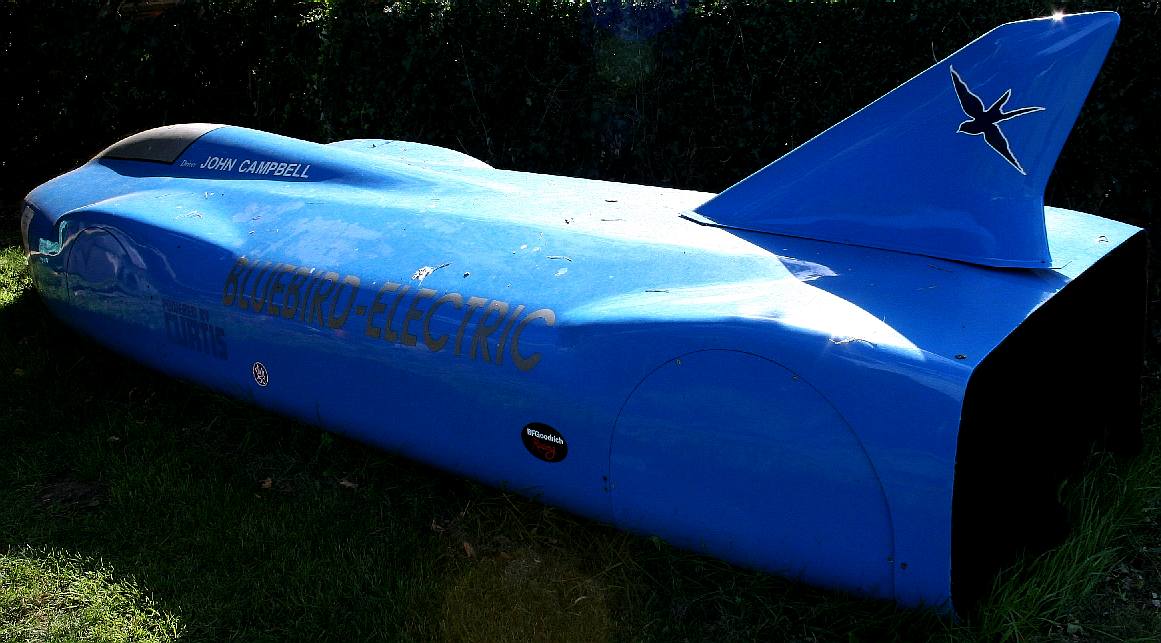 ROCKET - In truncated form, as used for sprints, the body of the BE2 looks as though it is jet powered rather than electrically propelled. Please note that this photograph is Copyright © 9 August 2016 Bluebird Marine Systems Ltd. You will need permission from the company to reproduce these pictures, except for private review or study. You can see this splendid automotive art on display at the Campbell Hall, Herstmonceux Museum, East Sussex, UK.
DON'S PERSONAL HISTORY
Donald Wales is popularly known as Don Wales. He lives in Addlestone, Surrey and is (or was at the time of writing) married to Francesca and they have two children Joseph and Charlotte, of which, Joe Wales, raced an electric land speed record car in 2011 as mentioned above. Prior to this Donald and Francesca, had problems with a birth after which they got involved with fund raising for a children's hospital to buy vital health monitoring equipment. Joe was a marketing Intern at Rolls-Royce Motor Cars from June 2012, Kingston upon Thames, United Kingdom Automotive.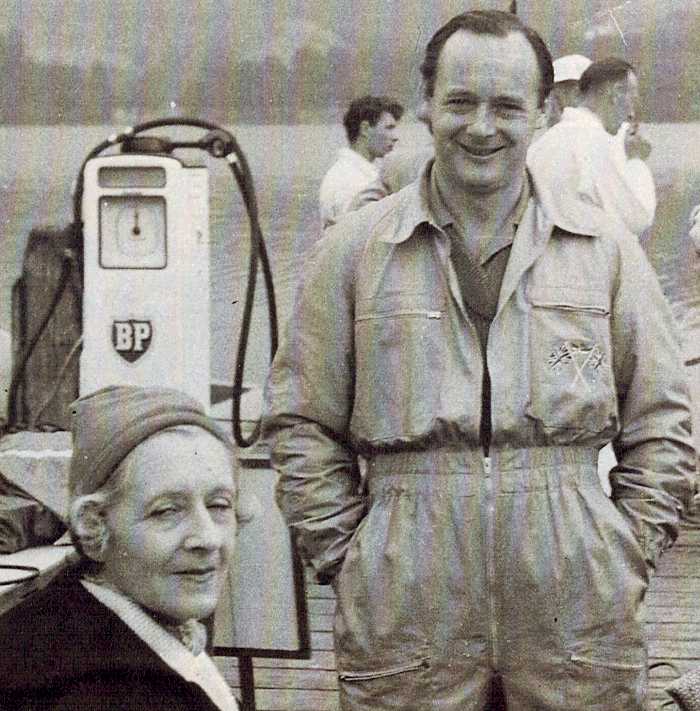 It is not well known that Sir Malcolm and Lady Campbell had a son and a daughter. Donald is well known for his speed records. Jean Wales (née Campbell) is lesser known, save for her son Donald, better known as Don Wales of course. Jean and Donald (sister and brother) are pictured above together at Lake Coniston. Jean met Nelson Kruschandl and Alex Spofforth during a visit to her home in West Sussex when Don made the introductions to his then LSR partners. Jean passed away in June 2007 aged 83.

LEFT: Don is seen here in 1997 with his daughter Charlotte and his son Joseph, sitting in his grandfather's Sunbeam Bluebird, which is on permanent display at the National Motor Museum, Beaulieu. RIGHT: Francesca Wales, Don's wife and mother of two has worked as a mobile beauty therapist for the past 20 years. Francesca has 28 years experience as a beauty therapist. According to her website, she qualified in 1983 at The London College of Fashion with a Higher Diploma in beauty therapy and electrolysis. She also has a City and Guilds in beauty therapy and electrolysis.
Don is a photographer by trade, specializing in snapping weddings and ladies in underwear, according to his website's photo galleries. He attended Eastbourne College, but did not go on to attain higher education. Mr Wales is also a public speaker available for corporate and other events via the Gordon Poole Agency. Don may not yet have achieved his ambition to hold the world electric land speed record, and may have made career mistakes along the way, but he at least joined in the fray, all the while raising a family.
Don is (or was) a Trustee of the Malcolm Campbell Heritage Trust, a body that was set up following the find and subsequent raising of the K7 Bluebird jet boat in March of 2001. The boat belonged to Donald Campbell, hence his widow, Tonia Bern-Campbell when it crashed. You can see from the scan (below) of what appears to be a 'Declaration of Trust' dated the 16th of October 2001, that the original Trustees of the MCHT were:

1. Peter John Hulme, New Barn, Tokens Farm, Loxwood, West Sussex.
2. Malcolm Brian Hulme, 17 Norman Avenue, Twickenham, Middlesex.
3. Donald Charles Wales, 11 Weston Avenue, Addlestone, Surrey, KT15 1UW.
4. Georgina Campbell, Birkby Grange Farm, Carr Lane, Thorner, Leeds, LS14 3HG.
5. Jean Dorothy Wales, Orchard Lodge, Oakhurst Lane, Loxwood, West Sussex.
CONCLUSION 2018
It sometimes does one good to reflect on things from a third party perspective - and we hope the above article may be useful to Don in that regard - with his retirement decade looming large. We will continue to report on his adventures in the hope he attains his stated goals, and wish him and his family every success.
Let us hope that the damage that Don inflicted on the EV cause in his efforts to put the man that got his name into the media, out of the running, is nothing more than a glitch and that one day he comes to recognise the potential for cartridge based recharging systems. Maybe, a system something like that proposed in 1991 by Nelson Kruschandl.
Sir Malcolm and Donald Campbell - father and son helmeted speed aces. While MC and DC liked to be seen in their racing gear, DW is very rarely pictured with a racing helmet on.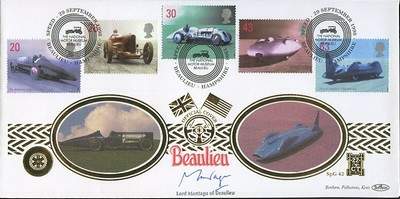 Legend Campbell's parachute goes under hammer for £800
Published on 09/06/2005
A PARACHUTE, used by speed legend Donald Campbell on one of his record attempts, has sold for more than £800. The parachute, which was used in a record-breaking land run in 1964, was sold for £850 at an auction house in Buxton in Derbyshire on Tuesday. Campbell, who was killed on Coniston Water in 1967, is said to have given it to his mother, suggesting she should line the cat's basket with it, much to the amusement of his daughter.

The parachute was bought by a classic car museum in Minehead, Somerset. Also on Tuesday, a collection of six scrapbooks belonging to Donald's father and one-time world land and water speed record holder Sir Malcolm Campbell sold for £3,180. They contain press cuttings, with comments written by Sir Malcolm – three of the books are devoted to his land speed record attempts of 1928, 1929 and 1932, two of which were successful in pushing the record forward. The proceeds from all the Campbell lots will help to fund a specially converted minibus for a special needs school in Wiltshire.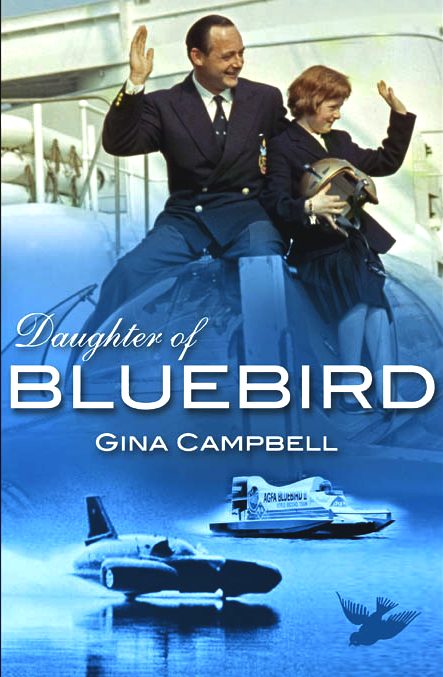 LINKS & REFERENCE
Lawnmower-land-speed-record-attempt-unveiled-nephew-Donald-Campbell
Police UK False accounting fraud
http://www.actionfraud.police.uk/node/25
Bluebird-set-to-fly-in-land-speed-record-attempt
http://storyful.com/stories/1000006454-bluebird-set-to-fly-in-land-speed-record-attempt
Don Joseph Wales http://ginacampbellqso.com/campbell-dynasty/don-joseph-wales/
http://www.dailymail.co.uk/news/article-71475/Campbells-final-journey.html
http://tillingcreative.com/p/37/Bluebird-Electric-Speed-Trial/
http://www.christopherward.co.uk/blog/bluebird-electric-racecar/
Bluebird-will-make-september-electric-race-a-family-affair
http://green.autoblog.com/2014/04/04/uks-bluebird-will-make-september-electric-race-a-family-affair/
Dvice 2013 New Bluebird EV with the heart of a Porsche
http://www.peterboroughtoday.co.uk/sport/other-sport/other-sport-news/bluebirds-will-fly-round-the-track-again
http://www.carmagazine.co.uk/Bluebird-DC50-electric-supercar-2014-pays-tribute-to-Land-Speed-Record-legend/
Batterie.eu.com electric sports cars beaulieu - Peterborough Today
http://www.batterie.eu.com/news/mon-07152013-1317/electric-sports-cars-beaulieu
Brooklands Museum An evening with Don Wales
http://www.dvice.com/2013-8-29/meet-new-bluebird-ev-heart-porsche
http://www.brooklandsmuseum.com/index.php?/events/details/an-evening-with-don-wales/
http://www.peterboroughtoday.co.uk/sport/other-sport/other-sport-news/bluebirds-will-fly-round-the-track-again
Christopher Ward Bluebird official timing partner
http://autodromo.co.uk/
https://www.facebook.com/AutodromoMasterModelMakers/
http://www.bluebird-restaurant.co.uk/
http://www.sheffield.ac.uk/
http://imschalensitz.de/don-wales-ehrengast-der-future-car-challenge/
http://www.countax.co.uk/
http://www.gadgetreview.com/tag/lawnmowers
http://fastestlawnmower.wix.com/pb
http://www.christopherward.co.uk/bluebird-official-timing-partner.html
http://www.christopherward.co.uk/bluebird.html
http://www.bexhillmuseum.co.uk/printArticle.php?id=167
http://www.spofforths.co.uk/
http://www.sheffield.ac.uk/
http://www.gtspirit.com/2013/07/14/goodwood-2013-land-speed-record-cars-gather/
http://en.wikipedia.org/wiki/List_of_Bluebird_record-breaking_vehicles
http://en.wikipedia.org/wiki/Don_Wales
http://en.wikipedia.org/wiki/Pendine_Sands
http://en.wikipedia.org/wiki/Bluebird_Electric_2
http://bluebirdelectric.com/
http://fastestlawnmower.wix.com/pb#!
http://uk.linkedin.com/pub/joe-wales/5b/908/519
http://www.gordonpoole.com/Don-Wales.aspx
http://www.donwalesphotography.co.uk/
http://www.donwalesweddings.co.uk/
http://news.bbc.co.uk/1/hi/wales/1139874.stm
http://news.bbc.co.uk/1/hi/wales/1135566.stm
http://news.bbc.co.uk/1/hi/wales/1152782.stm
Christopher Ward - Motorsport - Spofforths
http://www.motorsport.com/general/news/bluebird-to-return-to-the-racetrack-with-electric-race-car/
http://www.rockingham.co.uk/bluebird/
http://ev-charging.com/at/en/news/news_item/1844631
K777 club - Speed Record Club - Bluebird k7
http://www.k777club.com/
http://speedrecordclub.com/
http://www.bluebirdk7.com/
http://racersdrive.com/bluebird-to-return-to-the-racetrack-with-electric-race-car/