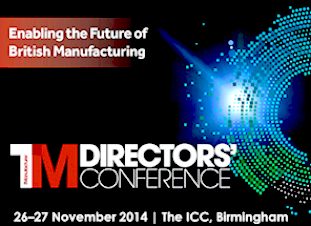 THE MANUFACTURER DIRECTORS CONFERENCE, ICC, BIRMINGHAM 26-27 NOV 2014
Two of the speakers at this years Manufacturer Directors' Conference (TMDC) are Kate Bellingham and Conor la Grue, whose mini bios accompany this article. The TMDC will focus on the drive for continued manufacturing growth in the year ahead, addressing both the opportunity for innovation and investment that this will entail. High achieving leaders are set to share their knowledge and insight about how they plan to grow their business. In addition, key government members and leading academics will discuss the trends and influences that are shaping the future of manufacturing.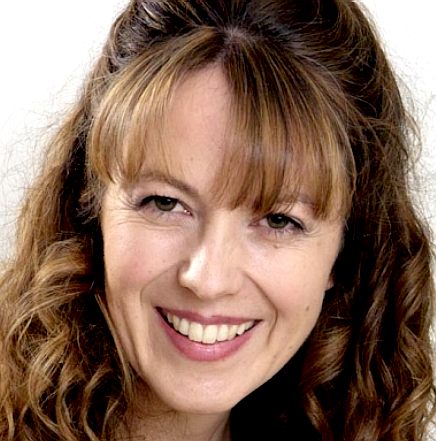 Kate Bellingham - Engineer, TV and Radio Presenter and Broadcaster. Kate didn't set out to become a TV presenter but was 'spotted' whilst working for the BBC as an electronics engineer and invited to audition for a Schools TV programme, 'Techno'. Having embarked on a career in 'show biz', her engineering background, along with a degree in physics from Oxford University and experience as a computer programmer, came in useful during her four years as a presenter on the flagship science and technology programme 'Tomorrow's World'.

Kate went on to present her own weekly programme on Radio 5 Live, 'The Big Bang' on Children's ITV and other programmes for the Open University, BBC Schools and Channel 5. Subsequent broadcasts included a seven-part science series for the Open University, an engineering series for BBC2's 'Learning Zone', 'Testing Times', a series for Radio 4 about the challenges faced on major engineering projects and a series on maths for BBC Schools Radio. Her most recent broadcasting work was co-presenting the BBC2 series entitled 'The Museum of Life' about the work that goes on behind the scenes at the Natural History Museum in London.

Among Kate's other projects has been her recent work as the National STEM Careers Coordinator, supporting the Department for Children, Schools and Families' (DCSF) STEM campaign. She is also currently Education Ambassador for the 3 year Bloodhound Engineering Adventure – Richard Noble's latest World Land Speed Record attempt aiming for 1000mph by 2012.

Kate also regularly hosts conferences and seminars for major companies and is very much involved in projects promoting science, engineering and technology to the general public. She is President of Young Engineers, the national network of engineering clubs in schools and colleges, and sits on the Knowledge Management Board for the Institution of Engineering and Technology (IET), and is a Patron of WISE – Women into Science, Engineering and Construction.

In 1997 she was awarded an Honorary Doctorate in Technology by Staffordshire University in recognition of her work. In 2003 she obtained an MSc in Electronics with distinction at the University of Hertfordshire. Kate was awarded the 'Public Promotion of Engineering' Medal by the Royal Academy of Engineering in 2004, and between 2006 and 2008 she qualified and worked as a secondary school maths teacher. In May 2011 Kate was awarded a 'Women of Outstanding Achievement Award' for Communicating Science, Engineering and Technology to Society by the UKRC.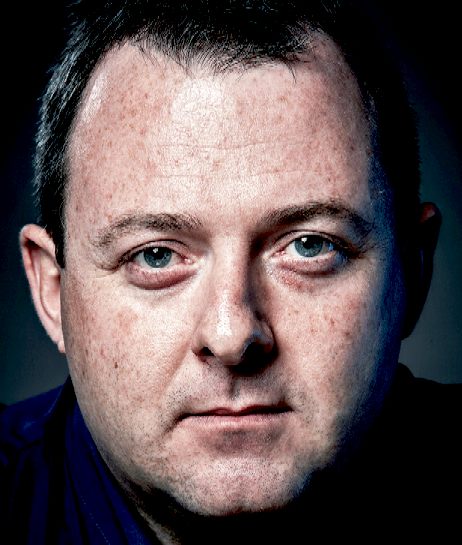 Conor La Grue - Engineering Lead – Commercial, Bloodhound SSC. From the smallest nuts and washers through to the composite structures that make up the largest parts of the car – Conor works within the BLOODHOUND design team to understand the requirements and identify a supplier for every part of Bloodhound. He then works with every supplier, helping bring the designs to maturity, get the components loaded into manufacture and ensure the parts are built to the exacting requirements of the project, all within a very aggressive time frame.

Conor is also responsible for Product Sponsorship for the BLOODHOUND Project. Product sponsors are companies or individuals that provide parts, products and/or services but not cash, in return for the significant benefits assigned them by the BLOODHOUND project.

Conor began his Engineering career in the Royal Navy as a Weapons Engineer and trained in Electrical, Electronic and Mechanical Engineering. Selected for rapid promotion and officer training, Conor was given day release to Southampton Solent University and there he completed his HNC in Electrical and Electronic Engineering.

After a successful Royal Navy career, Conor moved into the offshore Oil Industry working in the project management of the development of complex subsea electronic positioning and data logging equipment. Conor then migrated his project management skills to the telephony industry and was instrumental in the setting up of a European NPI (New Product Introduction) centre for a multinational electronic enclosure company. Conor's telephony industry career culminated in a Vice President of Operations position at a VC-funded emerging telephony Technology Company. Conor then sought a change of pace starting his own motorsports company and moving to the country. Having built it up over four years, Conor sold the company in summer 2008 and he joined the Bloodhound Project in October 2008.

Conor has broad experience in the programme management and operational delivery of new products for large fast-moving organisations including rapid product development and the management of high value, high complexity supply chains.
Over the last five years manufacturers have faced significant challenges: a double-dip recession, crisis in the eurozone, a severe shortage of technical skills and increasing material costs.

Embracing technology and fresh innovation can drive economic recovery, blowing away the cobwebs of outdated thinking. Manufacturing must recognize product opportunities and develop them, or face diminishing returns as they are overtaken by overseas competitors with a keen eye on not only identifying future markets, but making those markets with new products that are cleaner and sustainable. The TMDC conference is to showcase business leaders who will inspire delegates through their proven track record in developing both businesses and teams that deliver and drive growth with an eye to success in 2015.
Philip Dunne MP
Philip Dunne MP met current record holder Andy Green and former record holder Richard Noble at an Institution of Mechanical Engineers' event in Westminster.

Philip Dunne MP met last week with the current and former world land speed record holders, Andy Green and Richard Noble, this month at the Institution of Mechanical Engineers' Bloodhound SuperSonic Car (SSC) exhibition in the House of Commons.

The Institution of Mechanical Engineers is one of the key sponsors of Bloodhound SSC, which aims to break the world land speed record by reaching over 1,000 miles per hour in the South African desert in 2015. Wing Commander Andy Green is the current world land speed record holder, and will be driving Bloodhound SSC, while Richard Noble is the former land speed record holder and Bloodhound SSC's Project Director.
IMECHE CONTACTS

Institution of Mechanical Engineers
1 Birdcage Walk, Westminster
London, SW1H 9JJ
Telephone +44 (0)20 7222 7899
Facsimile +44 (0)20 7222 4557
Email: enquiries@imeche.org

The Ministry of Defence (MOD) is also a key sponsor of the Bloodhound SSC project providing technical support through the Royal Electrical and Mechanical Engineers regiment of the Army and the jet engines that will be used to power the car. As a huge employer of engineers the MOD is pleased to be supporting an initiative seeking to increase the science and engineering skills base.

The Bloodhound world land speed record attempt is scheduled to take place in summer 2015 in South Africa with the aim of reaching speeds of 1,000mph (1,600kph approx).


Philip Dunne MP said: "I am pleased to support this remarkable project. The MOD is keen to stimulate interest in STEM subjects at schools, so that pupils who study maths and science will become the engineers of tomorrow. The Bloodhound project is already being followed by pupils in over 5,500 schools across the country. I encourage all schools in Shropshire to get involved.

Stephen Tetlow, Chief Executive of the Institution of Mechanical Engineers, is quoted as saying:
"Bloodhound SSC is a hugely exciting project which aims not just to break the land speed record, but to inspire a new generation of scientists and engineers.

"We need to encourage more young people to pursue careers in science, technology, engineering and maths (STEM), to ensure we have the right skills to keep the country's economy growing and to tackle the big challenges facing humankind like rising population and climate change.

"Currently the number of people pursuing STEM careers is just not enough to meet future demands, which is why inspiring young people through the Bloodhound SSC project is so important.

"We hope that by showcasing the Bloodhound SSC car people realise the hugely exciting prospects there are in pursuing a career in engineering and STEM more generally."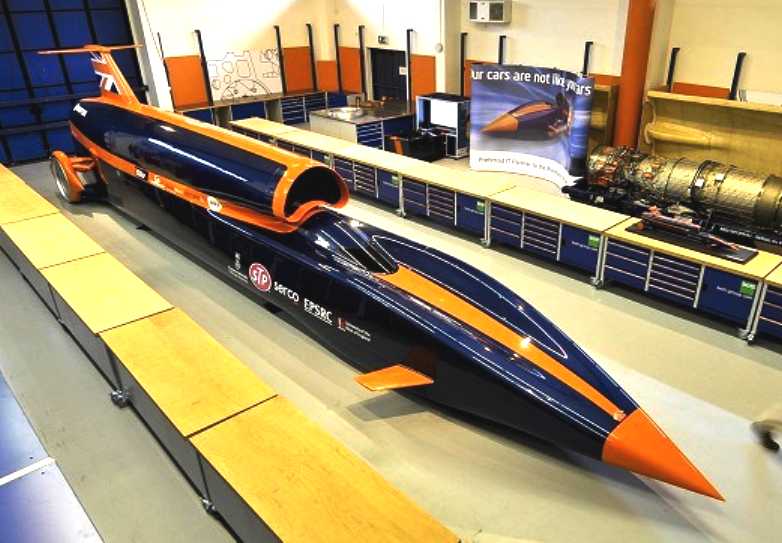 BRITISH LSR HISTORY
British engine maker Rolls-Royce is to sponsor for the first time a bid to break a world land speed record.

The company is backing the Bristol-based Bloodhound project, which is focused on travelling at over 1,000mph and breaking the world land speed record.

A Rolls-Royce EJ200 jet engine will be used in conjunction with a custom designed hybrid rocket.

Next year the Bloodhound team are hoping to travel to South Africa to break the current land speed record of 763mph. They then will target the 1,000mph barrier.

Colin Smith, director of engineering and technology at Rolls-Royce, said the firm will also provide financial and technical support for the project. "Cutting edge engineering keeps Rolls-Royce and the UK at the forefront of global business," he said. "We understand the fundamental importance of inspiring young people about science, technology, engineering and mathematics and know that more needs to be done. Sponsoring Bloodhound gives us an opportunity to showcase world-class British engineering and invest in our future."

Bloodhound project director Richard Noble said: "Rolls-Royce's support of the programme is invaluable, their highly motivated ambassadors will help us reach many more schools and youth groups across the country. Their experience of working within a first class aerospace company makes them perfect role models for aspiring engineers."

Rolls-Royce's iconic logo will now be displayed on the engine cowlings of the EJ200 jet engine, which in its normal role generates 20,000lb (90 kN) thrust to power the twin-engine Eurofighter Typhoon combat aircraft.

Rolls-Royce has a long and distinguished association with speed record breaking on land, sea and in the air. In the 1930s its 'Type R' engine powered Sir Malcolm Campbell's Bluebird cars and boats. More recently Mr Noble used a Rolls-Royce Avon 302 1983 in Thrust 2 to set a record of 633.047mph.

And, in 1997 Wing Commander Andy Green became the first, and so far, only person to break the sound barrier on land in Thrust SSC, which using two Spey 202 turbofan engines set the current record of 763.035mph.

Unlike Bloodhound, Rolls-Royce did not officially sanction or endorse any of these attempts.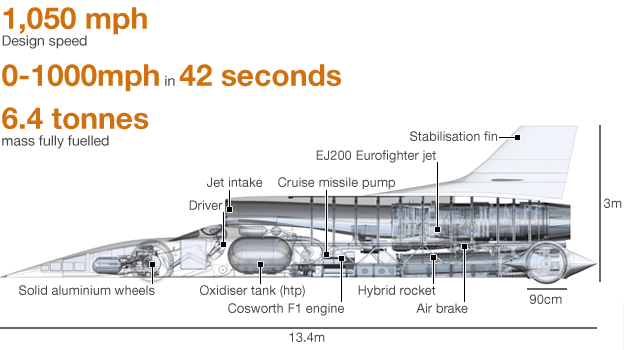 ONE £ MILLION GRANT 11 JULY 2013
Bloodhound has received a £1m education outreach grant at the opening of its new Bristol-based HQ, where the team is assembling its supersonic car to break the world land speed record. It is believed that by learning about the exciting 1000mph jet and rocket powered vehicle children will be inspired to pursue a science, technology, engineering and mathematics (STEM) career.
Bloodhound, a team led by British engineering entrepreneur Richard Noble, who was the project director of Thrust SSC, has a dedicated education team and 500 ambassadors who will aim to inspire future generations. Bloodhound SSC will attempt the world land speed record next year at Hakskeen Pan dry lake bed in South Africa and we'll be following the team's preparations closely.
Could other British projects be recognised for their work in inspiring STEM students? Please let us know on Facebook or Twitter @ParvaluxMotors Read the full story by Eureka Magazine.
SOUTH AFRICA, HAKSKEEN PAN
Centred in the Northern Cape Province are possibly three pans with surfaces consisting of firm dry mud (playa) suitable for high speed use. The largest and of these is Verneuk Pan.

Some 70 km (43 miles) from the small town of Kenhardt the Verneuk Pan contains the famous Campbell track of 1929 which is preserved in excellent condition. This track is about 17 km (11miles) long, and could be extended.

Hakskeen pan is 200 km (120 miles) north of Upington, and also has a good surface, however some civil engineering work is necessary if more than about 7km (4.2 miles) is required for attempts. The pan is Government owned, and preliminary talks indicate that it would be made available, and possibly even some engineering work done for such an event - at no cost.

Another pan close to Hakskeen is Koppieskraal. It is privately owned and about 11km (6.8 miles) long. No detailed investigation has been undertaken of this site. Hire of privately owned pans is subject to negotiation between the team and Landowner.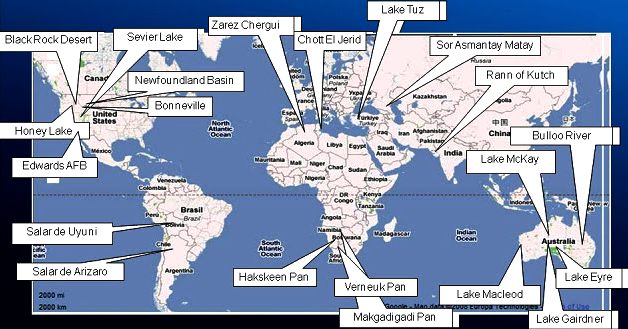 World map showing known venues for land speed record attempts
MSA FEES

The Governing body for Motorsport in South Africa is MSA (Motorsport South Africa, not the UK's Motor Sports Association). The MSA is affiliated to both the FIA and FIM, and operates under their rules. It can provide Stewards, Scrutineers and Timekeepers acceptable to both bodies, thus teams have no need to import officials.

Fees in 2004/5 were R. 56 000 for the first two days, thereafter R.13 000/day. This covers the provision of Steward, Scrutineer, Timekeeprs and equipment. It does not cover any fees payable directly to FIA or FIM. (R. = S A Rands)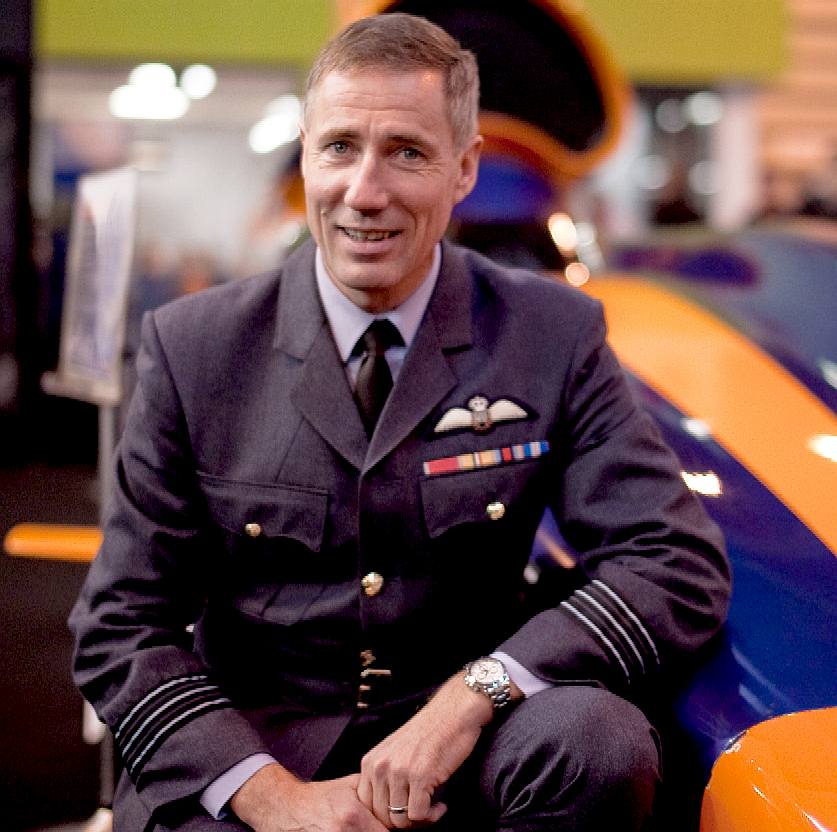 NEWS 24 INTERVIEW ANDY GREEN MARCH 2013
Toiling with shovels, wheelbarrows and bare hands, about 300 workers removed 6 000 tons of stones and other debris from a vast stretch of desert in a desolate corner of South Africa over the past two years. If all goes well, it will become the place where a British-led team tries to breaks the world land-speed record.

"It will be a brisk ride," said Andy Green, the man who plans to break his own record in 2015, using a vehicle powered by rocket and warplane technology. His goal? Reaching 1 610km/hour.

The track of hard-packed earth at the Hakskeen Pan, tucked between Namibia and Botswana, is 1.1km wide and 20km long. It could rival Black Rock Desert in Nevada, where Green clocked 1 228km/h and broke the sound barrier in 1997, and the Bonneville Salt Flats in Utah as the premier temple of speed in the world.

Clearing and scraping the track was a monumental task for the labourers, who plan to contact the Guinness World Book of Records in hopes their achievement will be recognized as the biggest area of land ever cleared by hand.

They came from surrounding villages where unemployment is high, and the Northern Cape provincial government paid most of the workers an R90 daily wage, a standard amount for public works projects in the region.

Peter McKuchane, head of business tourism for the province, said the goal after Green's record bid is to transform the track into a tourist site in an area where people barely get by on livestock farming. Already, last year, races were held in the area. Every meter will be scanned by laser to ensure smoothness.

"Flicking a stone up with the front wheels and hitting the rear wheels would be like being shot with a supersonic bullet. That would be enough to punch a hole in pretty much anything," Green said. "So we could destroy the car just by hitting the debris lying on the surface, never mind all the damage you would actually do to the wheels, rolling over."

Green chose Hakskeen Pan after a worldwide search. He found Hakskeen secure and accessible. Also, the vehicle's wheels are believed to perform better on the dried mud than on the salt flats of Bonneville and, according to Green, the surface at Black Rock has become rutted.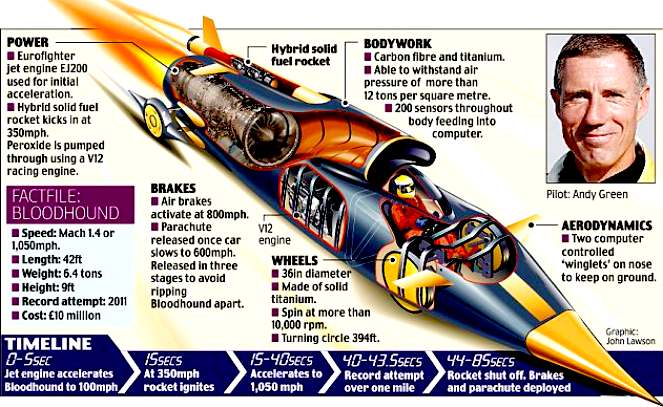 ULTIMATE PERFORMANCE INDICATOR

Speed is the ultimate measure of performance, and the quest to go faster than anyone is a fertile source of lore. Chuck Yeager was the first pilot to fly faster than sound, transforming him into a hero. Jamaican sprinter Usain Bolt brought down the house at the London Olympics with his three gold medals.

As with many British adventurers, 50-year-old Green brings an understated eccentricity to this elite class of speed demons. A mathematician and former Royal Air Force pilot, endowed with the title of Officer of the Order of the British Empire, he mused about the possible impact of billowing shock waves from his very fast car.

"One of the problems is working out how far back you, the media, and the general public all need to be so that as the car goes rushing past we don't have people exploding in its wake. It's a nice problem to have," Green said on Tuesday in a news conference at the Johannesburg headquarters of MTN, a sponsor.

Several teams on other continents are plotting to smash a record that the British have owned, off and on, over the past century. Green has the edge in sponsorship backing. His project has raised $24m so far, and another $11m might be needed.

His rivals are a flamboyant bunch.

"I'm probably a nutcase, I don't know," driver Rosco McGlashan said in a telephone interview from western Australia.

In Perth, McGlashan's band of self-described "speed freaks" are working on a 9-ton car, the "Aussie Invader 5R," that was in the planning for a decade before construction started. They planned to test the rocket engine in 2013, and make a record attempt in 2014.

The North American Eagle team wants to restore the land-speed crown to the United States. The team cut the wings off a Lockheed F-104 Starfighter in hopes of turning it into the world's fastest car. The last American to set the record was Gary Gabelich at Bonneville in 1970.

"I expect to be the one in the cockpit unless my team deems me to be insane, which my wife has already declared," Ed Shadle, North American Eagle driver, project manager and former IBM manager, wrote in an e-mail. He said the project is fun but frustrating, slowed partly by funding challenges.

These thrill seekers are thinkers too, precise and patient.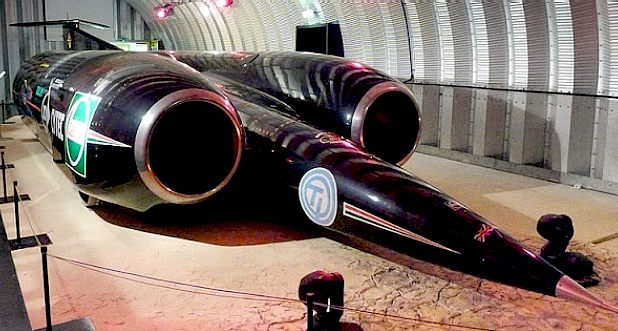 Andy Green's old car. He's trading up for another daredevil charge across another mud flat. Richard and Andy make a great team, now attracting more engineering talent and companies than ever before, thanks to the efforts of John Ackroyd and Ken Norris with Thrust 2. From that project Richard has built up a reputation for getting the job done with a high degree of professionalism. His achievements are reminiscent of the successes of Henry Segrave, John Cobb and Donald Campbell. With perhaps Donald Campbell just pipping the others at the post, mainly because of his world land and water speed world records in the same year: 1964.

1 - 610km/h in 55 seconds

At Black Rock 15 years ago, Green drove the Thrust SSC, a black, jet-propelled car that wedded Batmobile menace with space rocket chic. Today it sits in a museum. Technology has come a long way since then.

Now Green and his design team are working on the aluminum-wheeled Bloodhound SSC (SuperSonic Car), powered by a military jet engine from the Eurofighter Typhoon aircraft along with a hybrid rocket motor to propel the engine to maximum speed. The namesake of the slender vehicle is a British missile built in the 1950s.

The team plans to crack 1 610km/h in 55 seconds, with another minute to slow down with parachutes and other brake systems. The extreme push and pull sends blood rushing from feet to head and back again. Veteran pilots have lost consciousness under such stress.

A long time ago, the French monopolized land speed. Count Gaston de Chasseloup-Laubat recorded a then-impressive 63.15km/h an hour in an electric-powered car near Paris in 1898. Then came steam power, the internal combustion engine and, later, jet propulsion and rockets.

A car seeking to break the speed record must have a driver and four or more wheels. The Paris-based FIA, the governing body of motor sport, oversees results.

The Bloodhound will carry 16 cameras, allowing the world to watch the event in real time. The aim, besides the thrill and the entry in the record books, is to encourage young people into becoming scientists and engineers, Green said.

"At the end of the day, impressing the 12-year-old girl about science and technology is not going to happen if we have a massive crash," Green said.

"It gets a lot of YouTube hits, but it won't leave the legacy of, 'Isn't science cool?' It will leave the legacy of, 'Aren't they stupid?'"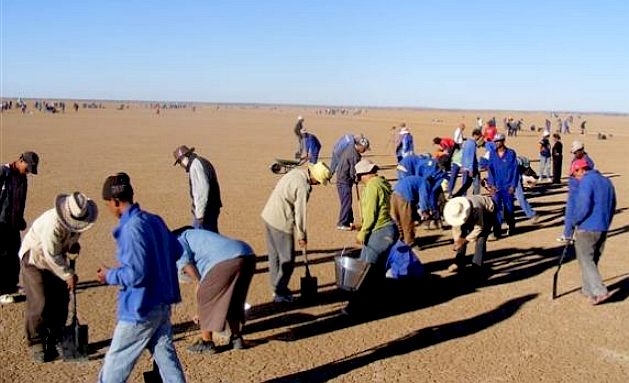 "People wanted to clear desert track for 1,000 mph racing car. No wages, constant heat, tough work in beautiful but remote Hakskeen Pan, Northern Cape, South Africa. Scorpions may be present. Inspiring next generation of engineers the reward."
VOLUNTEERS
An advert for volunteers, placed in The Times in November 2010 reads: 'People wanted to clear desert track for 1,000 mph racing car. No wages, constant heat, tough work in beautiful but remote Hakskeen Pan, Northern Cape, South Africa. Scorpions may be present. Inspiring next generation of engineers the reward.'

It deliberately recalls the most famous job recruitment ad of all time, supposedly placed by Polar explorer Ernest Shackleton in 1912 or 13. The original advert is believed to have read: 'Men wanted for hazardous journey. Small wages, bitter cold, long months of complete darkness, constant danger, safe return doubtful. Honour and recognition in case of success.'

The Bloodhound Technical Centre was opened by Minister for Universities and Science, David Willetts, who was excited about Bloodhound's potential to inspire the next generation of STEM students.
"This new investment will help to show even more young people how rewarding science and engineering careers can be. It's been an honour to be part of the Bloodhound journey so far and I wish the team the best of luck for the world land speed record attempt."
RICHARD'S MAY 2013 UPDATE
"Towards the end of last month I asked Andy what he thought of the Bloodhound engineering since he has been able to attend most of the engineering meetings right from the very start of the project: 'It's very very good, it's a very fine car and it's going to achieve its objectives.'

Growing the company at this rate (300% this year) is a truly painful experience, but we have to go through this otherwise the car build will never get finished. It's a big programme with over 200 companies involved and because the car is being designed and built to aircraft standards, and financed by sponsorship and public support, it needs to get finished and operational before everyone gets bored of talking about Bloodhound and the cashflow goes into decline. We have the normal corporate problems linked with rapid growth. Not so long ago we were a small company everyone knew everyone and the project was best run on an intense but informal basis. Now we can't do that any more, the company is expanding fast on a wide range of fronts and accurate communication is more difficult but absolutely vital. Not just accurate communication but a general team understanding of the absolute need to communicate. As new sponsors join so they have new and different objectives and all this needs to be taken into account. On top of all that there are of course activities which go wrong and have to be fixed – so the workload accumulates at a massive pace – much greater than just 300%. It is essential to hit problems as soon as they emerge and not let them grow like weeds and stifle productive activity.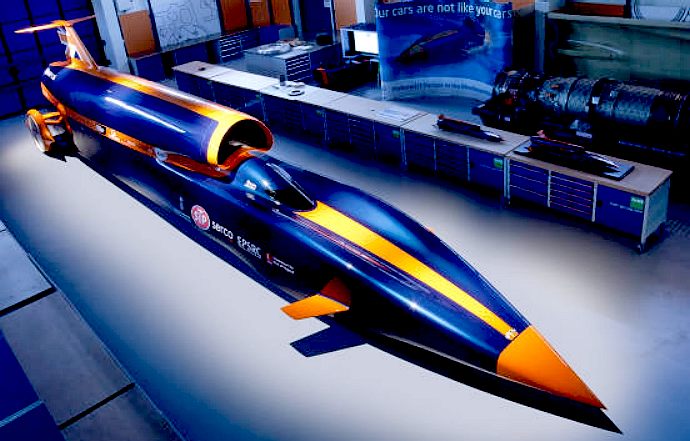 The world's fastest electric circuit racers need a system to recharge batteries instantly during pit stops. The Formula E concept design above incorporates the patent Bluebird™ instant energy transfer system - allowing EV refuelling in around 10 seconds. Get your free developer License from Bluebird Marine Systems Ltd. Theoretically, the Bloodhound SSC land speed record car will travel faster than a bullet fired from a .357 Mangum handgun.

Part car, part airplane, part spaceship, this $70 million vehicle represents the pinnacle of modern engineering, appealing to hardcore enthusiasts and those who simply enjoy witnessing mankind accomplish spectacular feats alike. The Bloodhound SSC is a prodigious machine, and it's aiming to do 1050 mph.
What is interesting is that the UK aerospace companies find it difficult to reconcile the scale of the project with the small size of the design and build team. But Chris Dee who runs the assembly programme is confident – there are a large number of highly skilled people lining up to work on Bloodhound - we are not going to be short.

One of my major concerns is planning – when are we going to get the car? How much money do we need to complete the build? In the old days when we were a small team with a massive project and a huge number of unknowns, we could only plan six or seven weeks ahead. The rest of the programme was off our horizon and too difficult to plan in detail for a design which was still in gestation. Now we are much larger, the project is well advanced and the number of engineering unknowns is dropping off very quickly, we are in a position to plan much more tightly and given the monthly cashflow and the sponsors needs, this is absolutely essential. The difficulty with tight in-house planning is that everyone has their own ideas and broadly as you might expect we have the optimists and the pessimists. A quick solution was needed and Mary Mckinlay one of our keenest Ambassadors and a key member of the Association of Project Managers came up with the solution – you need BMT-Hi-Q Sigma. They specialise in planning complex engineering programmes and are one of the best in the business. A visit to Dean Taylor in Bath found us an immediate and highly experienced industrial planning team and now we are going to get a quality independent plan. Once we have that plan we have to stick with it and meet all the milestones . And we'll publish the key milestones on the web so you can track us."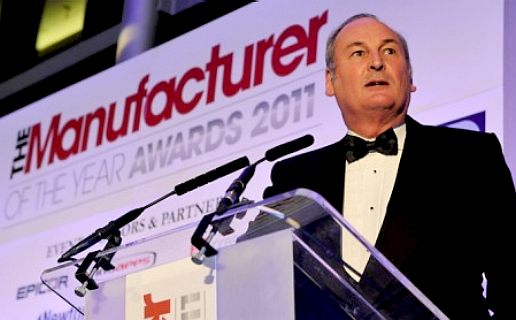 Most prominent among the initiatives featured at the Manufacturer of the Year Awards 2011 was the Bloodhound SSC project which featured notably at both MDC and the awards with hit presentations from Richard Noble, OBE, project director of Bloodhound. "Bloodhound is an opportunity to give back to the manufacturing community and we share Richard Noble's concern about the future of engineering in the UK," Temmink is quoted as saying.
MANUFACTURER OF THE YEAR AWARD WINNERS 2011
Manufacturer of the Year Award – Cosworth
Manufacturer of the Year Award Runners-up – Muntons and New Holland Agriculture
Sustainable Manufacturer of the Year Award – Muntons
People and Skills Award – Hi-Technology Group
Leadership and Strategy Award – JJ Churchill
Leadership and Strategy Award Runners-up – Accolade Wines
SME of the Year Award – Cosworth
Innovation and Design Award – G's Fresh beetroot
Innovation and Design Award Runners-up – Ricardo
Young Manufacturer of the Year – Joe Miller (Drallim Industries)
World Class Manufacturing Award – New Holland Agriculture
IT in Manufacturing Award – Fairfax Meadows
Operations and Maintenance Award – PZ Cussons
Supply Chain Excellence Award – Cinch Connectors
Manufacturing in Action Award – New Holland Agriculture

LINKS:
Birmingham Super Prix return and the Formula E series
Bluebird™ FE instant pit stop recharging system for Formula E cars
Pit Stops - servicing and history of the sport
Rolls royce sponsors land speed bid
The Manufacturer manufacturer directors conference 2014
Bloodhound SSC project team Conor la Grue
Twitter Conorl a Grue_ssc
Kate Bellingham
Wikipedia Kate_Bellingham
The Manufacturer manufacturing at work and play
Industry Forum Manufacturer Directors Conference 2014
News 24 Hakskeen-Pan-to-host-world-speed-record
Traveling Luck South Africa Northern Cape Hakskeen pan
Travel and Trade South Africa world land speed record venue Hakskeen Pan
Daily Mail Bloodhound-land-speed-record-attempt-calls-volunteers-clear-track
http://www.news24.com/Technology/News/Hakskeen-Pan-to-host-world-speed-record-20130314
http://travelingluck.com/Africa/South+Africa/Northern+Cape/_998240_Hakskeenpan.html
http://www.travelandtradesouthafrica.com/2011/11/2013-world-land-speed-record-to-be-held.html
http://www.speedrecordsa.co.za/faq.htm
http://www.bloodhoundssc.com/andygreen
http://en.wikipedia.org/wiki/Andy_Green
https://www.industryforum.co.uk/event/manufacturer-directors-conference-2014/
http://www.themanufacturer.com/articles/manufacturing-at-work-and-play/
http://www.themanufacturer.com/eventsites/the-manufacturer-directors-conference-2014/
http://www.bloodhoundssc.com/project/team/conor-la-grue
http://www.themanufacturer.com/eventsites/the-manufacturer-directors-conference-2014/speakers/
https://twitter.com/conorlagrue_ssc
http://www.katebellingham.co.uk/
http://en.wikipedia.org/wiki/Kate_Bellingham
https://twitter.com/conorlagrue_ssc
http://www.bloodhoundssc.com/conorlagrue
Coming down to earth with a bump, the Ecostar DC50 is being built in a small workshop in Sussex with a budget of just a few thousand pounds. The DC50 was not designed by a team of engineers and companies, just one man. Very rarely an automotive artist can achieve a significant breakthrough in technology by just keeping at it - an adage endorsed by the mathematical genius: Albert Einstein. The energy exchange system in the DC50 potentially solves future challenges in transportation, for a time when energy is a scarce resource. This car can change between battery and fuel cell technology during recharging in under 60 seconds - at the flick of a switch.