Malcolm Campbell was born in Chislehurst, Kent, England in 1885. He was the son of a diamond merchant.
He attended the independent Uppingham School. In Germany, learning the diamond trade, he gained an interest in motorbikes and races. Returning to England, he worked for two years at Lloyd's of London for no pay, then for another year at one pound a week. Between 1906 and 1908, he won all three London to Lakes End Trials (motorbike races). In 1910 he began racing cars at Brooklands. What a glorious time to live in.
After an early interest in bicycling and motorcycles, in 1910 he purchased his first car, a "Darracq" which he christened "Bluebird" (a name that he used for all is subsequent record cars and presumably because it made him feel happy). Along with other models, he raced this car at the legendary motor racing circuit, Brooklands.
When the war started he was drafted into the Royal Flying Corps, having had some flying experience at Brooklands in various aircraft including one he had constructed himself, and he spent his time ferrying aircraft back and forth across the English Channel. In 1918 he published a very small but amusing book entitled 'Hints to Beginners on Flying' in which he recounted his stories as Lt. M. Campbell, subsequently to be promoted to and known as Captain Campbell.
In 1921 one Kennelm Lee Guinness (inventor of the K.L.G. spark plug) drove a V-12 Sunbeam down the Brooklands Railway Straight at 135 mph, entering the finishing straight at 140 mph. During practice on the 16th May 1922 KLG was timed by friends on the Railway Straight at 144 mph and on the following day in windy conditions he clocked an official 140.51 mph one way to take a new Brooklands lap record of 123.39 mph along with several other speed records over various distances.
Sunbeam 350hp 1924 - 1925
This Sunbeam was subsequently bought by Malcolm Campbell for a price which has never been disclosed, which after a refurbishment he painted it blue, named it Bluebird and took to the Fanoe Island speed trials in Denmark where although it recorded a speed of 146.4 mph, which was never internationally recognised, even though the timing apparatus had been properly certified.
Campbell however, was not a man to be easily defeated and after a lot of expensive tuning work and several abortive outings he took the car to Pendine Sands in September 1924 where he recorded an official two-way kilometre of 146.16 mph, 0.015 of a second faster that Eldridge's previous record set in a Fiat at Arpajon in France. Immediately afterwards he put the car up for sale for £1,500 but then relented and decided to spend some more time on it when he learned that Parry Thomas was about to make a serious attempt to take his record from him in the ex-Zborowski re-bodied Higham Special which Thomas had renamed Babs.
Back at Pendine on 21st July 1925 Campbell lifted his record to 150.766 mph becoming the first driver to exceed 150 mph. To commemorate this he had some large scale models of the Sunbeam built, at least two of which are known to have survived. This car is on display at the National Motor Museum in Beaulieu, England.
The following year Henry Segrave took Campbell's record and a knighthood in Sunbeam's monster twin-engined red 1,000 hp car which was also seen briefly at Brooklands driven by Henry in a wet but spectacular demonstration run. For the next ten years Campbell was to press on with another car, the Napier-Campbell which eventually took the land speed record at Utah in 1935 at 301.13 mph earning him his own long awaited knighthood. This car was rebuilt with newer and bigger engines on two separate occasions by Thomson & Taylor's and its full story is a testament to Campbell's sheer gritty determination to succeed at almost any cost.
Left: Campbell at Pendine in 1930- Right: Railton's Bluebird 1931 - 1933 Daytona Beach
Throughout this period Campbell was very active in all classes of racing at Brooklands driving a 1½ litre Talbot, several Bugattis and the ex-Benoist straight eight supercharged G.P. Delage which was at the height of its fame in 1928 after numerous 1927 Grand Prix victories by its sister cars. In this car he dominated the 1928 200 Mile Race on 21st July, winning by 12 mins. 12 secs. at an average speed of 78.34 m.p.h.
Malcolm Campbell was a shareholder in Brooklands and very active in the running of the track, designing the Campbell road racing circuit within the confines of the site, which was used from its opening on 1st may 1937 to the outbreak of war.
1927

When first built, the car used a Napier Lion engine of around 500 bhp. It was of conventional form with a front-mounted vertical radiator and the driver behind the engine. The three banks of the W-12 engine were hidden behind bulges in the narrow bonnet, with exhaust stub pipes protruding.

Bluebird's first record attempt was on 4 February 1927 at Pendine Sands. A peak speed of 195 mph (314 km/h) was achieved, tantalisingly close to the magic 200 mph (320 km/h), but the two-way average recorded for the record itself was lower at 174.883 mph (281.45 km/h).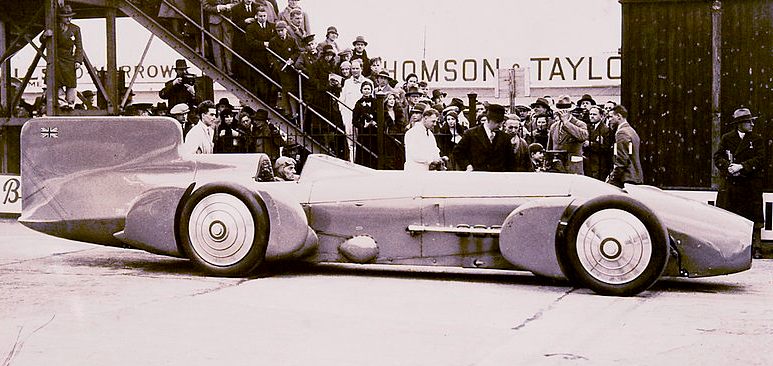 1928

The 1927 record was short-lived, as Segrave's Sunbeam 1000 hp achieved both the 180 mph and 200 mph targets a month later. This prompted Campbell to rebuild the car as 'Blue Bird III' for 1928. He persuaded the Air Ministry to allow him a Schneider Trophy-tuned "Sprint" engine, as fitted to the Supermarine S.5 seaplane, of 900 hp (670 kW).

Improved aerodynamics were innovatively tested in Vickers' wind-tunnel by R.K. Pierson, their Chief Designer. Blue Bird's body shape was substantially changed, with the famous coachbuilders Mulliner producing the bodywork. The results were unorthodox. A vertical tail fin was added for stability, a first for Blue Bird and land speed record cars. Open spats behind the wheels also reduced drag. The biggest change was to the radiators, which were moved to the rear of the car and mounted externally. These surface radiators were made by Fairey Aviation and contained 2,400 ft (730 m) of tube. Removing the nose radiator allowed a low, rounded nose with better streamlining. However, one French newspaper compared its looks to a whale.

Following Segrave to Daytona Beach, on 19 February 1928 Campbell took the record at 206.956 mph (333.063 km/h), breaking the 200 mph barrier for his first time. Once again though he only held the record for a couple of months, losing it by a whisker to Ray Keech and the White Triplex.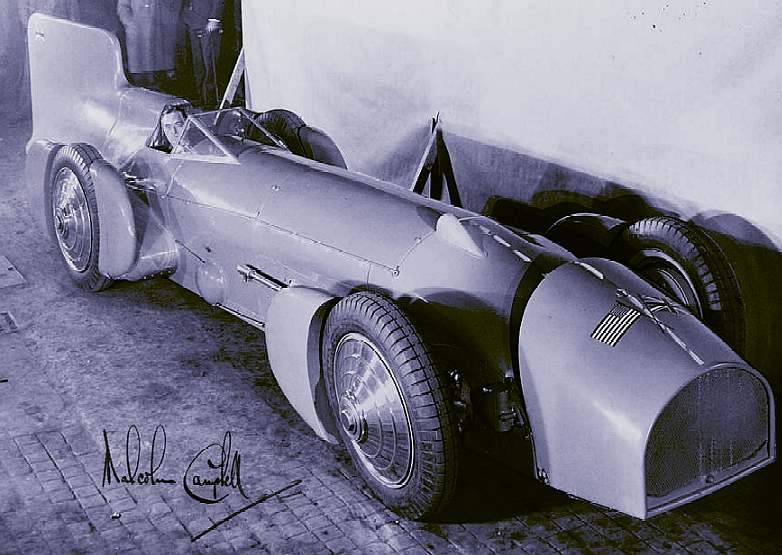 1929

Campbell sought a more predictable venue than a tidal beach, so he set off to survey possible sites by air. Africa showed promise, first at a site a mere 600 miles from Timbuctu and so impractically inaccessible. A dry lake bed in South Africa, the Verneukpan, was still 450 miles (720 km) from Cape Town but did have some chance of access.

Blue Bird was rebuilt for a third time. The chassis, engine and drivetrain remained the same, but the bodywork was replaced with one built in Dumfries by Arrol-Aster. This body was lower, requiring a hump around the cockpit where Campbell now sat astride the gearbox. The surface radiators were replaced by a conventional circular nose opening, covered by a distinctive 'birdcage' grille.

Unfortunately, after a period of five years of no rainfall, it poured down almost as soon as they arrived. Campbell returned to Cape Town, where on his 44th birthday he learnt that Henry Segrave at Daytona Beach had set a new record in Golden Arrow at 231.44 mph (372.47 km/h). Blue Bird was unable to match this at the African altitude and climate, but he made the best use of the long course and set the world 5 mile and 10 mile records at 212 mph (341 km/h).

After Segrave had raised the record in Golden Arrow by a whole 30 mph (48 km/h) though, Campbell knew that Blue Bird was beaten and began work on a new car, the Campbell-Napier-Railton Blue Bird.

Rolls Royce

engined Bluebird Napier from 1931, collectors model of the same and a concept car apparently inspired by the famous vehicle, in turn inspiring young Donald, pictured below with his father at the wheel - where else.

The Campbell-Napier-Railton Blue Bird was a land speed record car driven by Malcolm Campbell.

After Henry Segrave's Golden Arrow, clearly a more powerful engine was required for Blue Bird, with a chassis and transmission to handle it. A supercharged Napier Lion VIID was used, with over three times the power of the previous Blue Bird and a large premium over Golden Arrow's unsupercharged 900 hp (670 kW) Lion VIIA. This was the first use of supercharging for Land Speed Record cars. Golden Arrow's innovative vertical aerodynamic stabilising fin was also used, a first for Campbell.

Campbell's nemesis Segrave was killed in an attempt on the water speed record while Campbell was scouting for new record courses in South Africa. On his return, Campbell set off for Daytona with the new Blue Bird, concerned at American challenges to the record. Segrave had, after all, at least been British. On 5 February 1931 he pushed the record to 246 mph (396 km/h), to great popular acclaim. On his return he learned he was to be knighted as Sir Malcolm Campbell. A year later he returned and pushed through to 251 mph (404 km/h). This record stood for another year, until he himself broke it with his next car, the next Rolls-Royce-engined 1933 Blue Bird.

The Campbell-Railton Blue Bird was Sir Malcolm Campbell's final land speed record car.

His previous Campbell-Napier-Railton Blue Bird of 1931 was rebuilt significantly. The overall layout and the simple twin deep chassis rails remained, but little else. The bodywork remained similar, with the narrow body, the tombstone radiator grille and the semi-spatted wheels, but the mechanics were new. Most significantly, a larger, heavier and considerably more powerful Rolls-Royce R V12 engine replaced the old Napier Lion, again with supercharger. This required two prominent "knuckles" atop the bodywork, to cover the V12 engine's camboxes.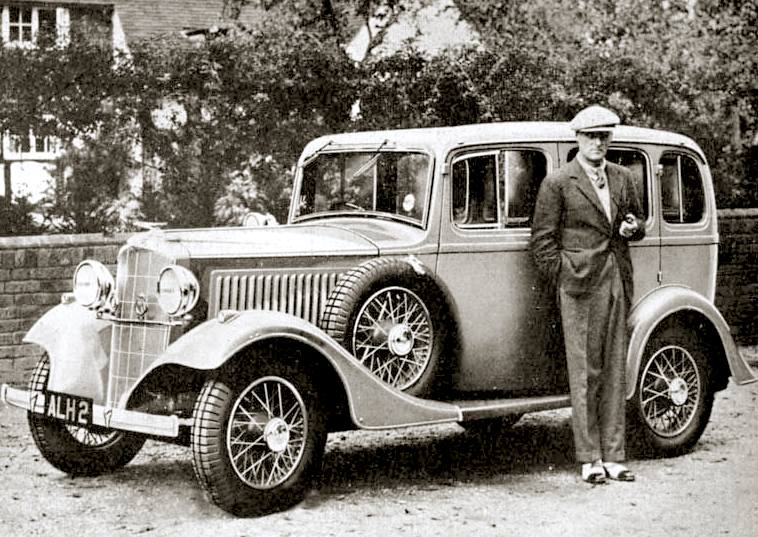 Malcolm Campbell had ties with Vauxhall

1933

Blue Bird's first run was back at Daytona, setting a record of 272 miles per hour (438 km/h) on 22 February 1933.

Campbell now had a car with all the power that he could want, but no way to use all of it. Wheelspin was a problem, losing perhaps 50 miles per hour (80 km/h) from the top speed.


1935

Visually the car was quite different. The bodywork was now rectangular in cross section and spanned the full width over the wheels. Although actually higher, this increased width gave the impression of a much lower and sleeker car, accentuated by the long stabilising tailfin and the purposeful raised ridges over the engine camboxes. This Blue Bird was clearly a design of the Modernist '30s, not the brute heroism of the '20s.

Mechanically the changes to the car had focussed on improving the traction, rather than increasing the already generous power. Double wheels and tyres were fitted to the rear axle, to improve grip. The final drive was also split into separate drives to each side. This reduced the load on each drive, allowed the driver position to be lowered, but required the wheelbase to be shortened asymmetrically on one side by 1½"(37 mm). Airbrakes were fitted, actuated by a large air cylinder. For extra streamlining the radiator air intake could be closed by a movable flap, for a brief period during the record itself.

Blue Bird made its first record runs back on Daytona Beach in early 1935. On 7 March 1935 Campbell improved his record to 276.82 mph (445.5 kph), but the unevenness of the sand caused a loss of grip and he knew the car was capable of more.

The faster car needed a bigger and smoother arena, and this led to the Bonneville Salt Flats of Utah. This time the young Donald Campbell accompanied his father. On 3 September 1935, the 300 mph barrier fell by a bare mile-per-hour, crowning Sir Malcolm Campbell's record-breaking career.
Malcolm Campbell died after a long illness in 1949 at the age of 64 and was succeeded by his son Donald who continued the record breaking tradition, breaking 400 m.p.h. in the turbine powered Bluebird CN7 which now resides in Lord Montagu's National Motor Museum at Beaulieu. His Grandson Don Wales is a world record contender in the electric vehicle category.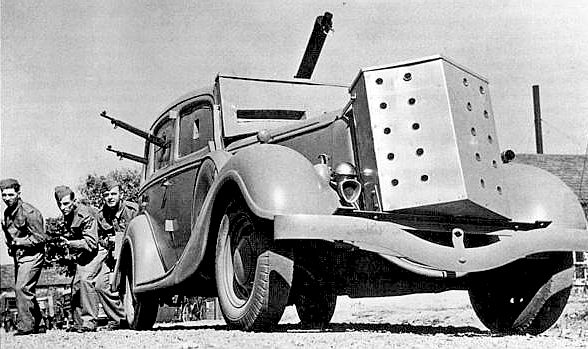 When Sir Malcolm Campbell was the provost company commander of the 56th London Division, Home Defence Force, he designed and then built the prototype of the Dodge armoured car which was unofficially known as the "Malcolm Campbell" car. Seventy of these were built by Briggs Motor Bodies of Dagenham and were ready by the end of August 1940. To increase the firepower of these cars and trucks, the Home Guard would often fit captured German machine-guns from crashed bombers to their vehicles, the only problem being fresh supplies of ammunition! Some units managed to get hold of a few World War I 6pdr tank guns and fitted them to the Malcolm Campbell cars.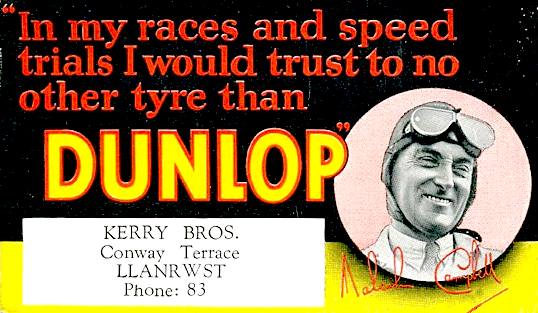 DUNLOP BLOTTER PROMOTIONS - This example was destined for Kerry Bros, of Conway Terrace, Llanwrst, a small town nestled in the Conwy Valley alongside the banks of the River Conwy in North Wales. There's no business of that name existing in Llanwrst now, although Conwy Terrace is still listed. The closest match find in the RAC Handbook (1959 issue) is for Jones Bros, of Kerry Garage. Is this the same company? A copy of the Handbook for 1928/1929 mentions Jones & Wight, of Central Garage, but nothing else, although of course Kerry Bros could have been there, but not running with RAC accreditation. Sir Malcolm Campbell was born in 1885, and gained fame thanks to his numerous speed record attempts, on both land and water, in a variety of machines. The first vehicles were called Blue Bird, later simplified to Bluebird. An account of Malcolm Campbell's 1927 Blue Bird is recalled in a contemporary issue of The Nelson Lee Library. Malcolm's taste for speed began in 1906 when he started competing in town-to-town motorcycle races, before switching to four-wheeled automobile races at Brooklands in 1910. Following WW1 he continued his high-speed exploits, capturing the land speed record in 1924 on Pendine Sands in South Wales, the first of nine speed records he'd claim over the following eleven years. Campbell was knighted in 1931, suggesting that the blotter above, which makes no mention of a title, pre-dates that occasion. 
1939 - 1945
.

.

.

.

The original Bluebird, a 350hp Sunbeam operational in 1924 - 1925, and seen here 90 years later at a show in London in 2011 to celebrate record breaking, though we're not quite sure how they claim 100 years, it should more correctly be 90 years to 2014. The little tin toy car has also survived and may have in part been responsible for inculcating a sense of entrepreneurship in the young Donald Campbell.
1947
He loved his cars, but he also loved boats and boating. The K4 jet powered Blue Bird boat was Sir Malcolm's last project in 1947, just two years before he died. A natural progression from the K3, this craft sports a rather fetching two-tone paint job.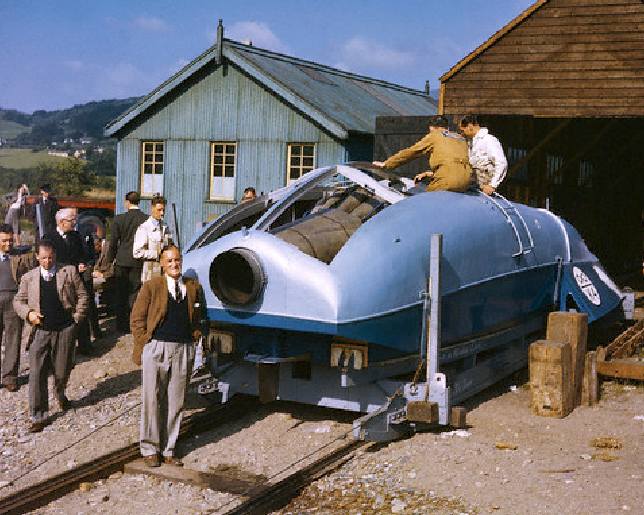 ENTER THE JET AGE - The gas turbine version of the K4 set the scene for the K7 of his son, Donald Campbell, where the general layout is the same. Ten years later in 1959, Boeing copied the concept in producing their Aquajet hydroplane, seen below. Time and again, small private enterprise leads the way with the military dragging their heels leaving a respectable mourning period, after which they think it is safe for them to adopt the latest technology - and not have to pay for the idea. The only time this changes is in time of war, when the military finally put their operation in gear.

AQUAJET - In 1959, Boeing began their research and development of hydrofoils. The hydrodynamic test system (HTS), called the Boeing "Aqua-Jet," was launched in 1961. It was a dual-cockpit jet-powered hydroplane that served as an aquatic version of a wind tunnel. Powered by an Allison J-33 jet engine, the HTS was designed to provide a level and stable platform for straightaway runs of up to 132 knots (115 mph/185 kph). A controllable fixture mounted between two prows held models of hydrofoils in the water during the test runs. You may be forgiven for thinking that the AquaJet looks very like the K7 Bluebird, because it does. It uses the same general configuration and same mounting location for its jet engine.
SUMMARY and EXTERNAL LINKS:
Sir Malcolm Campbell (born March 11, 1885 in Chiselhurst, Kent, England - died December 31, 1948) gained the world speed record on Land and on Water at various times during the 1920s and 1930s using vehicles called Bluebird. His son, Donald Campbell, was killed, attempting to repeat his achievements thirty years later.
On September 3, 1935 Malcolm Campbell reached 304.331 miles per hour on the Bonneville Salt Flats in Utah, becoming the first person to drive an automobile over 300 MPH.
He also competed in Grand Prix motor racing on the continent, winning the 1927 and 1928 Grand Prix de Boulogne in France driving a Bugatti T39A.
Sir Malcolm was inducted into the International Motorsports Hall of Fame in 1990. He collected numerous trophies during his career, many of which are now in private collections where the family heirlooms appear to have been sold off at various times, rather than jealously guarded.
HERITAGE TRUST
The Malcolm Campbell Heritage Trust is (according to Donald Wales) a body set up by family members in the 2000s to seek to preserve what they may of Sir Malcolm. Exactly what they are seeking to put into trust is not known. We do not know if there is a collection or museum that is operated by this trust, what they own and don't own. If you have any information of projects please let us know.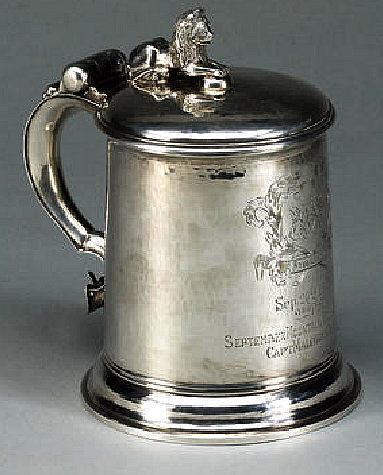 CAMPBELL MEMORABILIA AUCTIONS
SEGRAVE TROPHY

The Segrave Trophy winner's plaque presented to Capt Sir Malcolm Campbell, 1939 bronze plaque applied with gilt bronze panels, decorated in relief with work by sculptor Gilbert Bayes (1872-1953), engraved with presentation details, in John Pinches presentation box, distressed.
Collectors' Motor Cars and Automobilia Chichester, Goodwood
2 Jul 2010 11:00 BST - Auction 18213 - Lot 238


The Segrave Trophy winner's plaque presented to Capt Sir Malcolm Campbell in 1939 sold for £1,840 inc. premium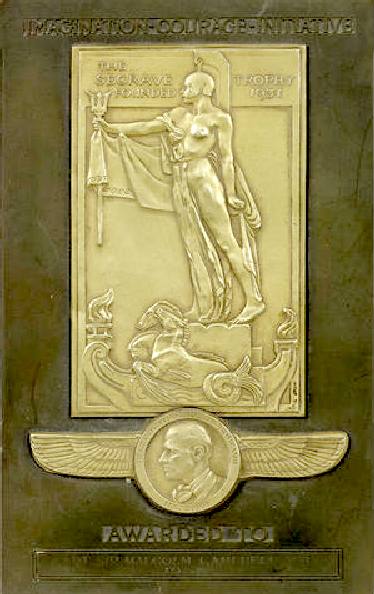 BROOKLANDS HANDICAP TROPHY 1930

A Brooklands BARC - September Mountain Racing Handicap trophy presented to Capt. Malcolm Campbell, 1930, a fine and large heavy silver tankard awarded to the driver, the hand-beaten quart vessel in classical George II style, having hinged lidded cover with lion couchant to top, engraved to front with entwined initials "BARC" and foliate motif design inscribed "Brooklands" below, further inscribed "Sept 20th 1930 - 2nd Prize. September Mountain Racing Handicap - Capt. Malcolm Campbell", stamped hallmarks and makers marks Charles Boyton & Son, London 1930, Weight 41oz, Height 8ins (20cm).

A Sale of Sports, Competition and Collectors' Motor Cars and Automobilia Chichester, Goodwood
7 Jul 2006 10:00 BST - Auction 14259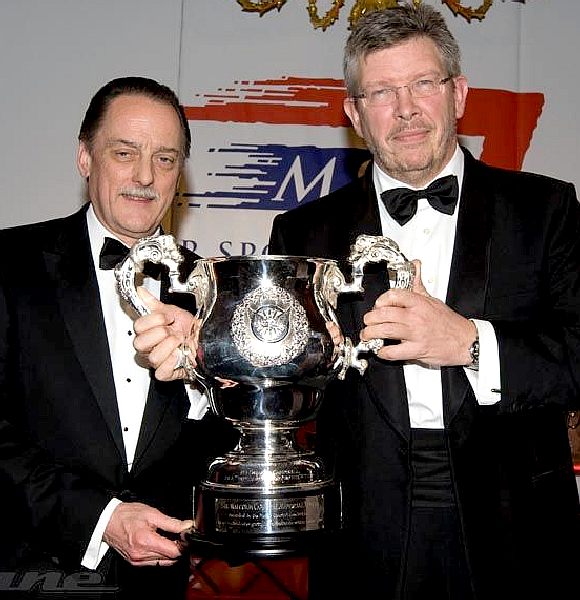 The Motor Sports Association (MSA) is recognised as the sole motor sport governing body for the United Kingdom by the world governing body, the Fédération Internationale de l'Automobile (FIA). However many popular short circuit motorsport disciplines in the UK are not covered, such as Banger Racing, Autograss and Hot Rod Racing.

As the governing body, the MSA is responsible for the governance and administration of all major forms of motor sports in the UK, controlling the technical and sporting rules across the various disciplines. It is not concerned with motorcycle or side-car competitions, which are governed by the Auto-Cycle Union.

The MSA implements these rules, known as the General Regulations, to govern the conduct of motor sports at national level. These rules are made and amended by the Motor Sports Council, which is the 'parliament' of motor sports, while the MSA acts as the 'civil service' in times of need and to ensure safety of the General Public.

It administers the licensing of 34,000 competitors, 10,000 volunteers and officials and the 5,000 events taking place in the UK each year.

International Motor Sports is a wholly owned subsidiary of the MSA which organizes the British Grand Prix, the Rally of Great Britain and the Rally Scotland, some of the flagship motor sports events in the United Kingdom.
SIR MALCOLM CAMPBELL MEMORIAL TROPHY - 22 FEB 2010

Formula 1 team principal Ross Brawn was the Guest of Honour at the Motor Sports Association's prestigious awards ceremony at the Royal Automobile Club in London in 2010.

During the evening, Ross was presented with the Sir Malcolm Campbell Memorial Trophy in honour of the Brawn GP team's achievements in the 2009 Formula 1 World Championship, during which Jenson Button claimed the Drivers' world championship and the team took the Constructors' crown.

Button himself would also have been present to receive the Hawthorn Memorial trophy, which is awarded annually to the most successful British or Commonwealth driver in the FIA Formula 1 World Championship. Unfortunately, pre-season commitments prevented him attending but he managed to send a video message to the assembled guests thanking them for the award.
Brawn is quoted as saying: 'It is with great pride that I accept this award on behalf of the whole team. Everyone worked extremely hard just to get us onto the grid in Australia and then during the season to keep us ahead of the chasing pack. This award is due recognition for all the efforts of an amazing team of people and I am delighted to receive it on their behalf.'

From 1950 to 1980, the Sir Malcolm Campbell Memorial Trophy has been awarded for outstanding performances by British drivers in British cars in many forms of competition. Other well known names to appear on the roll of honour include:
Jack Brabham
Jim Clark
Mike Hawthorn
James Hunt
Sir Stirling Moss
Following a break in the awards, the trophy was then awarded in 1997 to the then-Squadron Leader Andy Green for driving Thrust SSC to the land speed world record of 763mph. It has been said that the Sir Malcolm Campbell Memorial Trophy will from 2010 be awarded annually by the Motor Sports Association to an individual or group for excellence within motor sport. Here, here.
Sir Malcolm and Lady Dorothy Campbell above had a son and a daughter. Donald is well known for his speed records. Jean Dorothy Wales (nee Campbell) is lesser known. Her son Donald, is now better known as Don Wales. Jean and Donald are pictured below. She is recorded as living at Orchard Lodge, Oakhurst Lane, Loxwood in West Sussex, at the time of the making of a Declaration of Trust dated the 16th of October 2001 - this Declaration was made in connection with the setting up of the Malcolm Campbell Heritage Trust, a Trust that appears to have been set up to create a fund in furtherance of the projects (objects) of both Malcolm and Donald Campbell. A bit late in the day, but not a bad idea - actually triggered by the efforts of Bill Smith, the diver who raised the K7 early in 2001.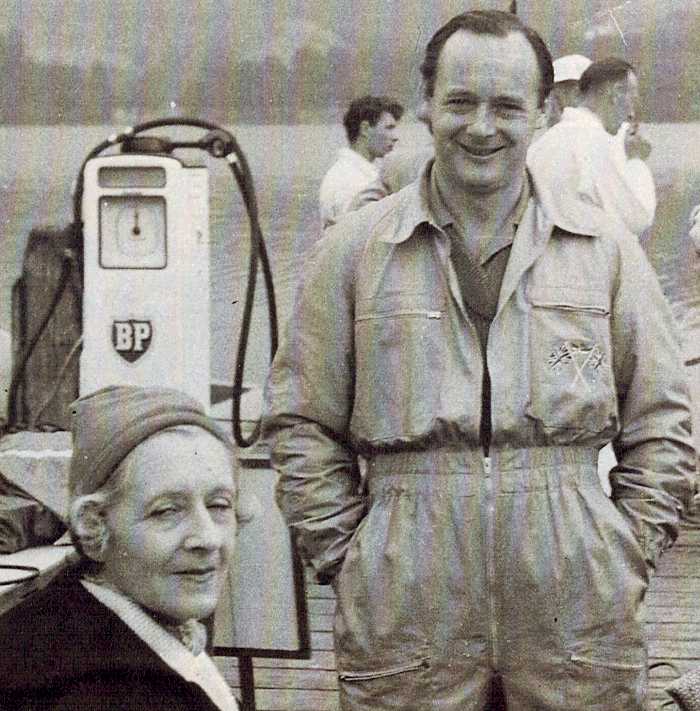 ART LINKS
WW2 vehicles home front guard militia - Dad's Army
http://www.war44.com/home-front/2307-vehicles-used-home-front.html
Rolls-Royce-Phantom-electric-blue-costing-450-000-to-celebrate-Sir-Malcolm-Campbells-water-speed-record
Bonhams auctions sale 14259 lot 496
Bonhams auctions sale 18213 lot 238
http://www.bonhams.com/auctions/14259/lot/496/
http://www.bonhams.com/auctions/18213/lot/238/
Arthur Benjamins - http://www.bluebirdpublications.co.uk/
A trophy does not have to be a cup. It can be anything representative of the event's objectives, such as the K3 water speed record boat for the Bluebird trophy presented to Malcolm Campbell when he broke the world water speed record, hitting the new world record speed of 126.33mph on Lake Maggiore in Switzerland on 1 September 1937.
Sir Charles C Wakefield (Lord Wakefield of Hythe 1859-1941) Was the principal Director of CC Wakefield & Co. Ltd. , the "Castrol" oil company. A keen supporter of motor and aviation development, he was the sponsor of Amy Johnson's flight to Australia and he partner Capt.James Mollison's attempt on the Atlantic. He sponsored Sir Henry Segrave's attempts in Miss England lll to recapture the British International Trophy, but stepped back from the field following Segraves death in 1930. However, he supported Sir Malcolm Campbell in both his land and Waterspeed record attempts and made several presentations to Campbell to commemorate notable records.
[Left] BONHAMS AUCTION 2010 - The trophy, a model of the single-step hydroplane Bluebird K3, attracted a pre-sale price of £35,000 to £50,000 ahead of the Bonhams auction on 24 March 2010. An outstanding waterline model of Sir Malcolm Campbell's single step hydroplane K3 set onto a green onyx base, on a black wooden plinth with a silver plaque inscribed "Presented to Capt. sir Malcolm Campbell, MBE. by Viscount Wakefield of Hythe GCVO, CBE, TD. World Water Speed Record 129.5 mph Bluebird, Lake Maggiore. Sept. 1st 1937". Hallmarked London 1937 by Skinner & Co. Together with a watercolour by Raymond Groves of K3 on Lake Maggiore, formerly the property of Sir Malcolm Campbell, measuring 19.3x8x7in (49x20x18cm). [Right] Gordon Crosby LSR artwork is somewhat Turneresque in our view.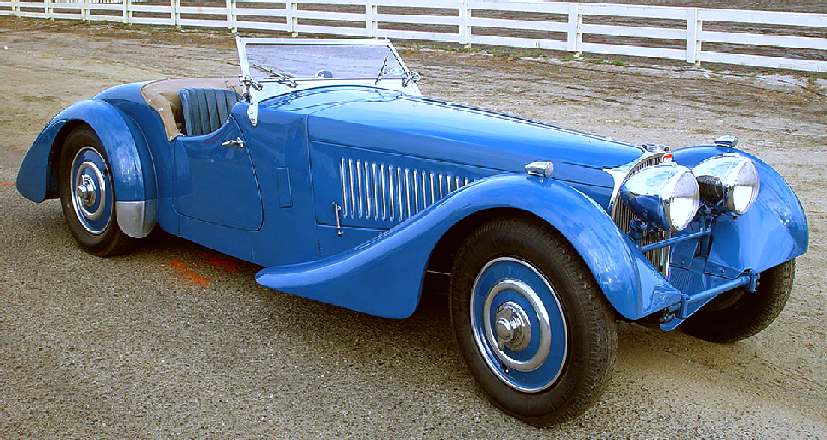 Thought to have been the property of Sir Malcolm Campbell, the 1935 Bugatti above (chassis 57531) is one of the most original Type 57SC's - held not to have been restored. According to web reports the body had not been off the frame and most of the paint is original. Incredible. The car was ordered by Sir Malcolm Campbell of England then sent un-bodied to Corsica of London. After the coachwork was completed it was painted blue and nicknamed - you guessed it: 'Blue Bird'.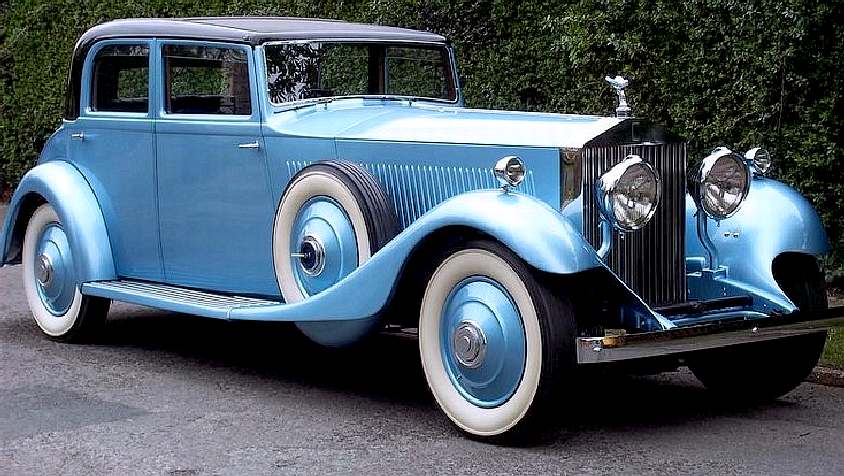 Sir Malcolm Campbell's 1933 Rolls Royce Phantom II seen here in a stunning, what looks to be a, pearl metallic blue paint job. That sort of paint mix may not have been available in 1933, but the custom finish is superb.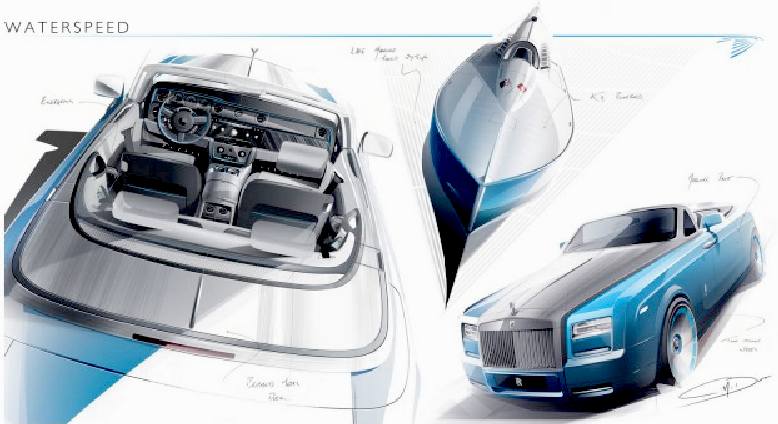 Rolls Royce Phantom "Waterspeed" commemorative edition drophead coupe. This special limited run of custom cars is dedicated to Sir Malcolm Campbell and the famous K3. The Rolls-Royce Phantom Drophead Coupé Waterspeed Collection was previewed to selected UK press and customers at an exclusive event on the site of the original Bluebird Motor Company – now the Bluebird Restaurant – on the King's Road, London on Tuesday 13 May 2014.
SIR MALCOLM CAMPBELL'S BLUE BIRDS
DONALD CAMPBELL'S BLUEBIRDS
Jetstar (not a bluebird)

LEGENDARY - The blue bird legend continues with the classic lines of this racing car, inspired by Reid Railton and his designs for the Napier Lion and Rolls Royce engined Blue Bird LSR cars in the 1930s. The Blueplanet BE3 features instant battery recharging using the patent Bluebird™ cartridge exchange system under license from BMS. This LSR is also solar assisted. She is designed for speeds in excess of 350mph using clean electricity. Imagine the spectacle of this beautiful vehicle speeding across the salt at Bonneville, or flying past on the sand at the Daytona or Pendine beaches. To hire this vehicle for your venue please contact BMS and ask for Richard or Terry. The BE3 team need at least 6 months advance notice of events or the fees rise dramatically.

LSR ART - Not a product of Sir Malcolm Campbell, the Bluebird Electric 2 was designed for a project involving his grandson, the son of his daughter, Jean Campbell. The picture above shows how aerodynamic the BE2 is. Even today you'd have a job to improve on the super-slippery shape. The tailfin is yet to be re-attached after the car was installed in the showcase at Campbell Hall, Herstmonceux Museum in Sussex, that will permanently house this land speed record sculpture behind laminated glass for generations to come. Please note that these photographs are Copyright © 11 August 2016 Bluebird Marine Systems Ltd. You will need permission from the company to reproduce these pictures, except for private review or study.
UK VEHICLE INSURANCE ONLINE A - Z
We all need insurance. No matter what car, van or bike you drive, we're all looking for great value and quality in your UK motor insurance? But who is the best - who is the cheapest and who offers the great service in the event of a claim?
SIR MALCOLM CAMPBELL LAST WILL & TESTIMONY

......