Blue Bird K4 was a powerboat commissioned in 1939 by Sir Malcolm Campbell, to rival the Americans' efforts in the fight for the world water speed record.

The name "K4" was derived from its Lloyd's unlimited rating, and was carried in a prominent circular badge on the forward hull.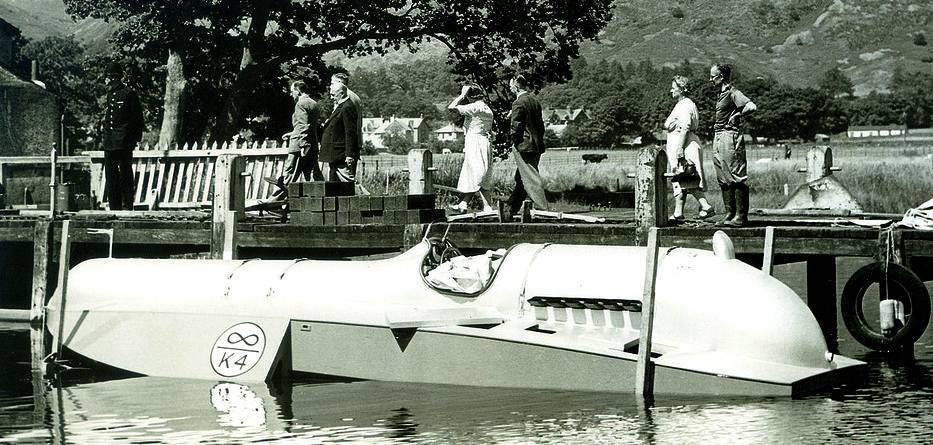 K4 was built by Vosper & Company as a replacement to the Blue Bird K3, which had set three other water speed records for Malcolm Campbell before the K4 was built. It also used the same Rolls-Royce R engine.

K4 was a three point hydroplane. Conventional planing powerboats, such as Miss England or Blue Bird K3, have a single keel, with an indent or "step" projecting from the bottom of the hull. At speed, the force on this step is enough to lift the bow upward, reducing the wetted surface area of the hull and thus also the frictional drag. A "three pointer" has a two distinctly separate floats fitted to the front, and a third point at the rear of the hull. When the boat increases in speed, most of the hull lifts out of the water and planes on these three contact points alone. These points being even smaller in area than the planing hull of a monohull hydroplane, have even less drag. Having a broad spacing between the front planing points, the three-pointer is less susceptible to instability caused by small disturbances than is a monohull. However if the bow lifts beyond its safety margin, the aerodynamic forces (not the hydrodynamic forces of the water) on the broad forward area of the hull will cause it to "kite" upwards, leading to a somersault and crash. This is what happened to both Slo-mo-shun and Bluebird K7 (see below).

K4 set one world water speed record on 19 August 1939 on Coniston Water, Cumbria, England.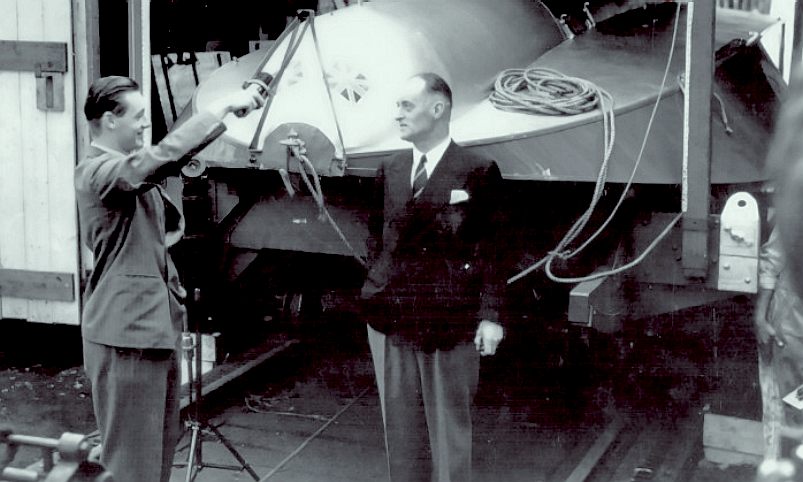 BOAT SHED: Donald and Sir Malcolm Campbell on the launch ramp - for a champagne christening of the K4 Blue Bird.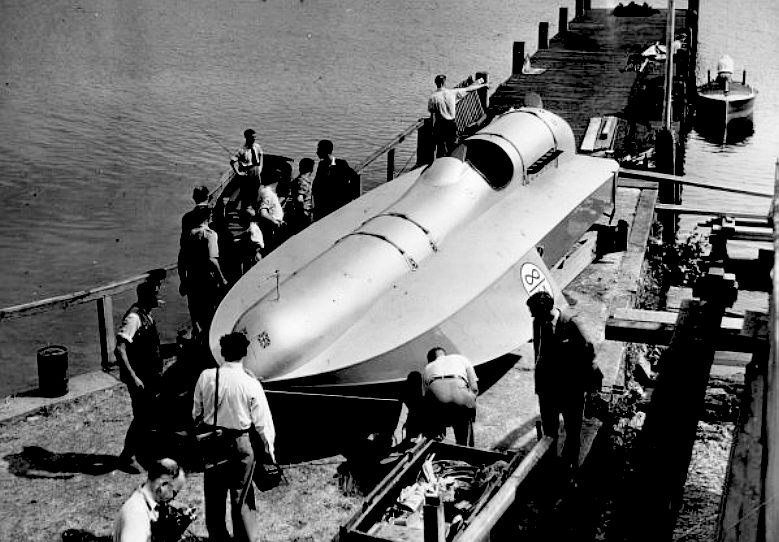 LAKESIDE RECOVERY: A rare picture of the K4 Blue Bird on a launch-recovery jetty

THE JET AGE

After World War II, in 1947 Sir Malcolm re-engined K4 with a de Havilland Goblin II turbojet engine and Vosper substantially modified the hull. The new configuration had first trials at Coniston Water on 13th June 1947, but proved unstable and uncontrollable at speeds approaching 90 mph. K4 was returned to Vosper's for further modifications, then taken down to Poole, in Dorset where further trials were carried out, these trials proved favourable.
Returning to Coniston a week later for trials and an attempt on the record, its was found that the boat had now developed a tendency to porpoise at speeds over 100 mph with such violence that Sir Malcolm was nearly thrown from the cockpit. A record attempt was made on the following day and while Sir Malcolm gave it his best, he was unable to get the boat up to record speed because of the handling problems. He didn't gain any records, but the new superstructure gained the nickname 'The Coniston Slipper'. Sir Malcolm died the following year of a stroke..
SIR MALCOLM'S WATER SPEED RECORDS
1st September 1937: 126.33 mph Blue Bird K3, Sir Malcolm Campbell,Lake Maggiore, Switzerland

2nd September 1937: 129.56 mph Blue Bird K3, Sir Malcolm Campbell, Lake Maggiore, Switzerland

17th September 1938: 130.93 mph Blue Bird K3, Sir Malcolm Campbell, Lake Hallwyl, Switzerland

19th August 1939: 141.74mph Blue Bird K4, Sir Malcolm Campbell, Coniston Water, England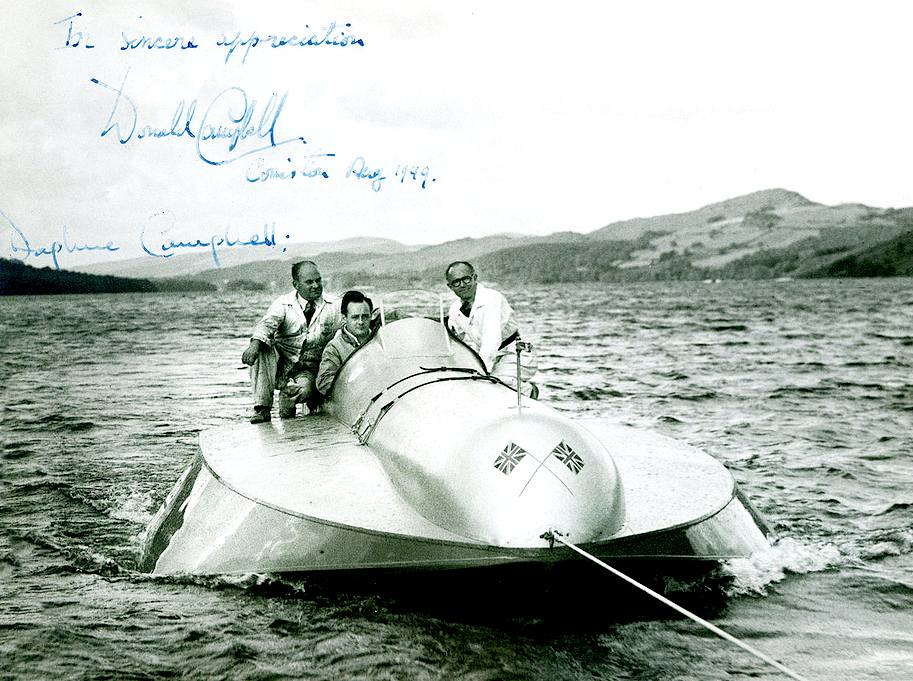 UNDER NEW MANAGEMENT: Bluebird K4 with Donald Campbell at the helm and his faithful mechanic crew.

DONALD CAMPBELL

Donald Campbell had not previously attempted record-breaking, but after Sir Malcolm's death at the end of 1948, the threat of an American challenge to his water speed record spurred him to defend it. Under the terms of his will, Sir Malcolm's possessions, including the record breakers, were auctioned off and Donald was forced to buy them back. K4 was then re-engined with a propeller and one of the previous Rolls-Royce R engines.

Donald tried unsuccessfully to break his father's record with the K4. The boat was deemed too slow, so after another superstructure rebuild and finally structural failure it was replaced by the jet-powered K7, in which Donald died during a record attempt in 1967. The boat sank in 1951 at Coniston Water

A replica of K4 currently is on show at the Lakeland Motor Museum, Backbarrow.

The next generation hydroplane: K3 to K4. Not much difference in the basic concept, but lead in angle to wider front sponsons will improve stability coupled with a change in weight distribution.

Unfortunately, it did not work.




Left: Another fine K4 model from Astec. Right: Bonhams Lot 497 - Sold for £5,750 inc. premium - The steering wheel used in Donald Campbell's Bluebird K4 and K7 record breaking crafts, by Bluemels.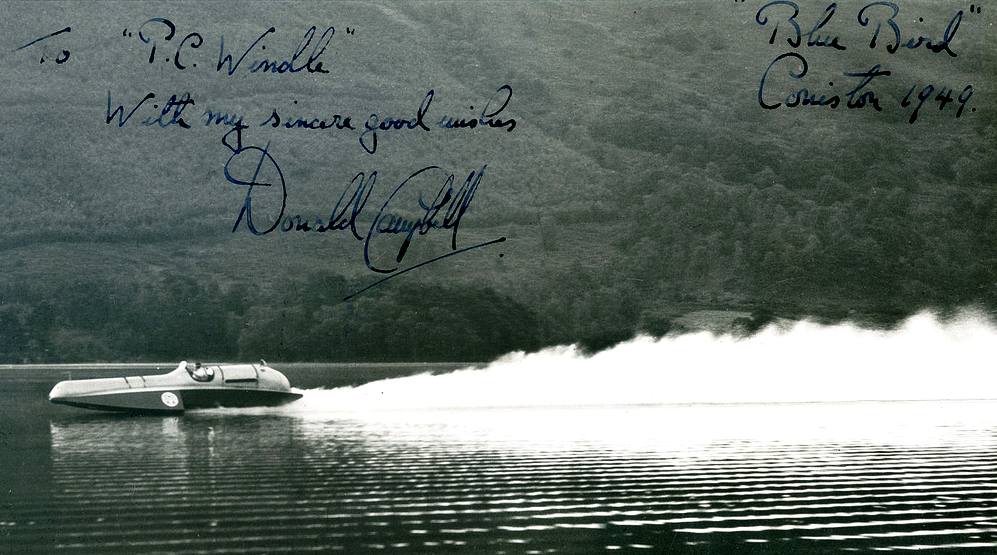 Donald Campbell's Bluebird K4 at speed on Lake Coniston - autographed photograph inscribed to PC Windle in 1949.
Limited Edition Print by D Benjamin titled "August Reflections" showing Sir Malcolm Campbell in Bluebird K4 on Conniston Water in 1939. This was a limited edition print No.10 of 100 and signed by the artist. Well framed - Mint. Friday 9th December 2005 12:00am - Lot 1492
SLO MO SHUN
Early in the morning of 26 June 1950 a small red boat skipped across Lake Washington, near Seattle, and improved on Campbell's record by 29 km/h (18 mph). The boat was called Slo-Mo-Shun IV. It was built by Seattle Chrysler dealer Stanley Sayres. The piston-engined boat was able to run at 160 mph (260 km/h) because its hull was designed to lift the top of the propellers out of water when running at high speed. This phenomenon, called 'prop riding', further reduced drag. In 1952 Sayres drove Slo-Mo-Shun to 287.25 km/h (178.49 mph) - a further 29 km/h (18 mph) increase.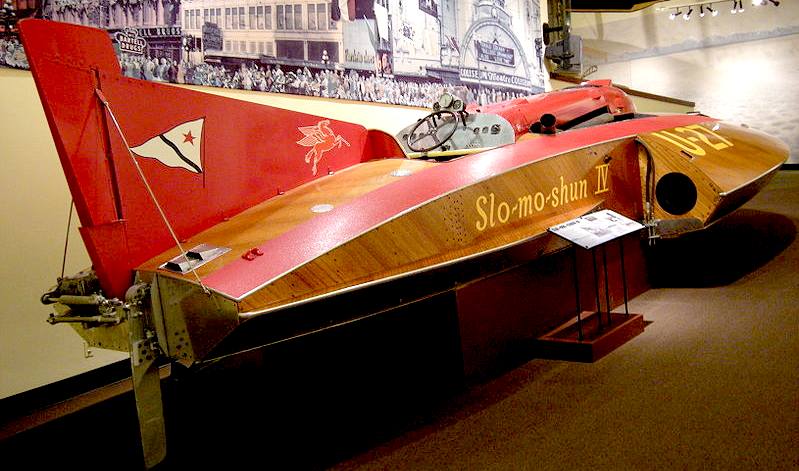 The Slo-mo-shun water speed record boat - surface piercing prop rider
The renewed American success persuaded Malcolm Campbell's son Donald, who had already driven Bluebird K4 to within sight of his father's record, to make a further push for the record. However, the K4 was by now 12 years old, with a 20 year old engine and Campbell struggled to run at the speeds of the Seattle-built boat. In late 1951 K4 was written-off when it suffered a structural failure at 170 mph (270 km/h) on Coniston Water.
JOHN COBB

At this time, yet another land speed driver entered the fray. Englishman John Cobb, was hoping to beat 320 km/h (200 mph) in his jet-powered Crusader. A radical design, the Crusader reversed the 'three-pointer' design, placing the floats at the rear of the hull. On 29 September 1952 Cobb tried for a 320 km/h (200 mph) record on Loch Ness. Travelling at an estimated speed of 210 mph (340 km/h), Crusader's front plane collapsed and the craft instantly disintegrated. Cobb was retrieved from the water but had already died of shock.

Two years later, on 8 October 1954, another man would die trying for the record. Italian textile magnates Mario Verga and Francesco Vitetta, responding to a prize offer of 5 million lire from the Italian Motorboat Federation to any Italian who broke the world record, built a sleek piston-engined hydroplane to claim the record. Named Laura III, after Verga's daughter, the boat was fast but unstable. Travelling across Lake Iseo, in Northern Italy, at close to 306 km/h (190 mph), Verga lost control of Laura III, and was thrown out into the water when the boat somersaulted. Like Cobb, he died of shock.

Following Cobb's death, Donald Campbell started working on a new Bluebird - K7, a jet-powered hydroplane. Learning the many lessons from Cobb's ill-starred Crusader, K7 was designed as a classic 3 pointer with sponsons forward alongside the cockpit. It would be ten years, but Campbell and the K7 were to suffer a similar fate.
Donald Campbell's daughter, Gina, was also to somersault her racing boat, but would cheat death. Since that time, no member of the Campbell bloodline has dared to put his or her toe in the water, or attempt the outright land speed record. The water speed record is a dangerous business; one cannot blame them. These days thee outright land speed record requires the skills of an aviator - and that has probably set the bar too high.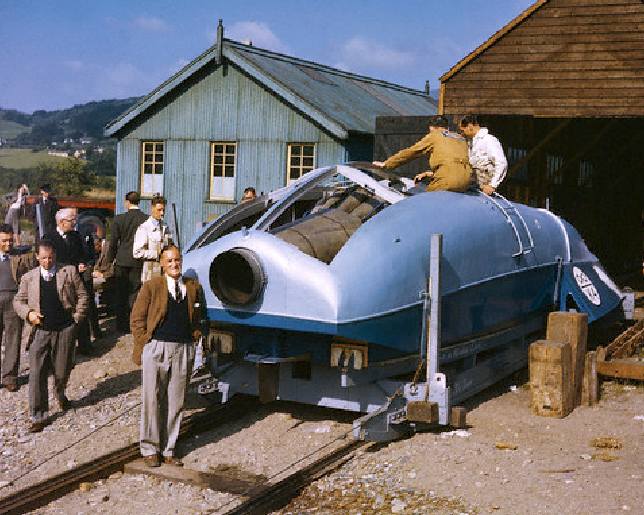 A very rare picture of the 'Slipper', as the K4 jet boat came to be known. It was also a bit of a damp squib in water speed record terms. The White Hawk K5 never made a WSR run for real and the K6 of John Cobb came to grief at Loch Ness when her hull disintegrated.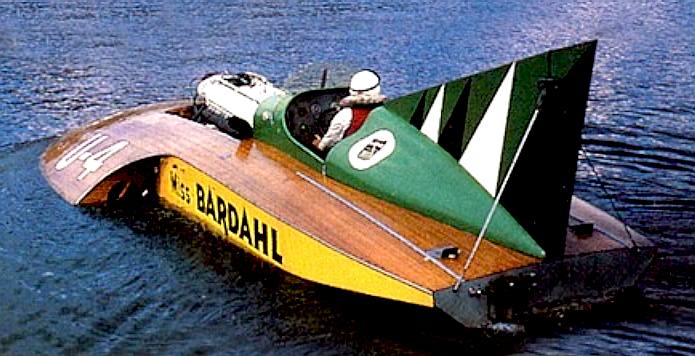 Miss Bardahl in 1958, wooden decks nicely varnished. This hydroplane regularly tops 160mph, sending up a distinctive rooster tail about 40 feet in the air. Since 1939, Bardahl has been a leading supplier in the additives industry. From the early years of 1950s & 1960s, Bardahl additives have been widely used in various races in the USA and have won multiple accolades. Through R&D over the years, we have developed a series of fuel, oil, transmission and other products to help your vehicles run better. Bardahl fuel products are made to clean and maintain the performance of your engine's fuel system, maintaining your engine's efficiency and reduce common fuel system problems like loss of power, rough idle, and lower fuel mileage. Bardahl oil and transmission products are made to enhance your vehicles motor oil by protecting your engine from harmful deposits, reducing wear and extending the life and fuel economy of your vehicle's engine.
MALCOLM CAMPBELL HERITAGE TRUST
The Malcolm Campbell Heritage Trust is (according to Donald Wales) a body set up by family members in the 2000s to seek to preserve what they may of Sir Malcolm. Exactly what they are seeking to put into trust is not known. We do not know if there is a private collection or museum that is operated by this trust, what they own and don't own. If you have any information of projects please let us know.
LINKS
http://www.bluebirdproject.com
http://www.bluebirdproject.com/
https://www.facebook.com/BluebirdSupportersClub
http://ginacampbellqso.com/record-attempts/great-britain/
https://www.bonhams.com/auctions/14259/lot/497/
http://www.bluebirdspeedrecords.com/timeline.php
http://en.wikipedia.org/wiki/Water_speed_record
http://www.touchwoodmodels.com/water-speed-record-models/mach-one-models.html
http://www.historicracer.com/motorsport/the-unobtainable-campbell-book-preview/
http://www.sirmalcolmcampbell.com/sirwater.html
http://en.wikipedia.org/wiki/Blue_Bird_K4
http://www.bardahl-ap.com/additives.php
Rolls-Royce-Phantom-electric-blue-costing-450-000-to-celebrate-Sir-Malcolm-Campbells-water-speed-record
http://www.bonhams.com/auctions/14259/lot/496/
http://www.bonhams.com/auctions/18213/lot/238/
Arthur Benjamins - http://www.bluebirdpublications.co.uk/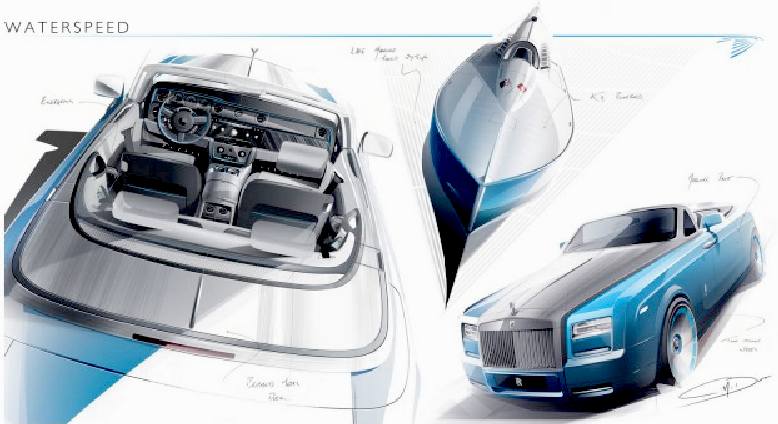 Rolls Royce Phantom "Waterspeed" commemorative edition drophead coupe. This special limited run of custom cars is dedicated to Sir Malcolm Campbell and the famous K3, where the K4 and K7 would not be appropriate. The Rolls-Royce Phantom Drophead Coupé Waterspeed Collection was previewed to selected UK press and customers at an exclusive event on the site of the original Bluebird Motor Company – now the Bluebird Restaurant – on the King's Road, London on Tuesday 13 May 2014.
SIR MALCOLM CAMPBELL'S BLUE BIRDS
DONALD CAMPBELL'S BLUEBIRDS