Craig Breedlove with Spirit of America 1, Lee Breedlove and Craig's portrait
In 1965 former World Land Speed record holder, Craig Breedlove drove his first "Spirit of America" jet machine to 555 mph, then on to 600 mph to take the crown for the USA. The five times record holder was finally beaten by Brit Richard Noble who ran 633.468 in Thrust 2 in October 1983. Craig was born on the 23rd of March 1937.
The Spirit of America was the first of the modern record breaking cars, build within new rules with its three wheel design, narrow stream-lined shape and most significantly turbojet engine. Like most of the other competing vehicles the engine was ex-military, the first Spirit had a GE J47 engine from a F-86 Sabre and was tested at Bonneville Salt Flats in 1962, where difficult handling resulted in failure. Before trying again a new stabilizer was added and a steerable front wheel.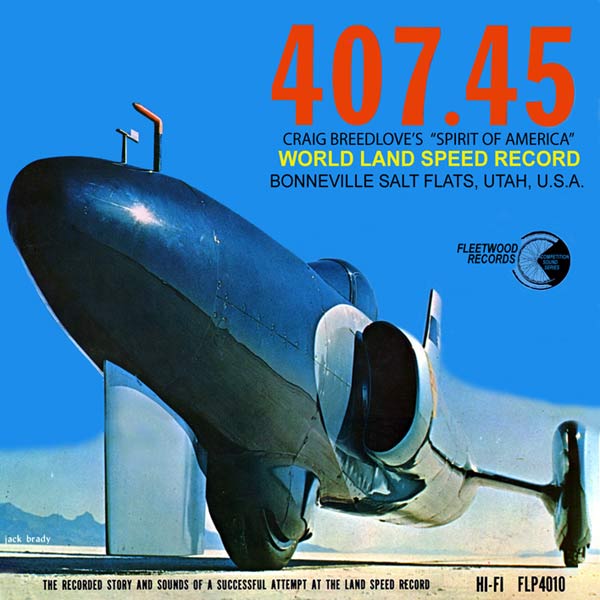 The Spirit of America on the cover of a record album
Born in 1937, Craig bought his first car at the age of 13, a little deuce coupe. Three years later, when legally allowed to drive, he got his supercharged V8 1934 Ford Hot Rod Coupe up to a remarkable 154 miles per hour on the Mojave Desert dry lakes burning alcohol fuel. Four years later he later drove a supercharged "belly tank" Oldsmobile engined streamliner to 236 mph on Utah' 5 Bonneville Salt Flats.
Growing up in the 1950s in Southern California, the car culture capital, may have had something to do with Craig deciding a career in speed. He won his first drag race at 16. By 1958, at 21, he was clocking 236 mph in a supercharged Oldsmobile "streamliner" at Bonneville.
His father, Norman, was a motion picture studio special effects man. Breedlove's mother, Portia, worked at the studios as a dancer, performing with the likes of Fred Astaire and Ginger Rogers. Craig grew up in the Los Angeles suburb of Mar Vista and went to Venice High School. After school, Craig worked at Douglas Aircraft in Santa Monica as a technician in structural engineering, where he learned many of his design and engineering skills before taking on fire-fighting duty in Costa Mesa.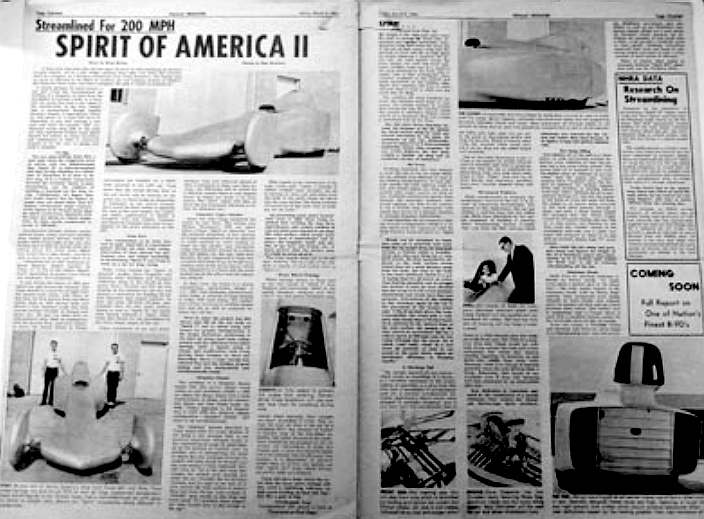 Spirit of America II newspaper article
Employing the aerodynamics he'd learned making model airplanes and working at Douglas Aircraft, Breedlove set to work building a car that would challenge Cobb's record. In the autumn of 1962, his team wheeled Spirit of America onto the salt at Bonneville. It was gorgeous. At a time when American spacecraft looked more like they'd been built by high school science classes than by rocket scientists, Spirit of America looked like something out of "The Jetsons." It was powered not by conventional internal combustion, but by a surplus J-47 jet engine out of a U.S. Navy F-4 Phantom.
In 1959, he paid $500 for a military surplus J-47 engine and began building his first "Spirit of America". Breedlove clocked a record run of 407 mph in this car at Bonneville in 1963 to return the world land speed record to America after more than three decades. The J-47 produced 5,200 pounds of thrust.
With sponsorship funds from Shell Oil Co. and Goodyear, Breedlove finished his revolutionary new jet-car in 1962 and took it to Bonneville, expecting to break Englishman John Cobb's land speed record of 394 mph in an effort to bring home the record to America for the first time in more than 30 years. The new car's handling problems prevented Craig from doing that, but his sponsors hung on.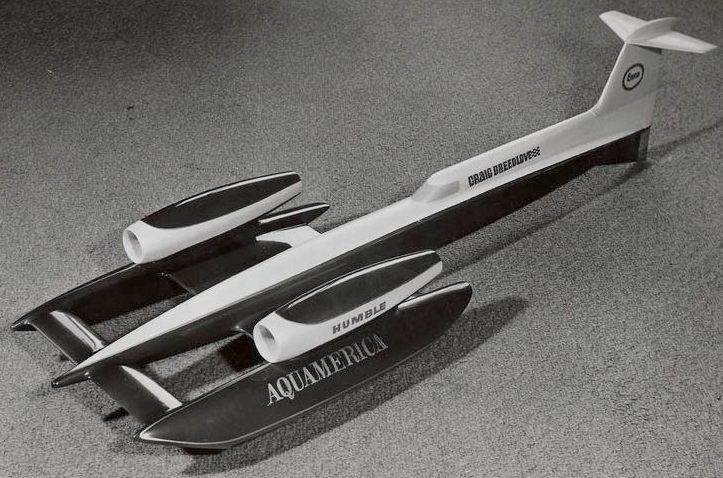 Craig Breedlove's - Aqua America looks a whole lot like Thrust SSC in concept.
The 26 year old Craig Breedlove went to Utah's Bonneville Salt Flats again in August 1963 hoping to break John Cobb's 1947 world land speed record of 394.20 mph. His car now sported a steerable nose wheel and a high, vertical stabilizer on the car. When he returned, he had indeed driven the fastest vehicle on Earth. But just the nature of the vehicle became a topic for debate because it did not have four wheels and the wheels were not driven, unlike the CN7 which had a jet engine driving the wheels.
Some said his Spirit of America was not a car but a motorcycle because it had only three wheels. Others said its jet engine meant it wasn't a car or a motorcycle, but something that defied existing classifications. Everyone agreed that Breedlove had driven this 38-ft.-long tricycle in both directions across Bonneville's measured mile at an average speed of 407.45 mph, clearly a record for wheeled vehicles.
Testing on the new car was begun in 1962 at the Bonneville Salt Flats in Utah - the large flat surface of the dry lake bed was one of the few places suitable for high-speed ground travel. During testing, problems developed with controlling the car, and a new steering system was added. In 1963, the Spirit of America was ready for a run at the record.
On August 5, 1963, Breedlove made his attempt. The first run was made at 90% power, and reached 388.5 mph. The next run was made at 95% thrust, and reached 407.73 mph. The Spirit of America was the first car to break 400 mph.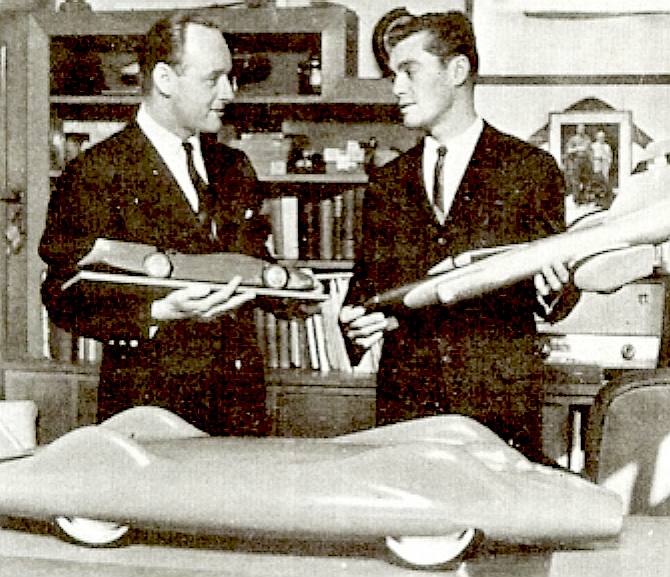 Donald Campbell and Craig Breedlove meet (for a male member measuring contest) to compare cars. Obviously, the Spirit of America was faster, but Donald pointed out that the CN7 was longer - and as everyone knows size matters.
Breedlove's run produced controversy, however. While the International Federation of Motorcyclists accepted the speed record, the International Federation of Automobiles did not, on the grounds that the Spirit had only three wheels, and was not therefore a "car". It was also argued by some that the record was invalid because the jet engine in the Spirit of America did not actually power the wheels. As a result, both federations agreed that they would both accept any record accepted by the other, and established a new category for jet and rocket propelled land vehicles.
Tom Green drove 413 mph at Bonneville in February of 1964. Then a drag racer from Ohio, Art Arfons built a land speed car in his back yard he called "Green Monster," using a military surplus J79 jet aircraft engine with afterburner to reach an astounding 434 mph on the Utah salt flats for a new world's record in May of that same year. Craig returned to Bonneville with Spirit of America to defend his reputation with a new speed record of his own, at 468 mph. Then he went through 500 mph, with another new record of 526 mph.

The new record came at a high price. While surpassing Arfons' newest speed record, Craig lost both drag parachutes and wheel brakes. The Spirit of America sliced through a row of telephone poles at 400 mph and "flew" at 200 mph into an 18-foot-deep salt brine pond. He had to swim out to save his life, but was miraculously unscratched. Although it never ran again, the record-setting car has been a main hall exhibit in Chicago's Museum of Science and Industry for the past 30 years. Arfons responded by breaking that record with 536 mph.
With 5,000 pounds of thrust, it wasn't just pretty, it was fast. On Oct. 5, 1963, clocking a two-way average of just over 407 mph, Breedlove brought the land speed record back to the United States for the first time in 32 years. He broke records with Spirit of America until October 1964, when, at more than 500 mph, his chute snapped off. The car overshot the track, smashed through some telephone poles, skipped across a saltwater pond and sank like a stone. Breedlove walked away wet, but unscathed, and with a record - 526.28 mph. He's the only driver to nearly drown while setting a land speed record.
At a time when drag racing was the fastest-growing sport in the United States, Craig Breedlove was a hero. While his speed records won him the kudos of his racing brethren, his matinee-idol good looks assured him photo spreads in national magazines. People called him Captain America. Even the Beach Boys sang his praises on their "Little Deuce Coupe" album:
An airplane, an auto now famous worldwide,
Spirit of America, the name on the side.
The man who would drive her, Craig Breedlove by name,
A daring young man played a dangerous game ...
But despite Breedlove's confirmed speed, Cobb's record still stood, that is, for motor-driven 4-wheeled vehicles. Breedlove's land speed record was recognized by the United States Auto Club, which had established a new class for wheeled jet-propelled land vehicles, and by the international motorcycle body, Fédération Internationale de Motocyclisme, as a world record for 3-wheeled vehicles.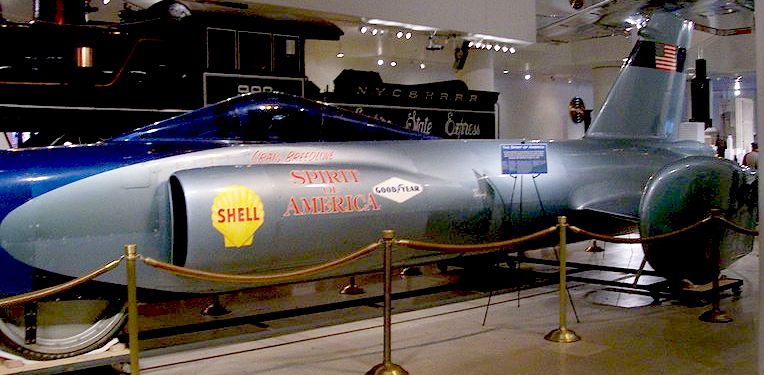 The Spirit of America in the Chicago Museum
In August 1963, Breedlove's confidence and hard work paid off. One record, however, does not a legend make; few people outside the racing world had ever heard of Craig Breedlove. But jet engines quickly lit the afterburners of competition. In 1964 Art Arfons came on the scene with his Green Monster to give Breedlove some serious competition. This started a trade between the two men which was to last for three years. It also sparked the interest of Donald Campbell who began thinking about a rocket propelled car he later called the CN8 or Mach 1.1.
This eventually started Craig on his Sonic 1 rocket powered car, in reply to Richard Noble's Thrust series of vehicles. Craig had been developing his supersonic Spirit of America 3 to challenge the current 763 mph record held by Andy Green in Thrust 2 since October of 1997. Breedlove planned to reclaim the record soon with a run of 800 miles per hour in his new snazzy good looking Spirit of America 3, but now there is the Bloodhound SSC to consider.
No matter. Craig played his part by leading the way. Our hats are off to him, and guess what, he's still firing on all cylinders with his latest venture below, according to Autoweek.
LEFT - Mr and Mrs Breedlove. RIGHT - Wow! Bonneville and a Shelby Daytona Cobra - every mans dream come true
AUTOWEEK - MAY 2014
Craig Breedlove, the land-speed racer who set records at over 400, 500 and 600 mph has a new race car on the drawing boards and is the feature of a couple other projects. Autoweek caught up with him recently in Los Angeles.

It seems Breedlove always had a car project in the works; most recently, he took the Spirit of America Formula Shell LSRV to almost 700 mph on the Black Rock Desert in 1996. The new car is in its fifth CAD iteration on the computer screen of engineer Neil Roberts, who works days as a chassis engineer at Honda Performance Development in Santa Clarita, Calif. (There's no official Honda connection to the LSR project). The car will be powered by two J79 jet engines, which each make over 17,000 pounds of thrust in stock form.

"Our stated goal is 1,000 mph," Breedlove said. Or Mach 1.4. Yow!

The car will not be driven by the 77-year-old Breedlove but by Bonneville veteran, and friend of Roberts', Mark Zweig. Zweig is a five-time record holder at Bonneville in a giant 1997 Freightliner diesel truck.

"The technical end of the program is pretty far along," said Roberts. "We just need the funding."


Roberts mentioned a funding goal then later corrected himself, saying the first number was too low. Suffice to say, they're looking at somewhere in the low eight figures, in case you have some cash.

Meanwhile, the movie is a feature film, now into its second script. We don't have as much info on that project, but we can certainly envision something done on Breedlove - the handsome American hero braving physics and failed parachutes as he approaches the speed of sound on land. The young Breedlove was inspired by John F. Kennedy's inaugural speech wherein the new president said:
"Ask not what your country can do for you. Ask what you can do for your country."
Breedlove knew what he could do. "I can bring the land-speed record back to America," he recalled thinking.

Spurred on by competition with archrivals Walt and Art Arfons, he did just that - five times, topping out with a record of 600 mph. We'd go see a movie like that.

And then there's the documentary, "Breaking Barriers." It starred Breedlove and two other racers: 92-year-old SO-CAL Speed Shop founder Alex Xydias and tuner John Hennessey, who make up a triumvirate of racers profiled in the doc, three generations of land-speed record breakers. That film aired May 7, 2014, on the National Geographic Channel. We saw it, and it was pretty good.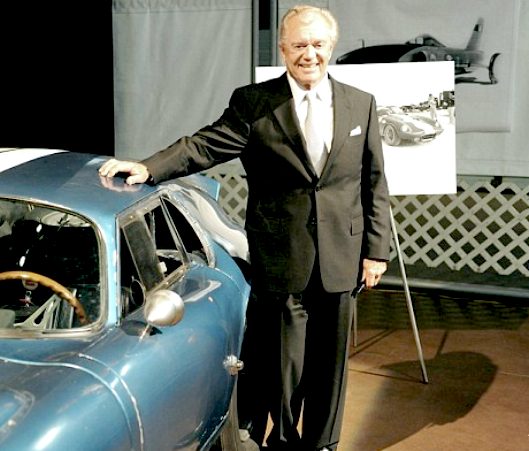 Craig (looking good) with the Shelby Cobra of Bonneville fame at the Simeone Museum
DAILY MAIL MAY 2013
Craig Breedlove wants to retake the land speed record for America again, 48 years after he was the first to push past 400 miles an hour in a car he designed himself.
The five-time land speed record holder would also become the first man ever to achieve terrestrial velocities of 500 and 600 miles per hour. It was an achievement that made him a household hero in the Sixties – the Beach Boys even dedicated a song to him, Spirit of America, after his feat in August 1963.
Mr Breedlove, now 75, is putting together an ace team to try and reach 800 miles per hour, using his life-long knowledge of high-speed engineering. The British currently hold the speed record – at 763 miles per hour.
While it might not actually be the 75 year-old in the driving seat when the 800 miles per hour record is hopefully set, his formidable spirit will be clutching at the wheel.
The motor-head grew up in a golden era for car design in the U.S. He rebuilt his first car, a 1934 Ford Coupe, which he bought at the age of 13 for $75 and raced it in the Mojave desert, reports the New York Times. Here, the part-time fireman racked up a course record of 148 miles per hour.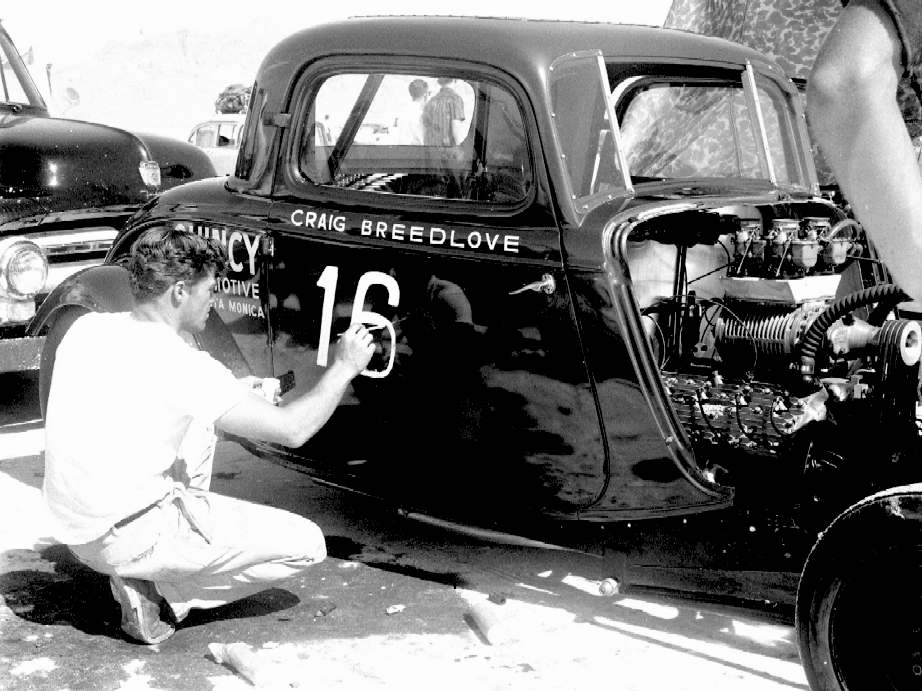 Later, in 1958, at the age of 21, he drove a specially-designed car to 236 miles per hour - the car was his own design, based on the light-weight, streamlined gasoline tanks from World War II fighter planes.
But he didn't stop there. With a level of single-mindedness that cost him his first marriage (he married his first wife at the age of 17 and had two children with her), the mission resulted in a three-wheeled car called the Spirit of America.
In this machine, he smashed the record at 407 miles per hour in 1963 on the cement-hard salt flats of Bonneville, Utah. Speaking to Sports Illustrated the same year, he told of how his passion took its toll on his personal life.
'My wife didn't understand what this was inside me to do these things. Everybody wants to do something. People who haven't any drive never get anything done.'
Instead Mr Breedlove took his inspiration from John F Kennedy's 'Ask what you can do for your country' speech. 'I knew I couldn't go to the moon or cure cancer, but I did know how to go real fast, and the most patriotic thing I could think of was to take the unlimited land-speed record away from the British,' he said at the time.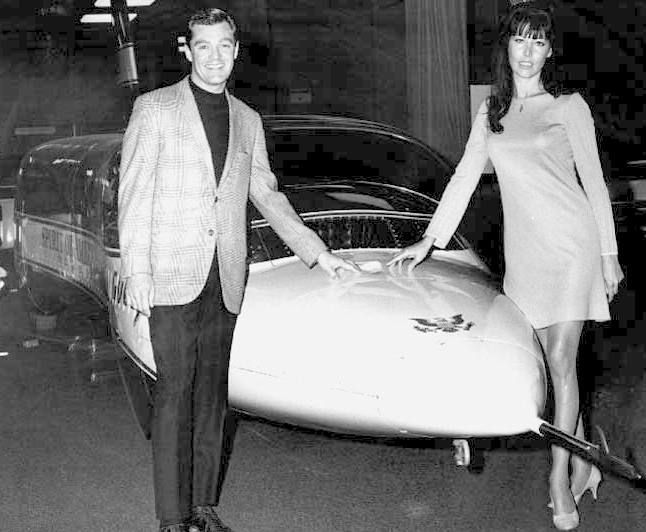 Fortunately his second marriage was to a woman, called Lee, who shared his obsession with speed – in her case, motorcycles. 'She can ride it with the front wheel right off the road,' he said.
Lee encouraged her husband to push further and harder. His next record came just one year later - this time in the Spirit of America Sonic 1 (the original Spirit of America ended up in a lake when the parachute brakes failed), which employed technology used on the Gemini spacecraft.
In this craft, after a few unintentional airborne mishaps, Mr Breedlove reached an astonishing 526 miles per hour in 1964. And then in 1965, he smashed the 600 miles per hour record – with a speed of 606.6.
However, despite his best efforts, Mr Breedlove was not able to keep hold of the record and eventually British air force pilot Andy Green reached 763 in 1997, breaking the sound barrier in the process.
A youthful Craig Breedlove in the drivers seat, and in the rather hotter seat some years later - still the hot-rodder we all know and admire.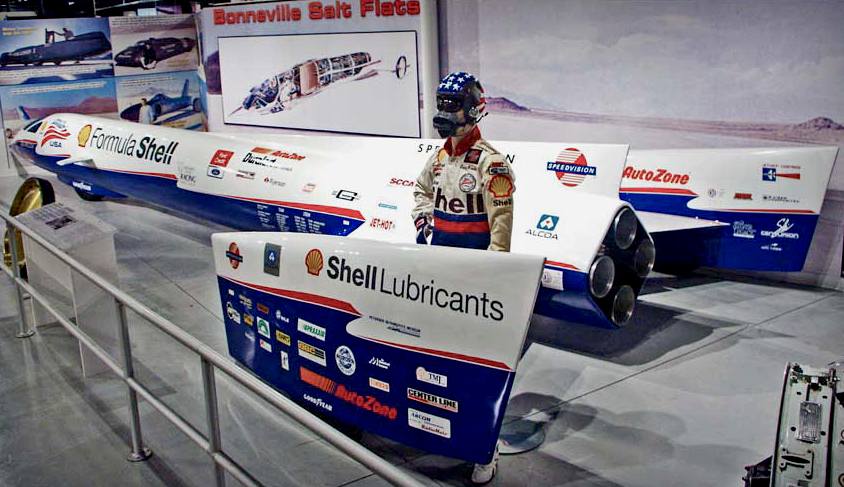 The Formula Shell (sponsored) rocket car tested at Bonneville
LINKS
Amazon: Craig Breedlove
Daily Kos Craig-Breedlove-the-Spirit-of-America-and-the-Land-Speed-Record
Daily Mail The-Spirit-America-Land-speed-hero-Craig-Breedlove-75-returns-smash-800-miles-hour-barrier
New York Times 2012 a-man-with-an-irresistible-urge-to-run-wide-open
Autoweek car news Breedlove is back
http://www.nytimes.com/2012/05/13/automobiles/a-man-with-an-irresistible-urge-to-run-wide-open.html?_r=2&hp
http://autoweek.com/article/car-news/breedloves-back
http://en.wikipedia.org/wiki/Spirit_of_America_(automobile)
http://en.wikipedia.org/wiki/Craig_Breedlove
https://www.youtube.com/watch?v=zZPWsMrehEA

The blue bird legend lives on. The classic lines of the stunning BE3 electric racing car were inspired by Reid Railton and his designs for the Napier Lion and Rolls Royce engined Blue Bird LSR cars in the 1930s. The Blueplanet BE3 features instant battery recharging using the patent Bluebird™ cartridge exchange system under license from BMS. This high performance WLSR car is also solar assisted. She is designed for speeds in excess of 350mph across a flying mile using clean electricity. It is unlikely that a member of the Campbell family will pilot her, where so many good Formula 1 and Formula E drivers have more competition skills. Imagine the spectacle of this beautiful vehicle speeding across the salt at Bonneville, or flying past on the sand on the Daytona or Pendine beaches. The BE3 is available for event hire, drive-by and the like on 6 months notice, or 3 months notice at increased cost.