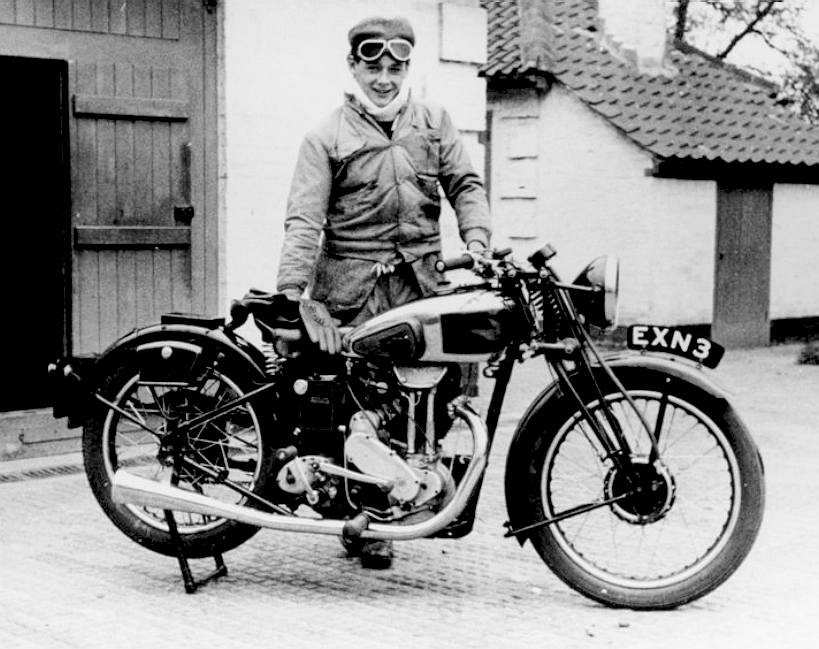 Donald Campbell, teenage motorcyclist
Donald Malcolm Campbell was born on March 23, 1921 in Horley, Surrey. He was a British car and motorboat driver who broke many speed records. Campbell was the son of Sir Malcolm Campbell. Following his father's career, he strove to set speed records on land and water. He was though a different character, much less formal in his approach, though in his own way equally determined, no doubt spurred on by his lavish lifestyle and all that entails.
Probably more importantly, Donald was a visionary. He went from a propeller driven boat and wheel driven car, to ground breaking jet power, but not just jet power, gas turbine technology that was used in designs that were themselves revolutionary, thanks to his brilliant design team, the credit for which cannot be understated. That said, without DC at the helm to think big, it would never have happened, and without Sir Malcolm having set Donald up for a flying start, Donald could not have managed the double record on land and water in the same year. Anyone starting from scratch (as in no speed record experience) simply would not have the time to develop two vehicles in one lifetime - unless money was no object. But, money is always the issue.
Donald inherited Sir Malcolm's taste for adventure, plus of course a Bluebird boat to start him on the trail to a LSR and WSR career, purchased for a nominal fee, after Sir Malcolm passed away in 1948. More importantly, he learned how to do it from his father and realized that he could do it too. The K4 was already converted from propeller drive to jet engine before the death of his father, but Major Halford from de Havilland was disinclined to to see Donald use it because of his inexperience. Accordingly, he asked for it to be returned. Hence Vospers were asked to convert it back to propeller drive, which pleased Leo Villa as much as it must have infuriated Donald. All that remained was to fit the Rolls Royce engine, then on 10th August, Donald made four runs and later in the week experienced a scary moment or two but nevertheless did not let up on the throttle - something that was in the end to be his undoing.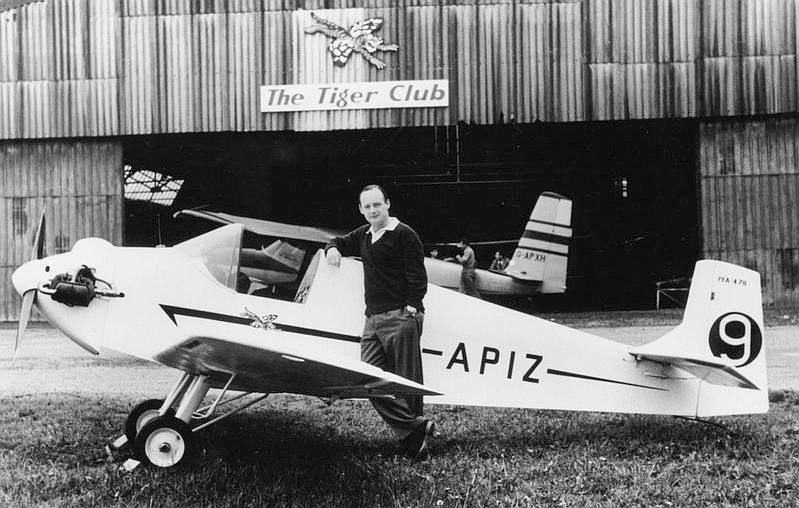 Donald Campbe

ll was a keen pilot, a skill that would later come in handy when scouting for suitable land and water speed venues.

Donald Campbell at home and doing his thing

Reid Railton brought it to the attention of the team that Stanley Sayers' boat used a special propeller that enabled the craft to lift out of the water - a prop rider. Reid Railton had seen K4 in action and noticed it rise at the rear, causing the nose to point down into the water. After this Donald wanted to convert the boat to a full-blown prop rider. Lewis and Ken Norris were commissioned to do the design work. The engine was moved forward to alter the centre of gravity, and the seat was relocated on the port side. A new propeller was also specified.

During this conversion Donald was invited to enter the Oltranza Cup, an Italian event. The race took part on Lake Garda. This was four laps over a 5-mile triangular course; with the quickest driver winning the Grand Prix for the fastest overall speed and the Oltranza cup going to the boat that set the fastest time over two consecutive laps.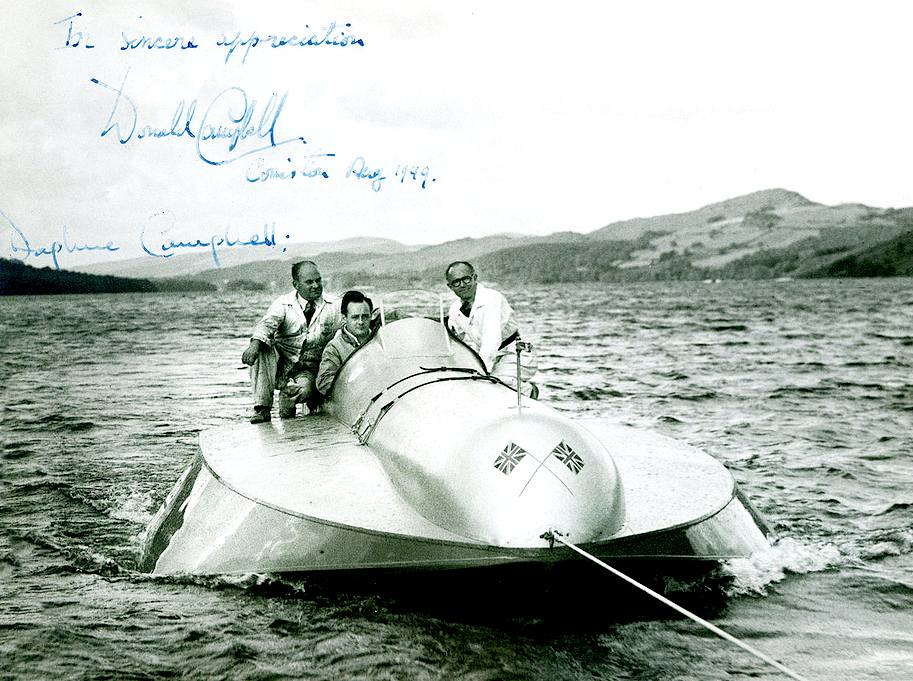 PUBLICITY SHOT - Finally freed of all parental restrictions, Donald got to work honing his skills as a water speed record contender. It must have seemed like business as usual to Leo Villa. This is a publicity picture of the K4 under tow, rather than under its own power.
The race took place on the 10th of June after being delayed due to bad weather. After failing to start the engine, they were forced to change all 24 spark plugs. Because of this they had no chance of winning the Grand Prix. They could however still win the Oltranza cup. Leo Villa accompanied Donald for a rather exciting ride. The K4 took a bit of a pounding smashing many instruments, and the ride was sufficient to draw a few choice words from Leo as to Donald's performance. However they won the Oltranza cup by a convincing margin. This win did wonders for Donald's recognition for his skills as a driver. So began Donald's career in fast boats.
Donald suffered a 156Mph (250 kmh) crash in 1951 in the process destroying the K4. As a result of this crash he developed a completely new boat, the Bluebird K7 - or Blue Lobster. This was a jet-propelled hydroplane type with a Metropolitan-Vickers Beryl jet engine producing 4000 lbf (18 kN) of thrust. Campbell set seven world water-speed records between 1955 and 1964. The first was at Lake Ullswater on July 23, 1955, where he set a record of 203 mph (325 km/h). The series of increases peaked in December 31, 1964 at Dumbleyung Lake, Western Australia when he reached 276.33 mph.
The K7 was to prove a formidable steed that saw him set 7 World Water-Speed records between 1955 and 1964, and build a career. The first was at Lake Ullswater where he set a record of 202Mph. This was raised to 216mph at Lake Mead in 1955. Then began a sequence of record raising runs at Coniston where he attained 248mph in 1958. But to really push out the boat record wise he went to Lake Dumbleyung, Australia, where the K7 set a new world records of 276mph in 1964.
Donald at Coniston and with his famous cigar signature at Lake Bonney in Australia
On land, following a heavy crash at Bonneville with the Bluebird CN7 car in 1960, on July 17, 1964, at Lake Eyre, Australia, he set a record of 403.10 mph for jet propelled four-wheeled vehicles (Class A). He became the first person to set both water and land records in the same year. But his land record was short-lived, because rule changes meant that Craig Breedlove's Spirit of America soon set new records that left wheel driven speeds in the dust.
Three years later, on January 4, 1967, Donald was killed when the re-engined Bluebird K7 flipped and disintegrated at a speed in excess of 300 mph on Coniston Water in England. The cause of the crash has been variously attributed to Campbell not waiting to refuel after doing a first run of 297 mph, and hence the boat being lighter; the waves caused by his wash; and, potentially, a cut-out of the jet engine.
Whatever the cause, the craft lifted gracefully at the front, the leading edges of the vessel having induced a turning moment that the forward jet thrust could no longer contain. Equilibrium so disturbed, there were no control surfaces to effect recovery. Having survived two high speed crashes previously, one might imagine the flicker of thought going through Donald's mind, where he imagined hospitalization as the consequence, rather than wipeout.
The wreckage of his craft and the body of Campbell were not recovered until May 28, 2001 when diver Bill Smith was inspired to look for the wreck after hearing the Marillion song "Out Of This World" (from the album Afraid of Sunlight), which was written about Campbell and the Bluebird. The body of Campbell was recovered soon after and was laid to rest in Coniston cemetery.
Donald's career spanned 18 years and finally end in tragedy on Lake Coniston, where he was trying to best his own record to drum up sponsor interest. This tragedy was later made into a film to commemorate the great man starring the superb Anthony Hopkins as Donald Campbell, named 'Across the Lake'. Unfortunately for many enthusiastic about the BBC docudrama, the film is not on general release - although we receive regular enquiries about it, and you can now get a copy of unknown quality from another source. Between them, Donald and his father had set eleven speed records on water and ten on land. Gina Campbell, Donald's daughter, also flipped a water speed boat before setting the record as fastest woman on water and calling a halt.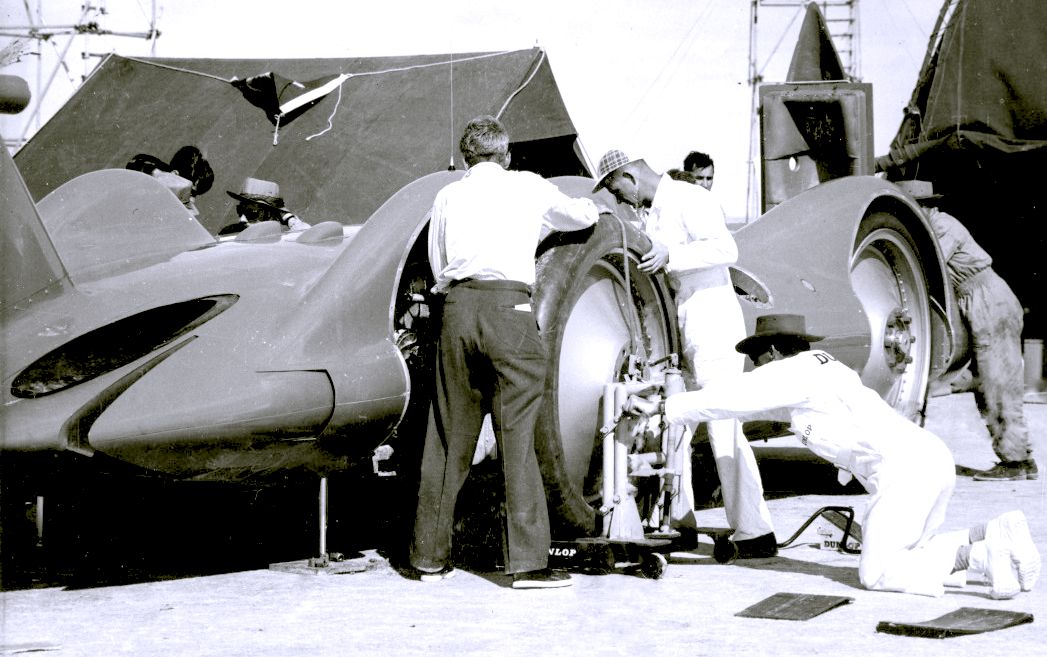 SIR SPEEDY - Changing a wheel on the CN7 at Lake Eyre in Australia. This is where our modern chains of fast fit tyres got their idea. New exhaust sir?
COURAGE & DETERMINATION
Donald Campbell was the last of this bloodline to challenge and take the outright Land and Water speed records. It takes a special kind of man to look at the world of speed and take on the two most difficult records head on. He didn't consider anything less than the world records, setting that as his goals and not deviating. These were his own projects. He didn't showboat for any other sideshows where he was not the driving force, for that would have lessened his own achievements.
Part of his secret was staying with a good design partnership and playing with a relatively straight bat in his business dealings, even where sponsorship was tight, and he did fall foul of temptation in not paying at least one supplier on a pretext - something even Sir Malcolm did with Rolls Royce, arguing that their engine was not powerful enough. It would be fair to say that without Ken Norris (the brothers) and their wonderful designs, and Leo Villa the practical engineer, Donald may not have achieved all that he did. Solid core teamwork is what kept the ball rolling.
LEFT - Oil painting depicting Ken Norris working on the Bluebird CN7. RIGHT - Leo Villa, DC and Donald Stevens doing it for real
DONALD STEVENS ON DC
The Kent engineer who worked with the legendary Donald Campbell on the Bluebird project has written his story of individual courage and record-breaking British engineering.

Donald Stevens, 75, from Sissinghurst, worked with the sporting hero who became the only man to smash land and water speed records in the same year. Both car and boat were called Bluebird.

Mr Stevens has a picture of the car with the inscription: "To Donald Stevens in appreciation of his help in this venture. Signed Donald Campbell, 1959."

The two men were often together professionally and socially, with worldly-wise Campbell taking the innocent young engineer to London nightclubs.

Mr Stevens remembers calling at Campbell's home near Gatwick and being driven around the country in his Bentley Continental. "He lived the high life like heck," he recalls.

But the man brought up in a Cockney family of 15 says Campbell was an imperious figure. "He always called me Stevens, never Donald."
Mr Stevens blames Campbell for causing his own downfall by making a second run before the wash of the previous one had calmed down.

For the past few years, Mr Stevens has been writing a book about the experience and Bluebird CN7 - The Inside Story comes out this month.

He said: "The intention behind this book is to right a great omission in the history of land-speed record breaking, and to pay respect to the dedication of two men in particular, Ken and Lew Morris, whose contribution to the image of British engineering has never been officially recognised."

In his foreword, Wing Commander Andy Green writes: "The CN7 was quite literally 50 years ahead of its time. "It is perhaps ironic that the Norris brothers looked ahead to a supersonic rocket car, the CN8.

"Fifty years later, we are building such a car, the Bloodhound SSC, with the aim of inspiring a new generation of engineers and scientists in Britain to follow in the footsteps of Donald Stevens and the Norris brothers."

Bluebird CN7 - The Inside Story, is published by Veloce. Mr Stevens will be signing copies, including a 30-minute DVD, at The Bell, Benenden, on Saturday May 29 from 11am - 4pm. Signed copies are also available from Donald Stevens, Brindles, Golford, Cranbrook, TN17 3PA. Price £29, plus £5 p&p.
HISTORY
Date and Place of Birth: 23rd March 1921, Povey Cross, Horley, Surrey, England.
Family Background: Son of Sir Malcolm Campbell, Land speed record holder.
Education: School at Horsham, then St. Peter's School, Seaford, then to Uppingham Public School, Rutland. (The same as his father).
CHRONOLOGY:
1924: Birth of his sister Jean.
1930's: His first job was as a junior office boy with Alexander Howden and Company, insurance brokers in London.
1939-45: During the period of the Second World War he was turned down as a fighter pilot because of contracting Rheumatic fever when he was younger. Not wanting to join the R.A.F. in a non-flying capacity, he worked for two civilian firms. One making defence equipment for airfields and another making aircraft spares.
1951: Suffered a 170 m.p.h. crash in the boat K4.
1955: 23rd July Ullswater, Cumbria, England. Donald Campbell was the first to complete an officially timed run in a jet-propelled hydroplane (K7) of 202.32 m.p.h.
1960: Crashed in Utah, USA after attempting the land speed record from which he had to spend a long convalescent period.
1964: July 17th: Achieved 403.1 m.p.h. in a jet propelled car at Lake Eyre Salt Flats in Australia. December 31st: Set a water speed record of 276.33 at Durnbleyung Lake in Australia. Thus becoming the only man to achieve land and water speed records in the same year.
1967: (4th January) Achieved a run of 297 m.p.h. on his first leg at Coniston Water, Cumbria and was travelling at over 300 m.p.h. on the return leg when his boat Bluebird flipped over backwards and he crashed to his death. Many theories were advanced as to why he had started too quickly on his return leg but it is clear that the waves on the lake unsettled the boat. Ideas that he had committed suicide were quickly discounted by his family.
(2001): A Diving team from Northumberland finally retrieved Bluebird and later the remains of Donald Campbell so that he could be given a proper burial.
Father and son pictured with a early Bluebird LSR vehicle (left) and getting a taste for boating (right), young Donald visibly inspired by his famous father, as you may imagine from the goggles he is wearing - carried on with his love of helmets, and support from Tonia Bern and much of Australia, where he was better received.
The XK120 Jaguar in yet another shade of blue. Donald would have loved this car, but not quite as much as the E-Type which was so much more advanced with wishbone suspension all round. Still, you can't beat a set of wire wheels for that classic style.
Donald's Jaguar E Type with the registration number DC7. Donald had a taste for the high life - he was truly a jet-setter, with his own car and boat to prove it. He almost became a rocket man, before David Bowie immortalized the phrase. If Donald was alive today he'd be driving and electric road car for sure.
SPEED RECORDS:
LAND: July 1964: Lake Eyre, Australia. (403.1 m.p.h.)
WATER:
July 1955: Ullswater, Cumbria. (202.32 m.p.h.)
November 1955: Lake Mead, U.S.A. (216.2 m.p.h.)
September 1956: Coniston Water, Cumbria. (225.63 m.p.h.)
November 1957: Coniston Water, Cumbria. (239.07 m.p.h.)
November 1958: Coniston Water, Cumbria. (248.62 m.p.h.)
May 1959: Coniston Water, Cumbria. (260.33 m.p.h.)
December 1964: Lake Dumbleyung, Australia (276.33 m.p.h.)
SPEED KING - Donald Campbell, got it all together to take the outright land and water speed records in the same year. His father would not have been amused that Donald disobeyed him, entering the LSR arena, but we think would have been proud once he saw what his son had achieved.
AUSTRALIAN PHOTO HAUL - DAILY RECORD 5 JULY 2014
EXCLUSIVE behind-the-scenes photos of preparations for the speed king's 403.1mph drive on Australian salt flats that are previously unseen have been discovered Down Under.

AMAZING photos of Donald Campbell's Australian land speed record attempt have emerged this week from Down Under.

They have been released exclusively to the Daily Record. Despite living in England, Campbell always considered himself a proud Scot.

The photos have been collated by Australian Paul Houghton, who is particularly interested in the 50th anniversary of the water speed record that comes at the end of this year.

His detective work, however, has uncovered previously unseen pictures of the land speed record that Campbell set on July 17, 1964. That year's double has never been equalled.

Snapped by photographers John Bullivant and John Workman, they show some of the work that went on around the record and Campbell's later victory parade. Campbell broke the land speed record at 403.1mph but according to his widow Tonia, he wanted to go much faster.

However, rain had made the salt flats at Lake Eyre in South Australia heavy and it acted like a brake on Bluebird so that Campbell had to be satisfied with just over 400mph.

The water speed record was broken by him at Lake Dumbleyung in Western Australia on Hogmanay in 1964. His Bluebird boat reached 276.3mph after the team had spent days sitting around playing cards and waiting for the wind to drop and the lake waters to calm.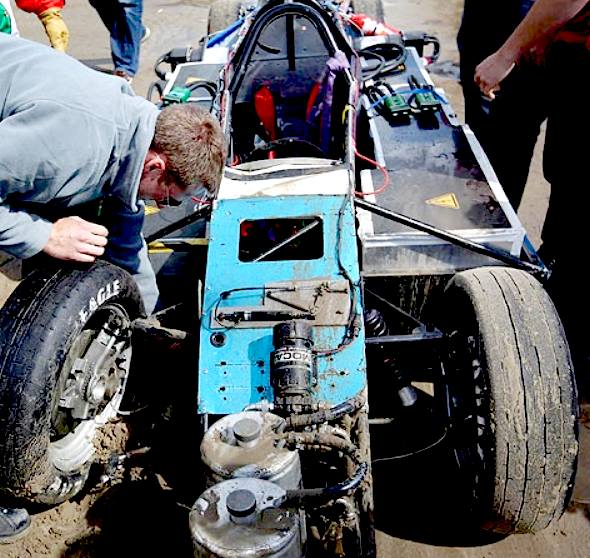 NAFF - The 137mph electric machine raced by Don Wales, after it crashed at Pendine Sands around August of 2011 with Joe Wales at the wheel. BMS Ltd were not involved in this project, and this vehicle was not designed for the patent Bluebird™ battery exchange system. Nor is any team other than the BE3, licensed to use our blue coloured bird trademark for land speed record attempts. Please also not that the current (@ July 2014) British electric land speed record holder is Lord Drayson at 204 mph.
Campbell's nephew Donald Wales continues the family tradition of record-breaking motors in his new electric version of Bluebird.

He now has a model he believes will reach 500mph and that the same technology will be available for road, race and record-breaking cars.

Don Wales is quoted as saying of his uncle:
"He was sensitive to the danger and openly admitted he was scared by it. I have great respect for the heroism of the man in that respect. He conquered his fears to step into a car and a boat he knew could kill him at any moment."


Tonia Bern-Campbell will talk about her life with the speed king at the National Motor Museum, Beaulieu, on July 19 2014. For details and tickets, go to: www.beaulieu.co.uk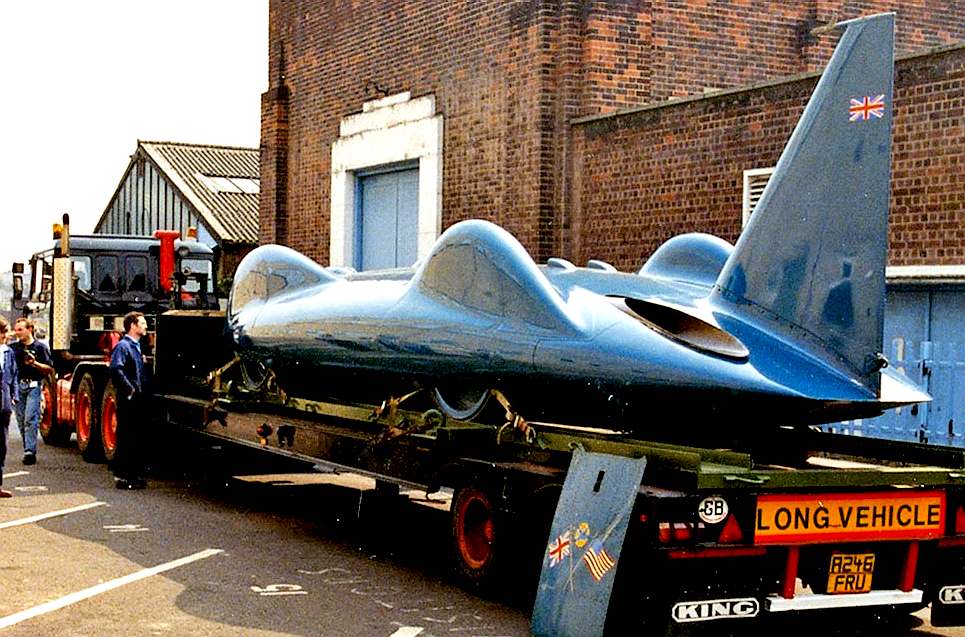 There is no comparison between the world class caliber of the spectacular CN7 when weighed against the recent vehicles produced by descendent family members. Both Sir Malcolm and Donald Campbell did things in style. Tough acts to follow.
We doubt that Donald Campbell "knew" that either the CN7 or K7 would kill him, with all the precautions that Ken and Lewis Norris built into the design, and with all the practical guidance from Leo Villa as to the safety cages, etc. It is a sobering thought that almost any motorised transport is capable of killing its driver at any time, even while just driving home from work. There is no need to bandy that thought about to drum up trade. The courage is perhaps more in beginning a world class project, knowing the commitment that such endeavor will need. Donald is said to have believed that he never quite matched up to his father, and indeed, Malcolm had virtually said as much with his will.
We wonder if the basis for Donald's nephew, apparently believing that his newest car is capable of such astonishing reported speeds is more accurate in this assessment, than his view that the first car he put on the sand at Pendine in 1998 was capable of taking the WLSR? We would welcome clarification on this point, perhaps with sight of some calculations based on a tangible vehicle specification. Is there a vehicle design study, or is it guesswork? And is that 500mph across a flying mile, or a terminal velocity, if you'll pardon the pun. Donald Campbell always insisted on the flying mile like his father, leaving his backers in no doubt as to performance promise, backed up by reams of studies put together by first Reid Railton and then Ken Norris.
It will come as no surprise to many that no member of the Campbell family has stepped into the breach to take on the outright land and water speed records following Gina Campbell's boat flip - a déjà vu incident. The tradition set by Malcolm Campbell, and carried on by his son Donald over 30+ glorious years may stop there. Consider also that that was land and water speed records, with projects running side by side and overlapping, a feat that may never be equaled.
The void is now a hollow 47 years and counting, especially on the water speed front, but with the competition still rife in the capable hands of the Bloodhound and Quicksilver teams - who would no doubt relish a challenger in the spirit of Henry Segrave and John Cobb. It is though never too late to join the party.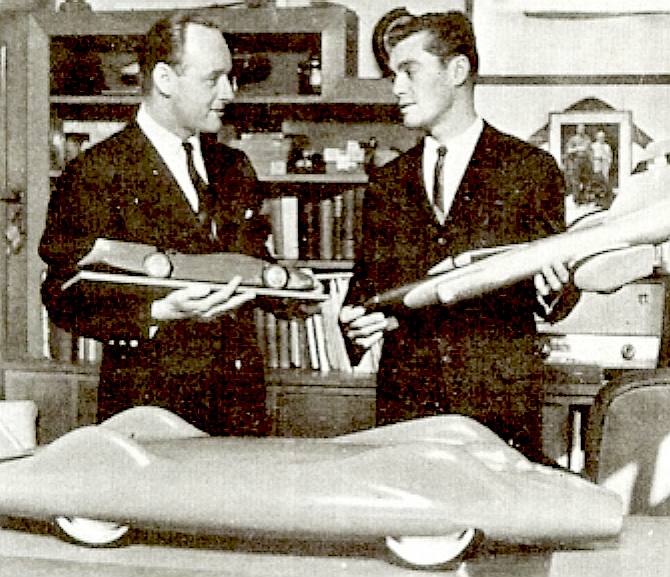 MINE IS BIGGER THAN YOURS - Donald Campbell and Craig Breedlove meet (for a male member measuring contest) to compare cars. Arguably Donald won this argument, because the CN7 was a bit longer than the Spirit of America. That said, the SOA was faster and with Jet and Rocket powered cars going faster and faster, this led Donald to begin developing his CN8 LSR project.
SIR MALCOLM CAMPBELL'S BLUE BIRDS

July 2014 is the 50th anniversary of Donald Campbell's world water and land speed record double. An achievement that has not been equaled since.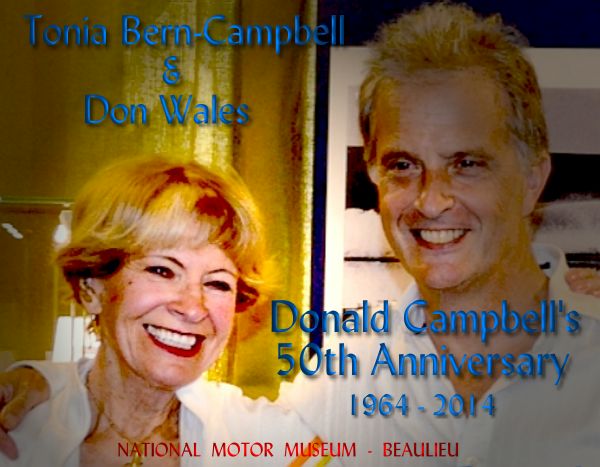 CABARET STAR - Tonia Bern-Campbell, Donald Campbell's striking widow is seen here in 2014 with Don Wales in July of 2014, both in attendance for the 50th Anniversary of Donald Campbell's truly legendary world water and land speed record double in the same year: 1964. Such an achievement is unlikely to be equaled by any person in the WSR/LSR arena - and that includes any surviving member of the Campbell family, meaning that Tonia's memories will remain undisturbed.

DONALD CAMPBELL'S BLUEBIRDS

CNM8 - This is a model of the rocket powered CMN8 Bluebird that was never to be, but was very much on the cards. The CMN8 was a very clean design that shares rear wheel features with other vehicles. The land missile was mocked up full size and kept on Donald's drive for a while. Who knows, one day there may be a JW9 rocket/jet powered car - perhaps after a few more haggis and the sound of the bagpipes to a full moonlit night.

Marriages:

1. 1945 to Daphne Harvey, Caxton Hall Registry Office, London under special Licence as Daphne's parents

had forbidden Donald to marry her.
2. To Dorothy McKegg.
3. 24th December 1958 to Tonia Bern, Caxton Hall, Registry Office, London.

Places of Interest:

CUMBRIA:

Coniston Water.
Ruskin Museum, Coniston.

HAMPSHIRE:

National Motor Museum, Beaulieu.

Anthony Hopkins plays Donald Campbell

Date and Place of Death:

4th January 1967, Died in accident during a speed record attempt in Bluebird on Coniston Water, Cumbria, England whilst exceeding 300 m.p.h.

Age at Death 45.

Site of Grave:

Bluebird boat and body found and retrieved in May 2001. Remains finally buried in St. Andrew's Church, Coniston, Cumbria, 12th September 2001. Memorial in Coniston, Cumbria, England.

Thundering great machines - what an age. Somehow today it's not quite the same thing. Not since the moon landing and computers. Pity.

LINKS

Daily Record Scotland unseen photographs of Donald Campbells Bluebird CN7

http://www.dailyrecord.co.uk/news/scottish-news/pictures-unseen-photos-donald-campbells-3814300

http://www.kentonline.co.uk/kent-business/county-news/don-and-me-kent-mans-story-of--a85671/

Steve Hogarth's account of the raising of the Bluebird

LEGENDARY - The blue bird legend lives on. The classic lines of the stunning BE3 electric racing car were inspired by Reid Railton and his designs for the Napier Lion and Rolls Royce engined Blue Bird LSR cars in the 1930s. The Blueplanet BE3 features instant battery recharging using the patent Bluebird™ cartridge exchange system under license from BMS. This high performance WLSR car is also solar assisted. She is designed for speeds in excess of 350mph across a flying mile using clean electricity. It is unlikely that a member of the Campbell family will pilot her for a perceived lack of experience. Fortunately, there are many first-rate Formula 1 and Formula E drivers with competition honed skills. Imagine the spectacle of this beautiful vehicle speeding across the salt at Bonneville, or flying past on the sand at the Daytona or Pendine beaches. The BE3 is available for event hire, drive-by and the like on 6 months notice, or 3 months notice at an increased cost.

LSR ART - Not a product of Donald Campbell, the Bluebird Electric 2 was designed for a project involving his nephew, the son of Jean Campbell. The picture above shows how aerodynamic the BE2 is. Even today you'd have a job to improve on the super-slippery shape. The tailfin is yet to be re-attached after the car was installed in the showcase at Campbell Hall, Herstmonceux Museum in Sussex, that will permanently house this exotic land speed record sculpture behind laminated glass for generations to come. Please note that these photographs are Copyright © 11 August 2016 Bluebird Marine Systems Ltd. You will need permission from the company to reproduce these pictures, except for private review or study.