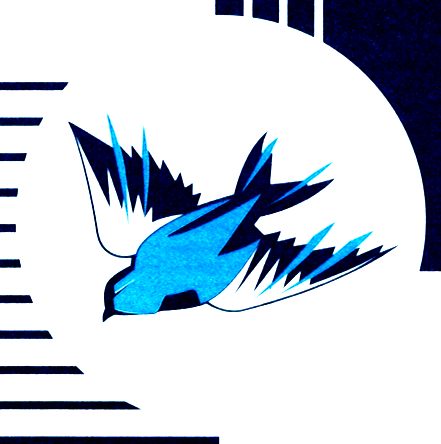 This was the blue bird logo used on (nearly) all of the company's official documents
Bluebird Electric Limited (BEL), company number 3145717, was incorporated on the 12th of January 1996. The shareholders at the time of incorporation were Don Wales and Nelson Kruschandl, with Francesca Wales, Don's wife, as the company secretary. The formation of this company followed several years of campaigning by Nelson and the build of the first Bluebird Electric (BE1) seen below. The company was the formal legal vehicle to accept funds for Nelson's project - it was the embodiment of the partnership between Don and himself - based on the battery cartridge recharging patent belonging to Kruschandl and his land speed record vehicle designs, that he licensed to this company.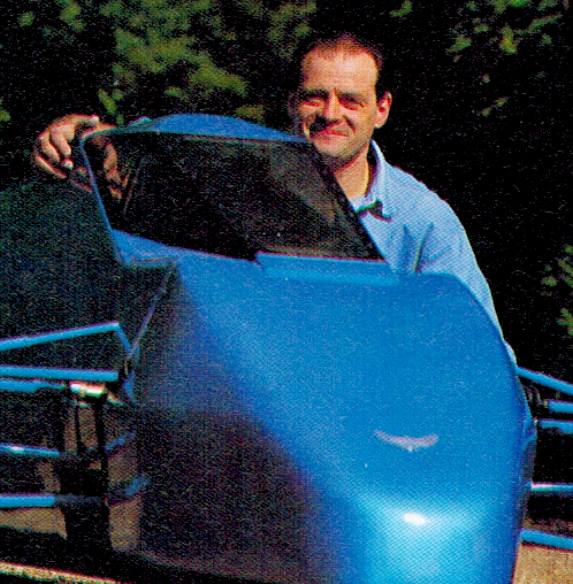 Nelson Kruschandl (above) is the inventor who persuaded Don Wales to enter the LSR arena in 1991. In this picture from 1993 Nelson Kruschandl is happily promoting the Bluebird Electric 1 (BE1) and of course Donald Wales. This is a picture from Autocar & Motor magazine August 25th edition 1993. Nelson was frequently mistaken for a member of the Campbell family. This is hardly surprising, since he is part Scottish from the Hunter rather than the Campbell Clan. His family were roving colonials at one time, a situation that is bound to cause mix and match on the name front, though his father speaks fluent German.
BLUEBIRD ELECTRIC LTD COMPANY NUMBER: 3145717 & DON WALES

Don Wales was a Spofforths client as a wedding photographer before the incorporation of BEL from where it was natural that this firm would be approached for company formation. Probably because of the long friendship, Don Wales wears the firm's logo on his racing suit during record breaking attempts clearly indicating an association. On occasion Spofforth's have made their offices in Chichester available for company board meetings. The original Bluebird Electric Limited were only ever the subject of audit once as far as we are aware, despite several hundred thousand pounds flowing through their coffers over many years.
Alex Spofforth came to work for Don Wales (a friend from his days at Eastbourne College) and Bluebird Electric Limited in 1997. He was instrumental in setting up the company for Don and Nelson Kruschandl, the inventor, on whose patent battery cartridge exchange system the BE1 and BE2 land speed record cars were based.
Alex is quoted (May 2010) as saying:
"We have been handling Don's accounts for many years and also follow his success in the driving seat. He is an ambitious individual and never afraid to take on a challenge........."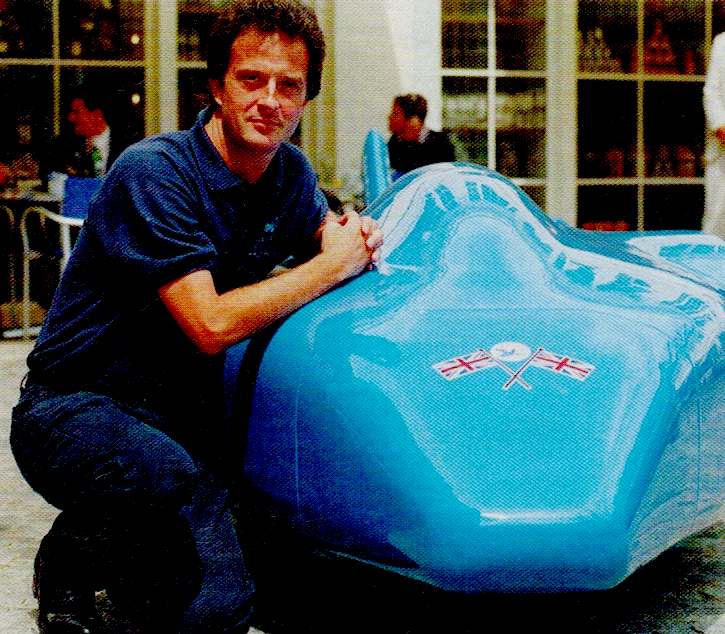 This beautiful electric car was designed and built by Kruschandl in 1997. It featured his patented battery cartridge exchange system using four of the pneumatic servos that were tried and tested in the BE1 in the picture above. It is painted a proper bluebird blue which proved to be troublesome with insects taking a shine to the color, a phenomenon still unexplained. The car held the potential to raise the LSR well above 300 mph before Ohio State University even got a look in with their Buckeye Bullet - as per a presentation that Kruschandl and Neil Carr-Jones gave to a board of directors for one of Sir Terence Conran's companies in old London town. The car above was built at workshops in what is now Herstmonceux Museum, an early electricity generating station that since 2001 has been on a monument protection programme with English Heritage.
COMPANIES HOUSE SNAPSHOT NUMBER: 3145717
Name & Registered Office:
ARTISTA INVESTE LIMITED
SPOFFORTHS 9 DONNINGTON PARK
85 BIRDHAM ROAD
CHICHESTER
WEST SUSSEX
PO20 7AJ
Company No. 03145717


Status: Dissolved 20/09/2011
Date of Incorporation: 12/01/1996

Country of Origin: United Kingdom

Company Type: Private Limited Company
Nature of Business (SIC):
7487 - Other business activities

Accounting Reference Date: 30/06
Last Accounts Made Up To:

30/06/2010

(TOTAL EXEMPTION SMALL)


Next Accounts Due:
Last Return Made Up To:

12/01/2011


Next Return Due:

Mortgage: Number of charges:

( 0 outstanding / 0 satisfied / 0 part satisfied )


Last Members List: 12/01/2011

Previous Names:
Date of change
Previous Name
17/02/2011
BLUEBIRD ELECTRIC LIMITED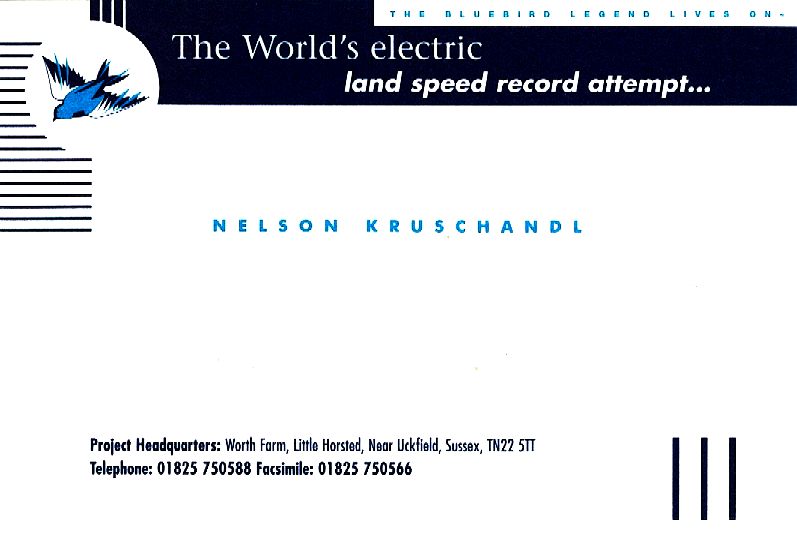 This is a scan of one of Nelson's business cards from 1996. He was the project leader from 1991 when he took on Don, until 1997, when the partnership split up. The split meant that there would be no chance of the UK getting back the electric world land speed record for many years after 2000. There is a chance today using the Bluebird™ cartridge exchange system with the BE3. Either that or Don may finally get a vehicle design together that proves to sponsors that he has a chance with a car that looks like a solid investment. If that is to be, he'd better get a move on before he gets too old to insure for such high speeds. The BE3 team do not have such a problem, because they can nominate any driver with a current racing license.

This is a scan of one of the official compliment slips showing that sponsorship and marketing was being conducted by GEM Associates. Nelson tells us that he visited their offices in Surrey with Don Wales and there met Neil Carr-Jones and another executive of the company. The project HQ at the time was at Worth Farm near Uckfield in Sussex. The premises (an office and ground floor storage) were made available by Lord John Gould, who was at the time a fan of Malcolm Campbell and/or his Bluebird cars.
These are scans of one the top headers of the printed company stationery and the footer of the same sheet of A4 paper. The design may be a bit flashy (overbearing) but it is a good effort and eye catching. A quality (Character) velum paper was used. Since this time a bird logo has been registered with the color blue as an element of the mark. It would therefore by illegal for anyone to use a blue bird logo for a vehicle without having permission from the proprietors of the mark. With the enactment of the Fraud Act in 2006, there could be serious consequences for anyone seeking to profit from the registered IP rights of another.
BLUEBIRD ELECTRIC LTD COMPANY NUMBER: 07225064
Rather interestingly, when we checked the original BEL company number at Companies House we found that the company had been dissolved in September of 2011, but before that had changed its name from Bluebird Electric Limited to Artista Investe in March of 2011 and that another company with a different number (hence a different legal entity) had assumed the original name, also in March of 2011. This is confusing legal 'musical chairs' to say the least and possibly an accountants smoke and mirrors ploy - for what purpose we have no idea, but it is extremely interesting, possibly to creditors and/or the Inland Revenue. One thing that binds the two companies together is the registered offices, being the same address for both companies as a Spofforths accountancy address.
Name & Registered Office:
BLUEBIRD ELECTRIC LIMITED
THIRD FLOOR SOUTH
ONE JUBILEE STREET
BRIGHTON
EAST SUSSEX
BN1 1GE
Company No. 07225064


Status: Active
Date of Incorporation: 15/04/2010

Country of Origin: United Kingdom

Company Type: Private Limited Company
Nature of Business (SIC):
82990 - Other business support service activities not elsewhere classified

Accounting Reference Date: 31/03
Last Accounts Made Up To:

31/03/2013

(DORMANT)


Next Accounts Due: 31/12/2014
Last Return Made Up To:

15/04/2014


Next Return Due: 13/05/2015

Mortgage: Number of charges:

( 0 outstanding / 0 satisfied / 0 part satisfied )


Last Members List: 15/04/2014

Previous Names:
Date of change
Previous Name
17/02/2011
ARTISTA INVESTE LIMITED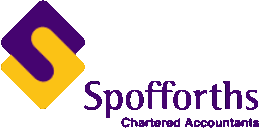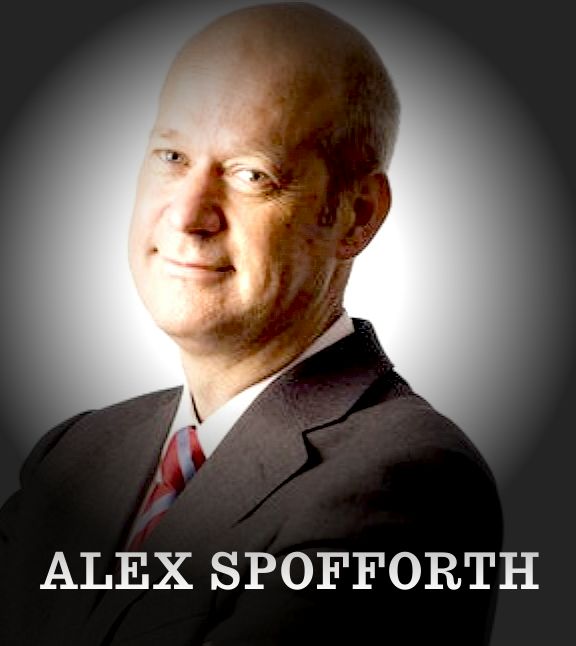 Alex Spofforth BA FCA

Alex Spofforth is a partner in the Spofforths group where he is based in Brighton. He deals with clients in property and media businesses and also works with a number of charities. Alex served on the South East Technical Advisory Committee for 12 years and represents the South East on the Council of the ICAEW.
Email: alexspofforth@spofforths.co.uk
Tel: 01273 811 000
Fax: 01273 811 001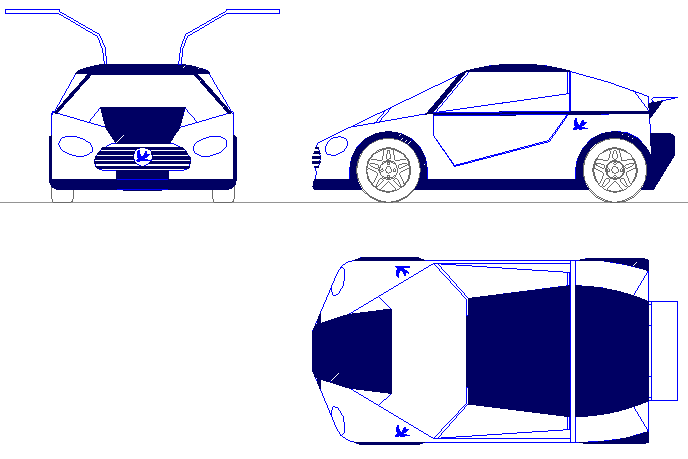 The world's fastest electric circuit racers will surely be looking for a system to recharge batteries instantly during pit stops. The Ecostar DC50 above incorporates the patent Bluebird™ instant energy transfer system - allowing EV refueling for road cars in around 60 seconds - with a theoretical 10 seconds being possible in a further developed form. Get your free developer License from Bluebird Marine Systems Ltd. The blue bird legend continues with the first road car to bear the mark, a fitting tribute to Donald Campbell on the 50th anniversary year of his land speed record at Lake Eyre in Australia in 1964. To date only Team Speedace are licensed to use this technology for the Cannonball Jogle event planned for June of 2015. Click on the car drawing to learn more. NOTE: This original vehicle design and/or project, is not connected in any way with either Alex Spofforth, Martin Rees or Don Wales or any of their (the above) companies.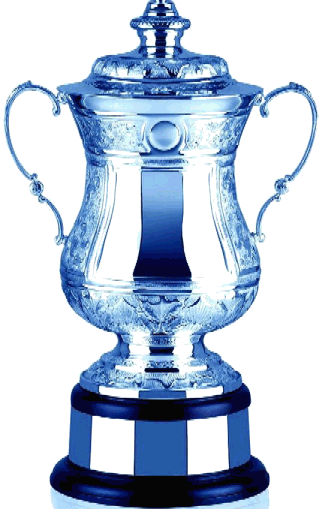 The Bluebird World Cup trophy is for the Cannonball ZEV International series of events set for 2015. These events are free to enter for the enlightenment of politicians and to encourage utilities to install the infrastructure necessary for mass adoption of EVs. Please note: that there is no connection between this BMS commissioned trophy and the trophy proposed for the advertised Rockingham events.
LINKS & REFERENCE
Spofforths-client-races-record-books
ICAEW Sustainability Committee
http://en.wikipedia.org/wiki/Accounting
http://economia.icaew.com/people/mark-spofforth
http://www.spofforths.co.uk/company-news/spofforths-client-races-record-books
http://www.icaew.com/en/technical/sustainability/sustainability-committee
http://practice-engine.com/testimonials-tracy-cunningham.php
https://twitter.com/AlexSpofforth
https://www.linkedin.com/in/alexspofforth
http://bluebirdelectric.com/
http://www.gordonpoole.com/Don-Wales.aspx
http://www.donwalesphotography.co.uk/
http://www.donwalesweddings.co.uk/
http://www.peterboroughtoday.co.uk/sport/other-sport/other-sport-news/bluebirds-will-fly-round-the-track-again
http://www.motorsport.com/general/news/bluebird-to-return-to-the-racetrack-with-electric-race-car/
http://www.rockingham.co.uk/bluebird/
http://speedrecordclub.com/
Billionaire bluebird electric powered vehicles mean and green
http://www.billionaire.com/cars/250/bluebird-electricpowered-vehicles-mean-and-green
Lifestyles castle-rock-boat-builder-eyes-electric-engine-speed-record
TDN Lifestyles Bontoft-named-electric-boat-racing-world-record-holder
Lawnmower-land-speed-record-attempt-unveiled-nephew-Donald-Campbell
Police UK False accounting fraud
http://www.actionfraud.police.uk/node/25
Bluebird-set-to-fly-in-land-speed-record-attempt
http://storyful.com/stories/1000006454-bluebird-set-to-fly-in-land-speed-record-attempt
Don Joseph Wales http://ginacampbellqso.com/campbell-dynasty/don-joseph-wales/
http://www.dailymail.co.uk/news/article-71475/Campbells-final-journey.html
http://tillingcreative.com/p/37/Bluebird-Electric-Speed-Trial/
http://www.christopherward.co.uk/blog/bluebird-electric-racecar/
Bluebird-will-make-september-electric-race-a-family-affair
http://green.autoblog.com/2014/04/04/uks-bluebird-will-make-september-electric-race-a-family-affair/
Brooklands Museum An evening with Don Wales
http://www.brooklandsmuseum.com/index.php?/events/details/an-evening-with-don-wales/