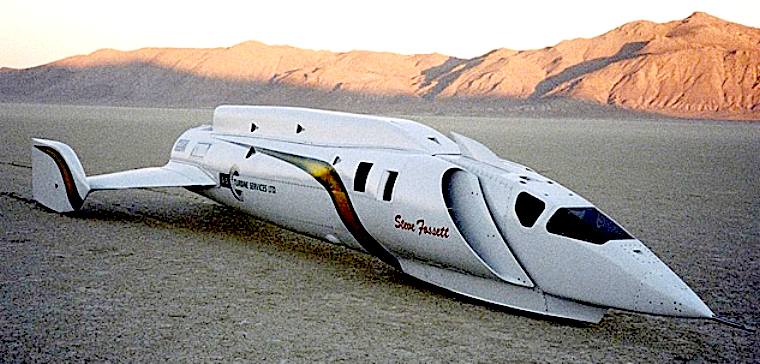 Spirit of America against a desert background, where it belongs. Now of course the Fossett LSR. To our mind, one of the most inspired (beautiful) of designs for a jet-thrust propelled car.
Britain's Andy Green still holds the (current) land speed record of 763 mph set in October of 1997. Craig Breedlove plans to reclaim the record soon with a run of 800 miles per hour, that would far exceed the minimum 771 mph run needed to break Green's existing mark.
In 1992 Craig launched construction on his third-generation Spirit of America car. The new land speed record challenger is powered by a J79 General Electric jet engine from a navy F-4 Phantom fighter aircraft. Modified by the Spirit of America World Speed Record Team, the engine now runs on cleaner-burning unleaded gasoline, Formula Shell, (same as used in passenger cars) offering quicker and better ignition for the jet engine's ultra powerful afterburner.
Engine tests have revealed the power being produced is 22,650 pounds of thrust, equivalent to over 45,000 horsepower and run on Shell premium pump gas. The car sports Centerline wheels, 3/4 inch solid carbon glass tires, and had support from AutoZone, Chevrolet, and Alcoa.
Actor/racer Craig T. Nelson attended the unveiling at Bonneville and has lent his name to the effort, although the car is more likely to run at the Black Rock Desert. In fact he has bought the movie rights to the Craig Breedlove story. We don't know if the 6'5" Coach will play the 5'7" Breedlove!
Craig Breedlove and his baby - justifiably proud and great style. No wonder Steve Fossett bought her.
The racer has two rear wheels behind an outboard J79 GE jet motor and driver placement square on/in the pointed nose. Spirit of America 3 will carry 118 gallons of fuel, 2.4 gals of oil and weighs 9000 pounds.

For Breedlove, the sensation of such speed is incredible. "I'm sitting six inches off of the ground, going faster than a bullet," said Breedlove. "It is quite a rush." He is also famous for saying: "There's only one thing that can guarantee our failure, and that's if we quit."
The Black Rock Desert is a prehistoric dry alkali lake bed that lies like a 400-square-mile Formica countertop about two hours' drive north of Reno, Nevada. If you love desert, it's the most beautiful place on Earth. If you don't, it's pure hell, a place where the sun hammers down as if the desert floor were the anvil of God.
Many readers (old west) know it as the place where the California and Oregon trails diverge. Film noir buffs know it as the place where Spencer Tracy decked Ernest Borgnine in "Bad Day at Black Rock." More recently, Black Rock has become famous as home to the annual arty super-party known as Burning Man. It also claims a subtler fame: It's the place where men have traveled the fastest across the surface of the Earth.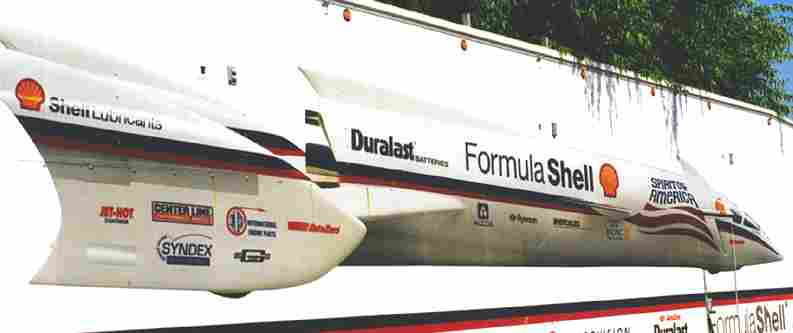 Formula Shell - billboard advertising
For the past few years, Black Rock had been Craig Breedlove's home away from home. A dream brings Breedlove to Black Rock: to return the world land speed record from Britain to the United States and to be the first American to drive through the sound barrier to 800 mph.
It's not a new project for Breedlove. He set his last speed record of 600.6 mph at Bonneville Salt Flats, Utah, 34 years ago. Now, at age 62 and with a newly modified and rebuilt Spirit of America, he's fixing to head out to Black Rock and claim the title once again. The number to beat: 771 miles per hour.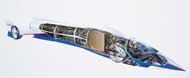 James Ibusuki's cutaway rendering allows the reader to better visualize how Craig Breedlove's latest Spirit of America is packaged. This Spirit features a 330-inch wheelbase. Check out the latest British rocket/jet car project: Bloodhound, with Richard Noble at the helm. Rivals on the track maybe, but they share a common goal and are thus good friends in reality.
We love this artwork in the Jack Vettriano style made famous by his Blue Bird painting(s)
TMC's On Line Gallery:
Limited Edition Prints | Quality Die Cast Models | Books | Videos | Racing Memorabilia | Autograph Index
SPIRIT OF AMERICA MODEL
You can now buy this 1/43 scale die cast. 12.5" long featuring removable body panel and fully detailed J-79 jet turbine engine and tube frame. Moving wheels, fully pad printed. Presented on handsome base with SOA insignia.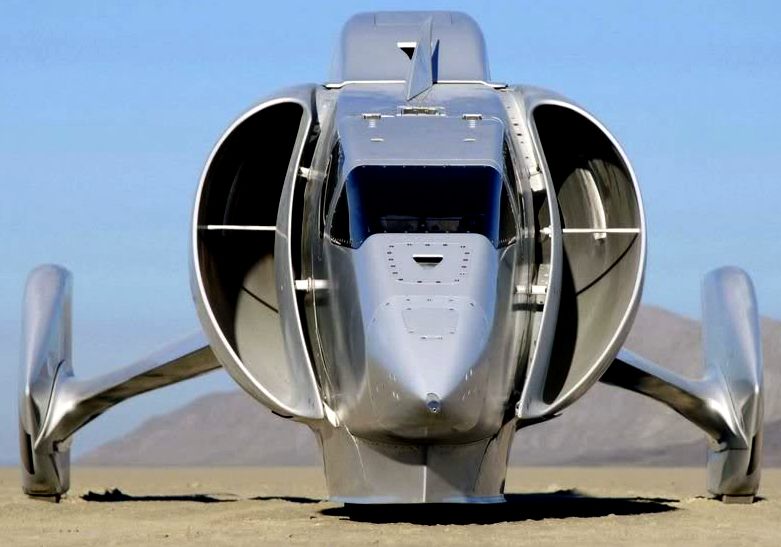 Jurassic car park, for a Velociraptor of a vehicle
FOSSETT LSR
Steve Fossett was in the final stages of preparing for an assault on the World Land Speed Record when he disappeared in 2007, his crashed aircraft to be found a year later. Steve had bought Craig's 'Sonic Arrow' car, which ran against Thrust SSC in 1997. The adventurer had the car rebuilt to improve both its speed and safety. The car is up for sale (and there are rumours of a buyer) so we may see the car run again soon.

The Fossett LSR car uses Breedlove's original chassis and engine (refurbished), but virtually everything else has changed. Suspension, steering, wheel base and track, systems, brake parachutes, wheels – all have been greatly modified or entirely replaced. The car retains the gorgeous and yet meaningful shape of its former life and still looks fast even when it's standing still. This car is close to being ready to go and could set a new record before the Bloodhound team. If it does – it will make the running that much more exciting for all of the other jet car teams out there.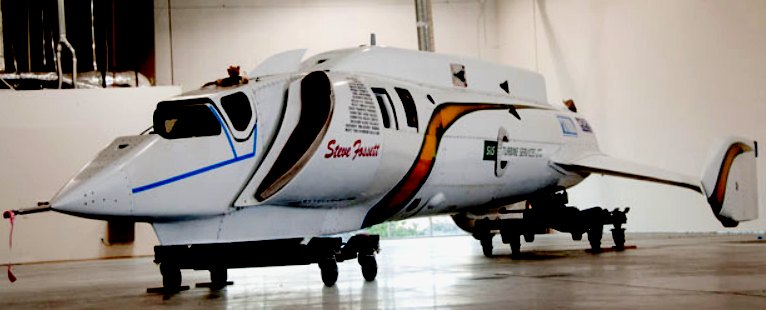 Looking more like a space ship than a car, the Fossett LSR car awaits the green flag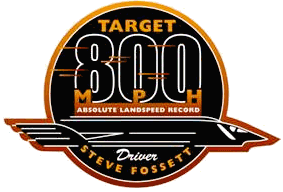 FOSSETT LSR SPACESHIP IS UP FOR SALE 2010
Before his death in 2007, adventurer Steve Fossett was readying an attempt to break the land speed record of 763 mph, using a vehicle from famed designer Craig Breedlove. Mothballed for two years, it's now up for sale.

Dubbed the "Spirit of America – Sonic Arrow," Fossett and crew were preparing for the first test runs of the vehicle when Fossett disappeared over Nevada, targeting at least 800 mph. Sporting a General Electric J-79 jet engine capable of generating 18,400 lbs. of thrust. While it looks like the world's fastest tricycle, the Sonic Arrow has a pair of narrow wheels up front to minimize drag while providing the stability of four wheels.

The sellers claim Breedlove was able to get the vehicle up to 675 mph, and that further enhancements have raised the car possible top speed to 850-900 mph. The asking price, which starts at $3 million includes not just the car, but all the tools and support vehicles necessary for a top-speed run, including a "catering transporter." And like all custom car hawkers, the ad mentions how much has gone into the project so far: $4 million. Given that the current land speed record holder is gearing up for a shot at 1,000 mph, Fossett's last shot might need something more than willpower to get rolling again.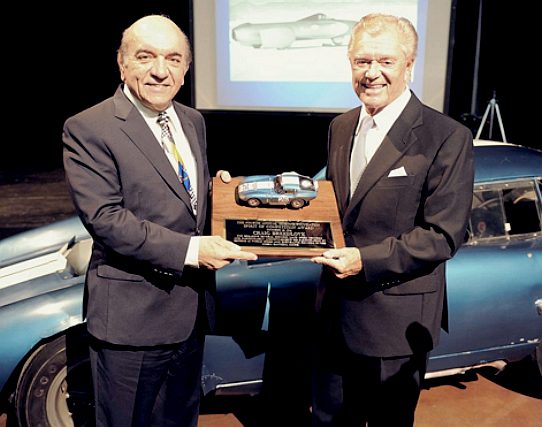 Craig is awarded a trophy sporting the Shelby special, in recognition of his achievements
LINKS
Racecar Engineering the fastest cars on earth
Speed Hunters steve_fossetts_lsr_car
Jalopnik steve-fossetts-land-speed-record-car-up-for-sale
Bloodhound SSc LSR challengers
http://www.racecar-engineering.com/a
http://www.ge-energy.com/about/index.jsp
http://www.papermodelers.com/forum/civilian-wheels/23434-fossett-lsr.html
http://www.speedhunters.com/2009/08/random_snap_gt_gt_steve_fossett_s_lsr_car/
http://jalopnik.com/5658468/steve-fossetts-land-speed-record-car-up-for-sale
http://www.bloodhoundssc.com/project/adventure/challengers
http://www.bbc.co.uk/news/world-asia-16901484
http://www.racecar-engineering.com/articles/land-speed-record/the-fastest-cars-on-earth/