The Bluebird K7 is a gas turbine jet-engined three-point hydroplane that was designed by Ken and Lewis Norris (brothers) for Donald Campbell's water speed record campaign. There are many full size replicas at various museums around the world, so many in fact that one could have made a living producing replicas for sale.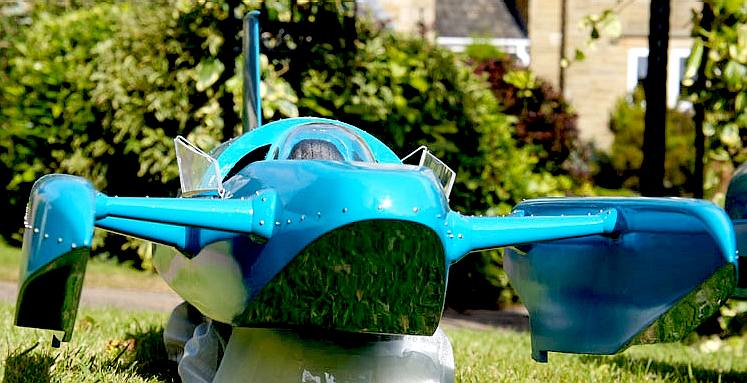 Classic Blue Bird K7 Replica for Jet Turbine Conversion or Electric power with EDF over 4ft long


The Bluebird K7 is an iconic design in British engineering history that lends itself to reconstruction in model form, that if done properly can look like the real craft on water - as you can see from some of the Youtube clips on this page.

There's grainy black & white footage shot on 4 January 1967 that is not easily forgotten. It shows the Bluebird K7 jet-powered hydroplane's final moments as it lifts off Coniston Water, completes a summersault and nose dives back into the lake. Its driver, Donald Campbell, was 'under pressure' to push past the elusive 300mph barrier, but the attempt proved fatal for Campbell, whose last words were: "I'm getting a lot of bloody row in here – I can't see anything – I've got the bows out – I'm going."

This wasn't just the end of Campbell and Bluebird, but also of the once massively popular terrestrial speed records. As the newspapers became more interested in the space race and missions to the Moon, so too the public lost interest in Campbell's comparatively tame activities. The media had a field day when, on arrival at Coniston Water in 1966, the lorry driver transporting Bluebird took a shortcut and got stuck. The headline 'Bluebird stuck in mud' did not impress Campbell.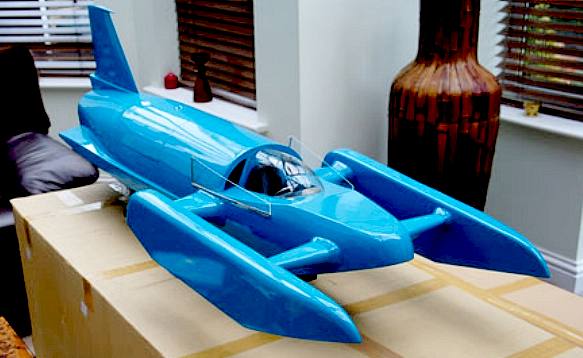 As with the Apollo missions, Bluebird was an evolutionary project going through many design and technology innovations. Although its technical specification changed radically over time as Campbell experimented with different engines, Bluebird K7 remained an aluminium bodied three-point hydroplane with a Metropolitan-Vickers Beryl axial-flow turbojet engine, producing 3,500 pounds of thrust. The frame underneath was triangulated steel box section.

Bluebird K7 was only designed to reach 250mph, but on 4 January 1967 Campbell's first run peaked at 310mph. Without waiting for the 'all clear' from the course marshal, Campbell turned Bluebird around and, travelling in his own wake, pushed the vessel to 328mph through choppy water. It must have felt fantastic, but Bluebird became unstable, its nose lifting out of the water before somersaulting and smashing into the water at a reported 183mph. Campbell was killed instantly. Bluebird remained at the bottom of Lake Coniston for 34 years before being raised in 2001.

One of the myths surrounding Bluebird K7 is that the night before Campbell's final attempt he had been playing cards and had drawn the queen and ace of spades. Campbell noted that these were the same cards that Mary Queen of Scots had drawn on the eve of her execution. The superstitious Campbell took this as a bad omen that has often been commented on.
Campbell talked about death because he lived with it, not because he wanted to die. He knew there was no safety net when he walked out onto the tightrope. Everything depended on him, and him alone, he had to perform. It meant that he would eventually have to take what he once described as 'a thoroughly unjustified risk'. And that was how the legend of Donald Campbell was born.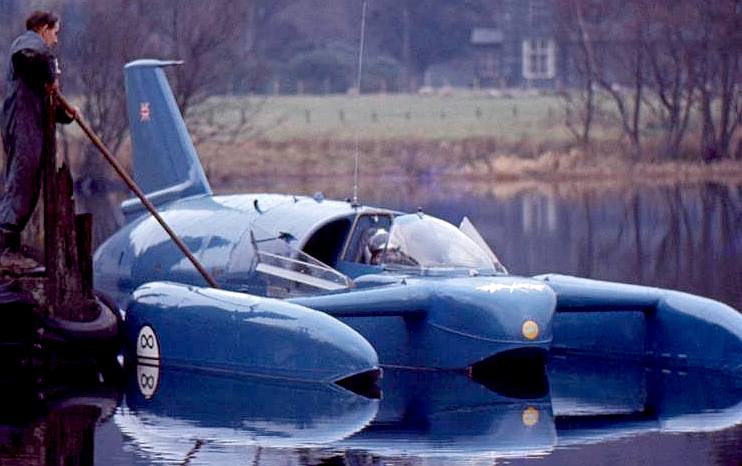 Donald Campbell's K7 world water speed record boat, Lake Coniston 1967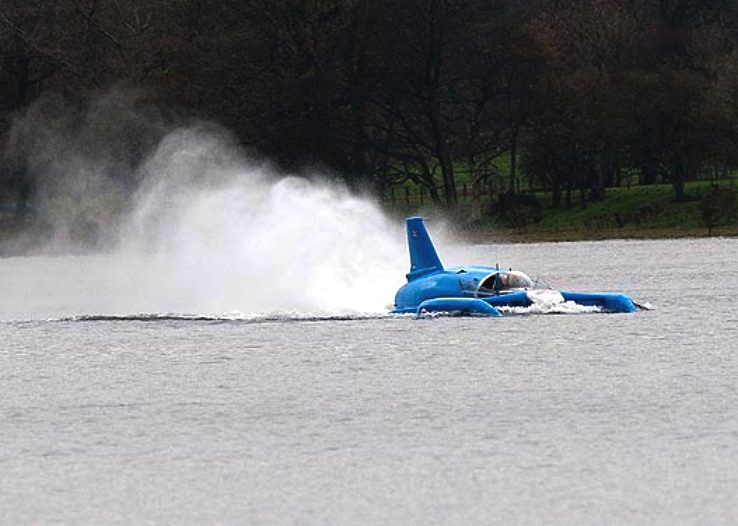 The K777, piloted by Jim Noone. It seemed a little nose heavy during trials, suggesting that some re-trimming might be in order. This was a problem that Leo Villa and Donald Campbell came across, sometimes resorting to weights.
You might agree that the footage of the models on this page appear to support the view that the K7 could have been made stable at higher speeds. These models are made to a very high standard by dedicated enthusiasts. The K777 team might like to think about testing some of these models to see how they are getting onto the plane so easily. Easier in fact than Donald Campbell manager in the original craft.
Nigel MacKnight is hot on the heels of a water speed record with Quicksilver.
BLUEBIRD K7 RECOVERY

The wreckage of Campbell's craft was recovered by the Bluebird Project between October 2000, when the first sections were raised, and May 2001, when Campbell's body was recovered. The largest section, representing approximately two-thirds of the main hull, had been salvaged on 8 March 2001. Bill Smith led a diving team responsible for finding the wreckage.
The K7 on its final run 4 January 1967
Campbell's last words on his final run were, via radio intercom:

" Pitching a bit down here...Probably from my own wash...Straightening up now on track...Rather closer to Peel Island...Tramping like mad...and er... Full power...Tramping like hell here... I can't see much... and the water's very bad indeed...I can't get over the top... I'm getting a lot of bloody row in here... I can't see anything... I've got the bows out... I'm going!....ugh "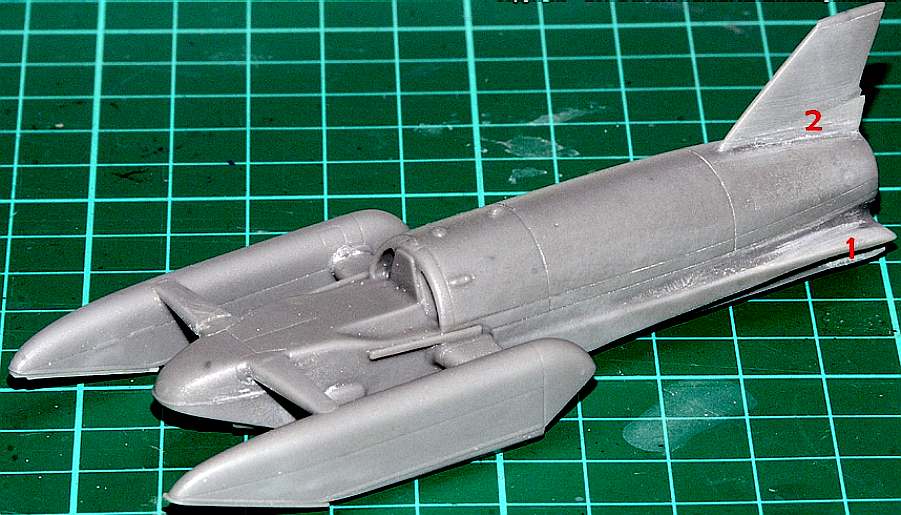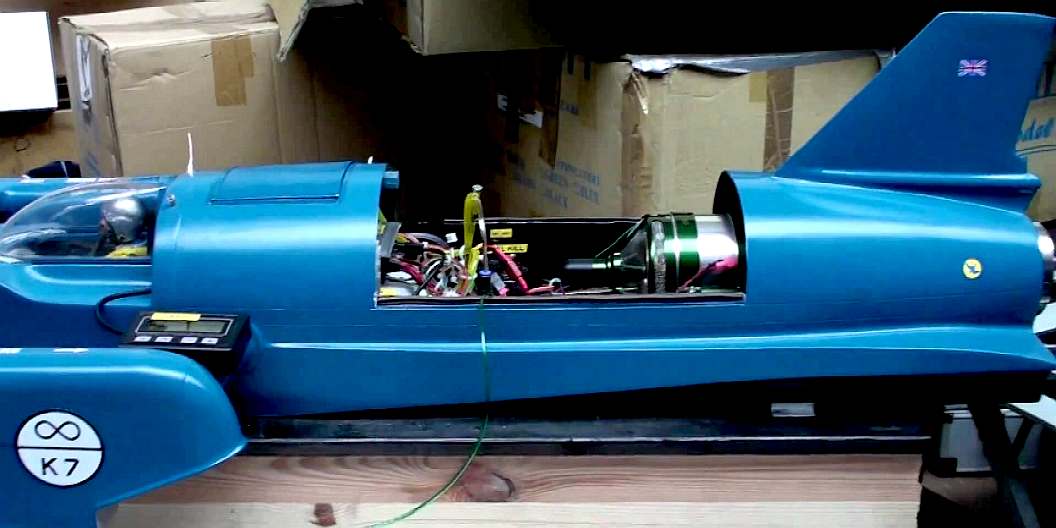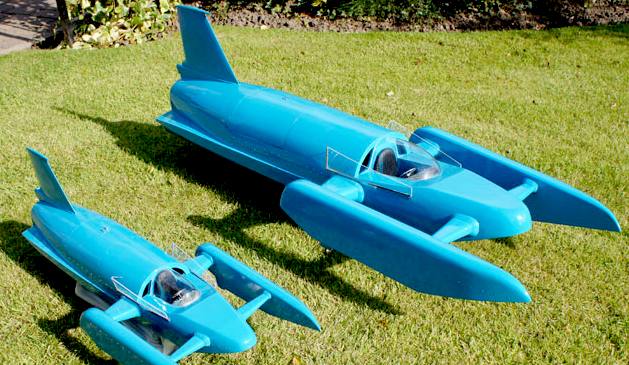 Large Blue Bird K7 Replica for Jet Turbine Conversion or Electric power with EDF - over 4ft long. Price: £699.00 / €866.76. These are quality model boats made in China, vetted during a trade mission in 2012. The 1/6th scale model it comes as you see it painted and detailed as in the picture above. You can convert to either electric prop and EDF fan power to give that scale sound from the EDF and can be supported with some prop power for scale speeds action. You can also Jet Turbine the Blue Bird K7 as some other users of this model have done. We have added more details below about how you can do this to yours. (Wren 160 size is ideal). The model here has no electrics added.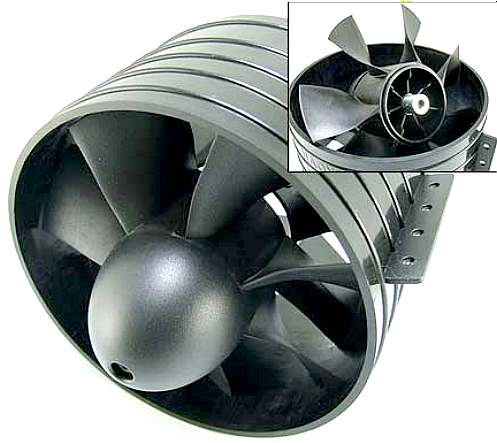 EDF Ducted Fan Unit 7Blade 5inch 127mm for 1/6th Blue Bird K7

Price: £32.00 / €39.68
DF Ducted Fan Unit 5 7 Blade
Blade Diameter: 127mm / 5inch
Outer Case Diameter: 135mm
Wall Thickness: 3mm
EDF Length: 98mm
Motor Mount Holes: (Adjustable, from 22~37mm)
Blade Type: 7
Shaft Size: 6mm
This fan will take up to a 49mm diameter motor.

Made from high strength reinforced plastic.
Spare propellers available.
Designed for a range of electric motors around the 540 size.
Recomended Motor: 45-70 Turn (22.2v)
ESC: 120A
Rpm: 1,000kv
Power: 1500~5000g Thrust
SIR MALCOLM CAMPBELL'S BLUE BIRDS
DONALD CAMPBELL'S BLUEBIRDS
LINKS
Sports Moto Catalog Bluebird K7 Model Boats
http://www.sportsmoto.co.uk/acatalog/Bluebird-K7-Model-Boats.html
Coniston-power-boat-records-week-gets-underway-k777-is-launched
Bluebird-lookalike-takes-a-trip-on-coniston-water
Curse-Bluebird-Replica-Campbells-speedboat-sinks-Coniston
http://www.cumbriacrack.com/2011/10/31/coniston-power-boat-records-week-gets-underway-k777-is-launched/
http://www.nwemail.co.uk/news/bluebird-lookalike-takes-a-trip-on-coniston-water-1.893900
http://www.boatdesign.net/forums/boat-design/k777-bluebird-40452.html
http://www.dailymail.co.uk/news/article-2057326/Curse-Bluebird-Replica-Campbells-speedboat-sinks-Coniston.html
http://www.k777club.com/
http://www.rcgroups.com/forums/showthread.php?t=1959632

The bluebird legend lives on: The first road car to use our blue bird trademark is the electrically powered Ecostar DC50, a long distance runner that uses cartridges to recharge instantly (in under a minute). This is achieved with built in Bluebird™ power loaders, enabling the car to recharge at any road stop where a cartridge is waiting to be picked up. The DC50 may be upgraded for clubman circuit events.