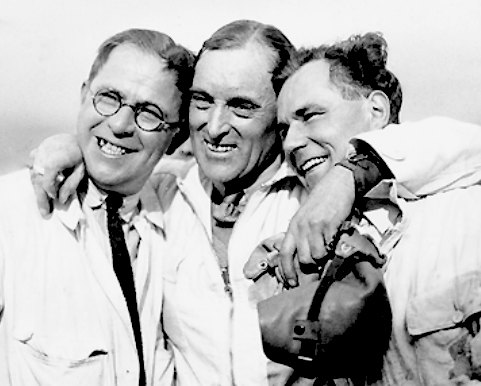 Leo Villa, Malcolm Campbell and H J Leech
Born Leopoldo Alphonso Villa on November 30th 1899 in London, his father Leopoldo Maurice Villa was from Switzerland and his mother Adelaide Florence Hawkins was Scottish. Leo first became interested in motor racing around 1907. He left school at 15 and went to work as a page boy at The Strand. Leo's career in the racing world began in 1915 as a young engineer working for Guilio Foresti's workshop after being introduced to Foresti by his Uncle Ferdinando. Leo was riding mechanic to Foresti when they won their class (3-litre) in the 1921 Targa Florio.
Between 1915 and 1922 Villa and Foresti were lucky to escape serious injury after a number of serious incidents when motor racing, however during preparations for the French Grand Prix at Strasbourg in which Foresti was to drive a French Ballot Villa's luck ran out when he was seriously burnt when a generator exploded. After a period of convalescence in England Villa found himself on the shelf after Foresti had taken on another mechanic in Villa's absence.

LEFT: Leo Villa with Donald Campbell and Blue Bird K4 on Coniston Water 1950. RIGHT: Leo Villa, Donald Campbell, Daphne and others
In 1922 Malcolm Campbell acquired the Itala car agency from Foresti. Not so long after Villa had an offer that would set the path of his career for the rest of his life. The then Captain Malcolm Campbell owned the franchise for Ballot in England and raced one of its models at Brooklands and was considering buying a new model for a Grand Prix campaign so Foresti and Villa were dispatched with the car that French star Jules Goux had driven in the Grand Prix Villa had missed.
Campbell was so impressed with Villa's manner and ability he offered him a job as his racing mechanic and though he was very much so Campbell's employee Villa was be a key part in Malcolm Campbell's 9 land and 4 water world speed record attempts. This was to be the beginning of a life long association and friendship with the Campbell family spanning over 44 years. In 1923 Leo went to work for Malcolm Campbell preparing his cars that raced at Brooklands and was subsequently involved with Malcolm Campbell's record breaking attempts on both land and water in Europe and America.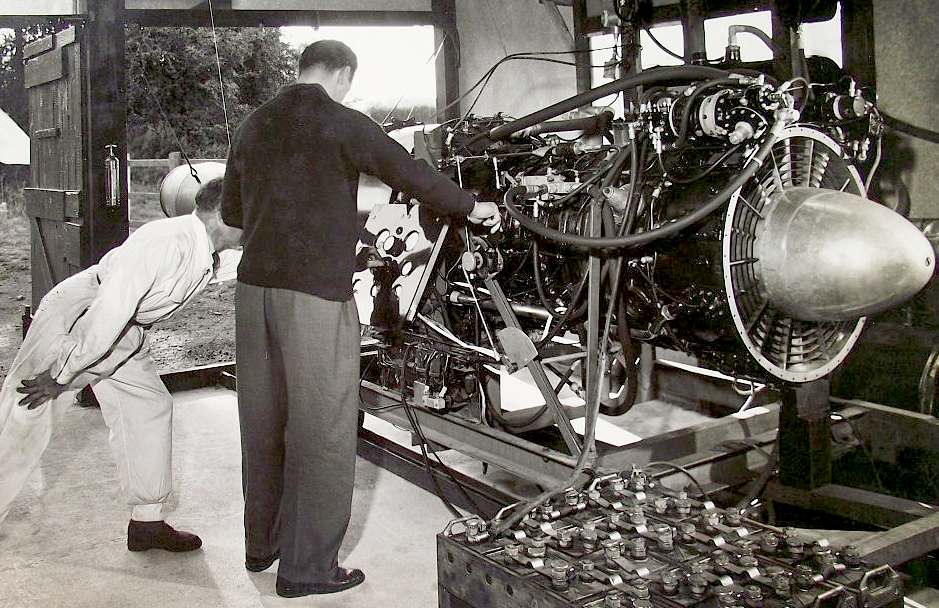 Leo Villa and Donald Campbell bench testing the K7's jet engine
On new years eve 1948, Sir Malcolm died. Not long after by then Sir Malcolm's death on New Year's Eve 1948 Villa was approached (a few months later) by Sir Malcolm's son Donald Campbell with a proposition, the junior Campbell had heard that the Americans were planning an attempt on his fathers world water speed record and the fiercely patriotic Campbell wanted to push it out of their reach before they even got started.
Donald came to Leo and said "I want to keep the flag flying for Britain and the old man, will you come in with me?" This suggestion of Donald's came out of the blue and took Leo aback. "You're taking on a man's job if you decide to go after the record," said Leo. "Don't underestimate the difficulties of what you are going to try to do. And you must appreciate that once you start this thing, you're not going to be able to quit." For a further 19 years until Donald's death on January 4th 1967 at Coniston Water, Leo worked constantly to help Donald achieve his goals of being the fastest man on land and water.
The older and wiser Villa wasn't against such an idea, he did however advise that record breaking wasn't as easy as Campbell thought it was and once Campbell got started he would be addicted for life. The headstrong young Campbell wasn't to be dissuaded and so Villa found himself again playing chief mechanic to a Campbell's many record attempts. However this time round far from being just an employee Villa's relationship with the young Campbell was on a much more even keel having watched Campbell grow up and having covered for him on numerous occasions so that he didn't suffer the wrath of Sir Malcolm he was held in great affection by Donald who regularly referred to him as Unc. Clearly, Leo became a father figure after the death of Sir Malcolm.
LEFT: Leo, Donald & Tonia Bern RIGHT: Donald, Leo and Mutt
After a somewhat rocky start to record breaking with Sir Malcolm's old boat Blue Bird K4 and a considerable investment by Campbell and others they managed to get their first world water speed record as a team on Ullswater in 1955 with a jet engined hydroplane called Bluebird K7. Campbell proved to be as adept at record breaking as his father and he went on to set no fewer than 7 world water speed record and 1 world land speed record with Villa being instrumental in every one. It was a successful partnership that was only broken upon Campbell's death in 1967 whilst attempting his 8th world water speed record.
For 44 years Leo Villa had worked for Donald and his father, working around the clock and around the world, preparing both boats and cars for record attempts. Leo probably knew more about land and water speed record breaking first hand, than any man alive now or dead. Leo shared the success the failures and the disappointments experienced by the Campbell's in their record breaking career's.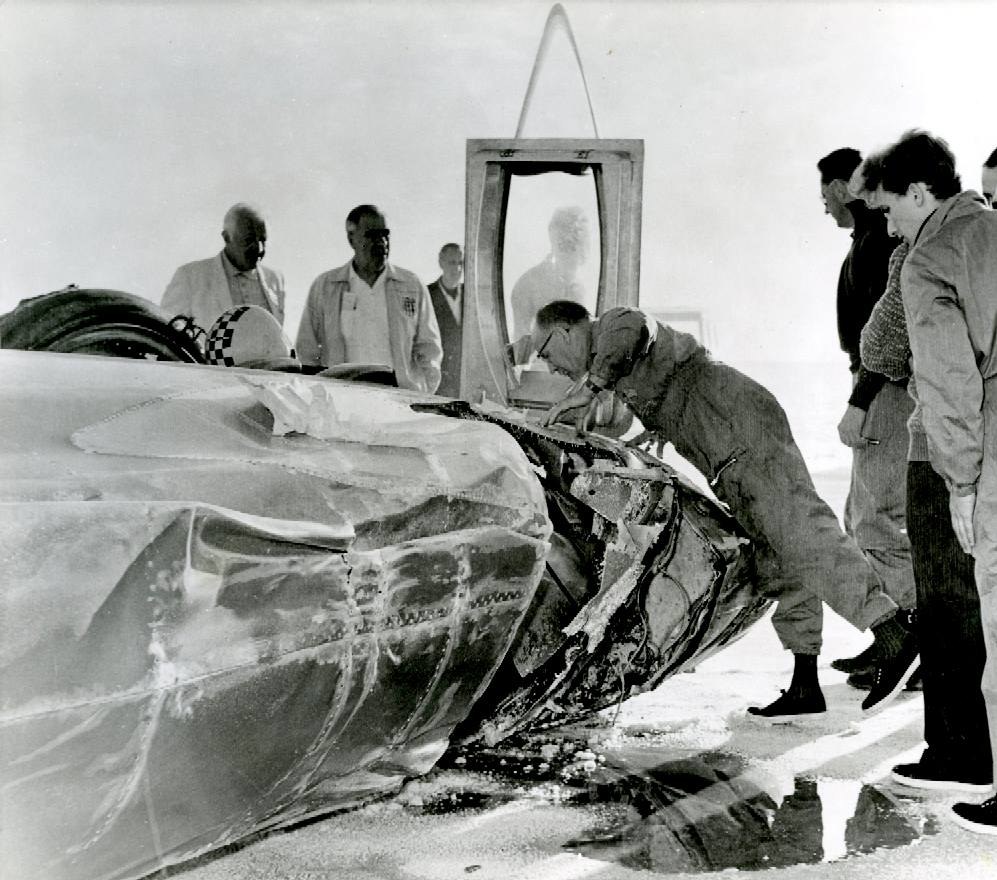 Leo Villa lived through the tragedy of Bonneville, taking care of business as usual while Donald was in hospital.
RETIREMENT & PUBLICATIONS

After Campbell's death Villa spent his time at home in Reigate in Surrey with his wife Joan where he took up gardening. He received an OBE in June 1976 for services to land and water speed records, Villa was also granted The Freedom of the City of London and he went on to write 3 books about his record breaking career 2 of them written with Kevin Desmond.
Leo Villa (1969). The Record Breakers, Sir Malcolm & Donald Campbell, Land and Water-speed kings of the 20th Century. Hamlyn.

Leo Villa and Kevin Desmond (1976). The World Water Speed Record.

Leo Villa and Kevin Desmond (1979). Life with the Speed King. London: Marshall Harris & Baldwin. ISBN 0-906116-06-6.

David de Lara, Kevin Desmond and Leo Villa (2007).
Leo Villa's 3D album of the Bluebirds. London: Transport Bookman Publications. ISBN 0-85184-071-X. Period 3D photographs taken by Leo Villa on a Stereo Realist camera given to him by Donald Campbell.
CLASSIC & SPORTS CAR May 2007: Even without the 3D images (the glasses are tucked inside the front cover) this would be an essential acquisition for all fans of the Campbell clan, the Land Speed Record or even just photography. These breath taking images enigmatically record the lives and deaths of Malcolm and Donald. So personal and on the spot is it that there is an almost guilty pleasure as if you are surreptitiously delving into a shoebox full of memories hidden at the back of a wardrobe, but then that is also why this book is so compellingly unique. The young engineer Villa was poached by Malcolm in the '20's and stayed within 'Bluebird' employ for nearly 50 years, intimately involved with every car and boat, every adventure, every record attempt, triumphant and tragic. There are other detailed accounts of the Bluebird story but none so personal; these pictures tell the story better than any number of words ever could. Simply beautiful.
3D PHOTOGRAPH ALBUM

This album is held to be the definitive photographic record of Donald Campbell's legendary Bluebirds, much of it captured through the twin lenses of Leo Villa's 'Stereo Realist' camera. The photographic record is an amazing collection of pictures in colour (18 in 3D) and black & white, this 256 page hard back book captures the life-and-death drama that was played out against the barren landscapes of salt beds and the magnificent backdrop of lakes such as Coniston Water.
With almost 600 photographs contained in its pages, Leo's Bluebird Album puts the story in its historic context, showing the fashions and styles of the day. In particular, the 3D images are a rare and unusual view of a time when a 3D camera was an extremely expensive bit of kit. The glasses require to see the images in three dimensions are included in a pocket in the front of the book.

In 1964 Donald Campbell, Leo Villa and a rather large team (known as the circus) went to Australia with the intention of breaking the land and water speed records in the same year, 'The Double'. This became and still is an achievement unsurpassed in record breaking history. The expedition was a constant fight against the elements and the technicalities of high speed vehicles.

For 12 years Donald Campbell dominated the record breaking scene on both sides of the Atlantic, and throughout this period he was aided and advised by Leo Villa, his friend and chef d'équipe.

Leo played a unique part in record breaking history, and helped the team break no less than 10 land speed records, and 11 water speed records with Donald and Malcolm Campbell and their legendary Bluebirds. This fascinating book is a 'Snapshot' of time Leo and the Campbells spent traveling the world together.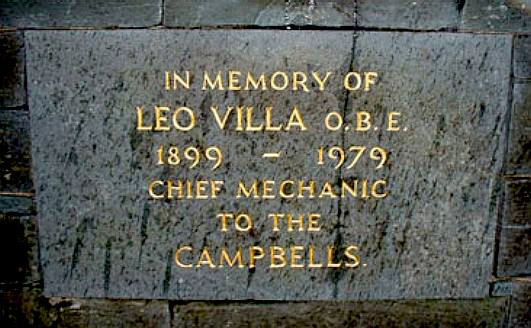 DEATH & HONOURS

Leo was subsequently awarded an OBE for his record-breaking activities in 1967 and worked for the Norris Brothers after Donald's death on a jet boat project. Leo died on January 19th 1979 at the age of 79 from lung cancer, eight months after the death of his wife Joan. He was affectionately known to Donald as "Unc or Uncle."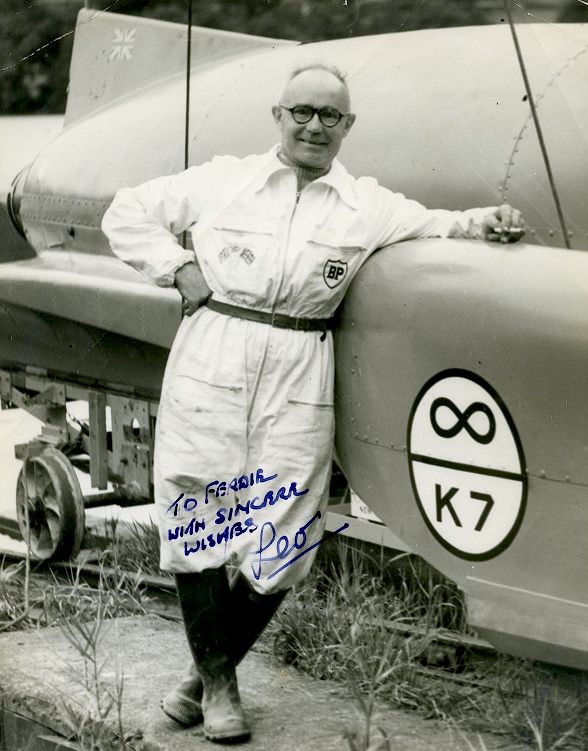 SIR MALCOLM CAMPBELL'S BLUE BIRDS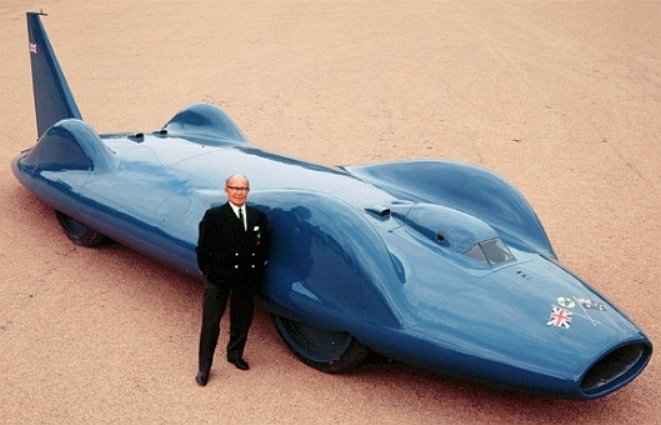 Leo Villa visits the CN7 years after it was retired from LSR breaking
DONALD CAMPBELL'S BLUEBIRDS
Jetstar (speedboat)
LEO'S LINKS
Coterie Press Leo-Villas-Bluebird-Album
Speed Sport Gallery Leo Villa exhibition
http://www.isbn-check.com/
http://www.amazon.com/Leo-Villa/e/B001HPUUPM
http://www.coteriepress.com/products/Leo-Villas-Bluebird-Album?forumboardid=47&forumtopicid=47
http://www.speedsportgallery.co.uk/exhibition/
http://en.wikipedia.org/wiki/Leo_Villa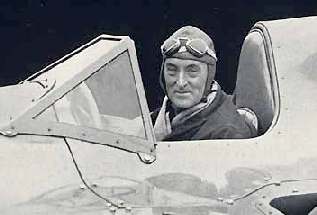 Sir Malcolm Campbell in his favourite car seat

The blue bird legend lives on. The classic lines of this racing car were inspired by Reid Railton and his designs for the Napier Lion and Rolls Royce engined Blue Bird LSR cars in the 1930s, the Blueplanet BE3 features instant battery recharging using the patent Bluebird™ cartridge exchange system under license from BMS. This LSR is also solar assisted. She is designed for speeds in excess of 350mph using clean electricity. Imagine the spectacle of this beautiful vehicle speeding across the salt at Bonneville, or flying past on the sand at the Daytona or Pendine beaches. To hire this vehicle for your venue please contact BMS and ask for Leslie or Terry. The BE3 team need at least 6 months advance notice of events or the costs rise considerably.