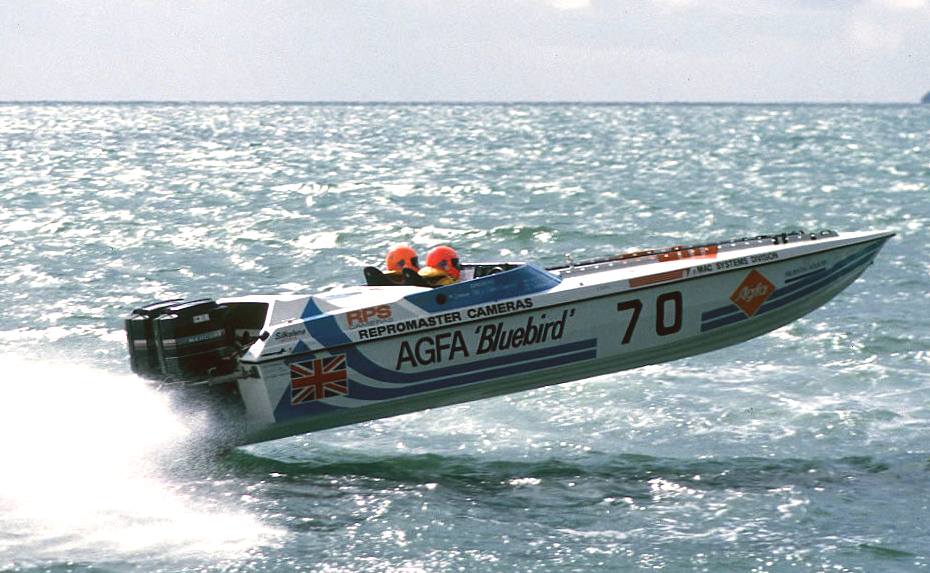 Agfa Bluebird offshore powerboat racing in 1987
Not much is recorded about the Agfa sponsored Bluebird boats between 1984 and 1990, but then film in cameras is virtually obsolete. Gina Campbell did not have a son or daughter to carry on where she left off with powerboats and her cousins appear not to have been that way inclined at the time - hence no archive.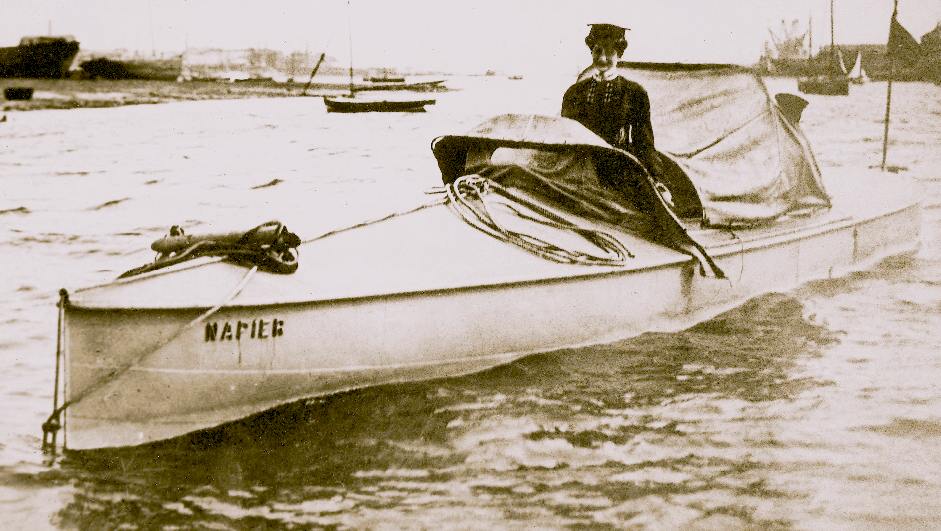 Dorothy Levitt in the Napier WWSR boat in 1903
EARLY WOMEN SPEEDSTERS
A little known fact is that Londoner, Dorothy Levitt, became the first woman to set a land speed record of 91 mph at Blackpool in 1906. In 1903 a S. F. Edge's Napier launch won the inaugural British International Harmsworth Trophy for speedboats at Cork Harbour in Ireland, driven by Dorothy Levitt. She achieved 19.3 mph (31.1 km/h) in a 40-foot (12 m) steel-hulled, speedboat fitted with a 3-blade propeller. As both the owner and entrant of the boat, "S. F. Edge" is engraved on the trophy as the winner. The third crew member, Campbell Muir, may also have taken the controls.

On 8 August 1903 Levitt drove the Napier at Cowes and won the race. Later in August Levitt won the Gaston Menier Cupat Trouville, France. This was described as the five mile world's championship of the sea and the prize was $1,750 prize.

In October 1903 Levitt won the Championship of the Seas at Trouville, and the French government bought the boat for £1,000. The 1905 boat Napier II set the world water speed record for a mile at almost 30 knots (56 km/h).
WWSR 1984
Gina Campbell broke the Woman's World Water Speed Record in Bluebird II at 122.86mph, in 1984. She also survived flipping a catamaran (hydroplane) at Holme Pierrepont. On the 1st of April 1990 she set a new women's mark of 146.49mph on Lake Karapiro in New Zealand, driving a Lauterbach three-point hydroplane powered by a Chevrolet V8 (big block) engine, sponsored by Bluebird Foods. (This record was re-taken by Heather Spurle, also in New Zealand, at 169mph.)
These are significant achievements that anyone would be rightly proud.
Agfa Bluebird 1984 hydroplane in sheds at Filching Manor Motor Museum, East Sussex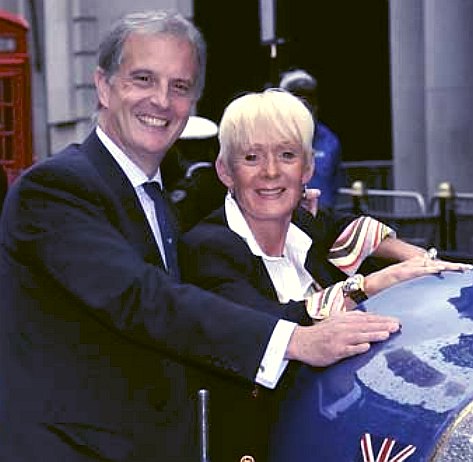 Gina Campbell and her cousin Don Wales in London 2012
OCTOBER 4 2012 - WHAT THE DAILY MAIL SAID:
She grew up in the shadow of greatness. But for the daughter of legendary speed icon Donald Campbell her upbringing was anything but great.

In an autobiography due to be published next week 63-year-old Gina Campbell lays bare a tormented childhood and chronicles three failed marriages and a suicide attempt. She reveals how her father mysteriously emptied her trust fund before he tragically died in January 1967 on Coniston Water and how the debonair dare-devil sacrificed her and his family in the pursuit of glory. Yet, she does not blame him.

Nor does she resent Bluebird K7, the speedboat that cart-wheeled so spectacularly across the water during that ill-fated world speed record attempt 45 years ago. She is quoted:
'To a large degree it was a very hard childhood, I didn't see it back then. I had nothing to compare it to. The family life, the love and care of a mother and father just wasn't there.'

'My mother didn't even like me most of the time, let alone love me. And my father never displayed any affection towards me, never put his arm around me, never sat me on his knee, never praised me.'

'Bluebird was always paramount in his thoughts, feelings and actions. It had to be. It was his tour de force, his raison d'etre. I was there and Bluebird was there and he chose Bluebird. That's not to say my father was a bad father. I thought he was the best thing since sliced bread and amongst the low lows there were massive highs. But yes, some things were strange, different, unorthodox.'


Her autobiography, Daughter of Bluebird, documents her struggles growing up and how the lack of affection as an 'unwanted child' left her craving for love in later life. It also details the moment she learnt of her father's death at the age of 45 in a phone call with her mother who could only utter the words: 'There's been a terrible accident'. Born in 1949 Georgina Dorothy Campbell was packed away to boarding school at the age of two.



Her father was already well-known and was traveling all over the world breaking records whilst her mother was far from maternal:
'It must be the most difficult thing for any child to say: that she has no love, respect or true caring for her own mother... But, even worse, that a mother holds no emotion for her own child. It is so unnatural. But sadly, in my case, this was the plain and simple truth.'
'When my parents divorced, I think when I was nearly two years old, my mother found a place for me at a boarding school-cum-residential home, where I lived for two to three years, 365 days of the year. She could find no place in her life for her only child and this was the convenient alternative.'

'Apparently she was totally disappointed when her baby was a girl and I'm sure my father would have preferred a boy, too.'



Her parents divorced and in 1952 her father married again after a whirlwind romance. Yet he remained detached from his daughter and very rarely showed any signs of affection towards her – often criticising and belittling her. Gina recalls watching him on This is your Life in 1956 about which she says:
'I was almost detached watching him on television. Did I look at the programme and think: That's my daddy?' I didn't really know him. In fact I don't have a poignant memory of first meeting my father. In fact, it seemed all he did was criticise, belittle me.'

'He criticised my laugh in particular, said I sounded like a bloody donkey and then he would mimic the 'ee-ore, ee-ore' sound. Maybe that's why I don't laugh out loud a lot now....'

She continues: 'He was very strict about behaviour and manners too and a great believer in spanking. He used to exact that punishment quite regularly if I was naughty.

'I was so scared if I knew it was that time again that I used to wee myself and he would tell me to go to the toilet and then to my room to wait for him.

'Then he would come and administer the punishment. He used to put me across his knee and spank me with his hand on my bottom.'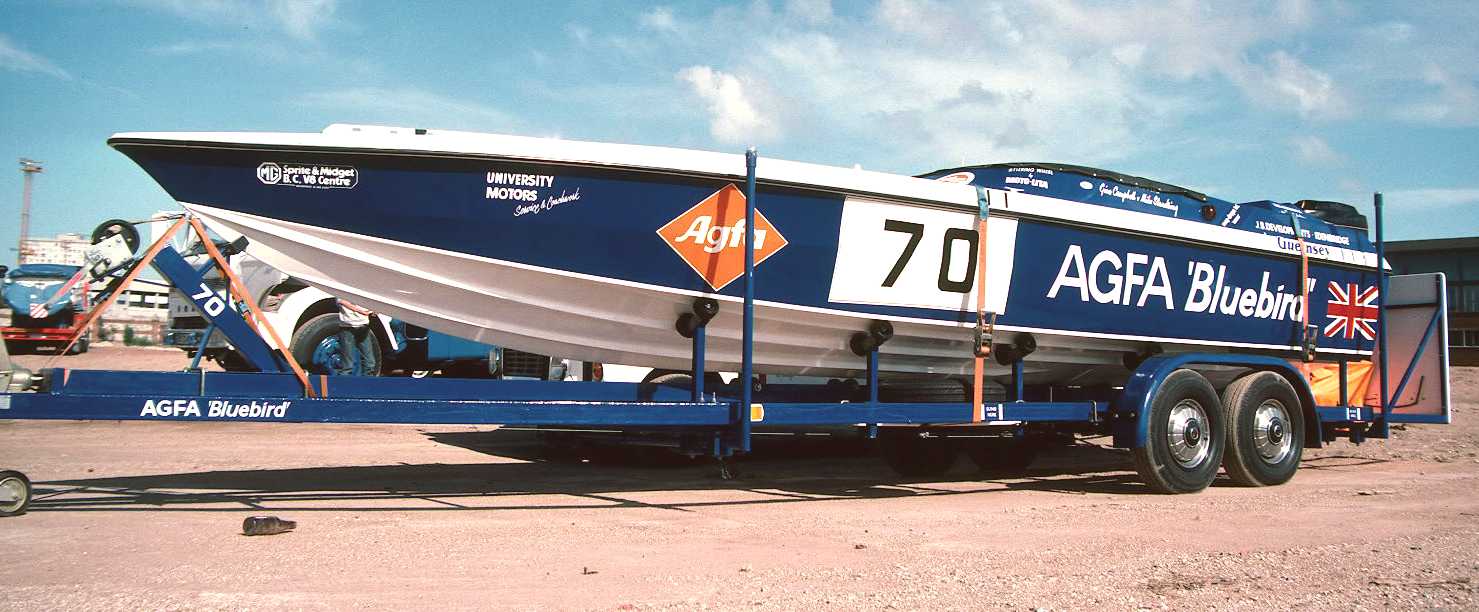 Agfa Bluebird tailored 1990 trim
TEENAGE TRAGEDY
In her teenage years she went to a succession of boarding schools and in the holidays would travel to Australia and America to watch her father's speed record attempts. She was also packed off to France to stay with family friends.
By January 1967 her father, onto his third marriage to a cabaret singer, was at Lake Coniston attempting to break his own world speed record in Bluebird K7 whilst she was working in Switzerland at a ski resort. She was 17 at the time and can remember the telephone call telling her that her father had been killed during the second leg of his latest world record attempt, at more than 300 mph. She writes:

'My mother arranged my flight home and the next day the housekeeper took me to Geneva airport which was about 200 miles away - it's still all a bit of a haze,'

'It was strange, surreal. I have vivid memories of sitting in the departure hall opposite a news stand where every single British paper and even the French ones had the picture of Bluebird going up in to the air. 'I looked at them with a total sense of disbelief.'

Within a year Miss Campbell was engaged to the first of her three husbands and had already had an abortion.
Then, in 1984, in an attempt to emulate her father's success on water, she too attempted a world speedboat record – and miraculously walked away from a crash that was almost identical to his. There was further heartbreak to come. With her third marriage crumbling she took an overdose of painkillers in a bid to end her life.

Then, in December 2000, she received the news she never thought would come. Almost 34 years after the tragic crash a diver had found Bluebird K7 – and her father – at the bottom of Coniston Water. 'When my father's body was finally recovered, still inside his suit, there had to be DNA testing, even though we had established it was his St Christopher and lighter,' writes Miss Campbell, who now lives in Leeds. 'A policeman came to my house and took a mouth swab and the result came back that the chances of our not being related were at least two million to one.'

Donald Campbell was eventually laid to rest whilst his daughter and a team of experts set about restoring BlueBird K7 to her former glory. They now intend to launch her one more time onto Coniston.
Daughter of Bluebird by Gina Campbell was published by Great Northern Books on the 8th October 2012. Price £16.99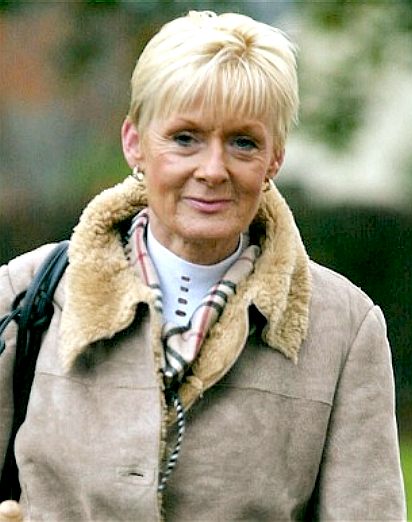 NEWS & STAR JANUARY 2006
HOPES are high that lottery funding could be granted to allow Donald Campbell's legendary boat Bluebird to be restored and put on display in the Lake District.

Campbell's daughter Gina has threatened to dump Bluebird back in Coniston, where it crashed on January 4, 1967, or sell it on an internet auction site.

She says she won't allow the wrecked boat to be put on public display and agrees it should be restored before it goes into the Ruskin Museum in Coniston village.

Now a revised application has been submitted to the Heritage Lottery Fund (HLF) following the failure last March of an initial bid for £940,000.

Fresh hopes have been expressed this week that Bluebird could be restored and put on display by 2008. A decision from the HLF is expected in June.

Campbell died aged 46 when Bluebird overturned in spectacular fashion that fateful morning in 1967. The speed ace was a popular figure in the Lake District which he frequently visited for water speed record attempts.

Controversy surrounded the decision to raise the wreck from the lake bed in 2001 after it had lain there undisturbed for 34 years.

It is currently in the North East workshop of underwater surveyor and amateur diver Bill Smith who discovered the wreck and fronted the project to restore it.

Ms Campbell says Bluebird was a feat of engineering and should only be displayed in restored condition.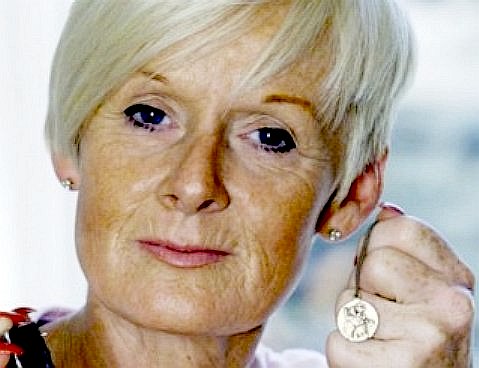 YORKSHIRE POST JULY 2012 - PLEA FOR LOST MEDAL
Gina Campbell, daughter of world speed ace Donald Campbell with the St Christopher found on his body 34 year after his death.

IT IS a treasured possession that was only unearthed from the depths of Coniston Water thirty four years after Donald Campbell's death.

For all those years a St Christopher's medal belonging to Mr Campbell had lain underneath the water after his Bluebird K7 crashed, killing him instantly.

So his family were overjoyed when the good-luck charm was discovered - but now his daughter has been left devastated after it was lost once again.

Gina Campbell, 62, of Thorner, Leeds, is offering a reward after losing her father's valued medal.

Mr Campbell was 46 when he attempted to break his own 276mph water speed record at Coniston Water in 1967, in the Lake District, reaching over 300mph when his boat flipped and crashed into the water.

The wreck was recovered in March 2001 by a team led by millionaire Bill Smith, who found a St Christopher's medal which was engraved "To Donald from Daddy, November 1941."

It was given to Mr Campbell's daughter, who occasionally wore the medal as a good luck charm, but she lost it following a golf match - and is offering a reward from the family collection to anyone who returns it.

She said: "I am just absolutely devastated. This has just got to be found. It was my father's most treasured possession and it's mine too.

"We're a family of great sentimentalists and I'm just so annoyed with myself for losing it."

Ms Campbell explained: "I had a golf match on the morning of July 4 and I was hoping to do well so I thought I should take my father with me.

"I often wear it as a good-luck charm. My father did the same."

The charm, given by Mr Campbell's father, Sir Malcolm Campbell, is attached to a 24-inch beige cord made of either tough fishing line or a very fine military cord, put on by Mr Campbell so he could easily place it over his neck.

Ms Campbell said: "I remember my father putting it onto the cord. The old one was getting dirty or worn, so my father was putting a new one on, that must have been in about 1966.

"I attached it to my left bra strap as I always do, as I thought it was safe in there.

"I went to play golf - winning my match - and was having a coffee with my opponent afterwards, when I mentioned the charm. I took it out to show her, so I know I still had it with me after the game.

"After the coffee, I went straight to my car, put the clubs in the boot and left. But when I got home and started getting changed, I realised the charm was gone."

Ms Campbell, who plays at Moor Allerton golf club, in Leeds, three times a week, searched her house and car from top to bottom - even calling the police who used a metal detector - but to no avail.

She hopes that the charm's distinctive engraving and cord will help her recover it.

"When Bill was going down to the wreckage in 2001 he said to me 'is there anything I should specifically look for?' and I told him about the cord," she recalled.

"When he brought it back to me he told me the cord was the first thing he saw.

"I've tried to work out whether the date on the engraving is any special date but as far as I can work out, it was at the very dark hours of the war. From letters I've read written by my grandfather, those were very dark days, and he was working in the War office.

"It's not just that it's an object that reminds me of my father, it's the fact that lay under water for all those years and then it was recovered and returned to me and now I've gone and lost it."

Speaking of her late father, Ms Campbell added: "I remember him very fondly of course. Many people in my generation tell me he was their boyhood hero.

"If anyone has found the St Christopher, please return it. It means so much to me.

"I'm convinced I must have lost it somewhere at the golf club. It was a horrible rainy day, perhaps someone has picked it up in the car park and thought they'll return it next time they're there.

"I don't normally lose things - I'm usually organised, so precise. I can only blame myself.

"It's about the size of a two pence piece, and it has a lovely shape - it's beautifully made.

"The only fortunate thing is that I've just had a picture taken of it because I was including it in a book I'm writing called 'Daughter of Bluebird.'

"If anyone has found it and can return it I would be so grateful, and I'll reward them with something from the family collection."
LINKS:
Christopher Ward teams up with bluebird
http://www.christopherward.co.uk/blog/christopher-ward-teams-up-with-bluebird/
http://www.acrossthelake.com/recovery.html
http://www.bluebirdproject.com/K7/index.php?id=24
http://en.wikipedia.org/wiki/Bluebird_K7
http://ginacampbellqso.com/bluebird-boats/k7/
Daughter of speed king donald campbell in appeal for return of lost st christopher
Hopes high for restoration of bluebird
http://www.newsandstar.co.uk/news/hopes-high-for-restoration-of-bluebird-1.310288
http://glostransporthistory.visit-gloucestershire.co.uk/WLSR_Gloucestershire.html
Gina Campbell claims Bluebird pilot plundered trust fund to finance his lavish lifestyle
http://www.marineclassics.co.uk/electric-boat.html
http://www.oldspeedboats.co.uk/forum/index.php?topic=1002.0
http://www.bonhams.com/auctions/15342/lot/400/
http://www.nzjetboating.com/yabbse/index.php?action=printpage;topic=7445.0
http://intheboatshed.net/2007/04/02/donald-campbells-jetstar-appears-at-the-nmm-cornwall/
http://www.cmba-uk.com/forum/viewtopic.php?f=6&t=2734
http://www.nmmc.co.uk/index.php?/collections/featured_boats/donald_campbells_bluebird_jetstar_1
http://www.mby.com/news/403537/bluebird-jetstar-no-1-open-to-bids
http://www.britishpathe.com/video/donald-campbell-speed-boat-aka-water-jet-propelled/query/Campbell
SIR MALCOLM CAMPBELL'S BLUE BIRDS
DONALD CAMPBELL'S BLUEBIRDS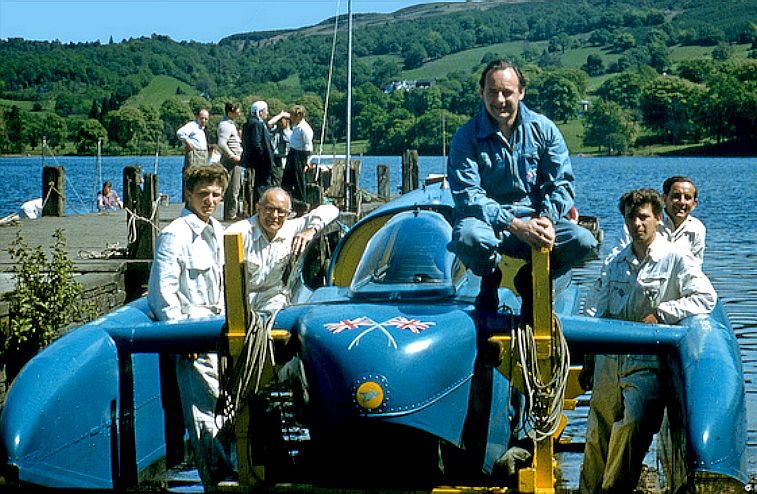 Campbell, 45, had already set a series of world land and water speed records by the time he came to grief at 8.58am on January 4, 1967. He was an estimated three seconds away from smashing his own record of 276mph when he pulled back Bluebird's throttle at just under 300mph. It was a fraction too early. Bluebird's nose rose, caught the oncoming wind and flipped over on to her back in a welter of spray. He shouted over his radio link: "I'm going, I'm on my back... I'm gone."
Gina Campbell's father set a blistering land and water speed record pace that even Sir Malcolm could not have imagined (possibly even tried to prevent by liquidating his estate), then leaped out of the water into legend. We imagine that Gina would like to have shared more of this adventure with her father, as Donald appears from photographic records to have shared with Sir Malcolm. All the more then we salute the efforts of this bonny lass, who came through in incredible emotional adversity and did her clan proud.