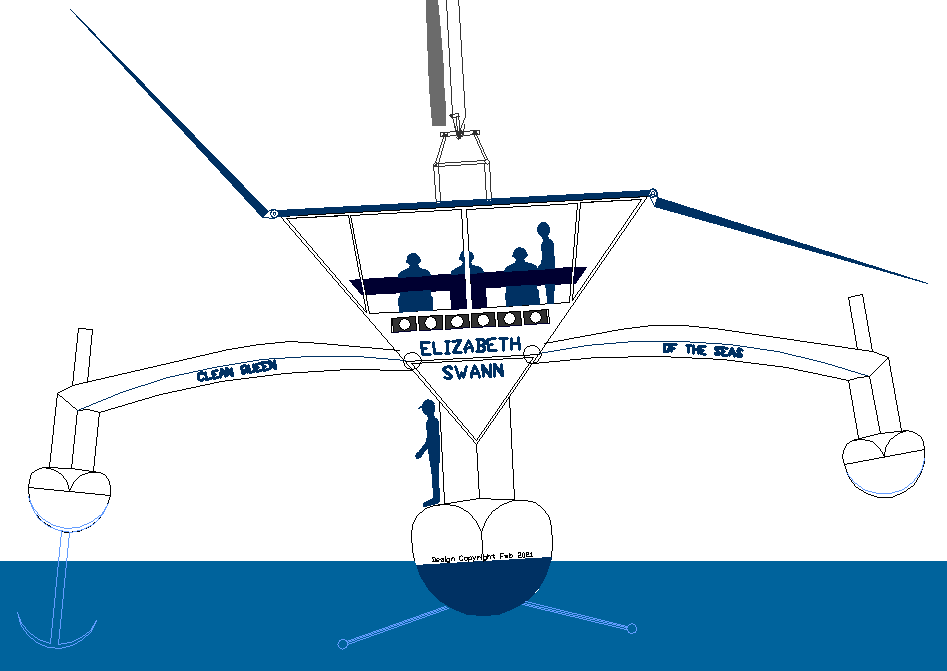 ELIZABETH SWANN - For their 2021 developments, The Cleaner Ocean Foundation are not attempting to lift their trimaran out of the water, otherwise this solar powered ship would require a higher power to weight density than can reasonably be provided on a continuous basis using only energy from nature - especially in relation to cargo ships - should the design be adapted for commercial purposes. Instead, the development team prefer a compromise where the central hull is stabilized and the outriggers may be trimmed such that the sponson opposing wind forces might deploy a hydrofoil with the arm raised, while the redundant sponson may be lifted completely out of the sea.
Hydrofoil assisted, or hybrid hull tend too achieve hydrodynamic efficiency gains whilst actively improving handling and sea keeping, such as countering sea state and loading conditions. The project is live with academic and specialist subcontractors, looking for commercial and philanthropic backing.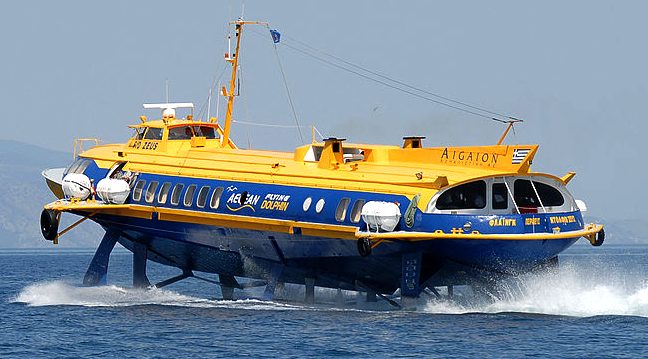 The Flying Dolphin Zeus - passenger vessel currently operating on the Aegean Sea. At lower speeds, the drag of a hydrofoil climbs while the drag of a displacement hull drops as the speed goes down. So there's some crossover speed below which it doesn't make sense to try to fly - you can go faster for the same power without the foils. But at the higher speeds, it's possible to reduce the drag compared to a planing hull and cruise more efficiently because of the greater span of the hydrofoils compared to the width of the hull. Depending on the takeoff speed, you could optimize the hull for low speeds - say by going to a long, narrow displacement hull - while using hydrofoils to be efficient at high speeds. The hydrofoils can be retracted completely out of the water, allowing the hull to change gears and be more efficient than a conventional planing hull across the whole speed range.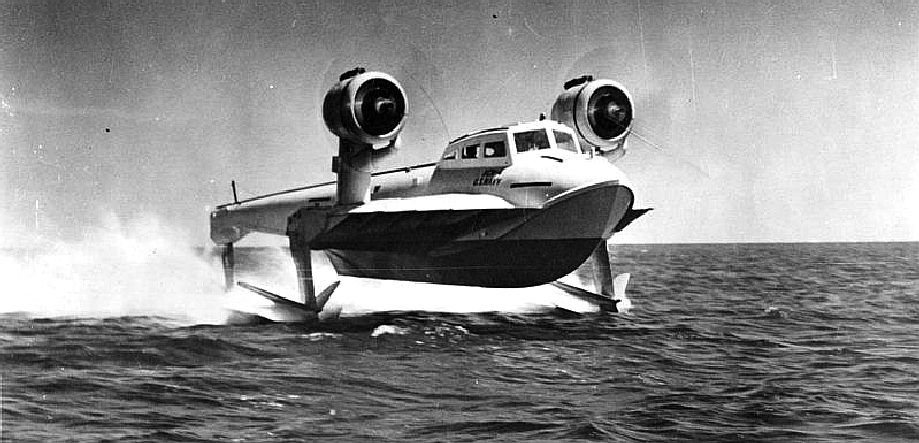 US NAVY CARL XCH-4 - Seen here with hydrofoils clearly lifting the hull out of the water, this is another air propeller driven prototype after A G Bell. The Carl XCH-4 "Canard" hydrofoil was a U.S. Navy test boat in the 50s. This 16,500 lb, 53 foot craft was known officially as "Experimental Craft Hydrofoil No. 4." Unofficially it was called "The Carl Boat" after its principal designer, William P. Carl. It had a seaplane type hull supported by two sets of foils forward, and a single strut and foil aft. Two 250 hp Pratt and Whitney R-985 aircraft engines with two-bladed controllable pitch propellers 8 ft in diameter provided the trust to carry this craft to the highest speed attained since those achieved by Alexander Graham Bell's HD-4. During trials of the CARL XCH-4 in 1953, the crafts design speed of 65 mph was exceeded in three to four foot waves. During US Navy tests off Long Island NY, someone called the US Coast Guard to report that "A seaplane had been trying unsuccessfully to take off and undoubtedly needed help" an understandable error in view of the craft's appearance!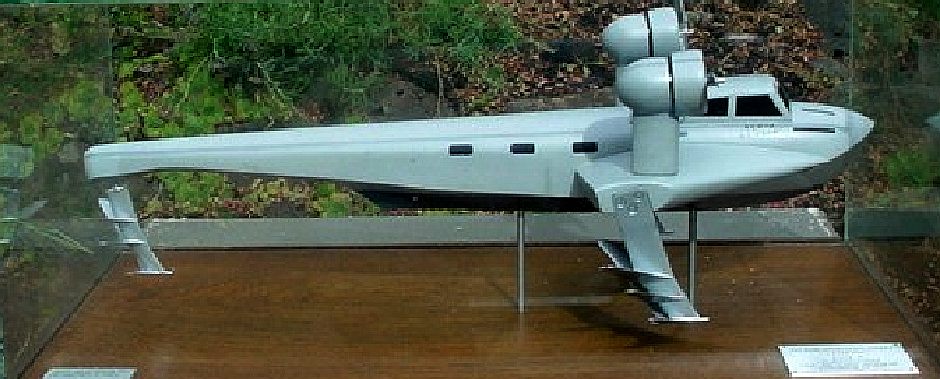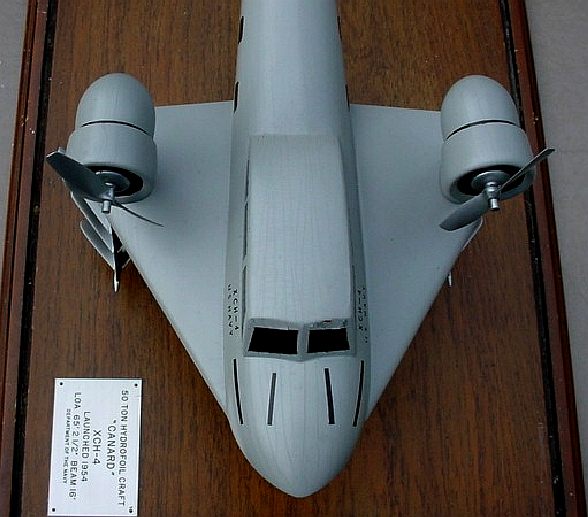 MODEL OF THE CARL XCH-4 - Against the advantages of hydrofoils are the difficulty of engineering a hydrofoil system compared to designing a planing hull. It's not enough to draw some lines that look pretty much like other boats and have a reasonable expectation that it will perform the same way. You have to design the hydrofoil section and planform specifically for the mission requirements, and deal with the stability and dynamics of the boat in a seaway. And in waves, the currents due to the orbital motion of the water can affect the hydrofoil as much as the difference in height of the water surface. A fully submerged hydrofoil needs to have a feedback control system of some sort, and this means an electronic system with sensors, computers and actuators, or at least a mechanical feedback system. This kind of control system engineering is not something that most designers are used to doing. It takes mathematical models and test data to get it right.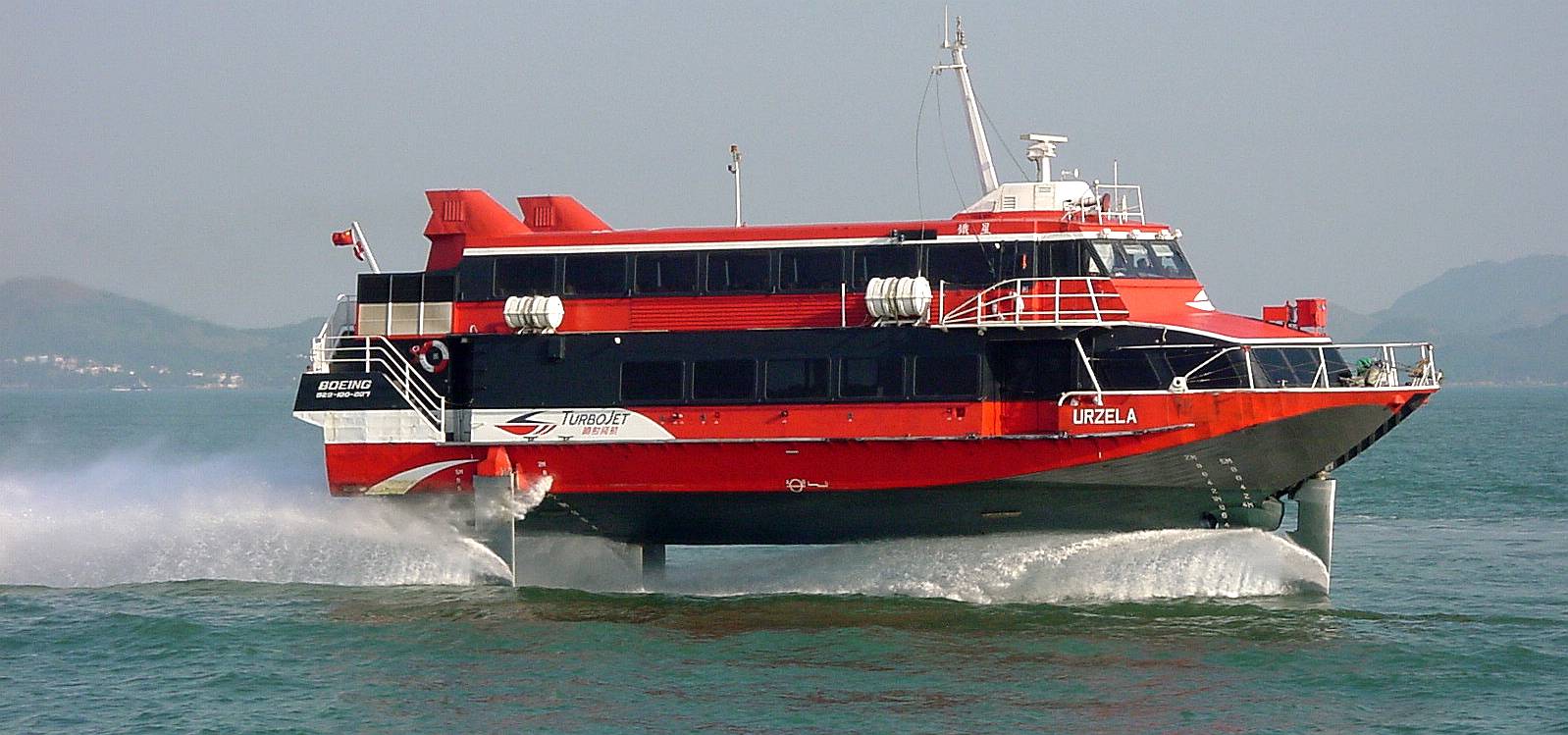 BOEING 929 - The Boeing 929 Jetfoil is the name for a passenger-carrying waterjet-propelled hydrofoil design by Boeing. Boeing began adapting many systems used in jet airplanes for hydrofoils. Robert Bateman led development. Boeing launched its first passenger-carrying waterjet-propelled hydrofoil in April 1974. It could carry from 167 to 400 passengers. It was based on the same technology pioneered by the patrol hydrofoil Tucumcari, and used some of the same technology used in the Pegasus class military patrol hydrofoils. Currently this product line is sold to the Japanese company Kawasaki Heavy Industries.

Boeing launched three Jetfoil 929-100 hydrofoils that were acquired in 1975 for service in the Hawaiian Islands, which was operated by a Honolulu-based operator Seaflite Inc. Seaflight operated 3 Boeing Jetfoils between 1975 and the company's demise in 1979. When the service ended the three hydrofoils were acquired by Far East Hydrofoil (now TurboJET) for service between Hong Kong and Macau. About two dozen Boeing Jetfoils saw service in Hong Kong-Macau, Japan, South Korea, the English Channel, the Canary Islands, the Korea Strait, Saudi Arabia and Indonesia.

AQUAJET - In 1959, Boeing began their research and development of hydrofoils. The hydrodynamic test system (HTS), called the Boeing "Aqua-Jet," was launched in 1961. It was a dual-cockpit jet-powered hydroplane that served as an aquatic version of a wind tunnel. Powered by an Allison J-33 jet engine, the HTS was designed to provide a level and stable platform for straightaway runs of up to 132 knots (115 mph/185 kph). A controllable fixture mounted between two prows held models of hydrofoils in the water during the test runs. You may be forgiven for thinking that the AquaJet looks a little like the K7 Bluebird, because it does. It uses the same general configuration and same mounting location for its jet engine.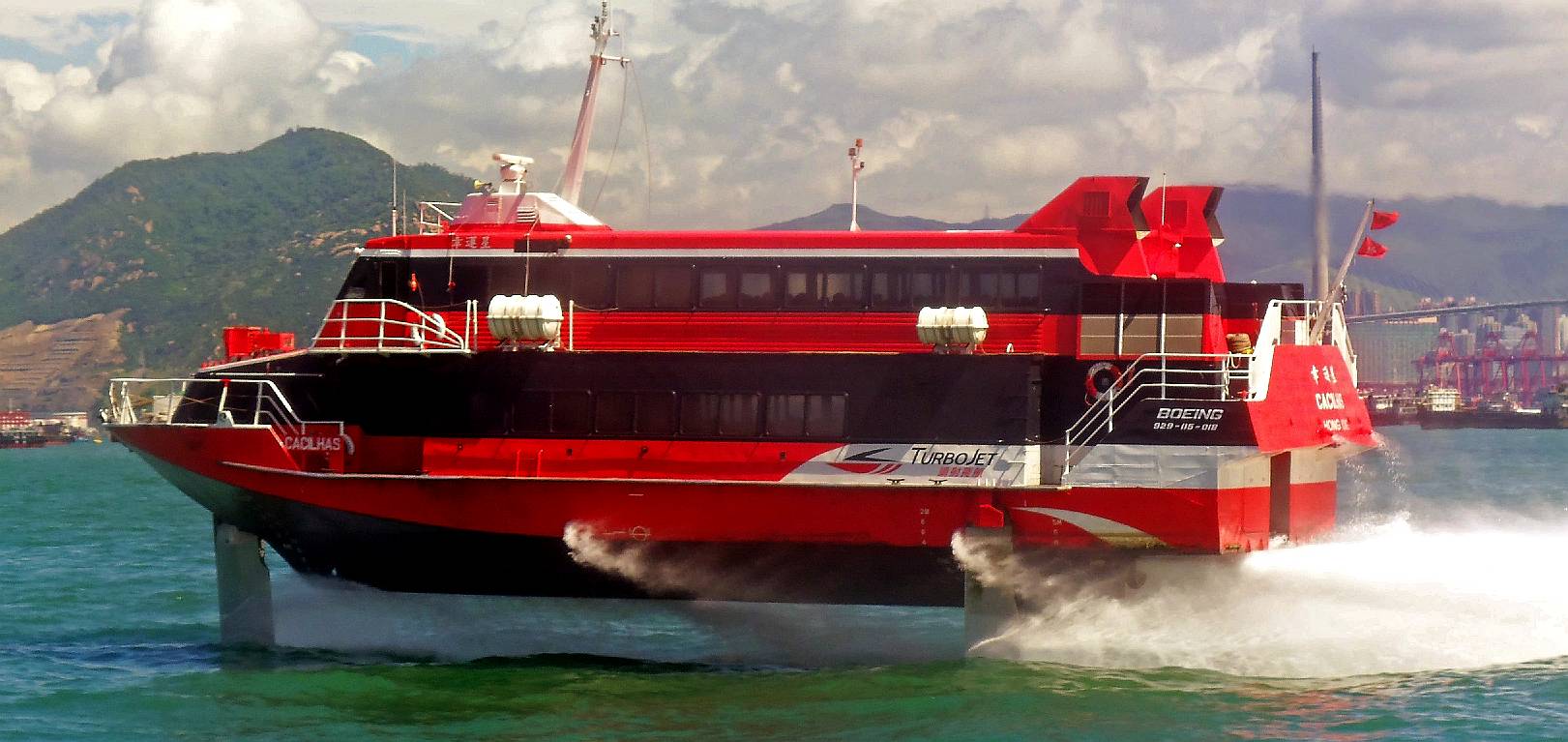 In 1979, the Royal Navy purchased a Boeing Jetfoil, HMS Speedy, to provide the Royal Navy with an opportunity to gain practical experience in the operation and support of a modern hydrofoil, to establish technical and performance characteristics, and to assess the capability of a hydrofoil in the Fishery Protection Squadron. In 1980 B&I shipping lines opened a Jetfoil service from Dublin to Liverpool with the jetfoil Cú Na Mara (Hound of the Sea). The service was not a success and was discontinued at the end of the 1981 season.

In North America, the Boeing Jetfoil saw regularly scheduled service between Seattle, Washington and Victoria, British Columbia during the summer tourist season of 1980. Leased from Boeing, a single Jetfoil, the Flying Princess, was operated by the non-profit Flying Princess Transportation Corp., with the close co-operation and assistance of the B.C. Steamship Company. Regularly scheduled service ran from Seattle to Victoria to Vancouver from April to September, 1985, by Island Jetfoil. Boeing reclaimed the Island Jetfoil boat and sold it for service in Japan.
SPECIFICATIONS - Tonnage: 30 metric tons - Depth: 3.0 m - Decks: 2 - Propulsion: 2x Rolls-Royce Allison 501KF Gas Turbine engines - Speed: 43-47 knots (80 km/h) - Capacity: 240 passengers (160-400) - Complement: 3 officers (captain, chief engineer, engineer). The Boeing 929 is widely used in Asia for passenger services between the many islands of Japan, between Hong Kong and Macau and on the Korean peninsula.
The term "hydrofoil" can have two meanings:

1. A hydrofoil is a foil which operates in water. They are similar in appearance and purpose to airfoils.
2. The term "hydrofoil" is often used to refer to boats using hydrofoil technology.
Hydrofoils can be artificial, such as the rudder or keel on a boat, the diving planes on a submarine, a surfboard fin, or occur naturally, as with fish fins, the flippers of aquatic mammals, the wings of swimming seabirds, or other creatures like the sand dollar.
The term "hydrofoil" is commonly used for the wing-like structure mounted on struts below the hull, or across the keels of a catamaran in a variety of boats (see illustration), which lifts the boat out of the water during forward motion, in order to reduce hull drag.
As a hydrofoil-equipped watercraft increases in speed, the hydrofoil elements below the hull(s) develop enough lift to raise the hull up and out of the water. This results in a great reduction in hull drag, and a further corresponding increase in speed and efficiency in operation in terms of fuel consumption
A wider adoption of the technical innovations of hydrofoils is prevented by the increased complexity of building and maintaining them. Hydrofoils are generally prohibitively more expensive than conventional watercraft. However, the design is simple enough that there are many human-powered hydrofoil designs. Amateur experimentation and development of the concept is popular. A boat equipped with hydrofoils is also called a hydroplane (boat).

What a beauty: Miss Madison flying at Mission Bay, San Diego 2007
DHL HYDROPLANE "WATER STRIDER" WINS FORMULA E INSPIRED INNOVATION CONTEST
It's an autonomous hydrofoil electric-powered watercraft capable of carrying up to five cubic meters of cargo – and it could be part of the future of urban and coastal logistics. The "Water Strider" is the brainchild of two transport design students in London – and it's the winner of the inaugural, Formula E-inspired DHL Blue Sky Transport Design Award.

A few days ago, Oliver Lehtonen and Philippe Hohlfeld were (just) two eager young graduating students (2015) of Transport Design at the Royal College of Art in London. Today, Oliver, who is from Finland, and Philippe, who hails from Luxembourg, are DHL's first 'e-nnovators' – winners of the inaugural DHL Blue Sky Transport Design Award. The two young designers developed the "Water Strider" – an innovative concept for parcel delivery that impressed the likes of world-class designer Paul Priestman, who chaired the judging panel.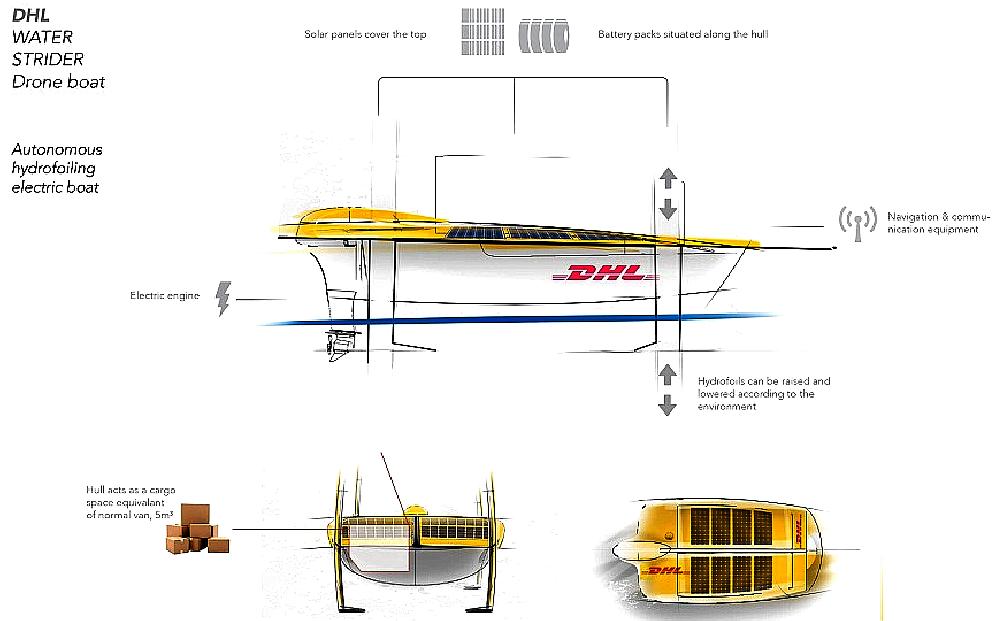 A MORE SUSTAINABLE FUTURE

The winning design prototype was unveiled on June 26, one day ahead of the FIA Formula E London ePrix, at an award ceremony at PriestmanGoode's design studio in the heart of the British capital.

"We don't just want to make pretty things. We want to make things that go into the world, that change the world, that do something better, something bigger." (Philippe Hohlfeld)

"There's been a lot of talk recently in the press about ships and their environmental impact," said Paul Priestman at the unveiling. "So it was quite interesting that the winning entry has something to do with ships.

The Water Strider concept stood out for its originality and approach. It also reflects both DHL's and Formula E's vision of how transport will become more sustainable in the future: making better, more effective use of the infrastructure that already exists today while taking advantage of modern electric vehicle technology and design to improve performance and carbon efficiency.

Over fifty entries were received, of which six finalists were chosen and invited to Berlin in late May to present their designs during the Formula E DHL ePrix.

"It was a very difficult decision," said Priestman. "We were surprised by the high quality of the designs and the finalists gave convincing presentations in Berlin last month."
Oliver and Philippe's Water Strider is an autonomous hydrofoil electric boat capable of carrying up to five cubic meters of cargo via a country's existing waterway system.

Under the tagline "Blue Sky, Clean Water, Quiet Roads," the designers envision DHL leading the way for the next generation of sustainable delivery services with express delivery over water.

Water Strider is an autonomous hydrofoil electric boat capable of carrying up to five cubic meters of cargo via a country's existing waterway system.

Why water? "We found that the market for goods transportation bases its infrastructure almost entirely on motor vehicles, all the way to the congested last mile," says Oliver. "It's obvious that increases in e-commerce will continue to put pressure on the current logistics system." The Water Strider "rediscovers" the world's waterways and takes advantage of advances in autonomous vehicle technology.

The design promises fast, quiet and clean delivery in and out of towns and cities located along rivers and coastal areas. Water Strider's main features include retractable hydrofoils for different riding stages, a five cubic meter cargo bay that can hold as many packages as a normal delivery van, and a battery and solar powered electric drive train.

INNOVATING EXISTING INFRASTRUCTURE

"The Water Strider solution derives from the fact that the majority of the world's major cities are accessed through waterways," says Philippe. "This inspired us to create a model for autonomous delivery boats to take advantage of existing infrastructure: rivers and oceans. This innovative technology and approach enables a fast, quiet and clean delivery service."

"When we started we knew that electric mobility, electric cars had been looked at by some of the top design agencies in the world. So we asked ourselves, what else pollutes? And when we learned that the six largest container ships in the world create as much CO2 as all the cars in the world, we knew we had a problem to solve. And it appears that most people in design are not looking at it. To us, it was such an obvious solution for such an obvious problem, it nearly designed itself."

Philippe reminded us that designers don't develop new technology. Instead they take a broad look at existing technologies to design new solutions. "The real innovation here is the combination of technologies. We looked at all the existing technologies and tried to put them together in the best way. We feel that our innovation is a combination that hasn't been thought of and one that has meaningful outcome."

It's obvious Oliver and Philippe are passionate about what they do and would like to see their design go somewhere. "We wish someone like DHL will take a look at this. We think there's a real future here and we'd be delighted if there is any interest in taking it further. We created this concept with the passion and the purpose to become a real thing and to be useful as a real thing for the world. So we'd love for it to be realized."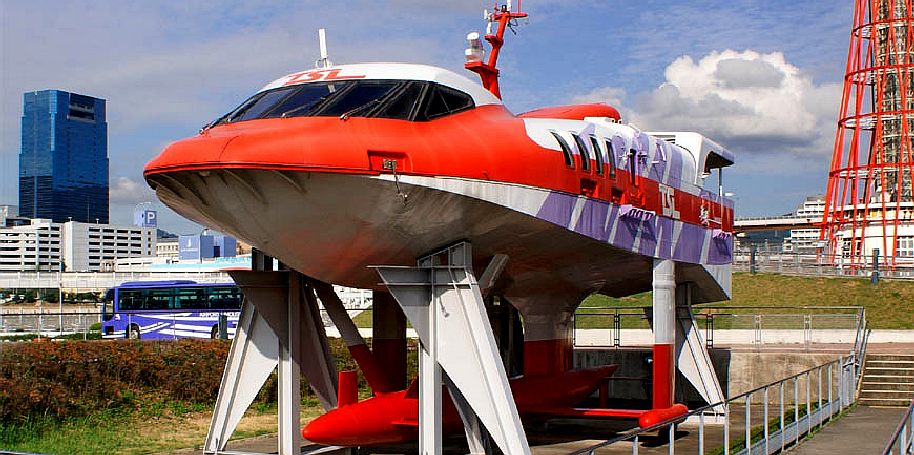 JAPAN - Hayate" is a beautifully streamlined Japanese hydrofoil concept that is a real looker. The vessel is currently located at Kobe Maritime Museum in Japan. Kobe was famous for operating electric buses long before EVs ever stood a chance of competing against the IC engine. That is of course changing as electric vehicle range is vastly improved.
DAILY MAIL 30 JUNE 2015
Drones have been promised as the future of deliveries but they're never going to be able to replace the large vans, cargo ships and freight trains needed for shipping around the world.

With this in mind, designers and engineers have submitted entries to the DHL Blue Sky Transport Design Award each hoping to tackle the problem of moving people and goods around towns and cities, while reducing fuel costs and pollution.

Concepts include tilting, solar-powered trikes, cargo 'blimps' and self-driving pods with massage chairs but the winning design was awarded to a pair of London art graduates for the Water Slider - a streamlined delivery boat designed to ship cargo on both rivers and oceans.

The DHL Blue Sky Transport Design Award is a global competition that asked entrants to design 'sustainable, electric transport solutions for private, public or commercial use.'

Entrants from Australia, China, Russia and the UK submitted ideas ranging from self-driving cargo vehicles for passenger or cargo transport and hybrid airships to cable car systems integrated with a city's trees.

The winning design Water Slider was created by Philippe Hohfeld and Oliver Lehtonen's.

It is a self-driving hydrofoil electric boat capable of carrying up to five cubic metres of cargo through a country's waterways. Its prototype will be unveiled today at PriestmanGoode's design studio in London.

Mr Hohfeld, from Finland, and Austrian Mr Lehtonen are both graduating students of Transport Design at the Royal College of Art in London.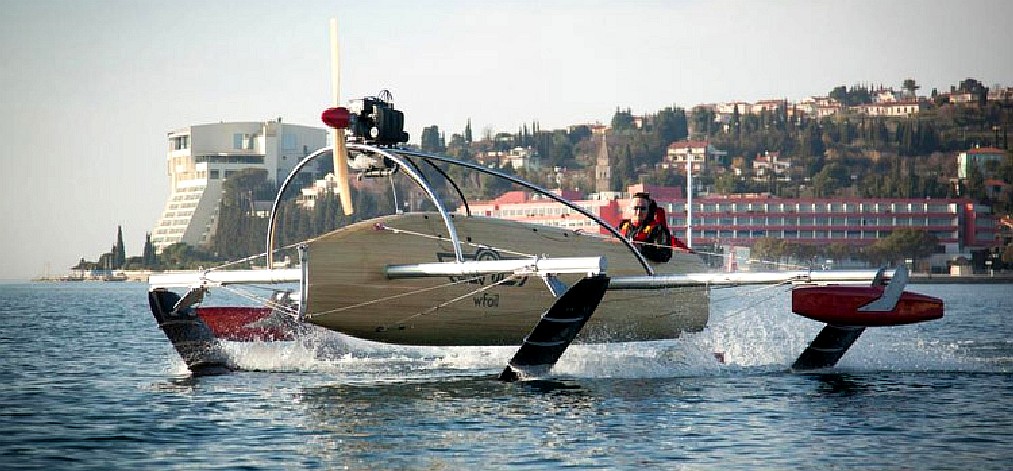 They said: 'The Water Strider solution derives from the fact that the majority of the world's major cities are accessed through waterways.
'This inspired us to create a model for autonomous delivery boats to take advantage of existing infrastructure: rivers and oceans. This innovative technology and approach enables a fast, quiet and clean delivery service.'

Submissions were evaluated based on criteria including their originality, functionality, aesthetics, commercial feasibility and potential to solve the problems they are intended to address.

The winners were selected by a jury including experts from Formula E, the Andretti FE racing team, Wired magazine and DHL Express, and will be presented with a prize of £10,000 ($15,000).

Ken Allen, chief executive of DHL Express said: 'We have been really impressed both by the response to the DHL Blue Sky Transport Design Award and the quality of the entries from around the world.

'The competition has confirmed to us the huge amount of interest there is in the topics of sustainable transport and electric vehicles.

'Oliver and Philippe's excellent design stood out for its originality and its approach, which reflects our own vision of how transport will become more sustainable in the future: making better, more effective use of the infrastructure that already exists today while taking advantage of modern electric vehicle technology and design to improve performance and carbon efficiency.'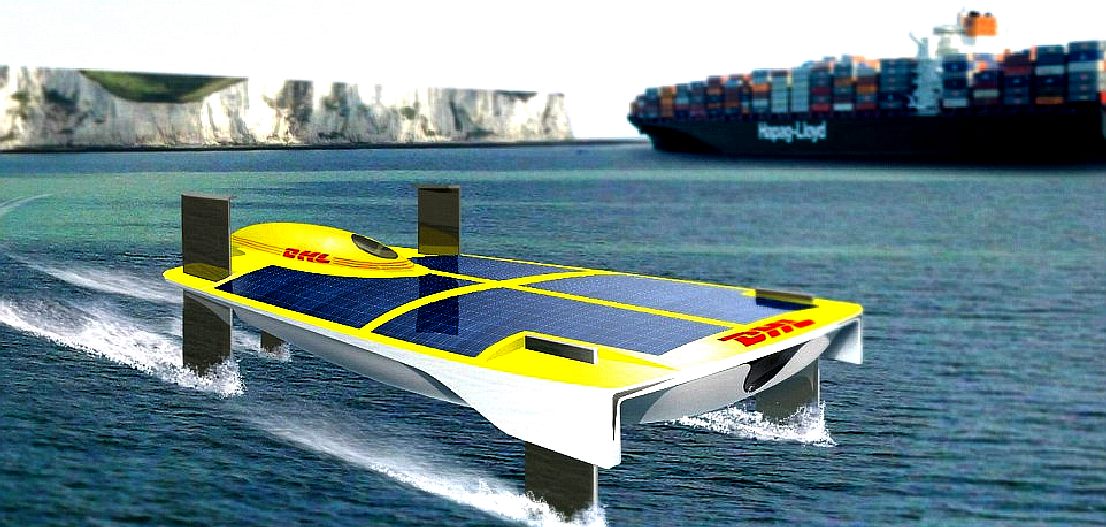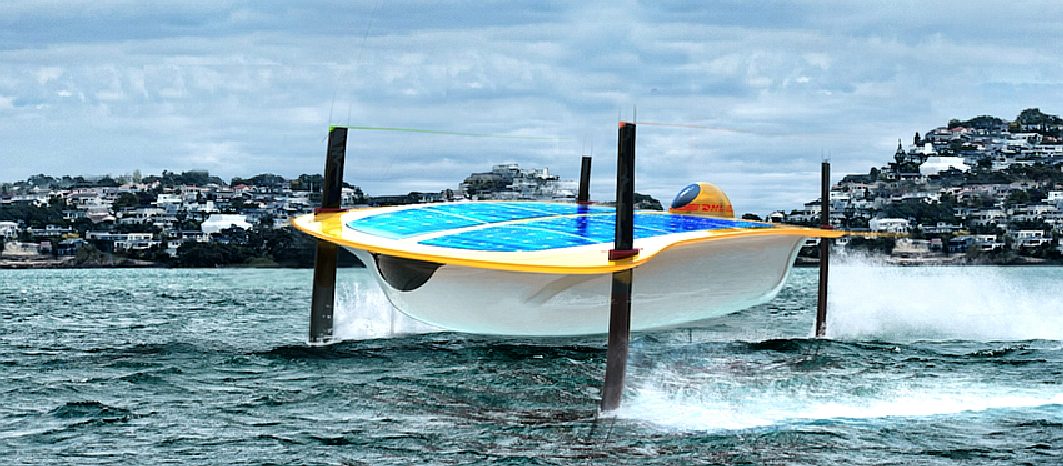 The DHL Blue Sky Transport Design Award is a global competition that asked entrants to design 'sustainable, electric transport solutions for private, public or commercial use.' The winning design Water Slider (pictured) was created by Philippe Hohfeld and Oliver Lehtonen's

It is a self-driving hydrofoil electric boat (pictured) capable of carrying up to five cubic metres of cargo through a country's existing waterway system. Its prototype will be unveiled today at PriestmanGoode's design studio in central London. Mr Hohfeld, from Finland, and Austrian Mr Lehtonen are both graduating students of Transport Design at the Royal College of Art in London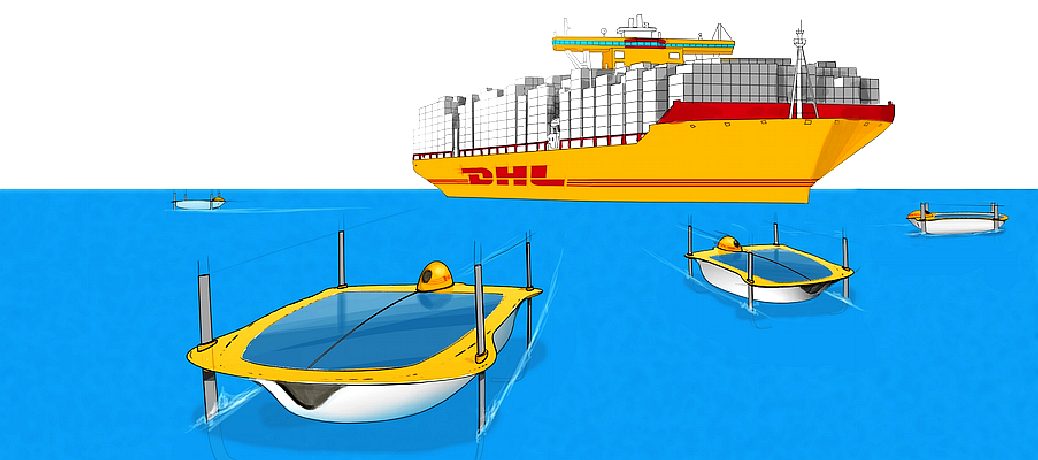 The primary concern is the design of the foil, the struts/supports, and their positioning. All these features have to be taken in consideration. So the features are designed to produce a minimum speed that will lift the boat of a certain weight and keep it foilborne. That the weight differential between full and empty having delivered its parcels is considerable, could be a problem. The US Navy's Lantern CH4 used a similar adjustable strut arrangement. Seen below.
HYDROPLANE BOATS
Not to be confused with hydrofoils, hydroplane boats are fast motorboats, where the hull shape is such that at speed, the weight of the boat is supported by planing forces, rather than simple buoyancy.
A key aspect of hydroplanes is that they use the water they are on for lift rather than buoyancy, as well as for propulsion and steering: when traveling at high speed water is forced downwards by the bottom of the boat's hull. The water therefore exerts an equal and opposite force upwards, lifting the vast majority of the hull out of the water. This process, happening at the surface of the water, is known as 'planing'.
The Rinspeed Splash - a hydrofoil amphibious boat/car. Nicely executed, but really, who would buy this car? We can see some potential for special military ops - but even then.
The basic hull design of most hydroplanes has remained relatively unchanged since the 1950s: two sponsons in front, one on each side of the bow; behind the wide bow, is a narrower, mostly rectangular section housing the driver, engine, and steering equipment. The aft part of the vessel is supported in the water by the lower half of the propeller, which is designed to operate semi-submerged at all times. The goal is to keep as little of the boat in contact with the water as possible, as water is much denser than air, and so exerts more drag on the vehicle than air does. Essentially the boat 'flies' over the surface of the water rather than actually traveling through it.
Two of the most famous hydroplanes are the K7 Bluebird driven by Donald Campbell in the 1960s and the Spirit of Australia driven by Ken Warby in 1978.
SAILING SPORT
The French experimental sail powered hydrofoil Hydroptère is the result of a research project that involves advanced engineering skills and technologies. In September 2009, the Hydroptère set new sailcraft world speed records in the 500 m category, with a speed of 51.36 knots (95.12 km/h) and in the one nautical mile (1.9 km) category with a speed of 50.17 knots (92.91 km/h).
On the 24th of November, in roughly 25 knots of wind the 'Vestas Sailrocket' ran a 500m course at 65.45 knots (75.32 mph) with a 68.01 knots (78.26 mph) peak. Both records were ratified by the WSSRC for 500m and mile distances.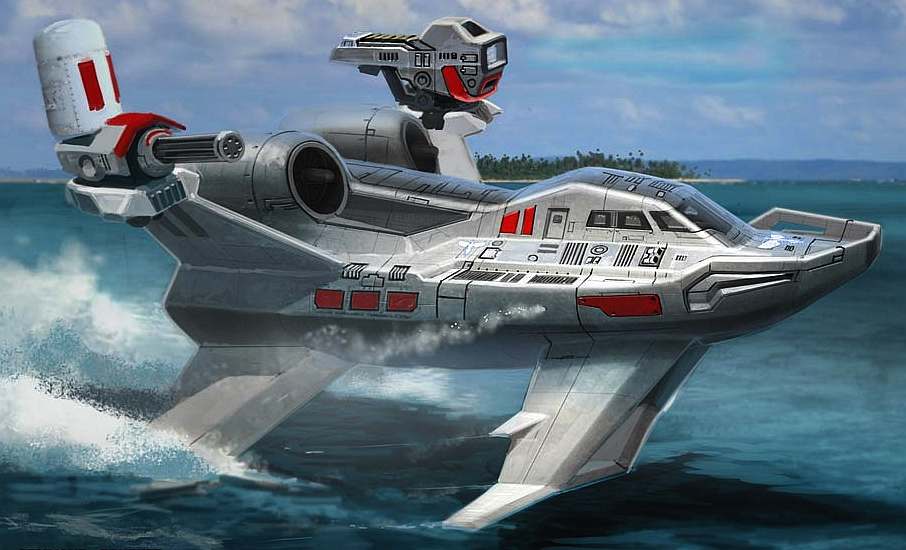 Science fiction: Red Alert3 - littoral fast response hydrofoil. Nice artwork.
DECLINE IN POPULARITY
Hydrofoils had their peak in popularity in the 1960s and 70s. Since then there has been a steady decline in their use and popularity for leisure, military and commercial passenger transport use. Their decline in use is for practical reasons.

Hydrofoils are sensitive to impacts with floating objects and marine animals. If the hydrofoils hit something the boat will fall off the foils and this often creates a perception of increased danger. However, hydrofoils operating in Hong Kong, reportedly some of the most littered waters, operate relatively trouble free. The Hong Kong Marine department maintains online records of all accidents in its waters.

Hydrofoils have sharp edges that reside in the water while in operation. These edges can fatally injure marine mammals (e.g. whales) they hit.

Hydrofoils are expensive to build. A vessel like the Boeing Jetfoil currently costs about 3 times the price of an equivalent catamaran passenger ferry. The increased costs are not always economically justifiable by consumers. Simpler designs such as those of Russian design and those by Rodriquez in Italy are more competitive in price and are still being produced today for operation on ferry routes.
Sarancha class NATO hydrofoil missile ship 1960s


It is a very conservative industry. Hydrofoils are still considered exotic by many commercial operators of high-speed craft and many will not take the risk of trying such exotic vessels when they have no experience operating them. Those that do have found benefit in their operation. For example the largest ferry operator in the world, TurboJET (Hong Kong), still operates 20+ year old Boeing Jetfoils because they remain the industry benchmark for passenger comfort in rough seas.

They are technically complex and require high maintenance, which has killed most military hydrofoil projects. The US Navy for example developed some of the most technically advanced hydrofoils around but they could never get them to be reliable due to the complex propulsion systems and ride control required. This eventually led to the suspension of their hydrofoil projects. Most other Navy developments followed the same fate. The Russian Navy still operates very large hydrofoils and have been successful in their design, largely because they have opted for simpler systems that might not have the same performance as the US designs but are much more robust and reliable. In Hong Kong, the increasing maintenance cost of keeping the old Jetfoils running is resulting in these vessels slowly being phased out.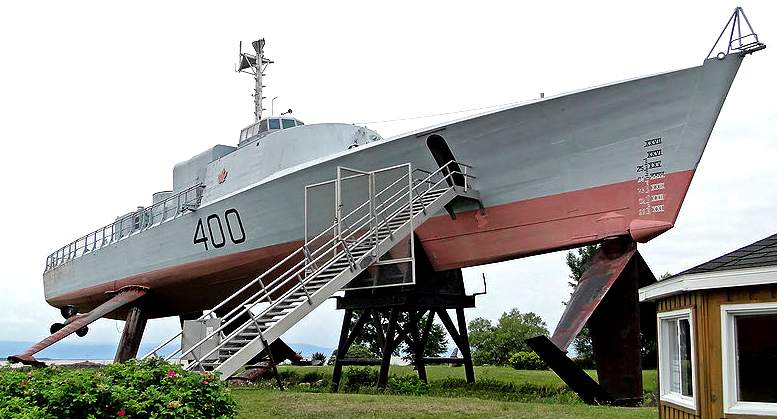 A military hydrofoil ship - HMCS Bras d'Or, Quebec, Canada
MILITARY USE
In Canada during World War II, Baldwin worked on an experimental smoke laying hydrofoil (later called the Comox Torpedo) that was later superseded by other smoke-laying technology and an experimental target-towing hydrofoil. The forward two foil assemblies of what is believed to be the latter hydrofoil were salvaged in the mid-1960s from a derelict hulk in Baddeck, Nova Scotia by Colin MacGregor Stevens. These were donated to the Maritime Museum in Halifax, Nova Scotia. The Canadian Armed Forces built and tested a number of hydrofoils (e.g. Baddeck and two vessels named Bras d'Or), which culminated in the high-speed anti-submarine hydrofoil HMCS Bras d'Or in the late 1960s. However, the program was cancelled in the early 1970s due to a shift away from anti-submarine warfare by the Canadian military. The Bras d'Or was a surface-piercing type that performed well during her trials, reaching a maximum speed of 63 knots (117 km/h).
Italian Navy: Hydrofoil missile ships P-420 and P-421 in operation. - Watercraft whose means of developing dynamic lift is entirely from hydrofoils and/or planing elements develop a considerable amount of drag (in some cases) from the structure that keeps all of these water and airfoils positioned. But the performance of a hydrofoil deteriorates near the surface of the water causing issues when cornering fast.
More extensive use of airfoil surfaces offers a possible solution. Use of airfoil surfaces with adequate means of control and adjustment to provide vertical lift avoids compromising lift at high speeds when ventilation or cavitation of the hydrofoils occurs.
Use of super cavitating profiles on less critical hydrofoil surfaces minimizes the degradation of side force at high speeds without interfering with the development of vertical lift at low speeds. Where these surfaces have a variable cant relative to the horizontal and can pivot fore and aft relative to the lateral plane, trimming and controlling them to develop vertical lift or horizontal drive is analogous to trimming a windsurfer sail or flying an airplane.
The USSR introduced several hydrofoil-based fast attack craft into their navy, principally:

* the Sarancha class missile boat, a unique vessel built in the 1970s
* the Turya class torpedo boat, which was introduced in 1972 and still remains in service today
* the Matka class missile boat, which was introduced in the 1980s and still remains in service today
* the Muravey class patrol boat, which was introduced in the 1980s and still remains in service today

The U.S. Navy began experiments with hydrofoils in the mid-1950s by funding a sailing vessel that used hydrofoils to reach speeds in the 30 mph range. After a few minor experiments using sailing vessels the US Navy implemented a small number of combat hydrofoils, such as the Pegasus class, from 1977 through 1993. These hydrofoils were fast and well armed, and were capable of sinking all but the largest surface vessels. In their narcotics interdiction role, they were a nightmare for illegal drug runners, as they were very fast and had the ability to stop anything they could not catch, as well as the ability to call in air support.

The Italian Navy has used six hydrofoils of the Sparviero class since the late 1970s. These were armed with a 76 mm gun and two missiles, and were capable of speeds up to 50 knots (93 km/h). Three similar boats were built for the Japan Maritime Self-Defense Force.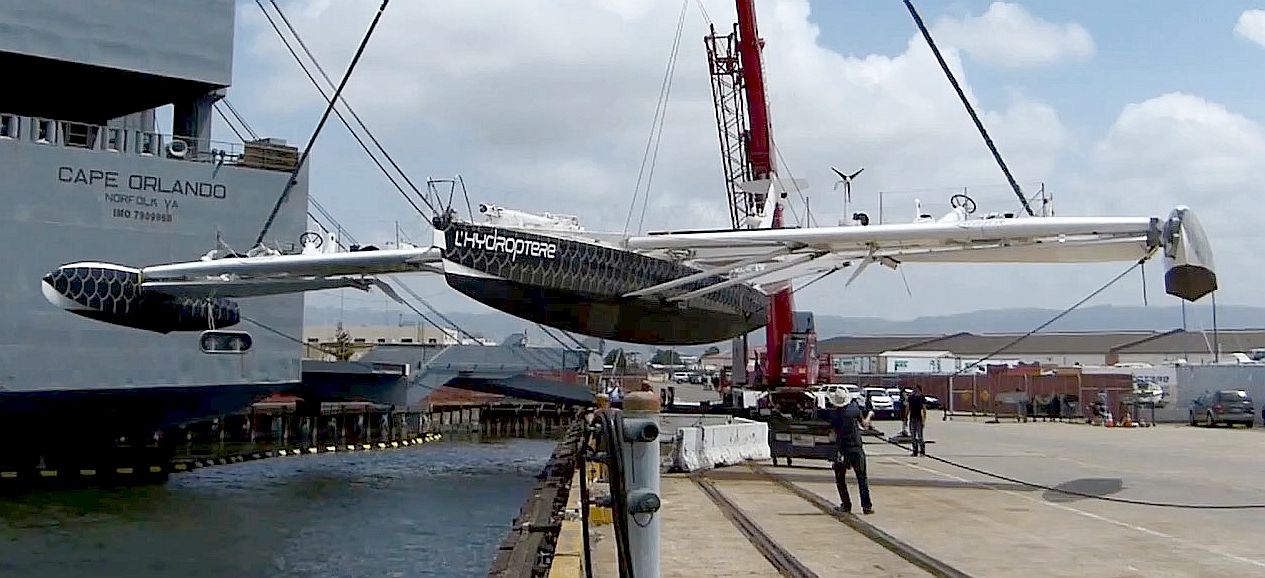 RECORD BOAT - Hydroptère is an experimental sailing hydrofoil trimaran designed by French yachtsman Alain Thébault. Its multihull hydrofoil design allows the sail-powered vessel to reach high speeds on water. The design is based on experience from a range of hydrofoil sailcraft that Thébault built in cooperation with Éric Tabarly since the 1990s. On 5 October 2008 she reached a record speed of 52.86 knots (97.90 km/h; 60.83 mph), however this was over a shorter distance than the 500m necessary to qualify for an official world record. On 21 December 2008, the Hydroptère briefly reached 56.3 knots (104.3 km/h; 64.8 mph) near Fos-sur-Mer, but capsized and turtled shortly thereafter.

On 4 September 2009, the Hydroptère broke the outright world record, sustaining a speed of 52.86 knots (97.90 km/h; 60.83 mph) for 500 m (1,600 ft) in 30 knots (56 km/h; 35 mph) of wind. In November 2009, she broke the 50-knot (93 km/h; 58 mph) barrier for a nautical mile with a speed of 50.17 knots (92.91 km/h; 57.73 mph) in Hyères, France.

During July 2015, the Hydroptère sailed 2215 nautical miles from Los Angeles to Honolulu and docked in Kewalo Harbor. On March 15, 2016 the Harbor Master posted an "Abandoned Vessel" notice on the Hydroptère which was subsequently sold.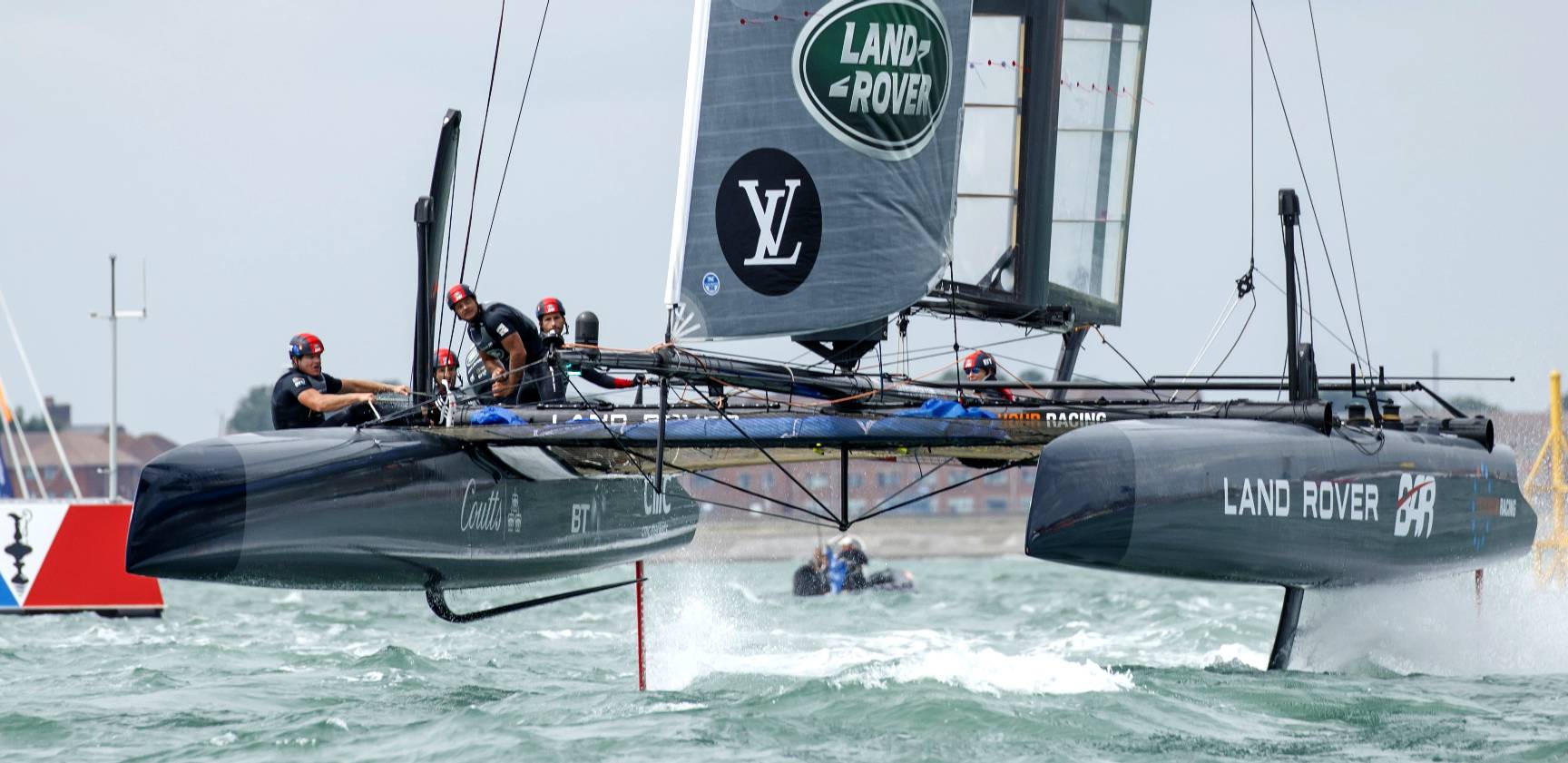 FLUID DYNAMICS PHYSICS:
Hydrofoil theory can be based on the application of Bernoulli's Equation and Euler's Equation for Streamline Curvature Effect.

Bernoulli's Equation: Po = P1 + ½rv1² + rgy1 = P2 + ½rv2² + rgy2

Euler's Equation: d(p+rgy)/dn = rv²/R

Bernoulli's Variable Units

P Pressure [Pa] or [lbf/ft2]
r Density [kg/m3] or [lbf/ft3]
V Velocity [m/s] or [ft/s]
g Gravitational Constant [m/s2] or [ft/s2]
y Height [m] or [ft]
n Vector in Radial Direction ---
R Radius of Curvature of Streamline [m] or [ft]
Euler's Variable Units

Po Stagnation Pressure [Pa] or [lbf/ft2]
P Pressure [Pa] or [lbf/ft2]
r Density [kg/m3] or [lbf/ft3]
V Velocity [m/s] or [ft/s]
g Gravitational Constant [m/s2] or [ft/s2]
y Height [m] or [ft]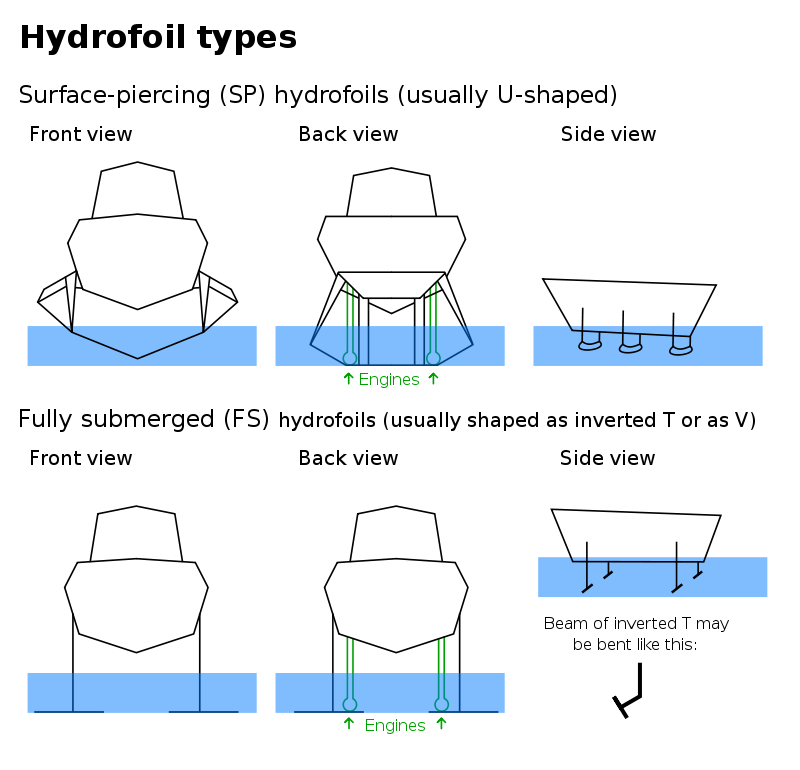 SURFACE PIERCING & FULLY SUBMERGED - The two types of hydrofoils: surface-piercing and fully submerged. Fully submerged wings rely on control of adjustable surfaces to keep control. Surface piercing are like a solid state version, in that the area needed for lift can be designed to reduce as the vessel speeds up, so becomes more efficient - a bit like changing gears. You might think that stalling is likely to be a problem in hydrofoils as it is in airfoils, but surprisingly it is not. A steep angle of attack is not needed in the design of the hydrofoil. On the contrary, small angles of attack are used on hydrofoils to optimize the lift to drag ratio.
WHITE HAWK WORLD WATER SPEED RECORD BOAT K5 1951
The White Hawk (registered K5 after K4) was a jet-powered hydrofoil of a former submarine lieutenant in the British Navy: Frank Hanning-Lee. Frank was supported by his beautiful 28-year-old wife Stella in this venture. He may have inherited the daring of his ancestor, Horatio Nelson, when he decided to embark on the highly experimental task of fitting a 1943 Whittle turbojet engine of 2,000 lbs thrust into the cigar-shaped fuselage of a hydrofoil configuration, and take a crack at the water speed record.
In the September of 1951, having collected a substantial amount of data about hydrofoils from both the Admiralty and Professor Christopher Hook of the Hydrofoil Association, the Hanning-Lees invited Ken Norris 'to do their sums for them' and before long Norris found himself doing the entire design work himself, until it dawned on him that he was not going to be paid for his labours. Ken Norris, who had pulled out of the project before the craft went up to Windermere, is though a reliable source of reference.
The 25 ft White Hawk was constructed and after flotation and engine tests out on the sea at Margate and on the Thames at Tilbury, the hydrofoil was transported up to Lake Windermere for trials in the August of 1952. Apart from a fortnigh£14,000t in September when they went south to replace the old engine with a Rolls-Royce Derwent Mark V unit, the Hanning-Lees stayed at Windermere for three months but were totally unsuccessful in getting their craft to lift at speeds much over the 70.86 mph, which Graham Bell's Hydrodome IV had set up over thirty-three years before. Ken Norris is quoted as saying:
'I concluded that above a speed of 70 mph, the hydrofoil would be subject to cavitation. Unlike a hydroplane, which generates lift by being on top and skating over the surface, the hydrofoil is immersed fully, generating lift on both the top and the bottom surface. As the speed increases, so the pressures round the foil change until eventually the pressure on the top surface can become so low that the aerated water tends to create a complete bubble and break down the lift on the top surface. At that point one might lose as much as two-thirds of the lift and at that speed the vessel will drop back into the water. So it rides up for a start, gets up to surface speed and then drops down, rather like a stall with an aeroplane. I believe that this is what happened to the White Hawk, although this doesn't mean that their achievement wasn't pretty good.'
STELLA HANNING-LEE - AUGUST 1952

Both Mr. Hanning-Lee and his wife Stella, who intends to pilot White Hawk when a record bid is made, have admitted that very little is known about hydrofoils. Mrs. Hanning-Lee accompanied her husband in the cockpit of the boat and was seen to be at the controls for the first trial runs. First test was made towards the southern end of the lake and later Mrs. Hanning-Lee handed over to her husband and left the boat. Mr. Hanning-Lee said that the mishap would not interfere with plans for further trials. He gave no figure of the speed at which his boat travelled during yesterday's tests.
WATER RECORD BID PUT OFF - NOVEMBER 1952
An attempt on the world water speed record on Lake Windermere by Mr. and Mrs Frank Hanning-Lee, in their jet-propelled speedboat White Hawk, has been postponed. Bad weather has hampered the trial. Mr. Hanning-Lee, whose home is in Chelsea, S.W., has not officially abandoned his record bid, but his friends believe he will soon take the White Hawk south and return next summer.
NOVEMBER 10 1952

Mr. and Mrs. Hanning-Lee have taken their jet-propelled hydrofoil boat White Hawk to the USA. They hope to make an attempt on the world speed record.

MOTOR BOAT & YACHTING MARCH 1953

When they arrived in Massachusetts they had plans to renew their attack on the water speed record "at Lake Mead or some lake in Florida, sometime next month."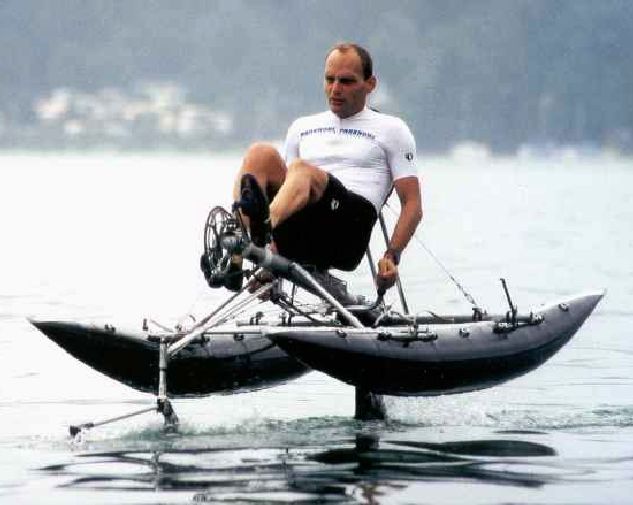 POPULAR MECHANICS AUGUST 1953 (pages 70-71) - JET HYDROFOIL SHOOTS AT WORLD RECORD

Speed is relative. Man has gone 700 miles per hour in an airplane, 400 miles per hour in a car, only 178 miles per hour in a boat. But any boatman knows that there's nothing dawdling about 178 miles per hour on water!

However, two Britishers, Mr. and Mrs. Frank Henning-Lee (sic), aim to break that speedboat record with their jet-powered craft, the White Hawk, on Lake Mead, Nev., this fall. The man-and-wife team collaborated on the design. Mrs. Henning-Lee (an American by birth) is the driver.

The have made a hobby of hydrofoils. Therein is the secret of their craft. These hydrofoils correspond to the airfoils or wings of an airplane, lifting the hull clear of the water to reduce drag at high speeds. The 20-foot boat has a 12-foot beam. Its Rolls-Royce Derwent jet airplane engine develops 4000 horsepower.

A propeller-driven boat tends to lift its bow because of the low position of the thrust. A jet boat tends to push its bow down into the water. To overcome this tendency, the designers broadened the forward hull. At top speeds, the hydrofoils keep the nose from burrowing into the water.

Another Englishman, John Cobb, went after the record in a jet boat (K6) in 1952 and was killed when it exploded during a speed run. His boat was a flat-bottomed hydroplane with heavy surface drag. The Henning-Lees say their hydrofoil design eliminates this danger.

Top speed of the boat to date is 125 miles per hour. But that was loafing along on a stability run in England. When Stella Henning-Lee opens it up on Lake Mead, she is certain that the speed record (now held by Stanley Sayres and Slo-Mo-Shun IV) will be held, for the first time, by a woman. (Not quite accurate. See Napier 1905 and Dorothy Levitt: 19.3 mph record)

CYNICS - The most cynical comment about the project was that the Hanning-Lees were really waiting for Lake Windermere to freeze over so they could then perform on ice-skis! We would suggest that anyone making such remarks could have scant regard for the financial and other commitment that such a project requires. The fact is that Frank Hanning-Lee was brave enough and dedicated enough to give it a go, and for that alone we take our hat off to him and his wife Stella.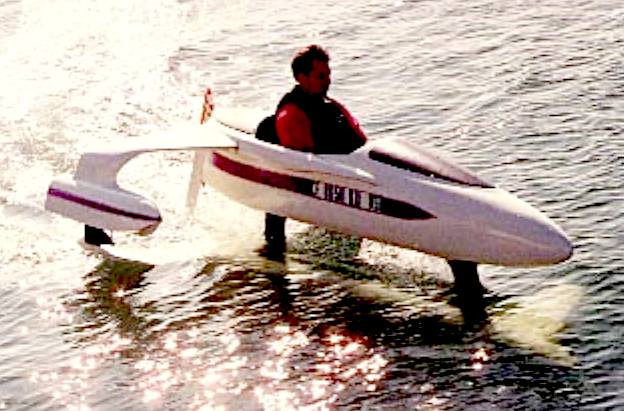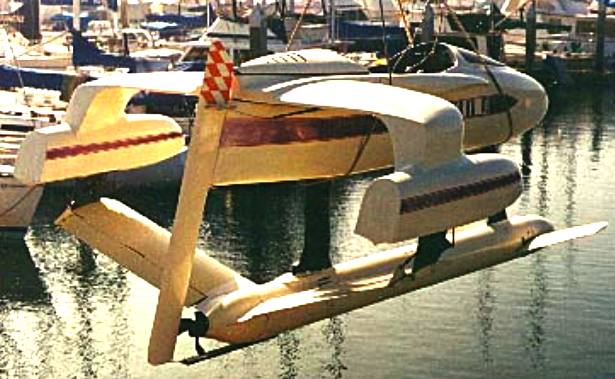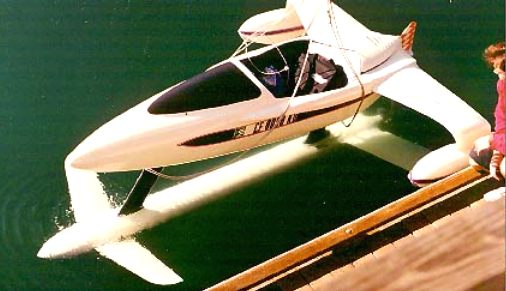 HYDROFLIER - Two shots of the Hydroflier prototype test model. Before building the full-size boat seen above, the team tested a R/C model that could do figure-of-eights in a 20' X 40' pool with room to spare. The proof of concept model had the same three-axis controls of the full-scale version.
JAPAN TIMES JULY 2011 - KOTARO HORIUCHI - A LIFETIME IN UNCHARTED WATERS

As a boy, Kotaro Horiuchi was obsessed with planes, but he moved on to create and pilot all manner of waterborne vessels, He first took to water in 1935.

It's remarkable that 60 years ago there were hundreds of companies jockeying to fill the vacuum left after almost all of Japan's cities were bombed in World War II — jockeying with the kind of entrepreneurial verve now associated with China or India. That bygone spirit of experimentation, creative product development and aggressive marketing lives on. Kotaro Horiuchi is a case in point.

Horiuchi, in his 85th year in 2011, is a boat designer whose career almost perfectly coincided with the postwar decades in which Japan rose from ruin to become the first country dubbed an "Asian Tiger."
His fascination for hydrofoils has always been one step ahead of that of the marketplace, where buyers both private and commercial have been slow to see the appeal of these boats with "wings" (foils) attached to the end of struts protruding into the water from the hull. As they move through the water, the foils generate lift just as airplane wings do, so the boat rises up above the water as its speed is increased.
"If the hull isn't touching the water, then resistance is reduced, speed is increased and fuel efficiency also increases," Horiuchi is quoted as saying. Since making his first hydrofoil in 1952, copying a design from a U.S. magazine, Horiuchi has made dozens of experimental versions, from single-rider motorbike-style ones to sail and even pedal-powered boats.
Horiuchi graduated in 1950 joining Yokohama Yacht (absorbed into JFE Engineering Corp. in 2002), which had made torpedo boats during the war and was then making passenger ferries, Coast Guard patrol boats and the like. It was run by one of the seniors at a rowing club, Shiro Chiba. Horiuchi designed vessels for clients as varied as local ferry operators and the U.S. Navy. Later, he moved to Yamaha Corp., then still known as Nippon Gakki Company. Extracts from an article by Edan Corkill
JAPAN - Kotaro Horiuchi did a lot of experiments with hydrofoils, having seen pictures of them in American magazines. He initially made a two-person hydrofoil in wood. It had two struts at the front and a third, with an engine, at the back - as seen above. He took the president's son around on rides around 1952. Hydrofoils have been around for the last 100 years or so. They had experimented with them at Yokohama Yacht during the war. But they hadn't been put into practical use.

Kotaro is quoted as saying "The first thing is that once you're up on the wings, then resistance and drag decreases drastically. This means that speed increases and fuel consumption decreases. And it is a much smoother to ride. A normal motorboat bumps up and down over the waves, but a hydrofoil flies over them."

"To overcome the problem of the legs breaking on that first, three-strutted hydrofoil I had made, I came up with my own new design: a boat with two struts in line with the keel, each with a wing at its base. It was like a motorbike on the ocean. We sold three of them to Kyotei, the boat-racing association, but their riders couldn't control them properly and they ended up just being used for training."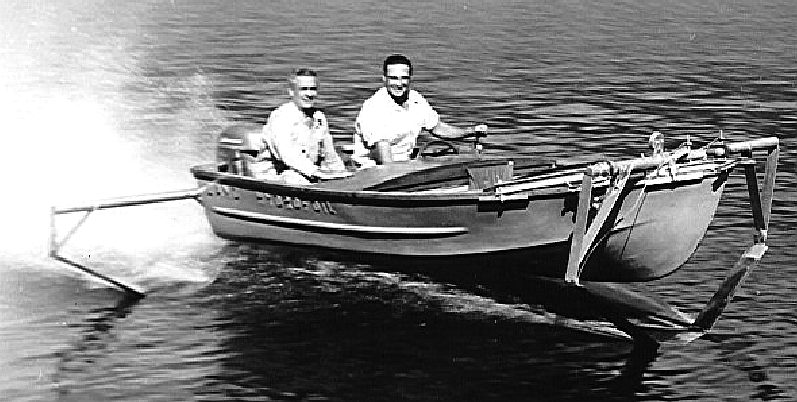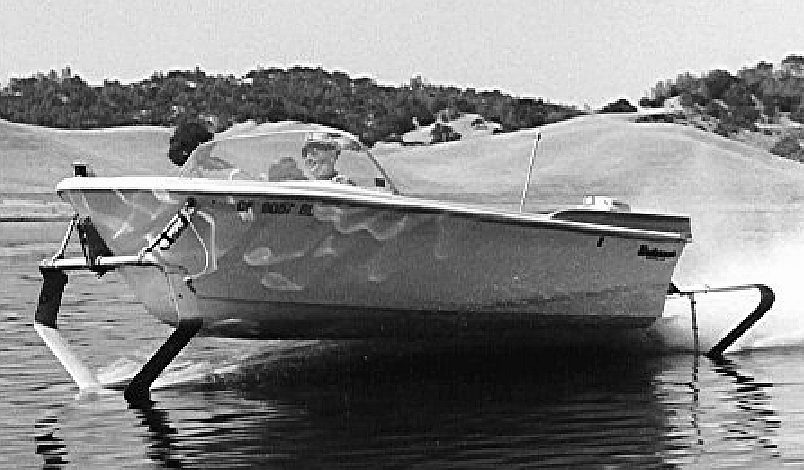 USA - [LEFT] This 1954 three-vee hydrofoil configuration attained a speed of 35 mph with a 25 hp Johnson outboard motor. The all-steel, clamp-on hydrofoil kit weighed around 300 pounds. Tom Lang is driving with his father seated next to him. [RIGHT] Another hydrofoil boat equipped with the production Up-Right Hydrofoil kit. This boat achieved a speed of 47 mph with a 65 hp Mercury outboard, and could carry six people.
HUMAN POWERED HYDROFOILS
A human-powered hydrofoil is a small hydrofoil watercraft propelled entirely by the muscle power of its operator(s). Hydrofoils are the fastest water-based vehicles propelled solely by human power. They can reach speeds of up to 34 km/h (21 mph; 18 kn), easily exceeding the world records set by competitive rowing which stand at about 20 km/h (12 mph; 11 kn). This speed advantage is achieved since hydrofoils lack a submerged body to provide buoyancy, greatly reducing the drag force.

Means of propulsion include screw propellers, as in hydrocycles, aircraft propellers, as in the Decavitator, paddles, as in a Flyak, oars as in the Yale hydrofoil sculling project, and flapping wings, as detailed below.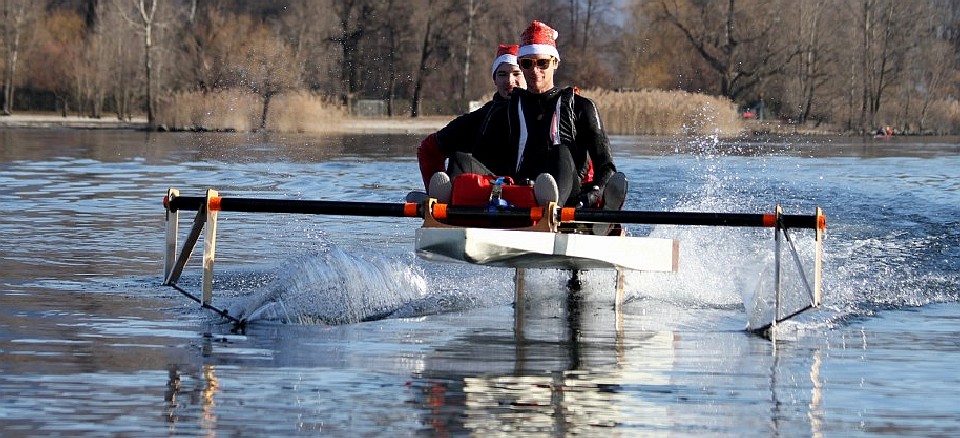 CANADA - A human powered hydrofoil for two people, getting up to speed on a chilly morning.
FLAPPING WING PROPULSION
Flapping wing propulsion devices are hydrofoils that generate propulsion by forcing a foil to move up and down in the water. The forward motion of the foil then generates lift as in other hydrofoils. A common design consists of a large foil at the stern that is used both for propulsion and keeping the passenger above the water, connected to a smaller foil at the bow used for steering and longitudinal stability. Riders operate the vehicle by bouncing up and down on a small platform at the stern, whilst holding onto a steering column. It is started and landed from the shore, or preferably from a dock, and requires a bit of experience. When moving too slowly, it will sink, and the range of possible speeds is 9–30 km/h (5.6–18.6 mph; 4.9–16.2 kn)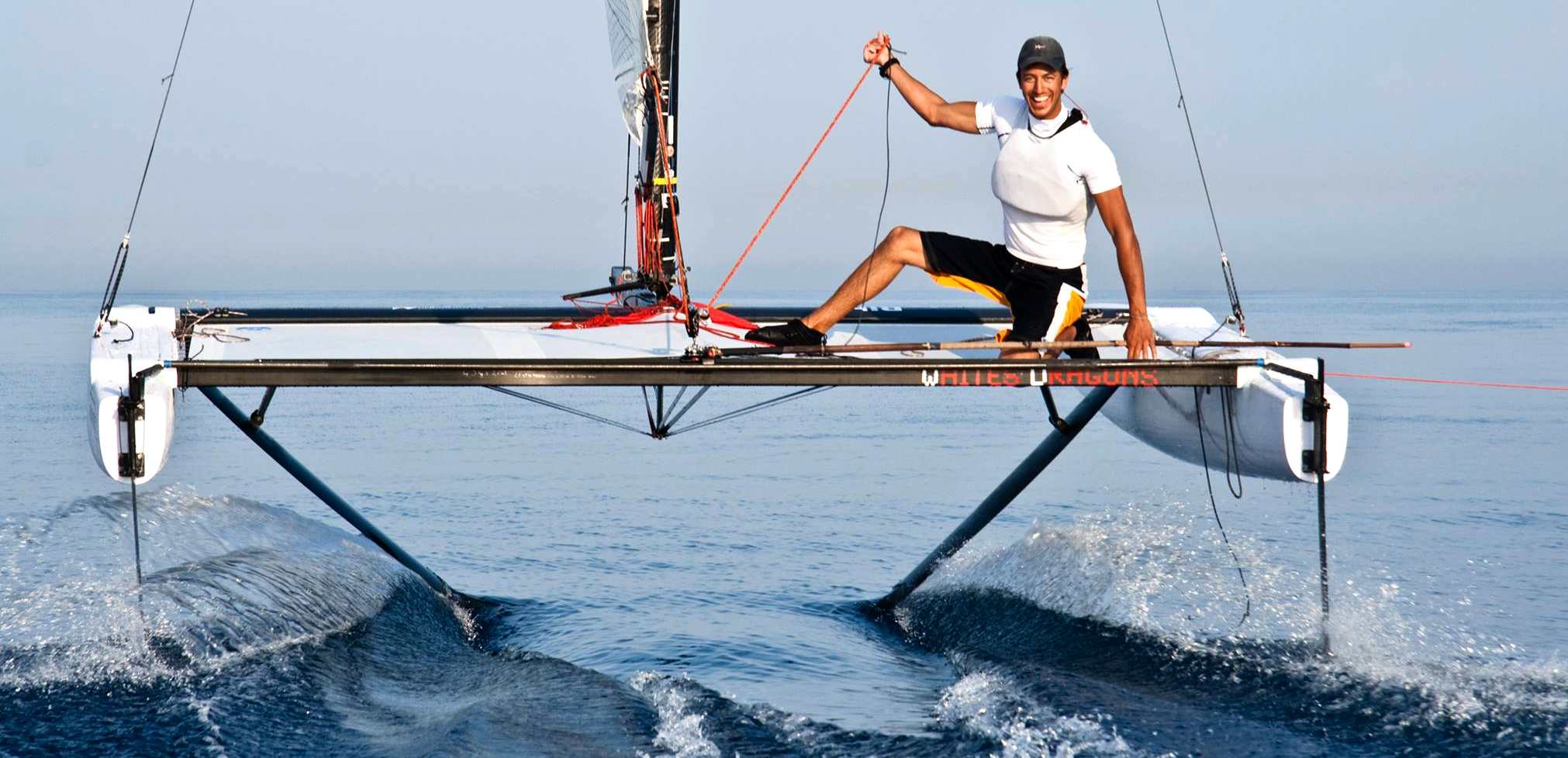 OLYMPICS - Sailing in two Olympic Games in the Tornado Class, Edoardo Bianchi (Edo) is a nautical engineer who designed and created the "Whites Dragons", a catamaran with hydrofoils. Thanks to the Americas Cup and the associated media exposure, it seems that, at last, the world of leisure boats and yachting is ready to start considering hydrofoil technology as a viable technology.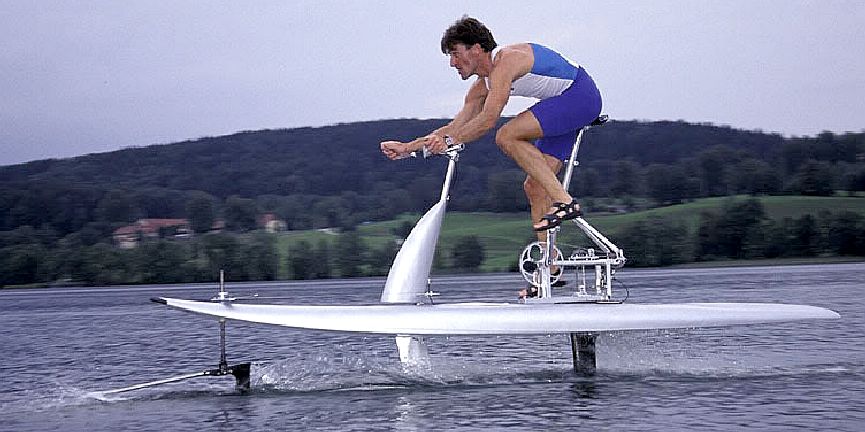 SILVER SWAN - Hydrofoil technology is essentially aimed at maximizing the efficiency of marine transport and lowering fuel consumption, or in this case the effort needed to travel across a body of water.
Several variations on the design have been developed:

* The Wasserläufer was a forerunner of the design developed in Germany during the 1950s.
* The Flying Fish was developed by Allan Abbott and Alec Brooks in 1984.
* The Pogofoil, with pontoons for flotation, was developed in the US in 1989.
* The Trampofoil was developed in Sweden in 1998.
* The AquaSkipper was developed the US in 2003.
* The Pumpabike was developed in South Africa in 2004.
HYDROFLIER

The Hydroflier above started out as an attempt to make a zero-emission personal watercraft powered by an electric motor. The team wanted a low-drag hydrofoil, but knew from experience with their Sportfoil that a hydrofoil is no fun when it's down in the water.
Since most harbors have a lot of 5-knot zones, the specification was for a vessel that can fly at just under 5 knots. An electric-powered hydrofoil needs to be efficient and fun to pilot under low power. This meant being able to stunt around in it like an airplane (which is what a hydrofoil feels like). The team gave the Hydroflier true 3-axis controls, with an airplane cockpit feel. Control of the craft is with stick and rudder pedals, just as in an airplane.

The team knew that their Sportfoil could barely fly on 4 horsepower and that control surfaces for stunt like maneuverability would create more drag. This would mean coming up with something new to get waterborne. The solution was the 'assisted-lift' hydrofoil. Basically, this is a buoyant underwater section in the form of a submerged torpedo shaped keel with a variable displacement, such that it could be flooded, or evacuated like a submarine when diving or surfacing. This added a new dimension to the ability to control trim - and the batteries of the EV version could be located low down for stability.
The team went for an IC engine to iron out the kinks. They used a 5hp Honda four stoke outboard to give 10-12 knots. The boat could remain flying at 4 knots. Most pilots got used to the controls in around 15 minutes on a steep learning curve that was a lot of fun.
The team tried to companies interested in the Hydroflier, but their response after seeing the videotape was: "Why is it so slow?". Well, that of course was the whole idea, the problem being that hydrofoils are usually about speed. After all the negativity the team shelved the Hydroflier project. Pity.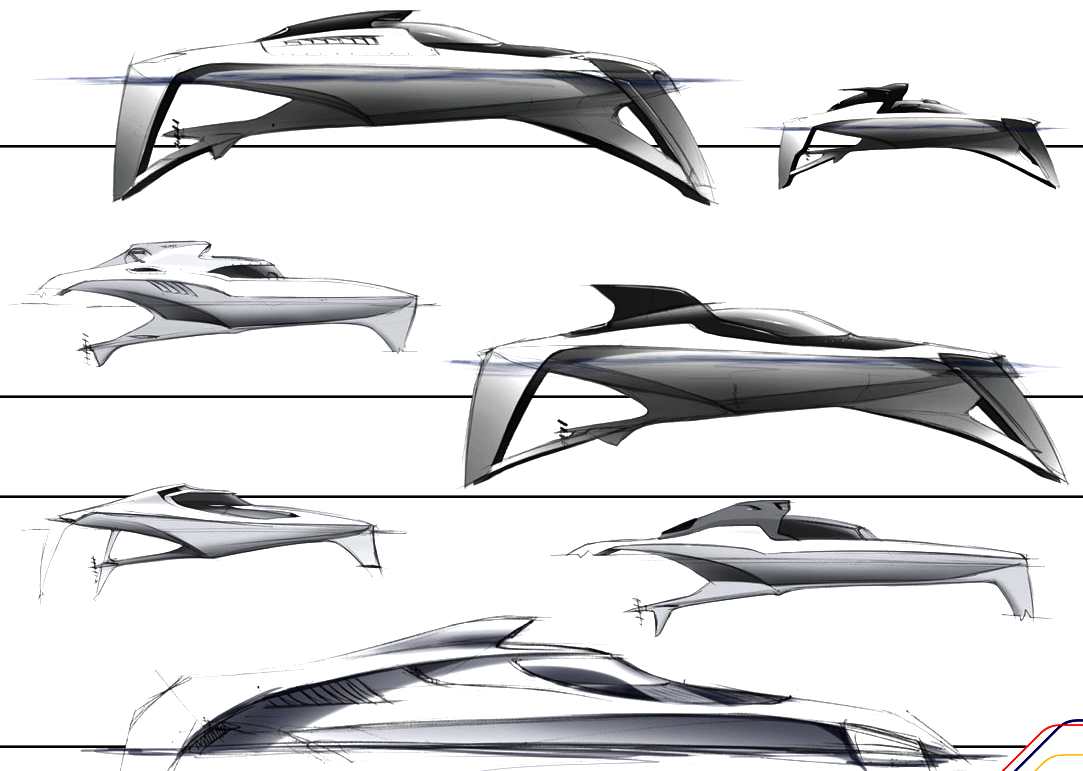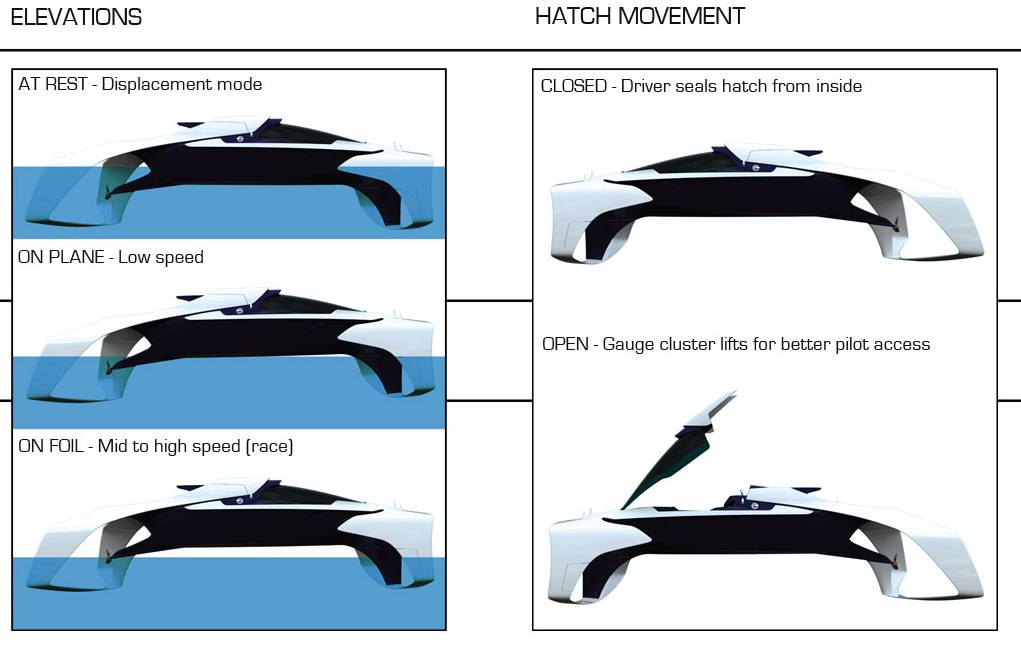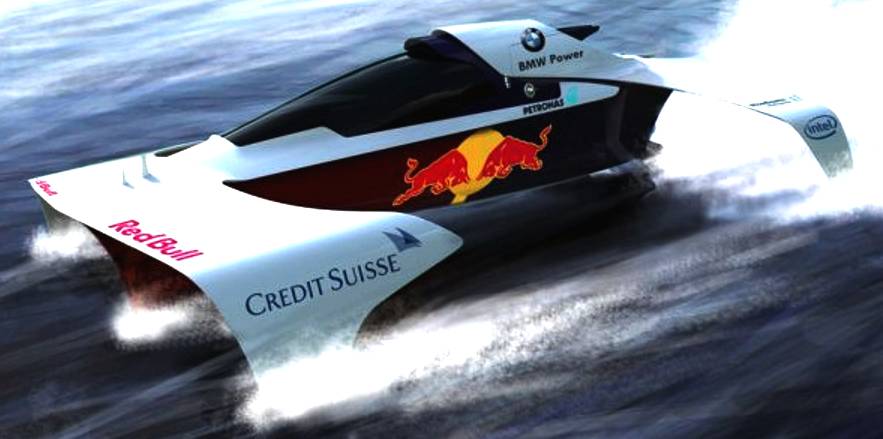 Great conceptual design workings by Dan Baretich. The workings are often just as interesting as the finished item - and that is certainly the case here. If you are going into design, it pays to be able to draw as a starting point for getting ideas down.
BMW & RED BULL FORMULA 1 HYDROFOIL

A lovely bit of conceptual work this. Apparently, inspired by F1 racing cars, designer Dan Baretich, comes out with Formula-Foil 1 concept, a F1 car for the water. Hold on there, cars don't float and no foil boat will do anywhere near the speed of F1 car! There is surprisingly little information on this vessel. It has a forced induction internal combustion engine, ailerons on the front hydrofoil wing and joystick/foot pedal controls. Speed obviously remains the focal point and is attained by a small, light, engine sending power to a surface-piercing propeller. The agility and stability are tied and comes from rudders on the front as well as flaps/ailerons on the front hydrofoil wing, whereas the safety is accomplished via a safety cell around the driver. That's it! not much to whet the appetite, considering what must have gone into producing it. At least the pictures are good.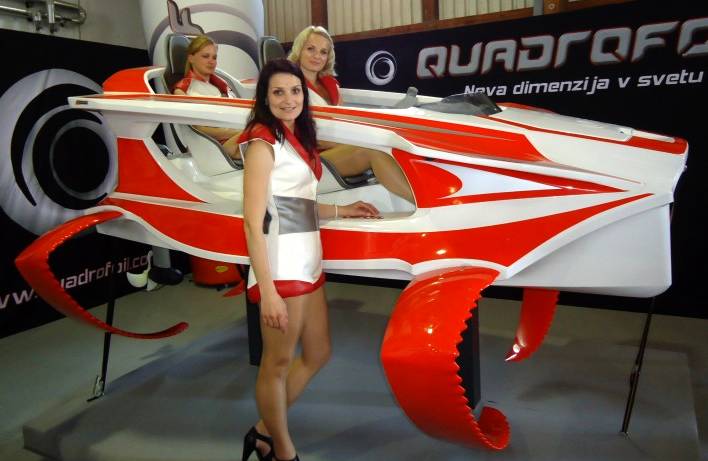 The Quadrofoil, here surrounded by show crew in matching red and white outfits. The girls are of course stunning, but then so is the boat.
QUADROFOIL MAY 2012

The Quadrofoil is new form of watersport recreation - a two-person electric hydrofoil which offers a thrilling and dynamic 40 km/h (25 mph/22 knot) ride along with completely silent running. Due to the remarkable efficiency of hydrofoils, it achieves all this with just one 3.7 kW electric motor, and thanks to its lightweight (150 kg/330 lb) carbon fiber and Kevlar body and in-built 4.5 kWh lithium batteries, it has a range of 100km (62 miles).

The field of motorized recreational toys is currently undergoing a renaissance due to the availability of high performance electric motors, new materials, computer aided design, new manufacturing techniques and a new wave of educated designers with no understanding of the word "cannot."

The Quadrofoil is a prime example of this phenomenon, having been created by three young Slovenian designers inside six months, and launched at Slovenia's Internautica exhibition in 2013.

So successful has been the response from the public that a short production run of 100 units will be completed before the year is out, giving the Quadrofoil a concept to market time of less than 12 months, and with some ambitious plans for faster future models and perhaps even a race version. The company is now in capital raising mode to fund production plans for more than 10,000 units a year from 2013 onwards.

The retail price of the Quadrofoil will be EUR15,000 (US$19,100) and a spot on the waiting list can be secured with a EUR5000 (US$6,370) deposit.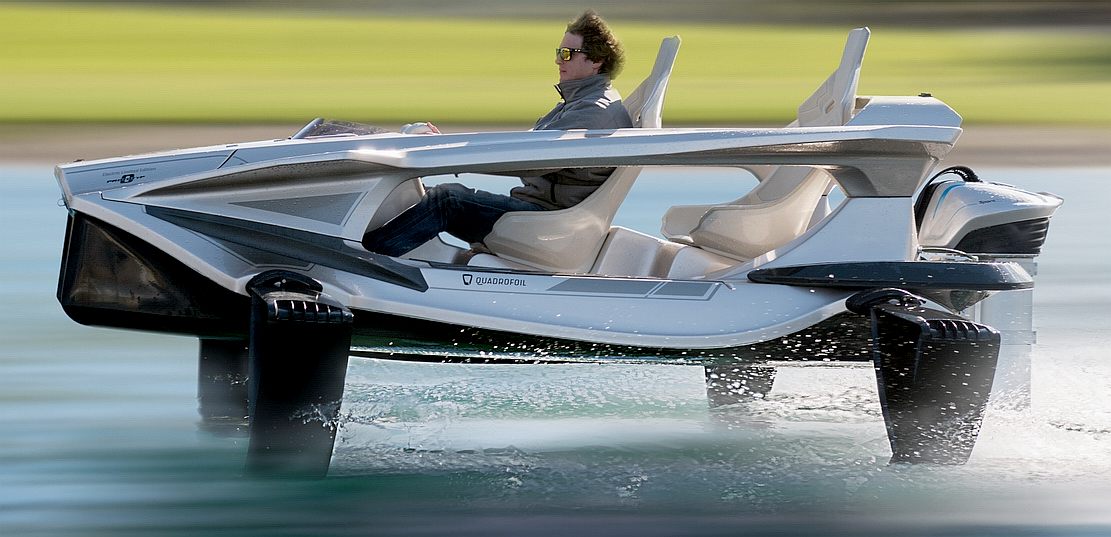 What you get is a two-person electric hydrofoil which offers completely silent running and a 40 km/h (25 mph/22 knot) top speed, along with the fast-turning the dynamics of a "sports car for the water."

One of the greatest advantages of the Quadrofoil is its lack of emissions and hence impact on delicate marine ecosystems. By comparison, most Personal Watercraft with the throttle wide open will burn a liter of gasoline per minute and dumping that quantity of burned hydrocarbons into a river or lake is unsustainable and unjustifiable in the long term.

Another advantage of the Quadrfoil over PWCs (and plus for the marine environment) is that in addition to being silent, it does not create a wake at speed, as it does not displace a significant amount of water.

Due to the remarkable efficiency of hydrofoils, it achieves its 25 mph top speed with just one 3.7 kW electric motor, and thanks to its lightweight (150 kg - 330 lb) carbon fiber and Kevlar body and in-built 4.5 kWh lithium batteries, it has a range of 100km (62 miles). It can also be recharged from a domestic power point in an hour, or via the flexible solar panels which come with each Quadrofoil and are designed to be folded inside the watercraft as an emergency power source, or to top up the battery when "off the grid."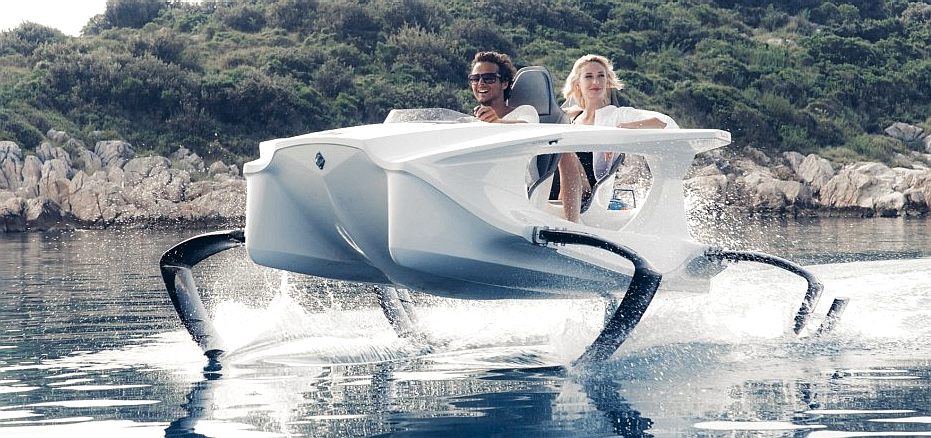 ELECTRIC HYDROFOILS - We did not have to wait to long to see the first few examples of electric hydrofoils for private use such as the Quadrofoil.
The patented steering system was designed and engineered for drivers who want a Go-Kart" agility that provides for a thrilling and exhilarating driving experience. It enables a simultaneous control of all four foils (rear foils turn opposite of the front foils) and the motor, which gives the Q2 an impressive steering radius of 7 meters (23 feet), making it one of the most responsive watercraft available today.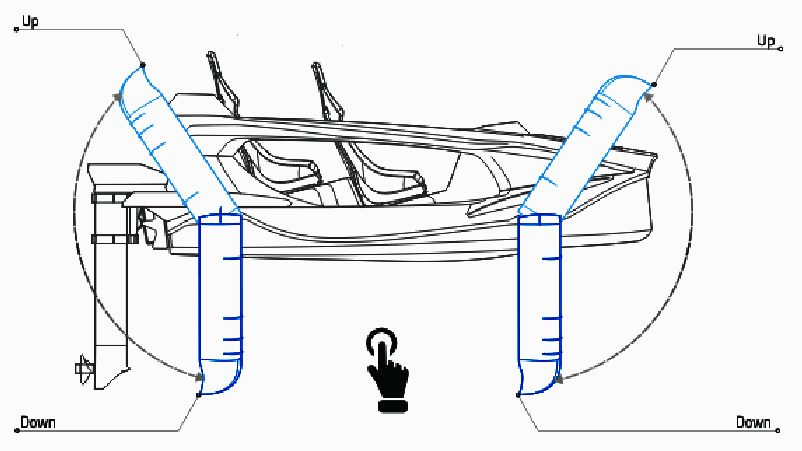 Quadrofoil is powered by two industry standard Lithium‐Ion battery packs, located on each side of the vessels. They can be fully re-charged in 3 to 4 hours from a standard 110V/220V outlet. The machine features one of the lightest electric motors on the market.

A state-of-the art battery pack is controlled by a bespoke Battery Management System that monitors every cell using advanced algorithms that makes sure your Quadrofoil has the optimum power from the beginning to the end. There is an easy-to-use interface to lift or lower the hydrofoils with just a push of a button for shallow waters.
Though the term hydrofoil refers to any fin, keel, rudder, flipper, wing or foil which operates in water, man-made or otherwise, it is commonly used for the wing-like structure mounted on struts below the hull of a variety of boats. It is also used to refer to the boat to which hydrofoils are attached.

The hydrofoil's efficiency comes from its ability to lift a boat out of the water during forward motion, reducing hull drag to near zero into the bargain. Without all that surface area upon which turbulence and drag can act, there's only the much smaller surface area of the hydrofoils and aerodynamic drag to limit top speed.

This means the speed of a boat equipped with hydrofoils is either greatly increased, or the amount of power required to propel it is greatly reduced, in comparison to a boat that does not have hydrofoils.

It is hence not surprising that the world sailing speed record, and the human-powered water speed record both belong to watercraft with hydrofoils.

Going one step further, the Slovenian team used biomimicry to develop the shape of the hydrofoils and claim to have been so successful that the foils create less drag at speed than the air resistance of the hull above the water surface. Air resistance is though not to be ignored.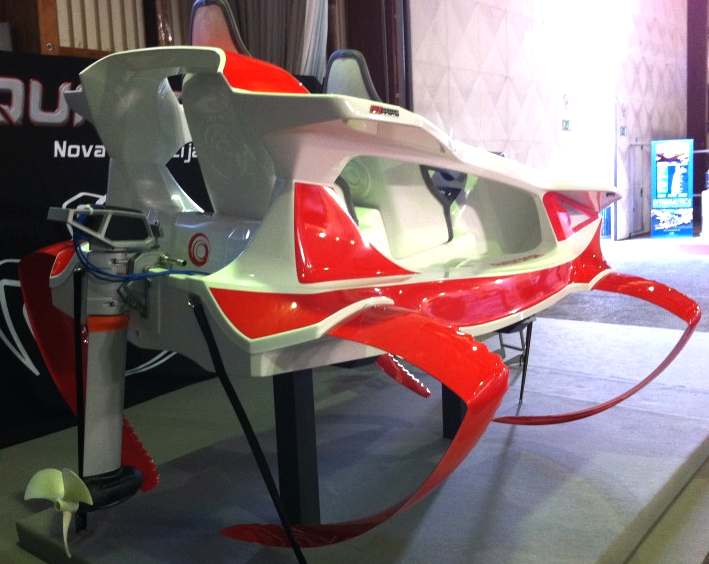 The Quadrofoil even has a pleasing rear end. That is of course important for a balanced look. The same applies to car design
Another benefit of a hydrofoil is the comfort factor for passengers - as once the hull has been lifted above the waves, the incessant pounding disappears and the boat feels like it is flying. Indeed, a hydrofoil is a wing that "flies" in water, and the flight of the Quadrofoil is only disturbed by waves greater than 20 inches (50 cm).
The designers claim the Quadrofoil is unsinkable, and it is designed to always return to upright should you manage to overcook it in a tight turn.
One of the key enablers of the machine was the development of a hydrofoil-folding mechanism, which enables the six kilogram hydrofoil legs to be adjusted during use, and to be folded upwards by means of a manual or electric winch before entering a swimming area or approaching shore. Once the hydrofoil legs have been turned upwards, the Quadrofoil has a draft of just 6 inches (15cm).
The folding legs can also be removed, making for an easily transportable machine at 150 kg and 10 feet (3 m) in length.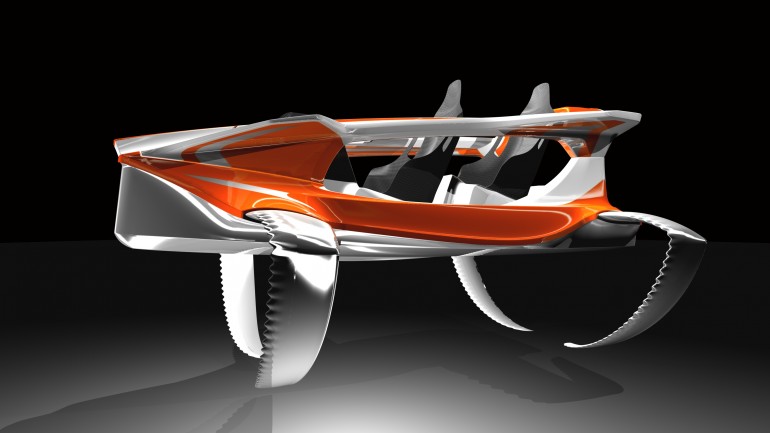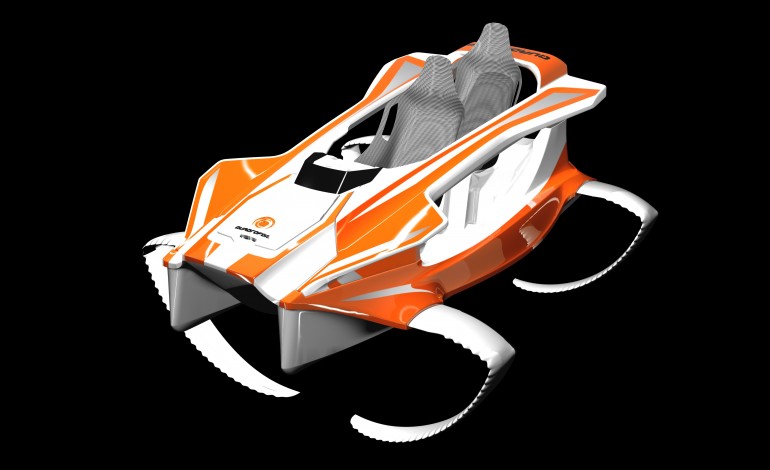 Due to the low power of the 3.7 kW motor, the Quadrofoil belongs to a category of watercraft that does not require registration, a PWC license, insurance or navigation permit in the EU.

The future looks bright for the Quadrofoil and already development of a much faster machine is underway. The current foils are suitable for speeds up to 80 km/h and, in cooperation with Fakulteta za Energetiko (Faculty of Energy Technology) in Krškothe, the company is developing its own outboard motor and propeller with variable pitch which it believes will be one of the most efficient in the world. The propelor and 12 kW outboard will be ready later this year, presumably meaning that a version will be available in the not-too-distant future with a top speed more than double the current version.
From a recreational craft through to a silent, fast craft for special forces, the Quadrofoil looks to have every chance of commercial success. Distribution, dealership and investment inquiries will be welcomed from all countries according to the company. Source: http://www.quadrofoil.com/en/

CONTACTS
Quadrofoil DOO
Breg ob Savi 1a
4211 Mavcice
Slovenia
Tel: +386 41 693 947
Email: info@quadrofoil.com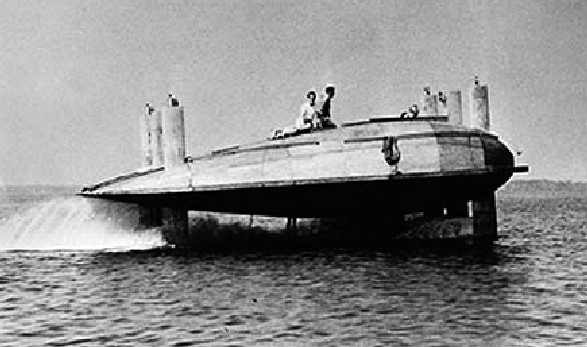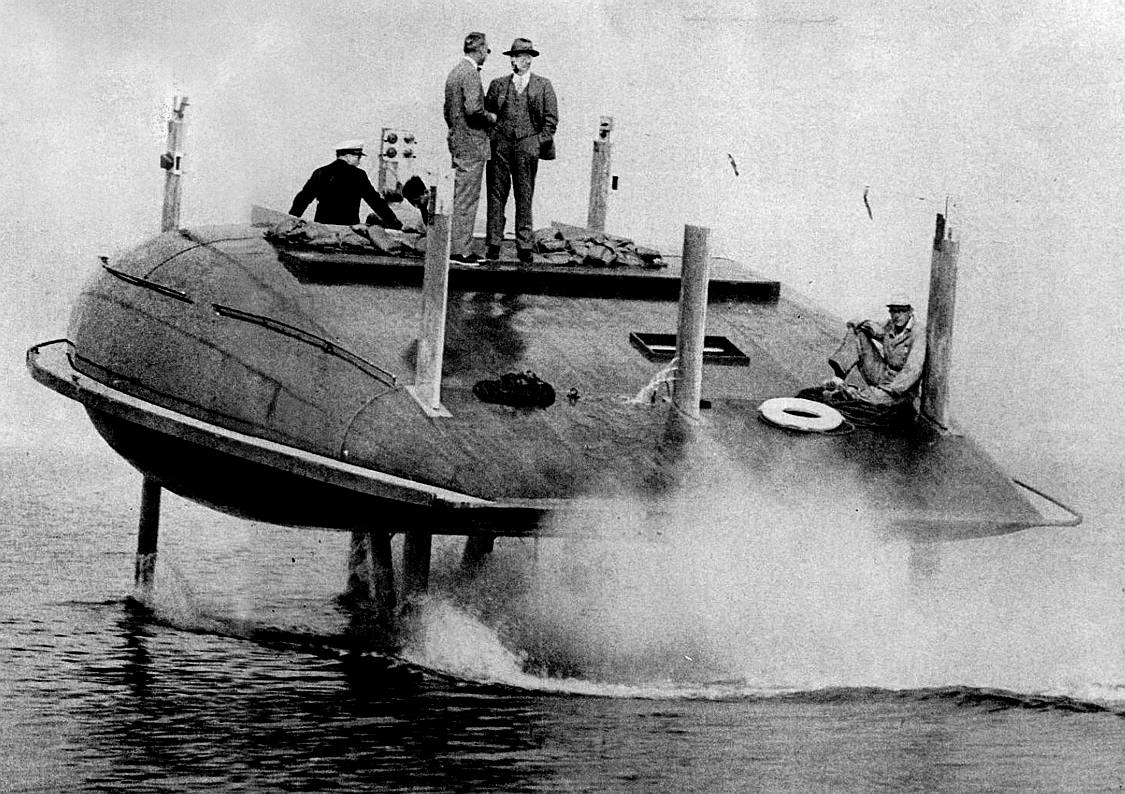 US NAVY 1953 - The Lantern (HC-4), a Navy prototype, was one of the earliest hydrofoils to use electronic controls. It first flew in 1953 and reached a maximum speed in calm water of only 18 knots. This vessel has through-hull height adjustable struts, the forerunner of the DHL design above.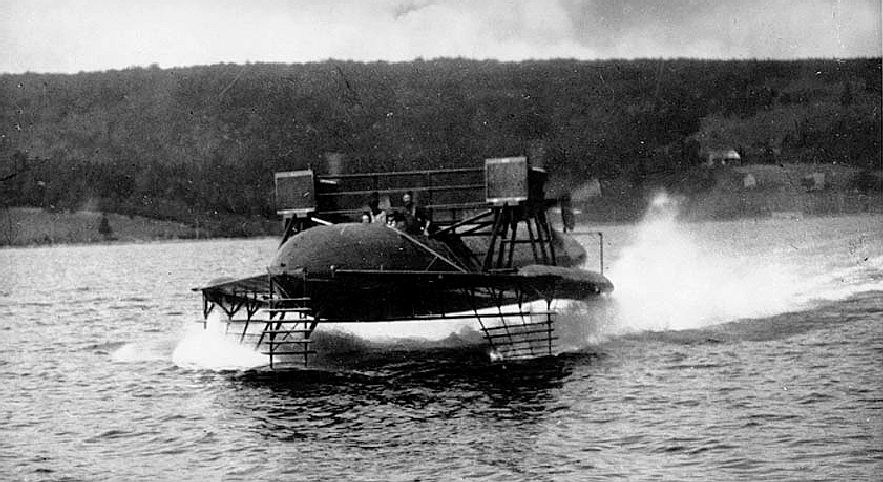 Alexander Graham Bell's HD4 on a test run, c.1919 - One problem that a hydrofoil craft can experience is the height of the waves being greater than the struts. Also, if the craft is traveling faster than the waves, the foils could break to the surface and outside of the water, resulting in a loss of lift and a negative angle of attack when the foil dives into the next wave, making the craft crash into the sea. Engineers have designed hydrofoils to minimize these limitations and better the ship's performance. Alexander used airscrews rather than propellers.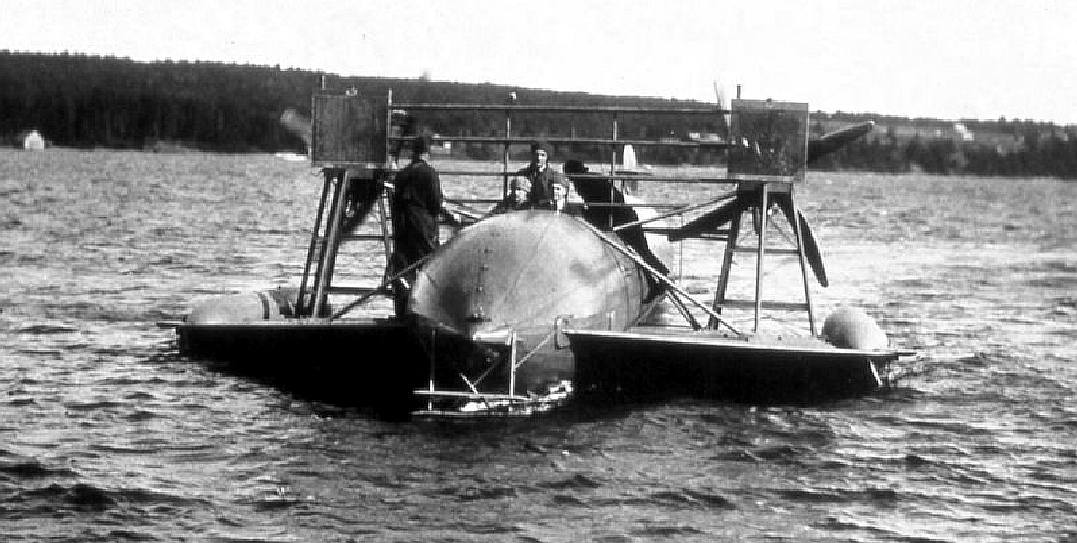 114 KPH - Alexander Graham Bell's fastest hydrofoil design, The HD-4, reached a speed of 114 km/h in 1919. A full size replica of this boat is on display at the Bell museum in Baddeck, Nova Scotia. The ladder like arrangement of the foils was later used by the US Navy in the Carl XCH4. If we were designing a hydrofoil we would go what we like to call the "solid state" way, eliminating computers from the equation to keep it simple.
HYDROFOIL HISTORY
Italian inventor Enrico Forlanini began work on hydrofoils in 1898 and used a "ladder" foil system. Forlanini obtained patents in Britain and the United States for his ideas and designs.

Between 1899 and 1901, British boat designer John Thornycroft worked on a series of models with a stepped hull and single bow foil. In 1909 his company built the full scale 22-foot (6.7 m) long boat, Miranda III. Driven by a 60 hp (45 kW) engine, it rode on a bowfoil and flat stern. The subsequent Miranda IV was credited with a speed of 35 kn (65 km/h; 40 mph).

A March 1906 Scientific American article by American hydrofoil pioneer William E. Meacham explained the basic principle of hydrofoils. Alexander Graham Bell considered the invention of the hydroplane a very significant achievement, and after reading the article began to sketch concepts of what is now called a hydrofoil boat. With his chief engineer Casey Baldwin, Bell began hydrofoil experiments in the summer of 1908. Baldwin studied the work of the Italian inventor Enrico Forlanini and began testing models based on those designs, which led to the development of hydrofoil watercraft. During Bell's world tour of 1910–1911, Bell and Baldwin met with Forlanini in Italy, where they rode in his hydrofoil boat over Lake Maggiore. Baldwin described it as being as smooth as flying.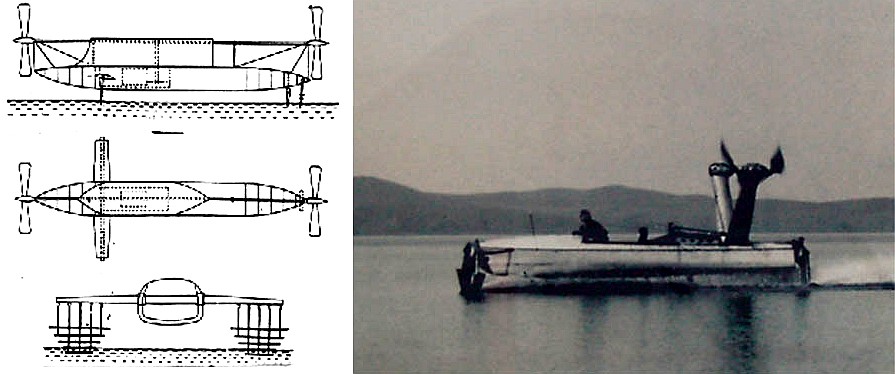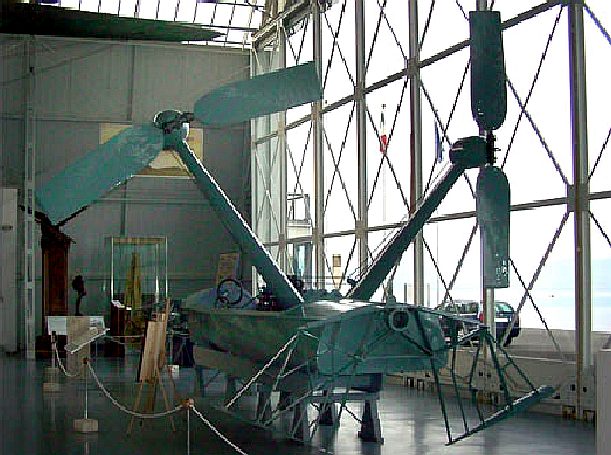 ITALY - Gaetano Croddo and the Idraplano in Italy, date uncertain, but thought to be between 1905 and 1907, now a museum exhibit.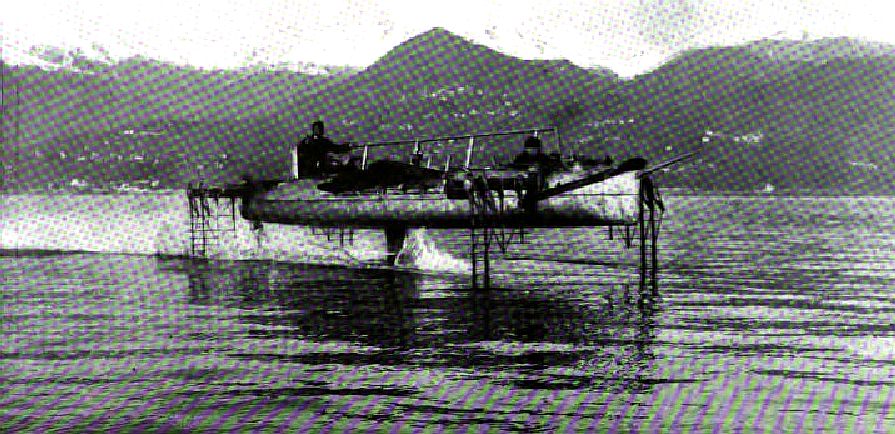 LAKE MAGGIORE - When Italian inventor Enrico Forlanini built a full-scale hydrofoil boat in 1906, the technology behind traveling on the sea took a hyper-leap. With a ladder system of foils under its hull, the winged ship reached a top speed of 68 km/h using a 60 hp (45 kW) engine driving two counter-rotating air props. Remember, the top speed of ships was about 40-50 km/h at this time. This was a favorite holiday location of Sir Malcolm Campbell, who may have been inspired by what he read about locally to race his hydroplane K3 Blue Bird on the same Lake. You should not confuse a hydroplane with a hydrofoil, although both designs lift a vessel out of the water. Donald Campbell's famous hydroplane, the Bluebird K7 also flew on diamond shaped tips (small hydroplane areas) once it got airborne reaching speeds in excess of 250 miles per hour reliably on calm waters.
On returning to Bell's large laboratory at his Beinn Bhreagh estate near Baddeck, Nova Scotia, they experimented with a number of designs, culminating in Bell's HD4. Using Renault engines, a top speed of 87 km/h (47 kn; 54 mph) was achieved, accelerating rapidly, taking waves without difficulty, steering well and showing good stability. Bell's report to the United States Navy permitted him to obtain two 260 kW (350 hp) engines. On 9 September 1919 the HD4 set a world marine speed record of 114 km/h (62 kn; 71 mph), which stood for two decades. A full-scale replica of the HD4 is viewable at the Alexander Graham Bell National Historic Site museum in Baddeck, Nova Scotia.
In the early 1950s an English couple built the White Hawk, a jet-powered hydrofoil water craft, in an attempt to beat the absolute water speed record. However, in tests, White Hawk could barely top the record breaking speed of the 1919 HD-4 (see above). The designers had faced an engineering phenomenon that limits the top speed of even modern hydrofoils: cavitation disturbs the lift created by the foils as they move through the water at speed above 60 kn (110 km/h; 69 mph), bending the lifting foil.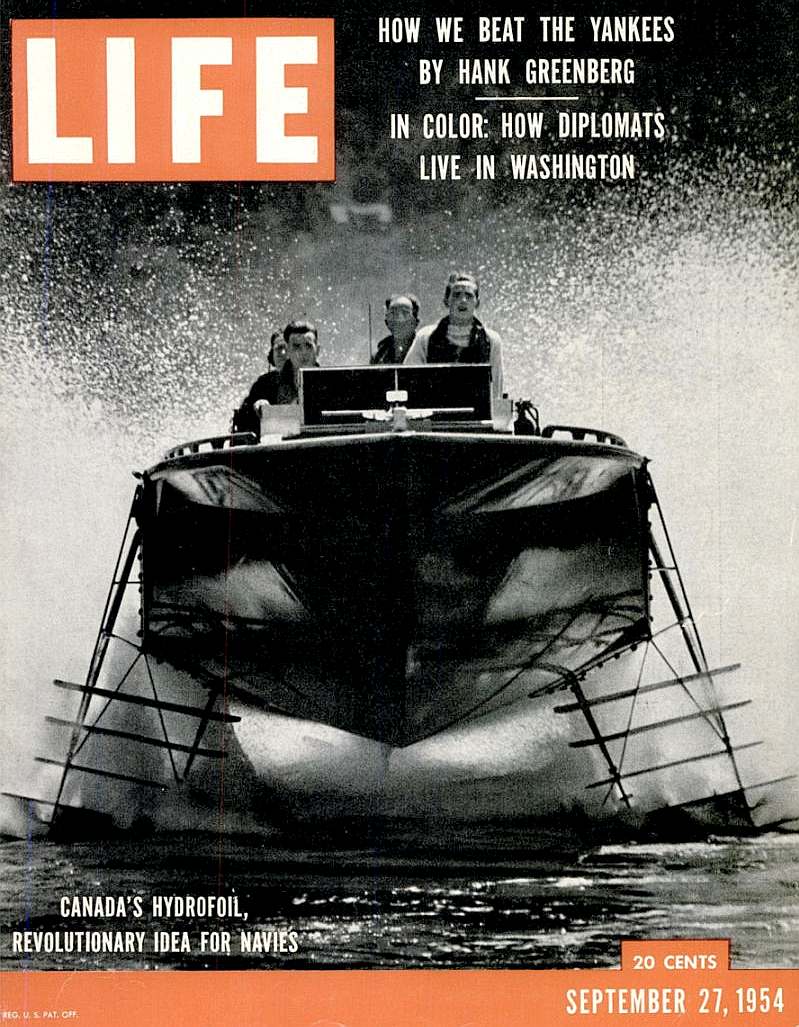 LIFE MAGAZINE SEPT 1954 - KC-B, the Canadian Navy's experimental hydrofoil, could do 96 km/h. This boat used a ladder hydrofoil design after Alexander Graham Bell
PASSENGER BOATS

German engineer Hanns von Schertel worked on hydrofoils prior to and during World War II in Germany. After the war, the Russians captured Schertel's team. As Germany was not authorized to build fast boats, Schertel went to Switzerland, where he established the Supramar company. In 1952, Supramar launched the first commercial hydrofoil, PT10 "Freccia d'Oro" (Golden Arrow), in Lake Maggiore, between Switzerland and Italy. The PT10 is of surface-piercing type, it can carry 32 passengers and travel at 35 knots (65 km/h; 40 mph). In 1968, the Bahraini born banker Hussain Najadi acquired the Supramar AG and expanded its operations into Japan, Hong Kong, Singapore, the UK, Norway and the US. General Dynamics of the United States became its licensee, and the Pentagon awarded its first R&D naval research project in the field of supercavitation. Hitachi Shipbuilding of Osaka, Japan, was another licensee of Supramar, as well as many leading ship owners and shipyards in the OECD countries.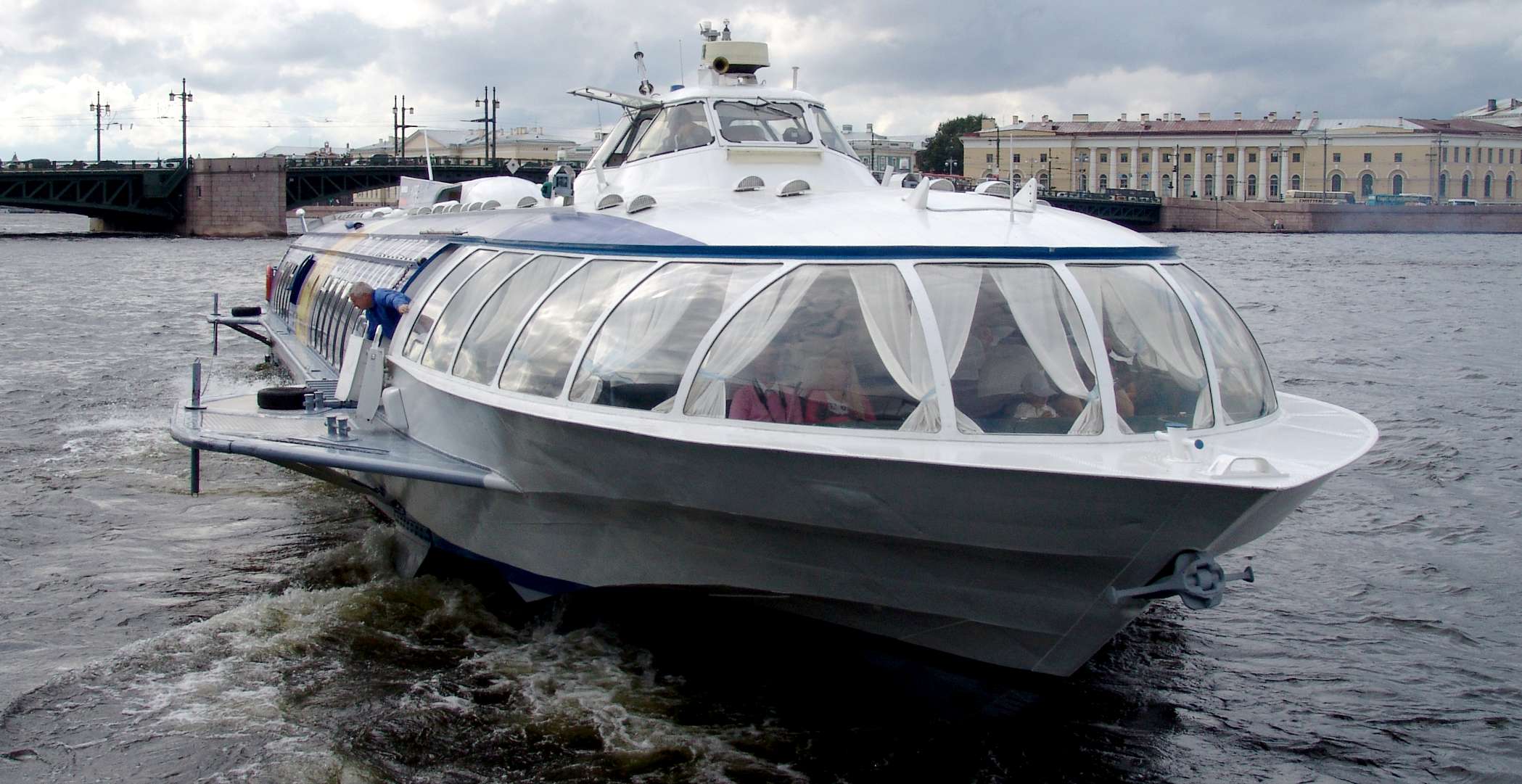 PASSENGER BOATS - Hydrofoil high-speed boat docking in St. Petersburg, Russia from a run to Peterhof Palace. Soviet-built Voskhods are one of the most successful passenger hydrofoil designs. Manufactured in Russia and Ukraine, they are in service in more than 20 countries. The most recent model, Voskhod-2M FFF, also known as Eurofoil, was built in Feodosiya for the Dutch public transport operator Connexxion.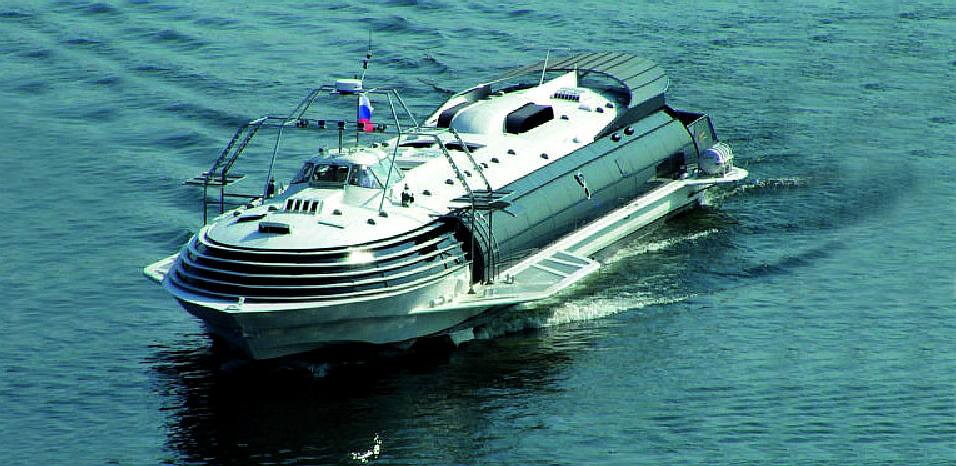 YACHT - A Meteor hydrofoil yacht was built in 2006 for Alexander Khloponin, a Russian businessman and governor of Krasnoyarsk Krai.
Η εφεύρεση των υδροπτέρυγων (ιπτάμενα δελφίνια) ήταν μία από τις πιο επαναστατικές εξελίξεις στην ιστορία της θαλάσσιας μηχανικής. Λίγο-πολύ όλοι μας έχουμε δει ιπτάμενα δελφίνια. Είναι τα σκάφη που έχουν φτερά κάτω από το κύτος, προκειμένου να επιτύχουν μεγαλύτερη ταχύτητα πάνω στο νερό. Τα "φτερά" είναι βυθισμένα, ώστε το κύτος να μπορεί να είναι πάνω από το νερό, το οποίο επιτρέπει στο σκάφος να πάει πολύ πιο γρήγορα.

Όταν ο Ιταλός εφευρέτης Enrico Forlanini έφτιαξε ένα πλήρους κλίμακας υδροπτέρυγο σκάφος το 1906, η τεχνολογία στο θαλάσσιο ταξίδι έκανε ένα τεράστιο άλμα. Το σκάφος έφτανε την ταχύτητα των 68 χλμ/ώρα. Η τελική ταχύτητα των πλοίων εκείνη την εποχή ήταν περίπου 40-50 χλμ/ώρα.
From 1952 to 1971, Supramar designed many models of hydrofoils: PT20, PT50, PT75, PT100 and PT150. All are of surface-piercing type, except the PT150 combining a surface-piercing foil forward with a fully submerged foil in the aft location. Over 200 of Supramar's design were built, most of them by Rodriquez in Sicily, Italy.

During the same period the Soviet Union experimented extensively with hydrofoils, constructing hydrofoil river boats and ferries with streamlined designs during the cold war period and into the 1980s. Such vessels include the Raketa (1957) type, followed by the larger Meteor type and the smaller Voskhod type. One of the most successful Soviet designer/inventor in this area was Rostislav Alexeyev, who some consider the 'father' of the modern hydrofoil due to his 1950's era high speed hydrofoil designs. Later, circa 1970's, Alexeyev combined his hydrofoil experience with the surface effect principle to create the Ekranoplan.

In 1961, SRI International issued a study on "The Economic Feasibility of Passenger Hydrofoil Craft in US Domestic and Foreign Commerce". Commercial use of hydrofoils in the US first appeared in 1961 when two commuter vessels were commissioned by Harry Gale Nye, Jr.'s North American Hydrofoils to service the route from Atlantic Highlands, New Jersey to the financial district of Lower Manhattan.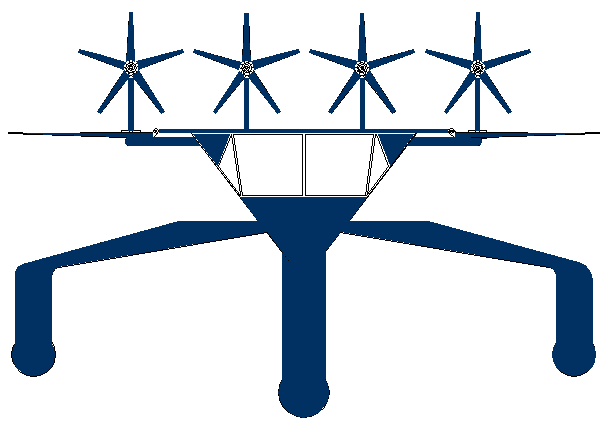 INNOVATION: Not a hydrofoil in sight. A hybrid, wind, wave and solar powered vessel with computer controlled energy harvesting from nature and a modular SWASH hull design that provides development platforms for both civil and military applications without having to redesign the whole vessel each time. The system promises 7-10 knot speeds with zero emissions 24/7 and 365 days a year. This important research was looking for collaborative partners for the EU Horizon 2020 call in 2014, but the managerial difficulties in assembling a consortium and financial justification that SMEs cannot reach killed the application.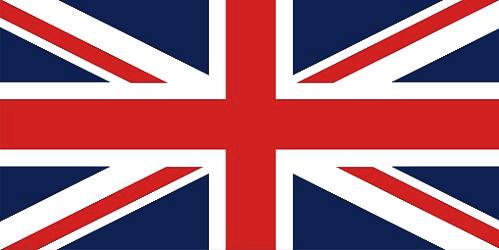 LINKS & REFERENCE
Hanning-lees_and_the_white_hawk
http://www.lesliefield.com/other_history/hanninglees_and_the_white_hawk.htm
http://www.cars-show.org/other/bmw-formula-foil-1.html
http://theawesomer.com/bmw-formula-foil-1/65381/
http://www.coroflot.com/danbaretich
http://www.gizmag.com/quadrofoil-electric-hydrofoil-watercraft/22560/
MIT education hydrofoils theory.
Daily Mai Transport 21st Century cargo blimps self driving boats solar powered trikes entries vehicle design awards
DHL in motion formula-e water-strider-wins-formula-e-inspired-innovation-contest
Japan Times life July 2011 a life spent in uncharted waters of boat design
Dark roasted blend 2012 july history of hydrofoils
Letletlet Warplanes 2012 Boeings boats
https://en.wikipedia.org/wiki/Human-powered_hydrofoil
https://quadrofoil.com/
https://en.wikipedia.org/wiki/Human-powered_hydrofoil
http://www.foils.org/upright.htm
http://www.letletlet-warplanes.com/2012/01/08/boeings-boats/
http://www.darkroastedblend.com/2012/07/history-of-hydrofoils.html
http://www.japantimes.co.jp/life/2011/07/03/people/a-life-spent-in-uncharted-waters-of-boat-design/
https://www.rca.ac.uk/
http://www.dailymail.co.uk/home/search.html?s=&authornamef=Victoria+Woollaston+for+MailOnline
https://en.wikipedia.org/wiki/Sailing_hydrofoil
https://en.wikipedia.org/wiki/Hydrofoil
http://web.mit.edu/2.972/www/reports/hydrofoil/hydrofoil.html
http://www.dailymail.co.uk/sciencetech/article-3139223/Transport-21st-century-Cargo-blimps-self-driving-boats-solar-powered-trikes-entries-vehicle-design-awards.html
http://www.dhl-in-motion.com/formula-e/article/water-strider-wins-formula-e-inspired-innovation-contest
http://www.boatdesign.net/forums/boat-design/hydrofoils-1167.html