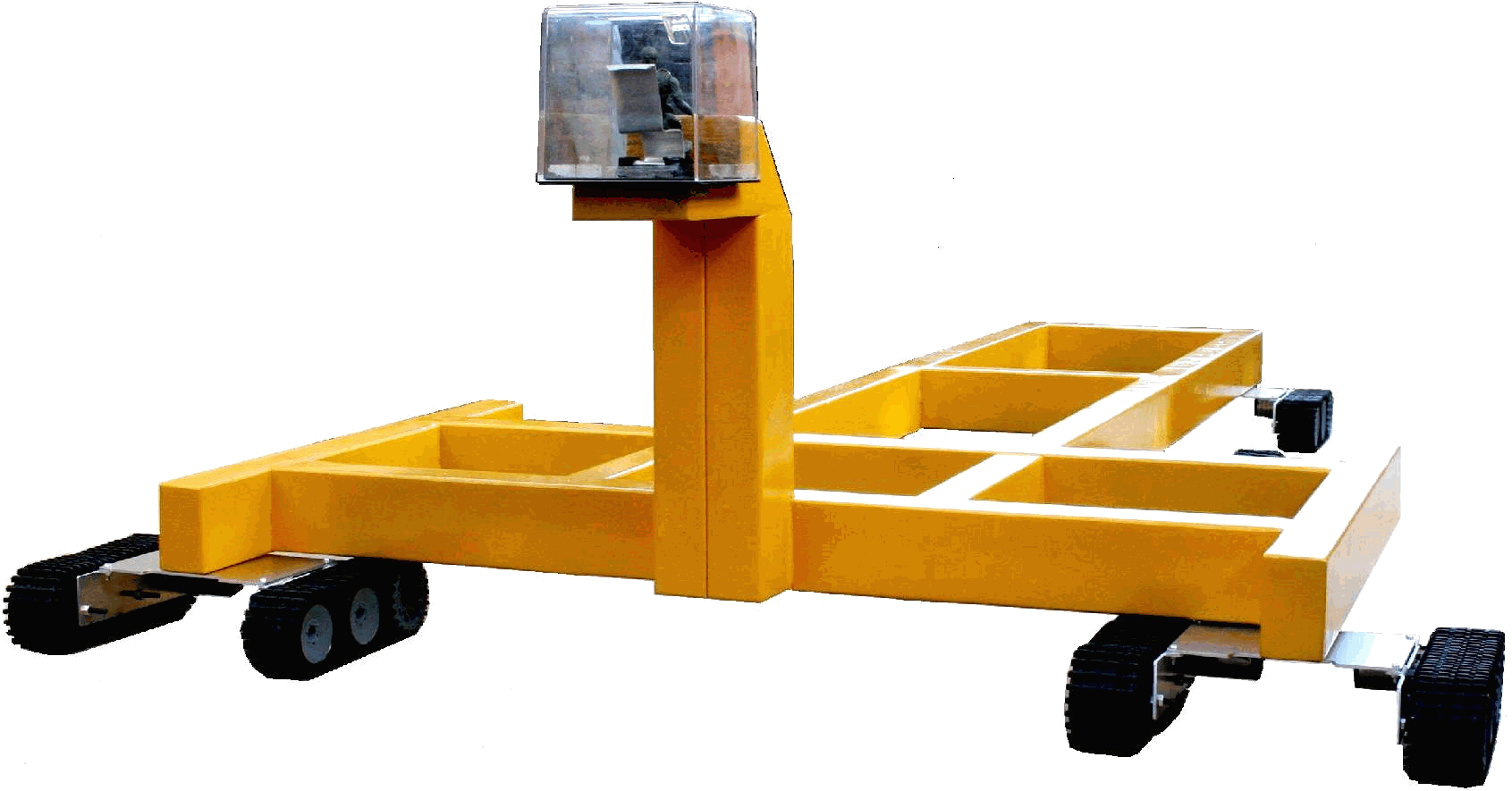 1/20th AMPHIMAX MODEL - AmphiMax will be a rugged, no-nonsense vehicle, constructed more along the lines of an agricultural, or earth moving machine. This will help keep the costs down. Being built from standard frame units of 5 meters, like Lego or Meccano blocks, we can make smaller or larger
MORE THAN A BEACH LAUNCHING SYSTEM - THE AMPHIMAX™ IS AN AFFORDABLE 'VIRTUAL' SHIPYARD
"BIG PROBLEMS CALL FOR BIG SOLUTIONS" - As you may know, we are on a mission to clean up the oceans on a not for profit basis. At the same time we are acutely aware of the need for speed. Unfortunately, the two objectives are at loggerheads. Speed costs a lot more and we are on a tight budget. We are though gearing up for speed in the hope of ongoing funding in 2017 into 2018, when we might start to look attractive to investors. Having exhausted (in practical terms) our present grant we need to rethink how best to make use of funding. Our base line is to keep working at our present pace, even if it takes longer to achieve our goal.
We were crowd funded in 2016 to complete Phase I and begin Phase II of the SeaVax Project and prepare for Phase III - with huge thanks to all who contributed via Avaaz. You may then be wondering why we are designing the world's largest boat transporter if money is a problem?
To answer this you need to look at why we need to avoid expensive boat building contracts and how we can assemble the SeaVax ourselves to make up for the lack of big-budget funding.
We do not have sufficient funds to place an order for a large work boat and neither will customers for this technology in Asia and Africa, where ocean pollution is most prevalent and blue growth is vital to a healthy economy. Hence we have come up with a modular design where smaller (still large) components of RiverVax and SeaVax craft can be built more economically in smaller workshops, with ourselves completing the picture making many of the fabricated parts in-house that we'd rather not outsource.
The AmphiMax launcher for SeaVax is much larger than an AmphiMax for a RiverVax. Even the AmphiMax concept is modular. At the moment we are looking at a smaller launcher for RiverVax, as being a good place to start cutting metal.
ECONOMIC OPERATIONAL COSTS
As an operator ourselves, we have to think ahead to take into account servicing and repairs of more than just the prototype SeaVax. We have to allow for third party operators to be able to run a fleet of SeaVax ships and give them the tools that they are sure to need to keep such a SeaNet fleet at sea for years at a time.
MODULAR CONSTRUCTION - In the above diagram we see the main SeaVax hull components. They slot into the cradles on the AmphiMax virtual boatyard using a 30 ton crane and laser alignment in the following sequence:
1. Sponsons (x2)
2. Main Hull
3. Collector Head
4. Bridge
5. Deck
The smaller modules can be made by medium size engineering fabricators, each unit thus being cheaper to produce. They will be transportable by road, or by canals or rivers. Subcontractors do not need to have large boatyards or slipways to build these sub-assemblies. These component parts can be transported by trucks on land or they can be towed to beach locations by sea. When assembled the SeaVax is more than twice the size and several times the weight of any single component part. Copyright © October 29 2016 Bluebird Marine Systems Ltd, all rights reserved. You will need permission from the company to reproduce this diagram.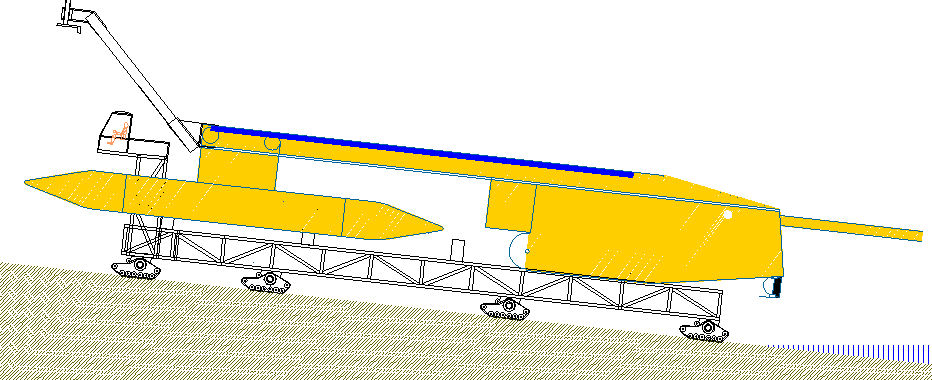 BEACH PARKED The worlds largest amphibious vehicle as seen parked on a shingle beach incline. The construction of an AmphiMax is simple and rugged, designed to withstand months of standing idle, when the machine can be floated in semi-submerged condition so that just the cab and uprights are visible above the ocean waves. Copyright drawing 8 October 2016 all rights reserved. You will need the permission of Bluebird Marine Systems Ltd to reproduce this diagram.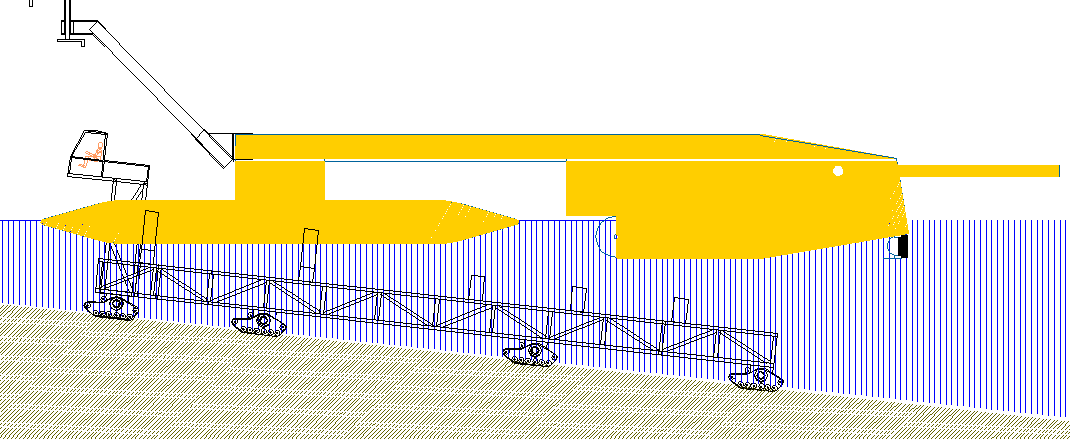 BEACH LAUNCH - This diagram shows an AmphiMax carrying a SeaVax into the sea. When far enough down the ocean floor so that the water is deep enough to float the SeaVax, the launch frame and boat part company to effect a floatation. Copyright drawing 8 October 2016 all rights reserved. You will need the permission of Bluebird Marine Systems Ltd to reproduce this diagram.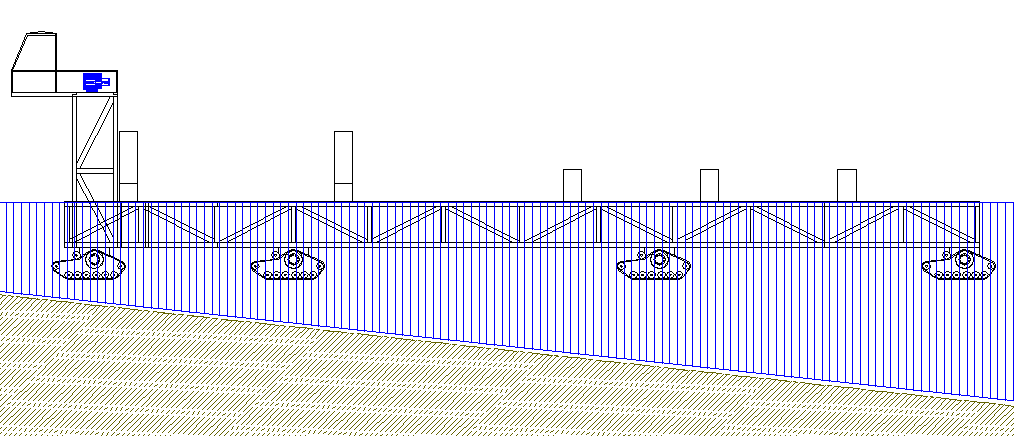 ANCHORED The worlds largest amphibious vehicle can be kept on station with a very low profile. Once the SeaVax™ vessel is launched, the AmphiMax can be anchored offshore semi-submerged. In this state the vessel can be navigated to other locations independently, so can serve other SeaVax vessels by way of launch or recovery. Copyright drawing 8 October 2016 all rights reserved. You will need the permission of Bluebird Marine Systems Ltd to reproduce this diagram.
The AmphiMax™ is more than a giant beach launcher, it is a jig and work station, an amphibious service vehicle and a self-contained transporter for loads of up to 90 tons. In short it is a platform that saves us a lot of expense when building and developing the SeaVax™ ocean cleaning prototype - this year and in the long-term.
More importantly, as we will need to produce River and SeaVax vessels in significant quantities, you can imagine the log-jam if suddenly all the smaller shipyards around the world were asked to quote to build aluminium hulls. The cost would rocket in a supply and demand spiral.
Using the AmphiMax portable system and local subcontractors for each of the 5 modules that go to make one SeaVax, the speed of assembly could be just a few months for each vessel. But the really great part is that with AmphiMax, SeaVax vessels could be built all over the world, wherever they are needed.

The AmphiMax is not expensive when compared to the cost of running a shipyard with overheads such as commercial rates attaching. Our prototype should only cost us around £200,000 pounds (around $250,000 US dollars depending on the exchange rate), but can make a lot of SeaVax machines. If we used AmphiMax to make 4 SeaVax a year, we could make 40 in 10 years.
INTERNATIONAL LOGISTICS

But why stop there. Why not have 10 AmphiMax each assembling 4 SeaVax a year to make 400 SeaVax. That's the whole point, using a virtual shipyard we will not clutter up the existing network of shipyards. SeaVax will then be cheaper to produce in the large numbers needed to patrol the oceans for plastic. We'll need quite a few to clean up the seven seas, meaning that is the unit cost is lower, then SeaNet becomes a reality..
V3 EIGHT AXLES - Shown here is an 8 axle (16 wheels) 16x16 chassis. We've come down from 9 axles (18 wheels, seen below), to be practical, to drive 16 wheels as 4 hydraulic circuits. This is because of the need to steer the vehicle, bearing in mind that most pumps powerful enough to drive the wheel-motors have four outputs. This drawing is Copyright © May 25 2017 Bluebird Marine Systems Ltd, all rights reserved. You will need permission from the company to reproduce these diagrams except for private study or review or for supplier reference.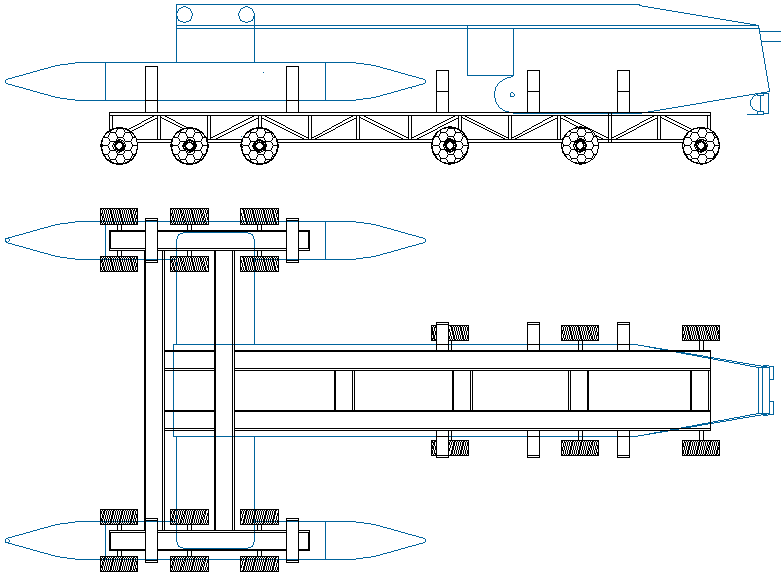 PLAN & SIDE VIEW V2 - Not yet a work of art, but somewhat neater, the V2 amphibious trailer (AmphiMax™) is 30 meters long (97.5 feet). To reduce mass over the V1, the chassis would be made from 6082 aluminium alloy rectangular tubing 204mm x 102mm, as a space frame skinned in 3.25mm alloy sheeting. 5083 alloy is not needed where for the most part the vehicle is parked on a beach. For this design we are using off-the-shelf hollow sections and sheet metal. The cost of the raw materials for this design of chassis fell to around £17,000 + VAT and delivery. This does not include welding or cutting equipment costs, but a design along these lines is starting to look promising. Using this method the weight of the bare chassis has fallen from 11 to 7 tons. This frame provides over 140 tons of buoyancy in the sea, not including the wheels/tyres. This can be reduced to negative buoyancy during launching and recovery.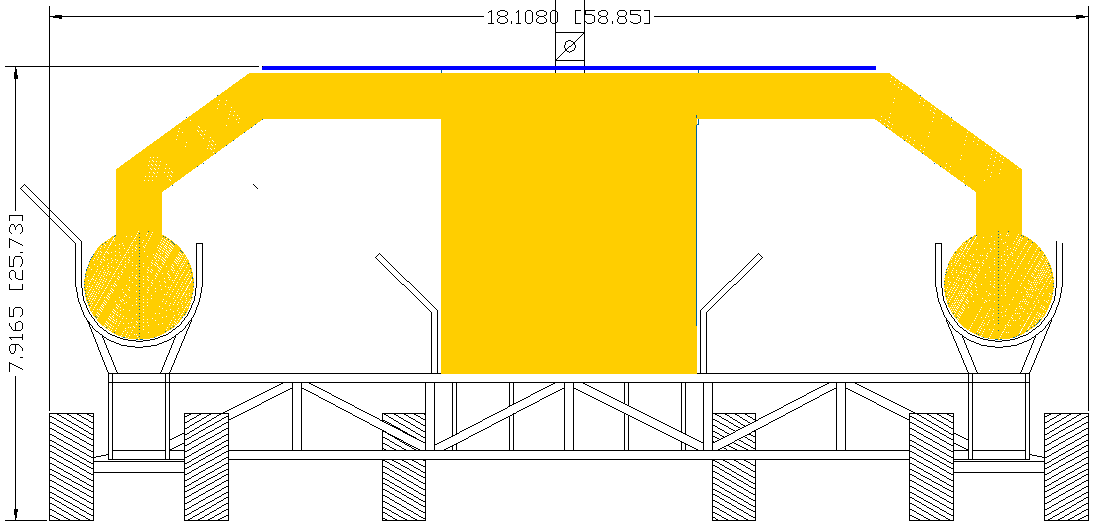 HOW MUCH POWER? - A major part of the design puzzle to solve is how many wheels to drive. This is more down to economics and traction than anything else. We are in the process of costing: wheel motors, rims and tyres. This is to include the method of powering competing technology. Please note that these drawings are Copyright © May 18 2017 Bluebird Marine Systems Ltd, all rights reserved. You will need permission from the company to reproduce these diagrams except for private study or review.
Assuming that our (lightning) feasibility study confirms what our notepad calculations say as to cost savings, you will be able to read on this page and other linked pages, just how the AmphiMax™ worked for us, or took us in other directions. If the feasibility study reveals that the cost is too high, we'll have to think again on trailer launching. At the moment a financial assessment is firmly in favour of using the Self Propelled Production Jig (SPPJ) assembly method for build.
Our inspiration for beach launching came from the world's largest fishing fleet at Hastings in Sussex. If you take a trip to this seaside resort, you are sure to see the fishermen recovering their catch, by hauling their boats up the beach using heavy duty winches secured to the beach with concrete blocks and anchors, powered by diesel engines.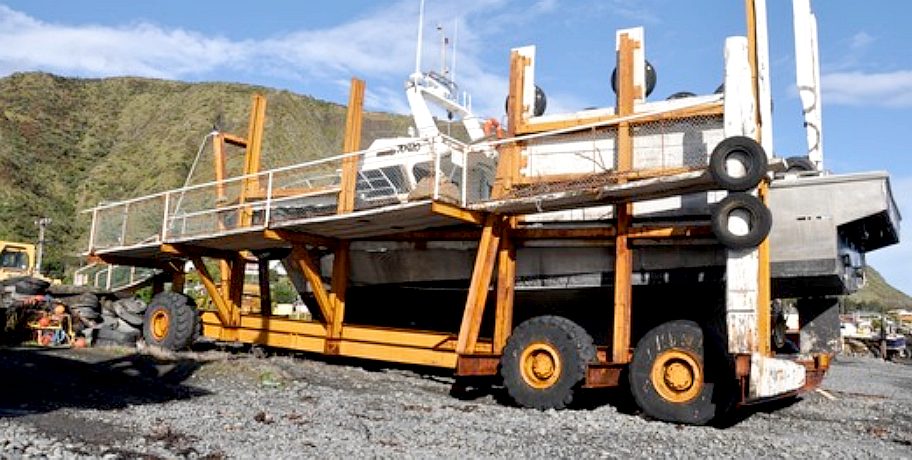 PORTABLE DOCK - This trailer in New Zealand is so big it is a more of a portable dock. It uses earth moving tyres and the frame is made of "I" section steel girders, with two girders bolted (or welded) one on top of the other to give the main chassis rails their strength. It is basic, but effective and earns its owner a good living fishing in the Pacific Ocean.
CHASSIS - We looked at steel, stainless steel and various aluminium alloys in designing the frame of the AmphiMax™. The prices varied wildly from supplier to supplier. At first aluminium came out on top in terms of weight saving and corrosion resistance, but then steel came back into the picture on production costs when we found that the individual frame units could be hot dip galvanized locally by a company near Hastings.
WHEEL MOTORS - Offer versatility in design that is hard to beat compared to driveshafts and gearboxes. There are electric and hydraulic versions each with their own pros and cons. At the moment electric drives are way to expensive to consider.
HYDRAULIC PUMPS - Assuming that hydraulic motors are the way to go, we will need a pump or two, to push high pressure fluid to the drive motors. These pumps might be powered by batteries or diesel engines. At the moment diesel engines are the front runners because they are more cost effective and require little maintenance when standing idle for more than a couple of months and are cheap to source second user. More to come .......
RIMS & TYRES - We would have needed between 16-20 tyres depending on the final chassis design. That's a whole lot of rubber and steel and for that reason we looked at popular sizes, such as those used in agriculture on tractors. More to come .......
CATERPILLAR TRACKS - Tracked bogies offer a potential traction advantage over conventional rubber tyres and wheels if they are competitive on price. We need eight 10-12 ton rubber tracked undercarriages. We are presently shopping for best prices. We have prices from China and the UK. At the moment, the UK is well in the lead, where having a potential development partner on our doorstep is worth many times more any saving from ordering overseas.
FLOATATION & THRUSTERS - At first it appeared that there was no necessity for AmphiMax™ to float, where a trailer could simply be pushed into the water and pulled out again, then as the concept matured into a self-propelled vehicle, it made sense for the SPPJ be able to surface and submerge. It also made sense to be able to assist the beach climb with directional thrusters. So giving us the ability to aim the AmphiMax™ and deliver these units to other locations as a navigable unit .......
CONTROLS - The SPPJ AmphiMax is manually operated using ordinary hydraulic lever contols, much the same as a digger used for earthworks. The cab is similar in design to many tractors, being simple with good visibility - and of course high up in the air to clear large waves when launching. More to come ......
ASSEMBLY - The AmphiMax SPPJ is assembled from 24 identical and fully triangulated frames measuring 5m x 1.5m x 1m made of structural steel rectangular section tubing (RHS). These frames slot into each other like giant Lego blocks and are then bolted (and may be welded) together. We need a relatively flat piece of beach or other land for assembly. The bogies are positioned using lasers for alignment and a mobile crane is used to lift frame sub-assemblies onto the bogies until they slot into position. More to come ......
DRIVING FORCE - [LEFT] An electrically powered wheel motor eliminates chains and drive shafts. There are many advantages to electric drives, such as for solar powered vehicles that remain on station for long periods, which might then generate the energy they need to move from onboard panels. The Bonfiglioli 611W wheel-motor above generates a massive 42,000Nm of torque at the upper end of their mechatronic range. We'd need at least 10 and more probably 12 of these units to cope with a serious beach, and any unforeseen circumstances. You'd also need a hefty battery for a pure EV or diesel generators for hybrid operation. [RIGHT] Hydraulic wheel motors are also very adaptable and rugged. These are wheel hubs with a fluid motor drive inboard of the wheel bearing housing. They are the basis for the transmission of many popular earth moving vehicles, typically with planetary gearboxes between the hydraulic motor and the wheel flange.
WORLD RECORDS & SPONSORSHIP
The SeaVax version of AmphiMax™ is likely to set two world records that could see us and our associates in such publications as the Guinness Book of World Records, FIA and UIM records, to certify the achievements of our contributors. Where the SeaVax™ is a concept vessel under development as a prototype, everything about it is new.
This raises the possibility of risk share from manufacturers who might be interested in contributing services, parts or materials in exchange for a media partnership. If your company or organisation might be in a position to contribute metals, tyres, motors, pumps, batteries, pv panels, valves, communications, or paint (as a few obvious examples), please contact us (Chris, Richard or Briggette) today on 0044 1323 831727 or email: bluefish@bluebird-electric.net
This project may give your company the opportunity to showcase existing products and technology in an exciting way and flex your corporate responsibility ideals about the environment, while also walking off with a prestigious Guinness world record or two, to hang on your office wall and in reception foyers.
LINKS & REFERENCE

HORIZON 2020 BLUE GREEN INNOVATION FOR CLEAN COAST AND SEAS
UK government environment agency
https://www.lego.com/
http://www.meccano.com/
http://www.poclain-hydraulics.com/
http://www.progressivepower.net/
http://www.bonfiglioli.com/
http://www.huntonlegg.co.uk/
http://www.chieftaintrailers.com/
http://www.dredgingtoday.com/
http://www.firestone.eu/
http://trucks.michelin.co.uk/
http://www.bellequipment.co.uk/
http://www.cat.com/
http://www.magnatyres.com/
http://www.lizardtrailers.co.uk/
http://www.browardtrailer.net/
http://www.deere.co.uk/
http://www.lewes.gov.uk/
http://www.thebeachlauncher.com/
http://www.hastingsfish.co.uk/stade.htm
http://www.guinnessworldrecords.com/
https://en.wikipedia.org/wiki/Amphibious_vehicle
http://edition.cnn.com/2015/11/25/politics/marines-amphibious-combat-vehicles-contract/
http://www.businessinsider.com/marines-new-uhac-is-unbelievable-2014-7?IR=T
http://edition.cnn.com/2014/07/16/tech/innovation/marines-amphibious-vehicle/
http://edition.cnn.com/profiles/tom-lobianco
https://www.gov.uk/government/organisations/environment-agency
AMPHIBIOUS LAUNCH - AMPHIMAX - CAB - CHASSIS - CRANE - DIESELS - FLOATATION - GENERATORS - HYDRAULICS - LAUNCH SITE - MODEL 1/20 - TIMETABLE - TRACKS - TRAILER - THRUSTERS - WHEELS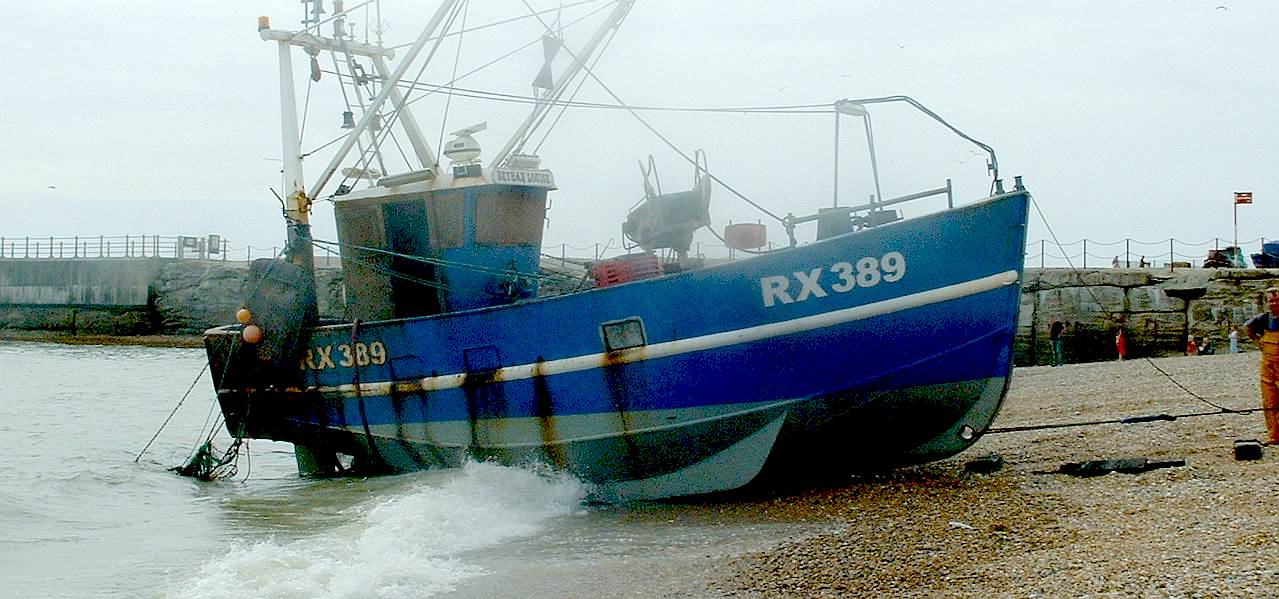 BEACH RECOVERY - A fishing boat is winched up the beach with a single steel cable. The keel of the hull runs over oily wooden blocks that are lubricated by seawater. Logs and plastic tubing are also used to reduce friction on this gently sloping incline that gets steeper further up the beach. The fishermen at Hastings are a hardy breed, operating in strict compliance with EU quota rules, despite not agreeing with all of the conditions.
HASTINGS - Has been a maritime centre for over a thousand years. The shingle beach is called the Stade. The name dates from before the 1066 Battle of Hastings and means " landing place ". The Stade was originally a small area between today's boating lake and coach park, but the building of the 1887 groyne at Rock-a-Nore and the 1896 harbour stopped shingle moving east along the coast. The result was that the Stade then steadily grew out to sea, providing new room for the fishing fleet and many amenities. These photographs are Copyright © August 2005 Blueplanet Universal Holdings Ltd, all rights reserved. You will need permission from this company to reproduce them except for private study or media review.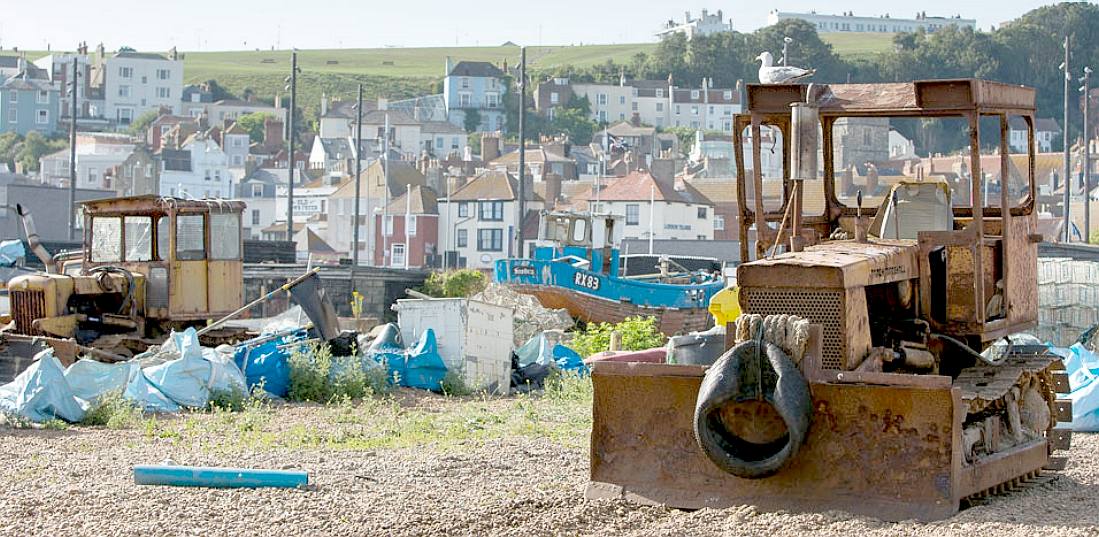 VIRTUAL SLIPWAY - The harbour at Hastings does not provide much shelter, so the boats have always had to be pushed out to sea by bulldozers and then pulled up the beach by winches for recovery. It is a crude system but offers the fishermen a virtual slipway and dock economically. Each vessel that is allotted a berth has a shed containing an engine and winch, operated by a " boy ashore " and tractors help push the craft into the sea, especially when the tide is low. You can see the tyre on the front of this bulldozer, clearly showing the imprint of a keel.