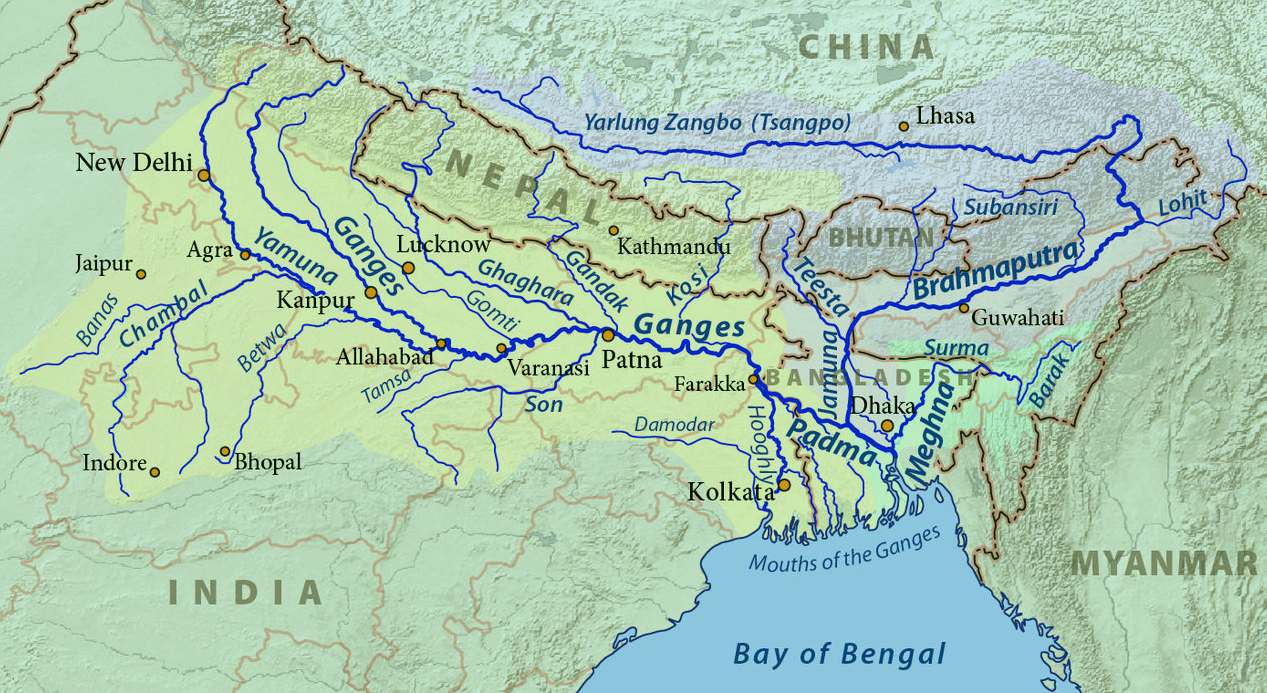 GEOGRAPHY - Map of the Ganges/Brahmaputra basin, a massive complex of rivers that drain India and Bangladesh surface water into the Bay of Bengal, unfortunately, transporting millions of gallons of toxic waste into the Indian Ocean. The Ganges is navigable for approximately 1,450 kilometers from its mouth(s) from Allahabad heading east to Patna, then Farakka to become the Padma, where it is joined by the Brahmaputra as the main distributory of the Ganges, flowing south-east until confluence with the Meghna (as one of three forming the Ganges Delta), before exit into the Bay of Bengal.
WASTE INTERNATIONAL CONFERENCE & EXHIBITION 2016 - JAIPUR, INDIA 15 - 16 January 2016
IAAD with its partner the Rajasthan Pollution Control Board (RPCB – EPA for state of Rajasthan) have come together to organize an International Conference cum exhibition on Waste to Resources (W2R) in January 2016 in Jaipur. The W2R conference is designed to provide a platform to technology companies from around the globe.

The W2R International Conference & Exhibition 2016 has been conceived to provide a platform to present and to discuss these critical issues. The conference is structured to address both solid waste and waste water streams covering strategic framework from enabling policy framework, technologies, institutional models and financing arrangements.

The W2R International Conference & Exhibition 2016 is aimed at Waste Management Industry, Waste Management Experts, Technology providers, City Managers, Project Developers, Bankers and PE/VC Players.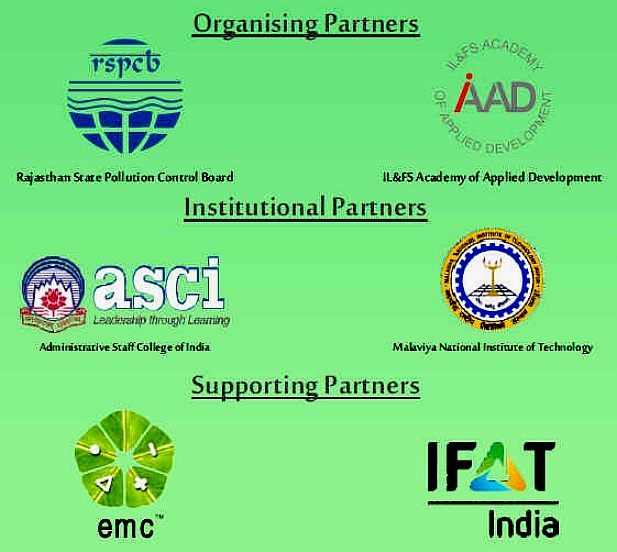 ORGANIZING PARTNERS
1. IL&FS Academy of Applied Development
2. Rajasthan State Pollution Control Board IL&FS Academy of Applied Development


INSTITUTIONAL PARTNERS

1. Administrative Staff College of India
2. Malaviya National Institute of Technology
SUPPORTING PARTNERS
1. EMC
2. IFAT India
Increasing urbanisation and industrialization has led to a significant increase in the quantum of waste generation especially in the last two decades. New waste streams have emerged other than Municipal Solid Waste that include Construction and Demolition (C&D) waste; e-waste; plastic waste; industrial (hazardous and non-hazardous) waste; and health care (bio medical) waste etc. These waste streams are posing significant challenges for environmentally sound management including treatment and disposal.
The presenters will include National & International experts with knowledge & practice experience in the domain of policy, technology, finance & institutional capacity building with an explicit intent to provide WHAT, WHY & HOW through lively panel discussions with concrete outcomes.

The theme of the conference builds on the National mission under the Swachh Bharat Mission to facilitate Rajasthan State's endeavor.
THE TWO DAY CONFERENCE FEATURES:

• Creating a Road map for Waste to Resource policy harmonization in the region.
• Establishing Innovative concepts in waste Management - Common Resource Recovery Centre (CRRC) or Material Recovery Facilities (MRF).
• Promotion of New & unique ideas - Landfill Mining and Recovery (LFMR) for municipal bodies so as to arrest impacts.
• Establishing a National Centre on Environment Technology, with the support of Government of Rajasthan, Government & International partners.
• Exposure to cutting edge knowledge with International Experts & state of the art International Technologies in waste Management.
• Understanding benefits of eco-system management through PPP model.

THE CONFERENCE IS RELEVANT FOR CEOs, CSOs & CTOs

• Solid Waste Management Technology Companies.
• Policy Makers and Regulators.
• Water & Waste Water Companies.
• State Pollution Control Boards.
• Environment & Pollution Control Equipment Companies.
• Development Finance Institutions.
• Waste Sorting & Recycling Companies.
• Commercial & Investment Banks.
• W2R Facility Providers.
• Venture Capital, Private Equity.
• W2R & W2E Plant Technologies and Operators.
• Consulting Companies.
• W2R Engineering Companies.
• Urban Local Bodies (ULBs).
• Landfill Management Companies.
• E-Governance and Smart Cities Solution Providers.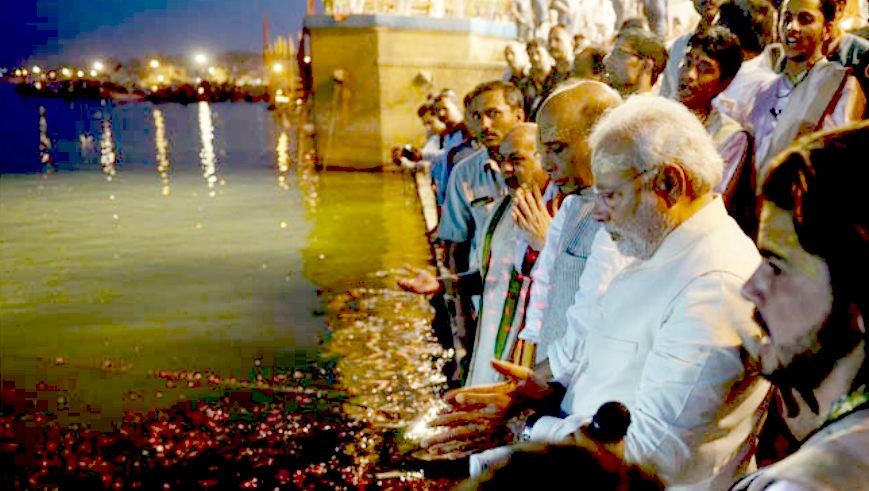 DNA INDIA JAN 2015 - Prime Minister Narendra Modi on Tuesday called for a time-bound swift action and single-minded focus to stop pollution of the River Ganga, while chairing a high-level meeting on the 'Namaami Gange' project. The Prime Minister reiterated that the Namaami Gange vision should focus primarily on two main areas to check pollution at the source. The pollutents include urban sewage and industrial effluents. Ganga ko ganda na karen, PM Modi emphasized.

Prime Minister Modi was briefed extensively on critical hotspots along the stretch of the river, which generate the most pollution. The existing gaps in sewage treatment capacity were highlighted. A total of 764 grossly polluting industrial units have been identified along the stretch of the Ganga. Tanneries, pulp and paper and sugar industries account for over three-fourth of this number.

The Prime Minister also emphasized the need to promote recycling of industrial waste water. He said industrial units should be motivated suitably to stop pollution, failing which action should be initiated within the framework of existing laws. Prime Minister Narendra Modi also called for exploring the possibility of setting up modern, environment-friendly crematoria along the River Ganga, through private initiative and enterprise.

The concept of a network of volunteers to help end pollution of the river – Ganga Vahini – has been approved. Steps are being taken to operationalize this network. 118 Urban Local Bodies have been identified to be covered within five years, in a targeted attempt to control pollution.

The Prime Minister was also briefed on the ongoing sewerage and river front development projects in the meeting attended by Union Ministers Venkaiah Naidu, Nitin Gadkari, Uma Bharati, Prakash Javdekar and top Government officials. PHOTO: Narendra Modi performs the "Ganga Puja" with Rajnath Singh and other party leaders on the banks of the River Ganga in Varanasi.

CONFERENCE AGENDA

Session I - Solid Waste Session II – Waste Water Session III – Special Waste Stream MSW / Plastic & E-Waste Hazardous & Non–Hazardous Waste Hazardous & Non-Hazardous Effluents C&D Waste Mining/Marble Slurries & Effluents

DAY 1: FRIDAY 15 JAN

9:00-10:00 -Registration

10:00-10:20 -Inauguration of Exhibition

10:20-11:00 -Inauguration of Conference & Plenary Session

11:00-11:30 -Networking Break

11:30-12:50 -Policy Frameworks for Promoting W2R Management – International, National and State Perspectives

12:50-14:15 - Networking Lunch

14:15-15:45 -Parallel Sessions on W2R Technologies - Various waste streams


15:45-16:15 - Networking Break

16:15-17:15 -Common Resource Recovery Centres (CRRC)

17:15-18:15 -Material Recovery through Landfill Mining (LFMR)

18:15-19:15 -Emerging Business & Financing Models of W2R in PPP


DAY 2: SATURDAY 16 JAN

10:00-11:30 -Centre of Excellence for Waste to Resources - India's Vision & Experience of UNEP IETC

11:30-12:00 - Networking Break

12:00-13:30 -3 R Evolution and IPLA - UNCRD

13:30-14:30 -Networking Lunch

14:30-16:00 -Concluding (Plenary) Session - Release of "Jaipur Declaration" & Announcement of Asia Waste Management Outlook (AWMO) - UNEP

Closing & Networking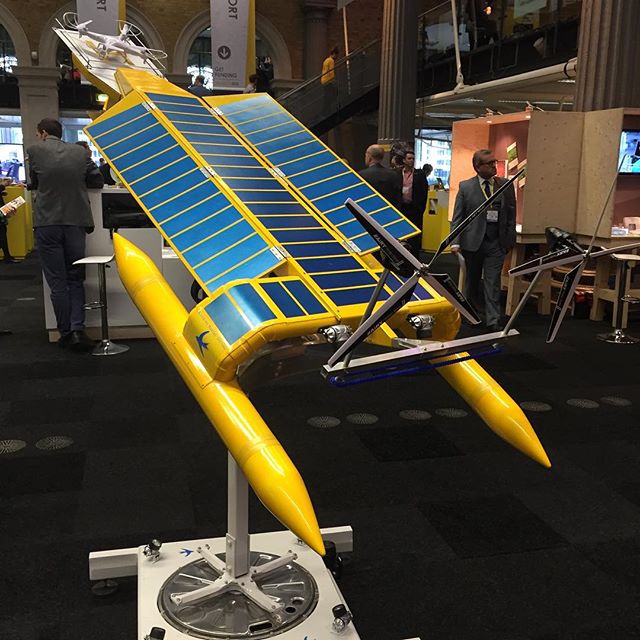 FUTURE OF RIVER CLEANING - A modification of the SeaVax could cleanse river water without adding to climate change. This clean-tech could improve social conditions in India manyfold, by targeting hotspots and the mouth of the great river, before the water exits into the Bay of Bengal.
EXHIBITION

An exhibition will be held concurrently with the conference. The exhibition will have both Indian and International Companies. The W2R International Conference & Exhibition 2016 provides an opportunity for technologies and service providers a platform to give an exposure to the attending delegates on some of the frontier and innovative technologies and equipments.

It enables exhibitors to interact face-to-face with many of the Waste to Resources sector most influential and informed people, for business development. Attracting an international, senior level audience, representing both established and emerging markets, The W2R International Conference & Exhibition 2016 provides a unique opportunity for high-level networking and the development of serious business contacts.

Representatives from waste management, energy generation, finance, investment, engineering, project and technology development, planning and advisory, central and local government gather to exchange information, network and discuss business development.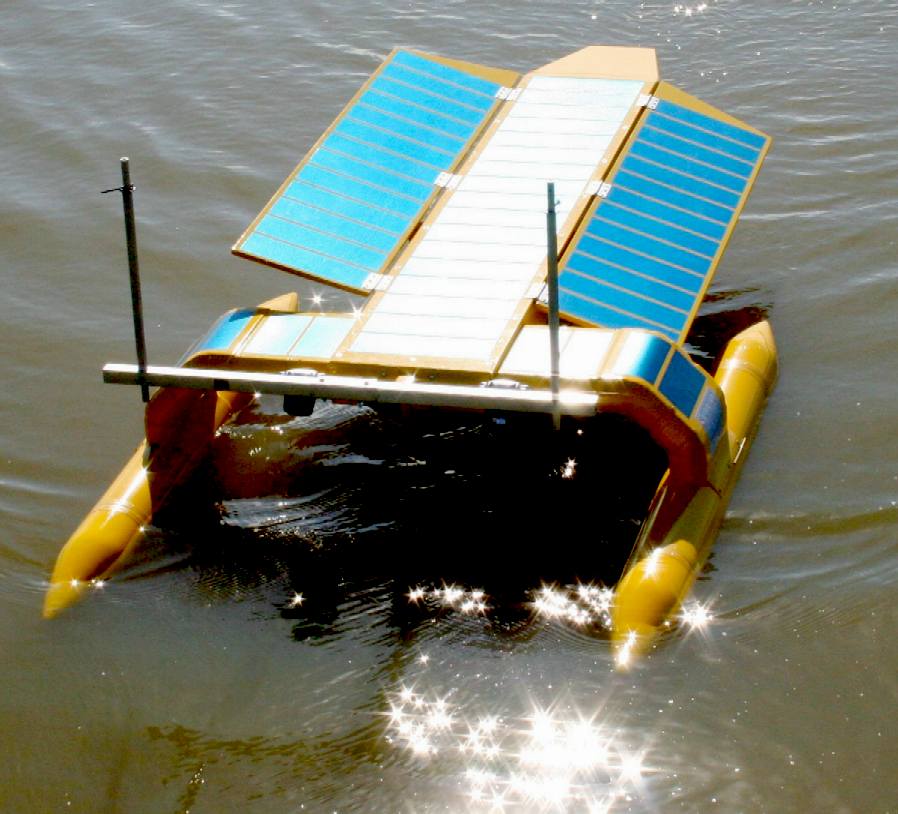 RIVERVAX™ TRIALS - Cost effective river pollution monitoring and cleaning all in one. You have to think bigger. Anything less is a waste of time. It's pointless trying to clean an large river with a teaspoon of a system.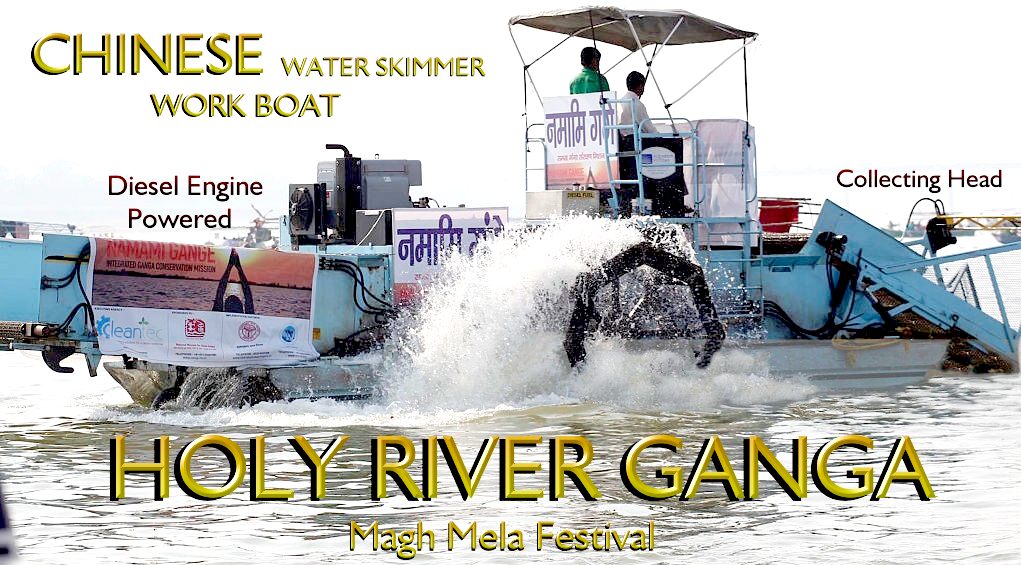 A GREAT START - Many countries are employing machines similar to that above from China to clean up their rivers, although there are of course manufacturers of similar machines around the world. It is an acknowledgement that there is a problem, demonstrating moves by local water authorities to do something about it. The main drawback of conventional machines is that they use diesel fossil fuels to pick up plastic and other surface solids, so creating more pollution in terms of CO2 than they might reasonably offset in recycling river waste - in other words diesel powered cleaners are heating the planet more is seeking to deal with our dirty habits, where we have already heated the planet to create the waste.
EXHIBITOR PROFILE

Water & Waste Water
Water Supply Treatment & Management
Water Conservation & Rain Water Harvesting
Waste-water Management & Recycling
Desalination,
Distillation
Water Consultancy,
Filtration Systems
Effluent Treatment
Pumps, Valves, Compressors & Fittings
Environment & Pollution Control
Renewable and Alternative Energy
Carbon Credits
Eco-tourism
Environmental Education
NGOs for Environmental Protection
Eco-friendly Transport Vehicles
Waste Collections & Waste Transportation
Waste Segregation, Waste Processing and Material recovery etc
Solid Waste Management & Recycling
Waste Recycling,
Waste-to-Energy
Plastic-to-fuel /Bio-fuels / Alternative Fuels
Bio-methanation
Composting,
Incineration/Combustion
Fly Ash and Slurry Recycling
Landfill Management
e-Waste Management & Consultancy
Material recovery technologies
Urban Infrastructure Development
Infrastructure Development for Airports, SEZs,
Business & Industrial Parks
Public Amenities
Financial Institutions, Development and Funding Agencies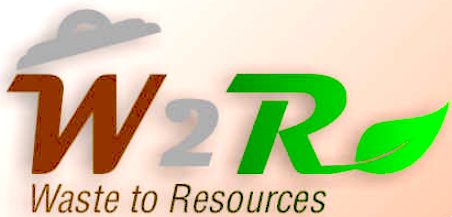 CONTACT DETAILS:

ARC Exhibits
E: priyanka@arcexhibits.in
M: +91 9769520067
W: www.arcexhibits.in
E: piyush.suryavanshi@ilfsacademy.org
W: www.ilfsacademy.org
T: + 91 22 2659 3353IL&FS Academy of Applied Development (IAAD)

IL&FS Academy of Applied Development (IAAD)
The IL&FS Financial Centre,
G Block, Plot C-22,
Bandra Kurla Complex,
Bandra East
Mumbai 400 051
Board DID + 91 22 2659 3755
piyush.suryavanshi@ilfsacademy.org
Tel: +91- 022-26533333
Fax: +91 22 2659 3039
E-mail: info@ilfsacademy.org
Web: www.ilfsacademy.org
Twitter ILFS Academy
Facebook ILFS Academy
Keeping in mind the objective of meeting the symbiotic needs of the primary stakeholders of IAAD i.e. students, researchers, community based organizations, working professionals from varied sectors, housing societies, general public at large, IAAD is planning to support processes / product innovations that will create positive social impact, conserve/protect natural resources and help reduce Greenhouse Gas (GHG) emissions over life cycle. Contact Shrikar Dole to explore the potention to partner with them on activities, programs and projects which will help achieve these goals.

Mr. Shrikar Dole - Head (Training, Networking & Partnerships), IAAD

Tel: + 91 22 2653 3333
Email: shrikar.dole@ilfsacademy.org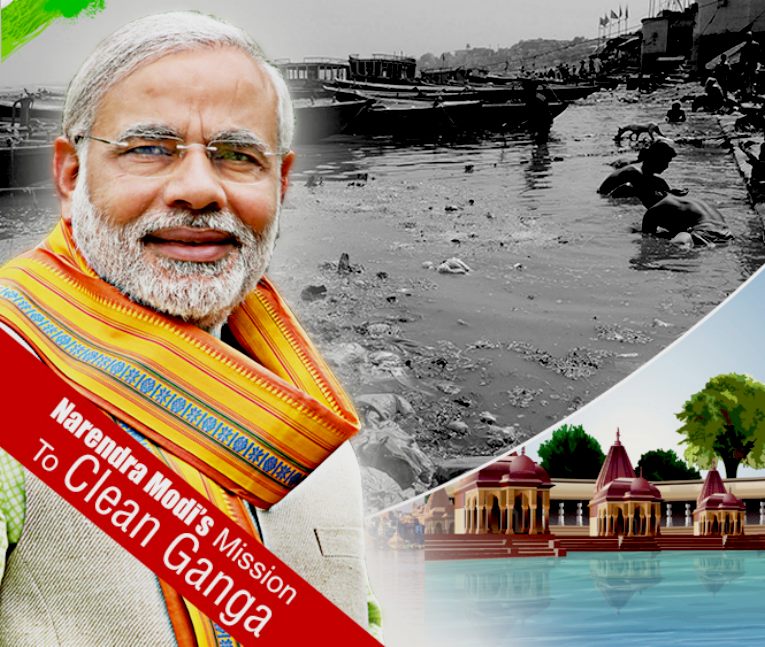 NDTV AUGUST 2014 - Mumbai: Prime Minister Narendra Modi's ambitious initiative to clean up the river Ganga has attracted interest from Germany, which is keen on providing its expertise to carry out the multi-billion dollar project.

The Modi government is determined to clean up the Ganga which has become heavily polluted due to industrial and human waste. It has allocated Rs. 2,037 crore for the task in its first Union Budget presented last month.

"There is an improved sentiment in the country, which makes it an attractive destination for Germany to do business with. Apart from other sectors, we would like to assist the government in cleaning up the Ganges, which is an ambitious project of the new government," German deputy consul general Michael Ott told PTI.

He said that since his country has the experience in this area after it cleaned the longest European river, the 1,232-km Rhine, it can provide its expertise to the Modi government to take up the mammoth task.

"The Rhine, which was the most polluted river in the Europe, is so clean today that the water can be used for drinking as well. We would like to participate in this initiative and I believe we will be able to do it," Mr Ott said.

The government has created a separate ministry, the Ganga Rejuvenation Ministry, under Uma Bharti. It is also planning to set up an NRI fund to boost the Ganga cleaning efforts.

The army has also proposed to set up a task force under a retired Lieutenant General to carry out the project efficiently.

The army is understood to have submitted a proposal to the government to set up a task force under a retired Lt General with a team of 40 officers who would help in cleaning the holy river.

The over 2,500-km long Ganga river flows through one of the most densely populated regions of the Gangetic Plains, supporting a population of over 400 million, almost a third of the national population.

Mr Ott further said that Germany is also keen on investing in water waste and sewage treatment as well as renewable power sectors, apart from education and healthcare.
ABOUT THE GANGES
The Ganges (GAN-jeez), also Ganga (Hindustani: [ˈɡəŋɡaː]) is a trans-boundary river of Asia which flows through the nations of India and Bangladesh. The 2,525 km (1,569 mi) river rises in the western Himalayas in the Indian state uttranchal, and flows south and east through the Gangetic Plain of North India into Bangladesh, where it empties into the Bay of Bengal. It is the third largest river by discharge.

The Ganga is the most sacred river to Hindus. It is also a lifeline to millions of Indians who live along its course and depend on it for their daily needs. It is worshipped as the goddess Ganga in Hinduism. It has also been important historically, with many former provincial or imperial capitals (such as Pataliputra, Kannauj, Kara, Kashi, Patna, Hajipur, Munger, Bhagalpur, Murshidabad, Baharampur, Kampilya, and Kolkata) located on its banks.

The Ganges was ranked as the fifth most polluted river of the world in 2007. Pollution threatens not only humans, but also more than 140 fish species, 90 amphibian species and the endangered Ganges river dolphin. The Ganga Action Plan, an environmental initiative to clean up the river, has been a major failure thus far, due to corruption, lack of technical expertise, poor environmental planning, and lack of support from religious authorities.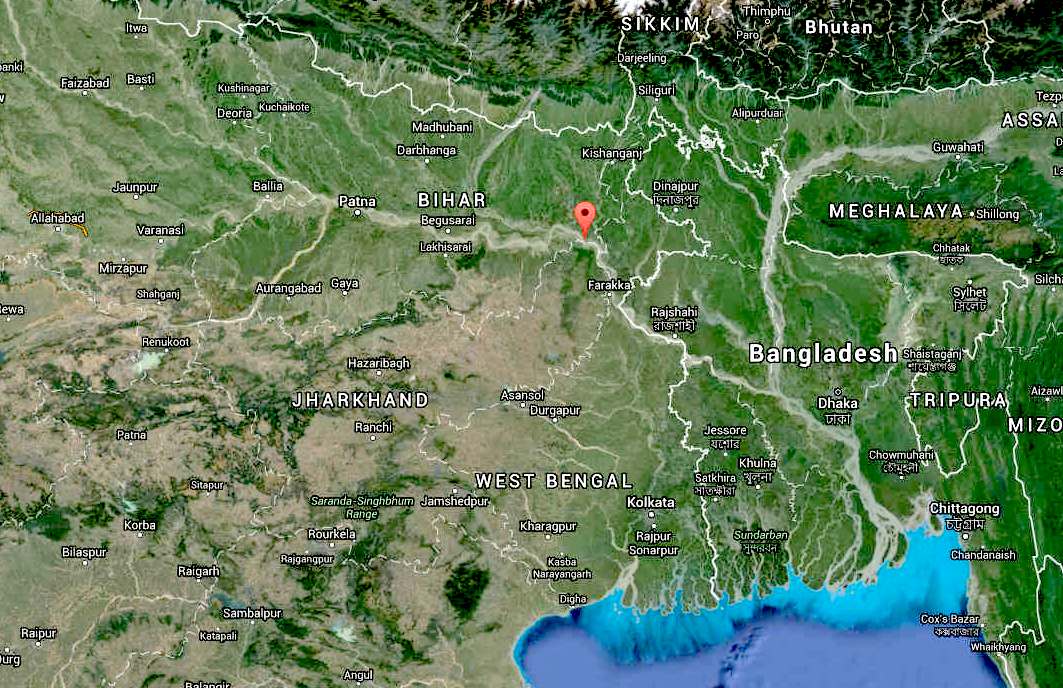 BAY OF BENGAL - The Ganges River Pollution is now at such a high level that the amount of toxins, chemicals and other dangerous bacteria found in the river are now almost 3000 times over the limit suggested by the WHO as 'safe'.

The river directly and indirectly affects the largest population of any river in the world with over more than 420 million people who rely on it for food, water, bathing and agriculture. And that is not to mention the tens of Millions of pilgrims who venture to India's most holy of rivers each year to bathe and worship.
INTERNATIONAL BUSINESS TIMES - 13 MARCH 2015
More than two-thirds of the sewage generated in 118 towns, located along the Ganga river basin is discharged into the river untreated, says a report prepared by a team of experts.

The towns collectively generate over 3,636 million litres per day (MLD) of sewage while the treatment capacity of the existing 55 sewage treatment plants (STPs) is hardly 1,027 MLD.

There are as many as 144 drains that discharge water into the river from the surrounding region.

Setting up STPs and units to recycle the entire drain water features in the national government's ambitious 'Namami Gange' plan launched last year to clean the river that is considered holy and descends from Gaumukh in the Gangotri glacier in the Himalayas.

The Ganga and its tributaries support a tenth of the world's population or 500 million people, but have the distinction of being the planet's most polluted rivers.

Fecal coliform contamination, chemical pollution from chromium, mercury, lead, and chlorinated compounds turn the waters of the river into highly toxic, disease-bearing and even carcinogenic agents.

In fact, fecal contamination has led to the spread a superbug bacteria resistant to antibiotics, as witnessed from the detection of NDM-1 and NDM-4 genes (NDM stands for New Delhi metallo-beta-lactamase).

The report on sewage let into the river was prepared by a team of experts from six different organisations of the ministry including the National Institute of Hydrology, Central Water Commission, National Water Development Agency and Central Ground Water Board.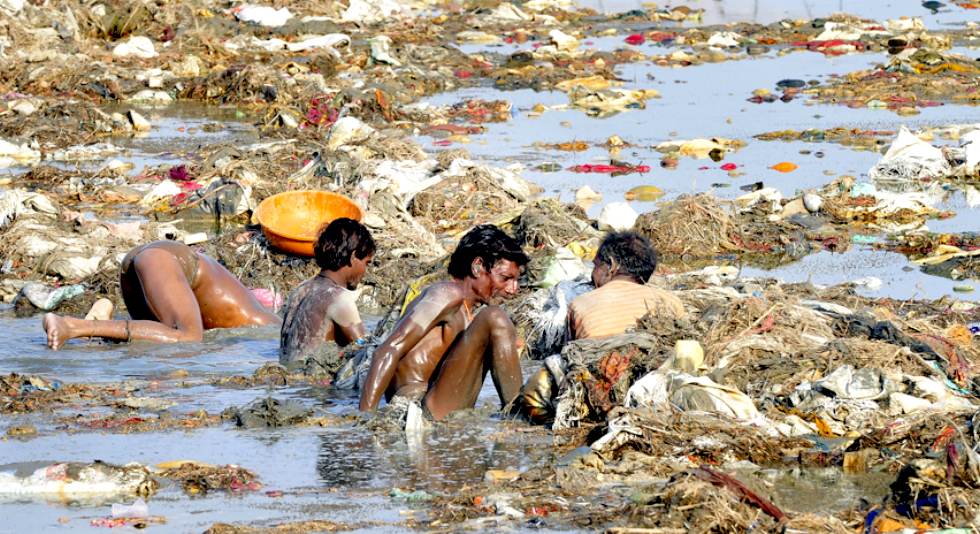 BAY OF BENGAL - Approximately 1 billion litres of raw, untreated sewage are dumped in the River Ganges on a daily basis. The amount has more than doubled in the last 20 years and experts predict another 100% increase in the following 20 years.
ASHRAMS BLAMED

Meanwhile, the National Green Tribunal (NGT) plans to look into the issue of untreated sewage waste being discharged into the river by the many ashrams in the holy towns of Haridwar and Rishikesh.

The Uttarakhand pollution board had filed a report saying that 17 out of 22 major ashrams in the area were dumping untreated sewage into the Ganga.

Haridwar mayor Manoj Garg has cited lack of funds as the main reason behind local civic bodies in not being able to check pollution of the river.

A consortium of the country's premier technological institutes, the Indian Institute of Technology, also in a report for Ganga River Basin Management Plan (GRBMP) cited discharge of urban waste, dumping of industrial waste and leakage of industrial pollutants, besides over-drawl of fresh water from surface and ground water, as the main culprits fouling Ganga.

Under the Plan, the government has already devised comprehensive action for "short-term" (three years), medium-term (five years) and long-term (10 years and more) to clean the river.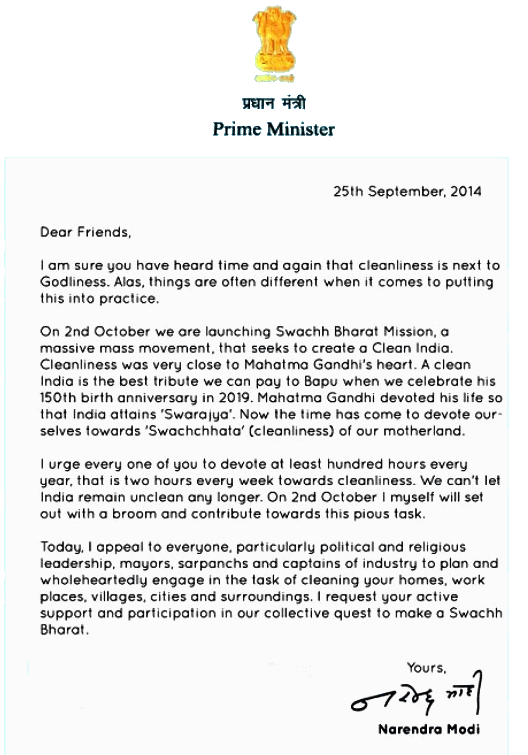 OPEN LETTER SEPTEMBER 2014 - Prime Minister Narendra Modi launched the Swachh Bharat Mission in October 2014. He calls on political, religious and industrial leaders to engage with him in the massive cleanup task ahead. We share his vision.
MISSION CLEAN GANGA

Covering eight missions on ensuring continuous flow, unpolluted flow, ecological restoration, sustainable agriculture, geological safeguarding, basin protection against disasters, river hazards management and environmental knowledge building and sensitisation, the IIT report states that wetlands, forests and distributed ground water and surface water storages need to be protected to ensure the river is clean.

The National Ganga River Basin Authority, set up to clean the river will ensure no sewage or industrial effluents are released into the Ganges by 2020, the government has said.

The river authority will fund pollution abatement projects on 70/30 cost-sharing basis between central and state governments. This includes a World Bank-assisted National Ganga River Basin project worth $1.1bn (£740m, INR 70bn) and a Japan International Cooperation Agency-assisted project at Varanasi.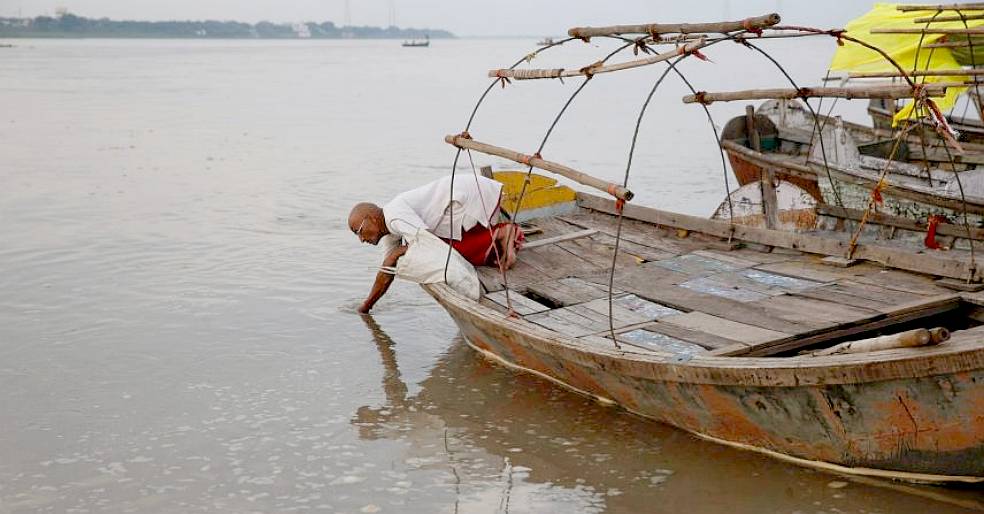 MOTHER GANGA - Some of the main Ganges river pollution contributors are those in industry - specifically in this case those of the leather industry who use vast amounts of chromium and other toxins and chemicals. The world bank had agreed to loan India almost $1 Billion to clean up the Ganges, but so far the impact is not significant.
INSPIRED ECONOMIST 14 JANUARY 2015 - INDIA USES ZERO LIQUID DISCHARGE TO CLEAN GANGES

India's government has lately set a 3-year target to rejuvenate the River Ganges, formulating an integrated plan for the use of new technologies to solve the water pollution crisis. Known as the "Namaami Gange" or "Clean Ganga" project, optimism is high for cleaning up the Holy River Ganga, as it is known and revered by Hindus in India.

Industrial waste from over 700 pollution-intensive industries, such as chemicals, tanneries, textiles, pulp and paper, are contributing to the severe crisis of toxic water pollution in at least four states of India through which the Ganges River flows.

INDIA'S CLEAN GANGA PROJECT

Nearly 140 drains between Gangotri and Gangasagar, India open onto the Ganges River, discharging municipal and industrial wastewater. At present, after being treated in different sewage treatment plants and common effluent treatment plants, the industrial wastewater goes into this drainage system and eventually gets discharged into the river.

Just starting to take shape, India's "Clean Ganga Project" is ambitious, considering the devastating levels of pollution in India's sacred rivers. Many textile operations have been closed due to non-compliance with newly established pollution controls.

For example, the area of Tirupur in Tamil Nadu is a textile belt that has suffered from India's crackdown on industrial water pollution. The textile industry is a heavy contributor to the crisis, due to factories discharging coloured effluent from their bleaching and dyeing units. More than 600 dyeing units remained closed for almost two years until a reliable solution was implemented.

ZERO LIQUID DISCHARGE TECHNOLOGY

Zero Liquid Discharge (ZLD) is a technological concept where the entire industrial wastewater output is reused, after appropriate treatment, without discharging a single drop into any river.

Praj Industries of India is a leading provider of ZLD and recycle and reuse solutions with advanced technologies. Mr. Pramod Chaudhari, Executive Chairman of Praj Industries recounted their success helping to resolve the textile pollution issue in the now virtually dead industrial city of Tamil Nadu, India.

Mr. Chaudhari said that home-grown breakthrough technology of Praj Industries has helped to build confidence for reopening the textile units. With the Praj installation of Zero Liquid Discharge units in Tamil Nadu, compliance with India's pollution control standards is being implemented with great success.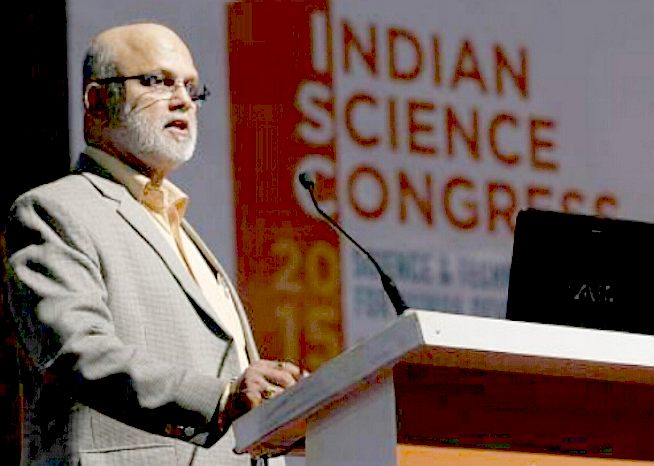 FAILED CAMPAIGNS - Over the decades, numerous campaigns to clean the Ganges have come and gone. Billions of dollars have been thrown into the river. Good intentions have been felled by corruption and mismanagement. The pollution and its causes have been dissected ad nauseam. Yet it is filthier than ever.

The Ganges flows for 2500 kilometres from the Himalayas through four states where 400 million Indians live through to the east coast where it empties into the Bay of Bengal. As it passes through 100 towns and cities, it absorbs all their human and industrial waste.

Experts estimate that more than 3000 million litres of untreated sewage from these towns along the Ganges are pumped into the river every day. By the time it reaches Varanasi, whose untreated sewage (or most of it) is also pumped into the waters, it becomes a sewer and the sixth most polluted river in the world.

Dr Vishwambhar Nath Mishra, a university professor whose family has been temple priests here for 13 generations, says that 33 sites in the city continually discharge raw sewage into the river.
THE 102nd INDIAN SCIENCE CONGRESS

Speaking at the 102nd Indian Science Congress (ISC), Praj Executive Chairman Chaudhari said, "India needs to replace conventional technologies with advanced technologies in order to ensure that the 'Clean Ganga Project' is implemented sustainably."

The ISC symposium was held last week on Tuesday, Jan. 6, at the University of Mumbai, India. Mr. Chaudhari announced, "Virtually all milestones in rejuvenating the sacred river – divided into short-term, medium-term and long-term phases – depend heavily on the use of technologies, from Zero Liquid Discharge (ZLD) to online monitoring."

Chaudhari addressed the current issues facing the industrial corporations. "The bigger corporates have already introduced green technologies," he stated positively. "But there could be issues of financing for MSMEs. This calls for an integrated approach to project development with cost-effective technologies and innovative funding mechanism."
ECONOMIC BENEFITS OF ZERO LIQUID DISCHARGE

No longer contributing to the pollution crisis facing the River Ganges would be in itself a significant improvement for the environmental preservation and conservation efforts ongoing in India. However, economic benefits gained by the adoption of ZLD technology is also significant and notable.

Speaking of the economic benefits of Zero Liquid Discharge, Mr. Chaudhari explained that all water can be recycled in a scientific manner so that it can be reused. Then the recycled water can be sold to end users. Even farmers may be able to use this treated industrial wastewater for irrigation.

The Tirupur project in Tamil Nadu, India, successfully launched the ZLD installation which ended that factory's industrial water pollution problem. Additionally, it identified ways in which the project costs could be recovered. Not only can the treated water be sold to end users, but salts employed in the ZLD technology could also be recovered and reused again in this innovative and life-sustaining process.
HAARETZ JULY 20 2015 - ISRAEL OFFERS TO HELP CLEAN GANGES
The holy river streams from the Himalayas, passing through 29 Indian cities and picking up more contaminants in each.

Israeli cleantech might yet come to the rescue of the sacred but polluted goddess river Ganges, an Israeli envoy told the Indian press Sunday. An Israeli delegation of water experts, from government and private enterprise, has been invited to visit India next week to meet with officials and presumably to gain a first-hand impression of the problem - which is vast.

The Ganges, or Ganga, is the biggest river in India. Although it provides water to more than a third of India's vast population and is holy to Hindus, it is considered to be the fifth most polluted river in the world. One of Prime Minister Narendra Modi's election vows was to clean up the river, which sports contaminants from industrial waste to dead bodies.

There's even a budget in place for the three-year "Namami Ganga" project, which Modi announced last year: in February, the prime minister even sold a special suit he had made for himself, for about $700,000, to finance the river cleanup.

One aspect Israel can't help solve is the growing population, and growing need for fresh water. During the dry season, the water supply to the Ganges has been diminishing because water feeding the river is being used upstream for irrigation and other purposes. Nor can Israel stop the 29 cities through which the Ganges flows from using the river to do laundry and dump waste.

But the bigger problem may be more treatable: the vast amounts of industrial contaminants being poured untreated into the sacred waters. Chromium levels, to name but one toxin in the water, are about 70 times the recommended maximum level. And that's just one poison in the Ganges water that can fatally compromise the immune system. Israeli companies have a host of technologies to treat water contamination, as well as innovations to offer in the area of water management and distribution services.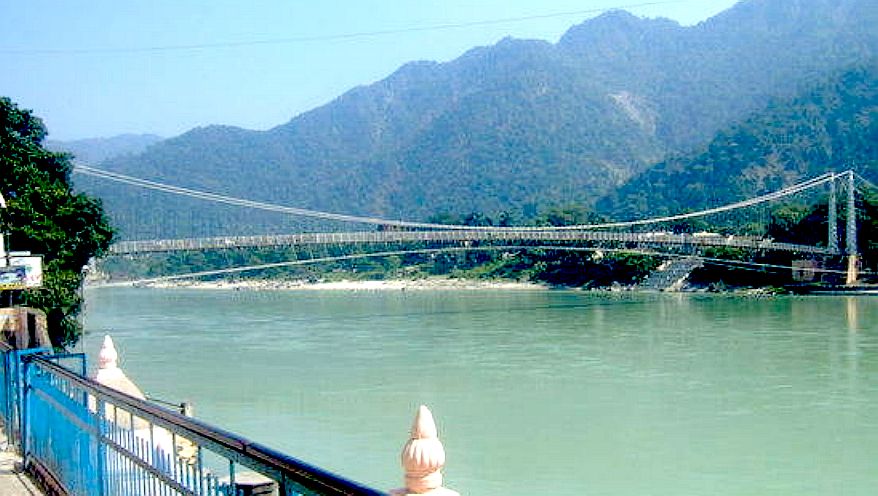 DELHI - A suspension bridge spanning the Ganges at one of the most popular tourist destinations in India.
The Ganges is also home to an extremely rare animal – the Ganges River dolphin, which is now extinct in the rest of its range. Just over a thousand of the giant freshwater dolphins are believed to remain, for all the Indian government declaring it "National Aquatic Animal" in 2009. Wildlife experts believe its imminent extinction is less because of the dangers of the water and more because their movement up and down the river has been frustrated by dams.

Nor has the sludge, or the warnings by health authorities that the water contains dangerous germs, deterred the Hindu faithful from immersing themselves in the river, which they revere as a goddess. The Ganges water serves in numerous rituals, and then once a year, in May or June, Hindus mark the "avatarana" - the descent of the sacred Ganges from heaven to earth (though its physical origin is the Himalayas). Immersion in the river is supposed to rid the worshipper of sin, though it may also gain him anything from dysentery to cholera en route.

India has long been aware of the need to clean up its befouled beloved river, but previous projects have come to nothing, which the Indian press has generally ascribed to a combination of corruption and incompetence.

"Apparently the worst source of pollution ruining the Ganges is industrial," Oded Distel, the director of the investment Promotion Center and Israel New Tech at the Economy Ministry, told Haaretz today.

Make no mistake, there are no quick and easy fixes possible here, Distel elaborates. The first stage will be for India to stop its industries from pouring their toxic horrors into the sacred river. Then one can think about cleaning it.

"The technology exists. Now we have to see that all the other components are in place," says Distel, who is scheduled to visit India in August to discuss concrete elements – including who would be supervising the gargantuan project, and who would be covering the cost.

"From our perspective, we have the industry, and companies that know how to clean these things up," he sums up.

Possibly the sheer urgency created by the pressures of climate change - record heat waves have killed thousands of people in the region this year - coupled with Modi's determination and Israeli technology, will make the difference this time.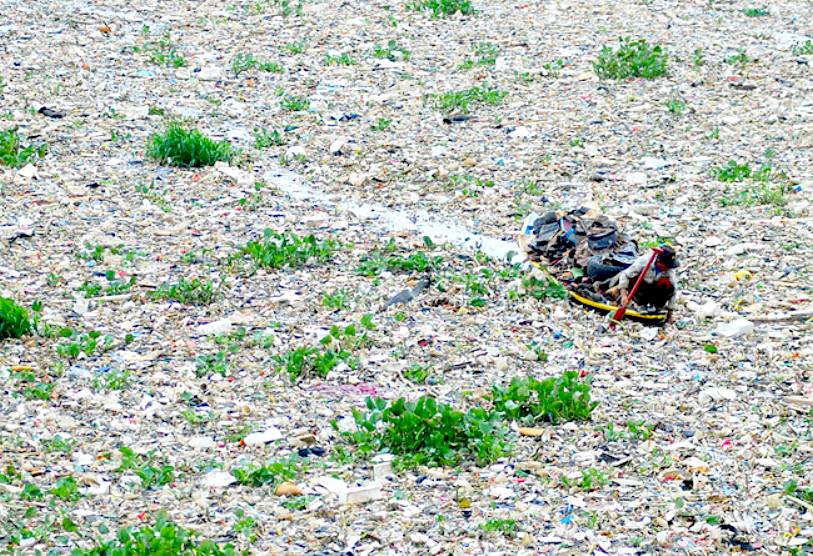 MOTHER GANGA - According to Dr Vishwambhar Nath Mishra, who also runs the Sankat Mochan Foundation which campaigns to clean the Ganges, scientists in the foundation's laboratories have found the river has a faecal coliform count of more than 1.5 million per 100ml of water. Water regarded as safe for bathing should not contain more than 500 faecal coliform per 100ml, so bathing in the Ganges is only for the strong-hearted or those with blind faith.

The foundation's slogan is that "Not a drop of sewage should go into the Ganges" – although this has yet to be achieved. "I know it's dirty but I begin my morning prayers every day with a dip in the river,'' Mishra is quoted as saying. '' It doesn't affect my faith."

The country's new prime minister, Narendra Modi, is one such Hindu and he is now the latest big hope for those who wish to clean up the Ganges. Known by his admirers as a man of action who can turn ideas into reality, he stood for election in Varanasi in the recent general election and won a thumping majority.

In a speech to thank voters on the banks of the Ganges on May 17, amid Hindu chants, Modi pledged to clean the country's holiest river, referring to it, as do millions of Hindus, as his "Ma Ganga" or Mother Ganges. Modi has allocated 20.4 billion rupees ($340 million) for the clean-up and says he will succeed where all previous governments have failed. "If Modi can't clean up the river, no one can.
THE (GENERALLY ACCEPTED) TWELVE MOST POLLUTED RIVERS IN THE WORLD
Let us not forget that in the fight against ocean pollution, it is the pollution from rivers that is discharged into the Atlantic Ocean, Indian Ocean and Pacific Oceans that is potentially the most harmful is left unchecked. Hence, the most wanted list of river authorities who need to think hard on cleaning up their act as the starting point for cleaner oceans:
1. Citarum River, Indonesia - The Citarum River is known as the most polluted river in the world and is located in West Java, Indonesia.
2. Ganges River, India - The Ganges River is considered the most sacred river in India by the Hindus. It is the third largest river in the world and it is believed that its water can cleanse the sins of people.
3. Mantanza-Riachuelo River, Argentina - The river is located in the Buenos Aires Province of central-eastern Argentina and is more than 60 kms long. The river is also known as Slaughterhouse River.
4. Buriganga River, Bangladesh - Buriganga is also known as the Old Ganges in Bangladesh. Bangladesh is one of the most densely populated countries around the world and is right now suffering from every kind of pollution that exists.
5. Yamuna River, India - The river is crystal clear and blue near its source in the Himalayas but as the river flows down the water becomes extremely polluted with sewage, industrial garbage, agricultural run- off etc.
6. Jordan River, Israel - The Jordan River originates from the Anti-Lebanon and Mount Hermon mountain ranges covers a distance of 223 km. The river has severely deteriorated especially the lower reaches of Jordan are full of untreated sewage and contaminated water flowing from agricultural lands.
7. Yellow River, China - The Yellow River of China is drying up fast due to expansion of factories, cities, agricultural farms etc. and whatever water is left is contaminated badly. The water is so toxic that it is not fit for agriculture.
8. Marilao River, Philippines - The Marilao River flows through the Bulacan Province Philippines and empties in Manila Bay. The main sources for polluting this river are tanneries, textile factories, piggeries, gold refineries and municipal dumps.
9. Sarno River, Italy - The Sarno River is one of the most polluted rivers in Europe. It flows in southern Italy near Pompeii and Naples. In recent years many cases of liver cancer have been reported which shows the level of degradation of the river.
10. Mississippi River, USA - The Mississippi River in USA is also known as the 'Big Muddy' as the water of this river is usually brown because of pollution. Crude oil spills reported in the river which has made the water toxic and is poisonous to the marine life. The river is a sewer for farmers and industrialists making it one of the most polluted rivers in the world.
11. Cuyahoga River, USA - The Cuyahoga River flows through Cleveland, Ohio and is known for having caught fire many times. The river is completely choked with oil, sludge, sewage and debris.
12. Pasig River, Philippines - The Pasig river is a 27 km long river in Philippines which passes from west of Laguna de Bay and moves downstream to east of Manila Bay. This river is termed biologically dead.


Spiritual life in Varanasi (also called Benares) is a passion. Hindus all over India save their money for the chance to visit this holy city and bathe in Ganga's purifying waters. At sunrise, along the string of bathing steps called "ghats," you'll see hundreds of people of all shapes and sizes soaping up in the water, praying, laughing and chatting, or just bobbing along. At the so-called "burning ghats," open-air cremations take place twenty-four hours a day in quiet ceremonies attended by family and curious onlookers. But this evening, my family and another, visiting from Maharashtra, are on our way to watch the Ganga Aarti, a Hindu ceremony of music and prayer devoted to Mother Ganga. The ceremony is ancient. But it takes on new power when you consider that today the Ganges is all but an environmental disaster—a septic river, riddled with industrial poisons and now threatened by climate change. If Mother Ganga were human, she would be in the I.C.U.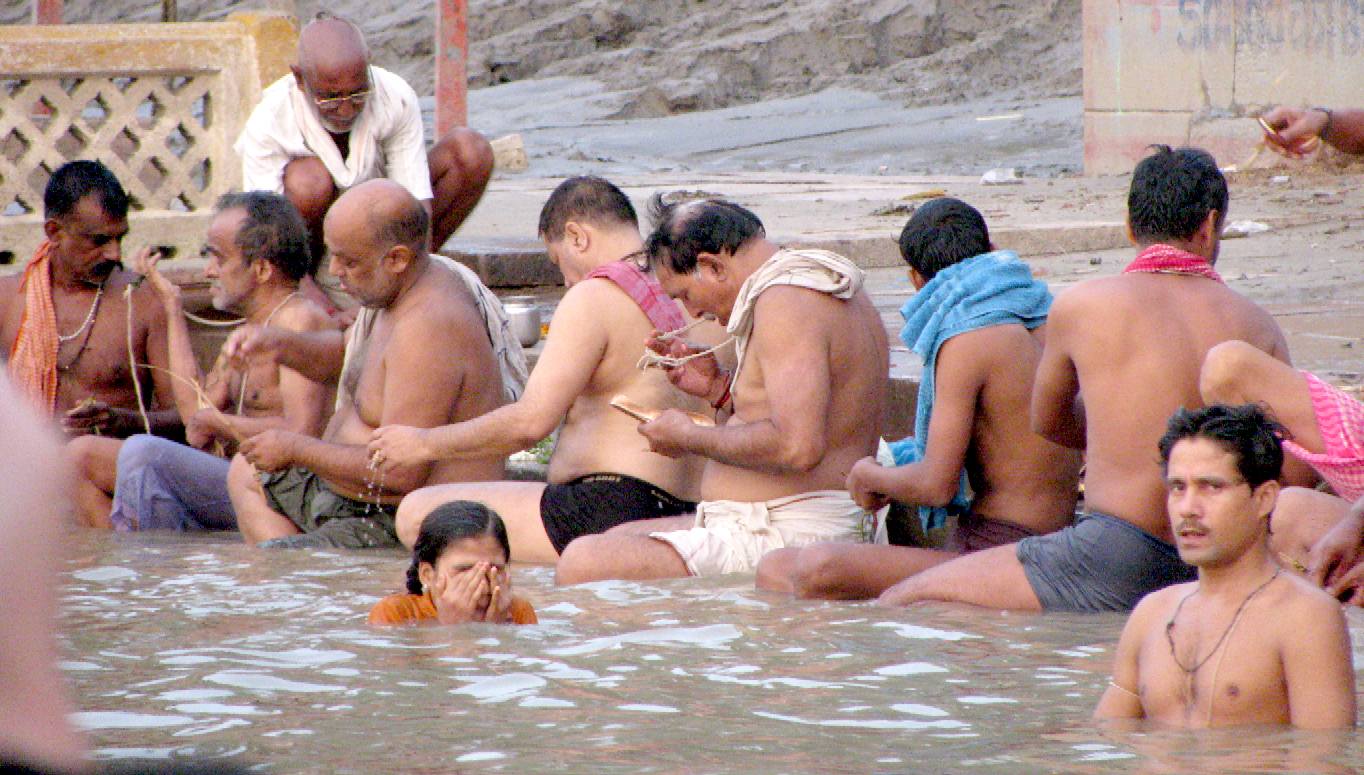 BATHING CEREMONY - At the aarti ceremony, the clouds of smoke have transformed into small balls of fire and (my boat mate tells me) the singers are now praising Shiva, the Destroyer. I dip my hand into the water. It really is pleasant—warm and soft with a light slippery feel. I ask the boatman whether he thinks the water is clean. Yes, yes, he insists. It's brown, like chai tea, but that is the mud. And after the monsoon the silt settles down. In fact, he insists, the mud actually neutralizes the river's harmful impurities. He reminds me of the human ashes, the expired livestock, the anchored bodies of lost children. "Smell," he says, "just smell." He draws a deep breath. "You see? No smell is there. That is Mother Ganga." QUOTE: Robert Verchick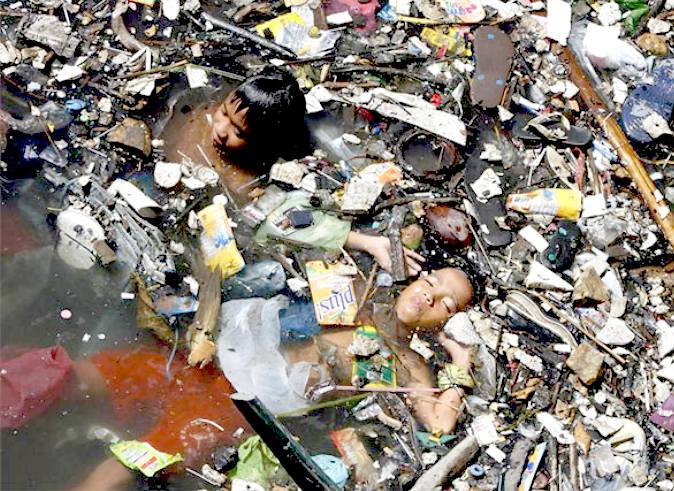 FUNERAL COSTS - A full Hindu funeral costs up to 7,000 Rupees (around $110), Agarwal said. Sometimes, poor people cremate their dead with limited firewood as a ritual and float the partly-burnt bodies into the river. In early 2015 80 bodies in various stages of decomposition were found when the river dried up at one location.
CENTRAL POLLUTION CONTROL BOARD (CPCB) OF INDIA

CPCB in collaboration with concerned SPCBs/PCCs established a nationwide network of water quality monitoring comprising 2500 stations in 28 States and 6 Union Territories. The monitoring is done on monthly or quarterly basis in surface waters and on half yearly basis in case of ground water. The monitoring network covers 445 Rivers, 154 Lakes, 12 Tanks, 78 Ponds, 41 Creeks/Seawater, 25 Canals, 45 Drains, 10 Water Treatment Plant (Raw Water) and 807 Wells. Among the 2500 stations, 1275 are on rivers, 190 on lakes, 45 on drains, 41 on canals, 12 on tanks, 41 on creeks/seawater, 79 on ponds, 10 Water Treatment Plant (Raw Water) and 807 are groundwater stations.

Presently the inland water quality-monitoring network is operated under a three-tier programme i.e. Global Environment Monitoring System (GEMS), Monitoring of Indian National Aquatic Resources System (MINARS) and Yamuna Action Plan (YAP). Water samples are being analysed for 28 parameters consisting of 9 core parameters, 19 other physico-chemical and bacteriological parameters apart from the field observations. Besides this, 9 trace metals and 15 pesticides are also analysed in selected samples. Biomonitoring is also carried out on specific locations. In view of limited resources, limited numbers of organic pollution related parameters are monitored i.e. micro pollutants (Toxic Metals & POPs) are analysed once in a year to assess the water quality. The water quality data are reported in Water Quality Status Year Book.

Water Quality Trend - The water quality monitoring results obtained during 1995 to 2011 indicate that the organic and bacterial contamination are continued to be critical in water bodies. This is mainly due to discharge of domestic wastewater mostly in untreated form from the urban centres of the country. The municipal corporations at large are not able to treat increasing the load of municipal sewage flowing into water bodies without treatment.

Secondly the receiving water bodies also do not have adequate water for dilution. Therefore, the oxygen demand and bacterial pollution is increasing day by day. This is mainly responsible for water borne diseases.

The water quality monitoring results were analysed with respect to indicator of oxygen consuming substances (Bio-chemical demand) and indicator of pathogenic bacteria (total colliform and faecal colliform). The result of such analysis shows that there is gradual degradation in water quality. The number of observations having BOD and coliform density has increased during 1995 to 2011.
LONDON'S RIVER THAMES - BY CONTRAST
In the UK the Thames river that flows through London was once so polluted that when a pleasure boat capsized, not one passenger made it to shore alive - they were all poisoned, like the fish. Fish are once again swimming in the Thames because of waste water treatment but it is still dangerous for humans to swim in the water for any great length. There are 43,500 miles of sewers, 350 sewage treatment works that treat 2.8 million litres of sewage a day, 2,530 pumping stations and 1.2 million manholes in London - and still there is a solid waste problem according to a report in 2014. Compared to the Ganges where around One Billion litres of raw sewage are poured into the great river, the London problem is a drop in the ocean. Just a thought but if the Ganges is a Holy River, should it not be a sin to dump waste into it.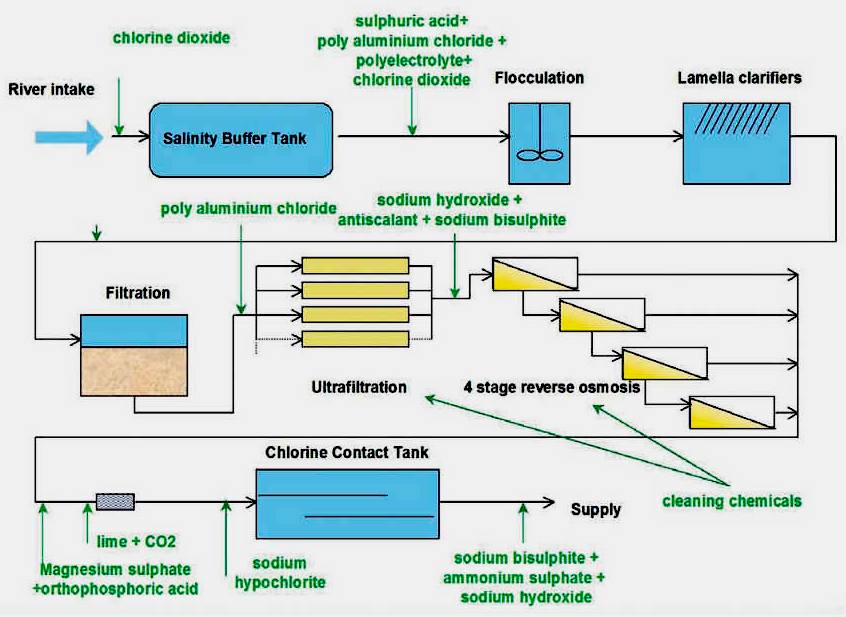 TOO COMPLEX - The above system as deployed in the Thames is far too complex and costly a solution for many of the larger rivers around the world. The Port of London River Authority operated two Dutch built diesel powered river skimmers at a cost of £4 million each, but that failed to tackle the riverbed issues.

UNDER DEVELOPMENT - Presently under development, the SeaVax concept potentially offers a solution to ocean pollution, that may be adapted to river cleaning. Strangely, the seemingly daunting task of scooping up plastic from five vast swirling bodies of water, may not be as difficult as cleaning up the Ganges or Citarum rivers. It's all down to volume.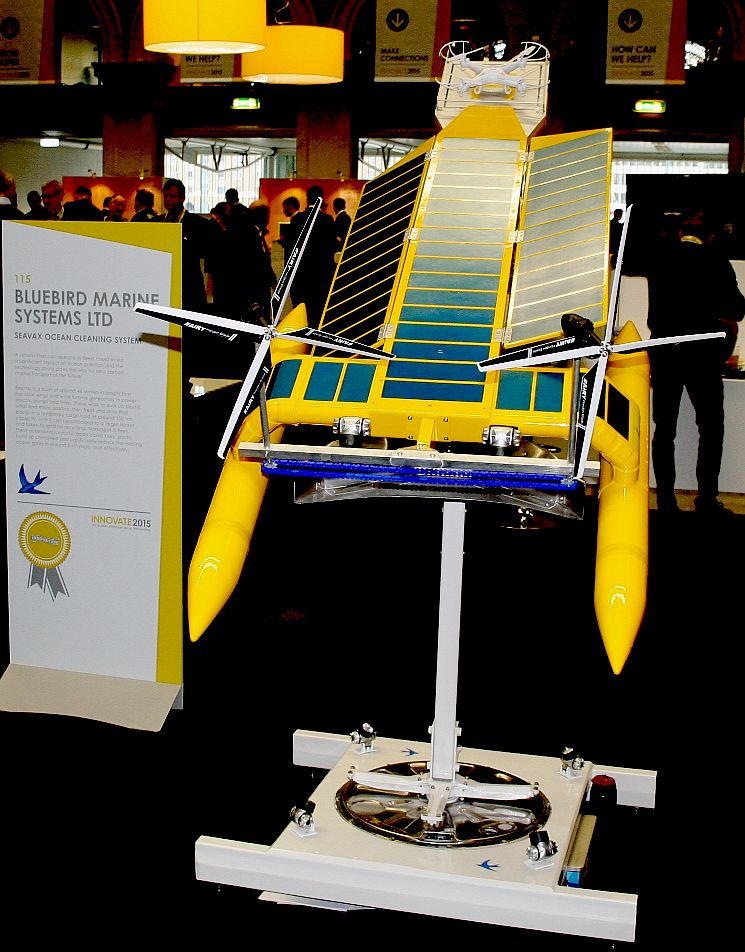 REVOLVING SHOW STAND - This is a picture of the display on November 10th 2015 at the Innovate 2015 event. You can see a video of this revolving on our Homepage. The solar wings and wind turbines are fitted and a UAV drone is seen on the helipad at the rear end of the boat - that is useful for advance aerial surveys of a river.
PROPOSED SEAVAX RIVER POLLUTION (PART) SOLUTION
The only significant advantage to using SeaVax as a platform to develop a river cleaning solution, is that the vessel is potentially powered by over 80kW of energy harvested from nature. This is important, because if the craft can be converted to clean effluent and metals from river water (not on the agenda at the moment, but we are willing to undertake studies if properly underpinned) whatever assistance that may provide is sustainable in energy terms, in a circular economy.
The most obvious hurdle in defining any kind of assistance to the beleaguered nations in this case is: How do you treat a billion liters of water divided into hundreds of locations. It looks as though the problem is insurmountable. But is it? There are now several projects to build waste treatment plants at specific locations on land.
Using only solar and wind harvested energy, this is sufficient to treat 89.9 million liters or waste water per vessel + surface skimming of solids. That is of course not significant on the Ganges scale.
1. The first thing to consider is to deploy several dozen ocean dustcarts to deal with surface litter that would otherwise find its way into the open ocean and feed the 5 main Gyres. This is not only doable but a must. In order to know where to begin, one SeaVax would survey the Ganges for necessary data to identify the areas to target soonest.
2. The second is to decide whether to deploy SeaVax oil spill boats to rivers that are known to be oil toxic.
3. The third is to undertake a feasibility study as to the possibility of modifying SeaVax units to deal with industrial waste and sewage at selected points of discharge. The issue here is likely to be volume where sedimentation tanks would need to be voluminous and SeaVax is a mobile solution. If deployed at known discharge points, that may negate the volume issue to some extent.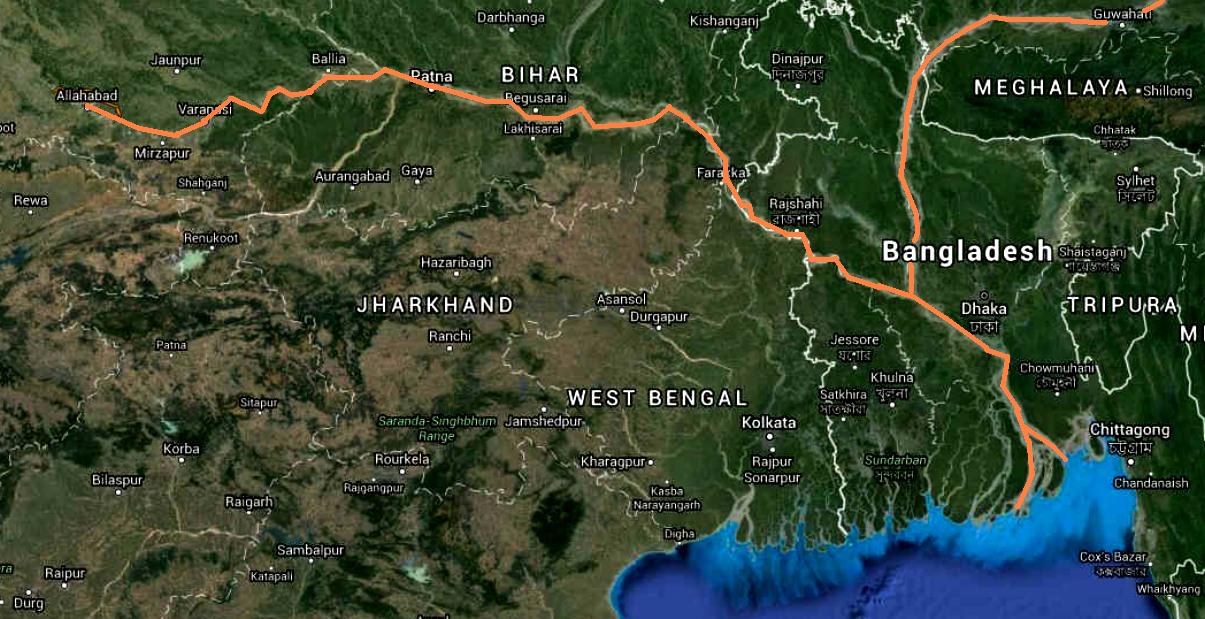 NAVIGABLE WATERWAYS - The map above is a crude indication of the most navigable parts of the rivers feeding into the Bay of Bengal. As part of a clean up project SeaVax would survey the sections of river most in need of treatment, such survey to detect physical and chemical issues specifically to be able to develop and identify a strategy most likely to succeed with the limited funds available. River navigation for our purposes would more than likely require higher quality maps than are currently available.
The River Ganga basin lies between East longitudes 73°30 and 89° 0 and North latitudes of 22°30 and 31°30, covering an area of 1,086,000 sq km, extending over India, Nepal and Bangladesh. It has a catchment area of 8,61,404 sq. km in India, constituting 26% of the country's land mass and supporting about 43% of population (448.3 million as per 2001 census). particularly in the stretch between Kannauj and Allahbad, according to figures from GAP in 1985
The other less savoury aspect of river cleaning is dealing with corpses. This is an issue common to the Ganges and a low cost funeral arrangement for poor families. Who is responsible for that and what would you do with those recovered. We'd rather not think about it. Perhaps this is a job for the religious bodies that do little to dissuade present attitudes - and we (BMS) should concentrate on the first three issues, where we might do some good.
VARANASI - Some of the most polluted water is upstream of Varanasi from Kannauj east. The sacred river Ganga is the largest river, extending over the states of Uttarakhand, Uttar Pradesh, Haryana, Himachal Pradesh, Delhi, Bihar, Jharkhand, Rajasthan, Madhya Pradesh, Chhattisgarh and West Bengal. The Ganga basin is densely populated with 37 per cent of India's population living in the region. Millions of Indians depend on this great river for physical and spiritual sustenance. People have immense faith in the powers of healing and regeneration of the Ganga. The River plays a vital role in religious ceremonies and rituals and to bathe in Ganga is a lifelong ambition of many who congregate in large numbers for festivals such as Kumbh Mela and numerous Snan (bath) festivals. About 47 per cent of the total irrigated area in India is located in the Ganga basin alone.
We would though suggest that the state might initiate an educational program based on something highly visible, such as a suitably renamed SeaVax that carries a message on a hull that is also colour coordinated. Where these vessels will be patrolling the river frequently, there will then be a constant reminder that spreading the ashes of a loved one is consistent with the faith, but that the dumping of a partly burned corpse is not - therefore is unholy and a blight on Mother Ganga. Cleanliness is after all - next to godliness. We mean no disrespect to the faith or the faithful. Keep the faith.
EARLIER INITIATIVES - GAP
In 1965 the galloping population figures and exponential growth of industrialization and urbanisation exposed the water- ways, of the country to shocking levels of degradation.

Realising that the rivers of the country were in a serious condition of turning into open sewers if something was not done immediately, a beginning towards their restoration was made with the launching of the Ganga Action Plan (GAP) in 1985.
The main objective of GAP was to reduce pollution and thereby improve the water quality in the river. The programme included 261 schemes spread over 25 Class I towns of U.P., Bihar and West Bengal. The main focus of the Plan was to control, divert and treat sewage generated from these identified towns. 34 Sewage Treatment Plants (STPs) with a treatment capacity of 869 mld were set up under the Plan. GAP I was completed in March 2000 at a massive cost of Rs. 452 crores.

GAP II

GAP II began in 1993 which covered 59 towns located along the river in the five states of Uttarakhand, U.P, Jharkhand, Bihar and West Bengal. 319 schemes were initiated under the Plan and 200 completed. This absorbed Rs. 370.40 crore, for which a sewage treatment capacity of 130 mld was initiated.

GAP II was expanded in 1996 into the National River Conservation Plan (NRCP), which presently covers polluted stretches of 36 rivers in 20 States in the country.

The Ganga river water quality was evaluated by GAP on the basis of pollution indicators (DO [Dissolved Oxygen], BOD [Bio-chemical Oxygen Demand] and coliform) It was found that dissolved oxygen levels had improved in the main stem of Ganga. The values they found by testing were mostly above the recommended value of 5.0 mg/l, except in the stretch between Kannauj and Kanpur where values below 5.0 mg /l have been noticed on several occasions.

BOD values are also within stipulated limits in the upper and lower reaches of the Ganga but tend to be higher than 5.0 mg /l in the middle stretch from Kannauj to Varanasi. This is critical stretch of river.

GAP did not clean up the river, but slowed further deterioration of water quality, generally maintaining it with improvement in some places, so matched the pollution load draining into the river from a substantial increase in population growth, rapid industrialization and urbanization.
All the industries accounted for only 25 per cent of the total pollution (in some areas, such as Calcutta and Kanpur, the industrial waste was very toxic and hard to treat). 154 grossly polluting industrial units were identified on the main stem of River Ganga. Of these, 94 units had Effluent Treatment Plants (ETPs) operating satisfactorily, 22 had ETPs but they do not operate satisfactorily and 38 Units had closed down.
The total number of grossly polluting units along the river Ganga and its tributaries is 478. Of these, 335 units have ETPs operating satisfactorily, while in 64 units ETPs do not operate satisfactorily and 79 units have closed down.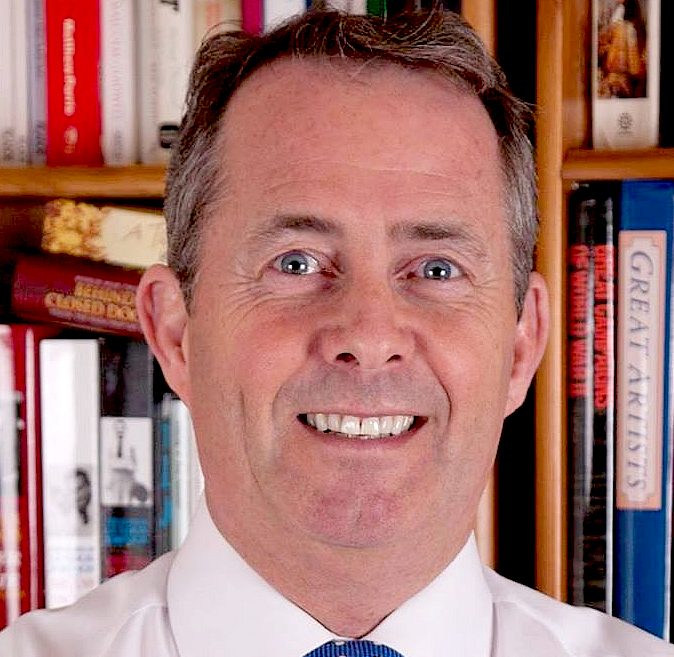 LIAM FOX - International Trade Secretary, Dr Liam Fox, is responding to requests from UK businesses and putting them at the heart of trade policy, by getting their input into international trade visits ahead of time. Liam Fox is a British politician of the Conservative Party serving as Secretary of State for International Trade and President of the Board of Trade since 2016.

From today (Tuesday 23 January, 2018) the Department for International Trade (DIT) is taking an innovative new approach by publishing a list of the countries Dr Fox and his ministers will be visiting up to April 2018.

ONS statistics show exports of UK goods and services have increased by 12.9% to £619 billion over the year to November 2017, compared to the same period a year earlier. Goods exports increased by 14.7% and services exports by 10.8%. Over the same period total imports of goods and services increased at a slower rate – 10.3% – narrowing the trade deficit by £8.6 billion.

However, DIT estimates that there are around 300,000 businesses in Britain that could be exporting - yet currently have no overseas sales.

DIT is currently working on a new 'Export Strategy' to develop a new culture of exporting in the UK as figures show that only around 9% of firms exported in 2016, but there is the potential for many more to do so. The Export Strategy review will take evidence from businesses to consider how to increase exporting activity and unlock international opportunities. It will report in spring 2018.
DIT - UK DEPARTMENT FOR INTERNATIONAL TRADE
The United Kingdom has a Department for International Trade (DIT) that helps UK-based companies trade in the global economy and conversely, they also help overseas companies introduce their investment to the UK's economy. Hence, the DIT in England help to introduce parties.

The UK DIT offers expertise and contacts through its extensive network of specialists in the UK, and in British embassies and other diplomatic offices around the world. They claim to provide companies with the tools they require to be competitive on the world stage.

In India the DIT helps companies in Britain increase potential competitiveness overseas where projects might help India to achieve their objectives, alternatively, the DIT can offer authoritative and personalised assistance to help companies in India locate and expand in the UK. It is a two way stream.
CONTACTS IN INDIA
Department International Trade Delhi
British High Commission
Shantipath
New Delhi
Chanakyapuri 110021
India

Email ditindia@fco.gov.uk

Enquiries +91 (11) 2419 2100

Department for Int Trade Ahmedabad
British Deputy High Commission Ahmedabad
Courtyard by Marriott Hotel
Ramdevnagar, Satellite
Ahmedabad
Gujarat 380015
India

Email ditindia@fco.gov.uk

Enquiries +91 79 2646 7138

Department Int Trade Bengaluru
British Deputy High Commission
Prestige Takt
23 Kasturba Road Cross
Bangalore
560001
India

Email ditindia@fco.gov.uk

Enquiries +91 (80) 22100200

Department Int Trade Chandigarh

British Deputy High Commission
178-178A, Business and Industrial Complex
Unit C516, Tower C
Phase I, Industrial Area
Chandigarh
160002
India

Email ditindia@fco.gov.uk

Enquiries +91 82 8800 9897

Department Int Trade Chennai
British Deputy High Commission
20 Anderson Road
Chennai
600 006
India

Email ditindia@fco.gov.uk

Enquiries +91 (44) 42192151

Department Int Trade Hyderabad
British Deputy High Commission
2nd Floor, Taj Deccan Hotel
Road No.1
Hyderabad
Banjara Hills 500034
India

Email ditindia@fco.gov.uk

Enquiries +91 (40) 6666 9147

Department Int Trade Kolkata
British Deputy High Commission
1A Ho Chi Minh Sarani
Kolkata
700 071
India

Email ditindia@fco.gov.uk

Enquiries +91 (33) 2288 5172-76

Department Int Trade Mumbai
British Deputy High Commission
11th floor, Naman Chambers
C/32, G Block, Bandra Kurla Complex
Mumbai
Bandra (E) 400 051
India

Email ditindia@fco.gov.uk

Enquiries +91 (22) 6650 2222
Department for International Trade Pune

British Trade Office
5th Floor, 505 B-Wing
MCCIA Trade Tower
International Convention Centre Complex
403 - A, Senapati Bapat Road
Pune
411 016
India

Email ditindia@fco.gov.uk

Enquiries +91 (20) 2563 1580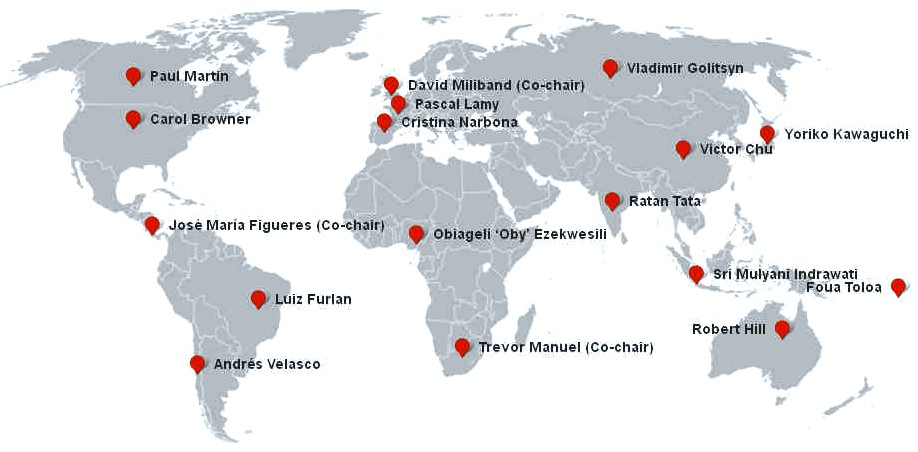 THE GLOBAL OCEAN COMMISSIONERS - Your representative for the GOC is shown on this map of the world showing the location of the Commissioners. Sir Ratan Tata is the most appropriate contact for the Bay of Bengal and the River Ganges. Be aware that the GOC is likely to be wound down in 2016, having recommended doing not that much really in terms of plastic. What then was the purpose of funding you might ask? It is surely irresponsible to know of a problem and not suggest ways to prevent the problem worsening.
ACIDIFICATION - ADRIATIC - ARCTIC - ATLANTIC - BALTIC - BAY BENGAL - BERING - CARIBBEAN - CORAL - EAST CHINA
ENGLISH CH - GOC - GUANABARA - GULF GUINEA - GULF MEXICO - INDIAN - IOC - IRC - MEDITERRANEAN - NORTH SEA - PACIFIC - PERSIAN GULF - SEA JAPAN
STH CHINA - PLASTIC - PLANKTON - PLASTIC OCEANS - SEA LEVEL RISE - SOUTHERN - UNCLOS - UNEP - WOC - WWF

AMAZON - BURIGANGA - CITARUM - CONGO - CUYAHOGA - GANGES - IRTYSH - JORDAN - LENA - MANTANZA-RIACHUELO
MARILAO - MEKONG - MISSISSIPPI - NIGER - NILE - PARANA - PASIG - SARNO - THAMES - YANGTZE - YAMUNA - YELLOW

LINKS & REFERENCE
Wikipedia Indian_Oil_Corporation
IB Times India million litres untreated sewage polluting holy river ganga says report
Inspired Economist 2015/01/14 India uses zero liquid discharge technology for Ganges river
Haaretz Israel Ganga pollution news science
Central Pollution Control Board of India
listaka top 12 most polluted rivers in the world
Hubpages politics what are the 10 Most Polluted Rivers in the World
Listdose top 10 polluted rivers world
Austro Indonesian Arts Program blog most polluted river in the world Citarum
The Guardian environment 2014 January 2 plastic waste river Thames marine life report
DN India report Prime Minister Narendra Modi calls for swift action to stop pollution of river ganga
NDTV India news Germany keen to advise assist for Ganga river clean up
Project Smile India Wordpress 2010 July effects of water pollution solutions
https://www.gov.uk/world/organisations/department-for-international-trade-india
https://projectsmileindia.wordpress.com/2010/07/01/effects-of-water-pollution-solutions/
http://www.ndtv.com/india-news/germany-keen-to-advise-assist-india-for-ganga-river-clean-up-608470
http://www.dnaindia.com/india/report-prime-minister-narendra-modi-calls-for-swift-action-to-stop-pollution-of-river-ganga-2050200
https://twitter.com/ILFSAcademy
https://www.facebook.com/ILFSAcademy?ref=aymt_homepage_panel
http://www.theguardian.com/environment/2014/jan/02/plastic-waste-thames-marine-life-report
http://www.austroindonesianartsprogram.org/blog/most-polluted-river-world-citarum-river-indonesia
http://hubpages.com/politics/What-Are-the-10-Most-Polluted-Rivers-in-the-World
http://listdose.com/top-10-polluted-rivers-world/
http://listaka.com/top-12-most-polluted-rivers-in-the-world/
http://www.cpcb.nic.in/water.php
http://www.haaretz.com/israel-news/science/1.666846
http://inspiredeconomist.com/2015/01/14/india-uses-zld-ganges-river/
http://www.ibtimes.co.uk/india-million-litres-untreated-sewage-polluting-holy-river-ganga-says-report-1491715
http://asia.nikkei.com/Politics-Economy/International-Relations/China-India-rivalry-grows-over-infrastructure-projects
https://en.wikipedia.org/wiki/Bay_of_Bengal