PATENT - LEFT: the crewed version of a Combat ZCC, robot warship would use SAM missiles to defend itself from air attacks, as part of a defensive or offensive naval role. SAMs would also be part of ship to ship defenses, using smaller, shorter range missiles with lower payload in terms of explosives, for example when confronting pirates. MIDDLE: the unmanned version (Scorpion HK) with no conventional helm, is shown here with twin SAM turrets port and starboard featuring Rapier missiles - also repeated fore and aft. You can also see two of the forward facing cruise missiles under the solar decks. RIGHT: Diagram for a 1/20th scale development model where the SAMs are longer range missiles with significant destructive capability. While the super powers continue to waste huge sums on conventional warships, drone destroyers offer a low cost and ultimately superior peacekeeping force - in the case of the above advanced designs, without polluting the planet in the process.
MORE EFFECTIVE PEACEKEEPING
Robotic naval warfare changes everything. Imagine that you are a sailor onboard a conventional warship. Let us say that it is the new most advanced aircraft carrier afloat, the Gerald Ford. You set sail and feel invincible. Economic instability, energy and food shortages lead international tensions. Then war is declared between China, India, Korea, Russia and the USA. An engagement is inevitable, but you are not worried, because you have been told that the firepower and strategy onboard the Gerald Ford is superior to anything afloat and you carry aircraft to attack other vessels.
Your commander soon realizes that a small enemy ship has just found the Gerald Ford and it is closing. The bridge become aware that another small ship has changed course toward the GF, then another. The commander orders aircraft aloft to sink the threat, but several minutes later he loses contact with all of his aircraft - they have been shot down. The GF is on high alert.
The commander is invited to surrender his ship. It is explained to him that he is facing a tactically superior force and he should not risk the lives of his crew. The invitation is from a robot ship, part of a SeaWolf™ wolf pack. The commander thinks he can take on the robots and refuses to surrender. He throws down the gauntlet, suggesting that the robot force is inadequate.
Should you argue when an unmanned warship issues an ultimatum? That all depends on understanding the threat. Most navies would not fully comprehend the threat, so, would order their commanders not to surrender. The consequences of which they would suffer only the once. It is a good case for painting ZCC warships with black and yellow banding.
Almost immediately robot logic fires a cruise missile at the GF from the south. The commander goes to battle stations to intercept the threat, all attention is on the south incoming, when another cruise missile is spotted on the radar coming from the east. The commander splits attention between south and east. SAM missiles are deployed to intercept.
The lead robot had triggered divergence of all the SeaWolf pack with a set radius the moment hostilities began. It is a deadly game of chess, which the robot is programmed to win. The pack has been closing in for hours, having shadowed for days. Another cruise missile is fired from the north. The crew find out that their attacker is not manned, removing the usual fear element from a force with lesser individual firepower - but increasing the fear of the GF's crew. The combined firepower of the robot wolf pack is far superior. The crew raise their concerns with the commander of the Gerald Ford, The commander is already thinking the same thing and desperately communicates with the Fleet Admiral, who orders all planes in the air and full retaliatory missile response - so escalating the engagement. The robot network calls in reinforcement - just in case.


Two cruise missiles are brought down when another comes from the west. All the aircraft have been engaged by SAM missiles, two have survived and cry off to save themselves. One robot ship has been destroyed when the one surviving cruise missile strikes the Gerald Ford, followed by a second a 15 seconds later. The giant aircraft carrier slowly rolls to starboard and dips bows first into the Pacific Ocean, in a re-enactment of the Lusitania death roll. The cruise missiles are aimed to strike on the water line, to minimize casualties. This increases the rate of sinking.
Three robot ships diverge on the sinking carrier, their mission now to pick up survivors. One sailor on the GF fires the deck guns at the robot warrior, a foolish gesture that gets him killed by automatic (self-defence) return fire, in the form of a SAM missile. The aggressive sailor did though damage the robot, but got several more of his crewmates killed in the bargain. The commander orders cease fire as the GF turns turtle as it enters the final dive to the ocean floor. He is more concerned to save as many of his crew as he can. His ship is lost. The three robot ships close in to render assistance, having recognized the cease-fire order. They jettison life rafts and radio for assistance. They also warn against further acts of aggression.
The news reaches mainland USA. Fortunately the death toll is not as high as imagined and pictures of the robot ships rescuing sailors are broadcast. Satellite pictures linked to radio playback show that the Gerald Ford ignored the request to surrender. There is a public outcry at the loss and failure to anticipate such an outcome ........
Surface to Air Missiles come in all shapes and sizes, depending on their application. Here we show you many land based mobile units. The largest missile is the Bloodhound, now a historic exhibit at an RAF museum.
DESCRIPTION OF A SAM
A surface-to-air missile (SAM), is a missile designed to be launched from the surfaces of the earth to destroy aircraft or other missiles in the air. It is one type of anti-aircraft system that in the modern armed forces, have all but replaced most other forms of anti-aircraft weapons, with anti-aircraft guns pushed into specialized roles.

Ship-borne systems followed the evolution of land-based models, starting with long-range weapons and steadily evolving toward smaller designs to provide a layered defence that have pushed gun-based systems into the shortest range roles. If an enemy gets that close in, it's already too late.
SAMs come in all shapes and sizes. It is important to choose a missile that suits your purpose, where weight, range and destructive abilities are the most urgent considerations. For our purposes we need a missile which weighs around 500kg, with a range of 10-20 miles. Or, a mix of SAMs to cater for air and ship to ship mopping up operations.
SAM HISTORY
The first serious attempts at SAM development took place during World War II, although no operational systems were introduced. Further development through the 1940s and 50s led to the first operational systems being introduced by most major forces during the second half of the 1950s. Smaller systems, suitable for close-range work, evolved though the 1960s and 70s, to modern systems that are man-portable.
Historically notable systems include the American Nike Ajax, the first operational guided missile SAM system, and the Soviet Union's S-75 Dvina, the most-produced SAM. Widely used modern examples include the Patriot and S-300 wide-area systems, SA-N-6 Grumble and SM3 naval missiles, and short-range man-portable systems like the Stinger and Strela-3.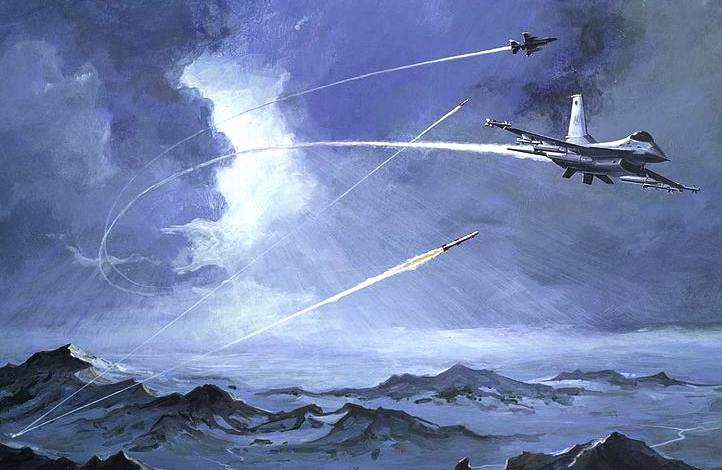 THE UPGRADE COST
| | | | |
| --- | --- | --- | --- |
| ZONE | DESCRIPTION | OPERATIONAL ZCCs | $ COST |
| . | . | . | . |
| A | Pacific Ocean | 100 @ $31m | 3100,000,000 |
| B | Indian Ocean | 20 | 620,000,000 |
| C | North Atlantic | 30 | 930,000,000 |
| D | South Atlantic | 20 | 620,000,000 |
| E | Norwegian, Barents & Kara Seas | 12 | 372,000,000 |
| F | Mediterranean Sea | 6 | 186,000,000 |
| G | East Siberian & Beaufort Seas | 10 | 310,000,000 |
| H | Sea of Japan & East China Sea | 4 | 124,000,000 |
| I | Arabian Sea | 10 | 310,000,000 |
| J | Bay of Bengal | 4 | 124,000,000 |
| K | Caribbean Sea & Gulf of Mexico | 6 | 186,000,000 |
| . | . | . | . |
| ALL | SAM missiles | 1,776 | . |
| . | . | . | . |
| . | TOTAL ZCCs | 222 | $ . |
| . | . | . | . |
| . | TOTAL ZCCs + SAMs | . | $ . |
| . | . | . | . |
| . | . | . | . |
DEPLOYMENT ZONES - Wolverine ZCC operations as a basic deployment to give a robotic navy the ability to sink every nuclear submarine and every aircraft carrier that is afloat on the oceans today + 4 x cruise missiles per vessel. Total projected cost for such capability is under $12 billion US dollars.
BUK SAM SHOOTS DOWN PASSENGER PLANE - 17 JULY 2014 - FLIGHT MH17, MALAYSIAN AIRLINES

With deadly precision, a Soviet-built BUK missile launcher brought down Malaysian Airlines flight MH17 carrying 295 passengers.
The surface-to-air missile hit the Boeing 777 with such force that residents in the area claim to have seen bodies falling from the sky 'like rags'.
While it has not been confirmed who is responsible, details are now emerging of exactly how this lethal weapon was able to hunt down and destroy the passenger aircraft.
Capable of carrying 154lbs (70kg) of highly-explosive warheads, BUK can send missiles up to an altitude of 75,000ft (23,000 m). It takes five minutes to warm up, 12 minutes to reload and 8-12 seconds to reach its target if fired. Once a target is reached, it has a kill probability of 90 to 95 per cent (success rate).
Malaysian flights MH17 was believed to have been taken down by a missile known as the Mach 3 semi-active homing 9M28M1. It was thought to have been launched from one of the BUK family of missile launchers.

The surface-to-air missile has a range of 1.8 to 12.4 miles (three to 20km) depending on specification, and can hit targets up to an altitude of 75,000ft (23,000 meters). A typical missile battery to launch the the missile consists of a command vehicle housing computers and displays, a target-acquisition radar and one or more self-propelled launchers each carrying up to four missiles.
Depending on the model the missile would then accelerate to at least 2,790ft (850 metres) per second to up to 4,035ft (1,230 metres) per second. This means it would have reached MH17, 33,000ft (10,000 metres) high, eight to 12 seconds after being fired.

It detonates within 65ft (20 metres) of its target, which causes critical damage to the engines and control system of the aircraft. The missile acquires its target using radar in a 'seeker' in its tip. It tracks its target autonomously after being fired.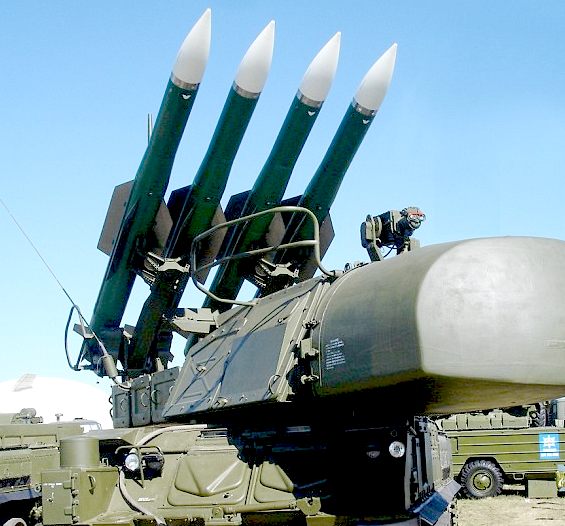 ABOUT THE BUK SURFACE TO AIR MISSILE SYSTEM

What is this missile launcher?

The BUK surface-to-air missile system believed to have shot down Malaysian Airlines flight MH17 is an old Soviet-built weapon designed to engage aircraft, cruise missiles and drones that is still widely used in eastern European states, including the Ukraine.

How did it have destroy MH17?

BUK missile systems have large self-propelled launchers that use radar to engage aircraft or missiles up to an altitude of 75,000ft (23,000 metres). They are capable of taking down aircraft the size of a Boeing 777 flying at a cruising altitude of 33,000ft (10,000 metres), with the intensity of the missile explosion likely to have blown the plane apart in the sky.
Which missile was used?

The missile that took down MH17 is believed to have been Mach 3 semi-active homing 9M28M1 medium-range missile. It carries a high-explosive warhead that weighs 70kg (150 pounds), while the missiles themselves weigh between 685 and 715kg (1,510 to 1,575lbs).

Does the missile hit its target directly?

It detonates within 65ft (20 metres) of its target, which causes critical damage to the engines and control system of the aircraft. The explosion will in turn ignite the fuel on the aircraft, causing destruction of the wing and fuselage of the plane.

How is the missile launched?

A typical missile battery to launch the missile consists of a command vehicle housing computers and displays, a target-acquisition radar, and one or more self-propelled launchers each carrying up to four missiles. A battery can simultaneously engage up to six targets flying on different bearings and at different altitudes and ranges. Once a target is selected it takes a whopping five minutes for the missile to 'warm up'. This time delay renders the system obsolete in robotic terms.

How does missile track its target?

Radar is normally used by human operators to track targets, but can be operated in target detection mode to autonomously engage targets present in the radar's field of view. The system used to determine whether a target is a friend or foe would not warn an operator that the target was an airliner - only that it was not a friend. Where autonomous warfare is inevitable, it would thus make sense to tag civilian scheduled flights, such that they can be checked against a database and eliminated from automatic targeting, save where there is aggressive behaviour, such as deviation from a flight plan.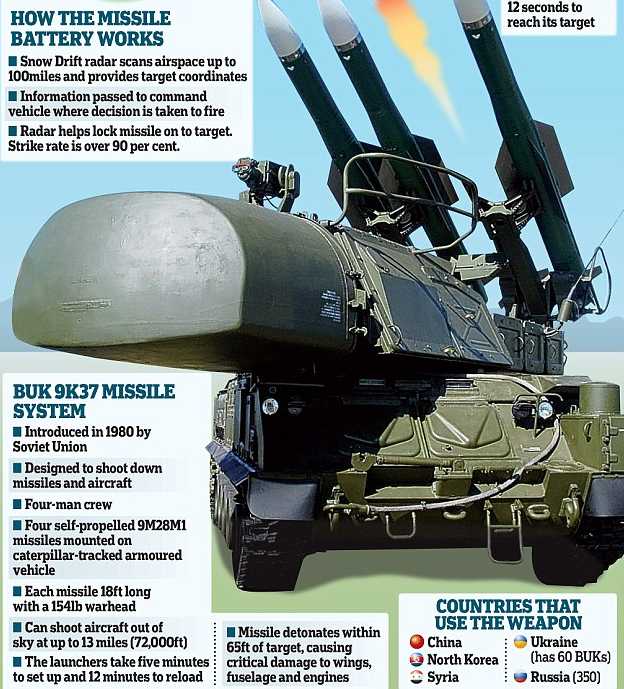 ERROR OF JUDGEMENT
Earlier in the year, pro-Russia rebels claimed responsibility for surface-to-air missile on two Ukrainian Sukhoi-25 jets. The Ukrainian Defence Ministry said the second jet was hit by a portable surface-to-air missile - not a BUK - adding that the pilot was unscathed and managed to land his plane safely.

Pro-Russian separatists have since added that they have no such weapon and only have shoulder-launched heat-seeking missiles fired from a MANPAD (man-portable air defence system). These can only reach up to 4000 metres. Separatists had though previously boasted of a BUK capture on Twitter.

The Royal United Services Institute's Justin Bronk, believed that if a BUK SA-11 system was used, he is 'almost certain' it would have been supplied by Russia.

'My personal hunch is that given the military setbacks that the separatists have suffered of late, and the Ukrainian military's increasingly confident use of airpower, Russian authorities decided to send a few SA-11 systems across into the Donetsk area,' he said. 'However, I also highly suspect that the separatists did not intend to shoot down an airliner, but probably thought they were targeting a Ukrainian transport at high altitude.'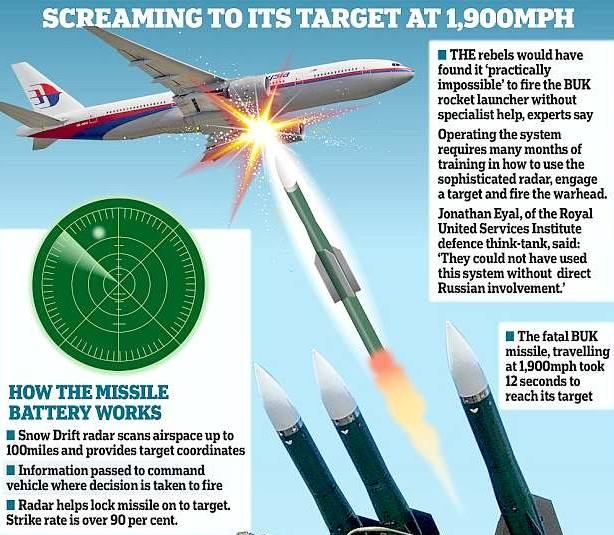 LINKS & REFERENCE
HMS Astute 1st of Class BAE Systems
List of sunken nuclear submarines
http://www.military-today.com/navy/seawolf_class.htm
http://battlepirates.wikia.com/wiki/Hulls
HMS Astute 1st of Class
HMS Vanguard- Trident
INS Sindhurakshak - explosion & sinking
Lusitania - Torpedo attack
Predator - Covert submarine hunter/killer
Seawolf - Autonomous wolf pack deployment of Predator mini-subs
U20 - Kapitan Leutnant Walther Schwieger
USS Bluefish WWI submarine
USS Bluefish - Nuclear submarine
USS Nautilus - 1st nuclear submarine & subsea north pole passage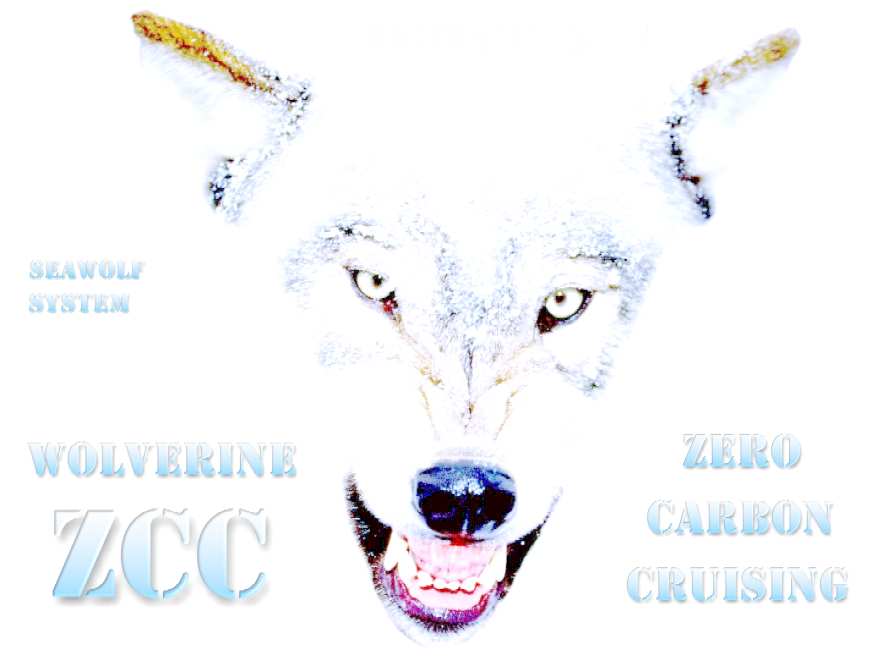 BLUEFISH DEVELOPMENT PROJECT INDEX A-Z