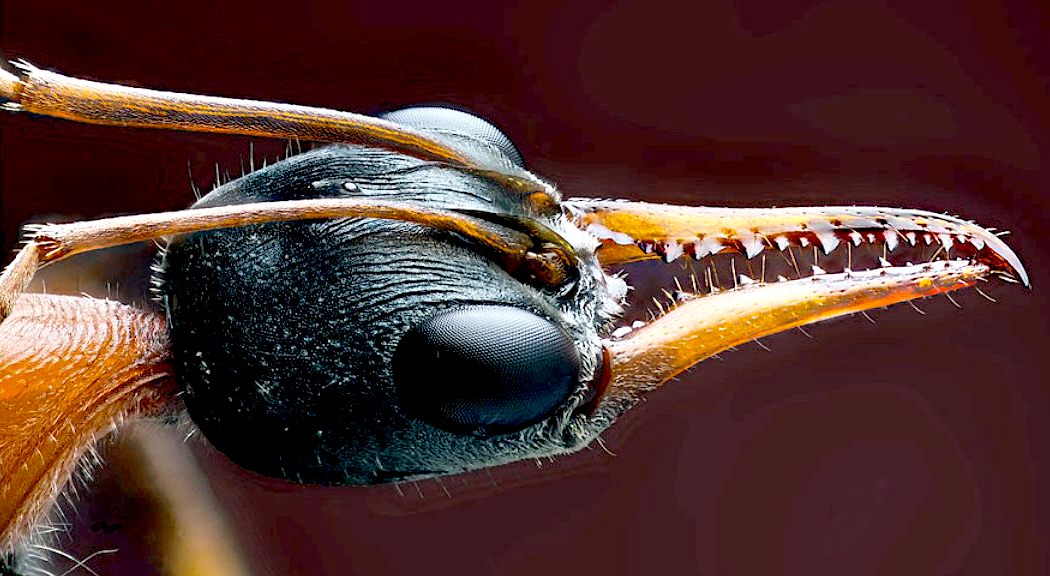 ELECTRICAL - Even biological organisms use electrical signals for control purposes
Electronics is all about fine control of electrical energy. This is to do something useful using electricity other than motive power, heat or lighting. The science of electronics deals with electrical circuits that involve active electrical components such as vacuum tubes, transistors, diodes and integrated circuits, and associated passive electrical components. Commonly, electronic devices contain circuitry consisting primarily or exclusively of active semiconductors supplemented with passive elements; such a circuit is described as an electronic circuit. We also include here electrical devices such as solenoids, and electric motors, since modern DC machines use electronic controls instead of the mechanical commutator - and batteries and motors need charging regulators and speed controllers.
BUILD A LOW COST ROBOT - You can build a tracked robot ant that can be remote controlled or operated autonomously. Using an infrared detector, it can find and pick up objects. It is controlled by a Picaxe 20x-2 microcontroller. While this is a fairly intricate robot, some of the motor techniques and circuits can be used for other simpler robots.

Electronics is though, distinct from electrical and electro-mechanical science and technology, which deal with the generation, distribution, switching, storage, and conversion of electrical energy to and from other energy forms using wires, motors, generators, batteries, switches, relays, transformers, resistors, and other passive components.

Today, most electronic devices use semiconductor components to perform electron control. The study of semiconductor devices and related technology is considered a branch of solid-state physics, whereas the design and construction of electronic circuits to solve practical problems come under electronics engineering. We are concerned with devices that we are likely to use to control our/your DinoBot.
PHOTODIODE SENSORS - Inside your domestic security light you will find these components. We will use the basic idea to make Dino the DinoBot react to guests, but passively. Using these circuits, Dino will be aware of people approaching - and be able to greet them. If the person comes close and speaks to Dino, then Dino will be able to respond audibly, and move its head, or even walk to track the person.
VERSATILE
Almost anything is possible using electronic sensors and controls ....... and then came computers and the digital age ......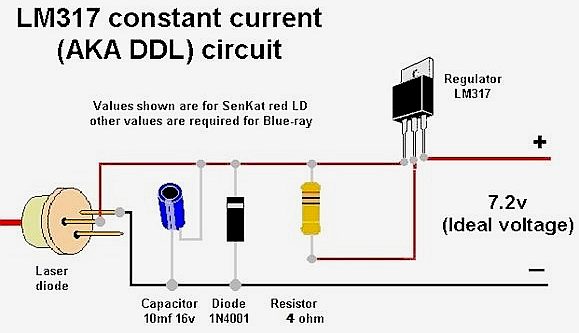 LASERS - An example of a laser driver circuit diagram without a potentiometer and a 4 ohm resistor. Lasers are now used as weapons on US Navy warships as part of their strategic development. Lasers are useful for robotic systems. In the case of a robot ant, lasers may be useful for ranging and stinging as a simulated warning mechanism.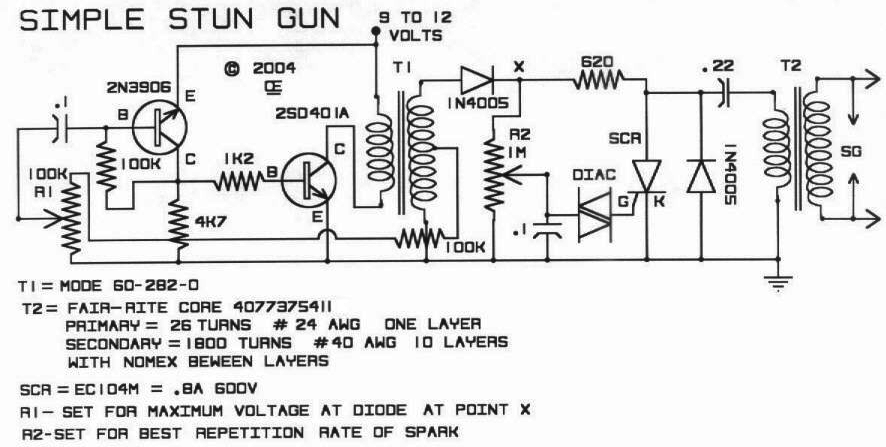 TAZERS - A 20,000 - 150,000 volt charge combines with the electrical signals from a human brain to confuse it. At its most basic, this is all there is to incapacitating a person with a stun gun - you apply electricity to a person's muscles and nerves, and since there are muscles and nerves all over the body, it usually works to deter an aggressor.
REGULATION
Regulation is an important use for electronics ......
SOLAR PANEL CHARGE REGULATORS & DC to DC CONVERTERS - The above is a selection of electronic controllers that will ensure your battery is charged correctly by your solar panels. The lower right is a DC to DC converter to boost voltage should that be needed.
PERCEPTION
Being able to interface with nature is a vital role for electronics ......
SUN TRACKING SENSORS - Seen above are a variety of low cost digital solar tracking boards, from £16 - £25 for single axis solutions - plus postage and packing. And some higher output analog circuit boards from £18 - £29. It is a simple matter to increase the amperage and/or voltage by using relays. It's also possible to use remote sensing heads that SBE sell as accessories. As you can see, all of these boards use LED photodiodes as the sensing medium.
LINKS & REFERENCE
Steatite UK Ltd/
Steatite batteries UK
RE UK Simple Analog Solar Tracker Concept
http://www.reuk.co.uk/Simple-Solar-Tracker-Concept.htm
http://www.ksb.com/giw-en/
LEFT - Movie idea, lurking beneath the Antarctic ice is a discovery that scientists will die for. This story is now the subject of a low budget trailer to be produced mostly in the UK. The promoters are looking for backers. The UK will contribute 20% toward production costs. Roughly 60% of a low budget film may be pre-sold as distribution rights, leaving 20% finance to source. The deal is that investors recover 120% on their project stake within 12 months of shooting, with an income stream thereafter from networks and merchandising. Producers and directors please take note that there is a significant audience for well made movies of this genre. Look at what happened when they remade Godzilla. RIGHT - 2015 scifi action movie from the Marvel graphic novels.
ANTICS - ARDUINO - ARMOUR - ARTWORK - BIOLOGY - BLACK BOX - COMPUTERS - ELECTRONICS - ENERGY - FRAME - HEAD - JAWS - JIMMY WATSON - KITS - LEGS - MECHANICS - MOTORS - MOVIE - PHOTOGRAPHY - RASPBERRY Pi - R/C DRONE - SENTRY - SOFTWARE - SOUND PROOFING - SPEED - SUSPENSION - TAIL - WEAPONS - WARGAMING
DINOSAURS - DOLPHINS - HUMANOIDS - RAYS - SHARKS - WHALES
ARDUINO - ARM HOLDINGS - BEAGLEBOARD - MBED - PCBS - PICAXE - RASPBERRY PI