The existence of a beach along this frontage is entirely dependant upon shingle re-nourishment and ongoing recycling operations and the presence of groynes. Were these management practices to cease it is likely the beach would be lost completely with the material moving alongshore and offshore, rather than forming a 'naturally functioning' self sustaining shoreline. These factors, and the importance and value of the range of assets within the flood risk area, mean that the only practical solution to management of this frontage is to maintain the current shoreline alignment. However, this will require increasing levels of hard defence in the long term, with narrowing and possible loss of the beach, and little or no sediment through to the Bexhill frontage. Copyright © April 1 2016, all rights reserved. You will need permission from Bluebird Marine Systems Ltd to reproduce this photograph.
For those of your with an eye for natural beauty, this must be described as a ramble to die for. Put it on your 'Bucket List.' You can do this 30 mile walk in a day (9-10 hours) in a good pair of hiking boots and with a hearty breakfast, but we've saved you all that trouble for another day.
Don't get confused - we have included some pictures away from the SE coastline, because there is beauty and alternatives all over our amazing planet. This is to provide some contrast and to see how other organisations do it. One well know life saver has already taken to beach launching. Check out the RNLI system below:
Launch and recovery: The Shannon needs a bespoke launch and recovery system. She is designed to be mostly launched and recovered from a beach, but without the right launching equipment, this is impossible. The RNLI worked with Supacat Ltd developing a system capable of launching and recovering the Shannon class lifeboat from the beach at all states of the tide. The total cost of the Supacat launch and recovery vehicle is £1.5M. Scarborough RNLI's Supacat will be part-funded by two separate legacies. The RNLI hopes that the appeal will raise the remaining £200,000.
RNLI media contacts: For more information, please contact Clare Hopps, RNLI Press Officer, North, on 07824 518641 or at clare_hopps@rnli.org.uk
ECONOMICS - May eventually dictate that we launch in another EU country, or outside the EU entirely, but until that is verified from our researches we are hopeful of a local launch. We are thus, surveying the south coast of England in logical stages. What is already clear from just a quick look at the subject, is that our coastline is under constant attack from the elements, meaning a large bill simply to maintain defences to protect existing commercial and residential development.
Starting with a clean sheet of paper we are relatively adaptable. The UK's Ordnance Survey mapping authority records the coastline of Great Britain (main island) as 11,073 miles (17,820 km). The CIA Factbook puts the length of the UK coastline as around 12,429 km or 7,723 miles, a difference suggestive that one may not reply on official statistics. We have taken the south (facing) coast to be from Penzance in Cornwall to Dover in Kent. This is a distance (as the crow flies) of around 528 kilometers (328 miles). Much of this is chalk cliffs in the east with (artificially reinforced) pebble beaches, giving way to granite, slates and oceanic crust in the west with sandy beaches.
This enormous geological difference in such a short coastline confirms that as a global concept any launch and recovery mechanism presents soil mechanic challenges that our engineers must overcome in order that third world customers might avail themselves of this technology.
BEACH LAUNCHING - Fortunately, beach launched craft are a common feature as you can see from dozens of Youtube videos, it is just a question of scale and economics.

BEACH LAUNCH METHODOLOGY - How do you launch a 45x17 meter boat (147.5 x 55 foot) trimaran from a sloping shoreline without any kind of special preparations to the beach? The answer is with quite a bit of forward planning in design. A wheel and bearing recovery system requires a lot less effort from any winch system. This is far more efficient than using grease on the underside of a hull or logs as rollers. The Ancient Egyptians were the first to move large objects with rollers, when they built their Pyramids.
RECOVERY - Three special bogies are designed to cradle the pontoon twin hulls and central hull. The front bogies are designed to be self aligning on approach to the shore and to float at the correct height to aid the aim of the operator, who simply snags the overhead straps. The rear bogie is submerged until the front bogies are under the front pontoons, when it comes up to cradle the central hull.
LAUNCH - Is much easier than recovery, the mobile winch vehicle simply pays out the holding cable, allowing the SeaVax to roll gently into the sea. Once launched, the SeaVax powers away from the bogies, which are then winched back to the mobile unit and packed away - until they are needed elsewhere for recovery..
MODULAR DESIGN - The prototype SeaVax is to be built to a modular design. What this means in practical terms is that the assembly of the vessel might be completed in a matter of hours from sub-assemblies and then be fitted out after launch. All that is required is a section of gently sloping beach and a suitable launch rig. We will though require a day or two either side of the allotted assembly date for our debut, to allow for rehearsal and take-down; just to be on the safe side.
One of the reasons for taking this approach is that boat building the conventional way is too expensive for our [not-for-profit] concept. A boatyard that attracts commercial rent and rates adds significantly to build costs making English boat builders less competitive on the world stage. We might avoid high costs by making the vessel in convenient sections off-site in the EU (in the case of an EU launch).
We are designing the SeaVax so that it can be manufactured under licence with very little in the way of facilities almost anywhere in the world. Today, most ships are built in South Korea or China, where economic conditions are more favorable for ship building. SeaVax is a global concept, so must take into account ocean waste in Asia, as being more of a problem than in Europe. Judging by the state of our beaches, it must be intolerable in the Philippines where they are rowing about in solid surface garbage.
Sections of the SeaVax might be delivered to any site provided that the area is serviced by a B class or other access road. Alternatively, the sections might be delivered to an assembly point by sea using coastal barges. This begs the question: if any council decided to operate a SeaVax locally for river or coastal cleaning, where might the Environment Agency (or other appropriate operator) position such a vessel when not in use? The answer appears to be that there is plenty of beach, the same beaches that they are struggling to maintain, in unsustainable fashion. The cost in diesel to run the monster dumpers, is fuel being used to fight a natural phenomenon, so exacerbating climate change.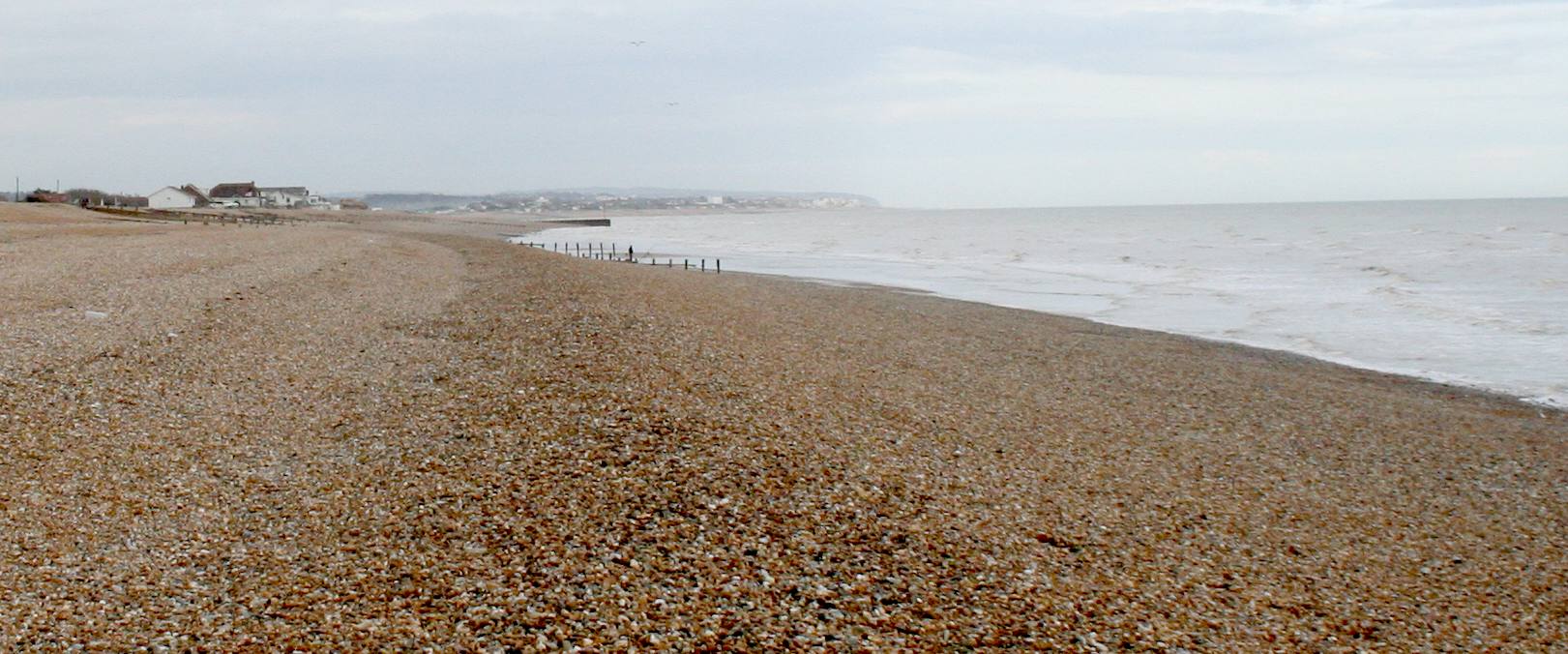 HASTINGS - This view from Norman's Bay shows the area to be relatively featureless. In the distance you can see the famous English town with the world's largest beach launched fishing fleet. Trucks from the Environment Agency routinely charge up and down this beach. The slope is ideal for launch of the SeaVax prototype. Copyright © April 1 2016, all rights reserved. You will need permission from Bluebird Marine Systems Ltd to reproduce this photograph.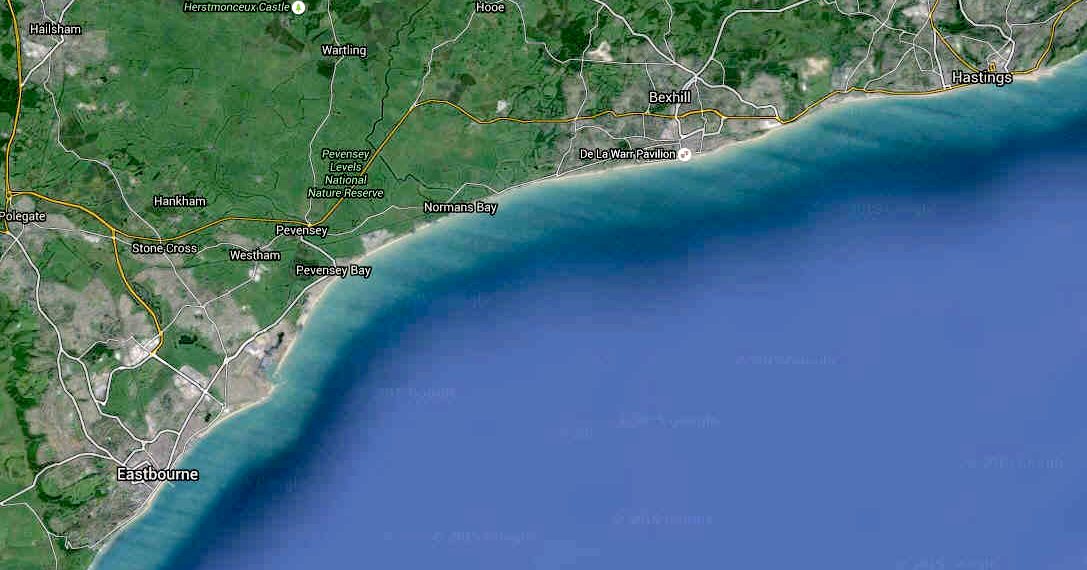 EASTBOURNE - HASTINGS - Encompassing Pevensey and Norman's Bays, this section of the coast has plots for sale, mainly for building, hence is likely to be way too expensive for a SeaVax launch. Hastings has a number of plots to launch fishing boats, but these are for commercial use and we are a research vessel.
The low lying part of Eastbourne, and Sovereign Harbour, form part of the large flood risk area of the Pevensey Levels. Regardless on that, hundreds of houses have been built, customers being apparently unconcerned as to the potential problems. The coastal frontage of this area extends through to Cooden, and is a heavily managed shingle beach. The assets at risk from inundation within this flood area include over 5,000 hectares of agricultural land, over 18,000 properties, the A259 road, a rail line, many heritage sites and areas of international importance for their freshwater habitats. The majority of the built assets are within the Eastbourne urban area; however there are a number of developments immediately backing the beach, including Pevensey Bay, Beachlands and Normans Bay. This section of coastline is the responsibility of Rother District Council - a very difficult council to get hold of. Location reference 51200, Grid reference: X: 570,453.93; Y: 105,956.42 - SMP11 (South Foreland to Beachy Head).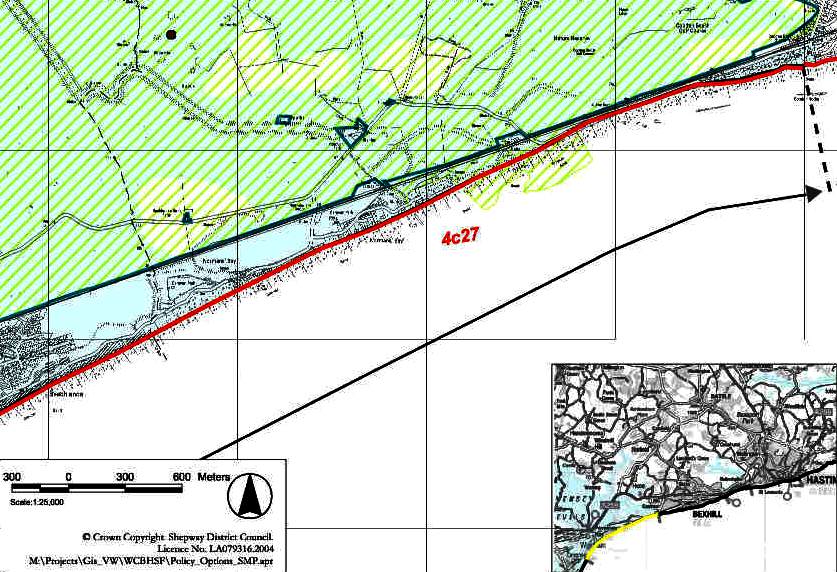 NATURE CONSERVATION - The present day policy for Hooe and Pevensey Levels is to hold the line and continue protecting the low lying hinterland and shoreline settlements by maintaining the seawall, groynes and with shingle recycling. Presently the shoreline is retreating, thus without ongoing beach recharge and maintenance of these defence structures all foreshore sediments would be lost very quickly. This situation will be exacerbated in the future; with sea level rise it will become increasingly probable that hard defences will be required to provide an adequate standard of protection in the long term.
It is somewhat confusing to simple folk that Shepway District Council prepared the above map, where clearly this is outside of their geographical remit. It is even more interesting that a nature conservation designation is drawn across a beach that is under constant repair, apparently extending into the sea, where there is nothing special to protect. We are keen to find out more.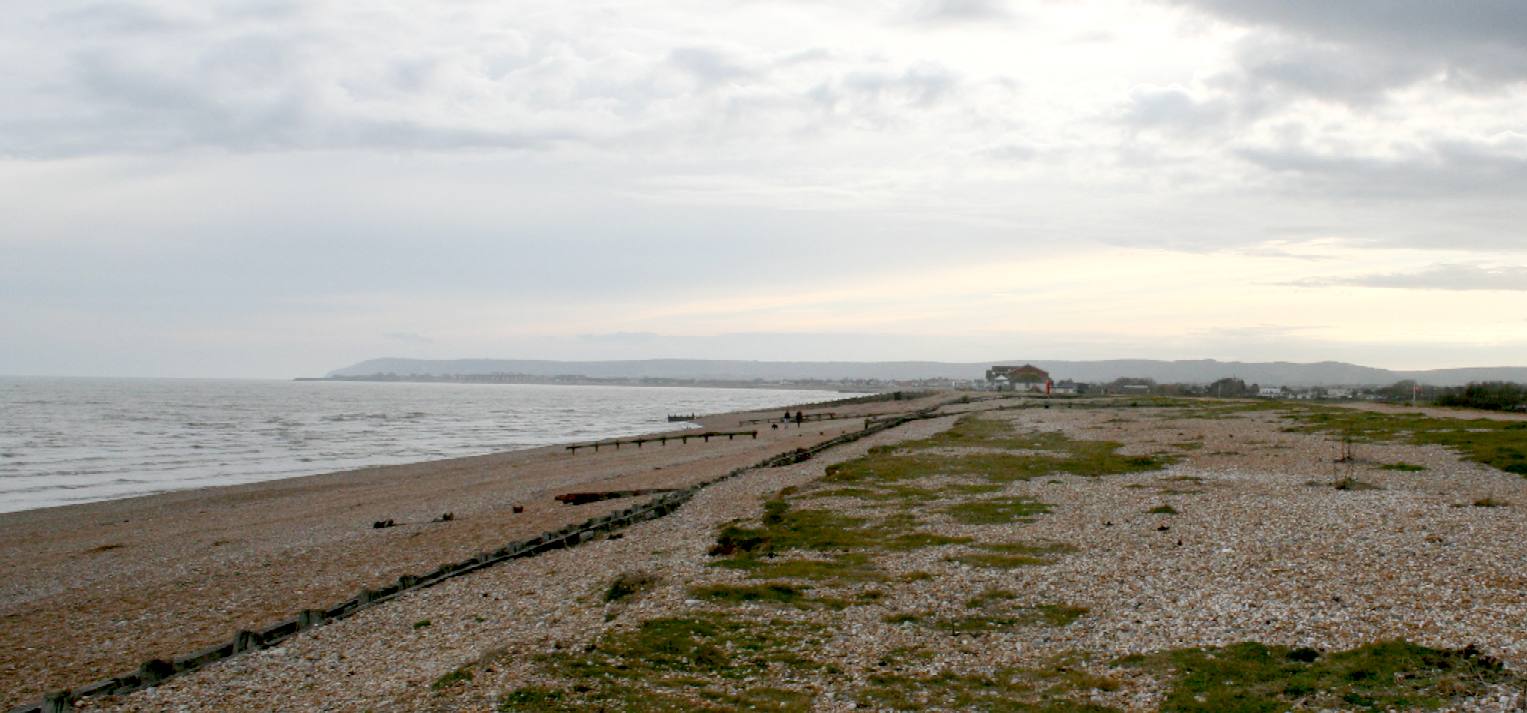 NORMAN'S BAY - In this photograph you can see the Eastbourne downs. This beach continually drifts meaning that the Environment Agency is always at work bringing the beach back. The groynes help to limit beach drift. April 4 2016. This are cannot be held to be 'naturally' beautiful, because the constant movement of shingle by earth moving machinery to defend low lying land behind the artificially reinforced ridge is anything but natural. 4C30 - Beachy Head - Is an internationally important landmark site of significance for it landscape, geological and environmental value. The cliff top is largely undeveloped since cleared of the World War Two radar. Copyright © April 1 2016, all rights reserved. You will need permission from Bluebird Marine Systems Ltd to reproduce this photograph.
LAUNCH CEREMONY - We are looking to borrow (lease), rent or purchase a small section of beach to be able to bolt the five main hull sections together and roll the SeaVax prototype into the water as part of a planned launch ceremony. The assembly operation is not that much more demanding than readying a hobby sailing catamaran for launch, except for the scale.
The hull sections are to be fabricated by specialist aluminium fabricators in five sections. The objective here is that they may be easily transportable by road, without needing any special permits. Hull sections might also be delivered to a beach location utilizing coastal barges. We will be using a mobile winch vehicle - so do not need any concrete mountings for motors, etc. Once launched, you'd not know we'd been there, except perhaps for some champagne spillage from the celebrations - and that is bio-degradable.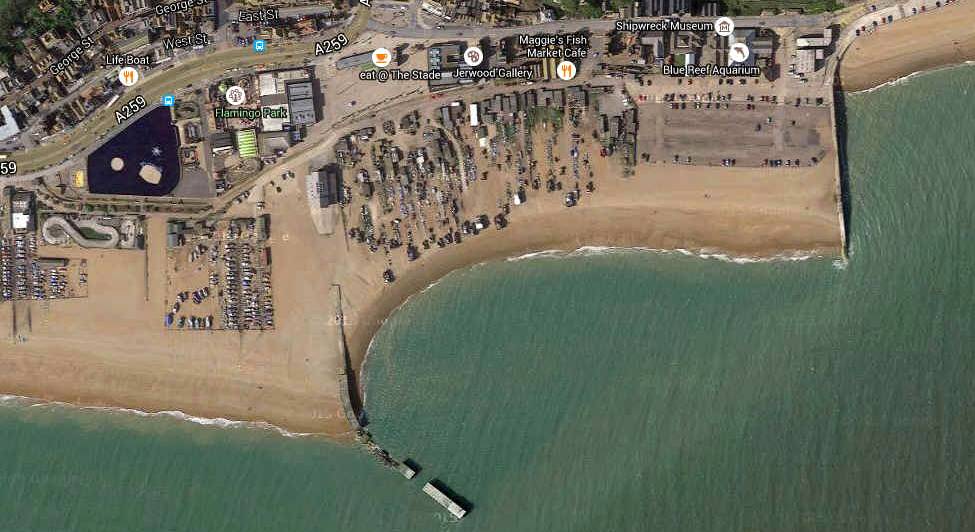 HASTINGS STADE - This is an aerial view of the largest beach launched fishing fleet in the world. For these hard working fishermen, launching from and recovery to the beach is an everyday function of the catch. To be able to operate in some areas of the world, SeaVax must be able to emulate this activity if required. Being a sizeable craft we are making it part of the design that beach launched operations are supported using cradle bogies that match the hull contours. This system takes a lot of the grunt out of both launch and recovery. A lot of boats are launched and recovered using trailers. It is not practical, and even if it was, such a large trailer could not be used on the roads in any country. Most ships are launched using a slipway and serviced in a dry dock. There are rail and trolley recovery systems for ships up to 350 tonnes.

HASTINGS - The famous Sussex beach has a steep slope followed by a more gently inclined beach. What is so fascinating about the boats here is the variety of designs all to tackle the awesome task of launching a medium weight vessel from the beach and then recovering it - as economically as possible. As part of our lighting feasibility study, this is the place to start, to see how hundreds of practical fisherman and marine engineers have risen to the challenge. Copyright © May 29 2016, all rights reserved. You will need permission from Bluebird Marine Systems Ltd to reproduce this photograph.
HASTINGS - Lolita D'Ortona is seen here admiring the Kort nozzle on this fishing boat at Hastings. The beach is strewn with single use plastic, fishing nets and ropes. The youngest member of the SeaVax team, Ryan, picked up several disposable lighters and other plastic waste from the beach on this visit to the coastal town, that is perhaps more famous for the Battle of Hastings in 1066. The collected plastic was disposed of responsibly. Copyright © photographs, 16 March 2019. All rights reserved, Cleaner Ocean Foundation Ltd.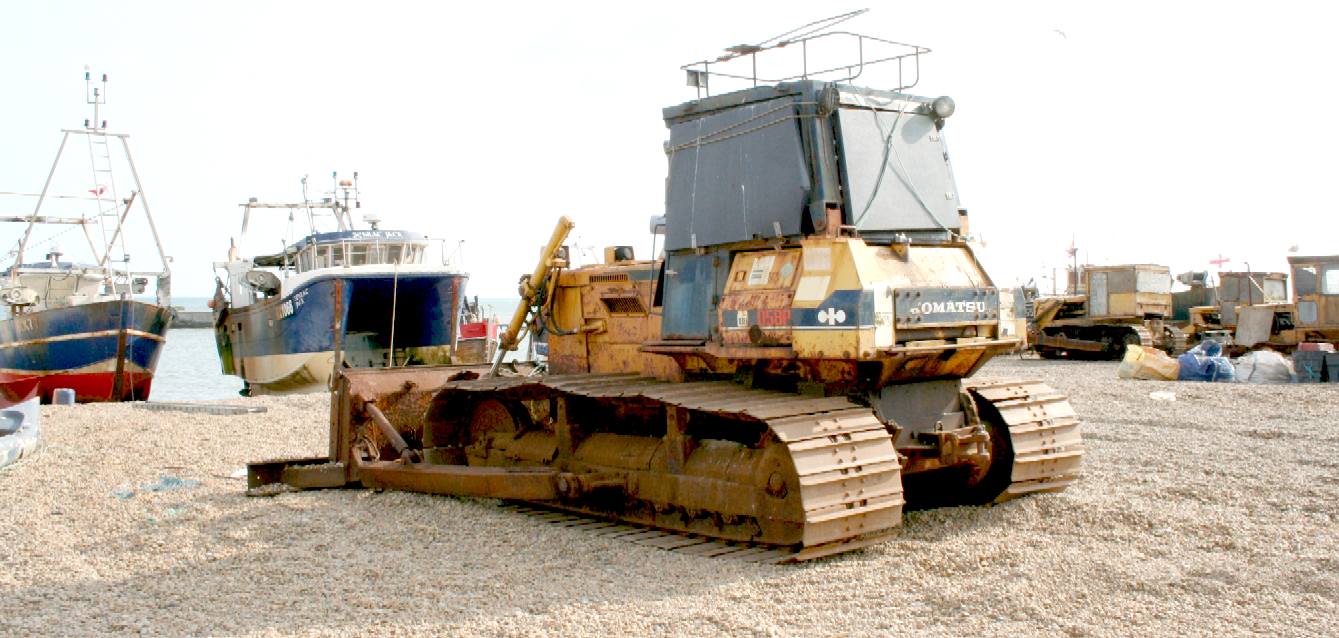 TRACTIVE POWER - Apart from a couple of trailers for smaller boats, most of the bigger MFVs use old earth moving machinery, like this Komatsu, to push their vessels into the English Channel, but then there is the recovery method and for this a bulldozer is not well suited. Copyright © May 29 2016, all rights reserved. You will need permission from Bluebird Marine Systems Ltd to reproduce this photograph, except for personal study or educational purposes, when a credit would be encouraged.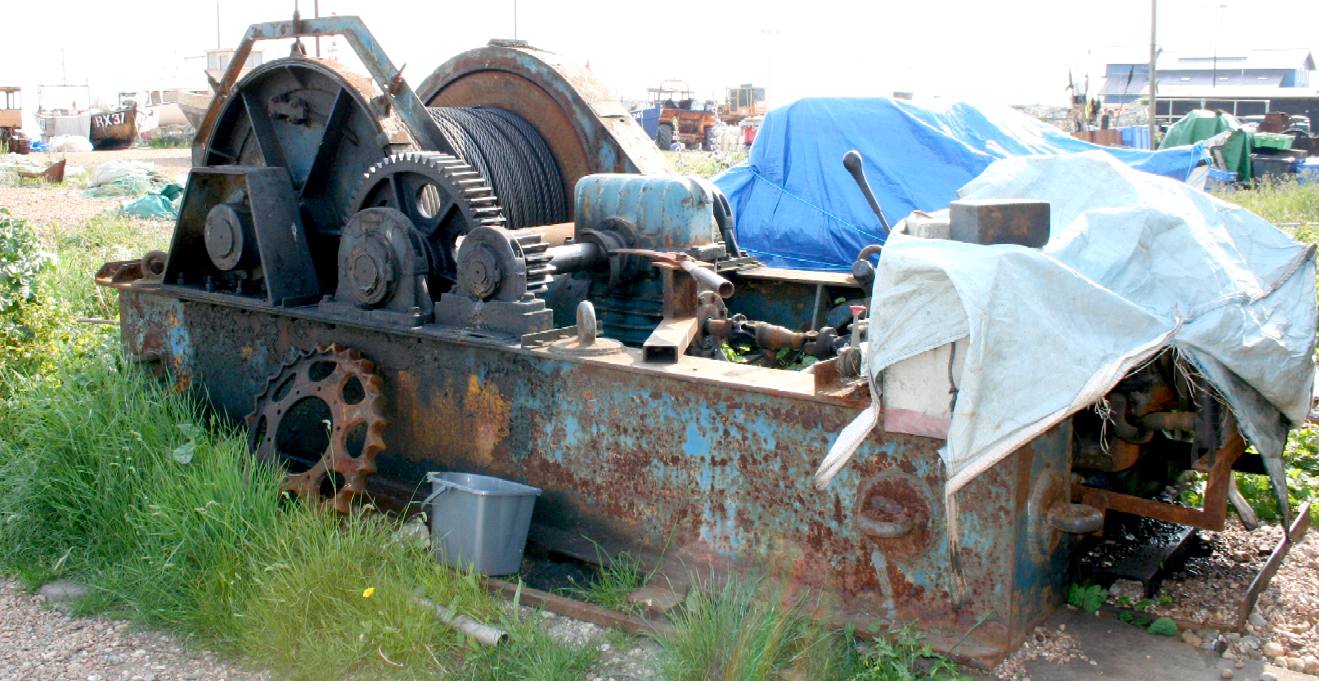 CABLE DRUM WINCHES - After a day on the briny the fishermen need a reliable system to haul in their boats and the all important catch of fresh fish. As part of our coastal survey we looked at dozens of custom made winches. All were powered by an adapted automotive diesel engines. Most were rusty and well used. Some were kept outside, while others were housed in purpose built sheds. All were a testament to the hardy qualities of diesel motors in general and large cast toothed cogs running in meaty bearing blocks. Copyright © May 29 2016, all rights reserved. You will need permission from Bluebird Marine Systems Ltd to reproduce this photograph.
SeaVax will be fitted out on the water, most probably with the help of a local harbour or marina and later with some assistance from academics based at Southampton or Plymouth.
The launch is to be made easier using specially fabricated bogies that sling under the hulls. Typically, beach launched (fishing) boats, such as those at Hastings, use logs or gas/water poly-pipe, but we want a relatively fuss-free operation on any beach without the need for permanent winches. Operators in other countries will be able to recover beach launched craft far more reliably using our bogie system. The method is (unfortunately) not suitable for mono-hull fishing vessels such as those just a small distance along the coast.
Once launched, the assembly site will be returned to its original state as part of our eco-friendly agenda for sustainability in all of our activities. The chosen site could well attract recognition for the role it is about to play.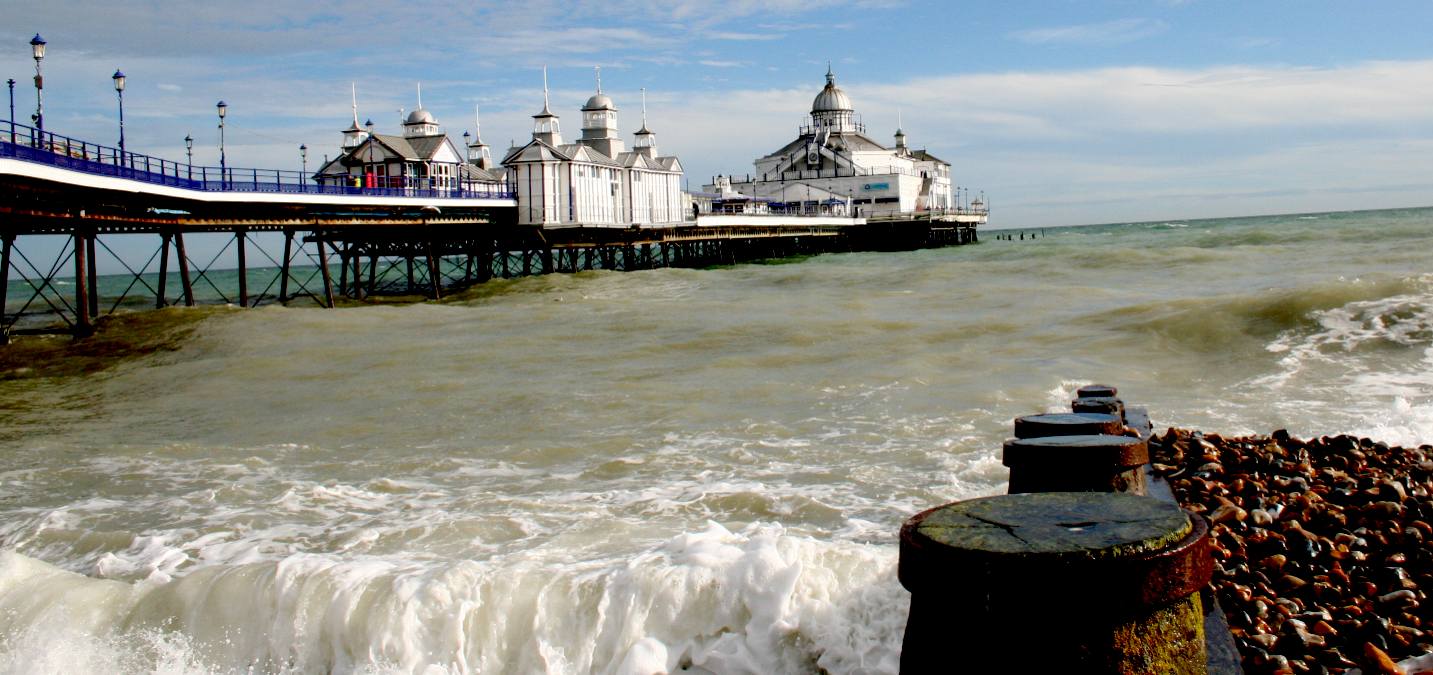 EASTBOURNE PIER - Tragedy struck this former Grade II listed building when the Blue Room was burned to the ground on July 30th 2014, now on the At Risk register, with little hope of repair to be able to retain its listed status unless the former ball room is reinstated. Apparently, the previous owners claimed insurance monies for the fire, then sold the structure to avoid consequential restoration. According to media reports, many consider this icon has become a plaything and publicity vehicle devoid of genuine philanthropic intent. Copyright © October 30 2015, all rights reserved. You will need permission from the Cleaner Oceans Club Ltd to reproduce this photograph.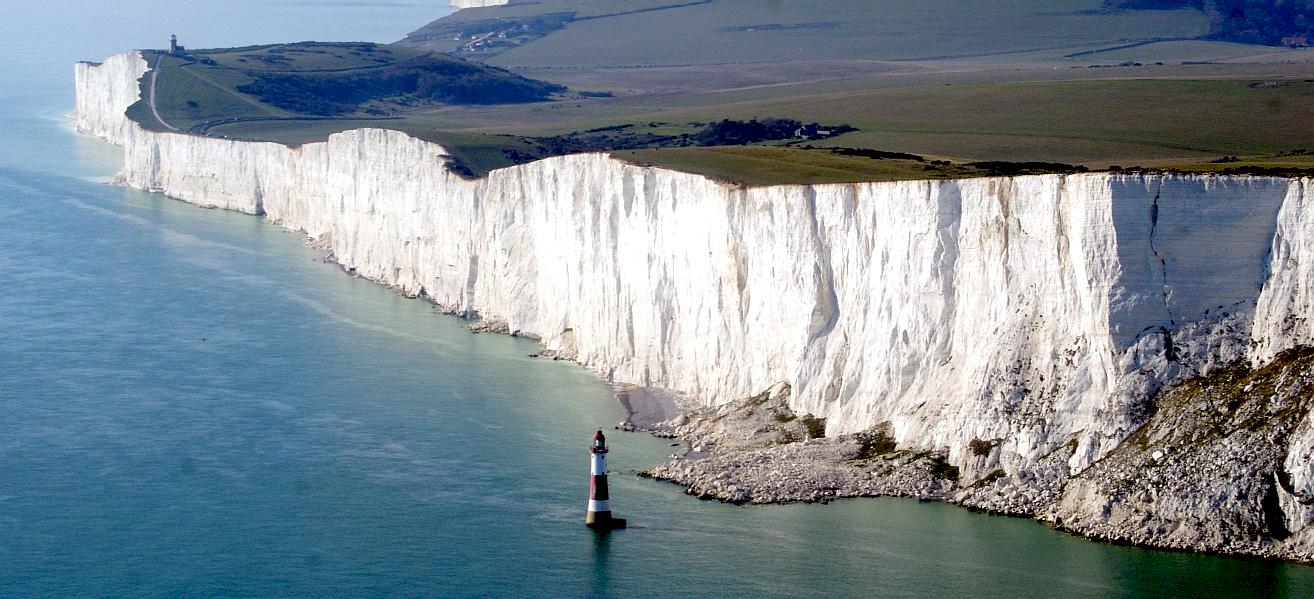 BEACHY HEAD - is located within the administrative area of Eastbourne Borough Council which owns the land. The cliff is the highest chalk sea cliff in Britain, rising to 162 metres (531 ft) above sea level. The peak allows views of the south east coast from Dungeness in the east, to Selsey Bill in the west. Its height has also made it one of the most notorious suicide spots in the world.

The name Beachy Head appears as 'Beauchef' in 1274, and was 'Beaucheif' in 1317, becoming consistently Beachy Head by 1724, and has nothing to do with beach. Instead it is a corruption of the original French words meaning "beautiful headland" (beau chef).

In 1929 Eastbourne bought 4,000 acres (16 km2) of land surrounding Beachy Head to save it from development at a cost of about £100,000.

Where the headland was a danger to shipping, in 1831 the Belle Tout lighthouse was built on the next headland west from the Head. When it was realised that mist and low clouds could hide the light of Belle Tout, Beachy Head Lighthouse was built in the sea below Beachy Head, operational from 1920.
DAILY MAIL FEB 2013 - The English countryside has been dusted in snow this winter, with many landmarks looking even more beautiful in the frost. But the cold and icy winds that hit the south coast have caused the famous Beachy Head cliffs to erode at an even faster pace than before.

The cliffs have seen a series of falls taking place over the winter period as ice and snow formed in the chalk, resulting in the erosion of rocks. A spokesman for the National Trust said: 'Throughout the winter, water and ice has been permeating through the chalk so we've seen consistent but small falls of rock. 'The south coast is an evolving landscape and is prone to cliff erosion but the wet weather has exacerbated the falling of the chalk. 'The bad weather affects it, particularly this year.'

While cliff erosion is typically caused by the sudden change between cold and warm weather, ice in the rock can also prove harmful. When the water deposited by rain or snow freezes it expands, causing cracks and weaknesses to form in the chalk.

Experts believe the cliffs on the southern coast will move up to 200 yards away from France this century but a series of freezing winters could accelerate the process. One regular visitor to the cliffs described the land slips as some of the worst he had witnessed.

He said: 'I have never seen as much erosion as I have in the last year. You can see the huge piles of rock at the base of the cliffs, I've never seen it erode at such a fast pace. 'Collapses have happened as frequently as three times a week. I have never seen it this bad before.'

The area is famed for its views of the Beachy head lighthouse, a landmark that has warned ships from the area since 1902, with walkers using the cliffs as a vantage point.

However, the National Trust has warned that the cliffs are 'extremely unstable' and walkers to stay well clear of the cliff edge. The coastguard has issued advice for those wishing to enjoy the southern coastline.

Jo Rawlings from the Maritime and Coastguard Agency, said: 'The recent wet weather has seen sections of our coast become very vulnerable to movement. We're now warning the public that some coastal paths in particular are likely to be unstable. 'We advise people to take care when walking on top of cliffs and also give a wide berth to the base of cliffs when walking below on the shoreline.'
ABOUT CONVENTIONAL SLIPWAYS

A slipway, also known as boat ramp or launch, is a ramp on the shore by which ships or boats can be moved to and from the water. They are used for building and repairing ships and boats. They are also used for launching and retrieving small boats on trailers towed by automobiles and flying boats on their undercarriage.

The nautical term "ways" is an alternative name for slipway. A ship undergoing construction in a shipyard is said to be on the ways. If a ship is scrapped there, she is said to be broken up in the ways.

As the word "slip" implies, the ships or boats are moved over the ramp, by way of crane or fork lift, prior to the move the vessel's hull is coated with grease, which then allows the ship or boat to "slip" off of the ramp and progress safely into the water. Slipways are used to launch (newly built) large ships, but can only dry-dock or repair smaller ships. Pulling large ships against the greased ramp would require too much force. For dry-docking large ships, one must use carriages supported by wheels or by roller-pallets. These types of dry-docking installations are called "marine railways". Nevertheless the words "slip" and "slipway" are also used for all dry-docking installations that use a ramp.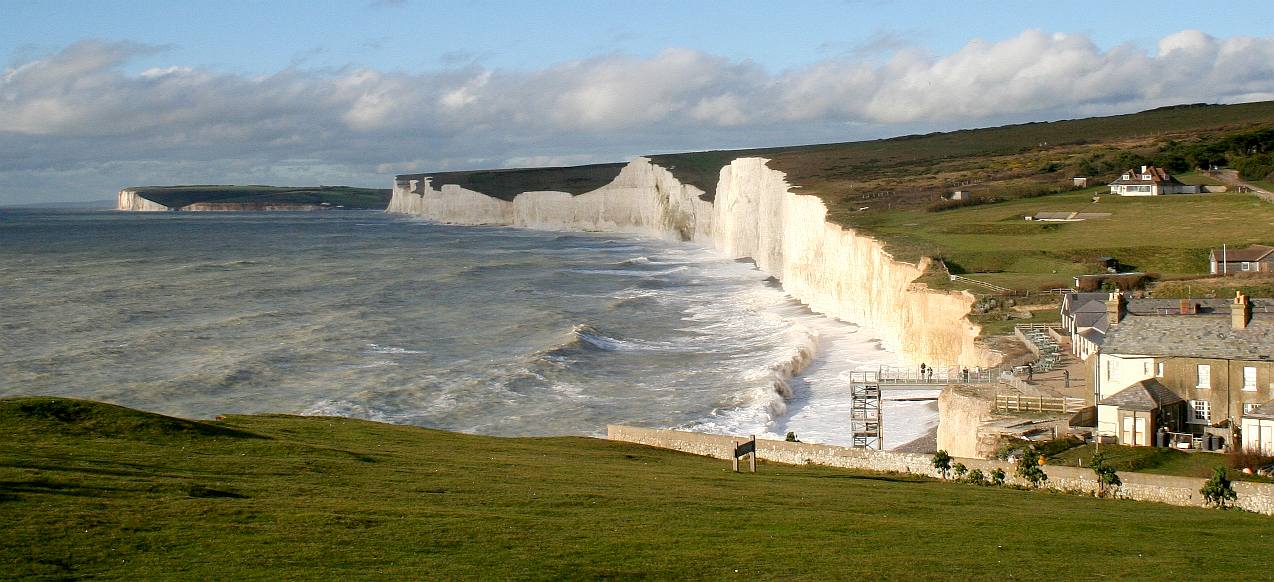 BIRLING GAP - Surfer's paradise on the south coast and also an erosion nightmare, with the coastguard cottages on the right, falling into the ocean - as part of the new policy from Natural England to allow historic properties to be consumed, rather than cough up for expensive conservation works. Copyright © 24 December 2014, all rights reserved. You will need permission from Blueplanet Universal Holdings Ltd to reproduce these photographs.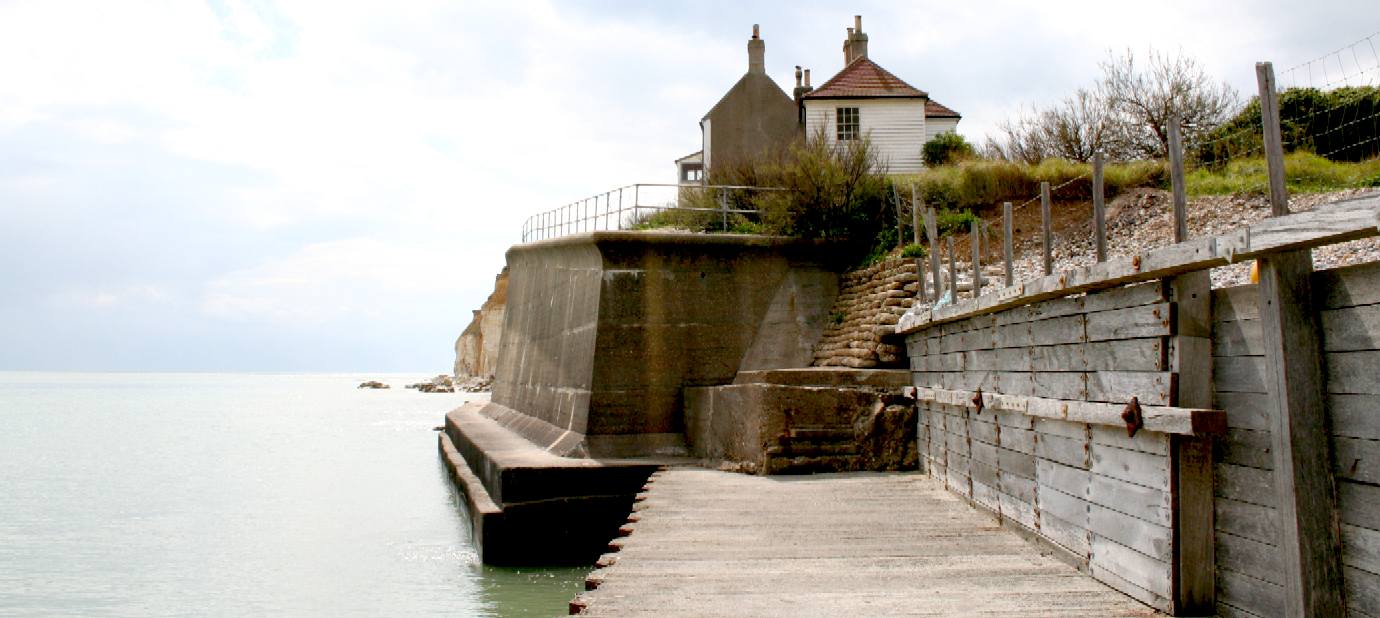 SOLID DEFENCES - The coastguard cottages at the foot of Seaford Head east. Unlike other coastal erosion, this section of cliff has been reinforced with plenty of concrete, mainly because this was once part of a military canal - and the military spare no expense, to the point of squandering tax dollars where no threat exists. Copyright © 30 May 2006, all rights reserved. You will need permission from Blueplanet Universal Holdings Ltd to reproduce these photographs.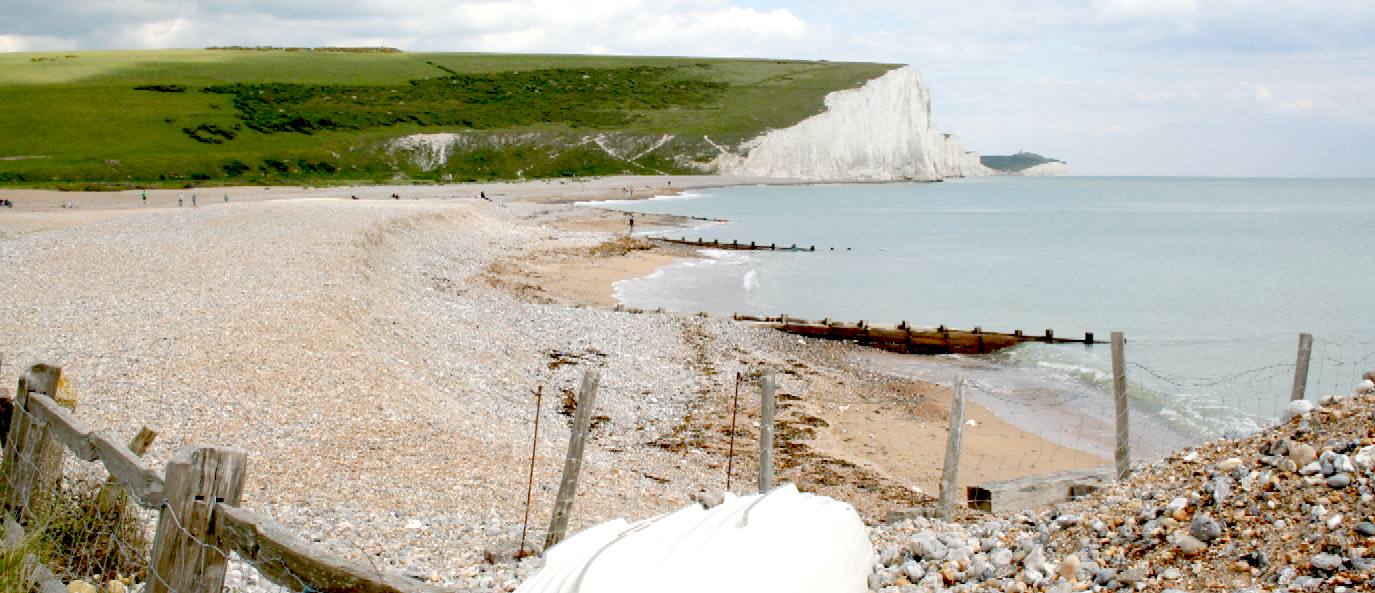 CUCKMERE HAVEN - and its valley is a geologically and biologically important area (designated a SSSI), as well as being of significant amenity value. The long-term policy of No Active Intervention for this frontage is to allow dynamic process to resume, sustaining these natural assets by no longer maintaining the existing defenses and allowing them to fail. Copyright © 30 May 2006, all rights reserved. You will need permission from Blueplanet Universal Holdings Ltd to reproduce these photographs.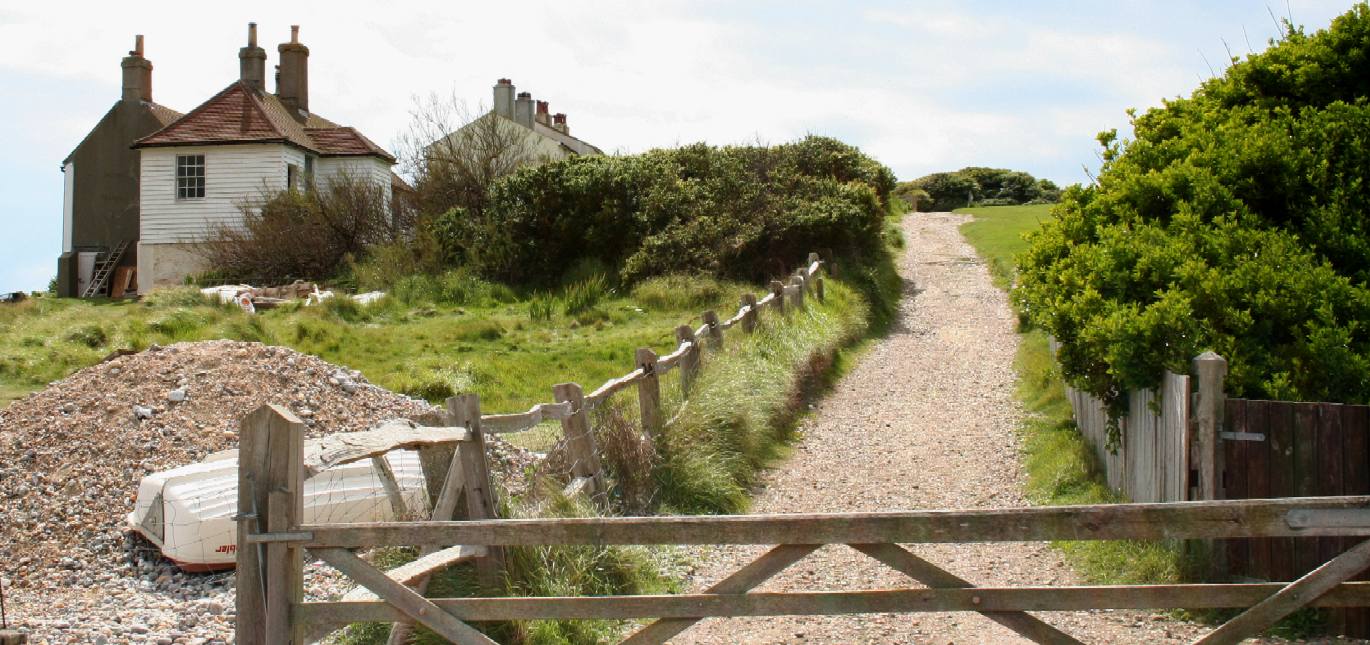 NATURE RESERVE - If you can drag yourself away from the stunning cliff views, this path leads up to Seaford Head nature reserve. Copyright © 30 May 2006, all rights reserved. You will need permission from Blueplanet Universal Holdings Ltd to reproduce this photograph.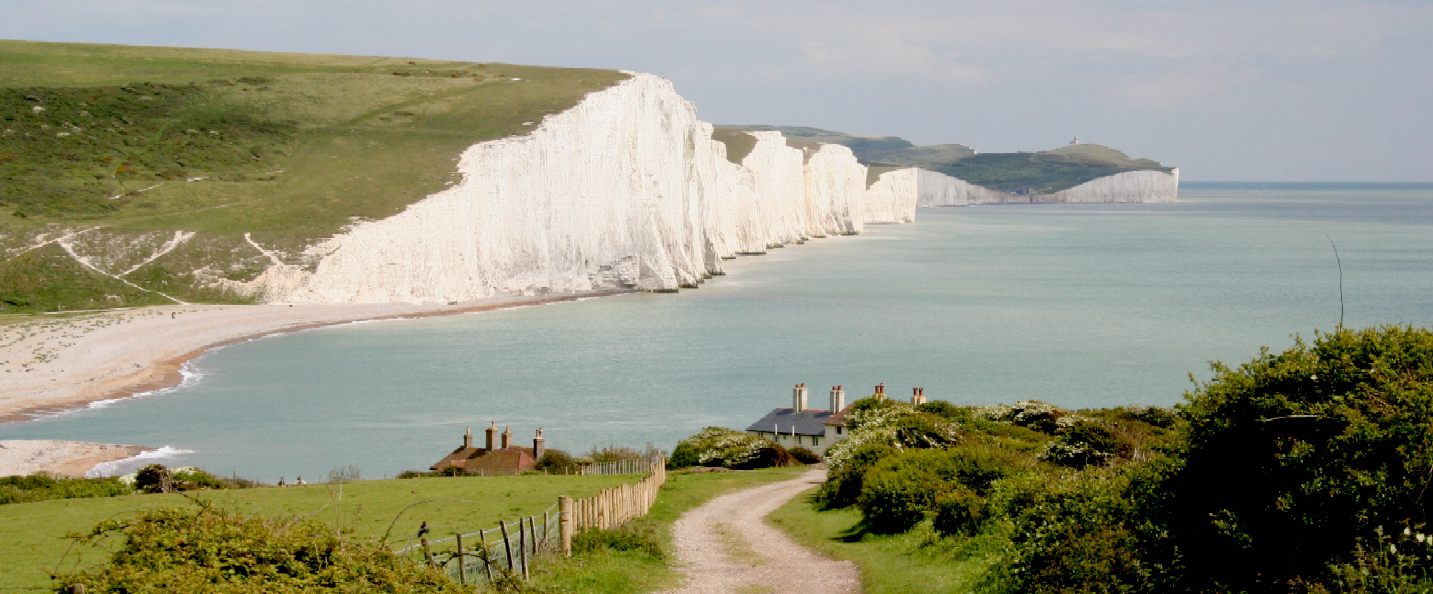 THE SEVEN SISTERS - This is one of the most famous coastal views in East Sussex and the whole of England, showing a number of coastguard cottages in the foreground, nestled on Seaford Head, with the seven chalk cliffs in the background and beyond that, one of the light houses that warned mariners of land at night. With GPS, autopilots and AIS, a sailors life is a lot easier, but one should never rely totally on modern conveniences if you are making a voyage in blue water - unless that is, your vessel is designed from the ground up to be autonomous. The publisher of the Harry Potter books lived in one of these cottages. Copyright © 30 May 2006, all rights reserved. You will need permission from Blueplanet Universal Holdings Ltd to reproduce these photographs.

WELCOME - This is the view from Seaford Head, looking across the Cuckmere Valley to the Seven Sisters chalk cliffs and Eastbourne. Continue west and you will come to Seaford Bay. Copyright © April 19 2016, all rights reserved. You will need permission from Bluebird Marine Systems Ltd to reproduce this photograph.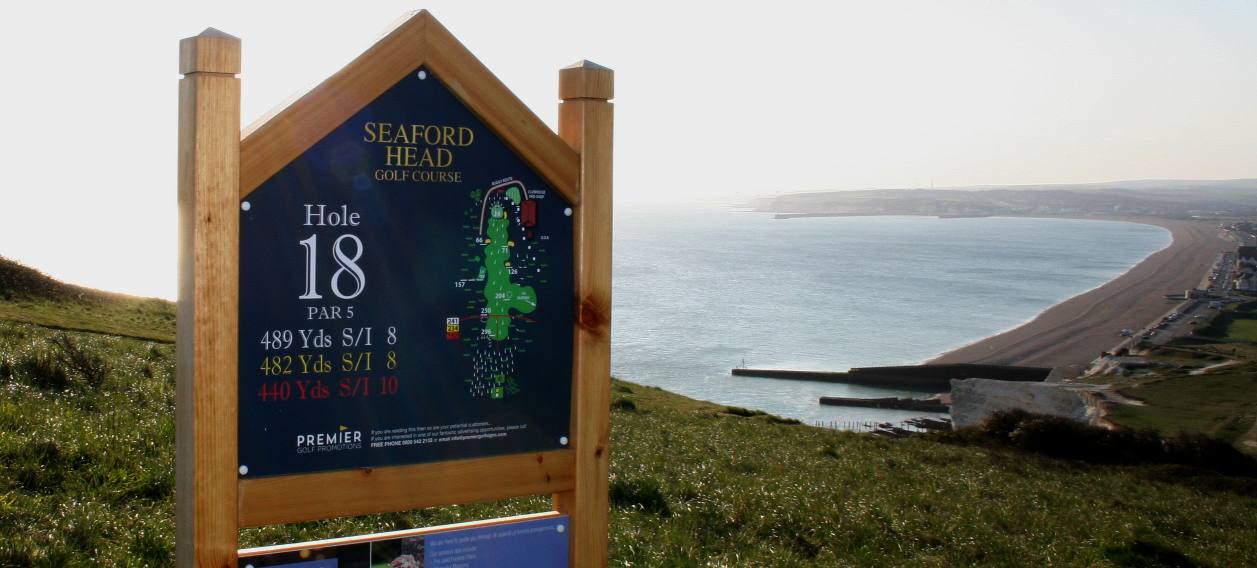 THE 18TH HOLE - If you manage this hole you are doing well. This golfing milestone is not far from the edge of a cliff that is known to have imminent falls. Not only that, but it is one heck of a hike in plus-fours, even with a Caddy. The view of Seaford Bay, is though superb. Copyright © April 19 2016, all rights reserved. You will need permission from Bluebird Marine Systems Ltd to reproduce this photograph.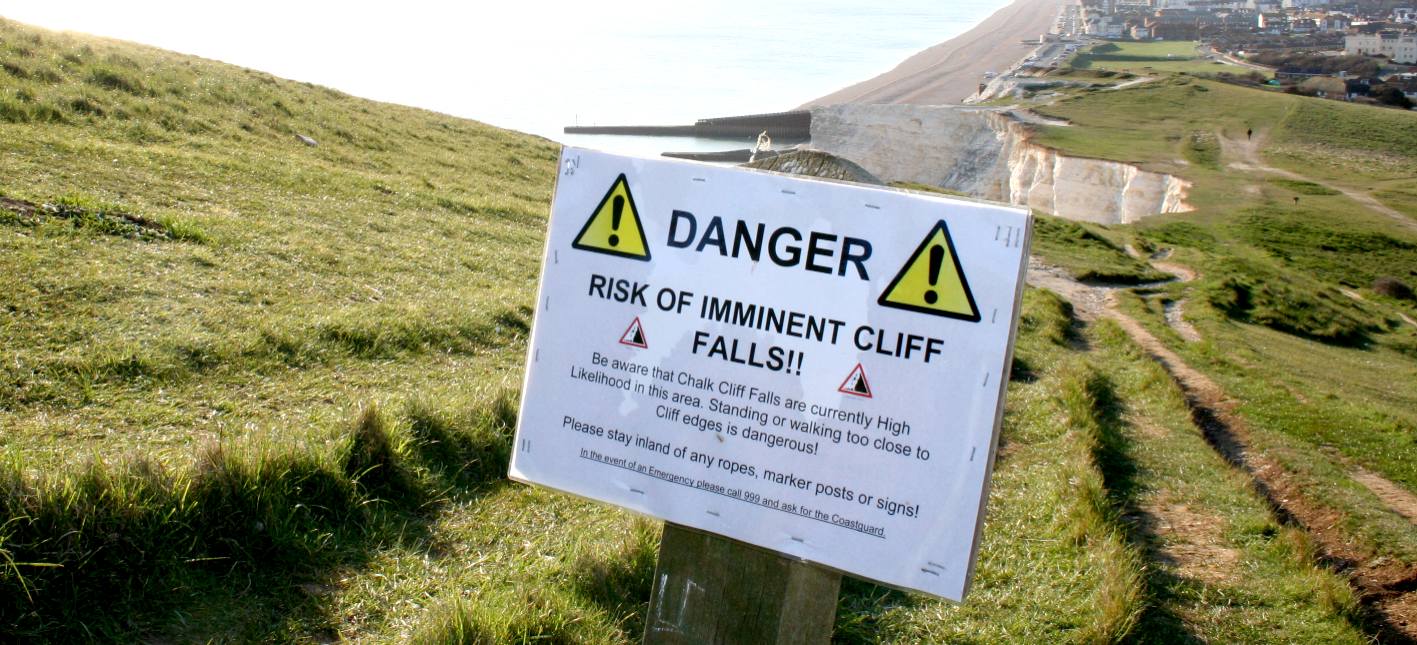 TOLD YOU - Seaford Head is not the only cliff face with regular falls, Hastings and Beachy Head have also had collapses of note in recent years.
Part of the cliff edge at Seaford Head collapsed following several other recent falls along the coast. In January, more than 9ft (3m) of the cliff at Birling Gap - part of the Seven Sisters chalk cliffs - fell into the sea during a tidal surge that hit the south coast. The cliffs usually erode at a rate of about 2ft (0.7m) a year.

Barriers were put up along the edge of the cliff to ensure the safety of walkers. Since last week a fence has closed off access to the front of the cafe and shop, which are still open, while the sun lounge area of the cafe was taken down due to concerns about the continuing erosion.

Steps leading to the beach have also been closed off as they are awaiting repairs. Jane Cecil, general manager for the South Downs, said the sun lounge and ice-cream parlour were being removed following further cliff falls at the weekend "to conserve the rest of the building".
Copyright © April 19 2016, all rights reserved. You will need permission from Bluebird Marine Systems Ltd to reproduce this photograph.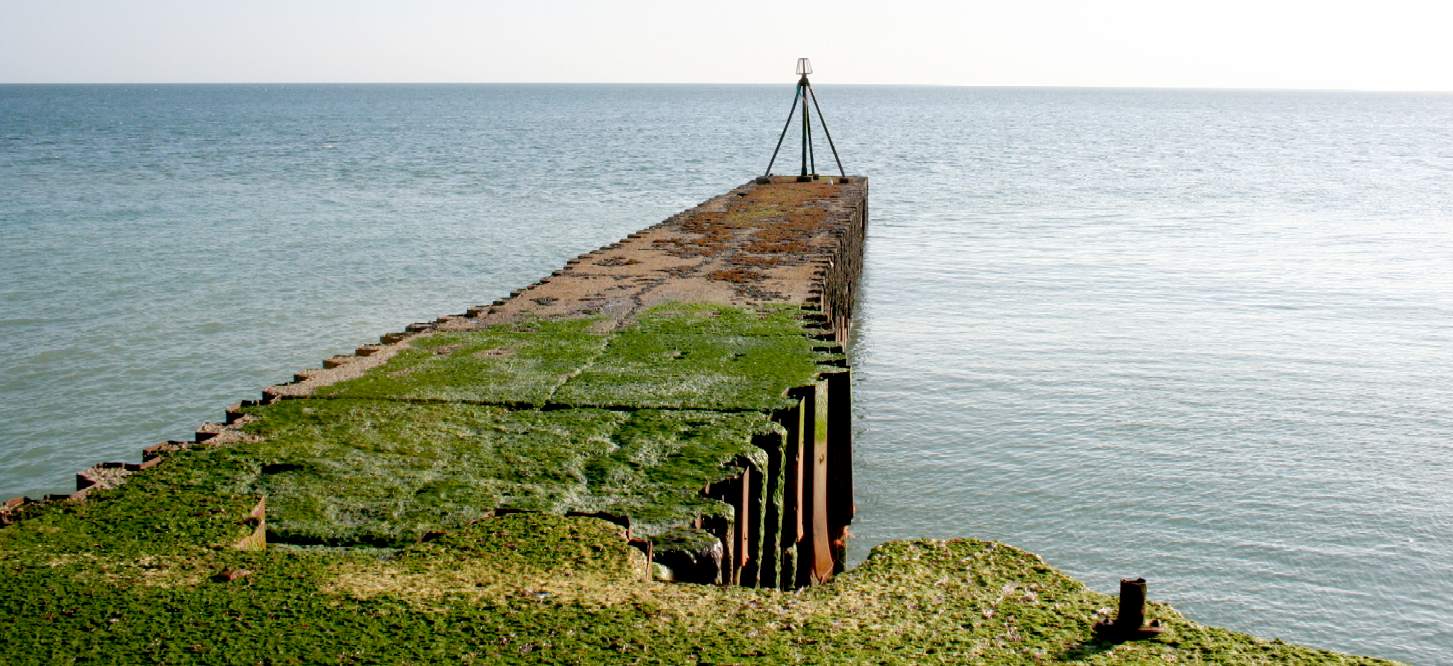 OUTFALL - It's got to go somewhere, and as long as it is treated properly that should not be a problem. This is a very slippery concrete structure. Copyright © April 19 2016, all rights reserved. You will need permission from Bluebird Marine Systems Ltd to reproduce this photograph.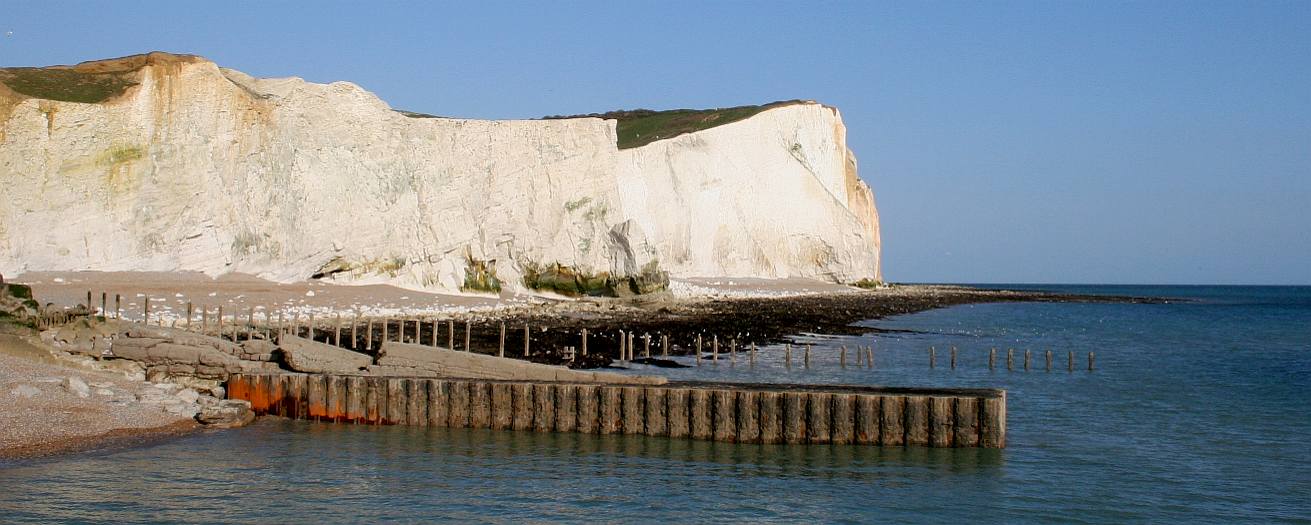 HAVEN - Nowhere near as easy on the eyes as the Cuckmere Valley, but still a part of the coastal scene worthy of recording. Copyright © April 19 2016, all rights reserved. You will need permission from Bluebird Marine Systems Ltd to reproduce this photograph.

BATHING HUTS - Seaford is famous for its beach huts. Eastbourne has them too. Copyright © April 19 2016, all rights reserved. You will need permission from Bluebird Marine Systems Ltd to reproduce this photograph.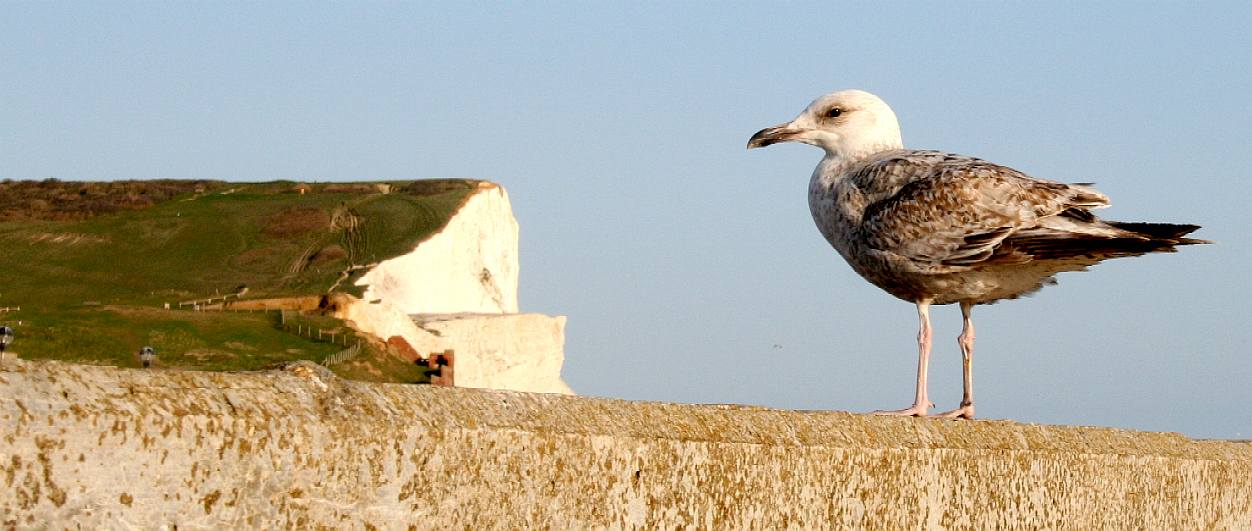 SEAGULL - These sea birds frequent the cafe at the Martello Tower museum, hoping to snap up a bite or two of cake. With Napoleon threatening to invade, a series of incredibly strong brick built towers were built along the south coast. Each tower had a cannon on the roof that could rotate to aim at any French fleet. The cement was reinforced with horse hair to be able to withstand a direct hit from an incoming cannon ball. Copyright © April 19 2016, all rights reserved. You will need permission from Bluebird Marine Systems Ltd to reproduce this photograph.

PROMENADE - There are a few small hotels facing out to sea. This is not a mainstream tourist location and there is not that much in the way of attractions, but if you like sea air and the quiet life, this is the town for you. Copyright © April 19 2016, all rights reserved. You will need permission from Bluebird Marine Systems Ltd to reproduce this photograph.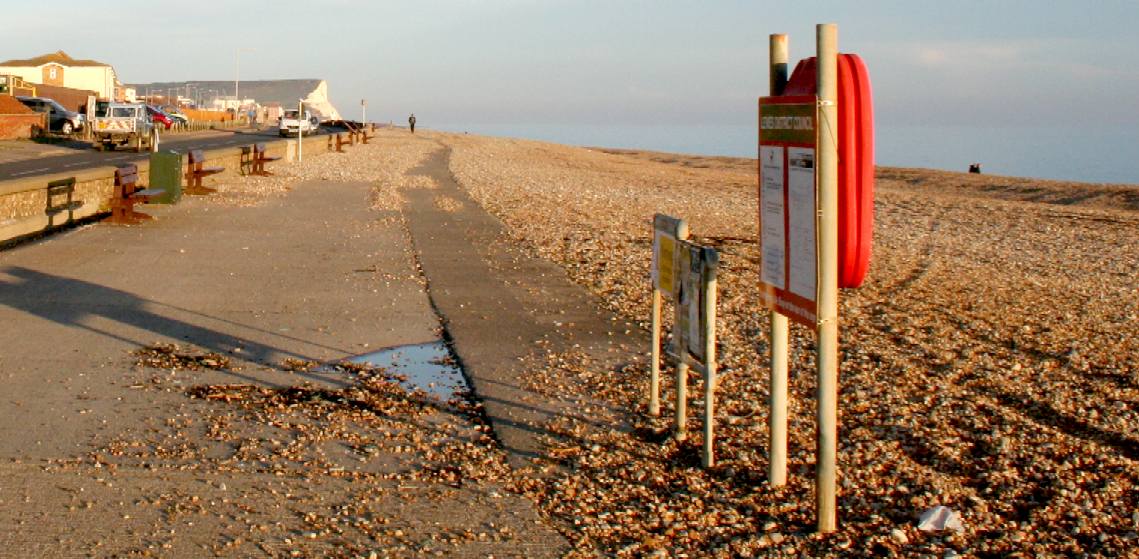 SEAFORD - Is a town to the east of Newhaven harbour, a small seaside resort that supports some tourist economy in the area. Due to lack of sediment linkages along the frontage, the management policy of Hold the Line will have limited impact on up and down drift. This is held to be sustainable in the long-term by continuing with the present practice of recycling material from the beaches at Seaford Beach to the Tide Mills; or replenishing the beach possibly using recycled dredged material from the River Ouse. Newhaven and the Ouse Valley sustain a major harbour development, with a wide trained channel and prominent breakwater; a large number of residential and commercial properties and infrastructure exists within the flood area of this Policy Unit. The long-term policy for this Unit is to "Hold the Line" in order to protect the existing assets. Copyright © April 12 2016, all rights reserved. You will need permission from Bluebird Marine Systems Ltd to reproduce this photograph.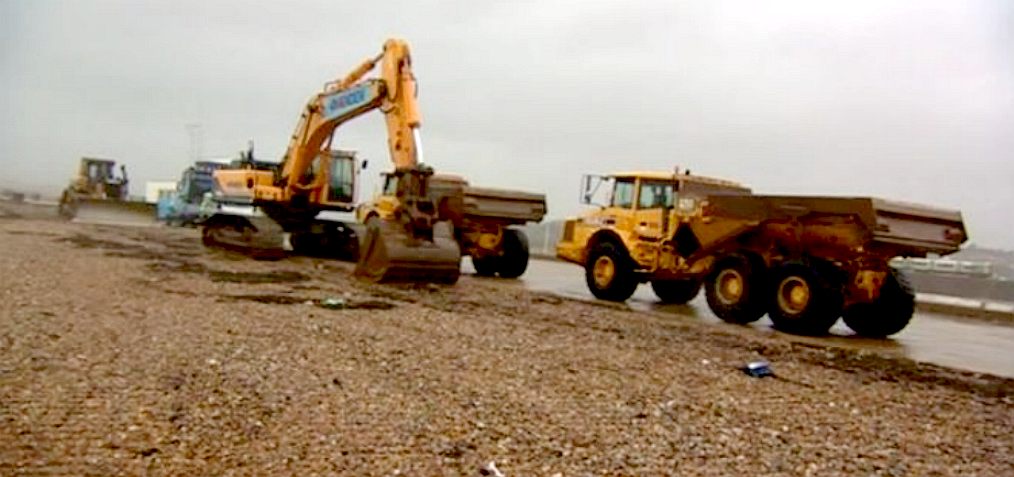 CLIFF EROSION - The agency said it would resume its work as soon as the weather permitted. In a letter to the agency, the Liberal Democrat MP for Lewes expressed concern for properties close to the beach if work was not done to reinforce the area against the elements as part of coastal management plans in the future.

"Fortunately, so far the stormy weather has caused little in the way of property damage or personal injury to my constituents in Seaford, but this looks more like luck than judgement," he said.

"Nevertheless, I am very concerned by the rate that the stormy seas have eaten away at the beach, which is of course the primary flood defence for the town.

"Events like this are predicted to become more common because of climate change, action must be taken to restore the strength of the beach," Mr Baker said.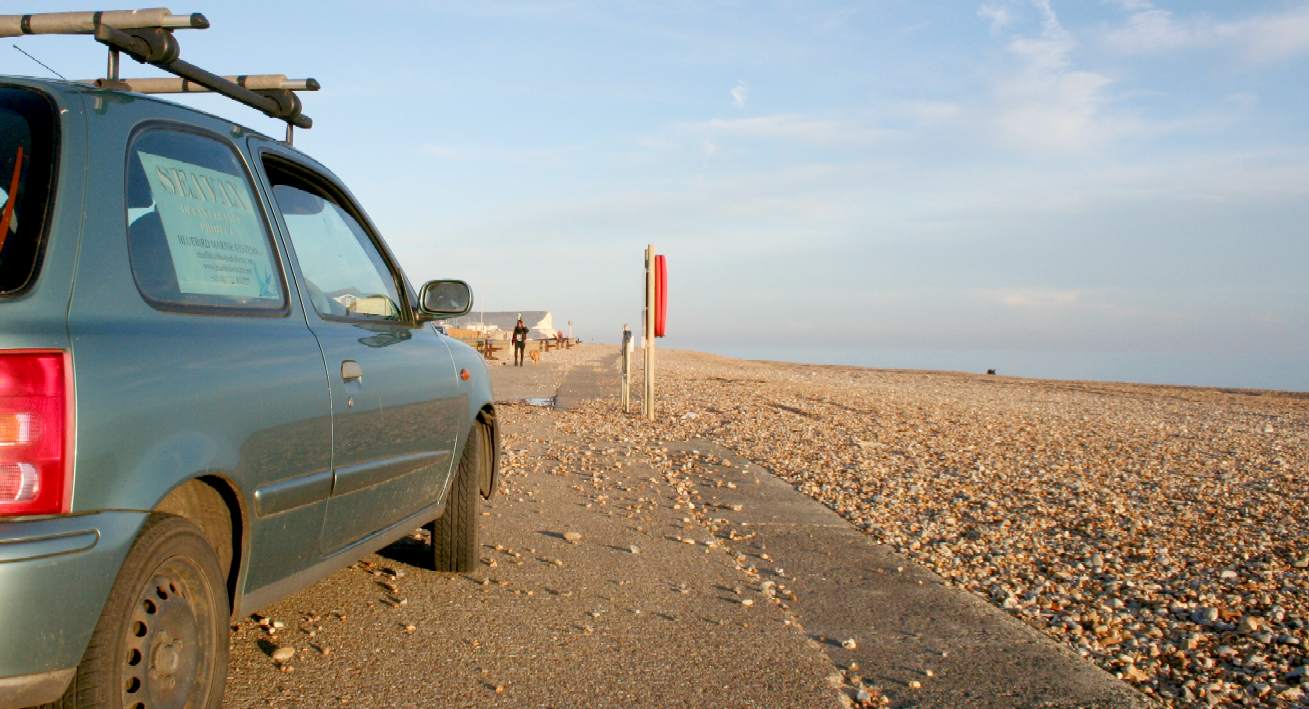 PROMENADE EAST - Rough weather continually throws the shingle onto the beach and and across the road. Our trusty little Micra is perfect for important scouting duties, while also conserving fuel. Copyright © April 12 2016, all rights reserved. You will need permission from Bluebird Marine Systems Ltd to reproduce this photograph.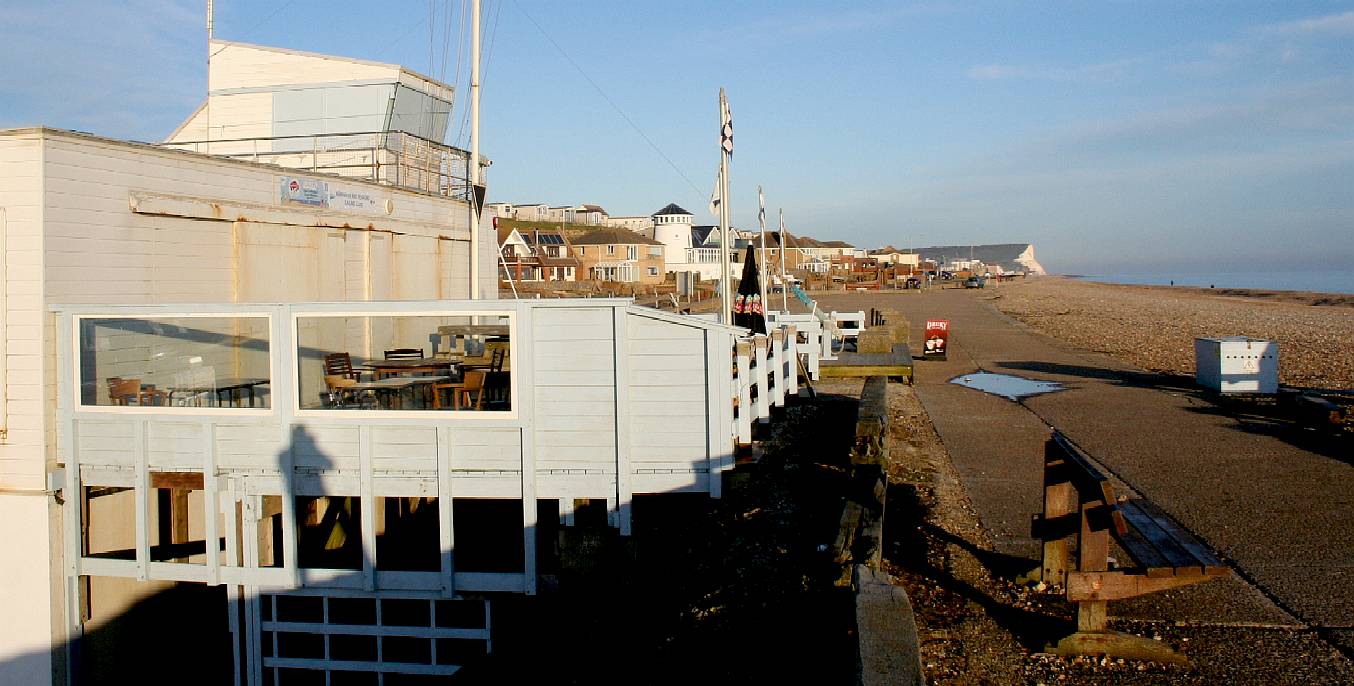 SAILING CLUB - At the western end of Seaford promenade you will find the sailing clubhouse. The entrance here is one of the only ways onto the beach for access to Seaford Bay.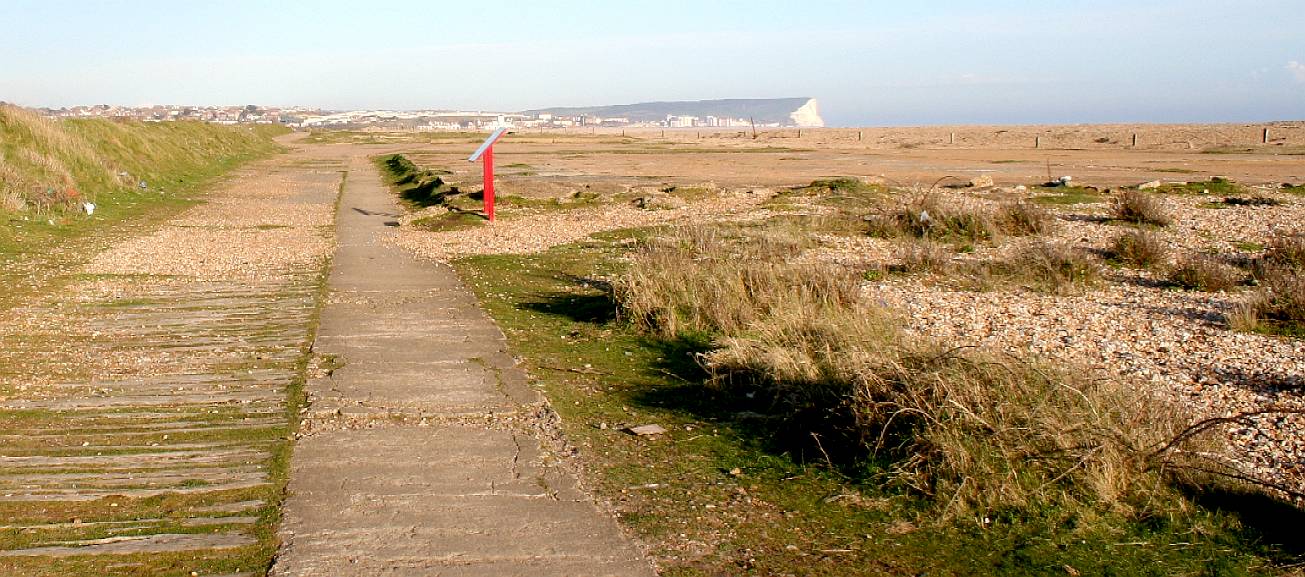 WWI SEAPLANE STATION - During the First World War, Newhaven was a major supply port for the Western Front. Seaplanes from Newhaven would patrol the sea between Dungeness and the Isle of Wight, operated by the Royal Naval Air Service (RNAS).

In January 1917, Germany declared unrestricted submarine warfare from the 1st of February. By May of 1917 the importance of protecting shipping from submarine attack gave rise to a Seaplane Station operated from Newhaven.

The Station was situated half a mile along the beach, east of the town. A double-fronted wooden seaplane shed (120ft x 50ft – approx. 36.6m x 15.25m) was built on the beach some 15 feet (approx. 4.6m) above normal high tide. It stood on a concrete hard-standing, with a wooden slipway leading down to the sea. Three old railway carriages were used as makeshift offices and a crew room; the original portacabins. Copyright © April 12 2016, all rights reserved. You will need permission from Bluebird Marine Systems Ltd to reproduce this photograph.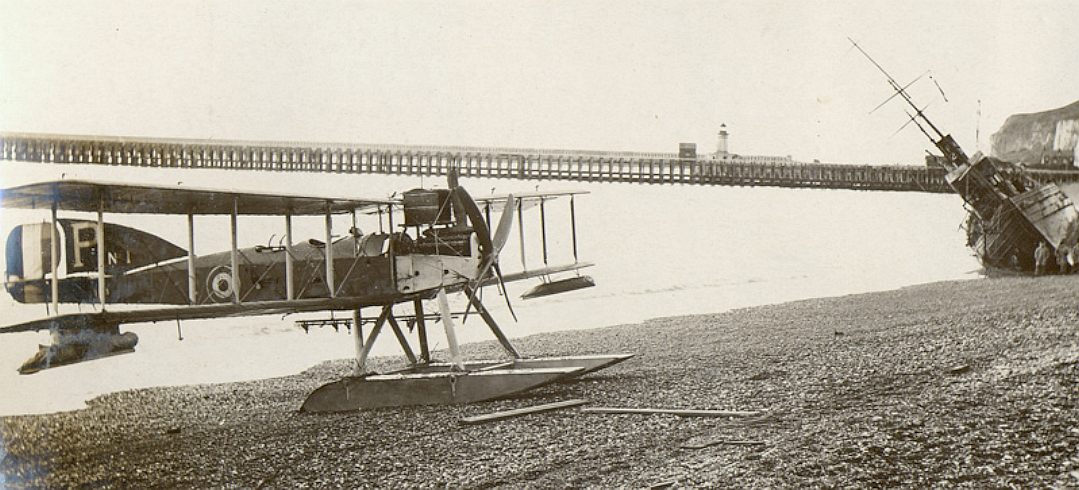 EXTENSION - In 1918, the Station was extended with the addition of another larger seaplane shed (180ft x 60ft – approximately 54.9m x 18.3m) designed for repairing damaged aircraft. Newhaven Seaplane Station was initially home to four Short 184 floatplanes, later supplemented by a few Fairey Campania and three Fairey IIIB seaplanes. On 1st April 1918 the Royal Flying Corps merged with the Royal Naval Air Service to become the Royal Air Force (RAF). The aircraft stationed at Newhaven formed 408 and 409 flights, which were incorporated into 242 Squadron in July 1918.
On 15 May 1919, the squadron was disbanded. The foundations and railway sleeper mounts still survive. The area was taken over as holiday homes after the first war and lasted until 1941 when the site was cleared for WWII defence purposes. We are still at war, but now the enemy is plastic waste. Surveys carried out in 2006 have exposed part of the slipway, concrete aprons to both hangars with door tracks and several other slabs presumed to be workshops. Sussex Archaeological Society started a dig in April 2006 to catalogue the entire East Beach site.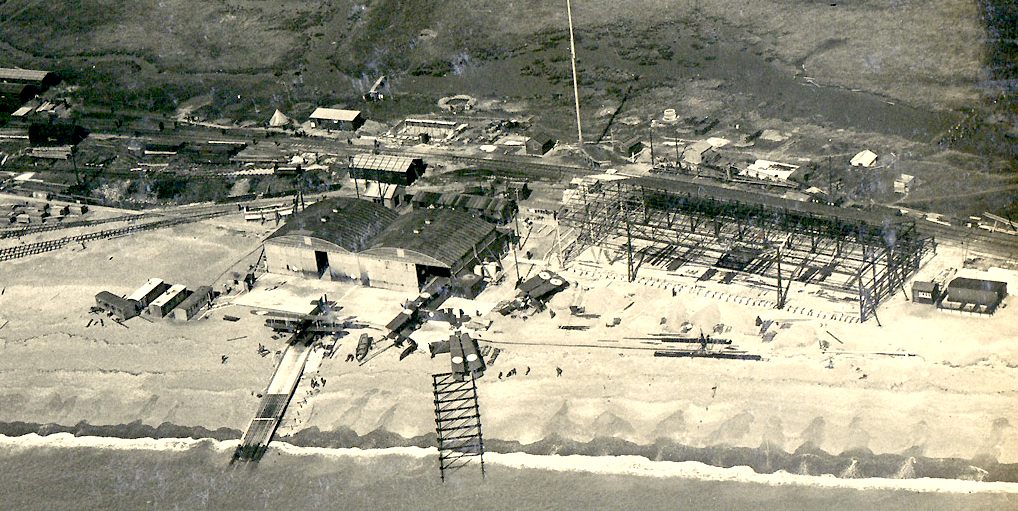 A seaplane's full load consisted of one 112lb and two 50lb bombs. There was a Lewis machine gun mounted on the observer's cockpit, in case of attack by enemy aircraft. The observer also carried a loaded revolver and a 'Very Light Pistol'. The pistol, invented by American Naval Officer Edward W. Very, fired coloured flares (Very lights), which could be used for signalling. If the seaplanes came across a submerged submarine, which wasn't in a prohibited area, their orders were to bomb on sight.

Newhaven Seaplane Station was officially closed in May 1919 and the buildings were auctioned off in the 1920s. One of the wooden sheds was relocated to the East Quay, where it was used as a bonded wine warehouse. It was completely destroyed by fire in the 1960s. The larger shed was used to manufacture the 50ft (15.2m) concrete piles, which replaced the rotting ones in the harbour. You can still see one on the beach. The shed was finally relocated to Wimbledon where it was used to store railway equipment for the electrification of the line. It was granted Grade II Listing on 23rd July 2012.

The concrete bases of the sheds are still visible on the beach and are occasionally used as a helicopter landing pad by the local coastguard. Extracted from a pieces by Chris Kempshall, Jenny Flood and others - with grateful thanks.
Qs & As - We are often asked how SeaVax is able to pick up a variety of materials, where at the moment only surface skimmers exist to tackle river waste. The most common questions are these:
1. SEAVAX AVOIDS FISH & PLANKTON - It can see ahead underwater, adjust parameters selectively to target microplastics in a plastic soup, or shut down if necessary to protect marine life, until it is safe to resume cleanup operations.
2. RECOVERED PLASTIC IS RECYCLED - Giving 80% MARPOL grade clean diesel or other products, so conserving oil reserves.
3. LOGISTICS - Emptying SeaVax ships at sea in rotation & delivering harvested plastic waste to treatment plants on land.
SeaVax is to be COLREGs compliant thanks to advanced sensors that can see and track other vessels several miles before any possibility of a collision. A robot captain does not sleep or get tired. Most accidents at sea are as a result of human error. Autonomous shipping is likely to be safer once the technology is both perfected and accepted by all ship manufacturers. Rolls Royce is a leading advocate of autonomous shipping.
SEAFORD BAY - BBC News February 2014 - Recent tidal surges and high waves have left a town in East Sussex in a particularly vulnerable position, the Environment Agency has been told. Local MP Norman Baker said the old sea wall and wooden groynes at Seaford, which had been buried under shingle since 1987, had now been exposed.

"Seaford beach is looking dangerously inadequate to protect the town," he said, adding it had been "eaten away". The agency said its officers were "working 24/7 to reshape the shingle".

In response to Mr Baker's comments, it tweeted that dumper trucks would be on site on Tuesday and it was doing all it could to protect Seaford. However, the continuing stormy conditions meant contractors had to call a halt to their operations during the morning. This Shoreline Management Plan (SMP12 Beachy Head to Selsey Bill) is the responsibility of Lewes District Council. Grid reference: X: 545,649.61; Y: 99,771.4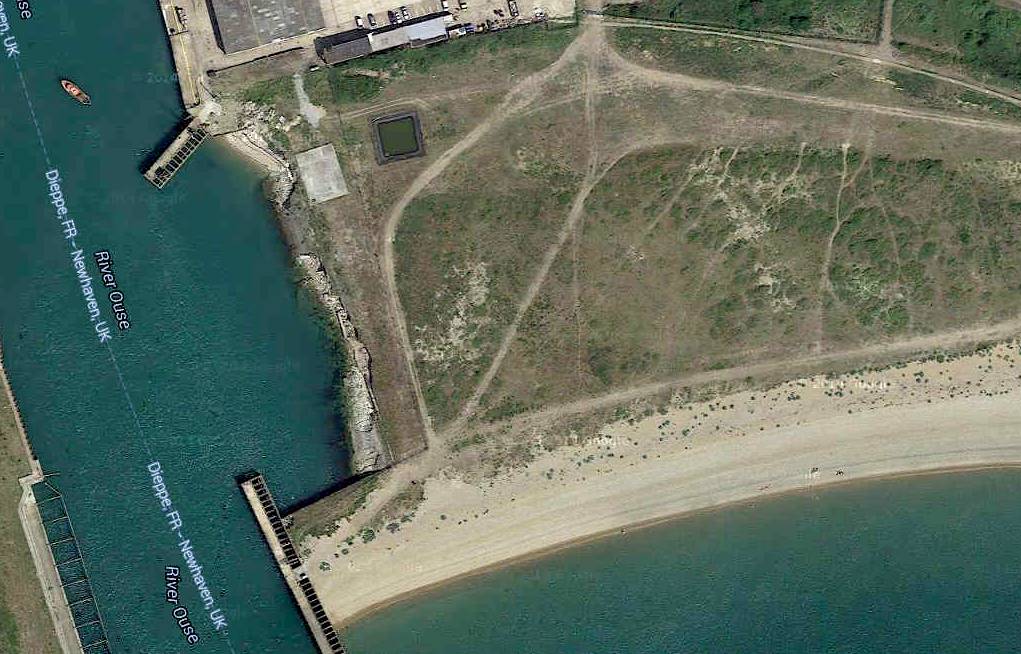 HARBOUR ENTRANCE - The west side of Seaford Bay appears to have access from the docks area, but in fact is more like a prisoner of war camp, with barricades and barbed wire all over the place. It is pointless surveying the Bay for any suitable location where so many local authorities are involved. It is potentially a bureaucratic nightmare in the making. On the positive side, preliminary enquiries revealed that all the authorities were friendly and generally helpful. We can operate from unprepared ground. Indeed, that is part of the test assembly - that it is possible to put a SeaVax together on any shore without damage to a beach so that it can be rolled into the sea. The challenge is difficult enough without red-tape issues.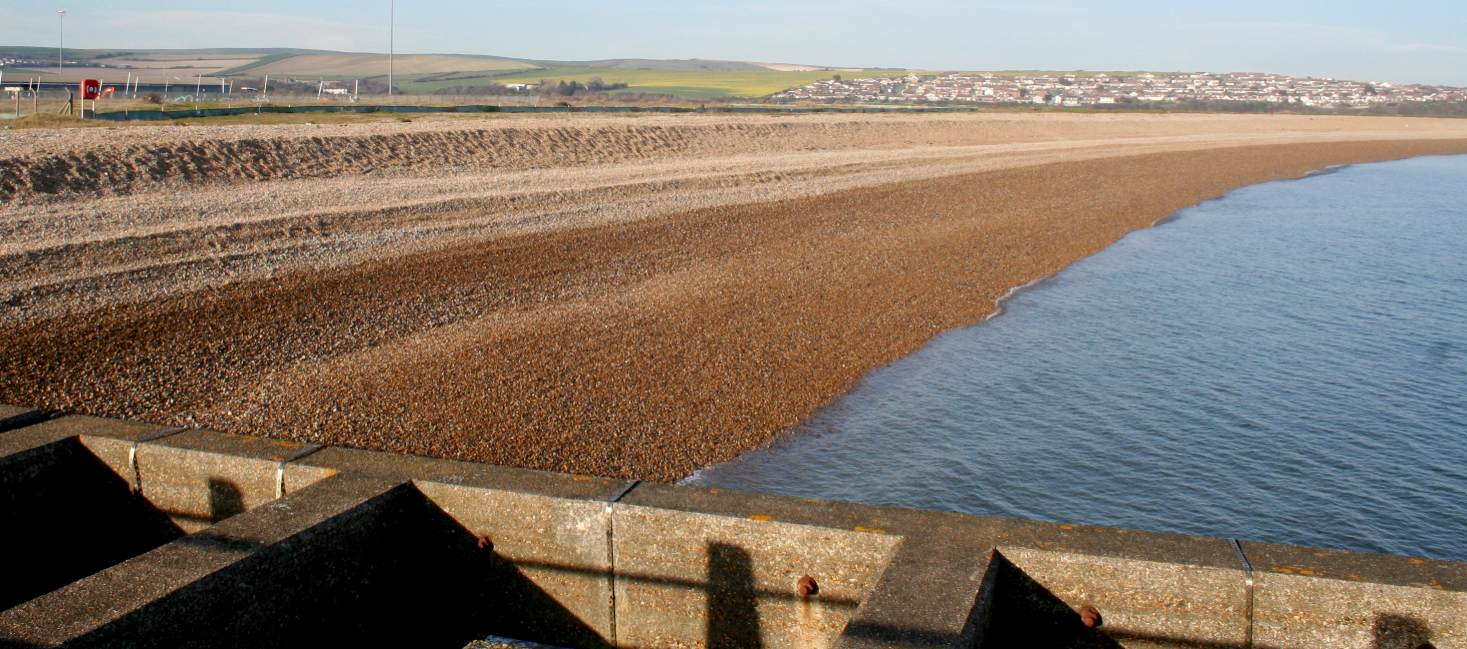 SEAFORD BAY - This beach is artificially built up with shingle into a steep slope with two deep ridges, making it unsuitable for launching of the SeaVax without considerable preparation. In addition, it is like Fort Knox trying to get from the road to the shore. The only way in would be by sea or along the shore from the Seaford Sailing Club. The area is controlled by Lewes District Council (LDC). It is a great shame, because the area is an underused resource that is rather unkempt looking past the shingle. Typically, the harbour has been developed in an uncoordinated fashion that now has a run-down look. The area badly needs a regeneration boost. 12 April 2016. Contact LDC: Southover House, Southover Road, Lewes, East Sussex, BN7 1AB. Tel: 01273 471600. Copyright © April 12 2016, all rights reserved. You will need permission from Bluebird Marine Systems Ltd to reproduce this photograph.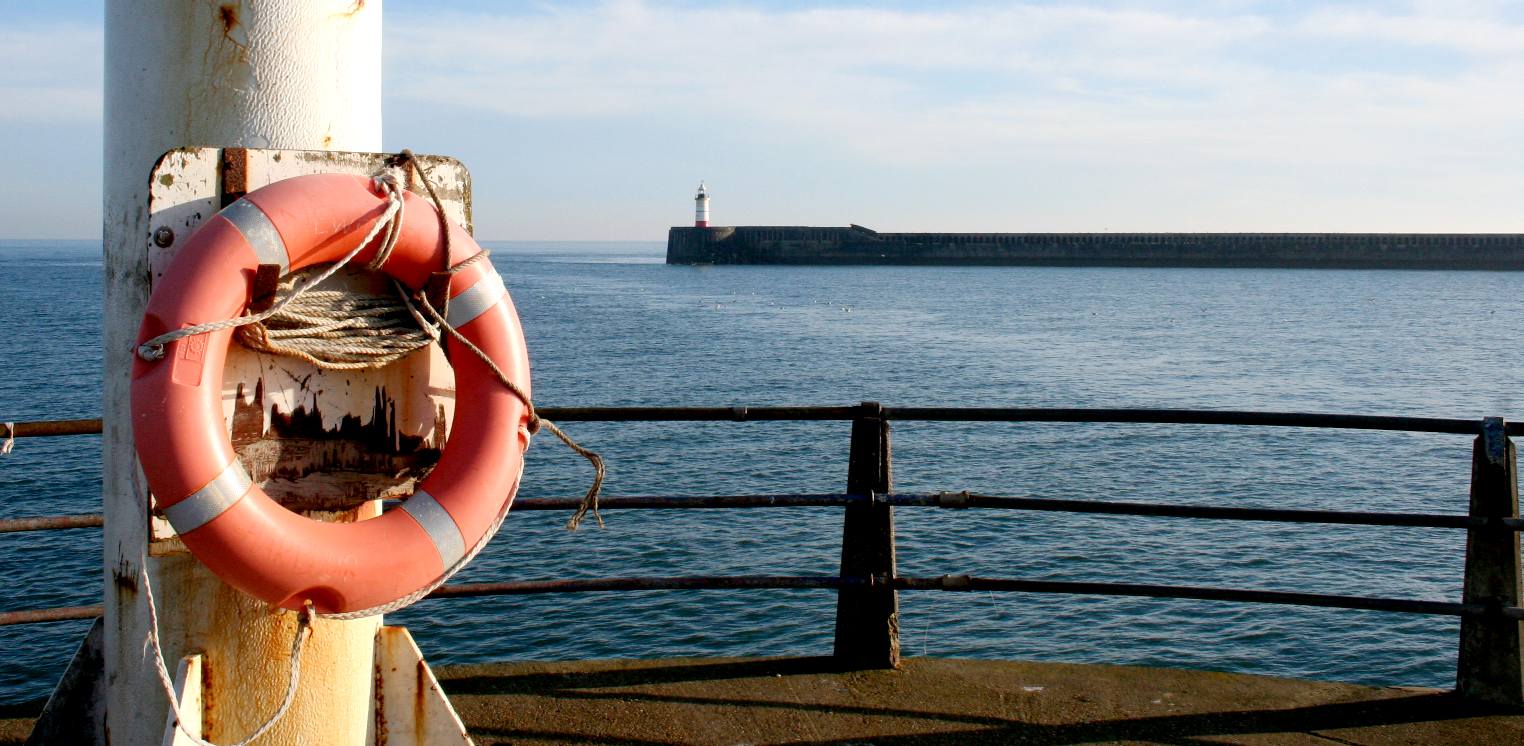 NEWHAVEN LIGHTHOUSE - This is a view from one breakwater end to the other making the harbour entrance. Copyright © April 12 2016, all rights reserved. You will need permission from Bluebird Marine Systems Ltd to reproduce this photograph.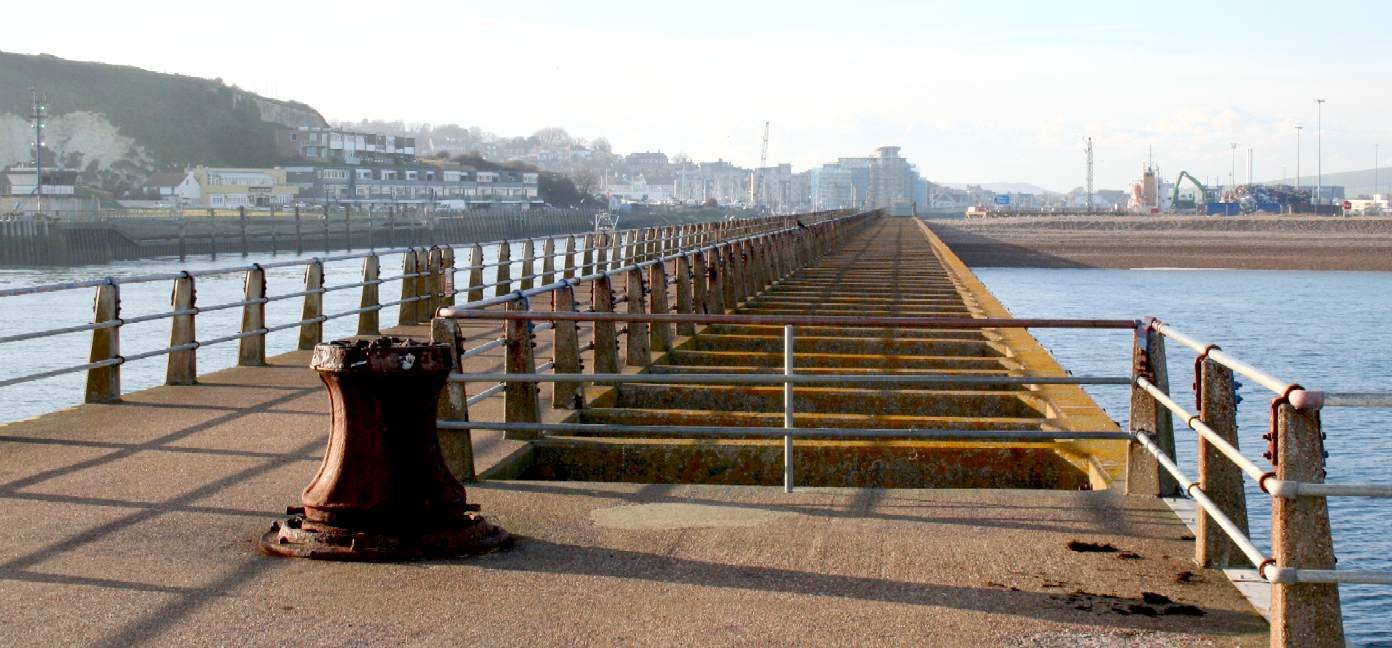 NEWHAVEN HARBOUR - This is a view along the east breakwater looking north towards the port. Copyright © April 12 2016, all rights reserved. You will need permission from Bluebird Marine Systems Ltd to reproduce this photograph.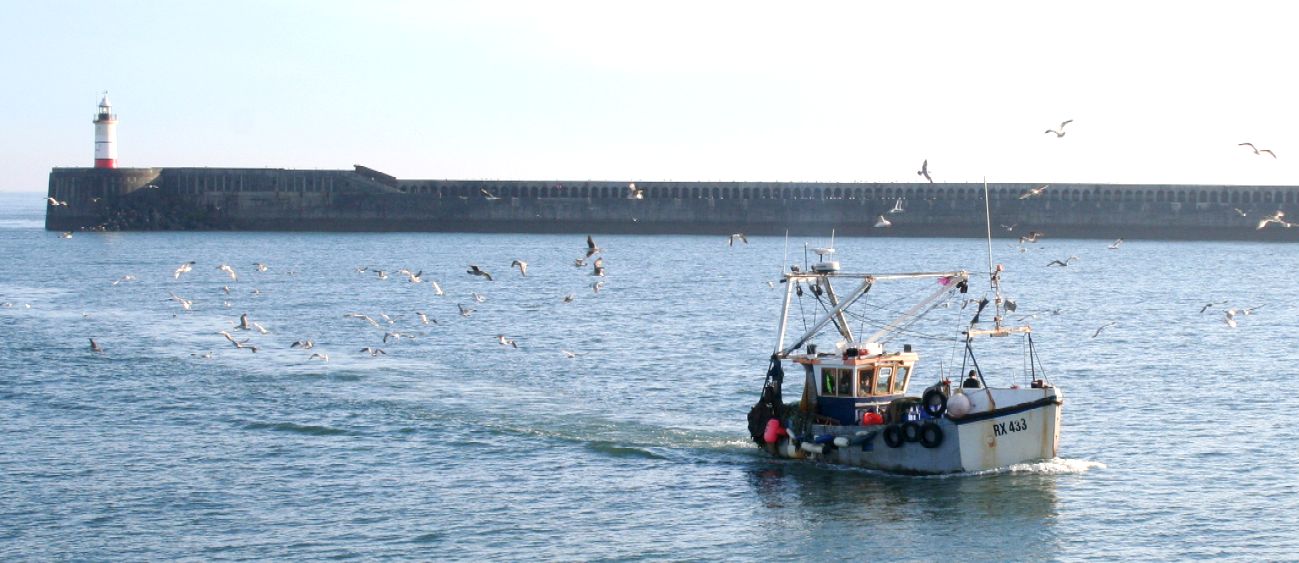 FISHERMEN - Amid cries of catch limiting and piracy, the fact is that fish is a valuable food resource and we need the brave crews who are prepared to venture out and catch our favourite Friday night meal: Fish and Chips.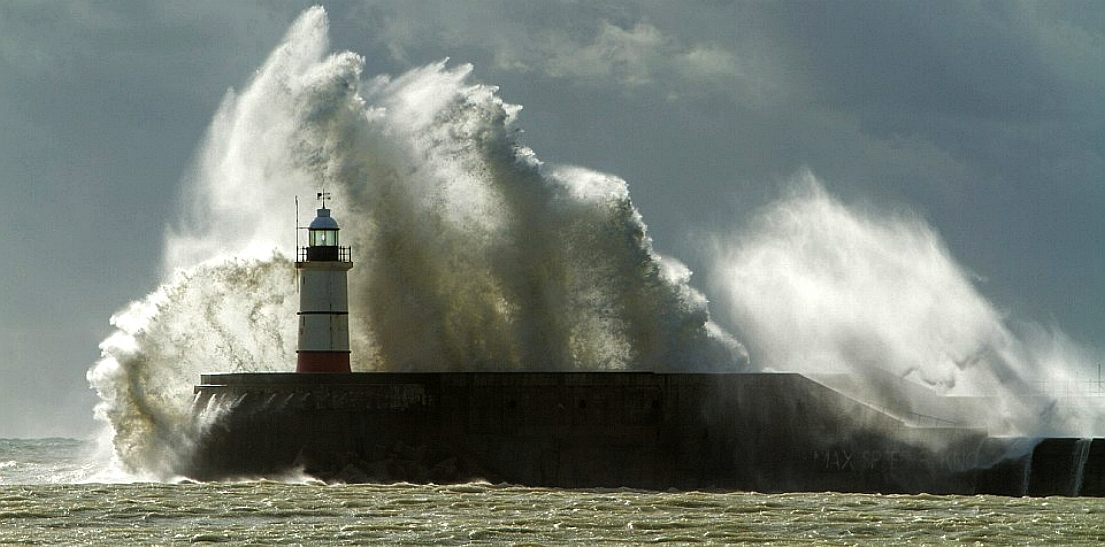 LIGHTHOUSE - Seen here in the storms of 2014, Newhaven lighthouse continues to shine as a beacon to mariners entering the port.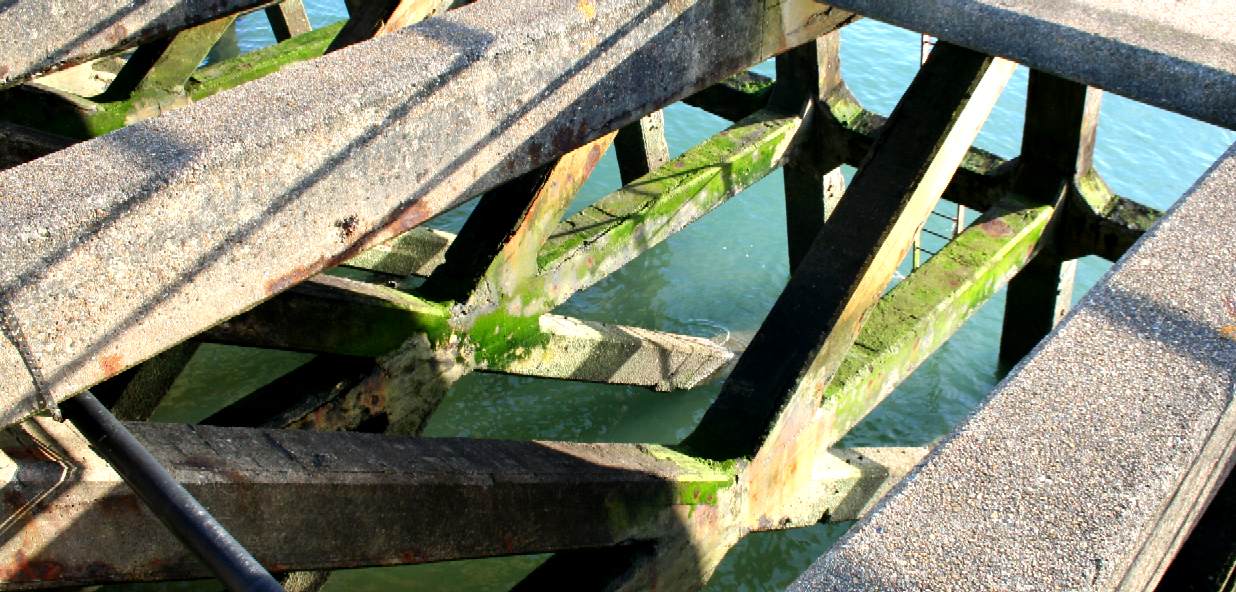 CONCRETE BREAKWATER - This structure was made in the old Seaplane sheds before they were dismantled. Copyright © April 12 2016, all rights reserved. You will need permission from Bluebird Marine Systems Ltd to reproduce this photograph.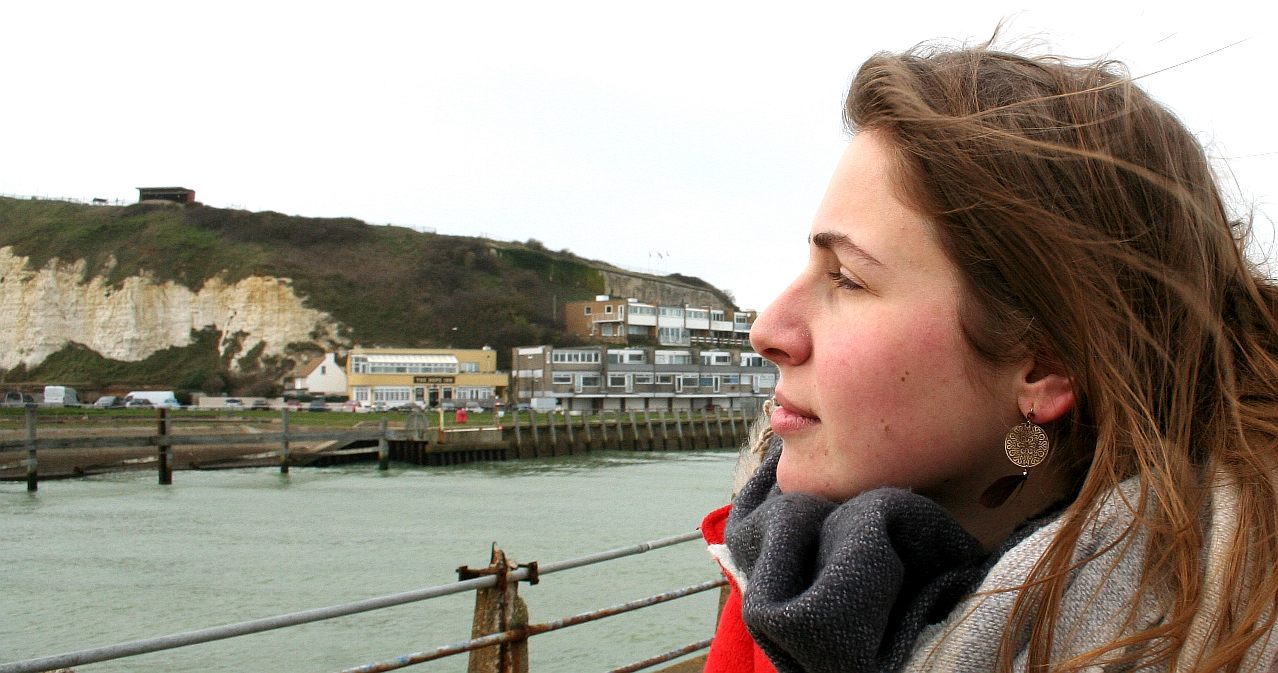 NEWHAVEN - The busy port of Newhaven is home to a cross-channel ferry service from England to France. The river Ouse flows into the English Channel carrying with it plastic waste that is not visible to the human eye. All in not as it seems. Food for thought for Lolita D'Ortona, a bio-engineer from Belgium. Copyright photograph 9 March 2019 all rights reserved. You will need the permission of the Cleaner Ocean Foundation to reproduce this picture.. The collected plastic was disposed of responsibly. Copyright © photograph, 9 March 2019. All rights reserved, Cleaner Ocean Foundation Ltd.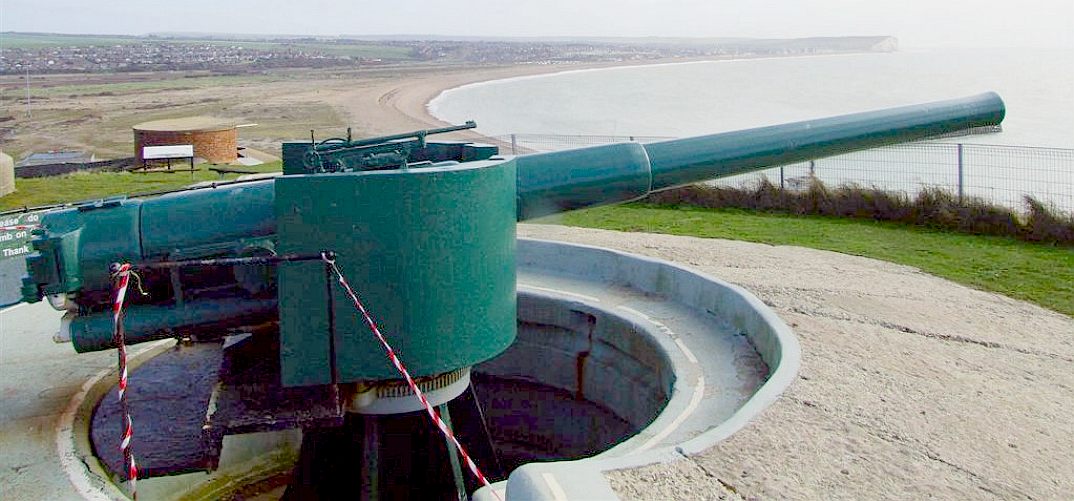 BBC NEWS JULY 2012 - Newhaven Fort will not be sold off despite running at a loss of £200,000 a year, Lewes District Council has said. The East Sussex site was completed in 1871 and was an operational coastal defence in both world wars before being decommissioned during the 1960s.

A meeting of Lewes District Council agreed to retain ownership but put it on the market for a long term lease arrangement as a visitor attraction. The leaseholder would have to pay for improvement works, costing about £6m. Conservative councillor Rob Blackman, who is the lead member for business, economic development and tourism, is quoted as saying that the site required a large investment to fulfill its potential as a:
"significant visitor attraction". "We know from the feasibility study that there are interested parties out there. "It is a great site and location and could host a fantastic variety and range of events as well as providing enhanced educational facilities, be a location for a range of commercial activities and much more."
That may well be the case, but other forts along the south coast have had a history of investment problems, such as Fort Bovisand near Plymouth Ho, even with not-for-profit charities at the helm.
PALMERSTON FORT - A new fort to defend the port of Newhaven was a recommendation of the 1859 Royal Commission on the Defence of the United Kingdom, during the administration of Lord Palmerston. The design of the fort commenced in 1862 and was overseen by 22-year-old Anglo-Irish Lieutenant John Charles Ardagh, working from an office in Brighton. The site selected was on cliffs overlooking the harbour called Castle Hill, which was already occupied by a battery which originated in the mid-16th century. Instead of leveling the site, as was customary, Ardagh designed the fort to conform to the existing contours. It was the largest defence work ever built in Sussex and is now open as a museum.
MODEL TESTING - In order to be sure of our initial evaluations of hull design, we will be conducting a series of simulated beach launches after our tank tests are complete. We are building our own dedicated facilities to save development costs. The proof of concept model can be broken down in minutes, but our present 1/20th scale model is in three parts as we write, not five. It is likely that we will break the model down into five parts to be able to simulate the assembly sequence, so that we know it backwards for a day in 2017 yet to be named.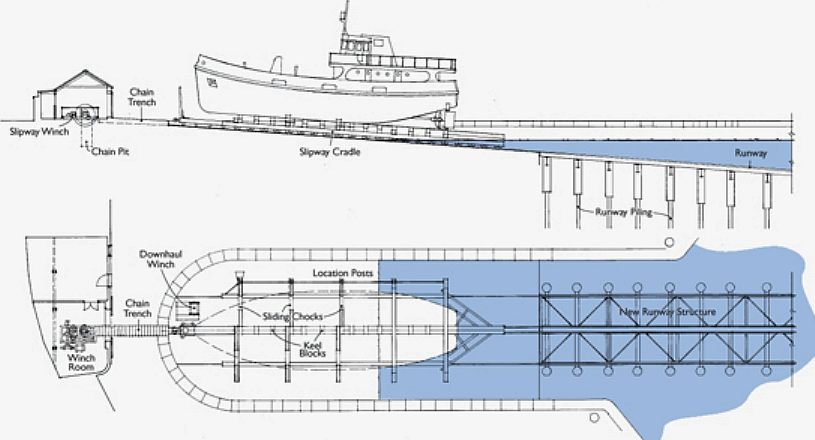 BRISTOL'S PATENT SLIPWAY - Over a thousand years ago Bristol's harbour developed around the lowest bridging point of the River Avon. Eventually, the growth in the size of ships and the narrowness of the river through the Avon Gorge meant the end for Bristol as an international trading port.

In 1880 the Council bought the Slipway and Nova Scotia Yard, now known as Cambria Yard, to enlarge the docks maintenance facilities. Over the years this fell into disrepair.

RESTORATION - The Patent Slipway was restored by the Underfall Trust in 1998-9. The restoration was based on the slipway built under the direction of John Ward Girdlestone in 1890. This slipway replaced an earlier design built in the 1850's by boat builders Ross & Sage.

The Patent Slipway or 'Heave-up Slip' was patented in 1819 by shipbuilder Thomas Morton of Leith in Scotland. Morton invented the notion of constructing a fixed runway into the water with a timber cradle on it. The ship is floated onto the cradle and secured. The cradle is then drawn out of the water. The device was a low cost alternative to dry docks for maintenance and repair work.

The Ross & Sage slipway appears to have been powered by a hand capstan, which was later replaced by a steam engine. The 1890 replacement was originally driven by an hydraulic engine powered by the dock's system. In 1924, an electric motor was installed which still operates today. The winding gear and motor are housed in the shed at the top of the slipway.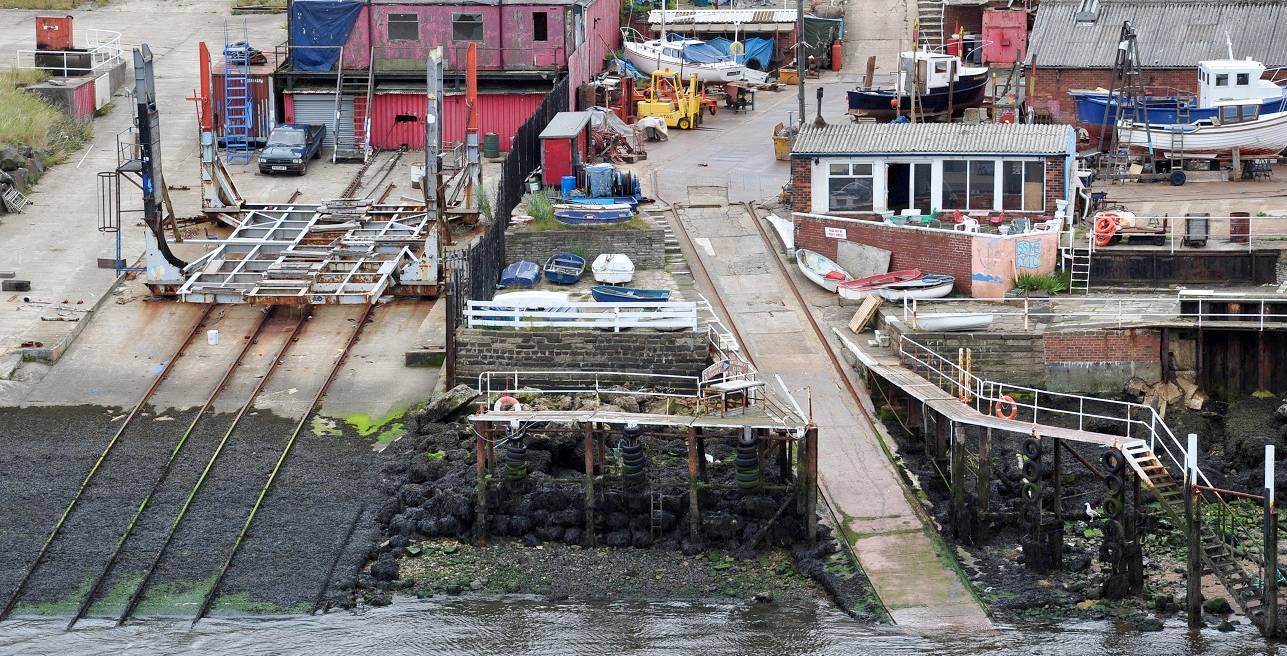 TYNESIDE - Somewhat more up-country at South Shields, Tyne & Wear is this slipway based on a rail track and cradle-trolley recovery system. As you can see this method involves a lot of concrete and engineering - something that is not cost effective or environmentally friendly - and most certainly out of the question in third world countries. You may also care to agree that this kind of development, though an economic necessity, is unattractive.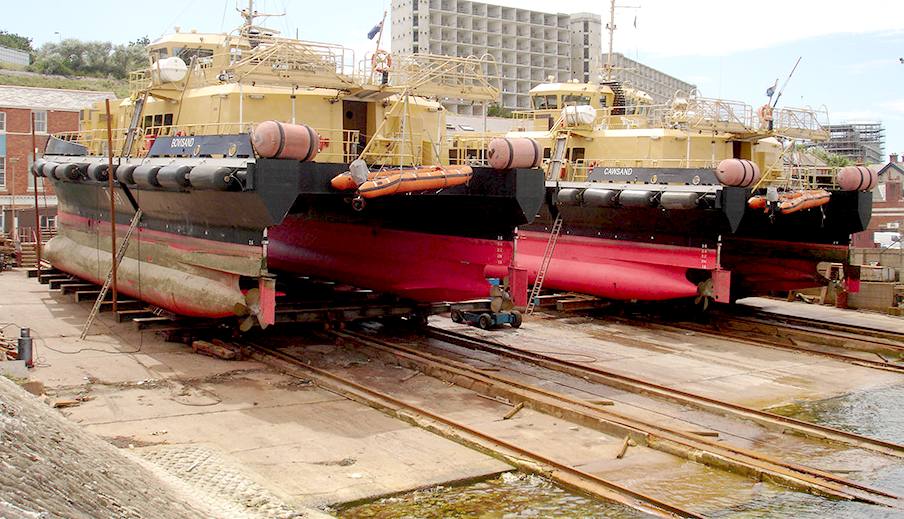 DORSET - Further down the coast at Portland, Manor Marine operate these recovery and launch trolleys, here loaded with two SWATH vessels. SWATH vessels have two hulls that are submerged, so giving a smoother ride in rough seas. You can see that the hull on the left is fouled, increasing the fuel needed to push the hull along. Once cleaned, the vessel will be back to running efficiently. This is the kind of development that we are trying to avoid, because they damage the local ecology. They are of course necessary in some cases.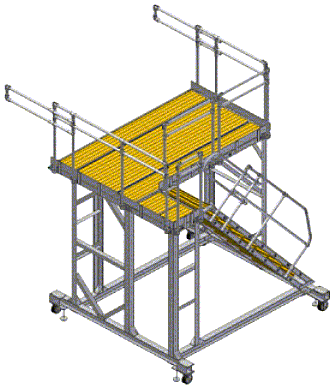 LAUNCH CEREMONY - We are hoping that a local person with an interest in ocean matters might be available to launch the SeaVax. It is early days yet, but we are making enquiries along the south coast to obtain any necessary consents and find suitable sites. The naming ceremony is to be reserved until once the prototype is fully fitted out.
Almost all of the sites shown on this page are suitable for beaching and launching SeaVax. As a scouting exercise, we now know that UK operators on the south cost of England would have dozens of possible locations to choose from.
Our research offers a potential blue growth solution where none exists at the moment. The ocean is the 7th largest economy valued @ $24 trillion, yielding $2.5 trillion annually, but it's going downhill fast according to a WWF report published in April of 2015 - marine life has declined by 39% since 1970. Another report in January 2016 reveals that there will be more plastic in the oceans than fish by 2050. Using a multi-pronged attack, the trend could be reversed if we act now. Can you afford not to help us get a SeaVax demonstrator in the water?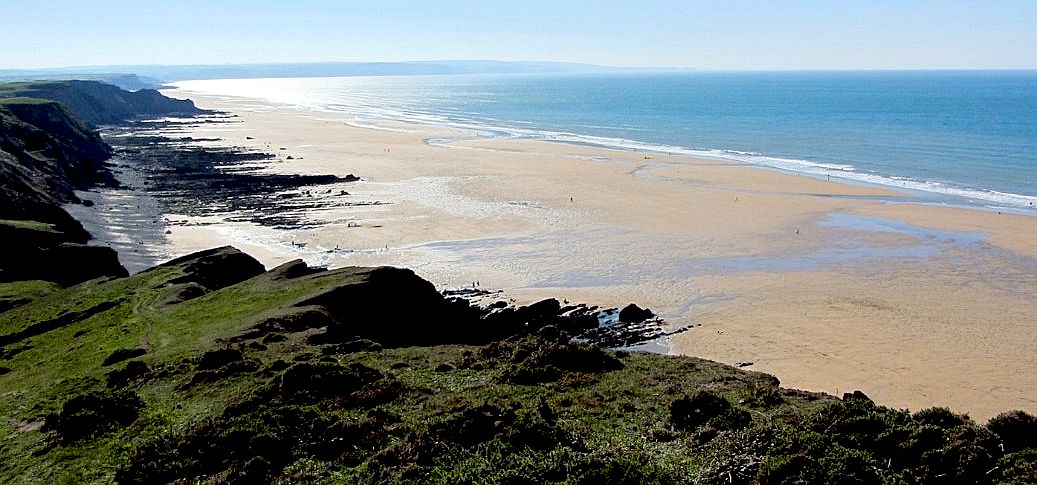 WEST COAST - Deviating slightly in compass heading, take a look at these stunning beaches, familiar to many who like hanging ten on a surfboard now and again. Sandybeach (above) is only three miles from Bude on the Atlantic coast. The reason for including these pictures is that the beach slope is too shallow for launch of the SeaVax.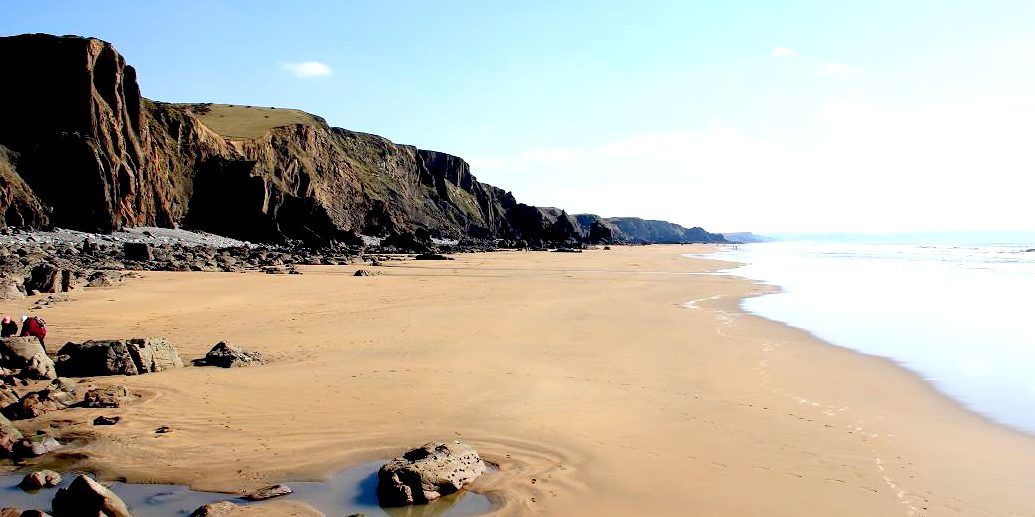 LINKS & REFERENCE
Daily Mail UK news walkers-warned-steer-clear-Beachy-Heads-cliff-sub-zero-temperatures-accelerated-pace-erosion-leaving-extremely-unstable
UK government environment agency
https://twitter.com/RNLI
http://rnli.org/
http://www.eastsussexww1.org.uk/newhavens-seaplanes/
http://www.lewes.gov.uk/
http://www.se-coastalgroup.org.uk/sf-to-bh-2006/
https://www.gov.uk/government/organisations/environment-agency
http://www.bbc.co.uk/news/uk-england-sussex-26133395
http://underfallboatyard.co.uk/history.html
AMPHIBIOUS LAUNCH - AMPHIMAX - CAB - CHASSIS - CRANE - DIESELS - FLOATATION - GENERATORS - HYDRAULICS - LAUNCH SITE - MODEL 1/20 - TIMETABLE - TRACKS - TRAILER - THRUSTERS - WHEELS