FLEET CONTROL - A bulk carrier rota system to service between 100 and 300 SeaVax units spread out strategically in the Atlantic, Indian and Pacific Oceans would need 10 ships operating continuously. Allowing 20 days for return to port, unloading, and cruise back to the SeaVax fleet. Such an operation would be serious overkill, being more capacity than is needed. Targeting the dirtiest rivers and ocean hot spots will be more successful in our view.
AN OCEAN CONVEYOR BELT SYSTEM
A 150 ton capacity SeaVax that is emptied every two days could collect 27,375 tons of ocean plastic in theory, over the course of a working year. In reality, that is likely to be anywhere from 10,000 to 20,000 tons per year in filtration mode, because SeaVax may only filter so much water and the plastic content where a ship may be fishing, may not be so loaded with garbage as another location, where a SeaVax may need emptying every day - especially if dealing with surface solids.
The theoretical filtration limit of our prototype 84kW MantaRay is 24,000 tons/year. We could increase the power of course, but our development engineers need a benchmark. In shredding mode, as when dealing with surface solids, the yield rises dramatically. Fortunately, this is likely to be near rivers, shores, or in bays, where SeaVax would return to port for emptying - not needing to call on a bulk carrier.
You are now thinking that we might not need cargo ships, but the 5 garbage gyres will see SeaVax in the thick of it in blue water - and that is where it is impractical for our robovacs to return to port for emptying. They need to remain on point once they find the mother-load, stopping only to dock with a carrier for 30 minutes or so; longer in unfavorable conditions. We are still thinking about the docking sequence where the carrier will need to slow right down to allow coupling.
For the above reasons we are working on averages. In the end it all depends on how smart our operations are. The good news is that as our robots scour the high seas for waste, they not only learn where to fish, but they teach us where to send them - because we analyze the collection data/rate as they collect, giving us the geographical coordinates for high yield. It's like searching for treasure.
It is important to remember that while all of this is theoretically possible, without the funding for the necessary research to join the technical dots, such a system will never see the light of day.
The problem then is not developing the technology, it is finding the funding. For any company operating on a not for profit basis, this is nigh on impossible. Governments want this solution, but are not prepared to pay for it. They want us to development the technology for them free of charge, without any thought of how that might be possible, where a not for profit has no trading track record, scoring them low in their ability to make it happen, and has no products to sell at a profit to fund R&D, to be able to pay staff, most of which will have mortgages. Hence, it is the politicians and policy makers that are to blame for not taking a chance on a maverick organization, when a maverick is needed to get the job done. One of the most famous mavericks in the history of solutions is John Harrison, a humble woodworker and clock maker (in wood) who solved the navigation problem for the Board of Longitude with his Marine Chronometer.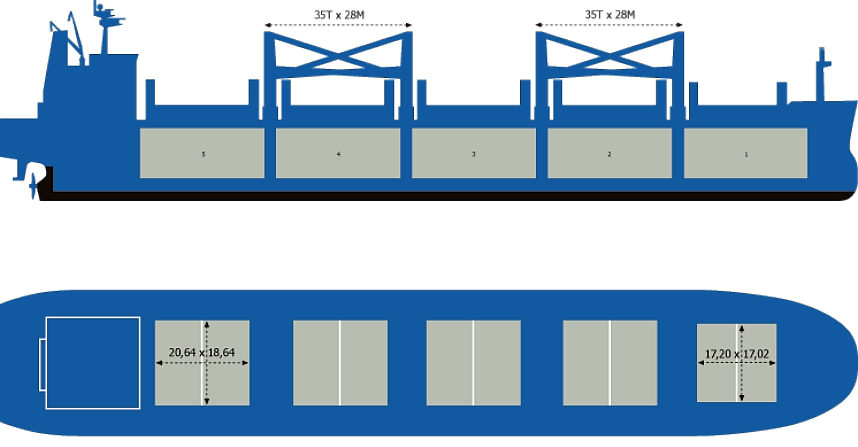 HANDYMAX CARRIER LAYOUT - The above diagram shows the general layout of a bulk carrier, here with five compartments that are ideal for plastic waste. For convenience, we shall call a HandySize or HandyMax that is converted to carry plastic, a PlastiMax.
SEANET™ LOGISTICS
In one year, ten x 45,000 deadweight tons (DWT) PlastiMax (Handymax) carriers could complete 18 missions each to transport 8,100,000 tons of plastic - again in theory. That is of course all the plastic estimated to be in the oceans at this time (11-3-16) - hence serious overkill. A vigorous operation might then need 9 carriers with far fewer sailings, operating in 3 oceans: Atlantic, Indian and Pacific Oceans. If anyone familiar with transport logistics could point out any obvious problems, we'd be pleased to hear from you. This is a theoretical exercise, where we need practical examples.
CHARTER
It is doubtful that we would ever be able to afford to buy carriers for Operation SeaNet. That leaves us with hiring such vessels as and when they may be needed.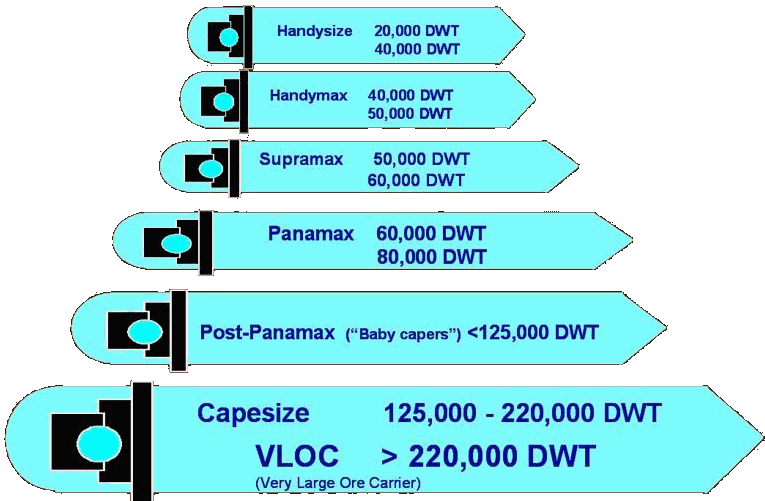 LOGISTICS - A suitably modified bulk carrier of around 40 - 60,000 DWT would do the job. This means that a ship between Handysize and Panamax classes would be ideal to offload SeaVax fleets at sea. These classes of ships are called Bulk Carriers by ship operators and insurers.
A bulk carrier, bulk freighter, or bulker is a merchant ship specially designed to transport unpackaged bulk cargo, such as grains, coal, ore, and cement in its cargo holds. Since the first specialized bulk carrier was built in 1852, economic forces have fuelled the development of these ships, causing them to grow in size and sophistication. Today's bulkers are specially designed to maximize capacity, safety, efficiency, and durability.

Today, bulkers make up 15% - 17% of the world's merchant fleets and range in size from single-hold mini-bulkers to mammoth ore ships able to carry 400,000 metric tons DWT. A number of specialized designs exist: some can unload their own cargo, some depend on port facilities for unloading, and some even package the cargo as it is loaded. Over half of all bulkers have Greek, Japanese, or Chinese owners and more than a quarter are registered in Panama. South Korea is the largest single builder of bulkers, and 82% of these ships were built in Asia.
There is a healthy market for used bulk carriers as the newer builds move to LPG to comply with MARPOL anti pollution at sea regulations. Carriers that have dirty engines would lend themselves to conversion to alternative energy for propulsion. This is something for us to consider in the future.
PLASTIC WASTE
ABOUT THE HANDYMAX CLASS
Handymax and Supramax are naval architecture terms for the larger bulk carriers in the Handysize class. Handysize class consists of Supramax (50,000 to 60,000 DWT), Handymax (40,000 to 50,000 DWT), and Handy (<40,000 DWT). The ships are used for less voluminous cargos, even allowing for combining different cargos in different holds. Larger capacities for dry bulk include Panamax, Capesize and Very Large Ore Carriers (VLOCs), or Chinamax.

The architecture is not defined for maximum route (as Panamax and Suezmax is), but the term is used in shipping markets. These smaller ships usually have self-loading capacity, making it easier to use in ports with limited infrastructure.

A handymax ship is typically 150–200 m (492–656 ft) in length, though certain bulk terminal restrictions, such as those in Japan, mean that many handymax ships are just under 190 meters (623 ft) in overall length. Modern handymax and supramax designs are typically 52,000-58,000 t DWT in size, have five cargo holds, and four cranes of 30 tonnes (33.1 short tons; 29.5 long tons) lifting capacity. The average speed of a vessel varies depends on size and age of vessel.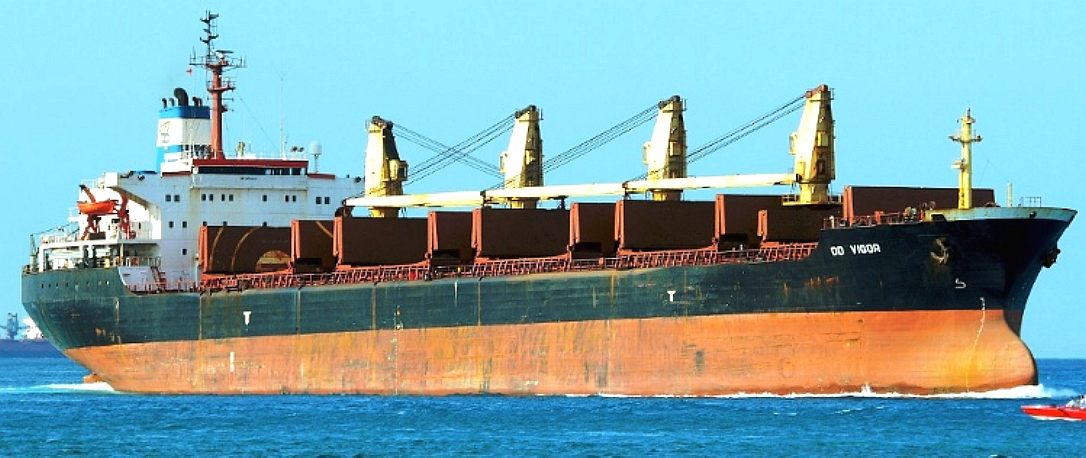 A HANDY SIZE SHIP - For example the m/v Dessi has an average speed of 8.4 knots but a max speed of 15.7 knots. The ship the DD VIGOR (IMO: 8109034, MMSI: 375089000) is a good example of a handymax Bulk carrier. It is registered in Saint Vincent and the Grenadines and has a deadweight of 42221 tons.
The cost of building a handymax is driven by the laws of supply and demand. In early 2007 the cost building a handymax was around $20,000,000. As the global economy boomed the cost doubled to over $40,000,000, as demand for vessels of all sizes exceeded available yard capacity. After the Global Economic Crisis in 2009 the cost fell back to $20M.
We are currently looking at the cost of 2nd user vessels, more to get a handle on the market. The cost of shipping goods in containers varies from £0.05 - 0.15 pence per kilogram. We do not yet have prices for bulk carrying. If a used ship could be purchased for £3 to 5 million pounds, it would be well worth considering operating a fleet fitted with Flettner rotors or other energy saving devices, maybe even large wind turbines - just like the SeaVax.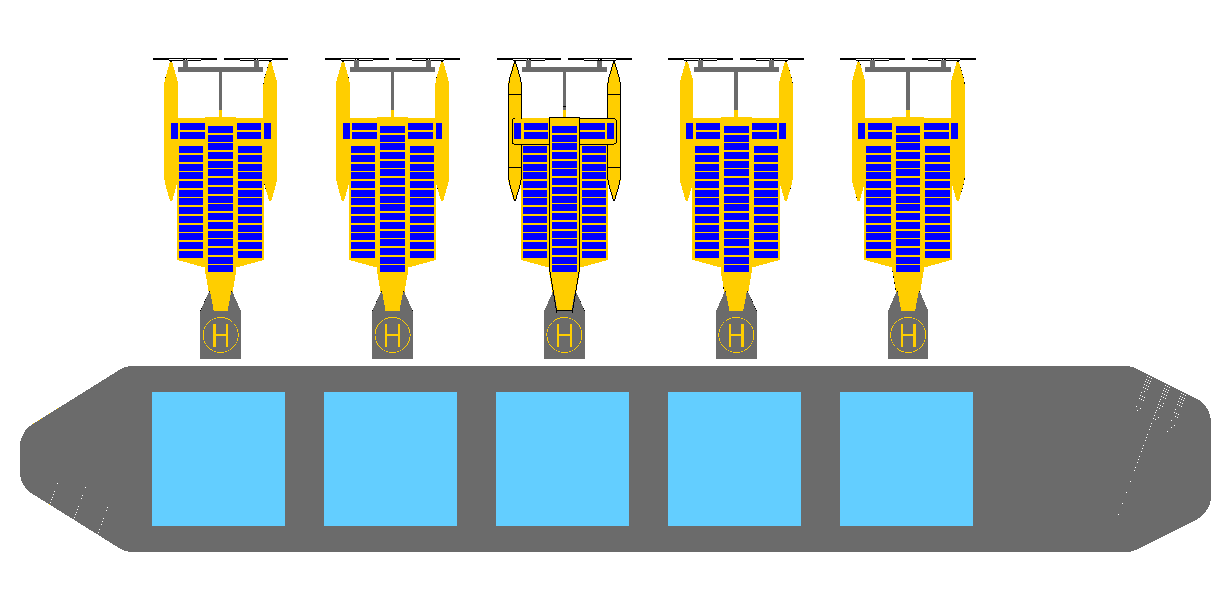 PLASTIMAX OCEAN TRANSFER - In this diagram we see a 180 x 28 meter Handysize bulk carrier (drawn to scale), and five SeaVax ships docking to unload their plastic haul on the starboard side of the ship. SeaVax drones can dock from either side of a converted Handymax (PlastiMax). If one converted PlastiMax can handle around 50,000 tons of plastic waste, it would then take 66 SeaVax transfers (in multiples of five as shown) @ 750 tons each, to fill up one cargo ship. A Handymax would cruise between SeaVax fleets, emptying them in sequence, or as requested by the SeaVax vessels themselves.
The SeaVax discharge rate is variable depending on the viscosity of the catch - which the SeaVax decides on harvesting efficiency. The discharge rate for plastic would be between 25 m3/hour - 100 m3/hour, equating to 6 - 1.5 hours of transfer time. Faster transfers use more energy, so this is a consideration in amongst traffic control, as other SeaVax units might queue to offload.
Eventually, the PlastiMax service ships could also be zero emission ships.

DOCKING PROCEDURE - The docking couplings and method of transfer are not shown or explained here in any detail for legal reasons. If we were to show you how this worked, we might not be able to obtain patent protection. Having said that, we can show you the basic principles. With the considerable investment needed to develop such a system, potential Joint Venture associates may not be so inclined to partner to the project. A key feature is the ability of the SeaVax system to cater for the relative height of a ship in the fully unloaded state, as compared to the fully loaded state. Naval architects will not have come up against this scenario before.
The SeaVax and PlastiMax on the left are shown together with the hold of the bulk carrier about one third full with the PlastiMax floating high in the ocean. As the cargo hold fills up the ship displaces more water and sinks deeper into the seawater. A special coupling and transfer technique is needed to make this work. The same system will work just as effectively when SeaVax is transferring its cargo in harbors, ports and rivers. Testing of the coupling is a high priority before building the full size prototype.
HANDYSIZE BULK CARRIER FEATURES
Their small size allows these vessels to enter smaller ports to pick up cargoes, and because in most cases they are 'geared' - i.e. fitted with cranes - they can often load and discharge cargoes at ports which lack cranes or other cargo handling systems.

Compared to larger bulk carriers, handysizes carry a wider variety of cargo types. These include steel products, grain, metal ores, phosphate, cement, logs, woodchips and other types of so-called 'break bulk cargo'. They are numerically the most common size of bulk carrier, with nearly 2000 units in service totalling about 43 million tons.

Handysize bulkers are built mainly by shipyards in Japan, Korea, China, Vietnam, the Philippines and India, though a few other countries also have the capacity to build such vessels, including Ireland. The most common industry-standard specification handysize bulker is now about 32,000 metric tons of deadweight on a summer draft of about 10 metres (33 ft), and features 5 cargo holds with hydraulically operated hatch covers, with four 30 metric ton cranes for cargo handling. Some handysizes are also fitted with stanchions to enable logs to be loaded in stacks on deck. Such vessels are often referred to as 'handy loggers'. - Despite multiple recent orders for new ships, the handysize sector still has the highest average age profile of the major bulk carrier sectors.
CAN WE POWER BULK CARRIERS FROM NATURE ?
Ideally, we'd like to use carriers that are converted to be at least wind and solar assisted. Since there are relatively few converted ships about at the moment, we are putting this on our shopping list of future goals. We cannot diversify into ship conversions until SeaVax operations are in play.
WHAT ABOUT TREATING THE PLASTIC AT SEA?
Something else we will be looking at is the practicality of installing plastic sorting and treatment at sea, alongside pyrolysis equipment. If that were a viable option, then the transport ships would also be floating factories, along the lines of factory fishing ships. These floating factories would be powered by the plastic they are collecting from our SeaVax fleets, and producing the raw materials for plastic products.
Please help us to help the world rid itself of ocean plastic waste by supporting our research.
PLASTIC POLLUTION PROBLEM
A - Z SAIL AND SOLAR ASSISTED BOATS & SHIPS
CARGO SHIPS A list of the top ten fossil fueled leaders that could benefit from solar and wind assistance. You may notice from the specification of these vessels that we are in the right theoretical ballpark for power to cargo ratio when comparing DWT to installed engine power:
| | | | | | |
| --- | --- | --- | --- | --- | --- |
| RANKED | SHIP NAME | No. BUILT | LOA | | KW/TON/DWT |
| - | - | - | - | - | - |
| 1. | | 5 | 399.9 | 23,756 | 0.379 (0.50hp) |
| 2. | | 5 | 399.9 | 21,413 | 0.316 (0.42hp) |
| 3. | | 3 | 400.0 | 21,237 | N/A |
| 4. | | 2 | 400.0 | 20,954 | 0.368 (0.49hp) |
| 5. | | 10 | 399.0 | 20,568 | 0.3 (0.4hp) |
| 6. | | 10 | 400.0 | 20,388 | N/A |
| 7. | | 1 | 399.0 | 20,182 | N/A |
| 8. | | 3 | 400.0 | 20,170 | 0.427 (0.57hp) |
| 9. | | 4 | 399.8 | 20,119 | N/A |
| 10. | | 5 | 400.0 | 19,870 | N/A |
| - | - | - | - | - | - |
| 00 (Proto) | | - | 50.0 | 6 | 0.37 (0.49hp) |
LINKS & REFERENCE
https://en.wikipedia.org/wiki/Handysize
SDR INTERNATIONAL LOGISTICS (SHENZHEN) LTD
Room 1005,TianHui Building
YouSong Road,LongHua, Bao'an District
ShenZhen, GuangDong, China

Tel: +86-755-25863600 (ext.8002) Fax: +86-755-22384580
Mobile: +86-138-2882-0658
E-mail: starryshi@sdr-logistics.com
Website: www.sdr-logistics.com
Shenzhen Power Way International Freight co Ltd
No.26CDXinbaohui
NanhaiAvenue, NanshanDistrict
Shenzhen, China

Tel: +860755 26050660

Email:sales-6@powerway-logistics.com

Web: http://www.powerway-logistics.com
Shenzhen Speed-up Int'l Logistics Co Ltd
Baoan Central District
Shenzhen, Guangdong, China

Tel :86-755-27888701-806
Mob : 13510904568
Email:Sammy@speed-up.biz
Website: http://www.speed-up.biz
WISDOM-WIN INT'L LOGISTICS LTD (CNW GROUP)

Rm502 5th/F., No171 Commercial Building , ,
Nanxin Rd,Nanshan ,Shenzhen.China

Tel:+86-755-26565243
Fax:+86-755-26582407

e-mail: andyma@cnwlogistics.com
Web: http://www.cnwlogistics.com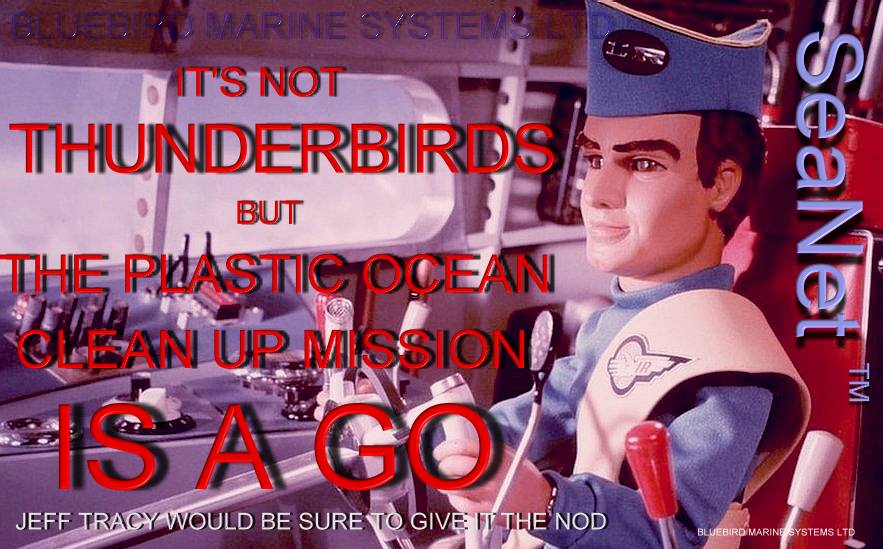 ACIDIFICATION - ADRIATIC - ARCTIC - ATLANTIC - BALTIC - BAY BENGAL - BERING - CARIBBEAN - CORAL - EAST CHINA
ENGLISH CH - GOC - GUANABARA - GULF GUINEA - GULF MEXICO - INDIAN - IRC - MEDITERRANEAN - NORTH SEA - PACIFIC - PERSIAN GULF - SEA JAPAN
STH CHINA - PLASTIC - PLANKTON - PLASTIC OCEANS - SEA LEVEL RISE - UNCLOS - UNEP WOC - WWF

AMAZON - BURIGANGA - CITARUM - CONGO - CUYAHOGA - GANGES - IRTYSH - JORDAN - LENA - MANTANZA-RIACHUELO
MARILAO - MEKONG - MISSISSIPPI - NIGER - NILE - PARANA - PASIG - SARNO - THAMES - YANGTZE - YAMUNA - YELLOW