FORD DIESEL - [LEFT] This is a modern 3.2-liter engine from the famous American car maker. It produces 197 hp and 347 lb-ft of torque in European specification with 90 percent of peak torque available from 1,700 to 3,500 rpm, just where it is needed for the AmphiMax power pumps. The inline-five diesel's torque curve is said to be as flat as the Bonneville salt raceway. [RIGHT} It's a little known fact that on January the 4th 1912, Henry Ford set a land speed record on ice at 91.37 mph on the frozen surface of Michigan's Lake St. Clair. He was driving a four-wheel vehicle, dubbed the "999," with a wooden chassis and an upright steering wheel. We love it!
To power the pumps that power the hydraulic motors on the AmphiMax, we are looking at using four medium sized diesel engines; one diesel engine for each of the four hydraulic pumps. We are also looking at electric motors as an alternative, but the cost is likely to be prohibitive.
Unlike the SeaVax, the AmphiMax will be a no-frills design and build - a basic machine to get the job done. Starting with the chassis, the design is straight forward, it is a triangulated steel space frame that holds buoyancy bags for lifting itself off the seabed after launch. We are looking at the cost benefits of stainless steel over painted steel, in case the extra cost of epoxy primers and 2-packs marine paints may offset the additional cost of labour to prepare and paint such a large structure. At the moment steel is in the lead (14-12-16). A space frame is lighter and stronger than a girder chassis and uses less steel.
CATERPILLAR DIESELS - The Cat® C6.6 ACERT Industrial Diesel Engine is offered in ratings ranging from 89-129.4 bkW (119.3-173.5 bhp) @ 2200 rpm. These ratings met U.S. EPA Tier 4 Interim Equivalent, EU Stage IIIB Equivalent emission standards. Industries and applications powered by C6.6 ACERT engines include: Agriculture, Ag Tractors, Aircraft Ground Support, Bore/Drill Rigs, Chippers/Grinders, Combines/Harvesters, Compactors/Rollers, Compressors, Construction, Cranes, Crushers, Feller Bunchers, Forestry, Forklifts, General Industrial, Harvesters, Hydraulic Power Units, Irrigation Equipment, Loaders/Forwarders, Material Handling, Mining, Mobile Earthmoving Equipment, Mobile Sweepers, Paving Equipment, Pumps, Skidders, Specialty Ag Equipment, Sprayers, Trenchers and Underground Mining Equipment.
DIESELS - [LEFT] MTU used to be the diesel wing of Mercedes-Benz. Roughly the size of a small automobile, these powerplants are assembled with the precision of a Swiss watch. If you need 3,600 hp this is an engine to consider.

* Engine Type: Four-cycle, V-16
* Displacement: 3,967ci (6.5L)
* Bore and Stroke: 6.5x7.5 in
* Fuel Delivery: Direct injection
* Aspiration: Turbocharged
* Governed Speed: 2,100 rpm
* Maximum Power: 3,650 hp

[RIGHT] The Power Stroke introduced more truck owners in the U.S. market to the wonders of diesel grunt than any engine before it. Reliable and readily available these engines helped to start a horsepower and torque race amongst the Big Three and push diesel ownership into the mainstream. Can 2 million owners be Wrong.
* Engine Type: Four-cycle, V-8
* Displacement: 444 ci (7.3L)
* Bore and Stroke: 4.11x4.18 in
* Fuel Delivery: Hydraulic Actuated Electronically Controlled Unit Injection
* Aspiration: Turbocharged
* Governed Speed: 2,600 rpm
* Maximum Power: 250 hp
* Maximum Torque: 525 lb-ft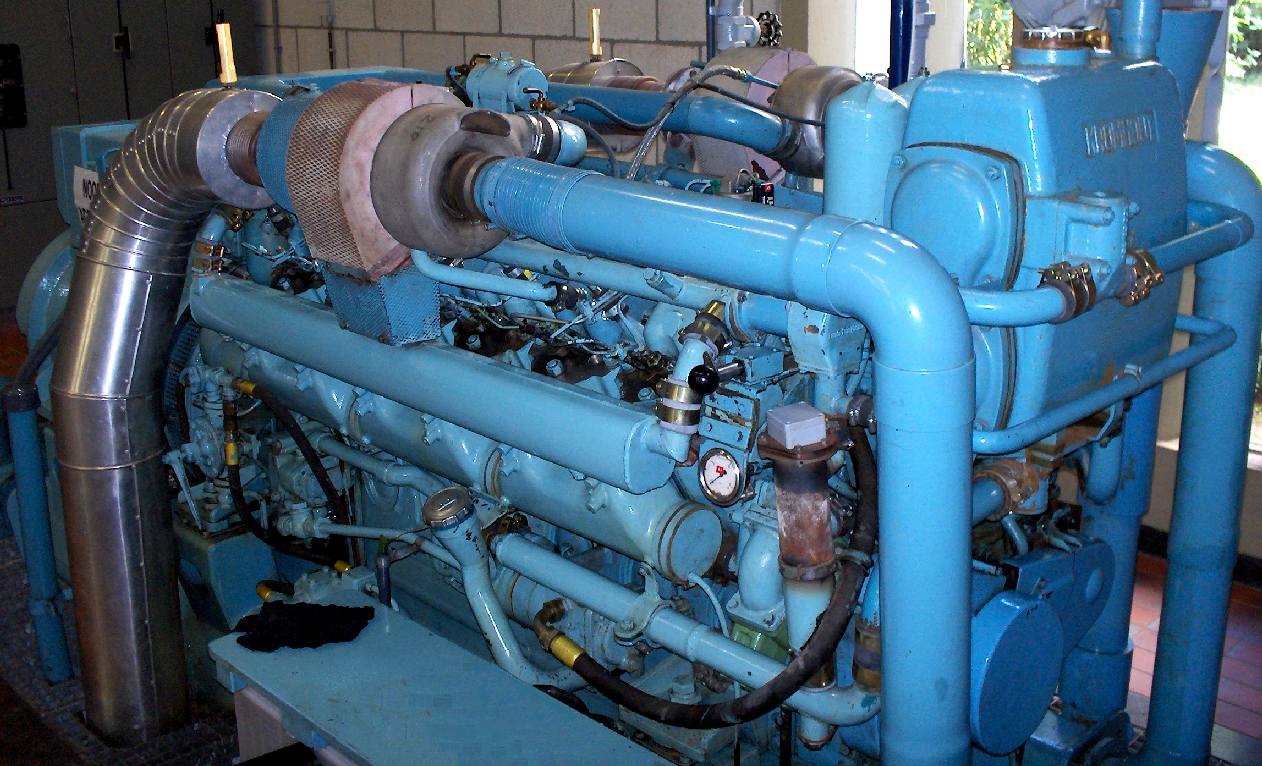 WHEELS - For a wheeled system the axles will each carry two hydraulic motors bolted to each end of a steel tube, with the axle thus formed mounted directly to the chassis without suspension - just rubber cushioning.
TRACKS - For a tracked system, the undercarriages come ready for mounting to the chassis via a subframe. They come complete with one hydraulic drive motor for each of the two caterpillar tracks. At the moment the tracked system appears to have all the advantages.
The diesel engines will be mounted on beams in between two main rails, using the standard rubber mounts found in the vehicle they were designed for. The engines will be inside a waterproof box with inlets and exhaust pipes rising high above the submerged waterline, being one of the weaknesses of an internal combustion engine, in that it has to breath. Whereas, electric drives do not.
ABOUT DIESELS
Petrol (gasoline) engines and diesel engines both work using internal combustion, rather than external combustion (such as in a steam engine) but in slightly different ways. In a petrol engine, fuel and air is injected into small metal cylinders. A piston compresses (squeezes) the mixture, making it potentialy explosive, and a small electric spark from a sparking plug sets fire to it. That makes the mixture explode, generating power that pushes the piston down the cylinder and (through the crankshaft and gearbox) and so turns the wheels.

Diesel engines are similar, but simpler. First, air is allowed into the cylinder and the piston compresses it - but much more than in a petrol engine. In a petrol engine, the fuel-air mixture is compressed to about a tenth of its original volume. But in a diesel engine, the air is compressed by anything from 14 to 25 times.

Compressing a gas generates heat. So much heat is generated that the air gets really hot—usually at least 500°C (1000°F) and sometimes very much hotter. Once the air is compressed, a mist of fuel is sprayed into the cylinder typically (in a modern engine) by an electronic fuel-injection system, a bit like a sophisticated aerosol can. The air is so hot that the fuel instantly ignites and explodes without any need for a spark plug. This controlled explosion makes the piston push back out of the cylinder, producing the power that drives the vehicle or machine in which the engine is mounted. When the piston goes back into the cylinder, the exhaust gases are pushed out through an exhaust valve and, the process repeats itself—hundreds or even thousands of times a minute.
At 5,000 revolutions a minute (RPM) a four stroke diesel engine explodes fuel in a cylinder 2,500 times - or 250 times per 500 revolutions. A two stroke diesel engine explodes fuel 5,000 times for 5,000 RPM - and that is why 2 stroke engines sometimes suffer from overheating problems. They generate twice as much heat in the same capacity, usually less efficiently. A stroke is one movement of a piston in the cylinder bore. That can be up the bore or down the bore. The internal combustion cycle is:
1. Induction (1st stoke)
2. Compression (2nd stroke)
3. Ignition (3rd stroke)
4. Exhaust (4th stroke)
That sequence takes four strokes of each piston in their respective bores.
Now consider a V12 engine. It has twelve pistons, so that at 5,000 RPM a V12 engine generates 12 x 2,500 = 30,000 small explosions every minute. Wow!
Diesel makers include: ABC, ACME, ADIM, AEC, Ailsa Craig, Akasaka, Alco, Allen, Allis Chalmers, Alpha, Alstom, AMC, Andoria, Arrow, Audi, AVL, B & W, Baudouin, Bazan, Bedford, Belarus, Bergen, Beta Marine, Blackstone, BMC, BMW, Bolnes, Briggs & Stratton Vanguard, Brons, Buda, Bugatti Marine, Bukh, Burmeister & Wain, C M D, Case, Caterpillar, Changfa, Changtong, Chevrolet, Chrysler, Citroen, Clark, Cleveland, Coltec, Continental, Cooper, CRM, Cummins, Daedong, Daewoo, DAF, Daihatsu, Daimler, DaimlerChrysler, DEK, Detroit, Deutz, Deutz / Sykes Pump, DGRA, Dimin, DMR, Dorman, ELGI, EMD, Enfield, Enterprise, Fageol Leyland, Fairbanks Morse, Farymann, Federal Mogul, Fiat, FNM, Foden, Ford, Foton, FP, Gardner, GDF, GE Jenbacher, General Electric, General Motors, GMT, Guascor, Hanomag, Hanshin, Hatz, Hedemora, Henschel, Hercules, Hino, Hitachi, Holeby, Honda, Hupeh, Hyundai, International, Iseki, Isotta Fraschini, Isuzu, Iveco, JCB, JICEC, Jinan, John Deere, Kahlenberg, Kelvin, Kilo-Pak, Kingfisher, Kirloskar, Kohler, Kolomna, Komatsu, Kubota, Lamborghini, Land Rover, Launtop, Lehman, Leyland, Liebherr, Lille Crepelle, Lister, Lister-Petter, Lomatec, Lombardini, Lovol, Lugger, Mack, MaK, MAN, MAN B&W, Manises, MarineDiesel USA, MAZDA, Mercedes, Mercruiser, Mercury, Merlin, Mermaid Northeast, Mieler, Mirrlees, Mitsubishi, Mitsui, Motorenwerke-Wurzen, MTU, Murphy, MWM, Nanni, Napier Deltic, Navistar, New Holland, Niigata, NISSAN, Norpro, Northern Lights, Olympian, Onan, Paccar, Pancar, Paxman, Pegaso, Perkins, Petter, Peugeot, Pielstick, Polar Nohab, Poyaud, Prakash, Punsun, Renault, Renault Marine, Robin, Rolls Royce, ROMAN, Rover, RTA, Ruggerini, RUMO, Russell Newbery (RN), Ruston, Saab, Sabb, Sachs, Same, Scania, Seatek, Sisu, SKL, Skoda Motory, Smit Bolnes, Sole, Steyr, Stork Werkspoor, Sulzer, Super Star, Tata, Tatra, Thorneycroft, Thüringer Motoren Werke TMW, Toyota, Tricircle, Ulstein Bergen, Universal, Ursus, UTB, Vauxhall, Vetus, Vidhata, VM, Volkswagen, Volvo, Volvo Penta, Volvo/VW, Wartsila, Watermota, Waukesha, Westerbeke, Whisper Watt, White Motor Corp, Wisconsin, Wiseman Power, Witte, Xinhuan, Yamaha, YAMZ, YANGDONG, Yanmar, Z.F, Zetor, ZSL. Yes, Rudolph really started something with his 60 litre engine.
DIESEL ENGINE A - Z ON WIKIPEDIA
EIGHT AXLES - Shown here is an 8 axle (16 wheels) chassis. We've come down from 10 axles, to be practical, to drive 16 wheels as 4 hydraulic circuits, rather than 5 hydraulic circuits, that may cause imbalance in the system. This is because of the need to steer the vehicle, bearing in mind that most pumps powerful enough to power the wheel-motors have four outputs. We would then need four pumps like the Poclain PL4H10 or equivalent, that can deliver up to 33,750 litres/minute (L/M) into four outputs. The combined torque without a reduction gearbox would be 430,000Nm (43,847 kg/m or 43.8 tons/m of leverage), more than enough to climb a 20-30% slope.
EXAMPLE - Using 16 x Poclain MS25 wheel-motors (with planetary reduction) aiming for 40 rpm per wheel motor (8.7 mph) we'd need a total fluid flow of 78,272 L/M. Four PL4H10 pumps can deliver 135,000 L/M - almost twice the flow required. The power handling capacity is also well within range @ 137kW per pump unit, giving us around 510kW capacity when we only need around 300kW in theory. It might though be worth increasing the engine power for a greater reserve - and better hill climbing ability. The diagram above shows four 140kW (188hp) engines in blue, with four oil reservoirs in green. The pressure flow circuit is shown in red and the control valves are blue.
Please note that this drawing is Copyright © May 25 2017 Bluebird Marine Systems Ltd, all rights reserved. You will need permission from the company to reproduce these diagrams except for private study or review or for supplier reference.
[left] POCLAIN MS125 WHEEL MOTOR - Torque Max: 77,000Nm @ 100bar (12128 lb.ft at 1000 PSI). Speed RPM: 50. Power Max: 240kW (321 hp). Max Displacement cm3/rev. 10,000-15,000. Max. Pressure bar: 450, PSI: 6527
[right] POCLAIN PUMPS PL6H20 - Max. pressure bar 450 (PSI 6526) Max Displacement 6 x cm3/rev. 666. Max rotation speed: rpm 2000. Max power 666kW (HP 893). Six outputs.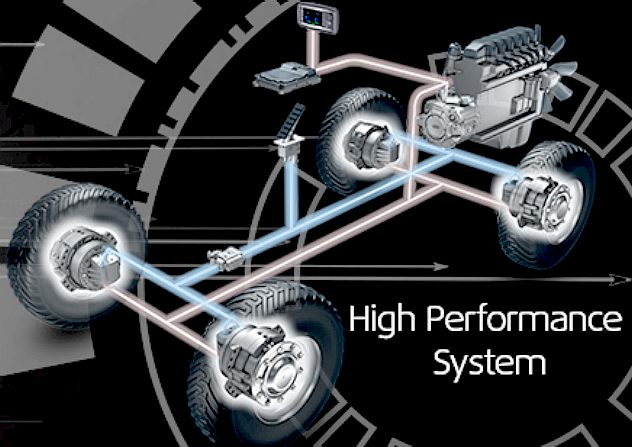 DRIVING FORCE - This is a selection of off-the-shelf hydraulic wheel motors, most of which we could use for the AmphiVax™ launch & recovery vehicle. These are wheel hubs with a fluid motor drive inboard of the wheel mounting flange. Rotary hydraulic drives solve a lot of transmission problems. They are especially popular with designers for machines used in civil engineering projects and factories.
LINKS & REFERENCE
https://en.wikipedia.org/wiki/Category:Diesel_engine_manufacturers
http://www.explainthatstuff.com/diesel-engines.html
http://www.trucktrend.com/features/0607-dp-10-best-used-diesel-engines/
https://www.dieselenginetrader.com/Engines/index4.cfm
AMPHIBIOUS LAUNCH - AMPHIMAX - CAB - CHASSIS - CRANE - DIESELS - FLOATATION - GENERATORS - HYDRAULICS - LAUNCH SITE - MODEL 1/20 - TIMETABLE - TRACKS - TRAILER - THRUSTERS - WHEELS