BEACH LAUNCH METHODOLOGY - How do you launch a 45x17 meter boat (147.5 x 55 foot) trimaran from a sloping shoreline without any kind of special preparations to the beach? The answer is with quite a bit of forward planning in design. A wheel and bearing recovery system requires a lot less effort from any winch system. This is far more efficient than using grease on the underside of a hull or logs as rollers. The Ancient Egyptians were the first to move large objects with rollers, when they built their Pyramids.
RECOVERY - Three special bogies are designed to cradle the pontoon twin hulls and central hull. The front bogies are designed to be self aligning on approach to the shore and to float at the correct height to aid the aim of the operator, who simply snags the overhead straps.* The rear bogie is submerged until the front bogies are under the front pontoons, when flotation tanks are blown and it comes up to cradle the central hull.
LAUNCH - Is much easier than recovery, the support tractor vehicle simply pushes the trailer into the surf and floods the flotation tanks - allowing the SeaVax to float gently off, into the sea. Once launched, the SeaVax powers away from the trailer, which is then pulled backwards out of the water and parked - until it is needed to recover another SeaVax for servicing. *In autonomous mode, the SeaVax unit is guided in with infra-red beacons or other equivalent.
BEACH LAUNCHING - Thousands of boats are beach launched and recovered every year, but our boat is somewhat larger that your typical power or fishing boat. This of course means making our own custom built rig. We are likely to enter the famous Guinness Book and other World Record databases such as the FIA or UIM, when launching the biggest beach launched vessel from the biggest ever boat trailer. We are looking into this.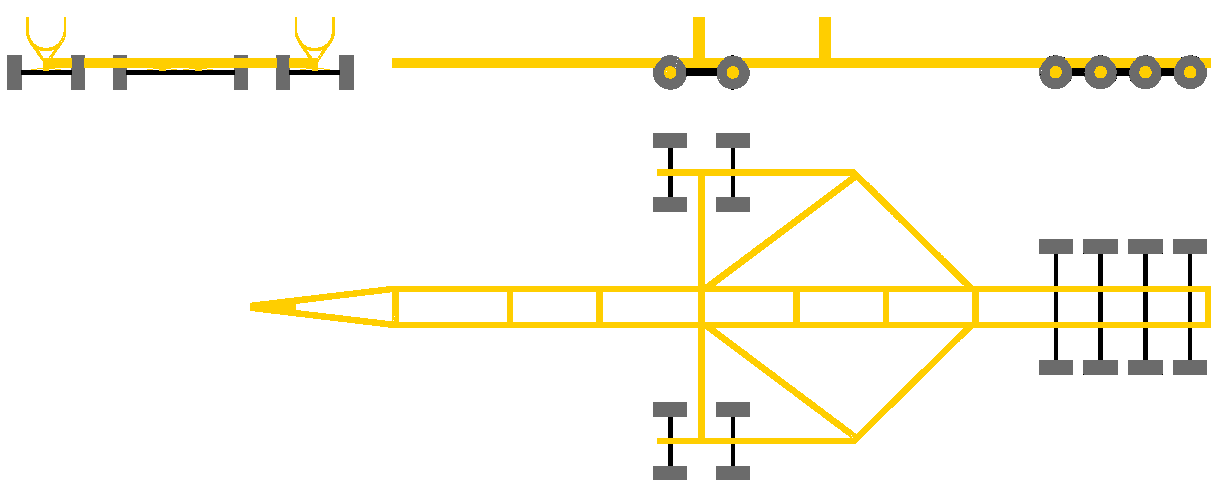 DRAFT DESIGN - Potentially the world's biggest boat trailer is shown here as a draft design using sixteen wheels on eight axles (or alternatively independent swing arms) fitted with 29.5R25 size rims and 1.86m diameter flotation tyres. A Swan-Neck coupling is not shown on the side view in this diagram simply to keep the drawing containable. The world's largest road trailers can be seen here. Design Copyright © May 5 2016, all rights reserved. You will need permission from Bluebird Marine Systems Ltd to reproduce this photograph.
We are looking at other potential scenarios. This could involve a trailer that is self-powered, doing away with the need for couplings and a tractor unit. It all depends on the costs and practicalities. Such an amphibious vehicle would be extremely useful ground breaking technology - and on first appraisal, not that difficult to put together - apart from the scale. It would more than likely be hydraulically or electrically powered.

PLAN VIEW - The SeaVax is shown on the trailer in this diagram. A special system of flotation tanks (not shown) will allow us to sink the trailer away from the ocean cleaning vehicle during launch, then during recovery the SeaVax would hook its forward facing outrigger hulls into the front end bogies, triggering a floatation sequence - when the rear bogies come up under the central main hull. Once onboard, the trailer is pulled out of the sea by a powerful 6x6 tractor unit. Design Copyright © May 5 2016, all rights reserved. You will need permission from Bluebird Marine Systems Ltd to reproduce this photograph.
DESIGN - Our custom rig has to be able to handle smooth sand and irregular ridged sloping shingle beaches. It will also double up as a handy platform for servicing a SeaVax, for cleaning of the hull and solar panels - although the solar wings can be cleaned while the vessel is at sea.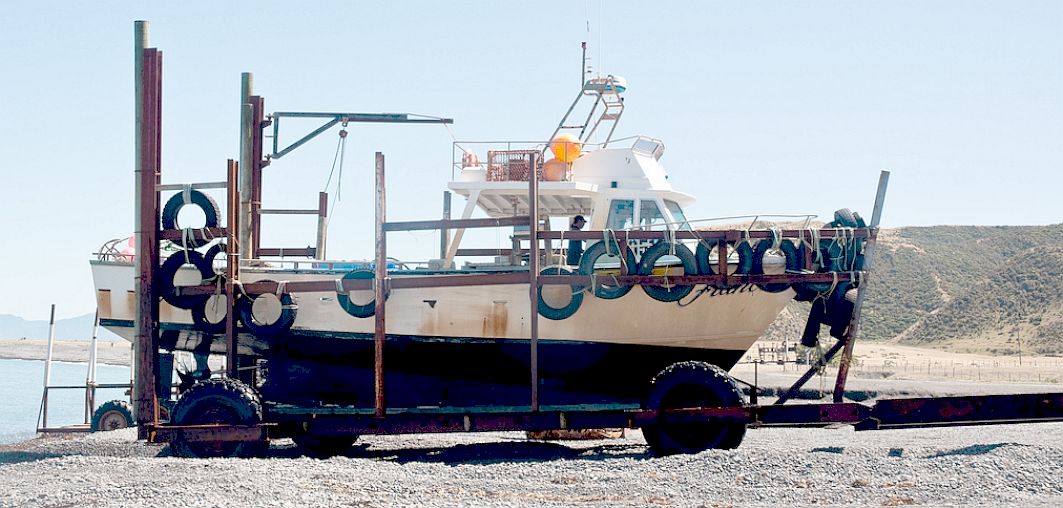 NEW ZEALAND - In a little fishing town called Ngawi, they routinely use trailers with extra long drawbars, that couple to a bulldozer, caterpillar tracked vehicle.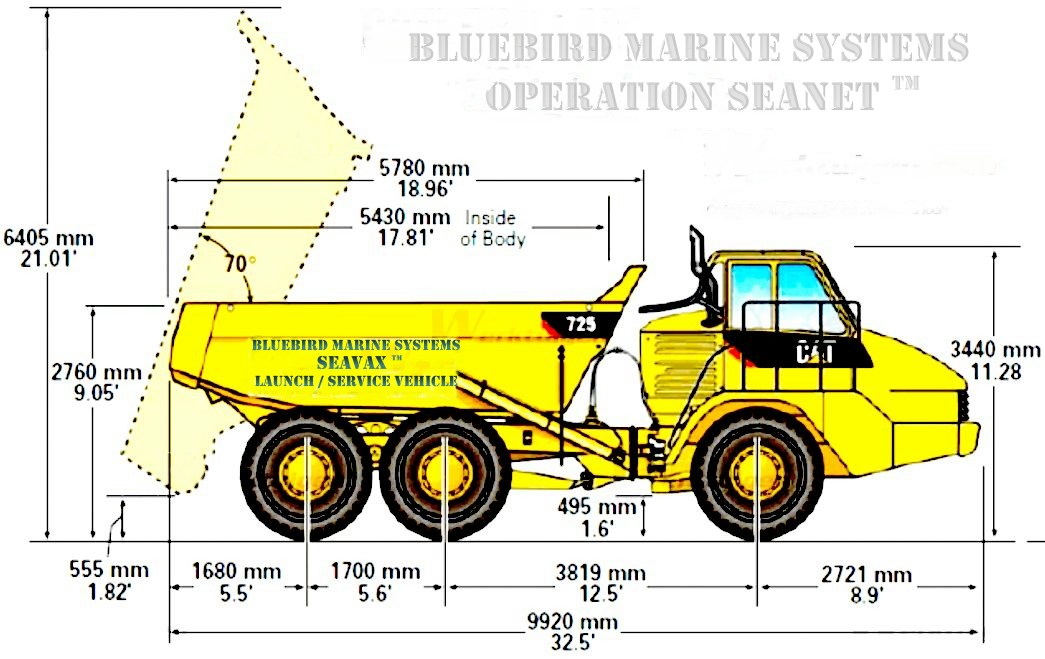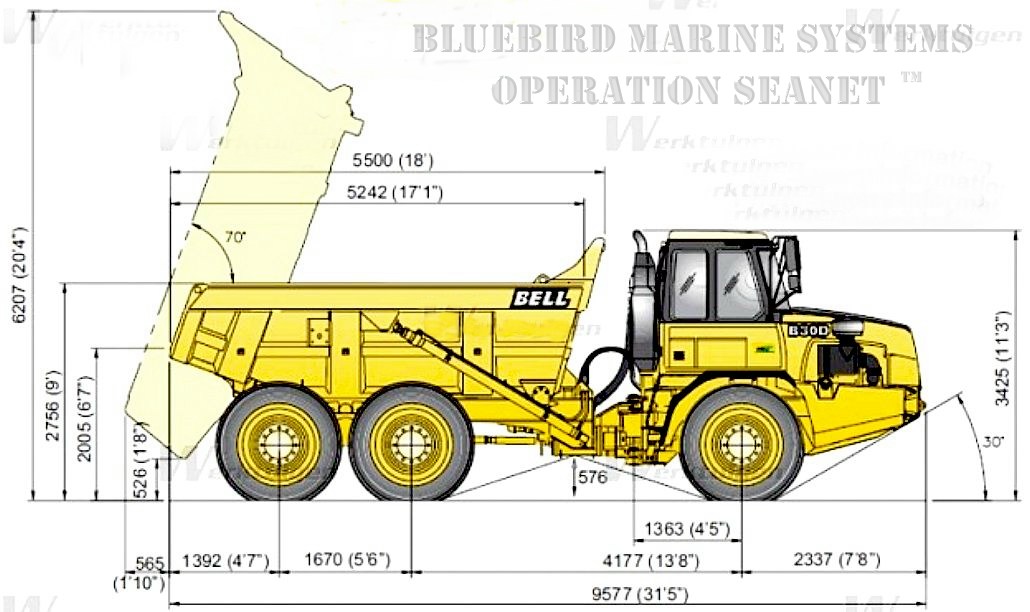 SUITABLE LAUNCH PLATFORMS - The BELL and CAT 6x6 all wheel drive earth moving dumper trucks, or the equivalent, may prove to be ideal launch and recovery vehicles. The tipper bucket/body would be removed and replaced with a suitable coupling. During launch the driver would need to be well rehearsed in reversing.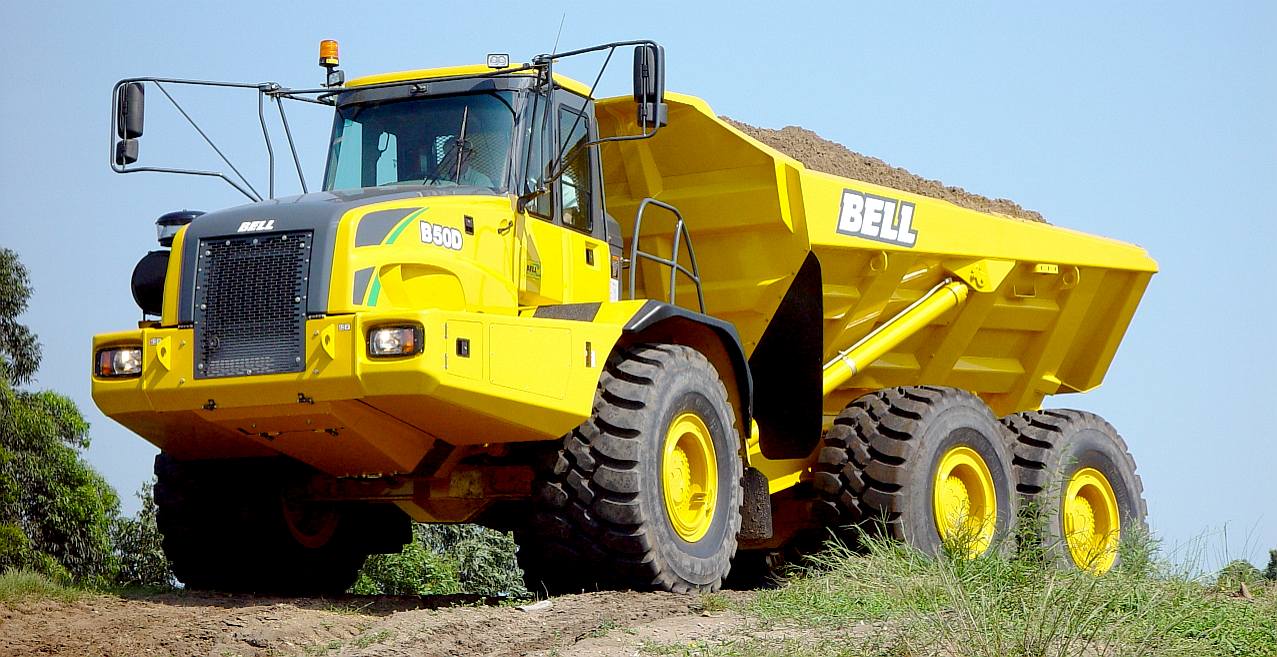 TRACTOR LAUNCH - We are going to need a launch vehicle with bags of power and grip to match. The Bell 50D could be an platform to modify to that end. The Bell 50D uses a 16 liter Mercedes Benz OM 502LA V8 turbocharged and intercooled, four-stroke, diesel engine with direct injection to give 380kW (510hp) output, driving through an Allison 4600PR ORS transmission with 6 forward gears and 1 reverse. The fuel tank holds 575 litres (152 US gallons). The tyres are Radial Earthmover: 875/65 R29s. Volvo and John Dere also produce equivalent 6x6 earth movers.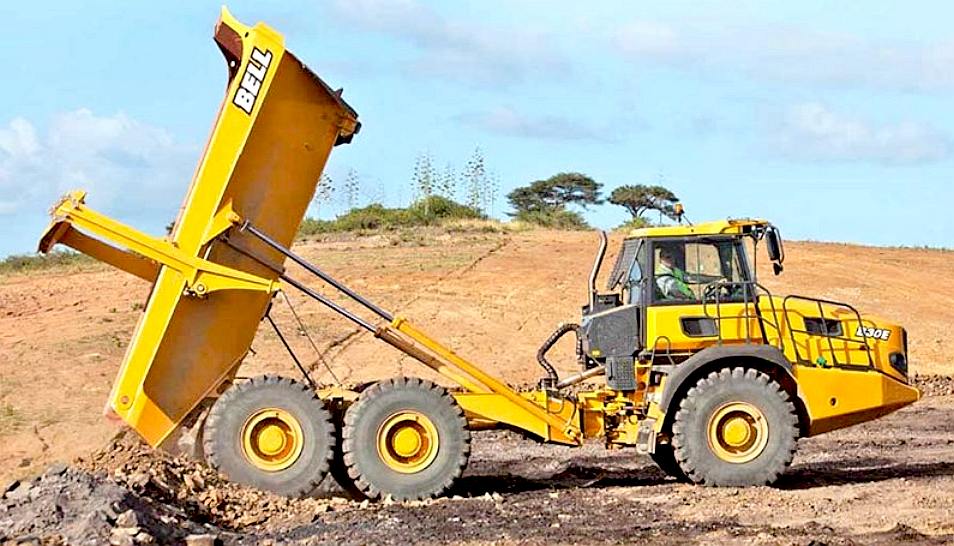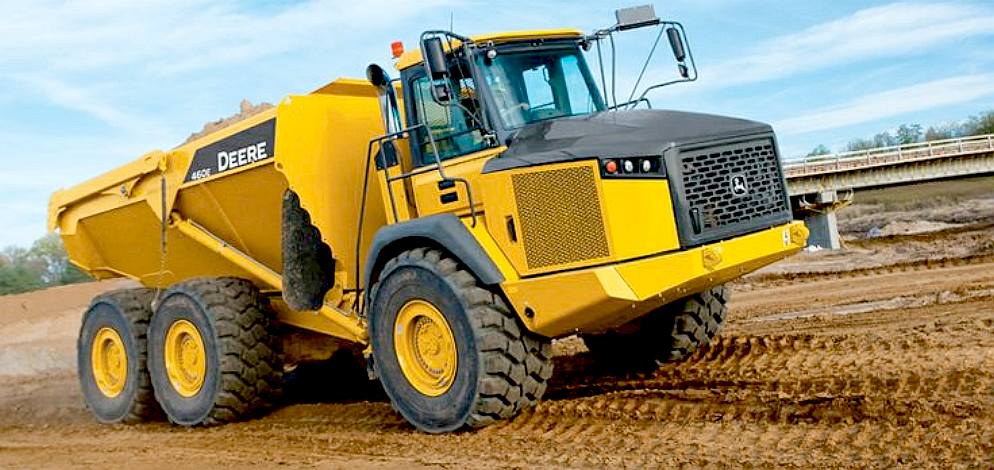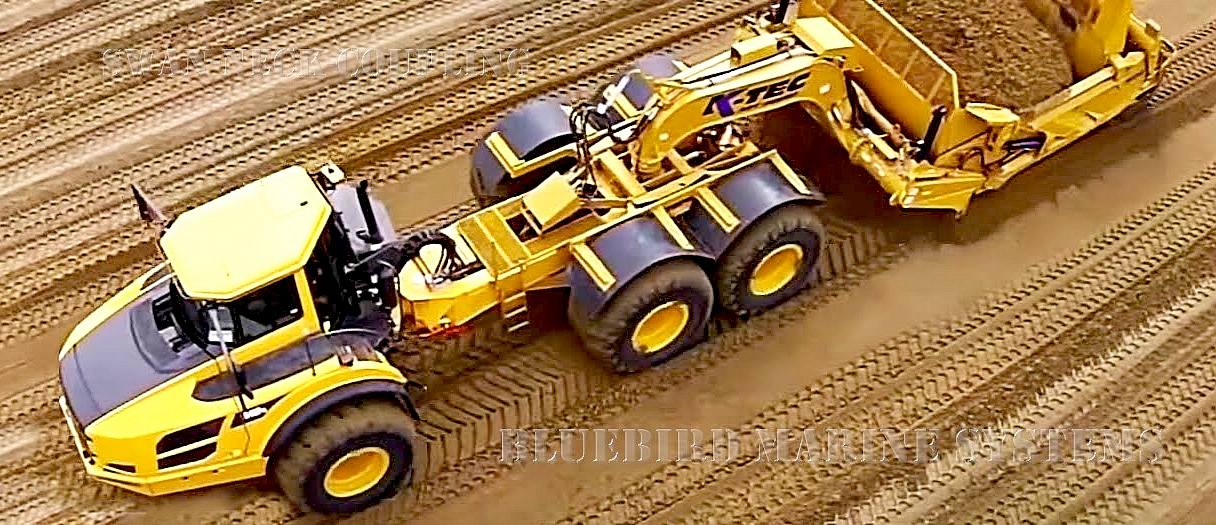 SWAN NECK COUPLING - This Volvo is hauling a K-Tec sand scraper. The coupling to the tractor unit is similar to that we have in mind for our trailer.
GETTING A GRIP - Tyre technology has come on in leaps and bounds in recent years. More earth moving and agricultural vehicles are being fitted with rubber that spreads the load and so reduces rolling resistance.
FLOATATION TYRES - Wide tyres spread the load preventing soil compaction and decreasing rolling resistance, so reducing the power required to simply move a large trailer. Nearly half of all modern agricultural and earth moving equipment is now fitted with floatation tyres as standard, compared to around 10% 5 years ago. Don't forget the basics, a larger wheel offers less rolling resistance and tends to iron out the bumps.
SIZE
PATTERN
O.A.D. mm
WIDTH mm
TREAD mm

RIM

WEIGHT kg

LOAD kg

-

23.5R25
MA02
1606
608
38

19.5/2.5

340

..

26.5R25
Floatation
1733
681
41

22.00/3.0

466

..

29.5R25
Floatation
1860
754
44

25.00/3.5

590

..

29.5R25
M-Terrain
1860
754
60

25.00/3.5

...

1400 / 5.25bar

29.5R25
MB430
2077
890
58

28.00/3.5

...

1400 / 5.25bar
FLOATATION TIRE SIZES CHART HANDY REFERENCE FOR DESIGNERS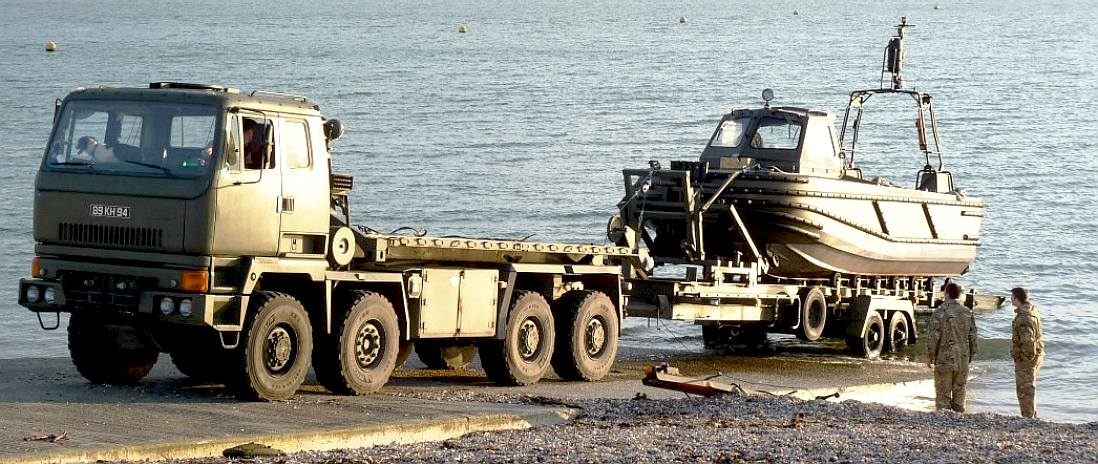 ROYAL MARINES - The RE/RLC Combat Support Boat (CBS) is launched using a specialist trailer. The unladen weight is 4.75 tonnes, length 8.8m, beam 2.77m and draught 0.65m. The CSB trailer from Oldbury adds another 6.1 tonnes, and is 10m long. At over 11 tonnes, the CSB and trailer is not a small load and so it is usually towed by large logistics vehicles, as the image above shows. Together, the total length of the trailer and truck will be just short of the 20m of a C17 Hercules (or Globemaster) cargo deck.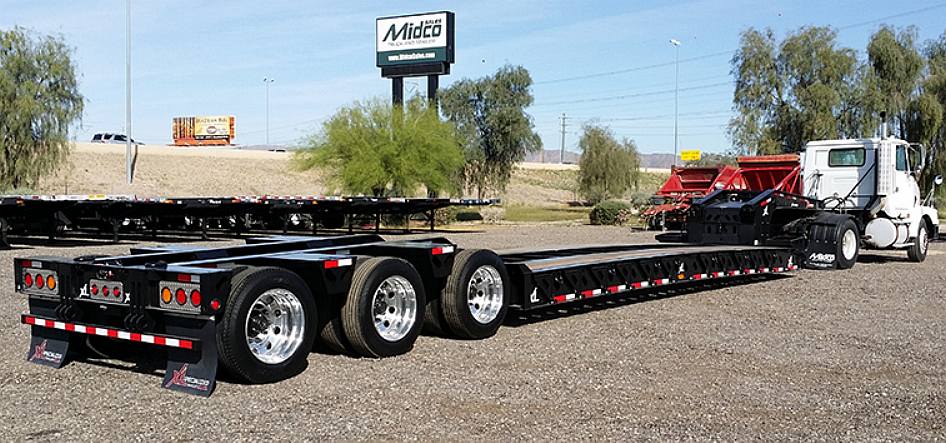 LOW LOADER - A Specialized XL 110 HDG (hydraulic detachable gooseneck) lowboy trailer. This 53′ x 102″ lowboy boasts a 110,000 lb overall capacity and features air ride suspension, ride height control and aluminum wheels.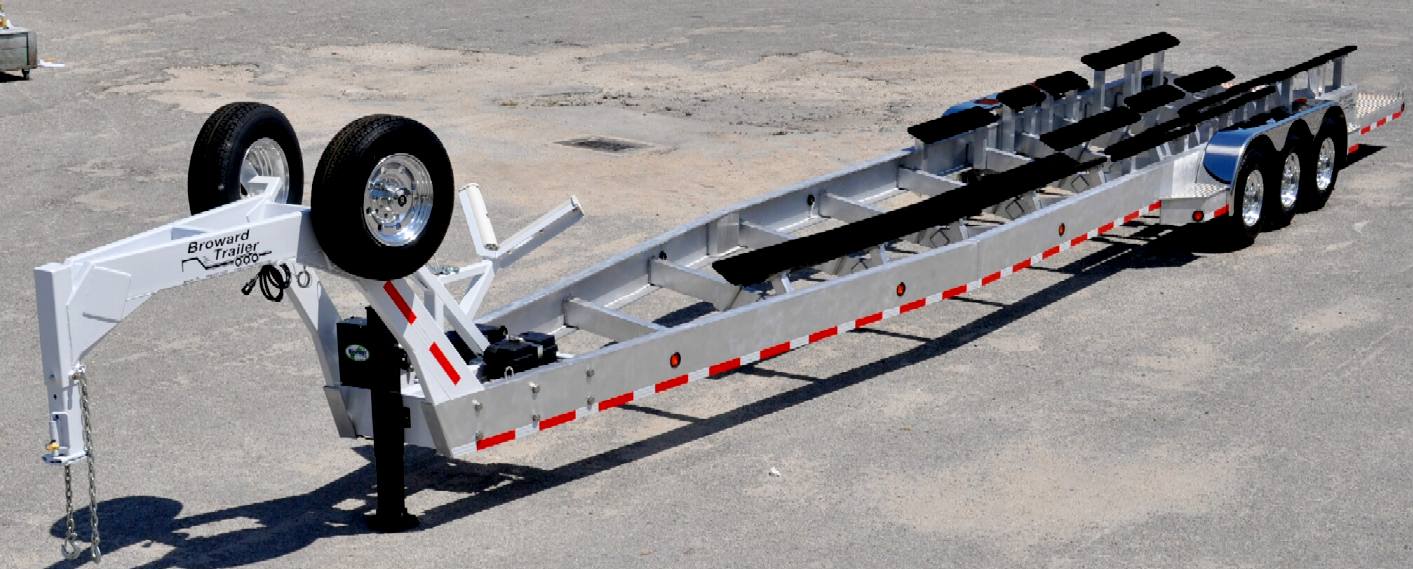 BROWARD TRAILER - The BCG53-183 is a 53', 18,000lb GVWR Combination Aluminum and Steel Gooseneck boat trailer that is custom built for an Outerlimits 42' Legacy.

The gooseneck section is constructed of 2x8 and 2x6 rectangular steel tubing that has been sandblasted, primed and painted with Awlgrip Matterhorn White.

The main frame is constructed of 12x4 aluminum channel and 6x3 aluminum channel. The carpeted bunks are CAD designed for a custom fit to perfectly cradle the hull. There is a 5' aluminum diamond plated drive guard section on the trailer to protect the outdrives on the boat.

Stainless steel fasteners are used throughout the trailer. The steel gooseneck is isolated from the aluminum main frame with stainless steel liners so there cannot be any galvanic action. DeeMaxx disc brakes are modulated by a Hydrostar electric/hydraulic actuator. Tires are Goodyear on Alcoa aluminum wheels.

The Dexter torsion axle hubs with EZ-Lube bearings are protected from water intrusion by Air Tight Sport Bearing Protectors. Fenders are polished stainless steel. The front of the trailer is raised/lowered by a Big Foot electro/hydraulic jack with itís own dedicated battery and remote control.

The boat is winched in with an 11,000 lb electric winch with its own dedicated battery. An extra large bow stop, requested by the owner, makes for easy loading of the boat. All lighting is LED and the wiring is all run inside of wire loom for protection. This unit was delivered in March of 2013.
CONCEPTS - [LEFT] - Munich-based truck maker F.X. Meiller has seen the future of construction hauling, as this sleek all-wheel drive tipper capable of dumping in all four directions. Chinese transportation designer Haishan Deng created a series of concept drawings depicting what Meiller's new super tipper truck in action that won him a 2007 red dot award.

[RIGHT] - Presented here is a concept model depicting Volvo's view into the future of construction equipment. The model is 1:50th scale. Each wheel houses an independent electric motor which provides the drive force without the need for drive shafts. The wheels are mounted on independent swinging arms which allow smoother travel over the roughest terrain compared to a solid live axle.
LINKS & REFERENCE
UK government environment agency
http://www.huntonlegg.co.uk/
http://www.chieftaintrailers.com/
http://www.dredgingtoday.com/
http://www.firestone.eu/
http://trucks.michelin.co.uk/
http://www.magnatyres.com/
http://www.lizardtrailers.co.uk/
http://www.browardtrailer.net/
http://www.bellequipment.co.uk/
http://www.deere.co.uk/
http://www.lewes.gov.uk/
http://www.guinnessworldrecords.com/
http://www.dredgingtoday.com/2014/04/11/uk-norfolk-coastal-walks-benefit-from-seawall-repairs/
https://www.gov.uk/government/organisations/environment-agency
AMPHIBIOUS LAUNCH - AMPHIMAX - CAB - CHASSIS - CRANE - DIESELS - FLOATATION - GENERATORS - HYDRAULICS - LAUNCH SITE - MODEL 1/20 - TIMETABLE - TRACKS - TRAILER - THRUSTERS - WHEELS