D
.

.

.

.

D

.

.

.

D

ATLANTIC

.

OCEAN

.

D

PACIFIC OCEAN

.

ATLANTIC

OCEAN

INDIAN OCEAN

.

D

.

.

.
FLEET CONTROL EXAMPLE - A bulk carrier rota system to service 300 SeaVax units spread out strategically in the Atlantic, Indian and Pacific Oceans would need 10 ships operating continuously. Allowing 20 days for return to port, unloading, and cruise back to the SeaVax fleet. Such an operation would be serious overkill, being more capacity than is needed. In order to make this work, we must perfect a docking procedure that is reliable.
As far as we know, we are the only ocean cleaning project that has worked out a system for collecting plastic in the ocean and then getting that waste back to shore for re-use. Ocean plastic is not only dangerous for sea life, but also a wasted resource for mankind.
Once on land, recovered plastic waste is turned back into products by way of recycling. SeaNet, with SeaVax as the core technology is a complete system, not just a part of an idea with no follow through. With your support we can make this work and make the world a better place. The transport system might even be shared with Boyan Slat's boom collectors.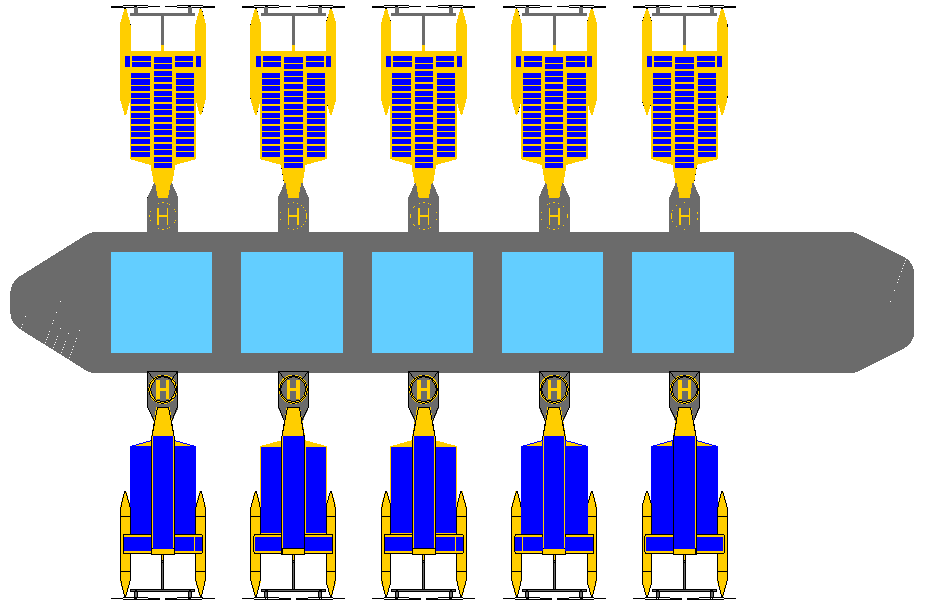 PLASTIMAX BULK CARRIER LAYOUT - The above diagram shows you a plan view of a bulk carrier (drawn to scale) with 10 SeaVax ships docked with the PlastiMax bulk carrier. In reality, they would not all dock together in synchronization, but approach the ship in logical sequence, depending on where they were in a fleet. This drawing is just to give you an idea of the spacing of ships in relation to the cargo holds and the capacity. Ten SeaVax could discharge up to 1,500 tons at a time. Thirty-three such couplings would fill a 50,000 DWT ship.
CAN MOVING VEHICLES DOCK IN A HARSH ENVIRONMENT ?
As any astronaut will tell you, docking in space is a hold-your-breath exercise, and that is without wind and waves buffeting you to upset your aim. Aircraft tanker planes refuel fighters in mid-flight on a daily basis, also a relatively fraught procedure. But cargo transfer at sea is one of the most daunting tasks because of the air and water currents that work together to make hitting a target harder - and in rough weather - an impossible task.
Yet, oil rigs are supplied routinely with food and fresh crews. They do this with specially adapted ships that can dock safely in North Sea conditions. It is then possible, provided that a design is robust enough. We aim to make the SeaVax coupling system very tough indeed and self-aligning.
HOW THEN IS IT POSSIBLE TO EFFECT A TRANSFER AT SEA ?
There are a number of rules that will help to ensure that transfers only take place in the safest conditions.
1. Only attempt cargo transfers in moderate conditions with preset limits tested to be safe.
2. Monitor all docking operations for green lights at every stage of coupling and transfer.
3. Ensure disconnection and cast-off is executed correctly with verifiable proofs.
4. Track SeaVax™ ships as they leave fleet formation to empty their holds, such that green lanes remain green.
5. Track SeaVax™ vessels as they re-enter fleet formation and resume plastic harvesting.
6. Routinely check PlastiMax carrier couplings for seal damage and other telltale indicators.
Fortunately, our robots are well equipped with weather sensing equipment and communicate with their fleet mates, while land based stations oversee operations in key geographical locations, to coordinate ocean plastic rescue missions for each of the 5 main Gyres - all reporting and sharing information with SeaNet™ GHQ.
Put all this together and SeaNet™ knows what is going on anywhere in the world. The SeaVax™ ships know when local weather conditions are safe to attempt a cargo transfer. The electronics that sense roll and heave will not allow an approach to a carrier until calmer conditions exist. It is a waiting game based on averages, but better safe than sorry.
The local guidance system is independent of GPS, though conventional navigational instruments will get the ships close enough together to engage with each other (lock-on). A PlastiMax ship will have a number of dedicated docking stations, typically two per hold and on opposite sides of the ship. These stations will be of a standard configuration and relatively easy to fix to most Handysize/HandyMax bulk carriers - as a bolt-on accessory requiring a minimum of cutting and ducting.

DOCKING PROCEDURE - The docking couplings and method of transfer are not shown or explained here in any detail for legal reasons. If we were to show you how this worked, we might not be able to obtain patent protection. Having said that, we can show you the basic principles. With the considerable investment needed to develop such a system, potential Joint Venture associates may not be so inclined to partner to the project. A key feature is the ability of the SeaVax system to cater for the relative height of a ship in the fully unloaded state, as compared to the fully loaded state. Naval architects would not have come up against this problem before.
Two SeaVax vessels are seen in the diagram above coupled to a PlastiMax bulk carrier (converted HandyMax) from each side of the ship. Refer this the plan view above, where 10 SeaVax ships are feeding the support vessel.
ARE PLASTIMAX CARRIERS AUTONOMOUS ?
The specification of each carrier is likely to vary from ship to ship, since we are unlikely to be able to purchase or hire new ships. It is hoped that the ships that are used will lend themselves to conversion to autonomous operation, or at least assisted operation, to be able to coordinate our efforts.
Factory ships will most probably stay crewed, even with a high degree of automation.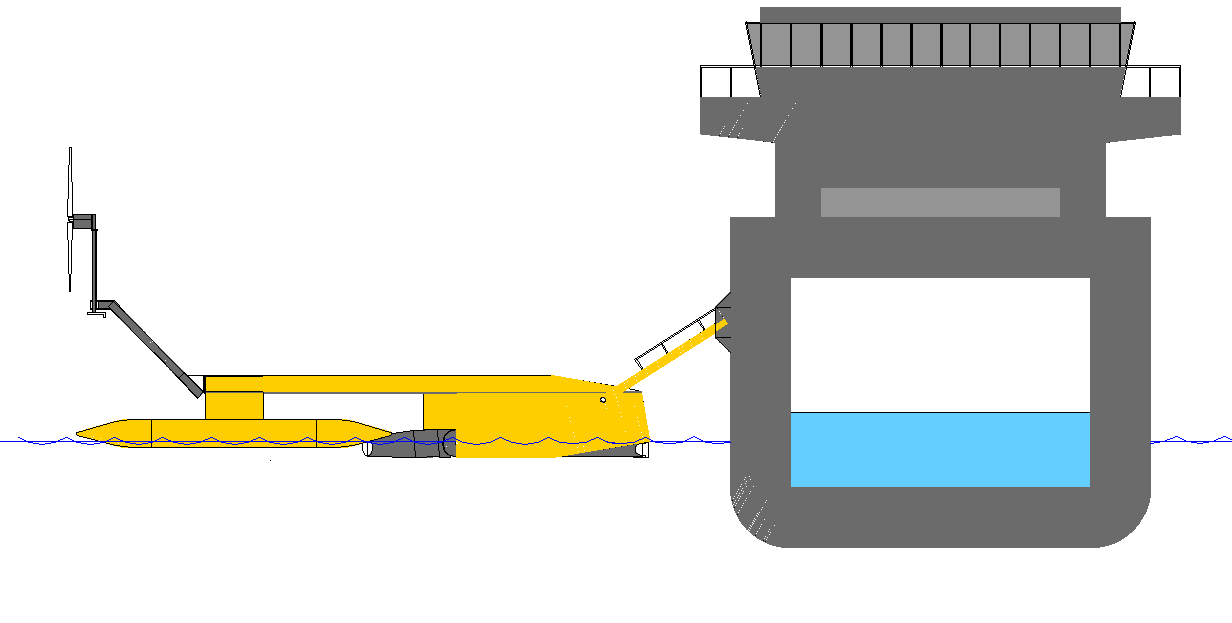 BACKING ONTO A PLASTIMAX - Docking involves one ship staying on station, while the other closes on the specially designed coupling that makes ocean transfers possible in harsher conditions than other at-sea transfers, such as crew and supply transfers for oil rigs, might disqualify. SeaVax goes into reverse when suckling up to a mother ship.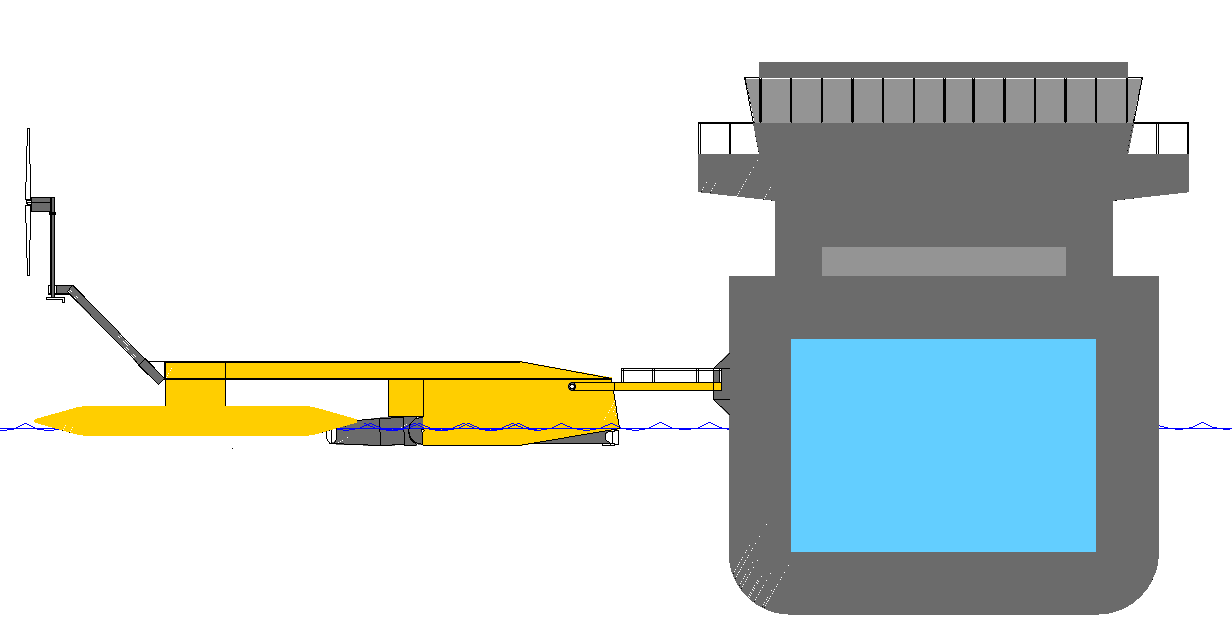 CASTING OFF FROM A PLASTIMAX - Having emptied its tanks, letting go is far easier than grabbing onto the bulk carrier. A SeaVax simply accelerates away quickly to get clear and head back to where the plastic soups are thick. The system will be tank tested to ensure high reliability in operation.
LINKS & REFERENCE
https: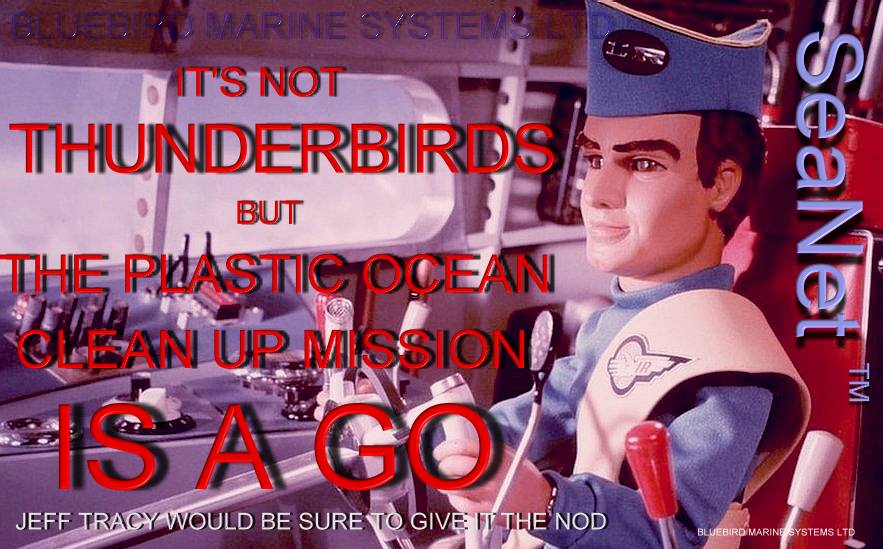 ACIDIFICATION - ADRIATIC - ARCTIC - ATLANTIC - BALTIC - BAY BENGAL - BERING - CARIBBEAN - CORAL - EAST CHINA
ENGLISH CH - GOC - GUANABARA - GULF GUINEA - GULF MEXICO - INDIAN - IRC - MEDITERRANEAN - NORTH SEA - PACIFIC - PERSIAN GULF - SEA JAPAN
STH CHINA - PLASTIC - PLANKTON - PLASTIC OCEANS - SEA LEVEL RISE - UNCLOS - UNEP WOC - WWF

AMAZON - BURIGANGA - CITARUM - CONGO - CUYAHOGA - GANGES - IRTYSH - JORDAN - LENA - MANTANZA-RIACHUELO
MARILAO - MEKONG - MISSISSIPPI - NIGER - NILE - PARANA - PASIG - SARNO - THAMES - YANGTZE - YAMUNA - YELLOW

AUTONOMOUS DOCKING IN SPACE