Map of the Trans-Germany Cannonball International ZEV Run, suggested route. Modification of your run is permitted to allow for visits to fast charge or other service stations, so long as you start in Bremerhaven and complete your trip in Munich.
The Trans-Germany Cannonball ZEV Run is a logical attraction taking into consideration Germany's sustainable energy ambitions. This highly developed region still has little in the way of infrastructure that would allow private citizens to trade in their carbon breathing wagons for sweet smelling eco chariots. There are now a few fast charge points at logical geographical recharging locations, but arrangements will have to be made if any team wishes to use the Bluebird™ universal, or other instant charge cartridges, such as Tesla's cartridge system. There are bound to be significant time delays for vehicles that do not have a means to refuel other than mains electricity charging.
Germany is developing sustainable policies that include renewable resources from wind and solar electricity that will ultimately benefit a change to a sustainable all electric economy for economic reasons, and for the health of the nation and as a means to curb changing weather patterns.
CANNONBALL INTERNATIONAL EV SERIES
The Cannonball International EV Run™ series is for battery or hydrogen fuel cell powered electric vehicles (or other zero emission vehicles) that are based on ordinary production vehicle running gear and must be capable of carrying at least one passenger. They may be solar assisted, provided that the solar panel area does not exceed four square meters - a rule that may be relaxed in subsequent years as we learn from experience. See the full Cannonball EV rules HERE.
These rules are designed to promote the development of an international EV infrastructure, as a means of accelerating the transition from IC engines to clean electric motors, especially in countries that do not have abundant sunshine, where support for non-solar assisted electric vehicles is all the more important.
Make sure that you read the EV runners road rules before entering your team. Every competitor completing one of our runs will receive a Blue Riband Eco Medal.
BREMERHAVEN to MUNICH: TRANS-GERMANY CANNONBALL ZEV SUGGESTED RUN STOPS* 50mph
| | | | | | |
| --- | --- | --- | --- | --- | --- |
| START | BREMERHAVEN | MILES RUN | LEG RUN KM | KM RUN | HOURS |
| | | | 63 | | |
| 1st STOP | Bremen | 39 | + | 63 | .78 |
| | | | 128 | | |
| 2nd STOP | Hanover | 119 | + | 191 | 2.38 |
| | | | 126 | | |
| 3rd STOP | Göttingen | 197 | + | 317 | 3.94 |
| | | | 144 | | |
| 4th STOP | Fulda | 286 | + | 461 | 5.72 |
| | | | 108 | | |
| 5th STOP | Würzburg | 353 | + | 569 | 7.05 |
| | | | 99 | | |
| 6th STOP | Nuremberg | 415 | + | 668 | 8.30 |
| | | | 105 | | |
| 7th STOP | Ingolstadt | 480 | + | 773 | 9.60 |
| | | | 90 | | |
| FINISH | MUNICH | 520 | | 836 | 10.40 |
GOOGLE SUGGESTED ROUTE - Driving directions 14 HR TARGET with cartridge exchange and 20 hours fast charge. (This route has tolls)
Bremerhaven - Germany

Get on A27 - 4.3 km / 6 min

Continue on A27. Take A7 to B247 in Leinefelde-Worbis. Take exit 6-Leinefelde-Worbis from A38 - 337 km / 3 h 2 min

Continue on B247 to your destination - 36.3 km / 37 min [378 km / 3 h 45 min]

Get on B4 in Andisleben from B247 and B176 - 46.9 km / 43 min

Follow A71, A73 and A9 to Schenkendorfstraße/B2R in München. Take exit 76-München-Schwabing from A9 - 401 km / 3 h 35 min

Continue on B2R. Drive to Tal - 6.2 km / 9 min

Merge onto Schenkendorfstraße/B2R, Continue to follow B2R - 2.5 km

Take the exit toward Am Tucherpark - 270 m

Continue onto Ifflandstraße - 500 m

Slight left to stay on Ifflandstraße - 270 m

Continue onto Widenmayerstraße - 210 m

Continue onto Emil-Riedel-Straße - 400 m

Continue onto Oettingenstraße - 350 m

Turn right onto Prinzregentenstraße - 400 m

Slight right to stay on Prinzregentenstraße - 200 m

Turn left onto Von-der-Tann-Straße - 150 m

Continue onto Franz-Josef-Strauß-Ring - 190 m

Continue onto Karl-Scharnagl-Ring - 350 m

Continue onto Thomas-Wimmer-Ring - 400 m

Turn right onto Tal - 19 m [455 km / 4 h 27 min]

Munich - Germany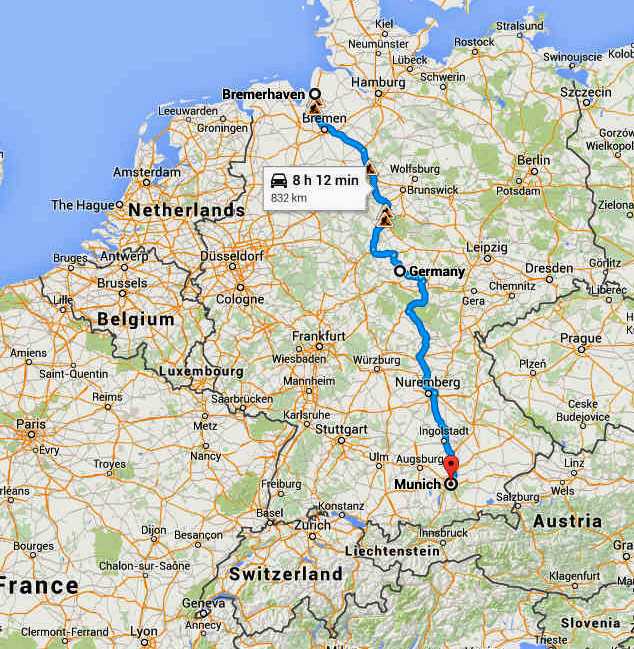 The above map shows a direct route from Bremerhaven on the North Sea coast to Munich in the heart of Europe. Germany is ideal as a geographical location for the installation of an energy grid for electric vehicles - a smart grid. The cost of savings to the country in terms of fossil fuel imports and CO2 emissions would be significant with a means to store energy as a load leveler, and could go some way to offset the transitional cost to the economy. In the long term such change will reap rewards. The present pollution spike with the burning of cheap coal is a major stumbling block, where profits are needed to generate reserves to phase out nuclear generation. Once again, this is a world leading decision, where a solution could instill the much needed financial courage to do the right thing.
CANNONBALL INTERNATIONAL OFFICIAL ROUTES
Arabia - Jeddah to Dubai

Australia - Darwin to Adelaide

Brazil - Boa Vista to Rio de Janeiro

Canada - Vancouver to Quebec

China - Ai Hui Qu to Shenzen

Denmark - Skagen to Copenhagen

Egypt - Kings Valley Rally - Aswan to Alexandria

France - Calais to Toulon

Germany - Bremerhaven to Munich

India - Amritsar to Nagercoil

Italy - Turin to Reggio Calabria

Japan - Aomori to Kagoshima

Korean S. Smart City Rally - Seoul to Busan

New Zealand - Nelson to Invercargill

Nigeria - Maiduguri to Lagos

Norway -

Russia - Murmansk to Bolshoy Sochi

South Africa - Cape Town to Louis Trichardt

Spain - Girona to Huelva

Sweden - Karlsborg to Gothenburg

UK - John o'Groats to Lands End (Jogle)

USA - Los Angeles to New York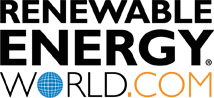 BERLIN - DECEMBER 2014 - E-ON MOVES TO RENEWABLE ENERGY MARKET
Germany's biggest utility E.ON — long a pillar of the country's fossil fuel and nuclear industry — dropped a bombshell on Europe's business world with the announcement that the multinational was exiting the conventional energy market in favor of a new business model based on renewables, intelligent grid systems, energy management and other services. The company seems to have drawn the logical consequences from the Energiewende, Germany's renewable energy transition, after years of resisting the ambitious transformation of the nation's energy supply.

Toby Couture, director of Berlin-based consulting firm E3 Analytics is quoted as saying: "This is part of a transformation that almost all of Europe's major utilities are currently undergoing in response to fundamental changes in their energy markets." "They're endorsing different adaption strategies. E.ON's seems to be the boldest, the most far-reaching so far."

"There's never been such a radical restructuring in the German energy industry," opined the national daily Süddeutsche-Zeitung. "It is courageous because it will change the company and its culture from the ground up. And it is rational because E.ON is thus acknowledging the policies made in Berlin and Brussels in recent years."

Actually, the surprise isn't that one of Germany's "Big Four," the four giant utilities that dominated Germany's conventional energy production and distribution until the 00s, is switching to a strategy based on green energy products, but rather that it took so long to do so. The four — E.ON, RWE, Vattenfall and EnBW — own just 4.9 percent of non-hydro renewable capacity in Germany, a result of their stubborn resistance to the Energiewende. With such a heavyweight as E.ON on board, the parameters of the discourse about the Energiewende in Germany will surely shift — to the advantage of renewables and climate protection, which face unrelenting attacks from the fossil fuel lobbies. Yet, the determined entry of such a big player into the market will likely happen at the cost of Germany's decentralized, small-scale producers — the backbone of the Energiewende until now.

Ultimately, E.ON had little choice but to make the jump or face a future of more losses, debt and eventually bankruptcy. The spread sheets of every one of Germany's Big Four have been soaked in red ink for years now — a direct result of the Germany government's progressive energy policies. This year alone, E.ON reported that its net income for the first three quarters of 2014 declined 25 percent from 2013. (The company has 62,000 employees and a turnover of $146 billion.) Last year its business was off 14 percent. The company, which is struggling under a $38 billion debt, has been shutting down coal and gas-fired plants as lower priced renewables force them out of the market. EON has shed roughly 10,000 jobs over the last five years, about 6,000 of them in Germany.

The losses are a direct result of the Energiewende. For one, Germany began phasing out of nuclear power in 2000. E.ON and its peers, however, refused to give up on nuclear waiting for a center-right government to come to power in 2009, which had promised extensions of the life spans of Germany's reactors. This happened in 2010 but then was reversed by German Chancellor Angela Merkel in 2011 in the aftermath of the Fukushima nuclear disaster in Japan. Merkel shut down seven reactors in one swoop, a third of Germany's fleet, and accelerated the phase out of all of Germany's reactors by 2022.

Moreover, Germany's rapid expansion of renewables - in particular solar PV and onshore wind - has both pushed down the wholesale price of electricity (25 percent since 2013 alone) and forced the higher priced fossil fuels, mostly gas, out of the market. Germany could produce as much as 30% of its power in 2014 with renewables.

A result of German polices and the low marginal costs of renewables, renewables form the new baseload of Germany's power supply – while conventional sources make up the difference between the supply of renewables and demand — which is less every year and will be for the foreseeable future. The utilities' last hope - capacity markets for their conventional products - seems now to be a lost cause. Given that Germany has pledged to turn 80% of its final energy green by 2050, the conventional utilities can only fight a losing, rear-guard battle with their current business models.

Adding fuel to the fire, the utilities received yet another piece of bad news this week. In view of Germany's effort to hit its own national climate target for 2030 (a 40% reduction compared to 1990), the German government is ordering them to reduce their CO2 emissions by an additional 22 million tons. This could mean shutting down lignite-fired plants, reducing coal generation in favor of gas, or employing energy-saving measures in their production processes.

E.ON could also be responding to an opening that the Merkel government made to the big utilities earlier this year. It announced reforms of Germany's seminal renewable energy law that would mean auctioning off large chunks of renewably generated capacity beginning in 2015. This was seen as an overture to the major utilities, which would be uniquely placed to provide such volume. Germany's smaller producers couldn't hope to compete. Germany also remains committed to its offshore wind program, which requires the kind of investment that a multinational the size of E.ON can muster.

There are also critics, though, who see E.ON looking for a way to dump its money-losing investments on the German public. Germany's left-wing daily Die Tageszeitung warns that the utilities may try isolating their impaired, toxic assets, just as investment banks did with "bad banks" during the 2008 financial crisis. In fact, E.ON is dividing its businesses into two companies: one that deals with phasing out its conventional energy holdings, and another — the company's new focus – working on renewables and smart energy systems. Skeptics argue that E.ON may try to sue the government for the losses that its fossil fuel production has suffered in the same way that the nuclear-invested utilities are attempting to recapture losses from the government for shutting down their nuclear plants ahead of schedule.

Germany's other major utilities tried to put a good face on the E.ON announcement. EnBW and the Swedish Vattenfall say they're freeing up ever more financing for renewables, too, even if they're not revamping their profiles as radically as E.ON says it will. Only RWE stuck steadfastly to the old script: "We want our company to continue business along the entire value chain," said an RWE spokeswoman.

Couture of E3 Analytics says that German utilities are already successfully branching out beyond Europe by winning contracts for major energy infrastructures in the Middle East, South America and Asia. "German utilities are in a good position to take on these kinds of big projects," he says.

"Spinning off coal, gas and oil from the core business is a smart strategy for a future-oriented company," said Patrick Graichen, head of the think tank Agora Energiewende, told Bloomberg. "I'm sure additional utilities will follow suit — not just in Germany, but worldwide."

Source: http://www.renewableenergyworld.com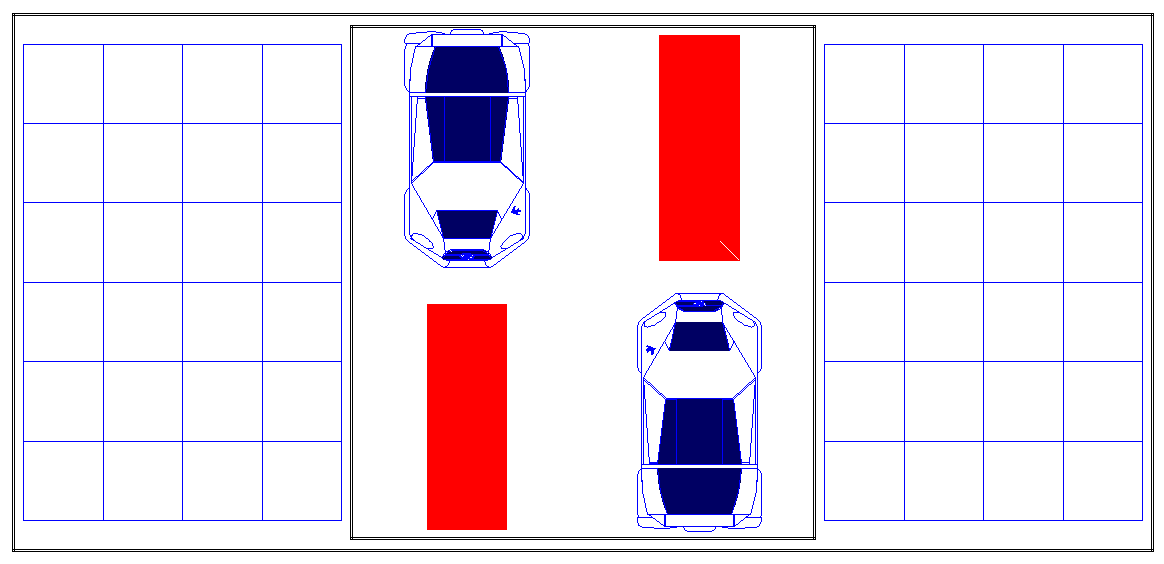 EUROSTATION CONCEPT: From the above plan view of the concept EuroStation for smart cities, you can see that the land (footprint) requirement is significantly smaller than any conventional petrol/diesel forecourt. The Ecostar DC50 (currently under construction) is shown here to scale to give you some idea of size. The DC50 is 300mm longer than a Smart car and the cartridge shown is actually more suited to the super-minis and hatchbacks that are so popular today. You do not need to get out of an EV being recharged, having entered the service tunnel. The mechanism is automated. Solar roofs are advocated by way of harvesting a small percentage of energy from nature to further offset climate change. BMS is looking to advise generally on implementation. Utilities that generate electricity from fossil fuels will eventually lose their market share entirely as new businesses corner the offshore renewable markets. One way of keeping a market share would be to invest in the infrastructure needed to supply all of that harvested energy for transport. The EuroStation concept and associated Universal energy cartridges, are a means to that end. Contact us to find out how the system may be implemented in your geographical region.


BLOOMBERG - EON 214 QUARTERLY LOSS WIDENS ON CURRENCY, NOV 12

EON SE restated its full-year profit forecast even as Germany's biggest utility reported a wider third-quarter loss as a weaker ruble crimped earnings from Russia and power prices declined.

The underlying net loss was 90 million euros ($112 million) compared with 6 million euros a year earlier, according to figures derived by subtracting first-half earnings from nine-month results reported by the Dusseldorf-based company today.

German Chancellor Angela Merkel's shift toward renewables from nuclear has led to a surge in wind and solar generation, cutting power tariffs already weakened by slow European economic growth. EON, expanding abroad as it considers the need to shut plants at home, plans to reduce spending and is selling assets to cut costs. EON reiterated its 2014 forecast for underlying net income of 1.5 billion euros to 1.9 billion euros.

"It's positive that the guidance has been confirmed," Thomas Deser, a fund manager at Union Investment, one of EON's 10 biggest shareholders, said by phone from Frankfurt. "From an investor's perspective EON is a reliable alternative among European utilities."

EON fell 3.4 percent, its biggest decline in four weeks, to close at 13.085 euros in Frankfurt. It was the second-biggest loser on the benchmark Dax index.

German year-ahead wholesale power prices averaged 35.19 euros in the third quarter and were 0.6 percent below last year's level, according to data compiled by Bloomberg.
Lower Profit

Underlying net income, used to calculate dividends, declined 25 percent to 1.44 billion euros in the first nine months of the year from a year earlier, according to a statement. That was in line with the 1.45 billion-euro average of six estimates compiled by Bloomberg. Sales fell 8.9 percent to 81.3 billion euros.

"The absence from earnings streams from divested companies and adverse currency-translation effects were the main factors" for the lower nine-month profit, EON said. The company is concerned about the ruble exchange rate, Chief Financial Officer Klaus Schaefer said on a conference call with reporters.

The company's net loss was 14 million euros in the period, EON said in a presentation to investors. That compares with net income of 2.61 billion euros in the first nine months of 2013, when the company saw a 1.8 billion-euro book gain, six times as much as in the current period, Schaefer said. Smaller competitor RWE AG is scheduled to report its nine-month results tomorrow.

Contact the reporter for this story: Tino Andresen in Dusseldorf: tandresen1@bloomberg.net
Contact the editor for this story: Will Kennedy: wkennedy3@bloomberg.net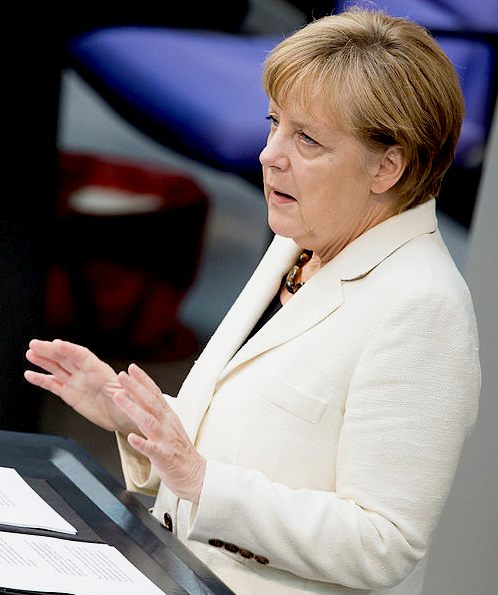 STEADY HAND - Chancellor Angela Merkel gets high marks for acting the grown up on the global stage. She is using her power against ISIS - breaking the post-Nazi-era taboo of direct involvement in military actions by sending arms to Kurdish fighters - and to deter Russia's threats to Ukraine and European gas supplies. Germany continues to be the $17.5 trillion EU's fiscal powerhouse, although its economy contracted for the first time in over a year.
Angela Dorothea Merkel, née Kasner, was born on the 17 July 1954. She is a well known German politician and a former research scientist who has been the leader of the Christian Democratic Union (CDU) since 2000 and the Chancellor of Germany since 2005. She is the first woman to hold either office. Angela was ranked as the world's second most powerful person by Forbes magazine in 2013, the highest ranking ever achieved by a woman. On 26 March 2014, she became the longest-serving incumbent head of government in the European Union. On 28 May 2014, she was named the most powerful woman in the world, also by Forbes.
Having earned a doctorate as a physical chemist, Merkel entered politics in the wake of the Revolutions of 1989, briefly serving as the deputy spokesperson for the first democratically elected East German Government in 1990. She was later appointed as the Federal Minister for Women and Youth in 1991 under Chancellor Helmut Kohl, and became the Federal Minister for the Environment, Nature Conservation, and Nuclear Safety in 1994, serving until 1998. After the CDU/CSU coalition was defeated in 1998, she was elected Secretary-General of the CDU before being elected the party's leader in 2000.
In 1994, she was promoted to becoming Minister for the Environment and Nuclear Safety, which gave her greater political visibility and a platform from which to build her political career. As one of Kohl's protégées and his youngest Cabinet Minister, she was frequently referred to by Kohl as "mein Mädchen" ("my girl"). In 2007, Merkel was President of the European Council and chaired the G8, the second woman (after Margaret Thatcher) to do so. Merkel is seen as playing a crucial role in managing the financial crisis at the European and international level, and has been referred to as "the decider." In domestic policy, health care reform and problems concerning future energy development have been major issues of her tenure.
THE ECONOMIST - HOW TO LOSE HALF A TRILLION EUROS - OCT 12 2013

ON JUNE 16th something very peculiar happened in Germany's electricity market. The wholesale price of electricity fell to minus €100 per megawatt hour (MWh). That is, generating companies were having to pay the managers of the grid to take their electricity. It was a bright, breezy Sunday. Demand was low. Between 2pm and 3pm, solar and wind generators produced 28.9 gigawatts (GW) of power, more than half the total. The grid at that time could not cope with more than 45GW without becoming unstable. At the peak, total generation was over 51GW; so prices went negative to encourage cutbacks and protect the grid from overloading.

The trouble is that power plants using nuclear fuel or brown coal are designed to run full blast and cannot easily reduce production, whereas the extra energy from solar and wind power is free. So the burden of adjustment fell on gas-fired and hard-coal power plants, whose output plummeted to only about 10% of capacity.

These events were a microcosm of the changes affecting all places where renewable sources of energy are becoming more important—Europe as a whole and Germany in particular. To environmentalists these changes are a story of triumph. Renewable, low-carbon energy accounts for an ever-greater share of production. It is helping push wholesale electricity prices down, and could one day lead to big reductions in greenhouse-gas emissions. For established utilities, though, this is a disaster. Their gas plants are being shouldered aside by renewable-energy sources. They are losing money on electricity generation. They worry that the growth of solar and wind power is destabilising the grid, and may lead to blackouts or brownouts. And they point out that you cannot run a normal business, in which customers pay for services according to how much they consume, if prices go negative. In short, they argue, the growth of renewable energy is undermining established utilities and replacing them with something less reliable and much more expensive.

POWER DOWN

The decline of Europe's utilities has certainly been startling. At their peak in 2008, the top 20 energy utilities were worth roughly €1 trillion ($1.3 trillion). Now they are worth less than half that (see chart 1). Since September 2008, utilities have been the worst-performing sector in the Morgan Stanley index of global share prices. In 2008 the top ten European utilities all had credit ratings of A or better. Now only five do.

The rot has gone furthest in Germany, where electricity from renewable sources has grown fastest. The country's biggest utility, E.ON, has seen its share price fall by three-quarters from the peak and its income from conventional power generation (fossil fuels and nuclear) fall by more than a third since 2010. At the second-largest utility, RWE, recurrent net income has also fallen by a third since 2010. As the company's chief financial officer laments, "Conventional power generation, quite frankly, as a business unit, is fighting for its economic survival."

The companies would have been in trouble anyway, whatever happened to renewables. During the 2000s, European utilities over-invested in generating capacity from fossil fuels, boosting it by 16% in Europe as a whole and by more in some countries (up 91% in Spain, for example). The market for electricity did not grow by nearly that amount, even in good times; then the financial crisis hit demand. According to the International Energy Agency, total energy demand in Europe will decline by 2% between 2010 and 2015.

Two influences from outside Europe added to the problems. The first was the Fukushima nuclear disaster in Japan. This panicked the government of Angela Merkel into ordering the immediate closure of eight of Germany's nuclear-power plants and a phase-out of the other nine by 2022. The abruptness of the change added to the utilities' woes, though many of the plants were scheduled for closure anyway.

The other influence was the shale-gas bonanza in America. This displaced to Europe coal that had previously been burned in America, pushing European coal prices down relative to gas prices. At the same time, carbon prices crashed because there were too many permits to emit carbon in Europe's emissions-trading system and the recession cut demand for them. This has reduced the penalties for burning coal, kept profit margins at coal-fired power plants healthy and slashed them for gas-fired plants. Gérard Mestrallet, chief executive of GDF Suez, the world's largest electricity producer, says 30GW of gas-fired capacity has been mothballed in Europe since the peak, including brand-new plants. The increase in coal-burning pushed German carbon emissions up in 2012-13, the opposite of what was supposed to happen.

So the gas and nuclear bits of the utilities' business were heading for trouble even before the renewables bonanza, making the growth of solar and wind all the more disruptive. Renewables capacity (which is much higher than output) is almost half of electricity-generating capacity in Germany and roughly one-third in Spain and Italy. Total capacity, including renewables, is way above peak demand in all three countries. So renewables have added mightily to oversupply.

Excess supply plus depressed demand equals lower prices. Electricity prices have fallen from over €80 per MWh at peak hours in Germany in 2008 to just €38 per MWh now (see chart 2). (These are wholesale prices; residential prices are €285 per MWh, some of the highest in the world, partly because they include subsidies for renewables that are one-and-a-half times, per unit of energy, the power price itself). As wholesale prices fall, so does the profitability of power plants. Bloomberg New Energy Finance (BNEF), a data-provider, reckons that 30-40% of RWE's conventional power stations are losing money.

But that is only the half of it. Renewables have not just put pressure on margins. They have transformed the established business model for utilities. Michael Liebreich, BNEF's chief executive, compares them to telephone companies in the 1990s, or newspapers facing social media now: "It is an existential threat," he says.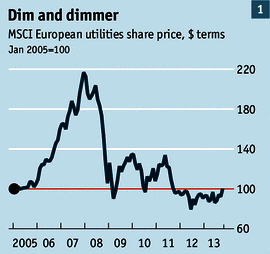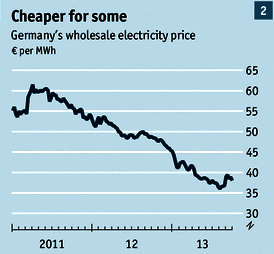 PEAK PUNISHMENT

Back in the 1980s, providing electricity was a relatively simple affair. You guaranteed a constant supply of power by building plants that ran on coal, nuclear energy (if you wanted it) or hydropower (if you had it). You ran these full blast around the clock—for technical reasons, coal and nuclear plants cannot easily be shut down anyway. And that provided "baseload power" (the amount always needed). Then, to supply extra electricity at peak times (like lunchtime or early evening) you had plants that could more easily be powered up and down, such as gas-fired ones. If you imagine a chart of power provision during the day, it looks like a layer cake: the bottom layers are flat (nuclear, coal and so forth); the layer at the top (gas) is wavy.

Deregulation swept away this tidy, ordered system, letting power plants produce according to the marginal cost of electricity. The advent of renewable energy then speeded up the changes. Renewables have "grid priority", meaning the grid must take their electricity first. This is a legal requirement, to encourage renewable energy in Europe. But it is also logical: since the marginal cost of wind and solar power is zero, grids would take their power first anyway. So renewable energy slots in at the bottom of the layer cake. But unlike the baseload providers already in place (nuclear and coal), solar and wind power are intermittent, surging with the weather. So the bottom layers of the cake are wavy, too.

Now, when demand fluctuates, it may not be enough just to lower the output of gas-fired generators. Some plants may have to be switched off altogether and some coal-fired ones turned down. This happened on June 16th. It is costly because scaling back coal-fired plants is hard. It makes electricity prices more volatile. And it is having a devastating effect on profits.

Under the old system, electricity prices spiked during peak hours (the middle of the day and early evening), falling at night as demand ebbed. Companies made all their money during peak periods. But the middle of the day is when solar generation is strongest. Thanks to grid priority, solar grabs a big chunk of that peak demand and has competed away the price spike. In Germany in 2008, according to the Fraunhofer Institute for Solar Energy Systems, peak-hour prices were €14 per MWh above baseload prices. In the first six months of 2013, the premium was €3. So not only have average electricity prices fallen by half since 2008, but the peak premium has also fallen by almost four-fifths. No wonder utilities are in such a mess.

It will get worse. The combination of European demand and Chinese investment has slashed the cost of solar panels by about two-thirds since 2006. In Germany, the cost of generating a megawatt hour of electricity with solar panels has fallen to €150, above wholesale prices but below the fixed price that renewables receive and below residential prices. This means solar generation may rise even if Germany's new government cuts subsidies to renewables. Their challenge to the old utilities will increase.

Moreover, in the past few years utilities have been hedging, selling two-thirds of their power one to three years ahead (ie, they are receiving 2010 prices for energy delivered today). This has insulated them from the full impact of recent price falls. Those contracts expire in 2014-15. As the chief executive of E.ON said recently, "For 2013 and 2014, no recovery [is] in sight."

WOOD WIND SECTION

Utilities are not powerless in the face of these problems, and they are not all affected equally. The big six British utilities, for example, have been sheltered by their long-term electricity-price agreement with the regulator, though their profit margins remain thin.

Some utilities have got into the renewables business themselves. Drax, which used to be Britain's largest coal-fired power station, is being converted to run on wood pellets. Other utilities are big investors in offshore wind power.

But by and large utilities have been slow to invest, especially in solar. Utilities own only 7% of renewables capacity in Germany, for example. The problem is that solar energy is so different from what they are used to. The old-fashioned utility has a big expensive power plant with, say, 1-1.5GW of capacity. The plant sits in the middle of a radiating web of wires down which the firm distributes power. Solar power is different. Photovoltaic panels are cheap, tiny (a medium-sized array may have a capacity of just 10MW) and arranged in a net, not as a hub with spokes.

Utilities may eventually get more serious about renewable energy, but at the moment change is slow. Instead, utilities are responding to their woes by shifting out of power generation and into "downstream" activities, such as trading and offering customers advice on energy use. In the past few months Vattenfall, Sweden's biggest utility, has written off 6% of its assets and three German firms, E.ON, RWE and EnBW, have announced capacity cuts of over 15GW. EnBW has gone furthest in outlining what the future might look like. It says its earnings from electricity generation will fall by 80% in 2012-20, offset by higher earnings from energy services and renewables. "We have to rethink what is our role, and our place in the energy sector," says its boss, Frank Mastiaux.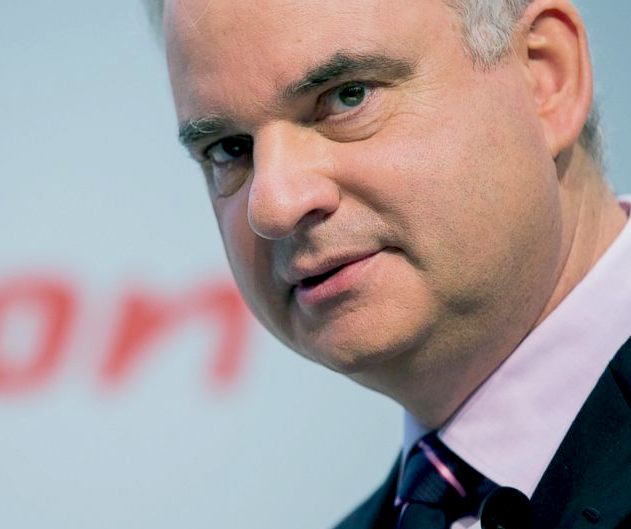 E.ON CEO , Johannes Teyssen, speaks during a news conference in Duesseldorf, Germany Monday Dec. 1, 2014. German utility company E.ON SE says it plans to spin off its nuclear, oil, coal and gas operations to focus on renewable energy and power.

Teyssen responded on the 2nd December to concerns in Germany that the as yet unnamed new company, which will also hold E.ON's conventional assets, could be used as a 'bad bank' to free E.ON from its nuclear legacy. Teyssen told reporters in Berlin that E.ON has considerable reserves and all nuclear costs are fully covered.

"The world is changing, and collectively we face many challenges. One of the biggest challenges we face in Germany is the Energiewende, the country's commitment to radically transforming its energy system. We want to assist in this transformation wherever we can and to help make energy more sustainable but also ensure that it remains affordable.

As part of our strategy to deliver cleaner & better energy, we're significantly expanding the share of renewables in our portfolio. We already operate 35 wind farms in Germany with a total capacity of 168 MW and are expanding our offshore position. Over the next several years, we plan to commission three large deepwater wind farms in the North Sea and Baltic Sea with a total capacity of more than 1.2 GW."
CLEAN BREAK

For the companies, wrenching change and plunging share prices are obviously worrying. But should anyone else care? As Amory Lovins of the Rocky Mountain Institute, an American think-tank, points out, Germany has built a low-carbon energy business to the point where new solar power needs few subsidies; where wholesale energy prices are falling and threats to the reliability of the grid have not materialised. What's the problem?

There are several answers. First, utilities have suffered vast losses in asset valuation. Their market capitalisation has fallen over €500 billion in five years. That is more than European bank shares lost in the same period. These losses matter in their own right. For pension funds and other investors, they represent lost capital and lower future earnings. For employees, they translate into lower wages and lost jobs. The losses - many of which predate the boom in renewable energy - have come on top of the huge sums Europeans have also spent on climate-change policies. Subsidies for renewable energy are running at €16 billion a year in Germany (and rising); the cumulative cost is around €60 billion.

Next, utilities have lost their investment role. Once they were steady, reliable and inflation-resistant, the US Treasuries of the equity markets. Pension funds need such assets to balance their long-term liabilities. But utilities no longer play this role, as evinced not just by collapsing share prices but by dividend policies. Until 2008 the yields of RWE and E.ON tracked German ten-year bonds. Since then, they have soared to around 10%, while government-bond yields have stayed flat. Renewables are not the only risky energy investment.

Most important, the decline in utilities' fortunes raises disturbing questions about the future of Europe's electricity system. To simplify: European countries are slowly piecing together a system in which there will be more low-carbon and intermittent energy sources; more energy suppliers; more modern power stations (replacing coal and nuclear plants); more and better storage; and more energy traded across borders. All this will be held together by "smart grids", which tell consumers how much power they are using, shut off appliances when not needed and manage demand more efficiently.

In such a world, the old-fashioned utilities play two vital roles. They will be the electricity generators of last resort, ensuring the lights stay on when wind and solar generators run out of puff. And they will be providers of investment to help build the grand new grid. It is not clear that utilities are in good enough shape to do either of these things.

So far, it is true, they have managed to provide backup capacity and the grid has not failed, even in solar- and wind-mad Germany. In fact, the German grid is more reliable than most (countries run reliability indices: Germany has one of the highest scores in Europe). Greens therefore dismiss worries that renewables will undermine grid reliability, pointing out that, as wind and solar plants spread over the continent, there will be enough wind or sun somewhere to run some of them, at least during the day.

Maybe. But as the price swings in Germany show, it is getting harder to maintain grid stability. Utilities are not rewarded for offsetting the variable nature of wind and solar power. Instead, they are shifting out of electricity generation. And this is happening at a time when renewable energy supplies, on average, 22% of Germany's electricity demand. No one really knows what will happen when renewables reach 35% of the market, as government policy requires in 2020, let alone if they reach the national target of 80% in 2050. Almost everyone acknowledges that as the share of renewable energy rises, regulation of the grid will have to change.

The role of utilities as investors is also being threatened. The sums required to upgrade the grid are huge, as much as €1 trillion in Europe by 2020. Companies worth €500 billion cannot finance anything like that amount. Instead, they are cutting capital spending. That of RWE (for example) has fallen from €6.4 billion to €5 billion since 2011, and most analysts expect it to fall to €2.6 billion by 2015. Of that, €1.6 billion will go on maintaining existing plants, leaving just €1 billion for development spending - half of present levels. In their current state, utilities cannot finance Europe's hoped-for clean-energy system.

And that has implications for the future. To make up for lack of investment by utilities, governments will have to persuade others to step in, such as pension funds or sovereign-wealth funds. But these entities have always invested in energy indirectly, by holding stakes in utilities, not directly. And for a reason: they dislike the political risks of owning projects in which governments play a role, either through planning or price-setting. In some countries there are also laws against owning assets both upstream (generators) and down (distribution).

Over the past 30 years European governments have been trying to deregulate energy markets, privatising state-owned companies and splitting electricity generation from transmission and distribution. The aims were to increase competition, boost efficiency and cut prices.

Those goals are now harder to achieve. Renewable energy has grabbed a growing share of the market, pushed wholesale prices down and succeeded in its goal of driving down the price of new technologies. But the subsidy cost also has been large, the environmental gains non-existent so far and the damage done to today's utilities much greater than expected. Europe in general and Germany in particular see themselves as pioneers of low-carbon energy. If they are genuinely to be so, they will need to design a much better electricity system that rewards low-carbon energy without reducing reliability and imposing undue and unnecessary costs.
METRO CANNONBALL RUN MOVIE REMAKE OCT 2011 - The 1980s caper movie The Cannonball Run is set to get the remake treatment – with two directors vying to bring their version to the big screen. Cannonball Run remake attracts rival bids from Guy Ritchie and Shawn Levy

Director Guy Ritchie is reportedly linked to a remake of the film, which was originally made in 1981, and is set to receive a funding boost from General Motors. The Snatch director's version of the film would star Brad Pitt and be produced by Warner Bros.

However Total Film reports that another director, Real Steel's Shawn Levy, has also expressed interest in getting his hands on the project – and his version of the film would reunite him with his Night at the Museum leading man Ben Stiller.

The original version of The Cannonball Run focused on an illegal cross-country car race, and the eccentric participants who would go to any lengths to win, similar to the road race movie Monte Carlo or Bust, and other similar themes. It starred a host of big names including Burt Reynolds, Roger Moore, Farrah Fawcett, Dom DeLuise and Dean Martin, and was a big hit at the box office when it was first released. Reynolds, DeLuise and Martin returned for a less successful sequel in 1984.
LINKS & REFERENCE
The Economist perceptions-germanys-chancellor-who-likely-win-re-election-september-22nd
EON sustainability regional activities germany
ABC news eon-german-nuclear-shutdown-covered
http://www.gdfsuez.com/
http://abcnews.go.com/International/wireStory/eon-german-nuclear-shutdown-covered-27305153
http://www.eon.com/en/sustainability/regional-activities/germany.html
http://www.forbes.com/profile/angela-merkel/
https://www.taz.de/Kommentar-Umbau-bei-Eon/!150502/
http://www.spiegel.de/wirtschaft/unternehmen/e-on-wie-sich-der-konzern-neu-erfindet-a-1005954.html
Greenpeace energy charts-explaining-why-europestop-utilities-have-underinvested-renewables
economist europes-electricity-providers-face-existential-threat-how-lose-half-trillion-euros
Bloomberg December 2014 eon-nine-month-net-misses-analyst-estimates-on-currency-losses
http://www.forbes.com 2014 oil-majors-woes-good-news-for-tesla-and-other-ev-makers
http://metro.co.uk 2011 cannonball run remake attracts bids from rival guy ritchie and shawn levy
http://www.rmi.org/
http://en.wikipedia.org/wiki/Angela_Merkel
http://en.wikipedia.org/wiki/The_Cannonball_Run
http://www.mile-to-km.com/km-to-miles.php
http://www.worldsolarchallenge.org/
http://www.discovery-campervans.com.au/adelaidedarwin.php
http://www.familyonabike.org/other%20info%20pages/awards.html
http://www.endtoenders.co.uk/
https://maps.google.com/
VAUXHALL AMPERA endurance ev attempt 2010_ampera_e-revs
http://www3.imperial.ac.uk/
http://www3.imperial.ac.uk/newsandeventspggrp/imperialcollege/newssummary/news_27-5-2010-12-26-15
http://www.formaplex.com/news/formaplex-launches-electric-car-world-record-attempt/
http://www.engadget.com/2010/05/31/racing-green-endurance-srzero-electric-car-to-make-16-000-mile-t/
http://www.rideacrossbritain.com/packages/end-to-end/
http://www.discoveradventure.com/challenges/land-s-end-to-john-o-groats-cycle
http://en.wikipedia.org/wiki/Land%27s_End_to_John_o%27_Groats