CITY CAR WARS - APRIL 2014 - SUSTAINABLE DEVELOPMENT
Chicago, New York and Washington DC have been vying for the title of greenest city in America. Mayor Vincent Gray is reported as saying that they want to: "make the District of Columbia the healthiest, greenest, and most livable city in the United States."

Sustainable Washington DC is focusing on seven areas:
1. the built environment
2. energy
3. food
4. nature
5. transportation
6. waste and
7. water
Transportation has been targeted with the goal of reducing automobile use to 25% of local trips. Hence, critics are saying that DC is waging a "war on cars." City officials deny this saying that their plan puts other means of transportation on an equal footing with automobiles. Transportation is part of Sustainable, DC's plan because it ties in to so many aspects of the environment.
The project manager at the Congress for New Urbanism, Chris McCahill said: "Cars make up about a third of greenhouse gas emissions." "They're also tied to a great deal of our energy use, most of which is due to fossil fuels."

Public transit is socially sustainable according to Sam Zimbabwe, the Associate Director for Policy Planning and Sustainability in DC's Department of Transportation: "We see providing sustainable, multi-modal transportation as central to equity." "It lowers the cost of living when people don't need a car." Sam pointed to the high rate of asthma in DC, due in part to automobile emissions.

According to a recent study co-authored by McCahill, reducing car use in cities seems to help the economy. "Cities that have tried to copy the suburbs by becoming friendlier to cars have not done nearly as well as cities that have embraced the advantages that urban places have," he said. Introducing automobiles makes it "very difficult to achieve the right density."

Lon Anderson, Managing Director, Public and Government Affairs, AAA MidAtlantic, believes that cars have a crucial place in American cities. He is quoted as saying that: "cars and automobility will continue to be an important part of the fabric of a vibrant downtown."

Any city that grows by 1,100 people a month for two years, must find options other than cars to move them. "Now, we have close-in neighborhoods where people do have choices," said Sam Zimbabwe.
CONGESTION RIP OFF

One controversial method of reducing car use is congestion charges; making individual drivers pay for the inconvenience they cause during peak driving hours. Putting a price on driving gives people incentive for alternatives. DC is only beginning to study this question, which must be approached in conjunction with nearby Maryland and Virginia suburbs. It's a long process, with "many ways to do congestion charges," according to Sam Zimbabwe. "It's a political question as well as a policy question."

With parking spaces costing around $50,000 each, every cent has to be squeezed out of the citizen. A key element to reducing car use is to reduce parking spaces. Why not go the whole hog and close the roads. That would mean a properly developed urban transportation system of course - the dream of futurists aiming for Utopia - which is not in place.
The stare requires commercial and residential buildings to provide a certain amount of parking. "Historically zoning codes in the mid 20th century had the expectation that everyone would drive everywhere, so every building must have enough space," said David Alpert, Founder and Editor-in-Chief of the popular blog Greater Greater Washington. David views an excessive dependence on cars as harmful to both city and suburb.
Exemptions on parking minimums have already occurred, and the Sustainable DC plan will accelerate this process. "District government proposed to remove parking minimums in transit rich areas downtown, to allow the market to decide how much parking," said Zimbabwe.
Another way to reduce car use is simply to charge more for street parking, currently undervalued. Again, the market will decide, a change that Alpert described as "essentially congestion pricing for parking." Currently, with artificially low prices, cars circle around looking for spaces, increasing congestion and hurting air quality.

Lon Anderson, Managing Director, Public and Government Affairs, unsurprisingly, disagrees. "Limiting parking further will ultimately damage the city, its businesses and quality of life in its neighborhoods as homeowners are unable to find parking near their homes, and visitors are unable to find convenient parking in the city," he said.
WASHINGTON
DC's effort to reduce automobile trips has led to charges, from the AAA mid-Atlantic, that DC is waging a "war on cars." Explained Anderson, "Whether you call it a war on motorists or a campaign against cars, there no question that DC has developed a real hostility and abusive attitude towards drivers, seeking to take extreme advantage of them."
To this claim Zimbabwe said of reallocating space that this "isn't borne out of hostility but out of serving the diversity of demand in the district. Over half of the commute trips in the district are bike, walk, or transit today, but the space allocated on our streets isn't consistent with this."
Anderson further cited the proposal to eliminate parking minimums, aggressive ticketing and automated enforcement, and the arrest of motorists for driving on expired tags as parts of the campaign against cars. He also suggests that such actions are about "keeping the $100 million revenue stream flowing," more than about safety.
Zimbabwe answered that "On enforcement, all of our activities are predicated on safety," adding that "we had one of the safest years on record last year." He also pointed out that two thirds of the cars on DC's streets are not from the city. Most come from nearby suburbs in Maryland and Virginia.
Sam Zimbabwe said that over 38% of DC residents own no cars: "people own more bikes than cars." He added that "we can't continue to grow and be successful as a city and have everyone's only choice be to drive. We then would be choked."
A long struggle lies ahead. "Politically, yes it's a challenge," said Zimbabwe. "A lot of people won't like it. Parking is cheap, they don't want it to change. Any change, you can talk all you want about options, somebody's not going to like it."
Whichever of these great cities comes out the greenest, you can bet that it will be the one that embraces the fastest charging for EVs.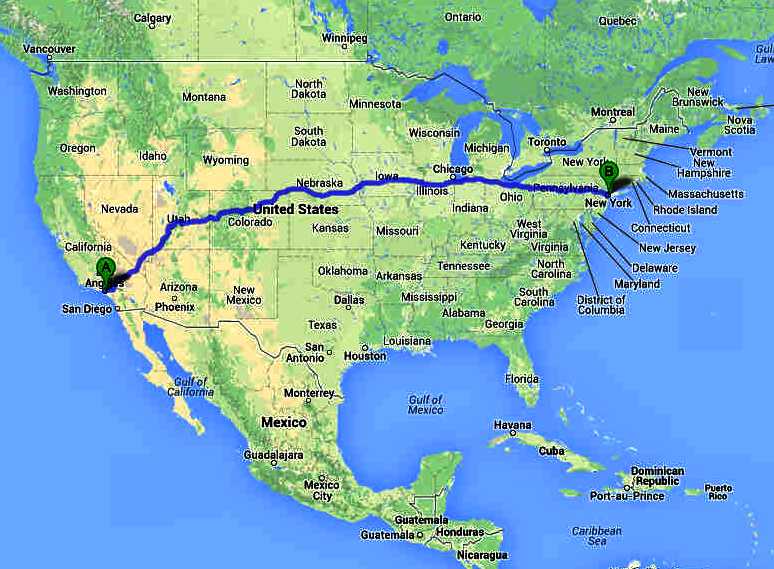 LOS ANGELES to NEW YORK - 2016 CANNONBALL RUN 2861 MILES
| | | | | |
| --- | --- | --- | --- | --- |
| START | LOS ANGELES | CALIFORNIA | MILES | HOURS |
| 1st STOP | LAS VEGAS | NEVADA | 265 | 5.30 |
| 2nd STOP | RICHFIELD | UTAH | 553 | 11.06 |
| 3rd STOP | GRAND JUNCTION | UTAH | 775 | 14.50 |
| 4th STOP | DENVER | COLORADO | 1016 | 20.30 |
| 5th STOP | KEARNEY | NEBRASKA | 1371 | 27.42 |
| 6th STOP | DES MOINES | IOWA | 1683 | 33.66 |
| 7th STOP | JOLIET | ILLINOIS | 1990 | 39.80 |
| 8th STOP | TOLEDO | OHIO | 2245 | 44.90 |
| 9th STOP | YOUNGSTOWN | OHIO | 2402 | 48.04 |
| 10th STOP | DUBOIS | PENNSYLVANIA | 2508 | 50.16 |
| 11th STOP | LEWISBURG | PENNSYLVANIA | 2635 | 52.70 |
| 12th STOP | STROUDSBURG | PENNSYLVANIA | 2715 | 54.30 |
| FINISH | NEW YORK | NEW YORK | 2,861 | 57.22 |
GOOGLE SUGGESTED ROUTE - 2,861 mi, 43 hours (Route has tolls) TARGET 70 HOURS

Los Angeles, CA

1. Head southeast on W 1st St toward S Main St 479 ft
2. Take the 2nd left onto N Los Angeles St 0.3 mi
3. Turn right to merge onto US-101 S toward Interstate 10 Fwy E/Interstate 5 Fwy S 0.8 mi
4. Keep left to continue on San Bernardino Fwy, follow signs for San Bernardino/Interstate 10 E 1.3 mi
5. Merge onto I-10 E/San Bernardino Fwy - 38.7 mi
6. Take the exit onto I-15 N/Ontario Fwy toward Barstow/Las Vegas - Continue to follow I-15 N
Passing through Nevada, Arizona - Entering Utah 470 mi
7. Take exit 132 to merge onto I-70 E toward Richfield/Denver - Entering Colorado 501 mi
8. Take exit 269B on the left to merge onto I-76 E toward Ft Morgan - Entering Nebraska 187 mi
9. Merge onto I-80 E - Entering Iowa - 473 mi
10. Take exit 123B toward Interstate 35 S - 1.0 mi
11. Follow signs for I-80 E/I-35 N/Chicago/Minneapolis and merge onto I-35 N/I-80 E
Continue to follow I-80 E - Entering Illinois - 193 mi
12. Take the exit to stay on I-80 E toward Chicago - Partial toll road - 145 mi
13. Slight right onto I-80 - Toll road - 0.5 mi
14. Merge onto I-80 E - Partial toll road - Entering Indiana - 23.2 mi
15. Take exit 16 to merge onto I-80 E/I-90 E - Partial toll road - Entering Ohio - 278 mi
16. Keep left to continue on I-80 E - Toll road - 76.2 mi
17. Take exit 218 for I-80 E - Toll road - 0.9 mi
18. Keep left at the fork, follow signs for Mahoning Ave/OH-18 and merge onto I-80 E
Partial toll road - Passing through Pennsylvania - Entering New Jersey - 374 mi
19. Keep left to continue on I-280 E, follow signs for Interstate 280 E/The Oranges/Newark/New Jersey
Turnpike 16.5 mi
20. Take exit 17A toward County 508 E/Jersey City 0.5 mi
21. Merge onto Newark Ave 2.7 mi
22. Slight left onto the US 1 N/US 9 N ramp to Lincoln Tunnel/Secaucus 0.1 mi
23. Keep right at the fork, follow signs for New Jersey 139 E/Hoboken/Hollan Tunnel 0.3 mi
24. Keep left at the fork and merge onto NJ-139 E 1.3 mi
25. Merge onto I-78 E - Partial toll road - Entering New York 2.3 mi
26. Take the exit on the left toward Downtown 243 ft
27. Take exit 4 toward Downtown 144 ft
28. Turn right onto Varick St 0.2 mi
29. Turn left onto Worth St 0.2 mi
30. Turn right at the 2nd cross street onto Broadway 0.2 mi

New York, NY
THE RECORD CAR - ECOSTAR DC50 SPECS:
| | |
| --- | --- |
| ECOSTAR DC50 - WEIGHT | |
| KERB WEIGHT | 550 KG |
| GROSS WEIGHT | 700 KG |
| ELECTRICAL SYSTEM | |
| MOTORS QTY 2 | 33.5 hp each (50kW) |
| BATTERY CARTRIDGE | 62kW/hr (3.6vx200ah x 24) |
| MAXIMUM POWER | 67 HP |
| TRANSMISSION | TBA |
| SUSPENSION SYSTEM | |
| FRONT | Double wishbone independent - rubber suspension |
| REAR | Trailing arm independent - rubber suspension |
| BRAKES | |
| FRONT | Ventilated discs |
| REAR | Hub shoes |
| SEATING | |
| CAPACITY | 2 people |
| TYRES | |
| TYRE SIZE | 185/55R13 (tubeless) eco tyres |
| DIMENSIONS | |
| OVERALL LENGTH | 2600 mm |
| OVERALL WIDTH | 1510 mm |
| OVERALL HEIGHT | 990 mm = 1.48 m2 frontal area x Cd .25 |
| WHEEL BASE | 1800 mm |
| TRACK(FRONT) | 1330 mm |
| TRACK(REAR) | 1360 mm |
| MINIMUM TURNING RADIUS | 5.0 M |
| GROUND CLEARANCE | 165 mm |
| PERFORMANCE | |
| RANGE AT FULL CHARGE | 350 km [218 miles] (@ ave speed 60 kph) |
| MAXIMUM SPEED | 120 kph [75 mph] |
| 100% BATTERY CHARGING PERIOD | 30- 60 seconds |

ORIGINAL CANNONBALL BAKER TROPHY DASH
The Cannonball Baker Sea-To-Shining-Sea Memorial Trophy Dash, widely known simply as the Cannonball Baker or Cannonball Run, was an unofficial, unsanctioned automobile race run five times in the 1970s from New York City and Darien, Connecticut, on the U.S. Atlantic coast, to the Portofino Inn in Redondo Beach, a Los Angeles suburb on the Pacific coast. Conceived by car magazine writer and auto racer Brock Yates and fellow Car and Driver editor Steve Smith, the first run was not a real competitive race, as there was only one team running, but intended both as a celebration of the United States Interstate Highway System and a protest against strict traffic laws coming into effect at the time.

As it was found out, the newly imposed 55 mph (89 km/h) speed limit imposed by the National Maximum Speed Law (imposed as an energy conservation measure) was actually slower than the quickest average speeds of point-to-point travels of Erwin George "Cannon Ball" Baker in the first half of the 20th century. In 1933, Baker drove coast to coast in a Graham-Paige model 57 Blue Streak 8, averaging greater than 50 mph (80 km/h), setting a 53 hour 30 minute record that stood for nearly 40 years.

Another motivation was the fun involved, which showed in the tongue-in-cheek reports in Car and Driver and other auto publications worldwide.

The initial cross-country run was accomplished by Yates' son, Brock Yates, Jr., Steve Smith, and friend Jim Williams beginning on May 3, 1971. The first running was accomplished in a 1971 Dodge Custom Sportsman van, called the "Moon Trash II". The race was run four more times, on November 15, 1971; November 13, 1972; April 23, 1975; and April 1, 1979. Jack May and Rick Cline drove a Ferrari Dino (05984) from the Red Ball Garage in New York City in a world's record time of 35 hours and 53 minutes, on April 23-25, 1975, averaging 83 mph (134 km/h). This New York to Los Angeles record was allegedly broken in 2007 by Richard Rawlings and Dennis Collins with a time of 31 hours and 59 minutes and an average speed of 87.6 mph (141.0 km/h).
The most remarkable effort certainly was by American racing legend Dan Gurney (winner of the 1967 24 hours of Le Mans), who won the second run in a Ferrari Daytona. Dan himself put it best, saying: "At no time did we exceed 175 mph." With Brock Yates as co-driver, it took them 35 hours and 54 minutes to travel 2,863 miles (4,608 km) at an average of approximately 80 mph (130 km/h), while collecting one fine. Snow in the Rockies slowed them down considerably. The record for official Cannonballs is 32 hours and 51 minutes (about 87 mph), set in the final run by Dave Heinz and Dave Yarborough in a Jaguar XJS in April 1979.
The object of the Cannonball Baker was to leave the Red Ball Garage on East 31st Street in New York City, later a venue in Darien, Connecticut, the now-defunct Lock, Stock, and Barrel restaurant, located in the Goodwives Shopping Center, usually after midnight, and drive to the Portofino Inn in Redondo Beach, California in the shortest time possible. Those were the only rules. Nothing was specified as to the route, type of vehicle, or maximum speed permitted. There was a gentlemen's agreement that the vehicle entered would be driven the entire distance, not having it transported on another vehicle, nor having an identical second vehicle hidden near the finish, etc.
Speeding citations received along the way were the driver's responsibility and did not disqualify the vehicle, unlike the Cannonball EV Runs, where a speeding conviction is a disqualifier. Having to stop to receive a ticket increases the vehicle's overall time.

The Cannonball Run was technically a race in that the fastest time was declared the "winner" and the results were announced in order of time, but times were not taken very seriously. It was found that sheer speed frequently did not guarantee a first place finish.
A taste for adventure capitalists
OFFICIAL CANNONBALL INTERNATIONAL ZEV ROUTES
Arabia - Jeddah to Dubai

Australia - Darwin to Adelaide

Brazil - Boa Vista to Rio de Janeiro

Canada - Vancouver to Quebec

China - Ai Hui Qu to Shenzen

Denmark - Skagen to Copenhagen

Egypt - Pyramid Special

France - Calais to Toulon

Germany - Bremerhaven to Munich

India - Amritsar to Nagercoil

Italy - Turin to Reggio Calabria

Japan - Aomori to Kagoshima

Korean TechCity -

Nigeria - Maiduguri to Lagos

Norway -

Russia - Murmansk to Bolshoy Sochi

South Africa - Cape Town to Louis Trichardt

Spain - Girona to Huelva

Sweden - Karlsborg to Gothenburg

UK - John o'Groats to Lands End (Jogle)

USA - Los Angeles to New York
LINKS:
https://www.fanfiction.net/s/6727932/1/Cannonball-Run-International
http://www.emagazine.com/blog/sustaining-dc-restraining-cars1/
http://www.familyonabike.org/other%20info%20pages/awards.html
http://www.endtoenders.co.uk/
https://maps.google.com/
VAUXHALL AMPERA endurance ev attempt 2010_ampera_e-revs
http://www3.imperial.ac.uk/
http://www3.imperial.ac.uk/newsandeventspggrp/imperialcollege/newssummary/news_27-5-2010-12-26-15
http://www.formaplex.com/news/formaplex-launches-electric-car-world-record-attempt/
http://www.engadget.com/2010/05/31/racing-green-endurance-srzero-electric-car-to-make-16-000-mile-t/
http://www.rideacrossbritain.com/packages/end-to-end/
http://www.discoveradventure.com/challenges/land-s-end-to-john-o-groats-cycle
http://en.wikipedia.org/wiki/Land%27s_End_to_John_o%27_Groats
The Cannonball EV Runs, are a series of events designed to promote and accelerate the development of an energy supply infrastructure for ordinary road going electric vehicles.