Italy is developing sustainable policies that include renewable resources from wind and solar electricity that will ultimately benefit a change to a sustainable all electric economy for both economic reasons, the health of the nation and as a means to curb changing weather patterns.
Map of the Italian Cannonball International ZEV Runs. [Left] Inland route incorporating a visit to Parma and Bologna and [Right] the coastal route incorporating a visit to Genoa. Both routes are valid as Cannonball International events.
CANNONBALL INTERNATIONAL EV SERIES
The Cannonball International EV Run™ series is for battery or hydrogen fuel cell powered electric vehicles that are based on ordinary production vehicle running gear and must be capable of carrying at least one passenger. They may be solar assisted, provided that the solar panel area does not exceed four square meters - a rule that may be relaxed in subsequent years as we learn from experience. See the full Cannonball EV rules HERE.
These rules are designed to promote the development of an international EV infrastructure, as a means of accelerating the transition from IC engines to clean electric motors, especially in countries that do not have abundant sunshine, where support for non-solar assisted electric vehicles is all the more important.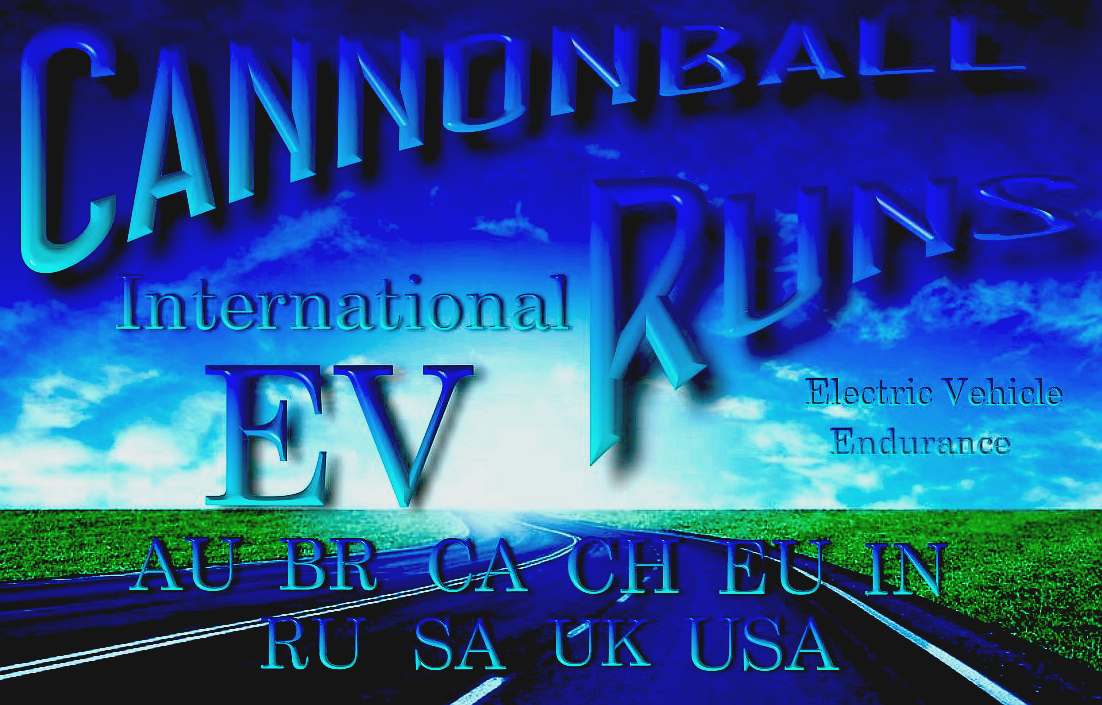 Make sure that you read the EV runners road rules before entering your team.
TURIN to REGGIO CALABRIA: THE ITALIAN INLAND CANNONBALL ZEV RUN STOPS* 50mph
| | | | | | |
| --- | --- | --- | --- | --- | --- |
| START | TURIN | NORTH | KMS | MILES | HOURS* |
| 1st STOP | Parma | 1 | 1 | 6 | 1 |
| 2nd STOP | Bologna | 3 | 4 | 2 | 5 |
| 3rd STOP | Florence | 3 | 7 | 4 | 9 |
| 4th STOP | Rome | 282 (175) | 1, | 7 | 1 |
| 5th STOP | Naples | 227 | 1, | 8 | 1 |
| 6th STOP | Castrovillari | 204 | 1, | 8 | 1 |
| FINISH | REGIO CALABRIA | SOUTH | 1,368 | 8 | 1 |
TURIN to REGGIO CALABRIA: THE ITALIAN COASTAL CANNONBALL ZEV RUN STOPS* 50mph
| | | | | | |
| --- | --- | --- | --- | --- | --- |
| START | TURIN | NORTH | KMS | MILES | HOURS* |
| 1st STOP | Genoa | 176 | 176 | 109 | 2.18 |
| 2nd STOP | Florence | 226 | 402 | 250 | 5.00 |
| 3rd STOP | Rome | 282 | 684 | 425 | 8.50 |
| 4th STOP | Naples | 227 | 911 | 566 | 11.32 |
| 5th STOP | Castrovillari | 204 | 1,115 | 693 | 13.86 |
| FINISH | REGGIO CALABRIA | SOUTH | 1,411 | 877 | 17.54 |
GOOGLE SUGGESTED ROUTE - Driving directions 25 HR target with cartridge exchange and 40 hours with fast charging (This route has tolls)

Turin - Italy

Take Via Po, Corso Massimo d'Azeglio, Sottopasso Michele Lanza, Corso Unità d'Italia and Corso Trieste to A6 in Moncalieri
8.1 km / 14 min
Follow E70, A1 and A3 to Sopraelevata Porto in Reggio Calabria. Take the exit toward Porto Reggio Calabria from A3
1,356 km / 12 h 22 min
Continue on Sopraelevata Porto. Drive to Via Palamolla
3.9 km / 7 min
Merge onto Sopraelevata Porto
2.7 km
Continue onto Viale D.Genoese Zerbi
450 m
At the roundabout, take the 1st exit onto Viale Italo Falcomatà
400 m
Turn left toward Via II Settembre
78 m
Slight right onto Via II Settembre
110 m
Turn right onto Via Demetrio Tripepi
110 m
Take the 1st right onto Via Palamolla
60 m

Reggio Calabria - Italy

CANNONBALL INTERNATIONAL OFFICIAL ROUTES
Arabia - Jeddah to Dubai

Australia - Darwin to Adelaide

Brazil - Boa Vista to Rio de Janeiro

Canada - Vancouver to Quebec

China - Ai Hui Qu to Shenzen

Denmark - Skagen to Copenhagen

Egypt - Kings Valley Rally - Aswan to Alexandria

France - Calais to Toulon

Germany - Bremerhaven to Munich

India - Amritsar to Nagercoil

Italy - Turin to Reggio Calabria

Japan - Aomori to Kagoshima

Korean S. Smart City Rally - Seoul to Busan

New Zealand - Nelson to Invercargill

Nigeria - Maiduguri to Lagos

Norway -

Russia - Murmansk to Bolshoy Sochi

South Africa - Cape Town to Louis Trichardt

Spain - Girona to Huelva

Sweden - Karlsborg to Gothenburg

UK - John o'Groats to Lands End (Jogle)

USA - Los Angeles to New York
Female environmental lobbyists strut their stuff - point well made ladies and we love the gull wing doors on that red Mercedes.
FORBES 2014
On the same week that Tesla shows off its cross-country "cannonball run," (aiming to break the transcontinental record for driving an EV from the left to right shore of the U.S. in three days), bad earnings and production news comes from the oil patch. This could be really good news for Tesla and its competitors, among them, the Chevy Volt, the Nissan Leaf, and the forthcoming BMW i3. The more expensive oil gets, the more marginally attractive EVs become.
Fourth quarter earnings are out from Shell and Exxon Mobile and they confirm a trend many have pointed to for a long time: the hydrocarbons may still be there, but they are getting more and more expensive to recover. Both Shell and Exxon pointed to declining output, while at the same time bearing enormous investment burdens (Shell's 2013 capital spending exceeded $44 bn).
Shell's fourth quarter revenues declined from $7.3 bn to $2.2bn. At the same time, the company took a major torpedo to the bow with its Arctic mishaps, which to date have cost them over $5bn while yielding nothing. The company has also allocated over $30 bn to a project in Kazakhstan which is eight years behind schedule. To worsen the situation, Shell reported a 6% drop in oil production. Annual earnings were down 23% below 2012.
Exxon Mobil fared somewhat better, seeing its earnings decline from $9.95 bn to $8.35 bn, but annual earnings were down 27%. Production of oil and gas was down 1.8% from the prior year, a trend that has continued in seven of their last eight quarters.
The two majors are not the only companies forced to spend huge amounts of money to develop difficult oil and gas fields across the planet. Fracking notwithstanding, the easy stuff is pretty much gone. Today's projects typically involve billions of dollars of riskier investments at higher costs, and the potential for enormous cost overruns. OilPrice.com cites the example of Italian oil company ENI which currently forecasts a $50 bn investment in Kazakhstan's Kashagan oil field – a five-fold increase over initial numbers.
If one looks southward to Latin America, the example of Petrobras shows similar echoes. The company has incurred over $100 bn in debt to develop the gigantic offshore Lula field. To get to the oil, companies will have to function a mile below the ocean, and drill another two miles to get to the reserves. It's technologically risky (does anybody remember BP) and super expensive, with the potential for brutal cost overruns.

All of which suggests that marginal costs for the production of oil will continue to rise. In the meantime, electric rates are also not without price pressures. The question will be by how much rates increase over time, and whether the current advantage in 'fueling costs' enjoyed by EVs will continue to grow. The DOE currently shows an 'eGallon' (the cost for the equivalent energy of a gallon of gasoline) at $1.21, compared with an average price of $3.33 for a gallon of gas. Electricity rates would have to rise much faster than gasoline for electrons to lose their economic advantage. Even if electricity were to shoot up by 50% (an additional $.61 per eGallon) while oil increased by only 25% (an additional $.83), there would still be a marginal economic gain for an EV.
But that kind of mismatch is unlikely to occur. With relatively cheap U.S. natural gas-fired generation, and renewables continuing to rapidly decline in cost, there's a very good chance that the relative cost benefits of fueling an EV will continue to increase significantly. And while fuel is only a small part of the entire cost equation, that's a great trend to help spur along the adoption of electric vehicles. Tesla's voyage may be pioneering today: it will be commonplace tomorrow.
METRO CANNONBALL RUN MOVIE REMAKE OCT 2011
The 1980s caper movie The Cannonball Run is set to get the remake treatment – with two directors vying to bring their version to the big screen. Cannonball Run remake attracts rival bids from Guy Ritchie and Shawn Levy

Director Guy Ritchie is reportedly linked to a remake of the film, which was originally made in 1981, and is set to receive a funding boost from General Motors. The Snatch director's version of the film would star Brad Pitt and be produced by Warner Bros.

However Total Film reports that another director, Real Steel's Shawn Levy, has also expressed interest in getting his hands on the project – and his version of the film would reunite him with his Night at the Museum leading man Ben Stiller.

The original version of The Cannonball Run focused on an illegal cross-country car race, and the eccentric participants who would go to any lengths to win, similar to the road race movie Monte Carlo or Bust, and other similar themes.

It starred a host of big names including Burt Reynolds, Roger Moore, Farrah Fawcett, Dom DeLuise and Dean Martin, and was a big hit at the box office when it was first released. Reynolds, DeLuise and Martin returned for a less successful sequel in 1984.
LINKS:
http://en.wikipedia.org/wiki/Italy
http://www.forbes.com 2014 oil-majors-woes-good-news-for-tesla-and-other-ev-makers
http://metro.co.uk 2011 cannonball run remake attracts bids from rival guy ritchie and shawn levy
http://en.wikipedia.org/wiki/The_Cannonball_Run
http://www.mile-to-km.com/km-to-miles.php
http://www.worldsolarchallenge.org/
http://www.discovery-campervans.com.au/adelaidedarwin.php
http://www.familyonabike.org/other%20info%20pages/awards.html
http://www.endtoenders.co.uk/
https://maps.google.com/
VAUXHALL AMPERA endurance ev attempt 2010_ampera_e-revs
http://www3.imperial.ac.uk/
http://www3.imperial.ac.uk/newsandeventspggrp/imperialcollege/newssummary/news_27-5-2010-12-26-15
http://www.formaplex.com/news/formaplex-launches-electric-car-world-record-attempt/
http://www.engadget.com/2010/05/31/racing-green-endurance-srzero-electric-car-to-make-16-000-mile-t/
http://www.rideacrossbritain.com/packages/end-to-end/
http://www.discoveradventure.com/challenges/land-s-end-to-john-o-groats-cycle
http://en.wikipedia.org/wiki/Land%27s_End_to_John_o%27_Groats
https://www.google.com/maps/place/Madrid/