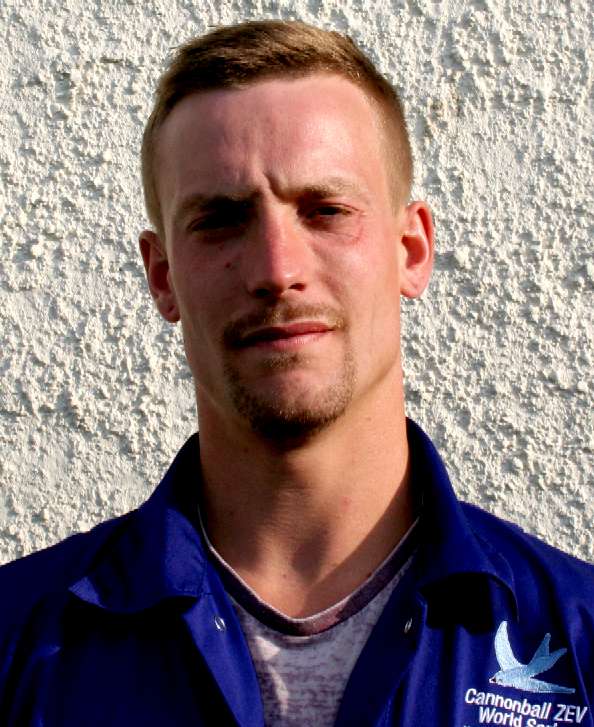 PROJECT LEADER: Terry Valeriano is a practical, hands on type of bloke. Handy, when you consider the challenges of such a project. He is just as much at home working with wood or metal. Terry and others will also be driving for at least some of the legs of the 894 odd miles from John o'Groats to Lands End. NEWS: The UK team that set the record in 2011 were planning another Tesla run for September 2014, hoping to improve their time.
2016 - 24 HOUR: JOHN O'GROATS to LANDS END - ENDURANCE RUN
As part of the international series of EV Cannonball events, a Trans-UK road trip is planned for June 0f 2015, to set a new record for electric vehicles (without breaking the speed limit) to demonstrate that clean motoring can be free of frustrating range limitations and charging delays. See the full Cannonball EV rules HERE.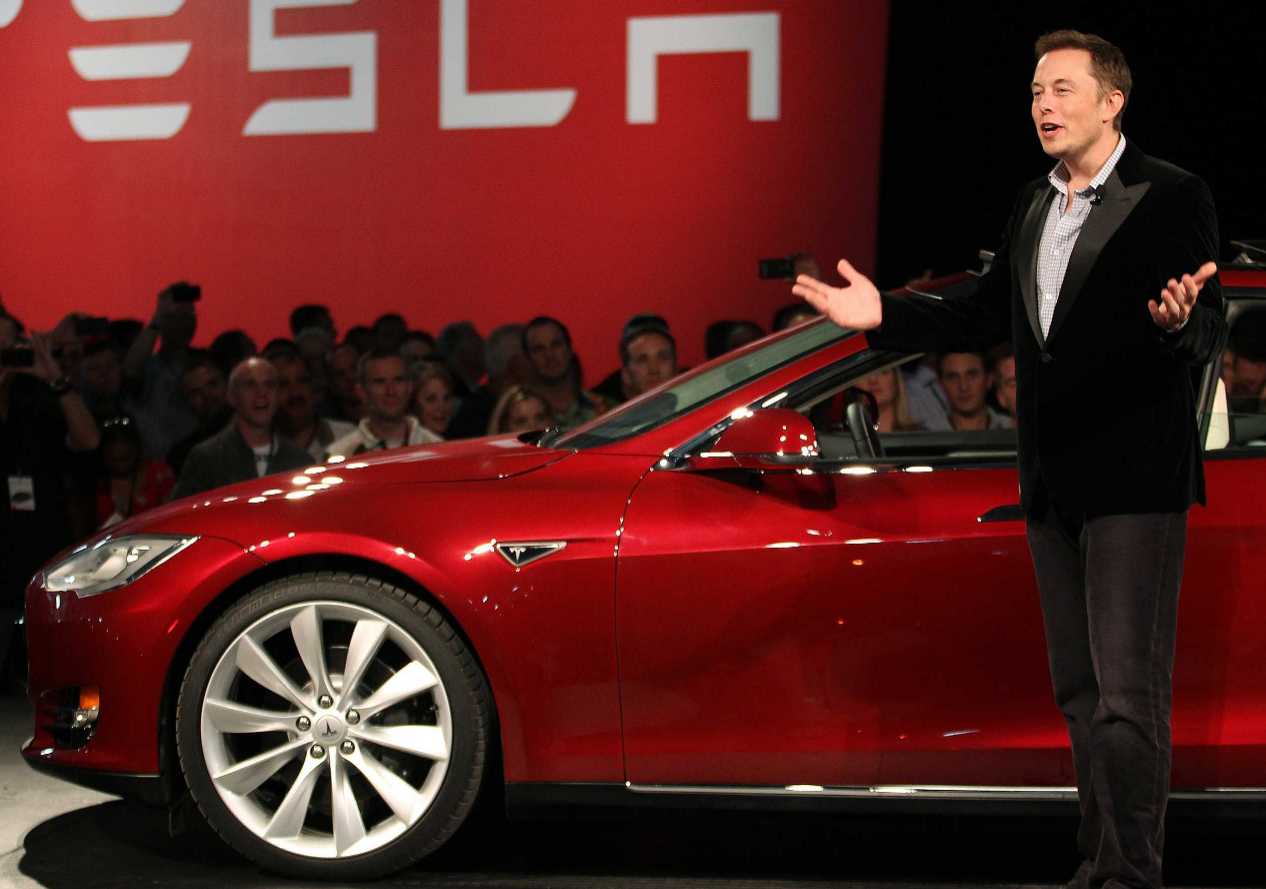 Tesla so far has not only shown Detroit how real innovation is done, but it has even the most optimistic car industry pundit flabbergasted by what it has achieved. In case youíre just catching up, letís review a few of Teslaís numbers. It already has a market capitalisation of $30 billion, thatís more than half the value of GM. It sold more than 25,000 cars last year and expects to sell a further 35,000 cars in 2014. The marketing lessons run deep, as its top-down premium vehicle strategy has enabled it to build a brand which doesnít require advertising, or even an advertising agency. While the altruism of opening up patents is clear, itís also very clear that there are a number of business strategy benefits to the decision. In fact, itís a genius level marketing play. We need to remember that Tesla is now the clear leader in electric motor vehicles.
TESLA & ELON MUSK - THE RECORD TO BEAT
At the moment the record is held by Elon Musk and his superb Tesla sports electrics. The Tesla can recharge batteries by exchanging in around 90 seconds - a fantastic feat. But, Tesla could not exchange battery cartridges where there are no stations to service his cars, and worse still, there were no fast charge stations in the UK at the time of their runs.
JUNE 2016 EVENT
It is intended to stage an event from the famous tip of Scotland to the equally well known tip of Cornwall, to encompass the 840 mile journey in under 24 hours, hoping for a sub 20 hour record, with only five stops for refreshments and refueling. The record to beat is 48 hours, set in a Tesla by Kevin Sharpe and David Peilow in 2011. The same vehicles then went on the set a record time for crossing the USA from Los Angeles to New York - so there is more than one Challenge - we feel a series coming on for our city sports car to tackle: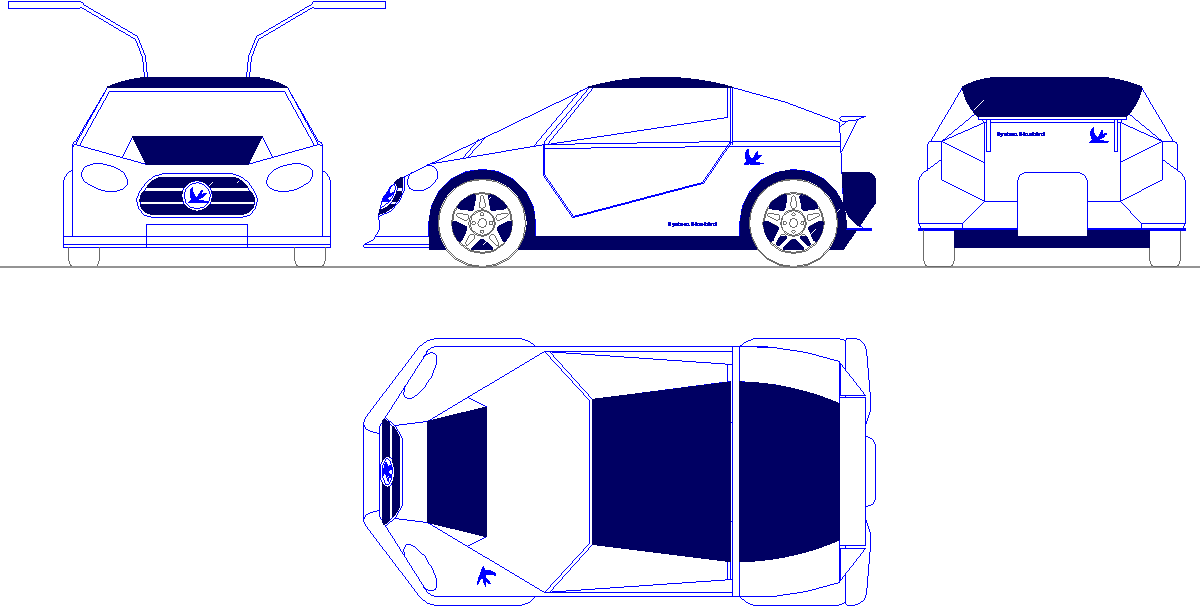 THE ECOSTAR DC50 - with instant cartridge exchange recharging and solar panels for assisted driving. The solar panels will not be used for the UK Cannonball run - to keep it a fair fight. We may though switch between fuel cell and battery cartridges, just to show off our technology.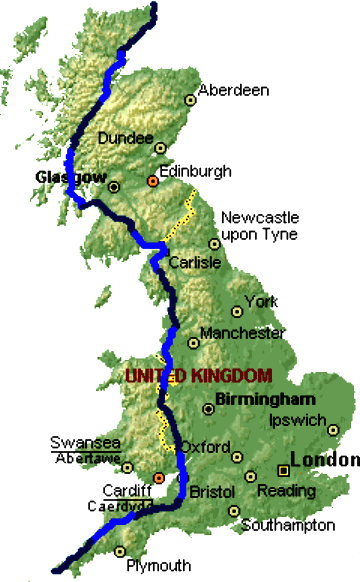 UK ROUTE BEGINNING AND END GOOGLE MAPS 14 hours 12 mins - TARGET 20 HRS @ 50 MPH AVERAGE with 10 minute breaks at each recharging stop.
| | | | | | |
| --- | --- | --- | --- | --- | --- |
| START | | MILES RUNNING | LEG DISTANCE | KM | HOURS |
| | | | 119 | | |
| 1st STOP | INVERNESS | 119 | + | 192 | 2.38 |
| | | | 86 | | |
| 2nd STOP | PITLOCHRY | 205 | + | 330 | 4.10 |
| | | | 84 | | |
| 3rd STOP | GLASGOW | 289 | + | 465 | 5.78 |
| | | | 97 | | |
| 4th STOP | CARLISLE | 386 | + | 621 | 7.72 |
| | | | 119 | | |
| 5th STOP | MANCHESTER | 505 | + | 813 | 10.10 |
| | | | 99 | | |
| 6th STOP | BIRMINGHAM | 604 | + | 972 | 12.08 |
| | | | 88 | | |
| 7th STOP | BRISTOL | 692 | + | 1114 | 13.84 |
| | | | 48 | | |
| 8th STOP | TAUNTON | 740 | + | 1191 | 14.80 |
| | | | 47 | | |
| 9th STOP | NEWTON ABBOT | 784 | + | 1262 | 15.68 |
| | | | 107 | | |
| END | | 894 | | 1439 | 17.88 |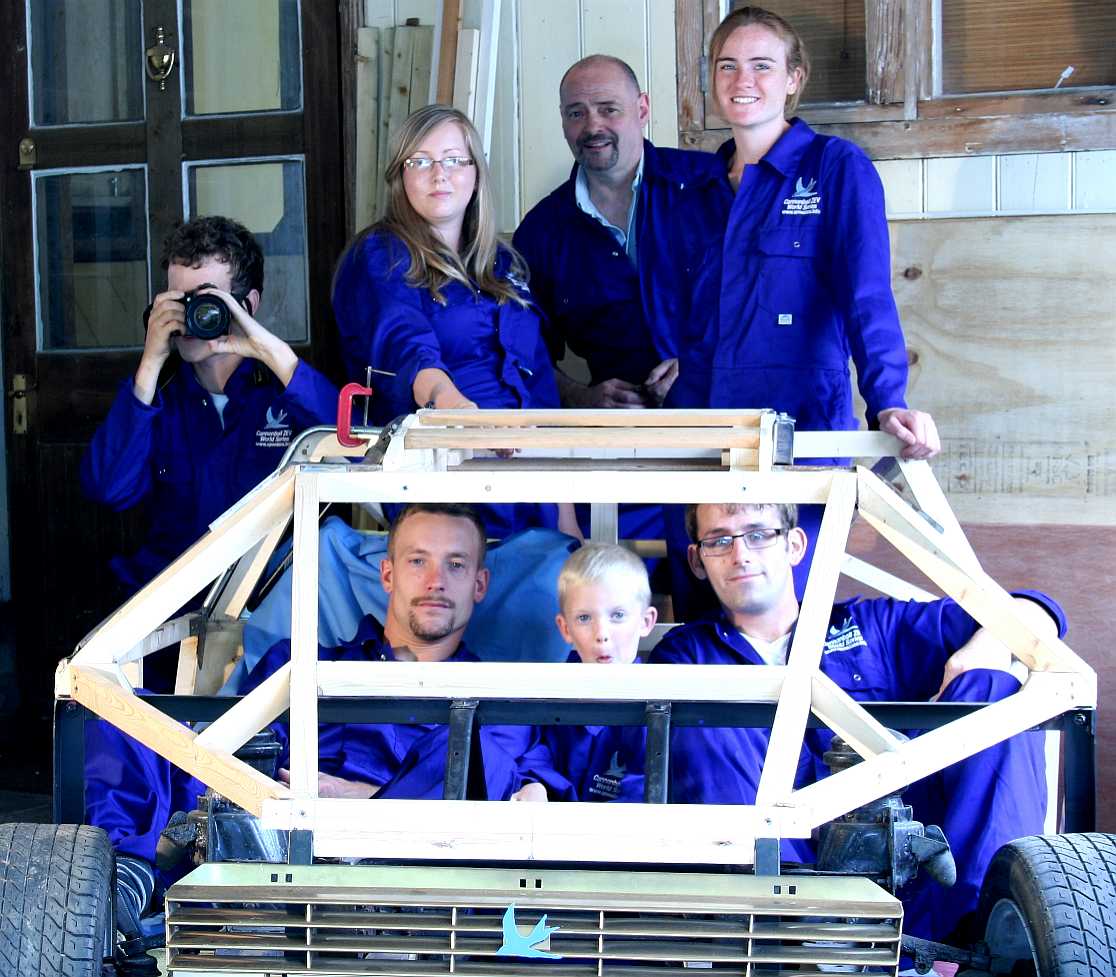 TEAM SPEEDACE - Plan to attempt the UK Cannonball (Jogle) in June of 2016 if all goes according to plan.
SERVICE STATION SIMULATION
The recharging strategy is described on the teams own web-pages, but consider that with cartridge exchange as the recharging method, that this run is a simulation of transits for EVs generally, if it was that facilities were available.
LANDS END to JOHN O'GROATS - To demonstrate the system, a drive across the UK from John O'Groats to Lands End - in record time, will end the myth that EVs cannot compete with petrol cars as to range. The Ecostar DC50 has been made available to a UK team headed by Chris Close - for this attempt. When you do the maths you will realize that not only are EVs non-polluting, but that they are far more economical.
Each member of the UK Cannonball Run 2015 team will be issued with one of these overalls, superbly embroidered with the Blue Bird logo, symbolic of the Bluebird cartridge instant recharging system. BMS has granted a free trademark license to the team for this purpose.
Two or more drivers will swap duties as they feel jaded, so complying with national rest regulations. The car is capable of 100mph, but the drivers know that they must not break any speed restrictions - and will have to deal with regular traffic at two peaks; the morning and evening rush hours.
ROAD TRIP
If you'd care to join Chris and his team for this run, in your own zero emission vehicle - you'll be most welcome.
SPONSORSHIP
Help with the development and running cost of this event is invited, by way of sponsorship prime event naming rights) or contributions in kind. If this is of interest to you, your organization or company please contact Chris:
THE RECORD CAR - ECOSTAR DC50 SPECS:
| | |
| --- | --- |
| ECOSTAR DC50 - WEIGHT | |
| KERB WEIGHT | 550 KG |
| GROSS WEIGHT | 700 KG |
| ELECTRICAL SYSTEM | |
| MOTORS QTY 2 | 33.5 hp each (50kW) |
| BATTERY CARTRIDGE | 20KW/hr (3.6vx200ah x 24) |
| MAXIMUM POWER | 67 HP |
| TRANSMISSION | TBA |
| SUSPENSION SYSTEM | |
| FRONT | Double wishbone independent - rubber suspension |
| REAR | Trailing arm independent - rubber suspension |
| BRAKES | |
| FRONT | Ventilated discs |
| REAR | Hub shoes |
| SEATING | |
| CAPACITY | 2 people |
| TYRES | |
| TYRE SIZE | 185/55R13 (tubeless) eco tyres |
| DIMENSIONS | |
| OVERALL LENGTH | 2600 mm |
| OVERALL WIDTH | 1510 mm |
| OVERALL HEIGHT | 990 mm = 1.48 m2 frontal area x Cd .25 |
| WHEEL BASE | 1800 mm |
| TRACK(FRONT) | 1330 mm |
| TRACK(REAR) | 1360 mm |
| MINIMUM TURNING RADIUS | 5.0 M |
| GROUND CLEARANCE | 165 mm |
| PERFORMANCE | |
| | 350 km (@ ave speed 60 kph) |
| MAXIMUM SPEED | 120 kph |
| 100% BATTERY CHARGING PERIOD | 30- 60 seconds |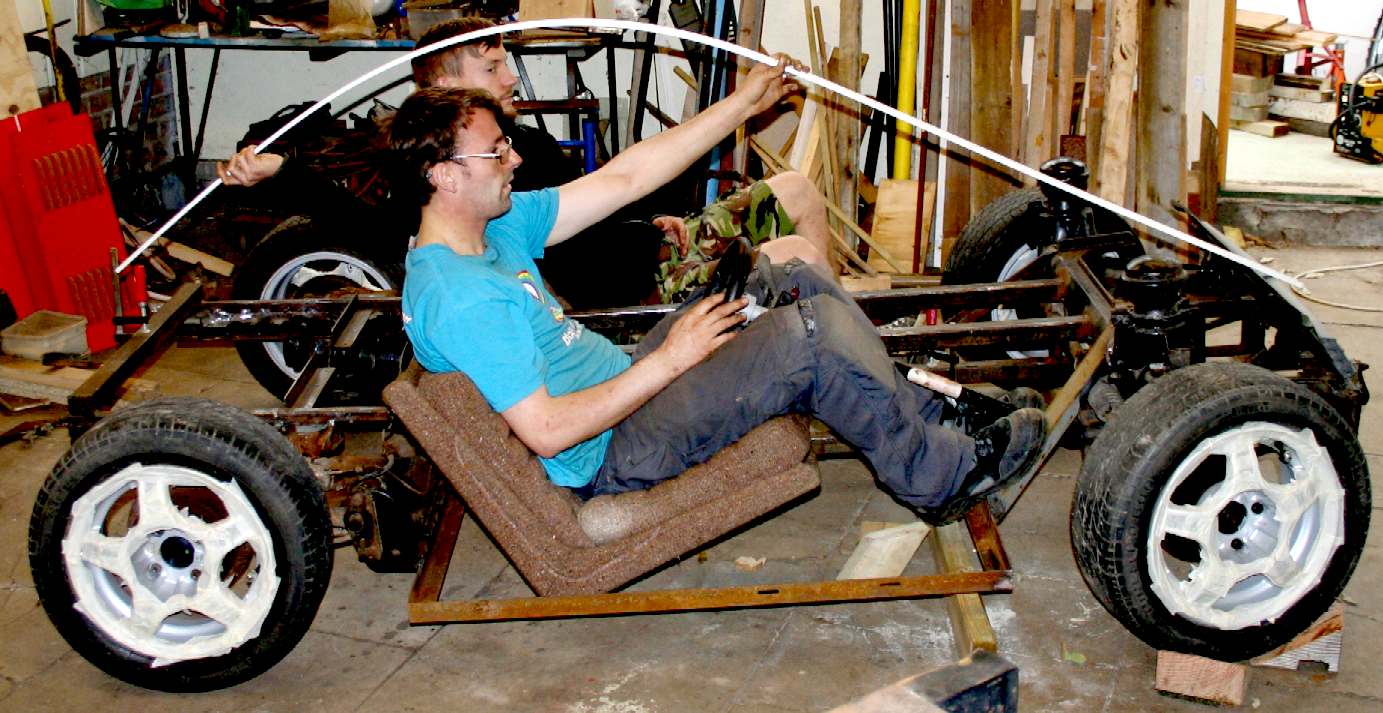 April 2014, the Ecostar undergoing tests for seating position: Project leader, Chris, in the driving seat with Terry lending a hand a co-driver. To comply with the International ZEV rules, standard production running gear must be used. Apart from that, the frame and configuration may be modified. Motors and gearboxes may be production items, or modified to enhance range. A points system will be applied to decide who will win the Blue Bird World Cup in any one year. By this means those competing on a lower budget stand a fair chance.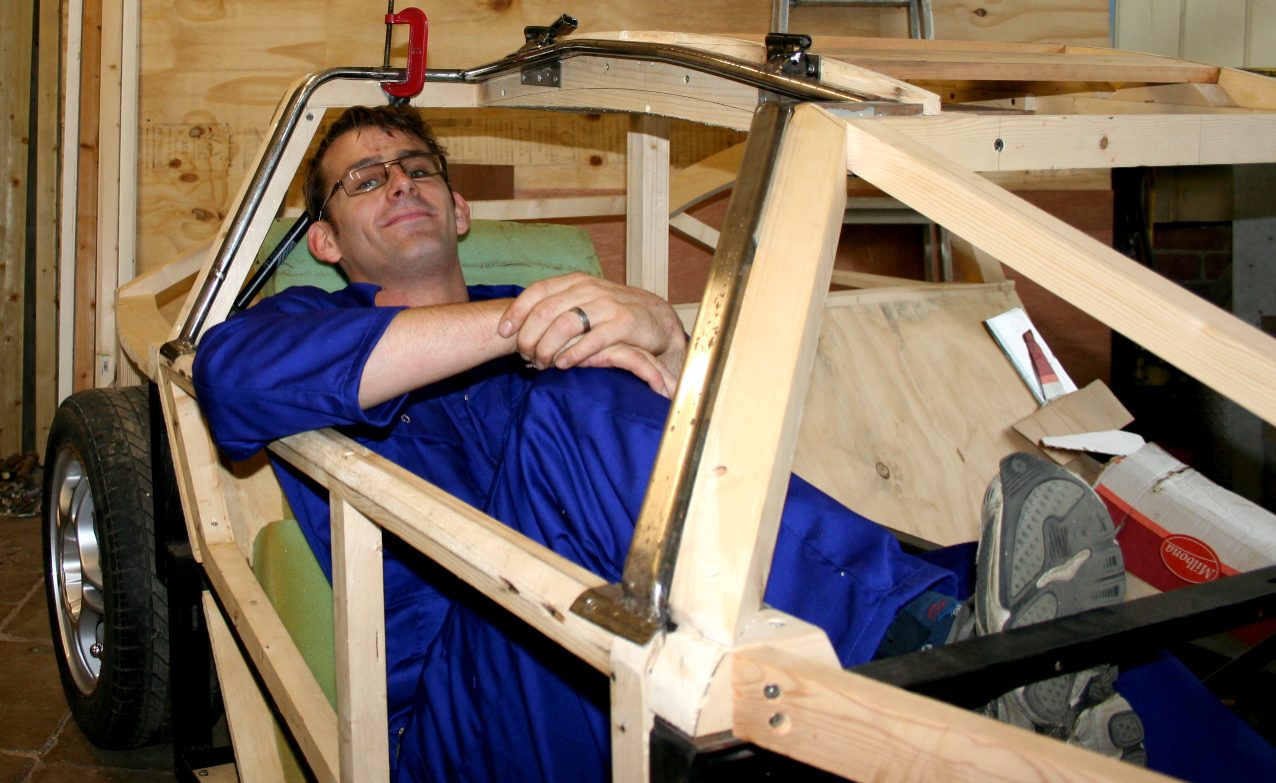 July 2014, the Ecostar is starting to take shape. The project leader, Chris, is seen here making sure the seating is comfortable enough for the record run.

EVENT HISTORY
Land's End to John o' Groats is the traversal of the whole length of the island of Great Britain between two extremities; in the southwest and northeast. The traditional distance by road is 874 miles (1,407 km) and takes most cyclists ten to fourteen days; the record for running the route is nine days. Off-road walkers typically walk about 1,200 miles (1,900 km) and take two or three months for the expedition. Two much-photographed signposts indicate the traditional distance at each end.

Land's End is the extreme southwestward (but not southern or western) point of Great Britain, situated in western Cornwall at the end of the Penwith peninsula, O.S. Grid Reference SW342250, Post Code TR19 7AA. The most southerly point is Lizard Point.

John o' Groats is the traditionally acknowledged extreme northern point of mainland Scotland, in northeastern Caithness, O.S. Grid Reference ND380735, Post Code KW1 4YR. The actual northernmost point is at nearby Dunnet Head. The point that is actually farthest by road from Land's End is Duncansby Head, about 2 miles (3.2 km) from John o' Groats.

The straight-line distance from Land's End to John o' Groats is 603 miles (970 km) as determined from O.S. Grid References, but such a route passes over a series of stretches of water in the Irish Sea.

According to a road atlas of 1964, the shortest route using classified roads was 847 miles (1,363 km). According to a road atlas of 2008, the shortest route using classified roads was 838 miles (1,349 km). In 2011 an online route planner calculated the quickest route by road as 838 miles (1,349 km), estimating a time of 15 hours 48 minutes for the journey (this uses A30, M5, M6, A74(M), M74, M73, M80, M9, A9 & A99). However, the overall shortest route by road, using minor roads in numerous places and utilising modern bridges, has been reduced to around 814 miles (1,310 km). This route is roughly follows:
Land's End,
Bodmin,
Okehampton,
Tiverton,
Taunton,
Bridgwater,
the M5 Avon Bridge,
the M48 Severn Bridge,
Monmouth,
Hereford,
Shrewsbury,
Tarporley,
St Helens,
Preston,
Carlisle,
Beattock,
Carstairs,
Whitburn,
Falkirk,
Stirling,
Crieff,
Kenmore,
Dalchalloch,
A9,
Inverness,
Kessock Bridge,
Cromarty Bridge,
Dornoch Firth Bridge,
Latheron,
Wick,
John o' Groats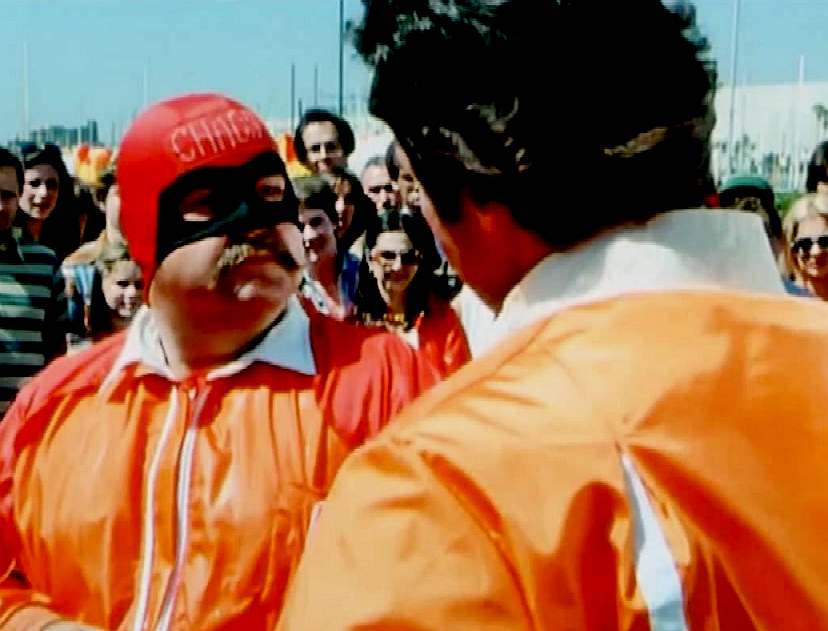 The Cannonball Run was immortalized in the movie starring Dom de Luise (Captain Chaos) and Burt Reynolds.

MOTORING

Motoring events between the two extremities have been held since the first decade of the 20th century, when the Auto-Cycle Union organised a series of runs for motorcycles. In 1911, Ivan B. Hart-Davies became the holder of the final Land's End to John o' Groats record for solo motorcycles. Riding his 3.5 hp single-speed Triumph, he covered the 886 miles in 29 hours, 12 minutes. As his average speed exceeded the then-maximum of 20 mph, further official record attempts were banned by the A. C. U.

The Motor Cycling Club (which had been running the London to Land's End Trial since 1908, still held today, at least in name) put on an annual Land's End to John o' Groats Run from 1923 to 1928 which included cars as well as motorcycles. These events were also known as the End to End. In 2006, BBC Television ran a series of three programmes called The Lost World of Friese-Greene covering Claude Friese-Greene's 1920s-era road trip from Land's End to John o' Groats. The trip had originally been filmed using the Biocolour process, developed by Claude's father William Friese-Greene and the film had degraded. The original print of Claude's film was subjected to computer enhancement by the British Film Institute to remove the flickering problem inherent in the Biocolour process.

In 1984, Neal Champion covered 884 miles from John o' Groats to Land's End in 11 hours, 14 minutes, on a Kawasaki GPZ750 Turbo.

On 17 September 1988, Andrew Frankel and Mark Connaughton drove from Land's End to John o'Groats in a standard production Alfa Romeo 164 in 12 hours 30 minutes, including stops for refuelling.

In 1993, John Brown initiated the Land's End to John o' Groats Historic Reliability Trial, a race for vintage road vehicles. The race is held each December and is a tough, three-day rally for old and classic cars, built between the 1920s and 1970s. The route takes a long 1,400-mile (2,300 km) route, using remote upland roads of the west of England, Wales (during the night), the Pennines and Scotland. Medals are awarded in gold, silver and bronze categories.

On 15Ė16 April 1997, Hugh Edeleanu drove the route in a JCB excavator in a time of 22 hours, 10 minutes and 30 seconds.

In June 2001, Wayne Booth became the first person to do the journey by motorcycle without stopping; the 37-year-old completed the historic trip in 14 hours and 52 minutes, averaging 57 mph, on a modified 1,000cc Honda Varedero, complete with additional 74 litre petrol tank. The meticulously researched route of 854 miles passed through just two sets of traffic lights and was completed within all highway regulations, law and speed limits. Booth and the dozen strong support team raised over £1,000 for The National Childbirth Trust and MacMillan Cancer Relief.

On 22 May 2011, Kevin Sharpe and David Peilow completed the first end-to-end run from John o' Groats to Land's End in an electric car over two days, using only charging points available to the general public, in a Tesla Roadster Sport.

On 7 August 2011, Darren Whitehead & Tony Dwight travelled 1071 miles from John o' Groats to Lands' End (including crossing the Welsh border) in 5 days using two ride-on Wheel Horse Lawn Mowers. They also raised money for charity during the trip which was named The Lawn Way Down.
ORGANISATIONS
There are two organisations supporting route attempts:

1. The Land's EndĖJohn o' Groats Association is a non-commercial organisation established in 1983 for "those who have completed the epic journey from Landís End to John o' Groats, or vice versa, by any means in a single trip".

2. The Land's End John o' Groats Club, which is sponsored by the company that operates facilities at Land's End and John o' Groats, the end points. It holds an Annual Awards ceremony to select the most notable 'end-to-enders' each year.
A taste for adventure capitalists

LINKS:
http://moneyweek.com/right-side-how-elon-musks-crazy-dream-could-make-you-rich/
Marketing mag elon-musk teslas opening of patents is a genius marketing move
http://www.businessinsider.com/elon-musk-borrows-150-million-to-buy-tesla-2013-5
http://www.familyonabike.org/other%20info%20pages/awards.html
http://www.endtoenders.co.uk/
https://maps.google.com/
VAUXHALL AMPERA endurance ev attempt 2010_ampera_e-revs
http://www3.imperial.ac.uk/
http://www3.imperial.ac.uk/newsandeventspggrp/imperialcollege/newssummary/news_27-5-2010-12-26-15
http://www.formaplex.com/news/formaplex-launches-electric-car-world-record-attempt/
http://www.engadget.com/2010/05/31/racing-green-endurance-srzero-electric-car-to-make-16-000-mile-t/
http://www.rideacrossbritain.com/packages/end-to-end/
http://www.discoveradventure.com/challenges/land-s-end-to-john-o-groats-cycle
http://en.wikipedia.org/wiki/Land%27s_End_to_John_o%27_Groats
The Cannonball International EV Runs, are a series of events designed to promote and accelerate the development of an energy supply infrastructure for ordinary road going electric vehicles. Click on some of the events below to join in this drive - at a venue near you.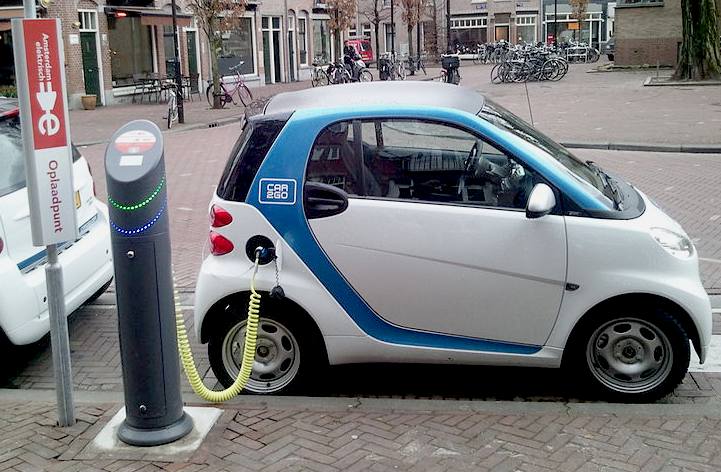 A Smart car charging while parked in the street in Amsterdam
CANNONBALL INTERNATIONAL OFFICIAL ROUTES
Arabia - Jeddah to Dubai

Australia - Darwin to Adelaide

Brazil - Boa Vista to Rio de Janeiro

Canada - Vancouver to Quebec

China - Ai Hui Qu to Shenzen

Denmark - Skagen to Copenhagen

Egypt -

France - Calais to Toulon

Germany - Bremerhaven to Munich

India - Amritsar to Nagercoil

Italy - Turin to Reggio Calabria

Japan - Aomori to Kagoshima

New Zealand -

Nigeria - Maiduguri to Lagos

Norway -

Russia - Murmansk to Bolshoy Sochi

South Africa - Cape Town to Louis Trichardt

Spain - Girona to Huelva

Sweden -

UK - John o'Groats to Lands End (Jogle)

USA - Los Angeles to New York
ECOSTAR DC50 LINKS A-Z INDEX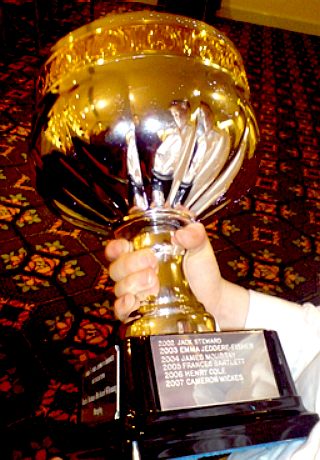 The UK cycling cup