Sir Malcolm Campbell (born March 11, 1885 in Chiselhurst, Kent, England - died December 31, 1948) gained the world speed record on Land and on Water at various times during the 1920s and 1930s using vehicles called Bluebird.

On September 3, 1935 Malcolm Campbell reached 304.331 miles per hour on the Bonneville Salt Flats in Utah, becoming the first person to drive an automobile over 300 MPH. His first Bluebird is shown below at the National Motor Museum, Beaulieu, Hampshire.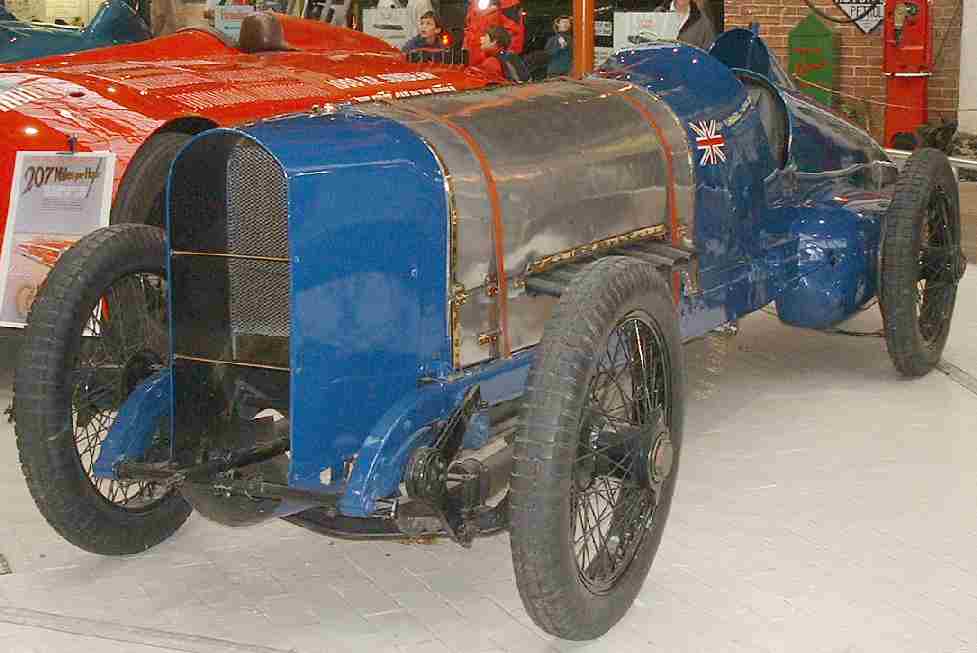 Sunbeam Bluebird 350hp 1924 - 1925

Campbell press clippings on block
The Province June 3, 2005
One time holder of world speed records on both land and water, Sir Malcolm Campbell was a true Boy's Own hero of his time and any memorabilia relating to him or his famous Bluebird boats and cars is highly prized.
The six personal scrapbooks entered in the H&H auction house sale next Tuesday in Buxton, England, are likely to be fought over most keenly and are expected to fetch more than $3,000.
The large-format hardback books of up to 140 pages each contain a myriad of press clippings, many of which are enhanced by additional information, written in Campbell's own hand.
Three of the books are largely devoted to coverage of his world land speed record attempts of 1928, 1929 and 1932, two of which were successful. Indeed, he broke the record a staggering nine times between 1924 and 1935.
Also up for bids is the actual parachute used to slow his son Donald Campbell's Bluebird, following its land speed record-breaking run of 1964.
The story goes that, following his success, Campbell sent the parachute to his mother, Lady Dorothy Campbell, with a note suggesting she should "line the cat's basket with it."
The item is expected to bring between $500 and $1,000. The proceeds from all the Campbell lots will help to fund a specially converted minibus for a special needs school in Wiltshire.
While the Campbell memorabilia is attracting the most worldwide interest, another item set for auction will likely attract more cash.
Period pedal cars can fetch good prices these days, and an earlier sale saw a 1949 Austin Pathfinder make nearly $7,000.
Contemporary models also fair well if they are sufficiently alluring, such as the brand-new scale portrayal of one of the famous Le Mans Bentleys entered for the June auction. It carries an estimate of $6,500-$8,000.
It's finished in British Racing Green, complete with Union flags on the doors, racing numbers, leather hood straps, twin air screens, registration plates and wire wheels with pneumatic tires.
See www.classic-auctions.co.uk for more info.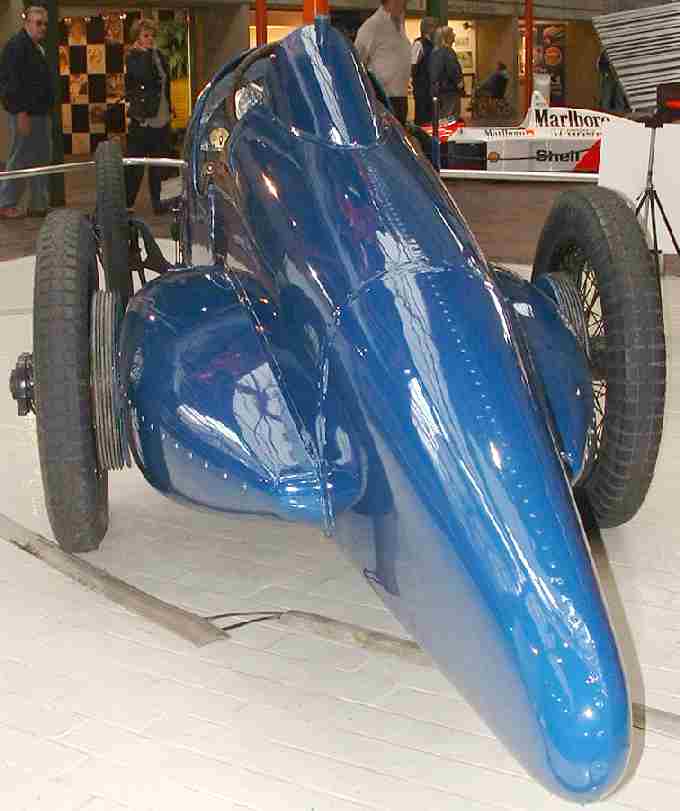 Sunbeam Bluebird 350hp 1924 - 1925 tail fairing
LINKS:
News | Editorial | Letters | Money | Sports | E-Today | Live It! | The E-List
Working | Travel | Driving | Adventure!
SIR MALCOLM CAMPBELL'S BLUE BIRDS
DONALD CAMPBELL'S BLUEBIRDS

The blue bird legend continues with the classic lines of this racing car, inspired by Reid Railton and his designs for the Napier Lion and Rolls Royce engined Blue Bird LSR cars of the 1930s. The Blueplanet BE3 features instant battery recharging using the patent Bluebird™ cartridge exchange system under license from BMS. This LSR is also solar assisted. She is designed for speeds in excess of 350mph using clean electricity. Imagine the spectacle of this beautiful vehicle speeding across the salt at Bonneville, or flying past on the sand at the Daytona or Pendine beaches. To hire this vehicle for your venue please contact BMS and ask for Leslie or Terry. The BE3 team need at least 6 months advance notice of events, or fees rise considerably.