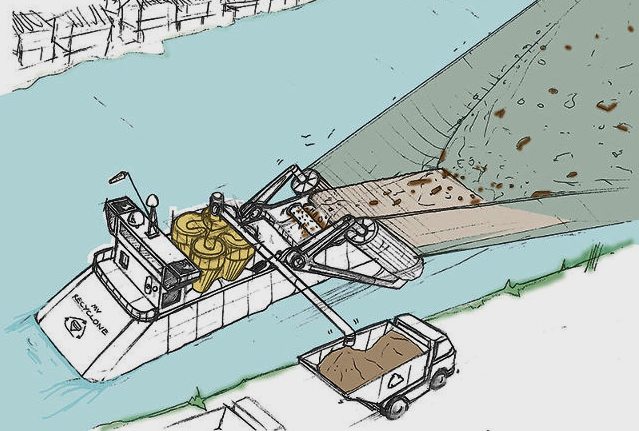 The MV RECYCLONE - From James Dyson. We like it. But we're not sure that cyclonic separation is good for an ocean cleaner with lesser energy available. It is though the experimental base. Not only has a system to work, but it must also be cost effective. James is an inspirational example of a man who thinks progressively of a better future. The drawing above was sketched for Time magazine. Compare this to Baltimore's Mr Trash below.
JAMES DYSON ON RIVER BARGES - APRIL 2014
We are in good company. James Dyson took an industrial design and perfected it for portable domestic vacuum cleaners, leading a revolution in bag-less cleaners. Bully! Now, James is proposing the M.V. Recyclone barge, applying the same ideas to sucking up plastic pollution from the world's rivers.
If you've seen pictures of the "great garbage patches" in the world's oceans, you already know that plastic pollution is a huge problem, and that doing something about it is hard. It's one thing to stop more waste from entering waterways by having more collection and recycling. It's another to work out how to clean up the mess once it's entered the water system.
James Dyson's tentative solution wouldn't fix the whole problem, but it might help with one source - rivers. The designer's recycling barge, uses the same cyclone technology as found in Dyson's vacuum cleaners. Only a sketch in April 2014, the vessel has large nets that trap plastic floating on the river's surface. A suction system then pulls in the waste, where it's separated and then sent for processing. Not then, that far removed from SeaNet and the SeaVax concept, except that the ZCC is an ocean cleaner. Sir James is launched his first robot vacuum cleaner in Tokyo in September 2014.
James explained in an email: "By skimming a highly concentrated flow of larger sized plastics in polluted rivers, the M.V. Recyclone would effectively mine a major source of the pollution before it reached the sea."

"Large skim nets unfurl from the rollers at its stern and are anchored on each side of the river. Hydraulic winches wind them in and out. The nets face upstream and skim the surface of the river for floating debris. The plastic waste is shredded on board and then different grades of plastic are separated by a huge cyclone - very similar to the way our cyclonic vacuums work."
Dyson first sketched out the idea for Time (in March 2014), but we asked him for a few more details. Originally, he thought the machine would be more like a "grid" fixed at certain strategic points of the river. But he eventually decided that wouldn't have the scale or mobility of a boat. Hence the M.V. Recyclone barge.
As someone who famously worked on 5,127 prototypes of his first vacuum, Dyson knows the barge concept needs more work. "The concept is the easy bit! It would need to be prototyped, tested, and refined and that's the hard part," he is quoted as saying.
James is though convinced it could be done, and that, in time, the barge could capture even very small pieces of plastic. James is quoted as saying: "To capture both large and small debris, you would probably need to employ a series of stages of separation. As better technology became available, you could upgrade the vessel to make it more efficient."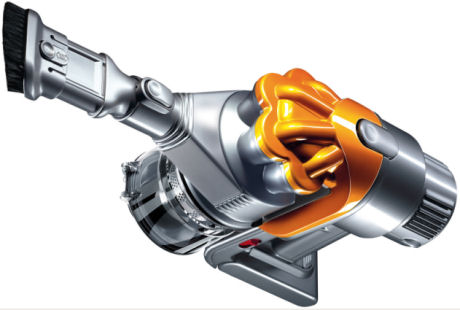 The Dyson DC16 hand held vacuum cleaner looks like one of our designs for an ocean going robot or a Thunderbird from Gerry Anderson. But seriously, it is a nicely crafted item - as with all of the range making a feature of the cyclonic chambers, rather than hiding them.
ABOUT SIR JAMES DYSON
Sir James Dyson, CBE, FREng (born 2 May 1947) is a British inventor, industrial designer and founder of the Dyson company. He is best known as the inventor of the Dual Cyclone bagless vacuum cleaner, which works on the principle of cyclonic separation. According to the Sunday Times Rich List 2013, his net worth in 2013 was £3 billion.

Dyson married Deirdre Hindmarsh in 1968. The couple has three children: Emily, Jake (Jacob) and Sam.

Dyson paid £15 million for Dodington Park, a 300-acre (1.2 km2) Georgian estate in Gloucestershire, close to Chipping Sodbury. He and his wife also have a £3 million château in France, and a town house in Chelsea, London. His vessel Nahlin is the largest British-owned super yacht at 91 metres, and was ranked 36th in a 2013 survey of the world's 100 biggest yachts.

Dyson is Provost of the Royal College of Art in London, having succeeded Sir Terence Conran in August 2011, and is Patron of the Design & Technology Association. He was chair of the board of trustees of the Design Museum, "the first in the world to showcase design of the manufactured object", until suddenly resigning in September 2004, stating the museum had "become a style showcase" instead of "upholding its mission to encourage serious design of the manufactured object".

His son Jake, following working on a degree in product design at Central Saint Martins in London, creates light fixtures.
HONOURS

He was appointed a Commander of the Order of the British Empire (CBE) in the 1996 New Year Honours. In 1997, Dyson was awarded the Prince Philip Designers Prize. In 2000, he received the Lord Lloyd of Kilgerran Award. He received an honorary D.Eng. degree from the University of Bath in 2000. In 2005, he was elected a Fellow of the Royal Academy of Engineering (FREng). He was made a Knight Bachelor in the 2007 New Year Honours. Since 2011 he has been provost of the Royal College of Art.
THE JAMES DYSON FOUNDATION

Dyson set up the Foundation in 2002 to support design and engineering education. The Foundation's aim is to inspire young people to study engineering and become engineers by encouraging students to think differently and to make mistakes. The Foundation particularly supports schools in Wiltshire as well as medical and scientific research in partnership with charities. It achieves this by funding different resources such as the "Education box", a box filled with activities for a school to use as a teaching aid. The Foundation loans the boxes to schools for four weeks, free of charge. They are suitable for Key Stage 4 and above and can be used in universities. The Education box enables students to take apart and examine a Dyson DC22 Telescope vacuum cleaner. In addition, a school is allowed to retain a James Dyson Foundation teacher pack, and a copy of Genius Of Britain, a Channel 4 TV series featuring James Dyson himself, and design engineering posters. Other resources are also available.

The Foundation also supports the work of young designers through the James Dyson Award. This is an international design award that "celebrates, encourages and inspires the next generation of design engineers". It is organised and run by the James Dyson Foundation Charitable Trust and is open to graduates (or recent graduates) in the fields of product design, industrial design and engineering.
MR TRASH - Two floating booms direct river debris to the front of the water wheel. A raking system helps move trash onto a conveyor belt that dumps it into a barge at the rear. A solar panel array keeps the wheel moving when the river flow is reduced. All in all a nice bit of engineering. KISS Compare this to Recyclone. They are not a million miles apart, save for cyclonic treatment.

DUAL CYCLONE VACUUM CLEANERS

In the late 1970s, Dyson had the idea of using cyclonic separation to create a vacuum cleaner that would not lose suction as it picked up dirt. He became frustrated with his Hoover Junior's diminishing performance: dust kept clogging the dust bag with loads of dust, reducing suction. The cyclone idea came from the spray-finishing room's air filter in his Ballbarrow factory.

Partly supported by his wife's salary as an art teacher, and after five years and many prototypes, Dyson launched the "G-Force" cleaner in 1983. However, no manufacturer or distributor would handle his product in the UK, as it would disturb the valuable market for replacement dust bags, so Dyson launched it in Japan through catalogue sales. Manufactured in bright pink, the G-Force sold for the equivalent of £2,000. It won the 1991 International Design Fair prize in Japan. He obtained his first U.S. patent on the idea in 1986 (U.S. Patent 4,593,429).

After failing to sell his invention to the major manufacturers, Dyson set up his own manufacturing company, Dyson Ltd. In June 1993, he opened his research centre and factory in Malmesbury, Wiltshire.

Dyson's breakthrough in the UK market more than ten years after the initial idea, was through a TV advertising campaign in which it was emphasized that, unlike most of its rivals, it did not require the continuing purchase of replacement bags. At that time, the UK market for disposable cleaner bags was £100 million. The slogan "say goodbye to the bag" proved more attractive to the buying public than a previous emphasis on the suction efficiency that its technology delivers. Ironically, the previous step change in domestic vacuum cleaner design had been the introduction of the disposable bag - users being prepared to pay extra for the convenience. The Dyson Dual Cyclone became the fastest-selling vacuum cleaner ever made in the UK, which outsold those of some of the companies that rejected his idea and has become one of the most popular brands in the UK. In early 2005, it was reported that Dyson cleaners had become the market leaders in the United States by value (though not by number of units sold).

Following his success, other major manufacturers began to market their own cyclonic vacuum cleaners. Dyson sued Hoover UK for patent infringement and won around $5 million in damages.

In a highly controversial and bitterly opposed move, his manufacturing plant moved from England to Malaysia, for economic reasons and because of difficulty acquiring land for expansion, leaving 800 workers redundant in 2002. The company's headquarters and research facilities remain in Malmesbury. Dyson later stated that because of the cost savings from transferring production to Malaysia, he was able to invest in research and development at Malmesbury, but further redundancies at Malmesbury were subsequently announced in 2008.

In 2005, Dyson incorporated the wheel ball from his Ballbarrow concept into a vacuum cleaner, creating the Dyson Ball, with the aim of making it more manoeuvrable.
LITIGATION AND IP CONTROL

In 1972, he began renovating a 17th-century farmhouse in the Cotswolds that he had bought with his wife, Deirdre. He frequently used a wheelbarrow, and became irritated with how it tipped and fell over; with how cement stuck to the sides and water sloshed over the edges; how it rusted and how it sunk into soft ground. His solution was to make a deeper version from moulded plastic, and install a large ball at the front. He named it literally: the Ballbarrow. Garden-centre managers blanched at the design, so Dyson sold it by mail order. It raked in around £600,000 a year. But, as Dyson tells it in his memoirs, he was betrayed. Before he could launch the Ballbarrow in the US, a former employee stole the design and starting making it in Chicago. Dyson had assigned the Ballbarrow patent not to himself but to a company he didn't own outright, which launched legal proceedings against his wishes - Dyson predicted this course of action would be costly and distracting. The firm had been losing increasing amounts of money and brought in more shareholders to raise capital. Eventually, Dyson held a minority stake. In 1979, the board kicked him out.

Since then, he has retained personal rights to all of his inventions (his present company - which he does own - reportedly files on average one patent a day; in 2009 only Rolls-Royce filed more in the UK). He also keeps full control of production, marketing and management: nothing is outsourced. "I always liken it to the human body - if you go and get other people to be your brain or your arm or your leg or your heart, you're not a complete and whole being," he says. It was a principle held dear by his design hero, the 19th-century civil engineer Isambard Kingdom Brunel. Dyson says he also shares his hero's thirst for the original. "Brunel had this sort of disease where he couldn't bear to do something that was similar to something else," he says. "I've always got to be moving on, making a big leap. But minor, tiny leaps compared with Brunel's huge leaps. I go down and look at several of his leaps occasionally - the SS Great Britain and Clifton suspension bridge. We're lucky because they're all around us here." Brunel's stubbornly single-minded approach was a vital inspiration to Dyson on his big-bucks innovation: the bagless Dual Cyclone vacuum cleaner.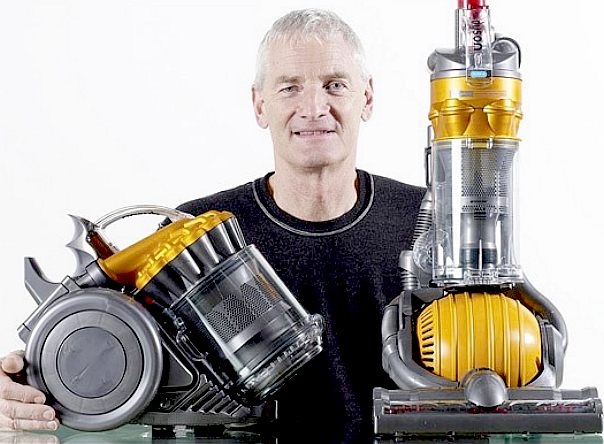 BBC NEWS SEPT 2014 - ROBOT VACUUM CLEANER GOES ON SALE
British engineering company Dyson has announced its first robot vacuum cleaner at an event in Tokyo. The Dyson 360 Eye joins a crowded market - Hoover, iRobot, Samsung, Neato and Vileda are among other manufacturers to sell such products.

But the Cotswolds-based company says its machine has more powerful suction and should be better at spotting dirt thanks to a "unique" camera system. One expert said the claims sounded "quite compelling".

"If it works as well as Dyson says it does, then this could be the robot vacuum cleaner to get mainstream market penetration, and not just be a niche product," said Will Findlater, who covers technology for Stuff magazine. "Up until this point robot vacuums have been objects of geek affection.

"Certainly our experience of the competitors has been that they may do more on the robotics side of things than they do on the rather important business of cleaning your floors."

The machine is due to go on sale in Japan in the first three months of 2015, and then elsewhere later in the year.

Dyson previously showed off another robot vacuum cleaner - the DC06 - in 2001, but cancelled the project a few years later, in part because it would have cost consumers $3,000 (£1,820) or more. It has yet to announce the price of the new model.

According to Dyson, most other robot vacuums use "weak, inefficient motors" in order to conserve battery life.

By contrast, it uses the same V2 digital motor found in its other handheld vacuum cleaners, and combines it with a brush bar that covers the full width of the machine, rather than relying on side sweepers.

"We've been developing for a number of years some of the smallest and most powerful digital motors available, and getting that right has enabled us to give the machine very powerful suction, so it can have a very high performance clean," Nick Schneider, a design engineer at the company, told the BBC.

"In addition we've developed a vision system that enables the machine to be very methodical in its clean and not miss sections of floor space."

The vacuum is fitted with a panoramic lens, which sits on top of a camera that captures 360-degree views at 30 frames a second. This is combined with data from infrared sensors to let the machine's internal computer make sense of its position and surroundings.

Another innovation is the ability to schedule a clean remotely via an Android or iOS app.

Although other robot vacuums tend to have less suction power than human-directed vacuums, they make up for this by taking several passes at each room. So, it remains to be seen if Dyson's model actually leaves owners with cleaner homes.

Mr Schneider also acknowledged that the new machine remained less powerful than his company's plug-in-and-push models, meaning it would take longer to do a big clean. But he said it might still be the preferable option for families with a house layout that suited the automated tech.

"We're a way off in terms of comparing it to our corded machines," he said.

"But the benefit that it has is that you don't have to be there to use it. "So, perhaps even if the performance isn't quite what you'd expect from a DC41 [full-size upright vacuum], the benefit of the convenience of just being able to set it whenever, and not having to worry about it, I think, is its real appeal."

Dyson's robot vacuum competitors are not resting on their laurels. American firm Moneual has a new model that adds a wet mop to help clean hard floors.

Samsung's latest release allows owners to steer it to dirty spots by shining a laser pointer on the ground, which it then trundles towards.

LG's newest machine can send photos of its surroundings to its owner's smartphone, allowing them to check if its done its job properly and order another pass if not.

And Toshiba's Torneo Robo empties the dirt its gathers into its dock, allowing it to keep working without human intervention for extended periods of time.
TELEGRAPH SEPT 2014 - EURO LAWS ON VACUUM CLEANERS
James Dyson has suggested that Britain should leave the EU, over a dispute about vacuum cleaner energy efficiency regulations.

A new law banning vacuum cleaners rated above 1,600 watts came into effect on September 1, as part of the European Commission's plans to meet targets on energy efficiency.

Dyson was not affected by the changes, as none of its vacuum cleaners are rated above 1,400 watts. However, the company's founder claims the legislation is too crude and does not go far enough.

"When the ErP (Energy related Products) legislation was first mooted, we were campaigning for lower limits – in fact we wanted a 700 watt limit," said Mr Dyson.

"The other manufacturers held it at 1,600 watts, and it will go down to 900 watts in 2017, but we were the only manufacturer campaigning for small motors, because high power doesn't equate to efficient cleaning."
Mr Dyson said that, while ErP was ultimately rubber-stamped by the European Parliament, it was up to the vacuum cleaner industry to devise the tests for measuring the energy efficiency of the machines.

Dyson wanted the vacuum cleaners to be tested with dust in them. He also wanted the energy consumption, waste, landfill and cost of vacuum cleaner bags and filters to be included in the energy rating. [which of course in sustainable terms it should]

However, he was outvoted by a handful of German vacuum cleaner manufacturers, many of whom make vacuum cleaners with large motors that use bags, and therefore lose suction when loaded with dust.

"Washing machines are tested with washing in them, cars are tested with people in them, and fridges are tested with food in them. But when it came to our request to test vacuum cleaners with dust in them, the big German block of manufacturers complained," said Mr Dyson.

"If German companies go on dominating European legislation, that's a very good reason not to be in Europe. If they're not going to listen to us, we shouldn't be in there."

Mr Dyson said that his company would continue to lobby for more granular energy ratings for vacuum cleaners, but added that he had no confidence that it would succeed.

The company's latest machine – a robotic vacuum cleaner which navigates using a 360-degree vision system and can be programmed using an iPhone or Android smartphone – uses just 200 watts, he said.

Brussels has denied that its latest rules on vacuums will affect consumers' ability to clean their homes properly. However, consumer watchdog Which? warned last week that five of the seven models awarded its Best Buy status since January 2013 exceed the new 1,600-watt limit.

Popular machines that will be phased out by the new rule include the Miele S6210 bagged cylinder vacuum cleaner (2,000w), the Hoover Breeze BR2306 (2,300w), and the Bosch Power All Floor bagged vacuum cleaner (2,200w).
ROTORK SEA TRUCK - Though he's best known for household appliances these days, Dyson's first product was back in the early 1970s was actually the Rotork Sea Truck, a high-speed, flat-hulled, fibreglass landing craft that could be used to deliver land-based vehicles or other cargo at spots where no harbour or jetty was available. Sea Truck: the simple boat can do a lot. Write to Rotork Marine, Bath England, BA1 3JQ. Telephone Bath 28451. The Sea Truck was designed partially by James Dyson in the 1970s, as part of his final year's project at the Royal College of Art. Jeremy Fry was co-designer. The Sea Truck won a Design Council award, and in 1979 the Series 5 Sea Truck, credited to Tim Fry and Anthony Smallhorn, won the Prince Philip Designers Prize.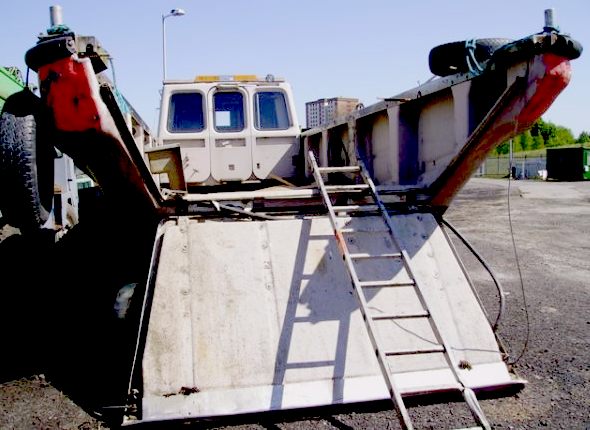 ROTORK SEA TRUCK - DIMENSIONS
Overall length 23'9" (7.24m)
Waterline length 21'6" (6.55m)
Overall Width 9'8" (2.95m)
Ramp Width (at threshold) 6'0" (1.82m)
Clear desk area 170sq ft (15.6 sq m)
Static draft unladen 7" (178mm)
Static draft laden 10" (254mm)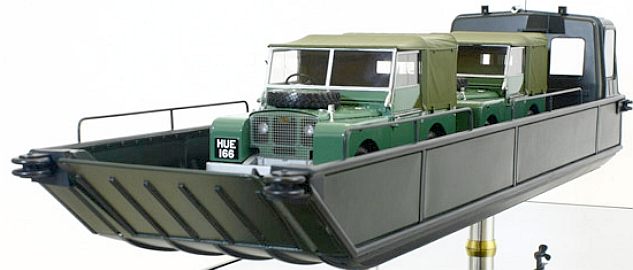 ROTORK SEA TRUCK - Operational draft - At speed with outboard or sterndrive legs 18" (457.2mm). This can be reduced for slow speed inshore operation to approx 12" using power trim. At speed with waterjet unit 12" (304.8mm). The above picture is a nicely detailed scale model from Alamgam Models.
UNITED NATIONS ENVIRONMENT PROGRAM
The United Nations Environment Program says around 13,000 pieces of plastic litter are found in every square kilometer of sea, but the problem is worst in the North Pacific. The plastic particles are being vacuumed up by marine life and birds, and the mix is heavy with toxic chemicals. Read a summary of their 2014 report by clicking on the heading to this paragraph.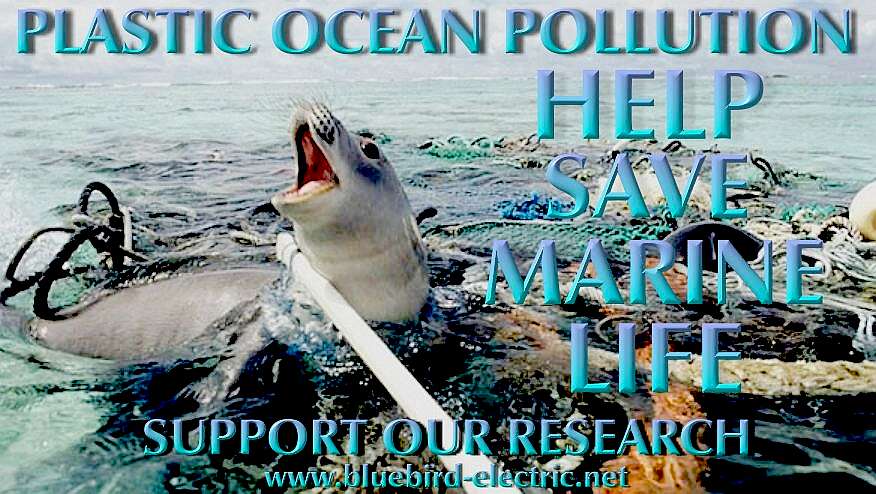 Our love affair with plastic is choking the oceans. Once people know about it, they want to stop it. But how? The next question is who? Obviously, if any of the researchers involved so far had come up with a solution, they would have sorted it years ago. We are a practical think-tank fresh to the issue and without a budget. We hope to be able to collaborate with other marine organisations that are funded for this work, or who have funds to investigate viable projects. You cannot donate to us directly on this site, but we hope to identify partner sites shortly where you can support a project much like that proposed herein, or better still, our own practical experiments.
LINKS
Fast Coexist James Dyson is designing a giant vacuum on a barge to clean ocean trash
Telegraph James Dyson suggests leaving the EU over vacuum cleaners
Boats gallery Rotork Sea Truck
Wired Magazine 2011 the seventh disruption James Dyson
Daily Mail Dyson's mission a vacuum cleaner for rivers inventor sketches plans suction remove plastic debris
Time Magazine James Dyson sweep our dirty rivers clean
BBC news technology robot vacuum cleaner
Fastcoexist james-dyson-is-designing-a-giant-vacuum-on-a-boat-to-clean-ocean-trash
http://www.bbc.co.uk/news/technology-29055181
http://time.com/23059/dames-dyson-sweep-our-dirty-rivers-clean/
http://www.jamesdysonfoundation.co.uk/
http://www.jamesdysonaward.org/
http://www.wired.co.uk/magazine/archive/2011/11/features/the-seventh-disruption-james-dyson/page/3
http://www.techdigest.tv/2013/02/dysons_top_10_b.html
http://en.wikipedia.org/wiki/Sea_Truck
http://en.wikipedia.org/wiki/Rotork
http://www.rotork.com/en/
http://en.wikipedia.org/wiki/James_Dyson
http://www.dyson.co.uk/community/james-dyson-foundation.aspx
http://www.dyson.co.uk/
ACIDIFICATION - ADRIATIC - ARCTIC - ATLANTIC - BALTIC - BAY BENGAL - BERING - CARIBBEAN - CORAL - EAST CHINA
ENGLISH CH - GOC - GULF GUINEA - GULF MEXICO - INDIAN - IOC - IRC - MEDITERRANEAN - NORTH SEA - PACIFIC - PERSIAN GULF - SEA JAPAN
STH CHINA - PLASTIC - PLANKTON - PLASTIC OCEANS - SEA LEVEL RISE - UNCLOS - UNEP - WOC - WWF
AMAZON - BURIGANGA - CITARUM - CONGO - CUYAHOGA - GANGES - IRTYSH - JORDAN - LENA - MANTANZA-RIACHUELO
MARILAO - MEKONG - MISSISSIPPI - NIGER - NILE - PARANA - PASIG - SARNO - THAMES - YANGTZE - YAMUNA - YELLOW

Youtube ocean pollution