Each of the five vacuum cleaners sports a casing made from plastics found in a different body of water, including the Pacific Ocean, Indian Ocean, North Sea, Mediterranean Sea, and Baltic Sea. The casing is put over the fully functional core structure of the new Electrolux Ultra One Green model. They each show how plastic pollution is a universal problem, yet the details of the problem are specific to different areas. For example: The plastic that was collected on the Bohuslan beaches in western Sweden consists largely of various rinse aid and detergent bottles, cans, plastic buckets, and all kinds of plastic packaging. The plastic has not been bleached in the same way as in the great oceans. It is still loud and strong in color. A lot of the found plastic was also drenched in spill oil.
ELECTROLUX PROJECT VAC FROM THE SEA
According to Electrolux, the Swedish appliance manufacturer, there are gigantic piles of plastic debris floating about our planet's oceans? Some of these are as big as the state of Texas! Way to go, humans! So, Electrolux's proposal? Collect all that trash, then turn it into vacuum cleaners. It's called recycling and that is not such a crazy idea as many think.

The name of the project is Vac from the Sea, and it's a noble goal, certainly. You don't want all that trash floating about on the oceans, do you? Seems like something that should set off your Spidey-sense.

The vacuums created with the trash are then totally recyclable. That solves two problems: less trash in the oceans and more sustainable products into the human circle of life.
The company partnered with organizations and volunteers to collect the plastics, making the project a big opportunity to educate people about the problem of plastics in our oceans. Electrolux recognizes how much plastic it uses for its products, and that they have a big impact. While making cases from collected plastic isn't exactly a sustainable business operation, it does help center the company's focus on reducing its plastics waste and getting consumers to recycle.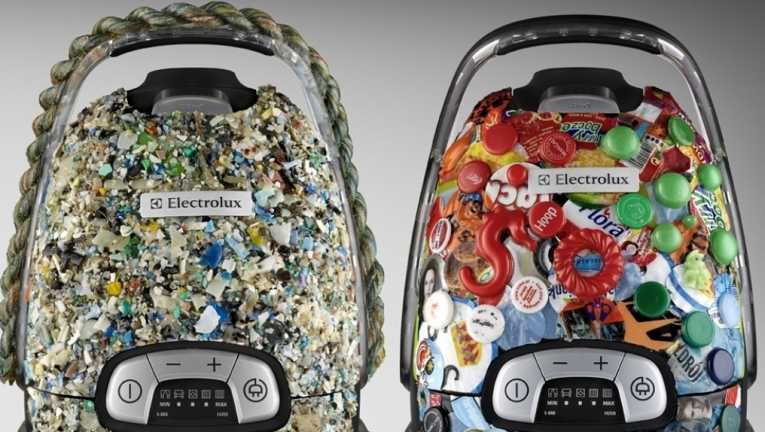 Interesting displays of plastic inside these Electrolux machines. Electrolux South Africa General Manager Stuart Spencer is quoted as saying that the Vac from the Sea project was run internationally in 2010 to great acclaim.

"Plastic waste from the Pacific, Atlantic and Indian oceans, as well as the Mediterranean, Baltic and North seas, was collected and used to design five stunning eco-friendly vacuum cleaners," he said. "We are very excited to launch this exciting initiative in South Africa, especially since Cape Town enjoys the benefit of two of the world's largest oceans."

Stuart added: "There are enormous islands of floating plastic in our oceans, but on land we face a scarcity of recyclable plastic. As one of the world's largest appliance manufacturers we need to close this gap in order for us to develop more sustainable appliances.

"Each vac from the sea is purely a demo model that illustrates our commitment to finding sustainable business solutions to our current environmental challenges, particularly as they relate to plastic pollution in our oceans."
ABOUT ELECTROLUX'S VAC FROM THE SEA
Vac from the Sea is a project initiated by home appliance maker Electrolux, aiming at raising awareness about the immediate need for the world to take better care of plastics and support the heroes that do.
WHY?

The environment is a concern and responsibility of everyone and marine plastic pollution is an issue much too big to just leave to politicians. Electrolux is in the homes of millions and can help raise awareness and affect many consumers. Plastic is the main raw material when making a vacuum cleaner. From a sustainable business point of view, Electrolux relies on an increased global supply of recycled plastic.
HOW?
A limited number of vacuum cleaners will be made from marine plastic debris – harvested from the Pacific and other sites where the plastic problem is immense.
Electrolux intend to collect the plastic with a minimum environmental impact. This is one reason why they are taking help from organizations that already exist and are engaged in the issue.
Depending on the local plastic situation the gathering of plastics will vary – from diving among coral reefs, clean-ups closer to shore to scooping up plastic directly from the water surface. The vacuum cleaners that are to be produced from the material gathered will be put on display for the world, decision makers and consumers to see.
At this point, there is no plan to actually sell the units produced. Separating the plastic cocktail is a great challenge and plastics in the ocean tend to act like sponges for other toxins.
WHERE?
The locations where plastic will be collected are in the Pacific Ocean, the Indian Ocean, the Atlantic Ocean, the Mediterranean Sea, the Baltic Sea and the North Sea. The gathering of material will be documented on their website.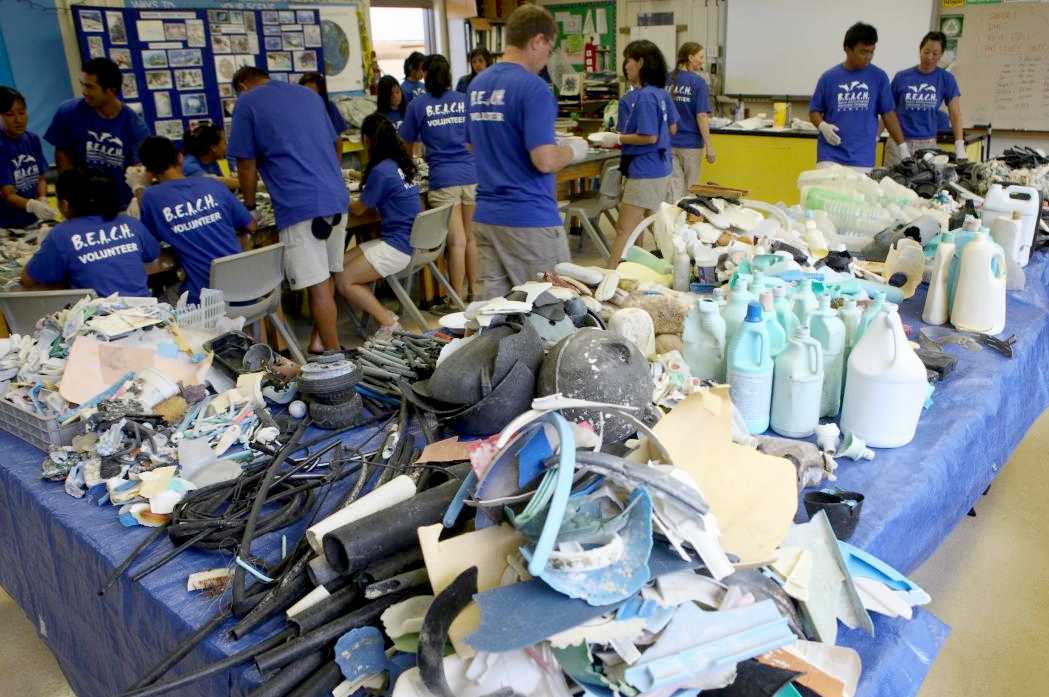 PLASTICS TODAY, SEPTEMBER 2011
Household and personal care company Method has launched bottles made in part from plastic collected from the North Pacific Gyre. The bottles are 100% post-consumer polyethylene, with 25% of the PCR content sourced from the ocean. Method has partnered with recycler Envision Plastics on the project, calling the resulting plastic Ocean PCR. "For every [bottle] you buy, you take 15 grams of plastic out of the ocean," is how Method cofounder Adam Lowry describes the product's impact.

A number of local, state and federal dignitaries were on hand for the bottle launch, including U.S. Environmental Protection Agency Administrator Lisa P. Jackson; U.S. Small Business Administration Administrator Karen Mills; U.S. EPA Regional Administrator Jared Blumenfeld; and San Francisco Mayor Ed Lee.

"By transforming the trash in our oceans into usable products that are safe for our children, our environment and our future, Method has proven that green business can grow our economy and create jobs," the EPA's Jackson said.

Lowry, Method cofounder, noted two challenges the company's concept faced at launch:

1. How do you make a high quality bottle out of degraded, brittle plastic that has been floating in the ocean for a decade or more?

2. How do you establish a supply chain for a material that's floating in the ocean 2000 miles off the West Coast?

Lowry said that to process the ocean scrap, Envision developed an "entirely new process" that allows the company to clean, blend, and remanufacture low-quality material into high-quality plastic. To source the ocean scrap, Method worked with several beach-cleanup organizations, focusing on ones in Hawaii, which is situated at the southern edge of the gyre and is susceptible to scrap washing ashore. Method takes delivery of retrieved scrap that would normally be landfilled.

"The point, of course, is not to clean up the Gyre," Lowry said. "The scientists who study this problem will tell you there is no practical way to clean it up; the area is just too remote, and the plastic too small. The goal is to raise awareness about the issue of plastic pollution, and to point us toward the solution already in front of us: using the plastic that we already have."

Method made its first bottle entirely from post-consumer recycled plastic in 2006. Since then, it has continued to develop PCR technology and now makes tens of millions of plastic bottles annually without virgin plastic. Envision Plastics focuses on post consumer recycled polyolefins. It was formed in 2001 after obtaining proprietary rights and patented technologies from Union Carbide for the recycling of high-density polyethylene (HDPE). It now operates recycling operations on both coasts, with a plant in Chino, CA and Reidsville, NC.
Youtube Elextrolux
EARTH TIMES NOV 2010

A new use has been found for some of the plastic waste contaminating the world's oceans. Five vacuum cleaners have been made from plastic waste, one from each of the oceans where the plastic was collected.

The Vac From the Sea Initiative, launched by Electrolux, is aimed at raising awareness of plastic waste in the ocean and inspiring consumers to recycle.

"Our intention is to bring awareness to the situation and the need for better plastic karma," said Cecilia Nord, Vice President - Floor Care Sustainability and Environmental Affairs. "The vacuum cleaners embody the plastic paradox: oceans are full of plastic waste, yet on land there is a shortage of recycled plastic for producing sustainable vacuum cleaners."

The vacuum cleaners were built using the same basic design of engine, chassis and bag compartment, but the hood and hub caps have been filled with different types of plastic, according to the predominant plastic waste found in each of the five oceans represented.

For example, in the Pacific Vac From the Sea, plastic grain was collected from the beaches of Hawaii. These small plastic particles are often swallowed by fish mistaking them for food. All the collected plastic gravel had bite marks or was covered with barnacles and annelid worms.

Plastic in the Indian Ocean Vac consists mainly of fishing gear, nets and bags that had to be cut from coral reefs off Thailand by divers. There was also a lot of household waste such as detergent and drink bottles, and floating chunks of Styrofoam.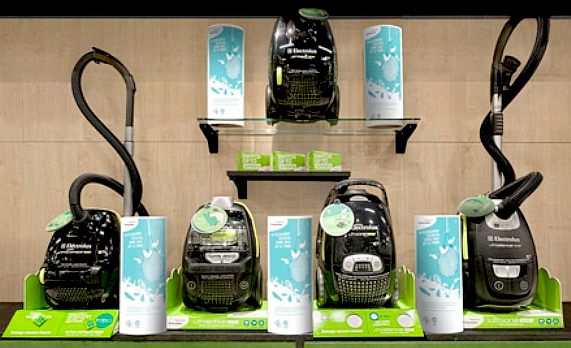 In the Mediterranean, plastic waste collected from beaches at St Cyr-sur-Mer, France, was mostly litter from tourism such as food containers, beach toys and drink cans. This plastic was cut into pieces and attached to a thin shell of recycled plastic.

The Baltic Vac consists of plastic collected from beaches in Sweden, Poland and Latvia, and includes ice cream containers, flip flops and bottle caps.

Similar plastic packaging from Skagerrak, Sweden, was used to make the North Sea Vac. An Atlantic edition is currently being designed, using plastic waste trawled from UK waters.

The vacuums cannot be mass-produced at present because of the logistics of collecting and sorting ocean plastic, says Cecilia Nord. Electrolux considers only one type of plastic to meet its quality and safety standards.

"However, as part of our commitment to researching new materials, we should explore how the ocean plastic might be used in the future, and one such step is to make a single concept vac that we can auction out for research," she adds.
The quest will be documented and communicated throughout the project on their website, the Electrolux Facebook page www.facebook.com/electroluxappliances as well as the Twitter page www.twitter.com/vacfromthesea. Well done to Electrolux.
THE WORLD'S LARGEST VACUUM CLEANER - The above is a proposed trimaran test rig, using the above off-the-shelf components, just to get a feel for the concept. This is in no way a complete solution, but then we have to start somewhere. What we learn from these small scale experiments, could eventually help us to formulate a dual purpose, ocean capable cruiser, to clean up the English Channel and local harbors, with a view to cleaning up the marine environment and improving the quality of beaches and locally caught fish, etc. Full size, this autonomous vessel could harvest up to 50 tons of plastic, before it needs to offload. How many Electrolux vacuum cleaners would 50 tons make?
TREEHUGGER OCT 2010

Electrolux is quoted as saying, "The vacuum cleaners embody the plastic paradox: oceans are full of plastic waste, yet on land there is a shortage of recycled plastic for producing sustainable vacuum cleaners. Electrolux makes Green Range vacuum cleaners from 70% recycled plastic, but wants to reach 100%."

"Our intention is to bring awareness to the situation and the need for better plastic karma. So far, over 60 million people have been reached and we are continuing the initiative following the great response", says Cecilia Nord, Vice President - Floor Care Sustainability and Environmental Affairs, Electrolux.

It's a great goal, and the problem of plastics in our ocean is no small matter - it kills marine animals and has worked its way into the food chain. Here's a video showing more details about the Electrolux project.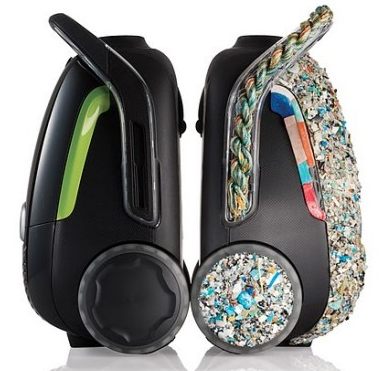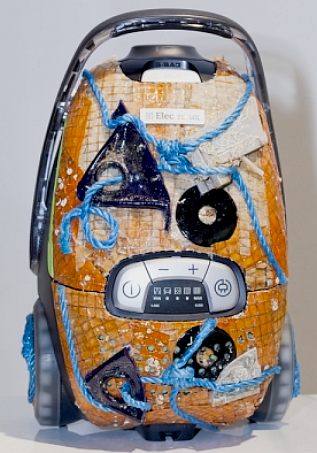 Electrolux ocean friendly vacuum cleaners are made from recovered plastic. On the right is the Atlantic edition. From 15 to 21 November 2011, the Two Oceans Aquarium presented Vacs from the Sea. Local artist and originator of Plastikos Simon Max Bannister partnered with Electrolux on its Vacs from the Sea maritime conservation initiative and created artwork using an eco-friendly vacuum cleaner as his canvas and incorporating recycled plastic gathered from beach clean-ups that took place at Muizenberg and Hout Bay in September 2011.

Bannister's overarching artistic objective was to create a beautiful yet meaningful artwork that reflects our symbiotic relationship with the ocean and the pressing need to maintain and safeguard oceans from pollution. The vacuum-cleaner artwork represents Cape Point's unique positioning as the meeting place of the warm currents of the Indian Ocean and the cold currents of the Atlantic Ocean.
LEFT - The Electrolux Trilobite is a robotic vacuum cleaner from the famous Swedish domestic consumer company. The prototype cleaner was first seen on the BBC television programme, "Tomorrow's World", in 1997, when it was demonstrated by presenter Philippa Forrester. It was the world's first commercially available autonomous vacuum cleaner, introduced as a product in 2001.

The Trilobite contains a vacuum cleaner and a removable roller brush capable of working on deep-pile carpet. It has the ability to map rooms and avoid obstacles by using ultrasonic sensors (on the Mark 2 model also infrared). It recharges itself on a charging base, which it automatically finds when it has completed its cleaning task or its power runs low. The Trilobite will indicate when the dustbin needs to be emptied. Its ultrasonic sensors allow it to come within 1" of objects without colliding with them.
RIGHT - Flying mini-robot cleaners win Electrolux Design Lab 2013 Contest. Stefano Marzano, Chief Design Officer at Electrolux and Head of Jury is quoted as saying: "This year's winning concept renews the idea of looking at the robot, seeing it not as one unit that mimics a person, but instead as something inspired by the magical logic of nature's collaborative efforts and group intelligence." "The Mab is an innovative concept which could be relevant to minimize the daily cleanings efforts of consumers as well as businesses, while maximizing the results"
UNITED NATIONS ENVIRONMENT PROGRAM
The United Nations Environment Program says around 13,000 pieces of plastic litter are found in every square kilometer of sea, but the problem is worst in the North Pacific. The plastic particles are being vacuumed up by marine life and birds, and the mix is heavy with toxic chemicals. Read a summary of their 2014 report by clicking on the heading to this paragraph.
LINKS
Treehugger vacuum cleaners made from ocean plastic highlight ugly pollution beautiful design
Techcrunch 2010 Electrolux will clean the oceans of plastic debris then make vacuum cleaners
Earthtimes vacuums-ocean-plastic
Plastics today bottles utilize plastic scrap retrieved pacific gyre
Bigthink cleaning up the oceans with a vacuum cleaner
Aquarium vacs_from_the_sea_on_exhibit_at_the_two_oceans
Electrolux group flying mini robot cleaners win electrolux design lab competition 2013
http://www.electroluxgroup.com/en/flying-mini-robot-cleaners-win-electrolux-design-lab-2013-contest-18007/
http://www.aquarium.co.za/blog/entry/vacs_from_the_sea_on_exhibit_at_the_two_oceans_aquarium/
http://www.plasticstoday.com/articles/bottles-utilize-plastic-scrap-retrieved-pacific-gyre0916201101
http://bigthink.com/design-for-good/cleaning-up-the-oceans-with-a-vacuum-cleaner
http://www.electrolux.co.uk/Innovation/Campaigns/Vac-from-the-sea1/
http://www.electrolux.co.uk/Innovation/Campaigns/Vac-from-the-sea1/Articles/FAQ---about-Vac-from-the-Sea/
http://techcrunch.com/2010/06/24/electrolux-will-clean-the-oceans-of-plastic-debris-then-make-vacuum-cleaners/
http://www.earthtimes.org/business/vacuums-ocean-plastic/24/
ARCTIC - ATLANTIC - BALTIC - BERING - CARIBBEAN - CORAL - EAST CHINA - ENGLISH CH - GULF MEXICO
INDIAN - MEDITERRANEAN - NORTH SEA - PACIFIC - PERSIAN GULF - SEA JAPAN - STH CHINA
PLASTIC ENGLAND - PLASTIC OCEANS