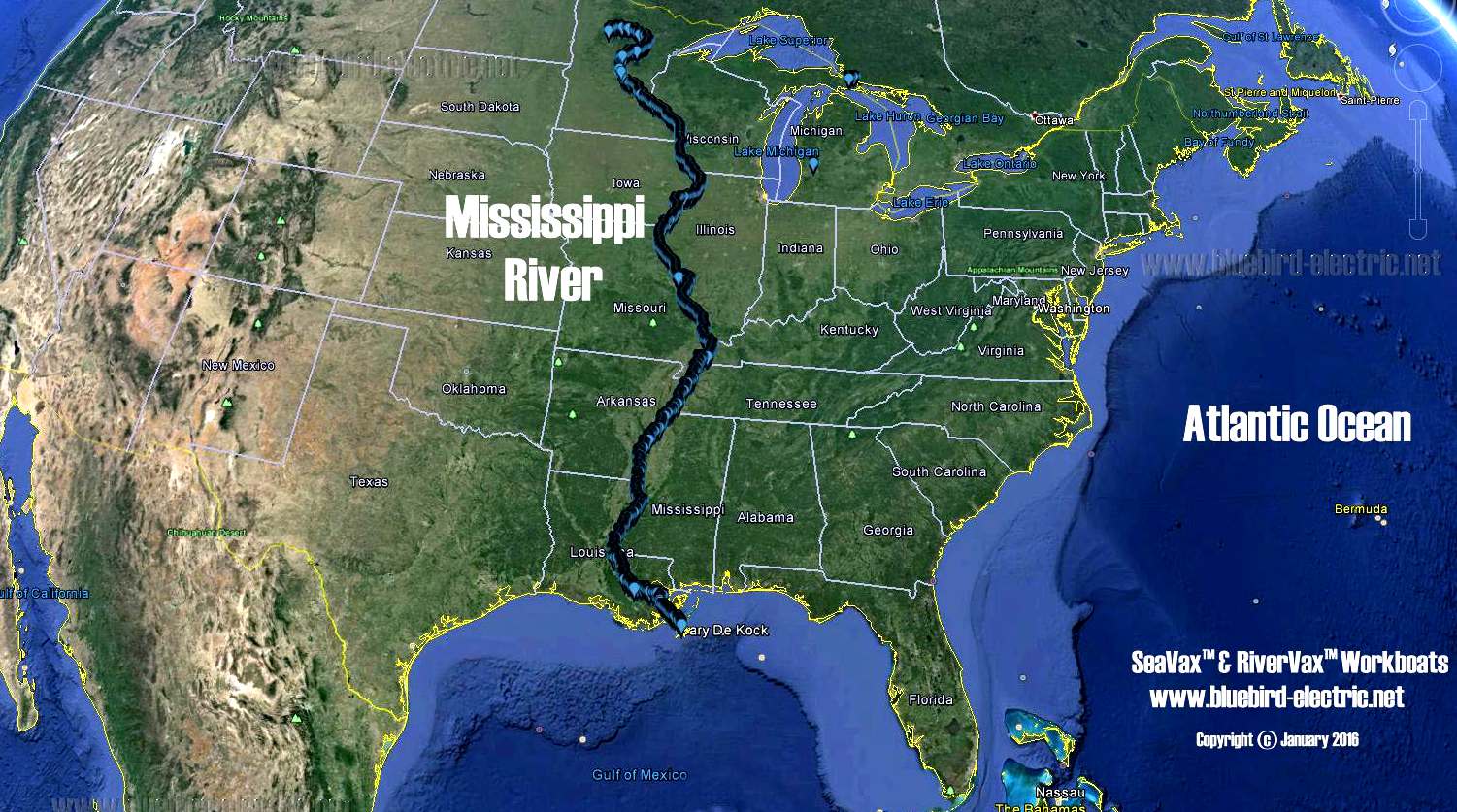 GEOGRAPHY - The Mississippi drains a vast area of the United States. One could say it is the main artery of the country. Like many other long rivers, industrial waste is a constant menace to wildlife, mixed with other sewage, this poisonous soup exits into the Gulf of Mexico to join other pollution from offshore oil wells, such as the infamous Deepwater Horizon that caught fire and exploded in April 2010, finally nearly bankrupting BP, as huge $Billion dollar fines were levied for negligent operations.
The Mississippi River is the chief river of the largest drainage system on the North American continent. Flowing entirely in the United States (although its drainage basin reaches into Canada), it rises in northern Minnesota and meanders slowly southwards for 2,320 miles (3,730 km) to the Mississippi River Delta at the Gulf of Mexico. With its many tributaries, the Mississippi's watershed drains all or parts of 31 US states and 2 Canadian provinces between the Rocky and Appalachian Mountains. The Mississippi ranks as the fourth longest and ninth largest river in the world by discharge. The river either borders or passes through the states of Minnesota, Wisconsin, Iowa, Illinois, Missouri, Kentucky, Tennessee, Arkansas, Mississippi, and Louisiana.

Native Americans long lived along the Mississippi River and its tributaries. Most were hunter-gatherers or herders, but some, such as the Mound builders, formed prolific agricultural societies. The arrival of Europeans in the 16th century changed the native way of life as first explorers, then settlers, ventured into the basin in increasing numbers. The river served first as a barrier – forming borders for New Spain, New France, and the early United States – then as a vital transportation artery and communications link. In the 19th century, during the height of the ideology of Manifest Destiny, the Mississippi and several western tributaries, most notably the Missouri, formed pathways for the western expansion of the United States.

Formed from thick layers of the river's silt deposits, the Mississippi Embayment is one of the most fertile agricultural regions of the country, which resulted in the river's storied steamboat era. During the American Civil War, the Mississippi's capture by Union forces marked a turning point towards victory because of the river's importance as a route of trade and travel, not least to the Confederacy. Because of substantial growth of cities and the larger ships and barges that supplanted riverboats, the first decades of the 20th century saw the construction of massive engineering works such as levees, locks and dams, often built in combination.

Since modern development of the basin began, the Mississippi has also seen its share of pollution and environmental problems – most notably large volumes of agricultural runoff, which has led to the Gulf of Mexico dead zone off the Delta. In recent years, the river has shown a steady shift towards the Atchafalaya River channel in the Delta; a course change would be an economic disaster for the port city of New Orleans.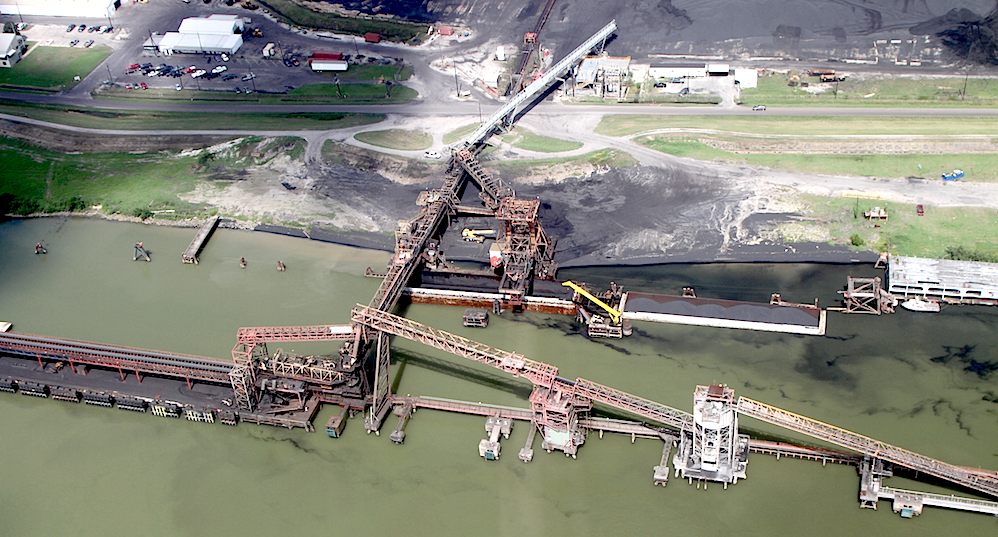 NEWS TRIBUNE MISSOURI - MARCH 19 2014 - NEW ORLEANS

A coal terminal south of New Orleans has been polluting the Mississippi River for years and continues to do so daily, three environmental groups claim in a federal lawsuit.

Coal and petroleum coke fall from conveyor belts at United Bulk Terminals Davant LLC, landing both in the river and on its bank, according to the lawsuit filed Tuesday.

Black plumes of pollution, heavy enough to be seen from thousands of feet in the air, flow from the terminal into the river, and the products are visible on the bank below the river's high-water line, Marylee Orr, executive director of Louisiana Environmental Action Network, said in a teleconference about the lawsuit.

United Bulk, owned by Oiltanking GmbH of Hamburg, Germany, said it had spent $40 million and allocated another $40 million before November on improvements including pollution control. It did not say how much of that spending is specifically to protect the environment.

"We are disappointed that the plaintiffs have chosen to file suit despite our ongoing and constructive dialogue with them since they first came to us last November," the company said in an emailed statement. "We invest substantial time and money to ensure compliance with our air and water permits and have demonstrated our commitment to minimizing the impact of our operations on the environment and on the communities where we operate."

The Gulf Restoration Network and Sierra Club joined the action network in the lawsuit.

Scott Eustis, coastal wetlands specialist for Gulf Restoration Network, said state law requires immediate cleanup of spills. But he said UBT leaves spilled coal and pet coke on the batture between the river and levee as well as in the river, which is under federal jurisdiction.

"We have reported it to state authorities for years now. Their response has been inadequate at best," he said.

The state Department of Environmental Quality ordered United Bulk on Jan. 23 to clean the batture. On Feb. 21, it called for UBT to report within 30 days on what it had done toward a cleanup, according to an emailed copy of the order.

That order said a United Bulk representative told officials that an inspection on June 26, 2013, was during high water, when "piles of coal and coke are submerged in water and cleanup does not occur," but spills are cleaned up when water is low.

The environmental groups seek fines against United Bulk under the federal Clean Water Act and want the court to make the company clean the river and its bank.

Eustis said they also want covers around United Bulk's high-speed conveyor belts to contain any spills and over the hills of coal and pet coke stored at its 1,134-acre site, which includes nearly three miles of river frontage.

The United Bulk facility is one of the nation's two largest coal transport terminals, both at the Plaquemines Port, Harbor and Terminal District, according to the port's website.

The other, across the Mississippi River from Davant at Myrtle Grove, is owned by International Marine Terminals, a subsidiary of Kinder Morgan Energy Partners LP.

"We have similar issues at IMT. It's just one at a time," Eustis said in a telephone interview. "We're investigating and compiling. We're monitoring the facility. We have to do our homework."

A request for comment was forwarded from International Marine Terminals' Port Sulphur office to its headquarters in Houston.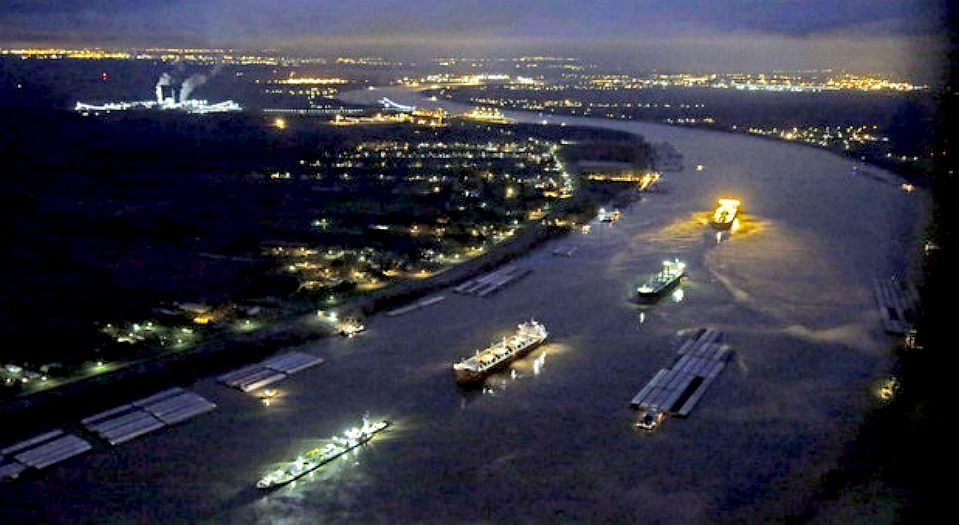 FEBRUARY 2014 - Portions of the lower Mississippi River were reopened after a vessel collision over the weekend discharged approximately 31,500 gallons of light crude into the river, the Coast Guard said.

The accident took place on Saturday afternoon, when the Lindsey Ann Erickson towboat collided with the E2MS 303 tank barge near Vacherie, 47 miles west of New Orleans by land, according to Coast Guard Petty Officer Bill Colclough.

An online Coast Guard database shows that the Lindsey Ann Erickson is owned by General Electric Capital Corp. of Irving, Texas.

Initially, a 65-mile stretch of the river was closed to all water traffic. The Coast Guard says it has since re-opened the river "with conditions" from mile marker 90 to mile marker 130. The river remains closed from mile 130 to 155.

Twenty-nine vessels are currently awaiting transit to the Mississippi River, the Coast Guard reported in February 2014.

Robert Anderson, a spokesman for the U.S. Army Corps of Engineers, is quoted as saying that a large slug of oil was observed as far south at mile 98, approximately 56 miles from where the crash occurred. But he added that officials at the Industrial Canal and the Algiers locks in metro New Orleans have not reported any signs of oil.
TCK TCK CTK - FEBRUARY 2014
Another accident in the United States is drawing attention once more to the hazards of transporting and storing fossil fuels.

On Saturday, a collision between a barge and a tugboat resulted in an oil spill on the Mississippi River, a major shipping thoroughfare.

In response to the spill, authorities have prohibited travel on 65 miles of the river and closed the Port of New Orleans. As a precautionary measure, water intakes from the river also have been shut off in the municipality of St. Charles Parish, which borders New Orleans to the west.

While the extent of the spill is not yet known, the light crude that did not leak out of the vessel was confirmed to have been pumped into another oil-carrying barge.

The spill, which has spread a sheen over the river's surface, will almost certainly harm wildlife in surrounding areas and could possibly result in drinking water contamination and a costly cleanup effort.

Saturday's accident is the latest in a series of fossil fuel related spills that have been contaminating waterways across the Eastern United States in recent weeks. In January, 10,000 gallons of an industrial chemical used in coal processing leaked into West Virginia's Elk River. The contamination occurred just upstream of a major water intake area.

The chemical, MCHM, or methylcyclohexane methanol, can cause headaches, eye and skin irritation, and respiratory symptoms.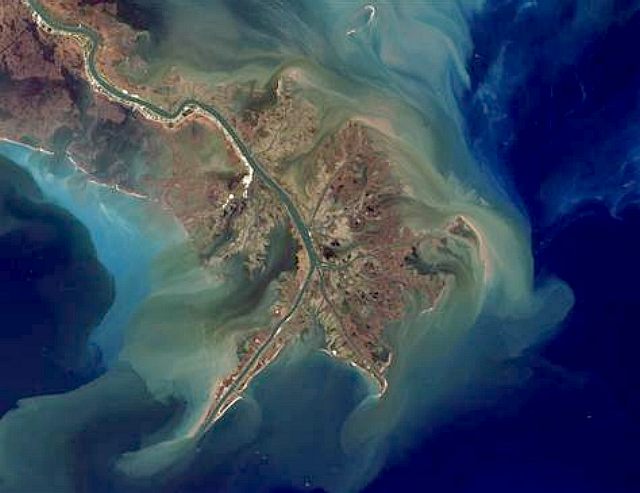 Last week, West Virginia's governor asked for a federal probe into the health effects of the spill. Over 300,000 people were affected by the accident, which was declared a federal emergency by President Barack Obama.

Meanwhile, earlier this month a ruptured 48-inch pipe in North Carolina sent toxic coal ash pouring into the Dan River. The leaking pipe took six days to plug and coated the bottom of the river with coal ash for at least 70 miles. Duke Energy, the utility responsible for the catastrophe, estimated that between of 30,000 and 39,000 tons of the substance escaped into the river.

Soon after the spill, a second nearby pipe was discovered to be in danger of collapsing and triggering another discharge into the river. Regulators in North Carolina have ordered Duke to take immediate action to prevent another spill.

Coal ash, a byproduct of burning coal for electricity, contains a host of unsavory contents, including the metals arsenic, selenium, and cadmium. Water tests of the Dan River revealed that the spill had elevated levels of copper, aluminum, iron, and arsenic above state-established standards.

These recent events have led to a groundswell of support for regulatory transparency and tighter oversight of fossil fuel byproducts. Beyond that, though, they have also added to a large body of evidence that shows that every stage in the fossil fuel lifecycle presents opportunities for environmental catastrophe - ranging from the immediate contamination of water supplies to the deadly extreme weather events intensified by global warming.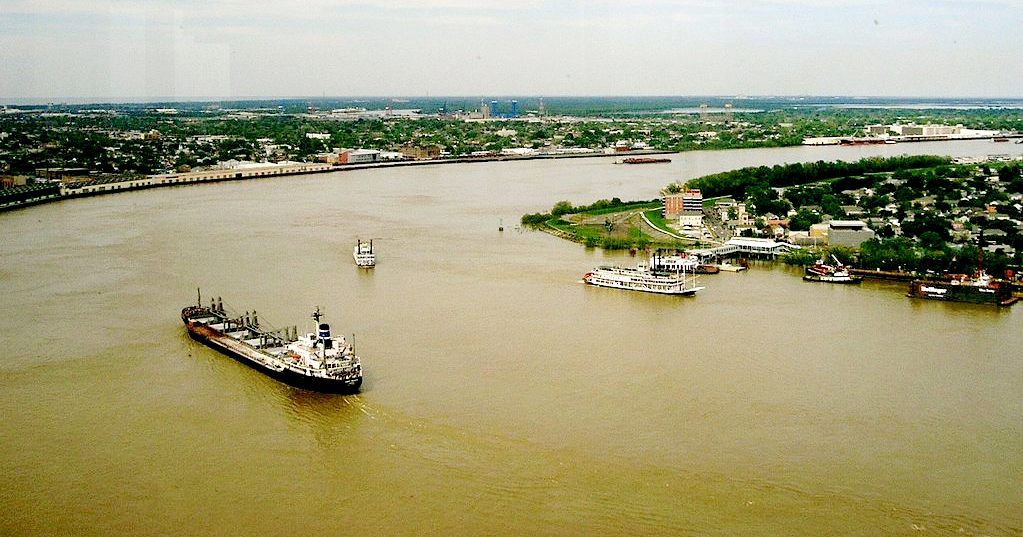 ST LOUIS TODAY - MARCH 2012
More than 12.7 million pounds of toxic chemicals such as nitrates, arsenic, benzene and mercury were dumped into the Mississippi River in 2010, according to a report released today by the advocacy group Environment Missouri.

Only the Ohio River, with 32 million pounds, experienced more toxic discharge in 2010, according to the report based on data from the U.S. Environmental Protection Agency. The Missouri River ranked seventh with nearly 5 million pounds of dumped toxins.

"Missouri's waterways are a polluter's paradise right now," said Sarah MacFarland, state field associate for Environment Missouri. "These toxic chemicals end up contaminating our drinking water and are absorbed by the fish that we eat."

The environmental group called on the government to improve enforcement of the Clean Water Act in an event held today at Tower Grove Park. "We need clean water now," MacFarland said.

Some of the toxins are known to cause cancer, reproductive disorders and developmental delays.

March 22 marks World Water Day, a United Nations-sponsored campaign to raise awareness of clean drinking water, drought, sanitation and other water issues.

The theme of this year's campaign is the connection between water and food security. Famine and malnourishment are more common in areas of the world experiencing drought, floods or unsafe water.

About 11 percent of the world's population does not have access to clean drinking water. More than one-third of the population does not use toilets or other sanitation facilities including 626 million people in India who defecate in waterways and soil.

The U.S. Centers for Disease Control and Prevention works globally through its Water, Sanitation, and Hygiene (WASH) program to improve access to safe water. Unsanitary conditions and unsafe drinking water can lead to cholera, hepatitis and typhoid fever among other illnesses.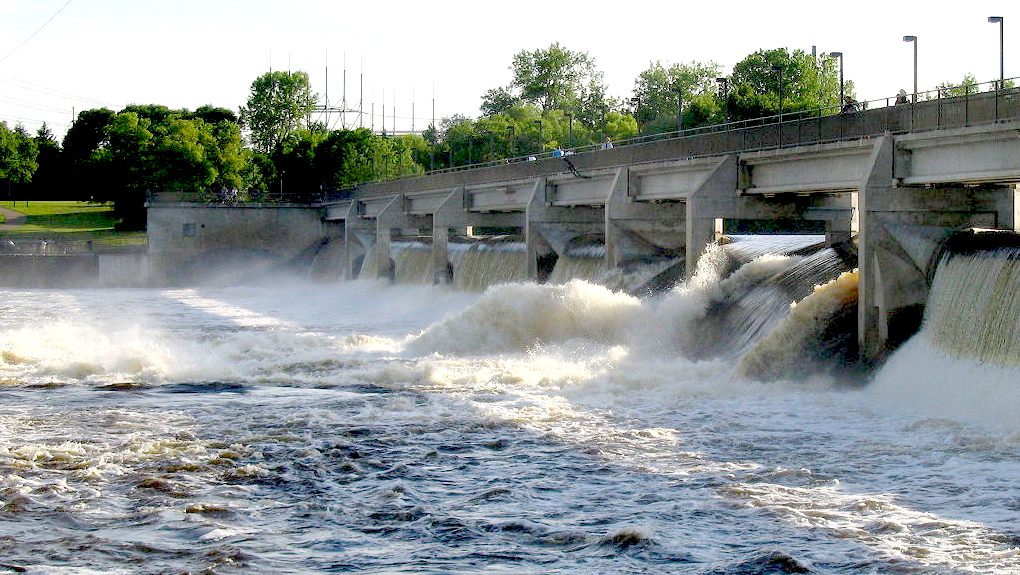 ABC NEWS - MAY 2011
The great Mississippi River flood of 2011, cresting south of Memphis today, carries a mix of fertilizer, oil, pesticides, trash and farm runoff as it flows toward the Gulf of Mexico, say public health officials.

Some of it is nasty stuff, and officials say people are wise to be careful. They urge people not to touch the water unless they're wearing rubber boots and gloves, and wash thoroughly if they get wet.

"There could be a lot of untreated sewage coming downstream," said Wilma Subra, an environmental scientist and activist in Louisiana who has tangled with oil and chemical companies. "People need to be aware."

ABC News arranged some testing of its own, taking water samples from two places along the river to a laboratory near Memphis. E. coli and coliform - commonly found in untreated waste water - were 2,000 times acceptable limits. The lab did not find gasoline, oil or chemical toxins. There were trace levels of heavy metals, but no more than would be found ordinarily, the lab reported.

Subra said she would be concerned if the giant Morganza Spillway were opened upriver from New Orleans and Baton Rouge. It would protect the cities, but flood the wetlands of southern Louisiana. And it could be a health issue as people return to flooded homes to clean up.

"When in doubt, throw it out," said the Tennessee Department of Health in an advisory to people trying to clear out their homes when the water goes down. "Flood water picks up numerous contaminants from roads, farms, factories and storage buildings, including sewage and chemicals."

The state also warned that standing water provides a perfect breeding ground for mosquitoes. "It's very important that mosquito repellents be used and other precautions be taken to protect individual health," said Abelardo Moncayo, who directs the health department's vector-borne diseases program.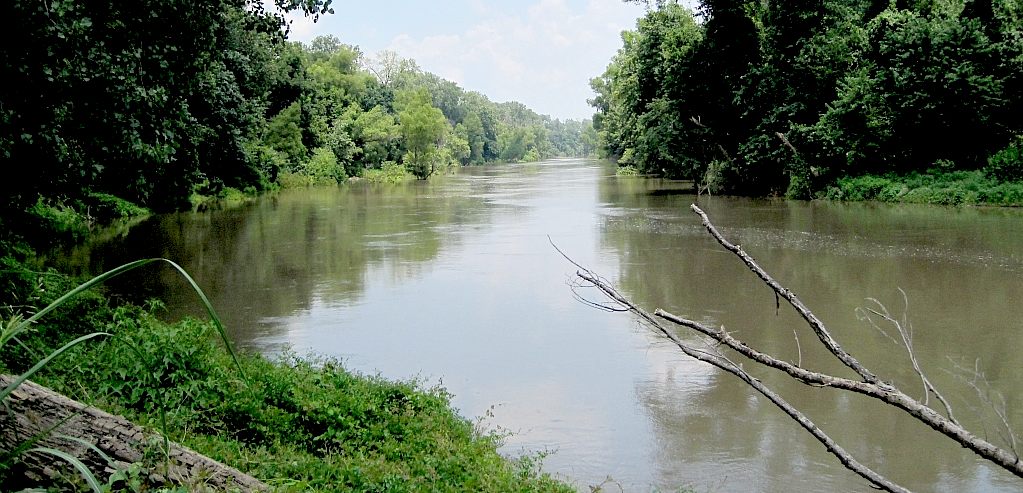 DEAD ZONE

Perhaps the largest effect: the overflow of nutrients into the Gulf of Mexico is likely to create an unusually large "dead zone" - a giant patch of water off the Texas-Louisiana coast where fish and other marine creatures lack enough oxygen to survive. A dead zone forms there almost every July and August, but scientists said it will be bigger this year because algae, feeding on the excess fertilizer, will bloom and then die, choking off the oxygen supply.

"We know that any time we have a lot of rain up here, that's when we have a large dead zone," said Mark David, a professor of environmental science at the University of Illinois.

It is bad news for fishing families, still trying to recover from the effects of last year's BP oil spill, who will have less to catch to make up for their losses.
TRASH IN THE WATER

Cities and towns in 31 states use water that flows into the Mississippi River Basin, many of them releasing treated wastewater into tributaries of the Mississippi. Engineers worried that sewage treatment plants could be overwhelmed by floodwaters.

David said he was not very concerned: "We protect things pretty well along the Mississippi because we know it floods."

Several scientists said to keep the pollution issue in perspective. With large volumes of water rushing downriver, they naturally dilute any pollutants they carry.

"I think it's the economic damage that's the biggest issue," said Nancy Rabalais of the Louisiana Universities Marine Consortium. "As long as people are vigilant, it won't be a people-living-in-the-water issue." ABC News' Steve Osumsami and Sarah Amos contributed information for this story.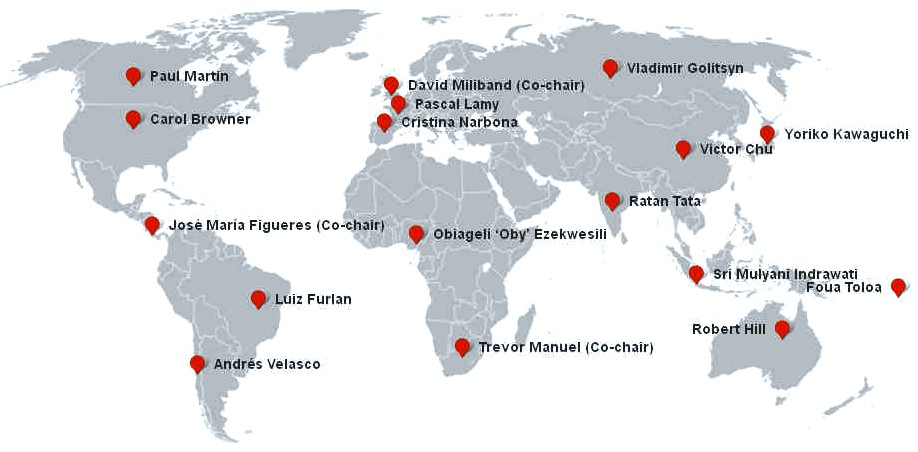 THE GLOBAL OCEAN COMMISSIONERS - Your representative for the GOC is shown on this map of the world showing the location of the Commissioners. Carol Browner is the most appropriate contact for the Mississippi River. Be aware that the GOC is likely to be wound down in 2016, having recommended doing not that much really in terms of plastic. What then was the purpose of funding you might ask? It is surely irresponsible to know of a problem and not suggest ways to prevent the problem worsening.
| | | | |
| --- | --- | --- | --- |
| RIVER | COUNTRY | POPULATION | PLASTIC |
| - | - | - | - |
| | Brazil/Peru/ Ecuador | - | 1 |
| | Russia/China | - | 2 |
| | | - | 3 |
| | Bangladesh | - | 4 |
| | | - | 5 |
| | West Central Africa | - | 6 |
| | Nigeria/Cameroon | - | 7 |
| | | - | 8 |
| | India/Bangladesh | - | 9 |
| | | - | 10 |
| | | - | 11 |
| Hai He (Sea) | | - | 12 |
| | | - | 13 |
| | | - | 14 |
| | Myanmar | - | 15 |
| | Nigeria | - | 16 |
| | Pakistan/Himalayan | - | 17 |
| | Russia/China/Kazakhstan | - | 18 |
| | Israel | - | 19 |
| | Nigeria | - | 20 |
| | Siberia | - | 21 |
| | Columbia | - | 22 |
| | | - | 23 |
| | Philippines | - | 24 |
| | | - | 25 |
| | Thailand/Laos/Vietnam | - | 26 |
| | Guinea/Nigeria | - | 27 |
| | | - | 28 |
| | S America/Brazil | - | 29 |
| | Philippines | - | 30 |
| | Java/Indonesia | - | 31 |
| | | - | 32 |
| | | - | 33 |
| | Java/Indonesia | - | 34 |
| | Taiwan | - | 35 |
| | | - | 36 |
| | | - | 37 |
| | | - | 38 |
| Yellow/Huang He | | - | 30 |
| Zhujiang/Pearl | | - | 40 |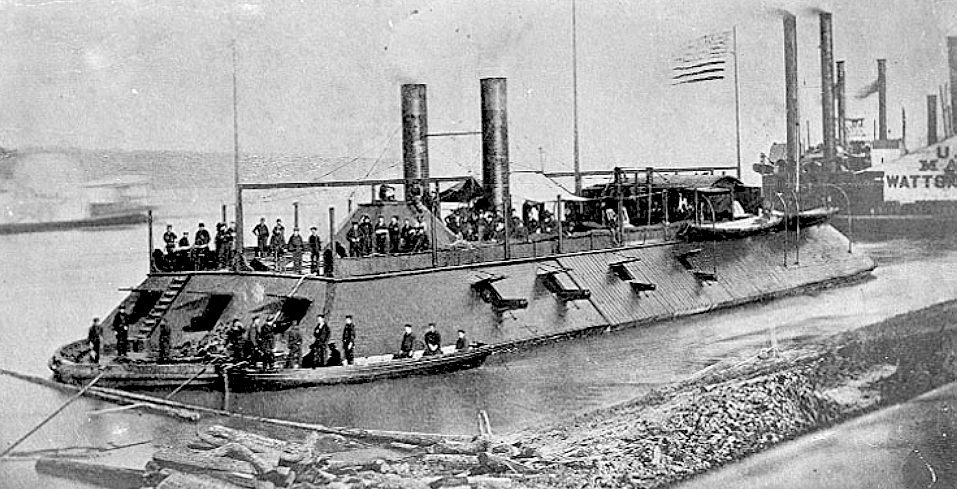 USS CAIRO - Was one of the first American ironclad warships, built for the Union Navy at the beginning of the U.S. Civil War.

Cairo was the lead ship of the City-class gunboats, and named for Cairo, Illinois. In June 1862, she captured the Confederate garrison of Fort Pillow on the Mississippi, enabling Union forces to occupy Memphis. As part of the Yazoo Pass Expedition, she was sunk on 12 December 1862 while clearing mines for the attack on Haines Bluff, and was the first ship ever to be sunk by a mine (or torpedo) remotely detonated by hand by volunteers hidden behind the river bank and sank in 12 minutes; there were no casualties.
Over the years, the gunboat was forgotten and was slowly covered by silt and sand. Impacted in mud, Cairo became a time capsule in which her unique, historical artifacts were preserved against corrosion and biological degradation. Her whereabouts became a matter of speculation, as members of the crew had died and local residents were unsure of the location.

Studying Civil War maps, Edwin C. Bearss of Vicksburg National Military Park set out to search for the lost ship using a simple magnetic compass. With the assistance of Don Jacks and Warren Grabau, it was found in 1956. In 1960, numerous artifacts were recovered from the ship, including the pilothouse and an 8-inch cannon, both preserved by the Yazoo River mud.

With support from the State of Mississippi and local authorities, the gunboat was salvaged from the bottom of the river between 1964-65. The hulk of the Cairo can be viewed at Vicksburg National Military Park, together with a museum of its weapons and naval stores.
STEAMBOATS - Played a major role in the 19th-century development of the Mississippi River and its tributaries by allowing the practical large-scale transport of passengers and freight both up- and down-river. Using steam power, riverboats were developed during that time which could navigate in shallow waters as well as upriver against strong currents. After the development of railroads, passenger traffic gradually switched to this faster form of transportation, but steamboats continued to serve Mississippi River commerce into the early 20th Century.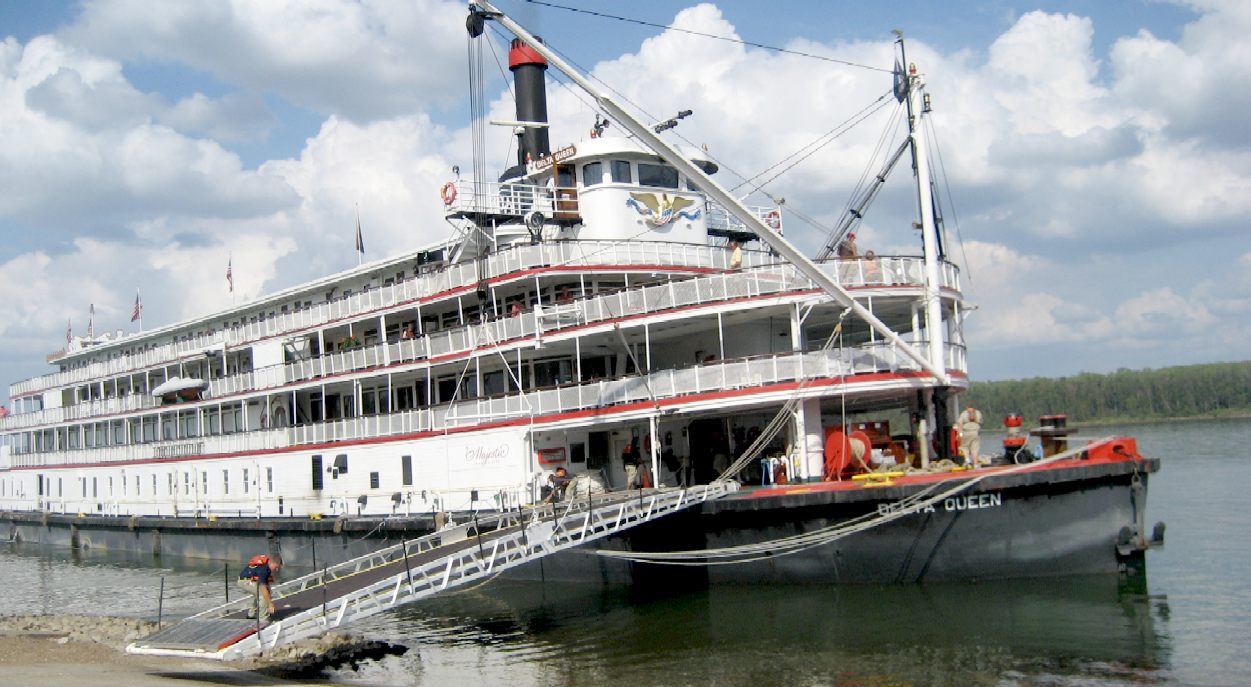 Vessels were made of wood—typically ranging in length from 40 to nearly 300 feet (91 m) in length, 10 to 80 feet (24 m) wide, drawing only about one to five feet of water loaded, and in fact it was commonly said that they could "navigate on a heavy dew." The boats had kingposts or internal masts to support hogchains, or iron trusses, which prevented the hull from sagging. A second deck was added, the Texas Deck, to provide cabins and passenger areas. All was built from wood. Stairs, galleys, parlors were also added. Often the boats became quite ornate with wood trim, velvet, plush chairs, gilt edging and other trimmings sometimes featured as per the owner's taste and pocketbook. Wood burning boilers were forward center to distribute weight. The engines were also amidships, or at the stern depending on if the vessel was a sternwheeler or sidewheeler. Two rudders were fitted to help steer the ship.

Vessels, on average, only lasted about five years due to the wooden hulls being breached, poor maintenance, fires, general wear and tear, and the common boiler explosion. Early trips up the Mississippi River took three weeks to get to the Ohio. Later, with better pilots, more powerful engines and boilers, removal of obstacles and experienced rivermen knowing where the sand bars were, the figure was reduced to 4 days. Collisions and snags were constant perils.
ACIDIFICATION - ADRIATIC - ARCTIC - ATLANTIC - BALTIC - BAY BENGAL - BERING - CARIBBEAN - CORAL - EAST CHINA
ENGLISH CH - GOC - GULF GUINEA - GULF MEXICO - INDIAN - IOC - IRC - MEDITERRANEAN - NORTH SEA - PACIFIC - PERSIAN GULF - SEA JAPAN
STH CHINA - PLASTIC - PLANKTON - PLASTIC OCEANS - SEA LEVEL RISE - UNCLOS - UNEP - WOC - WWF

AMAZON - BURIGANGA - CITARUM - CONGO - CUYAHOGA - GANGES - IRTYSH - JORDAN - LENA - MANTANZA-RIACHUELO
MARILAO - MEKONG - MISSISSIPPI - NIGER - NILE - PARANA - PASIG - SARNO - THAMES - YANGTZE - YAMUNA - YELLOW

LINKS & REFERENCE
Wikipedia Steamboats_of_the_Mississippi
Mississippi river collaboration
News Tribune 2014 March 19 lawsuit claims coal pollutes Mississippi river
NBC news US_environment Mississippi-river watery mess experts warn
ABC news Technology Mississippi-river-flooding-2011-pollution-waste-water-flood
Riverfront Times newsblog 2012 March 23 Mississippi-river-second-most-polluted-in-nation-according-to-environmental-study
STL today Mississippi-river-is-second-most-polluted-u-s-waterway
Motherboard Vice the Mississippi rive -was a toxic mess long before the oil spill
http://www.bp.com/
https://en.wikipedia.org/wiki/USS_Cairo
https://en.wikipedia.org/wiki/Steamboats_of_the_Mississippi
http://www.msrivercollab.org/blog/
http://www.newstribune.com/news/2014/mar/19/lawsuit-claims-coal-pollutes-mississippi-river/
http://www.nbcnews.com/id/21321821/ns/us_news-environment/t/mississippi-river-watery-mess-experts-warn/
http://abcnews.go.com/Technology/mississippi-river-flooding-2011-pollution-waste-water-flood/story?id=13571053
http://www.riverfronttimes.com/newsblog/2012/03/23/mississippi-river-second-most-polluted-in-nation-according-to-environmental-study
http://www.stltoday.com/lifestyles/health-med-fit/health/mississippi-river-is-second-most-polluted-u-s-waterway/article_bce8579e-7449-11e1-9b27-001a4bcf6878.html
https://en.wikipedia.org/wiki/Mississippi_River
http://motherboard.vice.com/read/the-mississippi-river-was-a-toxic-mess-long-before-the-oil-spill