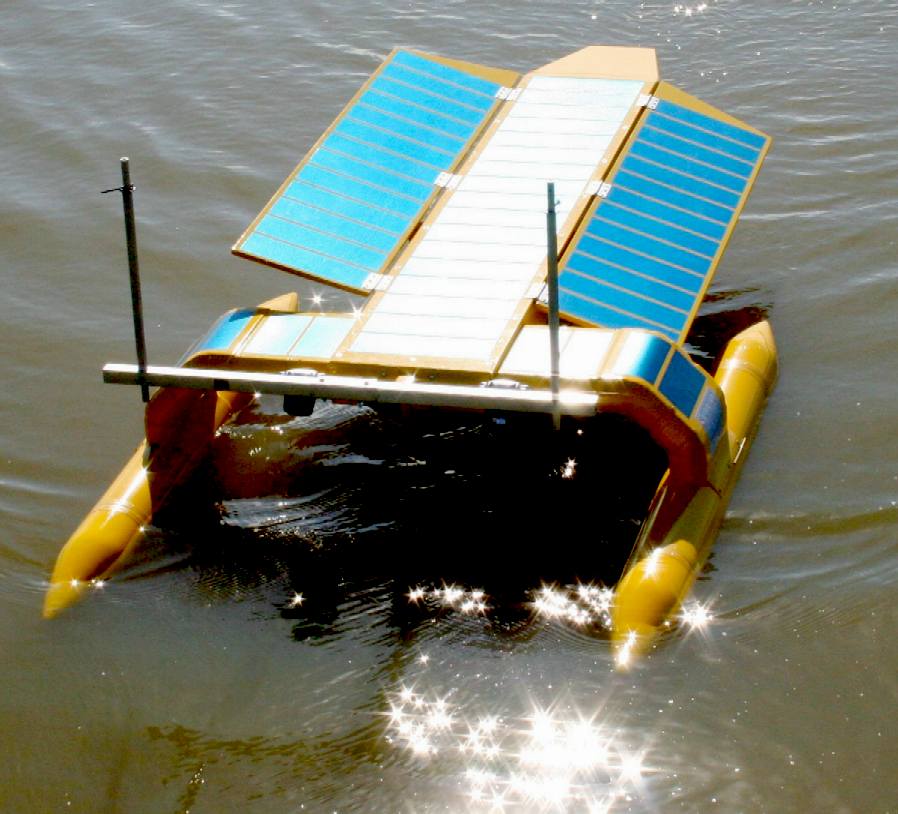 RIVERVAX™ TRIALS - Cost effective river pollution monitoring and cleaning all in one. You have to think big to clean a big river. Anything less is a waste of time. It's pointless trying to clean up a huge body of moving water with a teaspoon - you need to cost any system from collection to disposal, include recycling - wherever that is practical - if you are to stand any chance of achieving a Global Circular Economy.
SEAVAX ADAPTATION TO RIVER CLEANING WORKBOATS
The SeaVax concept can be adapted to clean river waste as a RiverVax variation. We will be writing more about this subject as we look at more rivers with problems and define how this vessel may become a useful tool in the global arsenal against pollution. To date everyone has been looking for a free lunch. Potential customers want a custom solution just handed to them, for them to copy. That has been the stumbling block to development thus far. But, it doesn't work like that in an equitable world. Somebody has to pay the piper for development. Knowledge sharing is just another way of governments ripping off innovators, start-ups, and SMEs.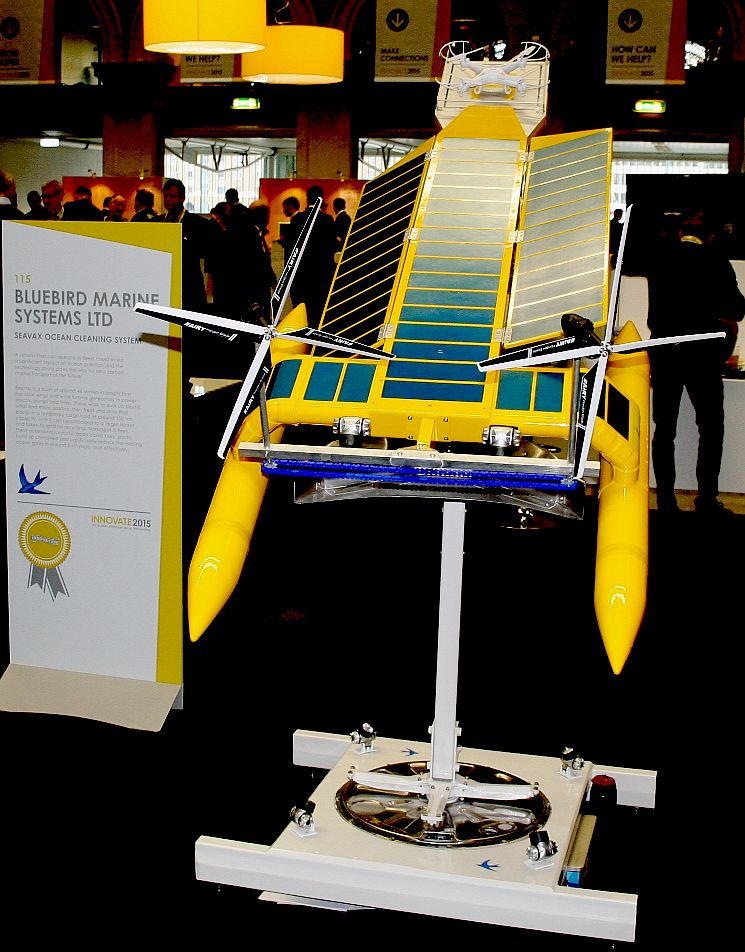 INNOVATION 2015 - The full size RiverVax™ will be capable of extracting plastic or oil from the ocean and surface and river bed pollution from many rivers. We hope to interest appropriate governments departments all over the world as potential partners to both SeaVax™ and RiverVax™ projects.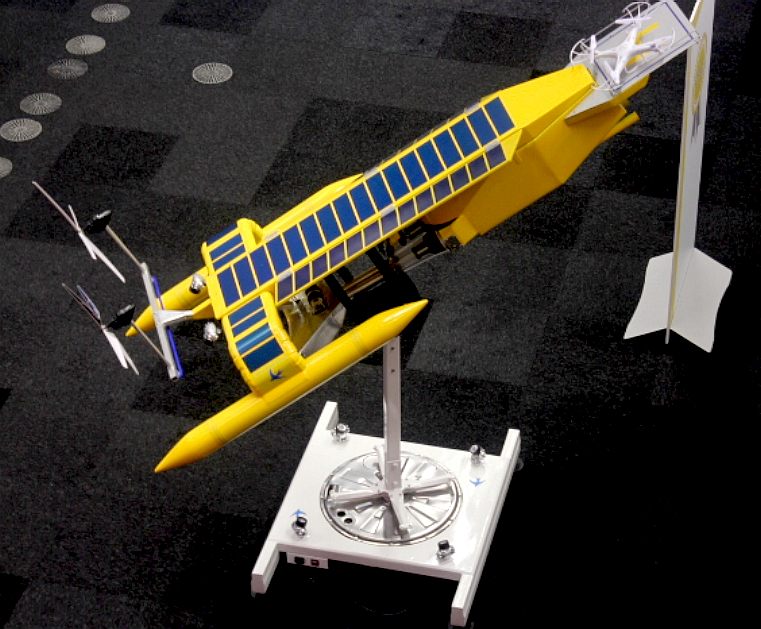 RIVERVAX™ - Is a potential solution for surface (and subsurface) river and ocean pollution that is cost effective. The value of such a versatile vessel might not be limited to the ability to vacuum the Ganges clean for example, but the blue water version, called SeaVax, could target any area of the high seas that is rich enough in plastic waste to make it worthwhile for the operators.
This go anywhere workboat is solar and wind powered, another step forward for any nation that is doing their level best to combat climate change and acid oceans. The vessel is designed to hold 150 tons of waste until it can discharge at sea to a transfer tanker, or dock in port and discharge directly to waiting treatment plants. The stand for this exhibition was made from 95% recycled materials - by way of an example of a circular economy in action. If the same principle was applied to reuse materials wherever possible - a lot of energy could be saved that would otherwise go to making new materials.
RIVERVAX™ - PROPOSED ORIGINAL (SEAVAX) and (RIVERVAX) TARGET SPECIFICATIONS
ORIGINAL SEAVAX™ SPECIFICATIONS:
* 150 tons before discharge to a land location by docking.
* Climate neutral - Solar and Wind powered to eliminate NOx and CO emissions for sustainability.
* Cost effective in the long term - with a break even point for plastic recyclers.
* Width = 17 metres x Length = 45 metres (55 x 147.5ft) including drone landing pad.
* Height from river to deck = 4.3 metres (14ft).
* Turbine width = 20.4 (66ft) from turbine (port) tip to (starboard) tip.
* Variable turbine height with fold down to get under bridges.
* Featuring a giant 13.5 meter (44ft) collection head and multiple treatment stages.
TARGET RIVERVAX™ SPECIFICATIONS:
* 20 tons before discharge to a riverbank site, dedicated support vehicle or designated dock area.
* Climate neutral - Solar and Wind powered to eliminate NOx and CO emissions for sustainability.
* Cost effective in the long term - with a break even point against other river skimmers.
* Width = 5 metres x Length = 11 metres (16 x 36ft) including a smaller drone landing pad.
* Height from river to deck = 2.5 metres (8ft).
* Turbine width = 6.4 (34ft) from turbine (port) tip to (starboard) tip.
* Variable turbine height with fold down to get under bridges.
* Tidal generator to take advantage of river currents to harvest free energy.
* Featuring a sizeable fixed width 3.0 meter (10ft) collection head and multiple treatment stages.
* Featuring moveable sweeps to increase the apparent width of the collector head.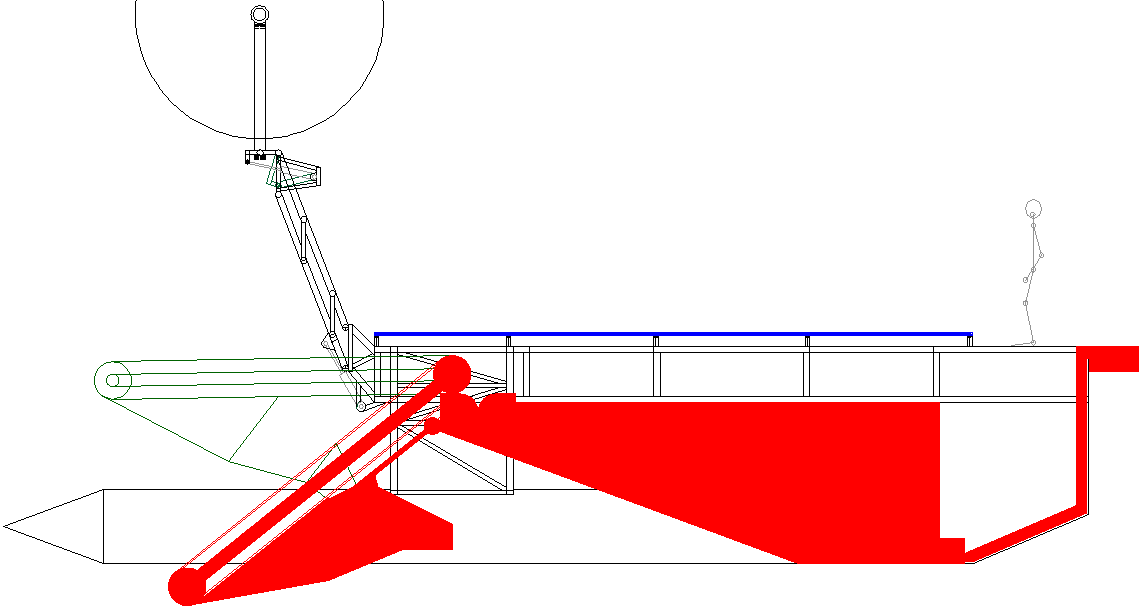 PATENT PENDING 2020 - The filtration module, cargo hold and offloading mechanism is shown in red in outline form. The system consists of several integrated components, incorporating motors, pumps, hydraulics, electronics and computer programs - all to be powered by energy from nature - if we are to avoid more greenhouse gas emissions. Note that this is the design for the 12 meter coastal development rig, rather than the 44 meter full size craft. Copyright © diagram Cleaner Ocean Foundation. All rights reserved.
SEAVAX 'PILOT' LITTER PICKER - This is a 16 meter version of SeaVax. In these diagrams we are looking through the superstructure from the side of the vessel. [Left] We can see a boom ahead of the cleaning head on the right, guiding marine litter and plastic into the filtration head in surface skim mode, where it is lifted up into the large storage chamber by a conveyor, then carried to a harbour for offloading and treatment. [Right] In this diagram we see the selective filter cleaning head lowered to a depth of 8 meters to deal with deeper historic plastics on riverbeds and other coastal areas.
The vessel is designed to navigate itself to a designated location, with input from human operators, where a dockside container system for convenient recycling allows speedy turnarounds. These cleaning machines may be moored in rivers to collect plastic, a strategy that was proposed in 2016 - hence the A-Z of dirty rivers. Copyright © diagrams 21 & 25 November 2019. All rights reserved, Cleaner Ocean Foundation Ltd.
Bluebird Marine Systems hoped to be able to produce RiverVax™ boats locally in partnership with the appropriate geographical administration - creating jobs locally. The SeaVax design is currently the world's largest waterborne vacuum cleaner. Being geared to river conditions, RiverVax is smaller than her big sister.
The time to produce the pre-production prototype is estimated to be around 12-18 months from receipt of a confirmed contract order. Contract orders may only be accepted once a fully operational prototype has ironed out any core wrinkles in the design.

While the cost of development models might be higher, mass production could slash operational costs, bringing down the price of individual vessels to meet with our original target price of £3 million pounds per unit and eventually $3 million dollars with mass production. Even at £5-7 million per unit, the break even point in terms of operational savings is very attractive to waste contractors.
These were 2017 prices based on volunteers. In 2022, with rampant inflation and energy prices, we are looking at at least 10 times the cost. But they would look the gift horse in the mouth.
Hence, we are looking at $40-70 million per unit custom built, with an autonomous specification and drone fleet command. The price of production will vary from region to region after consideration of factory overheads and labour costs - and is respect of the source of raw materials and component suppliers. Subject to contract.
Cleaning rivers means cleaner oceans. Cleaner oceans means healthier fish and potential "Blue Growth" recovery.
[LEFT] A GREAT START - Many countries are employing machines similar to that above from China. It is an acknowledgement that there is a problem and moves by the local water authorities to do something about it. The main drawback of conventional machines is that they use diesel fossil fuels to pick up plastic and other surface solids, so creating more pollution in terms of NOx and carbon monoxide emissions than they might reasonably offset in recycling river waste. [RIGHT] STATE VISIT - This machine was deployed to clean up a portion of the great river Ganges in anticipation of the Indian Prime Minister's visit. We assume that being diesel powered, countries like Brazil could not afford to use them to clean up Guanabara Bay for the Olympics, for example.
THE COMPETITION
The are many companies worldwide who are producing craft that are manually operated and powered by diesel engines. These craft are essentially capable of collection, commonly called skimming, waste that is floating on the surface of a river.
For the most part these boats have a relatively small collection head, made wider by opening side booms hydraulically. A motorized steel wire-link escalator lifts surface solids out of the water, depositing the harvest into a hopper at the rear of the boat. This is later unloaded as or into a skip.
Read more about these systems: RIVER SKIMMERS, BALTIMORE WHEEL
THE WORLD'S DIRTIEST RIVERS:
| | | |
| --- | --- | --- |
| RIVER | COUNTRY | RANKING |
| - | - | - |
| | Brazil/Peru/ Ecuador | - |
| | Russia/China | 8th placed polluted river |
| | | - |
| | Bangladesh | - |
| | | 1st and worst |
| | West Central Africa | - |
| | Nigeria/Cameroon | - |
| | | - |
| | India/Bangladesh | 6th place dirty river |
| | | - |
| | | - |
| Hai He (Sea) | | 4th place plastic river |
| | | - |
| | | - |
| | Myanmar | - |
| | Nigeria | - |
| | Pakistan/Himalayan | 3rd place dirty river |
| | Russia/China/Kazakhstan | - |
| | Israel | - |
| | Nigeria | - |
| | Siberia | - |
| | Columbia | - |
| | | - |
| | Philippines | - |
| | | - |
| | Thailand/Laos/Vietnam | 10th our often |
| | Guinea/Nigeria | 9th place polluted river |
| | | - |
| | S America/Brazil | - |
| | Philippines | - |
| | Java/Indonesia | - |
| | | - |
| | | - |
| | Java/Indonesia | - |
| | Taiwan | - |
| | | - |
| | | - |
| | | 2nd most polluted river in the world |
| Yellow/Huang He | | 5th dirtiest river |
| Zhujiang/Pearl | | 7th fluid plastic delivery system |
LINKS
ACIDIFICATION - ADRIATIC - ARCTIC - ATLANTIC - BALTIC - BAY BENGAL - BERING - CARIBBEAN - CORAL - EAST CHINA
ENGLISH CH - GOC - GULF GUINEA - GULF MEXICO - INDIAN - IOC - IONIAN - IRC - MEDITERRANEAN - NORTH SEA - PACIFIC - PERSIAN GULF - SEA JAPAN
STH CHINA - PLASTIC - PLANKTON - PLASTIC OCEANS - SARGASSO - SEA LEVEL RISE - UNCLOS - UNEP WOC - WWF

AMAZON - BURIGANGA - CITARUM - CONGO - CUYAHOGA - GANGES - IRTYSH - JORDAN - LENA - MANTANZA-RIACHUELO
MARILAO - MEKONG - MISSISSIPPI - NIGER - NILE - PARANA - PASIG - SARNO - THAMES - YAMUNA - YANGTZE - YELLOW - ZHUJIANG
Youtube - Up High Productions