MR TRASH - Two floating booms direct river debris to the front of the water wheel. A raking system helps move trash onto a conveyor belt that dumps it into a barge at the rear. A solar panel array keeps the wheel moving when the river flow is reduced. All in all a nice bit of engineering. KISS
JULY 2014 - TREEHUGGER: BALTIMORE RIVER WATER WHEEL - MR TRASH

Sometimes old technologies prove to be the best. This is surely the case in Baltimore where a giant water wheel is removing tons of trash every day from the water, keeping it from ending up in the ocean. This centuries-old technology is quickly becoming the best solution yet for keeping plastic out of the oceans.

The Inner Harbor Water Wheel sits at the mouth of the Jones Falls River where it empties into the Inner Harbor. This river is fed into by the entire Jones Falls Watershed which encompasses 58-square miles of land where tiny streams all lead to the Jones Falls River, which empties into the harbor. Any trash that ends up on the street or ground instead of in trash cans or recycling bins ends up in storm drains, heading down that river and eventually making its way to the Chesapeake Bay and the Atlantic Ocean.

The water wheel sits at the perfect place to collect all of this debris before it can make it any farther and it's working really well. Every day since May 16 when it was installed, it has removed tons of debris from the water, with about 63 tons collected as of July 7. It's capable of processing 25 tons a day, though it hasn't ever processed more than about 5 tons in a day.

The wheel works because the current of the river provides power to turn the water wheel. The wheel lifts trash and debris from the water and deposits it in a dumpster barge. When there isn't enough current to turn the wheel, a solar panel array keeps the wheel moving. When the dumpster is full, a boat comes to tow it away and replace it with a new one.

The great news is that any city with tightly-controlled tributaries can have the same success with this technology. An entire watershed's trash and debris can be prevented from reaching the ocean.

The trash collected by the water wheel is taken to a waste-to-energy plant where it is burned to produce electricity. The debris can't be recycled because after rainstorms the runoff also includes sewage making the trash hazardous material.

The solar water wheel has become a bit of a celebrity. It has its own Twitter account @MrTrashWheel and a YouTube video of the wheel in action has gotten over a million views.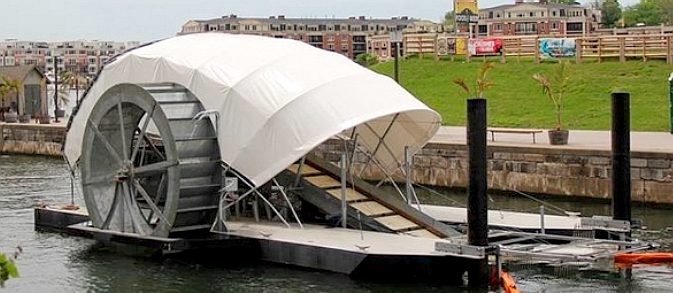 Looking for all the world like a western buggy, crossed with a river boat paddle steamer, this very practical vessel has proved what it can do and passed the tests with flying colors. It certainly deserves it's title: Mr Trash and much respect.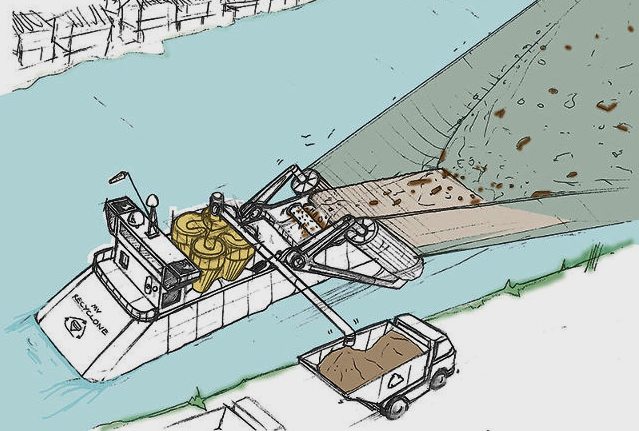 The MV RECYCLONE - From James Dyson. We like it. But we're not sure that cyclonic separation is good for an ocean cleaner with lesser energy available. It is though the experimental base. Not only has a system to work, but it must also be cost effective. James is an inspirational example of a man who thinks progressively of a better future. The drawing above was sketched for Time magazine. Apart from the cyclonic filters, the concept is not that far removed from Baltimore's Mr Trash above.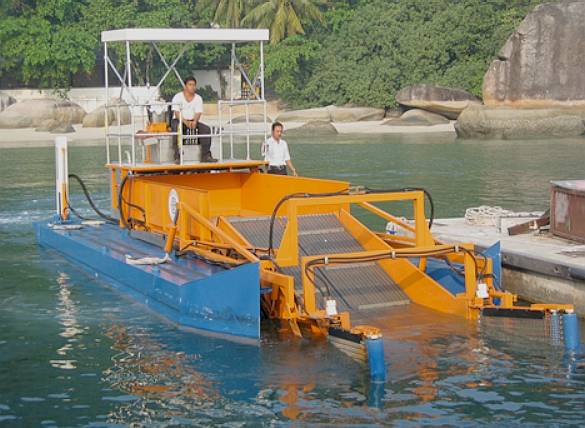 There are a number of builders of river skimmers, mostly using the same technology, as in a driven wire mesh to escalate the floating debris and deposit it in a skip behind. The above picture shows this well. Is it though diesel powered and needs a driver. Thus, it is unsuitable for blue water ocean cleaning projects, where the fuel and crew costs would make such concepts uneconomical.
LINKS
Treehugger solar water wheel could be solution plastic ocean debris
Fast Coexist James Dyson is designing a giant vacuum on a barge to clean ocean trash
Telegraph James Dyson suggests leaving the EU over vacuum cleaners
Boats gallery Rotork Sea Truck
Wired Magazine 2011 the seventh disruption James Dyson
Daily Mail Dyson's mission a vacuum cleaner for rivers inventor sketches plans suction remove plastic debris
Time Magazine James Dyson sweep our dirty rivers clean
http://www.treehugger.com/clean-technology/solar-water-wheel-could-be-solution-plastic-ocean-debris.html
http://time.com/23059/dames-dyson-sweep-our-dirty-rivers-clean/
http://www.jamesdysonfoundation.co.uk/
http://www.jamesdysonaward.org/
http://www.wired.co.uk/magazine/archive/2011/11/features/the-seventh-disruption-james-dyson/page/3
http://www.techdigest.tv/2013/02/dysons_top_10_b.html
http://en.wikipedia.org/wiki/Sea_Truck
http://en.wikipedia.org/wiki/Rotork
http://www.rotork.com/en/
http://en.wikipedia.org/wiki/James_Dyson
http://www.dyson.co.uk/community/james-dyson-foundation.aspx
http://www.dyson.co.uk/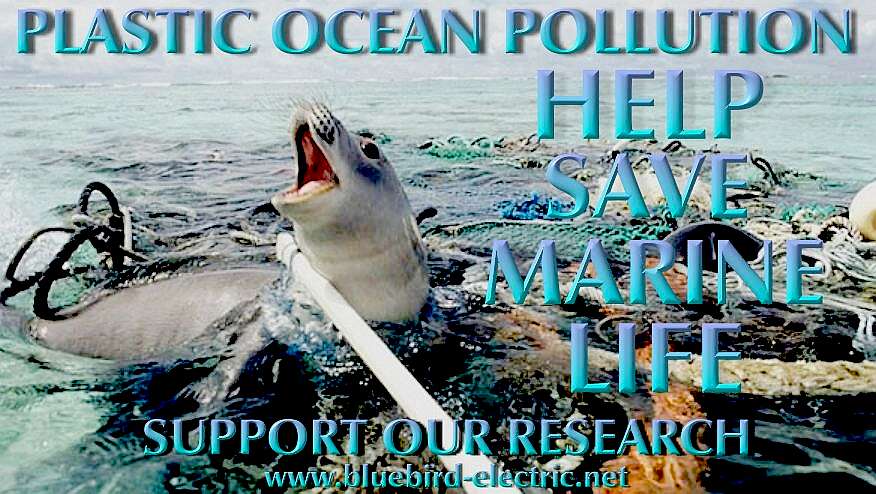 Our love affair with plastic is choking the oceans. Once people know about it, they want to stop it. But how? The next question is who? Obviously, if any of the researchers involved so far had come up with a solution, they would have sorted it years ago. We are a practical think-tank fresh to the issue and without a budget. We hope to be able to collaborate with other marine organisations that are funded for this work, or who have funds to investigate viable projects. You cannot donate to us directly on this site, but we hope to identify partner sites shortly where you can support a project much like that proposed herein, or better still, our own practical experiments with the SeaVax concept.
SEAVAX 'PILOT' LITTER PICKER - This is a 16 meter version of SeaVax. In these diagrams we are looking through the superstructure from the side of the vessel. [Left] We can see a boom ahead of the cleaning head on the right, guiding marine litter and plastic into the filtration head in surface skim mode, where it is lifted up into the large storage chamber by a conveyor, then carried to a harbour for offloading and treatment. [Right] In this diagram we see the selective filter cleaning head lowered to a depth of 8 meters to deal with deeper historic plastics on riverbeds and other coastal areas.
The vessel is designed to navigate itself to a designated location, with input from human operators, where a dockside container system for convenient recycling allows speedy turnarounds. These cleaning machines may be moored in rivers to collect plastic, a strategy that was proposed in 2016 - hence the A-Z of dirty rivers. Copyright © diagrams 21 & 25 November 2019. All rights reserved, Cleaner Ocean Foundation Ltd.
ACIDIFICATION - ADRIATIC - ARCTIC - ATLANTIC - BALTIC - BAY BENGAL - BERING - CARIBBEAN - CORAL - EAST CHINA
ENGLISH CH - GOC - GULF GUINEA - GULF MEXICO - INDIAN - IOC - IRC - MEDITERRANEAN - NORTH SEA - PACIFIC - PERSIAN GULF - SEA JAPAN
STH CHINA - PLASTIC - PLANKTON - PLASTIC OCEANS - SEA LEVEL RISE - UNCLOS - UNEP - WOC - WWF
AMAZON - BURIGANGA - CITARUM - CONGO - CUYAHOGA - GANGES - IRTYSH - JORDAN - LENA - MANTANZA-RIACHUELO
MARILAO - MEKONG - MISSISSIPPI - NIGER - NILE - PARANA - PASIG - SARNO - THAMES - YANGTZE - YAMUNA - YELLOW

Youtube Mr Trash