If you think about the number of nuts and bolts that go into the making of a motor car, you will realize that a significant weight saving may be made by changing from steel to titanium. The most important bolts on your car that could see an measured improvement in performance are the wheel bolts. This is because the un-sprung weight of the car is critical in keeping the wheels in contact with the road. Reducing the un-sprung weight of the suspension is usually achieved by changing from steel wheels to alloy wheels. It takes minutes to save more weight by changing to titanium bolts.
Most generously, when we asked the Baoji Sino-Swiss Titanium Company if they might help us to reduce the mass of our DC special, they had no hesitation in suggesting that we might replace the wheel nuts and other fixings that are made of steel, with their products which are made of titanium.
ABOUT SINO-SWISS TITANIUM
Sino-Swiss make wheel bolts for BMW, Porsche titanium wheel nuts, Ferrari Wheel Lugs and Bolts and titanium wheel spacers. They can make (turn) parts according to your drawings as OEM processing. Titanium has a tensile strength of 1100 mpa. Sino-Swiss also offer PVD coated bolts in black and other colors.
TITANIUM CONTACTS
Baoji Sino-Swiss Titanium Company Ltd
Bao zhong Road, No 9,
High-tech zone , Baoji City.
Shaanxi , China 721000

Tel: +86-0917-387-6081-(0)
Fax: +86-0917-387-6081-(608)
24h Tel: +86-158-7751-0850

Emails:
Gmail sinoswissti@gmail.com

Websites:
www.sino-swissti.com
www.titaniummanufacturer.com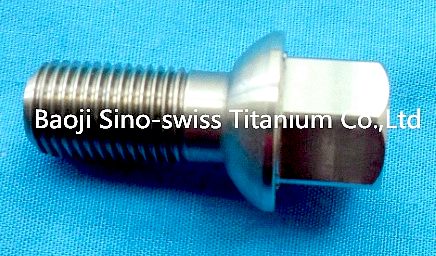 A selection of wheel bolts and nuts from the Sino-Swiss Titanium Company
ECOSTAR DC50 EV COACHWORK FEATURES
| | |
| --- | --- |
| BODYWORK | Composite |
| ALUMINUM | 4 x sheets 1.0mm |
| GRP | . |
| CARBON FIBER | . |
| FIXINGS | Titanium |
| DOORS | Composite |
| ROOF | Alloy |
| FLOOR | Plywood |
| NOSE | Composite |
| TAIL | Composite |
| WHEELS | Alloy |
| WINDSCREENS | Laminated glass (front) polycarbonate (rear) |
ECOSTAR LINKS A-Z
AERODYNAMIC BODYWORK CONTROL SURFACES
COMPETITION: BETTER PLACE - TESLA
COMPETITON: SUZUKI ALTO & NISSAN LEAF
MECHANICS, SUSPENSION, STEERING, BRAKES
SERVICES STATION INFRASTRUCTURE
SLEP - SOUTH EAST LOCAL ENTERPRISE PARTNERS
EXTERNAL LINKS & REFERENCE
Sino-swiss titanium
Titanium Manufacturer
http:// www.sino-swissti.com
http:// www.titaniummanufacturer.com
http://www.resinstore.com/Polyester-resin.html
http://www.epoxy-resins.co.uk/Shop/resin.html
http://www.ecfibreglasssupplies.co.uk/
http://www.pecepoxy.co.uk/shop/epoxy/
http://www.horizonhydrogeneenergie.com/
http://horizon2020projects.com/sc-transport-interviews/powering-the-future/
http://ec.europa.eu/programmes/horizon2020/en/
http://ec.europa.eu/transport/themes/research/horizon2020_en.htm

Contact Technical: bluebird@bluebird-electric.net or phone UK:

+44 (0) 1323 831727
+44 (0) 7842 607865
Ask for Leslie
Intelligent Battery Support System
THE BLUE BIRDS OF HAPPINESS