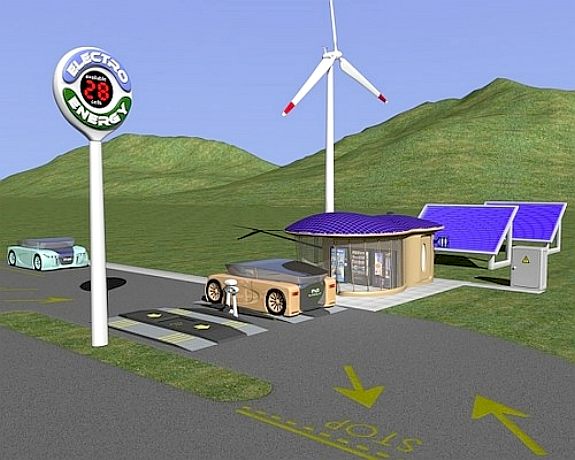 Electric cars of the future will need to be quick both in speed and in the time they need to get recharged. Current technology allows a car to be recharged within a couple of hours. This, though quick for an electric car, is sluggish when compared to gasoline cars. Designer Metin Giousouf has designed a low-tech solution for quick charge – replace the batteries with recharged ones when a car comes in for a recharge.

The station generates electricity with the help of renewable energy systems that include solar and wind energy. Whenever a car comes for a recharge a robotic system removes the discharged batteries from the car and puts it on a conveyer belt. This belt takes the battery to an underground battery recharge point and replaces it with a completely charged battery. The whole process is done in a couple of minutes so you can drive away your car immediately.

IDENTIFIED PROBLEM:

The system does show great use of renewable energy, however, the system doesn't look feasible for all cars. All cars in the future will have different batteries just like cellphones of today. In such a case replacing a battery will need a similar battery in good condition already being recharged, which might be hard to find, especially in rural areas.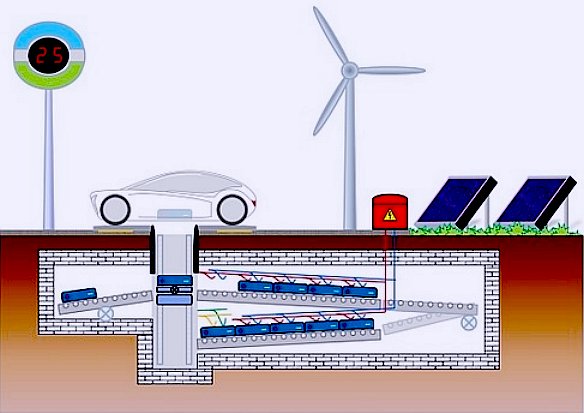 The concept is sound, the expense of an underground installation may be avoided - lessening the complexity. A universal format should be adopted and promoted to industry.
ABB JULY 2013 - PLUG IN FAST CHARGING
ABB, a company that specializes in electric vehicle power solutions, recently announced plans to build the world's largest nationwide network of EV fast-charging stations in the Netherlands. Working in collaboration with Dutch startup Fastned, ABB will install more than 200 stations along Dutch highways over the next 3 years. When completed, ABB claims that none of the country's 16.7 million inhabitants will be more than 31 miles away from the nearest EV charging station. While this is welcome news, there is no contingency for transition to a hydrogen economy, nor energy load levelling.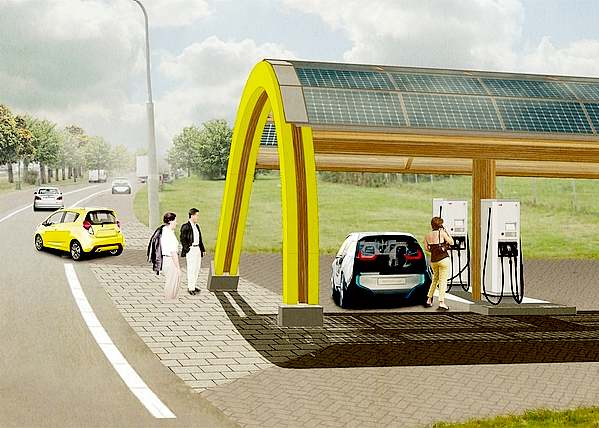 Every day more automakers announce plans to add electric vehicles to their line-up – that said we are still a long way from an EV revolution. Experts say that a big obstacle to the uptake of electric cars is range anxiety: the fear that there aren't enough charging stations to accommodate long-distance trips. The infrastructure can't be built in a couple of days – but ABB and Fastned are hoping it can be built in a couple of years. Bart Lubbers, one of Fastned's founders is quoted as saying: "This countrywide network of locations will lay the basis for the commercially viable development of e-mobility." "I foresee a race towards faster charging and larger batteries throughout the car industry."

Each of the 200+ planned stations will be equipped with several multi-standard fast chargers, such as the 50 kilowatt (kW) Terra 52 and Terra 53 models, which are capable of charging electric vehicles in 15-30 minutes. "Fast-chargers will be located a maximum of 50 kilometers apart along all highways, and because of ABB's multi-standard design, the network will be capable of serving EVs offered by all major car brands from Europe, Asia and the USA," explains a press release. "ABB's open standards-based cloud connectivity solution allows Fastned to create a user-friendly payment and access service for all drivers." The first ABB Terra fast chargers are due to be delivered in September 2013. Construction of the Fastned stations, which will have solar canopies, is expected to be completed by 2015. When finished, the Netherlands will officially be the most populous country to roll out a nationwide fast-charging network.
COLLABORATION
Any company thinking along these lines might employ BMS as consultants for when input is required. Countries most likely to benefit from the Universal Cartridge system are: South America, India and Australia, where they have abundant incoming solar radiation. Other geographical locations such as Ireland and Scotland will also benefit from their abundance of wind energy.

UNIVERSAL ENERGY CARTRIDGE: Shown here is the proposed size for a Universal energy cartridge. The cartridge may contain many types of energy storage medium: batteries and fuels cells being the most likely, though hybrid forms are also to be considered. The internal volume is approximately 0.145m2 or 8 cubic feet. The difficult part is getting the motor manufacturers to agree these basic dimensions. Failing which, to take the decision from them with directives.

THE DEVONSHIRE PROJECT EUROSTATION: Shown here is a Bluebird™ 3.6 - 7.68MW solar assisted service station containing 96 cartridges on a continuous charge cycle. Five of these stations (38.4MW) can recharge (refuel) up to 10 cars a minute. Next time you visit your BP or Tesco fuel pump, count the number of cars leaving the station in a minute. You will find that an electric forecourt holds the potential to be quicker. During rush hour, 300 cars might be serviced in one hour. During an eight hour day 2,400 cars might be serviced more conveniently than plug in curb-side charging and we start every morning with 96 slow charged cartridges from off-peak supplies. The same forecourt might be used to service fuel-cell cars powered by liquid hydrogen. One size fits all. The secret is to KISS the design (keep it simple silly). There are only 28* moving parts in this station, not including the gearbox for the solar powered drive motor. This is possible because the cars load the cartridges themselves. Learn more about this concept.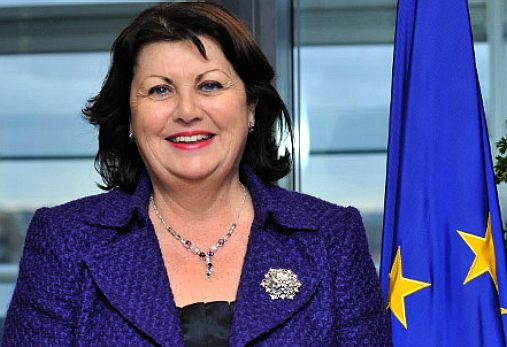 Máire Geoghegan-Quinn: "I am a politician, I am not a civil servant. I am into action, we've done enough talking, the time is now for action." That is the message she imparted to her fellow MEPs. The commissioner for research, innovation and science, was once tipped to be a prime minister of Ireland, spent the past 13 years in the political wilderness. In 1997, she stepped down from Irish politics. Her appointment to the European Court of Auditors in 2001 kept her out of the limelight until now. Not even during the two recent referendums on the Lisbon treaty held in Ireland was her opinion registered. But she is now back with a bang. Bagging what appears to be a good portfolio in the European Commission, given the €50 billion budget it commands and the fact that innovation is a centre-piece of the EU's job-creation plans.
Geoghegan-Quinn began her political career by winning her father's seat in the national parliament, following his death in office. She subsequently held a number of ministerial positions, and even ran for leader of the Fianna Fáil party, dropping out the day of the election when it was clear she would lose. A few years after withdrawing her candidacy, she withdrew herself from politics altogether, and became a member of the board of the Ganley Group, among other positions. Two years later she was appointed to the European Court of Auditors. Geoghegan-Quinn was also the Justice Minister of Ireland where she did some good pushing through considerable law reform legislation, including decriminalizing male homosexuality. She may be controversial, but she gets the job done.
ENERGY GENERATING-DISTRIBUTION UTILITIES
ECOSTAR LINKS A-Z
COMPETITION: BETTER PLACE - TESLA
COMPETITON: SUZUKI ALTO & NISSAN LEAF
MECHANICS, SUSPENSION, STEERING, BRAKES
SERVICES STATION INFRASTRUCTURE
SLEP - SOUTH EAST LOCAL ENTERPRISE PARTNERS

SMART CITIES - EUROPE

Today, nearly 70% of the EU population lives in urban areas, and the figure is likely to increase over the next few decades. Cities are main centres for all economic, social and cultural activities in Europe and create around 80% of the EU's gross domestic product. According to the European Commission, urban areas consume 70% of energy, and account for 75% of the EU's greenhouse gas emissions, thus, making cities the place where most energy savings could be made. Cities have an important role to play in achieving national and European green-growth strategies, such as the EU's 20-20-20 targets notably through innovation in energy, transport and Information and Communications Technology (ICT).

According to a recent European Parliament policy study "Mapping Smart Cities in the EU" (January 2014), the core idea of Smart Cities is to better connect human capital, social capital and ICT infrastructures in order to generate greater and more sustainable economic development and a better quality of life for citizens. The concept of Smart Cities calls for intelligent approaches to local economy, mobility and environment by focusing on people's needs and interests. Over the past few years, projects and programmes have multiplied at local, national and European level and some lessons can already be drawn from past experiences.

Building on the Smart Cities and Communities Initiative, launched in 2011, the European Commission has committed to supporting EU cities in the development and implementation of the Smart Cities strategy through the European Innovation Partnership on Smart Cities and Communities (EIP-SCC). The Partnership consists of the High Level Group and the Smart Cities Stakeholder Platform, which aim to implement a Strategic Action Plan and to promote SmartCity concepts on a wider scale.

In the long-term, every city should provide improved and smarter public services that are more citizen-centred, economically viable and environmentally sustainable. New investments are being made in research and new technologies, and institutions are also paying renewed attention to integrated smart city solutions across Europe. Experts and policy-makers recognise the need for strong partnerships between cities, industry and citizens to improve urban life through more sustainable and integrated solutions.

This special international symposium will assess the challenges that lie ahead in creating smarter cities and moving towards improved and sustainable public services for citizens. The symposium will explore the need for flexible partnerships between public and private sectors as well as diverse industries such as telecommunication, energy providers, manufacturers, and suppliers to ensure improvements in mobility, energy consumption, governance and social cohesion in European cities.
PPE CONTACTS
Unit N0001, Westminster Business Square,
1-45 Durham Street,
London, SE11 5JH
United Kingdom
Martina Cicakova
Tel: +44 (0) 845 606 1535
Fax: +44 (0) 845 606 1539
Email: martina.cicakova@publicpolicyexchange.co.uk

OECD STUDY ESTIMATES HEALTH IMPACTS OF AIR POLLUTION - 22 May 2014

The OECD estimated the impacts of air pollution caused by road transport on people's health.

The OECD, the Organisation of Economic Development and Cooperation, having as members 34 advanced economies, amongst which also the majority of EU countries, published a report estimating the costs of air pollution on health. The report focuses on air pollution caused by road transport and defines the costs in terms of human lives as well as economic costs of the health impacts of air pollution.

According to the study, outdoor air pollution kills more than 3.5 million people a year globally, far more than was previously estimated. Air pollution has been linked to a number of common diseases, such as cancer, heart diseases and respiratory problems. In most OECD countries, the death toll from heart and lung diseases caused by air pollution is much higher than the one from traffic accidents. Air pollution in OECD countries has fallen in recent years, helped by tighter emission controls on vehicles, but it has increased in China and India due to the increasing number of vehicles in the two booming economies.

The OECD has estimated the cost of air pollution on health in OECD countries (including deaths and illness) at about USD 1.7 trillion (€1.2 trillion) in 2010. Evidence suggests that road transport is likely responsible for about 50% of this cost.

The OECD has also suggested a number of recommendations in its study for reducing the impacts of road transport on air pollution.
Some main recommendations include:

* Maintain and tighten regulatory regimes, in particular, vehicle standards regimes such as those currently in place in the European Union (see Polis article).
* Make test-cycle emissions more similar to the emissions the vehicles cause under normal use.
* Invest in more ambitious mitigation programmes, including improved public transport.
* Continue the research on the economic value of morbidity impacts of air pollution and on the specific evidence linking it to road transport.
* Mitigate the impact of air pollution on vulnerable groups, such as the young and the old.

Polis is holding an Expert forum at the 2014 Transport Publics event in Paris on 10 June
22 May 2014

As part of the promotion Committee of the Transports Publics – The European Mobility exhibition 2014 edition, Polis is actively involved and will be organizing a debate of experts on the 10th of June in Paris on the theme "Towards a multimodal management of mobility in cities".

Transports Publics, the European mobility exhibition, will be held in Paris from the 10th to the 12th of June 2014. The event is the biennial exhibition for all the key players in public transport and sustainable mobility from across Europe – featuring urban, interurban and regional transport, as well as green modes of transport. Targeting 10,000 participants over three days, the event is the opportunity to discuss latest innovations.

The series of Expert Forums is one of the two platforms in which debates will take place during the exhibition. The general programme will see over 9 debates and over 15 Expert Forums during the three day event. The Experts' Forum is a dedicated space for professional debate. Located at the heart of the Exhibition, it's open to all visitors, and allows for organizers to highlight their latest innovation or know-how, organise a talk on a topical issue. All the debates are transmitted in English and French.

Cleo Davies: cdavies@polisnetwork.eu
PROGRAMME
TUESDAY, 10 JUNE

9am - 11.30am

Golden Bus award trial

10am - 11.30am

11.30am - 12.30am

Public Transport Innovation Awards ceremony

2pm - 3pm

3pm

Official opening of the Exhibition

2.30pm - 3.30pm

3.30pm - 4.30pm

4pm - 5.30pm

4.30pm - 5.30pm

WEDNESDAY, 11 JUNE

8.30am - 12am

Golden Bus award trial

9.30am - 10.30am

10am - 11.30am

10.30am - 11.30am

11.30am - 12.30am

11.30am - 12.30am

Talent in Mobility awards ceremony Official event

12.30am - 1.30pm

1.30pm - 2.30pm

2pm - 3.30pm

2.30pm - 3.30pm

3.30pm - 4.30pm

4pm - 5pm

4.30pm - 5.30pm

5.30pm - 6.30pm

Golden Bus Award ceremony

THURSDAY, 12 JUNE

9am - 5.30pm

Bus driving experience

10am - 11am

10.30am - 11.30am

11.30am - 1pm

1.30pm -5.30pm

2pm - 5pm

Debate
2.30pm - Innovation booster

3.15pm - What about employment consequences?

4pm - International point of view

TECHNOLOGY IMPROVING SOLAR AND FUEL BATTERY SYSTEMS

Created by Tadakatsu Ishiga on Feb 3, 2014
NineSigma, representing a multi-billion dollar electrical manufacturer, is seeking technical information regarding enhancements and improvements for Solar and Fuel Cell battery systems, by providing additional benefits in conjunction with photovoltaic (PV) panels and fuel cells (FC).
The deadline to submit Proposal Briefs for NineSigma RFI# 70389, "Technology Improving for Solar and Fuel Battery Systems" is Monday, February 24, 2014. Please let Mr Ishiga know if you are interested in responding but cannot provide a proposal by this date. This reminder does not represent a complete description of the project.
A full description, associated documents, and discussion forum can be found on the RFI page of our NineSights community, accessible online at:
http://www.ninesights.com/docs/DOC-10035
If you are interested in submitting a proposal or would like more information, you may post questions or comments online, or you may contact Mr Ishiga by email. When you submit a proposal, please use the response template downloaded from the link below:
Login to preview the full Request. To open the full Request specifications as a PDF, use the Download links below. Click here for the NineSigma: Response template
To view all NineSigma RFIs as well as other needs from their clients, join NineSights - the NineSigma Open Innovation Community at http://www.ninesights.com/
Response template 70389

Organization: A Multi-billion Dollar Electronics Manufacturer

Request Type: Standard

Industry: Electronics / Semiconductors / Sensors

Technical Area: Analytics & Testing

Collaboration Type: Joint Development, Technology Licensing, Consulting

Deadline Date: 02/24/2014

NineSigma Manager: T. Ishiga Email: PHD2@ninesigma.com
See more at: http://www.ninesights.com/docs/DOC-10035?campaign

http://www.ninesights.com/docs/DOC-10025

CONTACTS
T. Ishiga
Program Manager
NineSigma, Inc.
23611 Chagrin Blvd., Ste. 320
Cleveland, Ohio 44122-5540
PHD2@ninesigma.com

Blog: http://www.ninesigma.com/blog

LINKS
http://en.wikipedia.org/wiki/Recharging_station
http://en.wikipedia.org/wiki/Government_incentives_for_plug-in_electric_vehicles
Government_incentives_for_plug-in_electric_vehicles
http://www.fastned.nl/
http://www.abb.com/cawp/seitp202/cb72975a39041ceec1257ba20027759e.aspx
Netherlands-build-worlds-largest-network-ev-fast-charging-stations
ABB-to-build-worlds-largest-network-of-electric-vehicle-fast-charging-stations-in-the-netherlands
http://ecofriend.org/
http://futuristicnews.com/category/future-transportation/
http://psipunk.com/autonomous-battery-charging-station-replaces-batteries-for-quick-charge/
http://horizon2020projects.com/sc-transport-interviews/storing-energy-in-horizon-2020/
http://horizon2020projects.com/sc-transport-interviews/powering-the-future/
http://ec.europa.eu/transport/themes/research/horizon2020_en.htm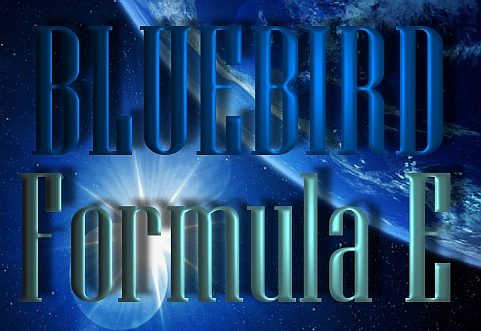 The patent Bluebird™ instant energy transfer system - in its ultimate form, promises EV refueling in around 10 seconds, whether hydrogen or lithium based energy storage is used. Get your free developer License from Bluebird Marine Systems Ltd, or let us know if you might like to form a consortium to take this valuable research further.