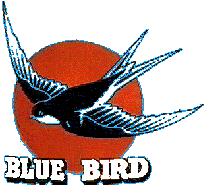 Harry Vincent set up as a confectioner near Birmingham in the West Midlands of England in the 1898. He had the ambition to build a factory which would not only be very beautiful but also a pleasant place to work - a common experience shared for example by the Cadbury family who built on green fields not far away at Bourneville, and the Fry's who built their chocolate factory near Bristol. Harry Vincent realised his ambition in 1927 when his factory was built.
Until this time his toffee was called Harvino, but when Harry came across Maeterlink's play 'The Blue Bird of Happiness' he renamed the product Blue Bird.' That same play also inspired us and Malcolm Campbell.
The factory is in Romsley (although the address used on tins actually identifies the district it is in called Hunnington), two miles south of Halesowen and about ten miles west of Birmingham. However Bluebird left the site in October 1998, and the company has now moved to Hull as part of 'Needlers'.
The site is occupied (April 1999) by a company called 'Tiny Tots Limited' but still retains the strong Bluebird identify, as the pictures show. Nowadays though, the modern Bluebird company rarely uses tins, except for special occasions, eg an embossed chest featuring the original factory was produced in 1995 to commemorate their centenary.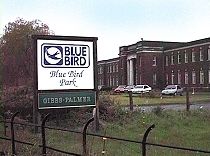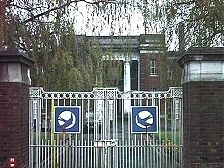 The Blue Bird toffee factory sign and gates
Bluebird used a huge range of designs, often over 20 in a typical 1950s year, the number of designs reduced in later years. Many themes were covered, eg places 'Hyde Park', 'Ludlow Castle', 'Sorrento'; Christmas designs, often featuring Santa Claus bringing presents to a sleeping child; 'kiddies tins', which are small tub-shaped tins, with designs that included merry-go-rounds, children or animals dancing around the tin, beach scenes etc. This tub shape was used through to the end of the 1970s, by which time designs included kings and queens of England, rockets, hang glider flight.

In the 1970s photographic images were used, eg for 'Football' issued in 1972-4. An Ian Logan house-shaped tin 'House of Horrors' was used in 1981 and around the same time some glitzy, gilt caskets were issued, with red felt finish.
Blue Bird tins found today range from the small gift size (3 ½ oz) up to the large display tins. Many feature the swallow motif, which was used on the side of the small tins and on the interior lid of the display tins. The smaller tins often included the slogan 'Take the home sweet home', which was used from the 1920s through to the 1950s. It is rare to find a Harvino tin (from pre 1927) and the Blue Bird tins typically found at car boot sales or collectors fairs are usually from 1950s or later.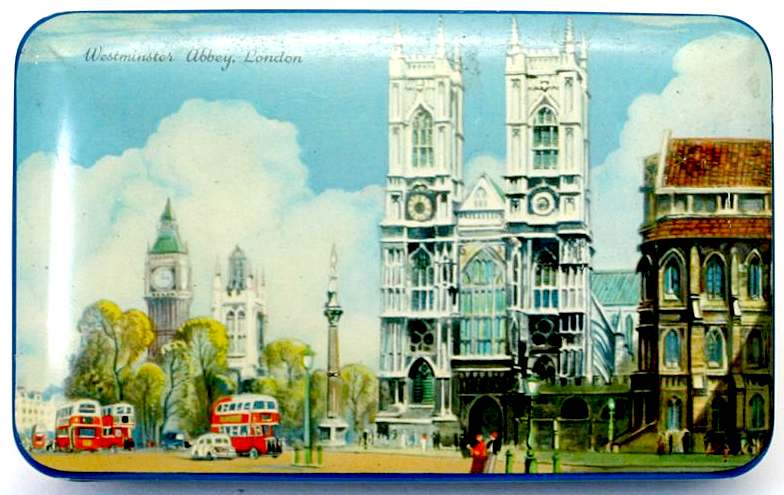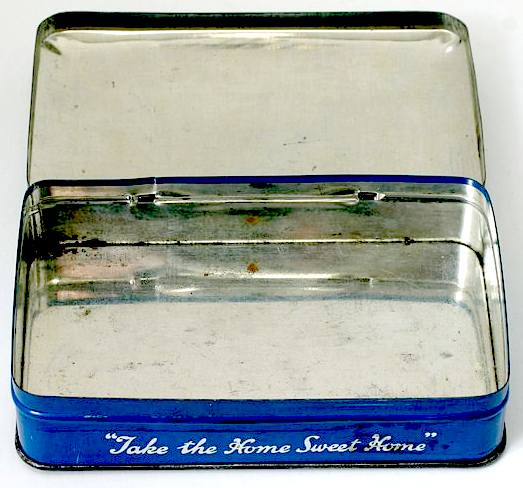 A typical Blue Bird toffee tin lid and inside
GUIDE TO DATING TINS
If the address on the tin includes 'West Midlands' it is 1974 or later. If instead it ends 'Halesowen B62 0EN' it is early 1970s (as postcodes were introduced around then). If the address ends 'Hunnington, Worcestershire' then it is 1950s or 60s. If the address ends 'Hunnington near Birmingham' it is 1930s - 1950s. Some of the older tins are rectangular-shaped, but with the corners cut off - leaving an eight sided tin with relatively sharp corners. By the 1960s the tins were simpler - four-sided with rounded corners - and had slip lids. The older tins sometimes had hinges.
As well as tins, other Blue Bird items which may be found include promotional offers (eg a round tray with the swallow motif and glasses) and toffee hammers.
If you want to know more about the Bluebird company and its tins click here.

This looks like the oldest Bluebird tin we have and dates (we think) from around the 1920's. It's in very good condition and the 'Egyptian' motif suggestions of the design would put it around 1924-1926, when Egyptology was all the rage, both because of the Tutenkhamen discoveries, and the Empire Exhibition at Wembley which had Egypt as its theme. The interior of this tin is especially fine (toffees 4d per quarter at this time) and shows it was designed for use in shops rather than to be taken home.
Blue Bird toffee tin - Click here to see more Bluebird Toffee tins
Ashbury is a private, family company that was established in the UK in 1989 with a modern purpose built 120,000ft2 factory and warehouse.
As a leading chocolate and toffee pick n' mix manufacturer and the largest private label chocolate supplier in the UK, we have gained a wealth of experience in both the UK and 38 other countries.
Highly automated machinery produces million's of chocolates a day in a variety of flavours; caramels, toffees, fondant cremes, truffles and jellies. A large number of packaging formats are utilised including bagging, flow wrapping, cartons, tin filling, inline twistwrap and bunchwrap.
A luxury indulgent style chocolate line and packing facility has allowed Ashbury and our customers to be innovative and to deliver excellent quality to exceed premium brand values at the top end of the mass market.
Ashbury Confectionery Ltd., stopped producing the famous toffee for which the original company became famous, but has reintroduced the Needler brand.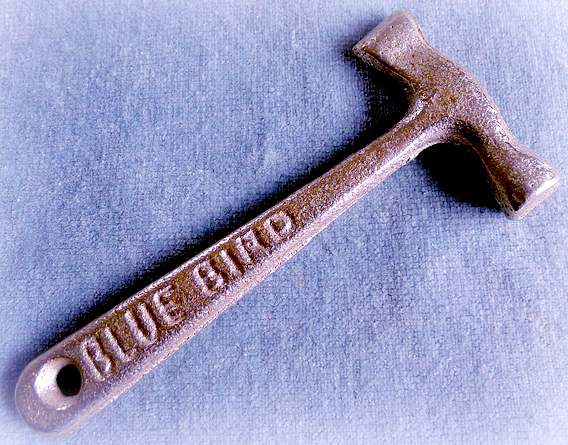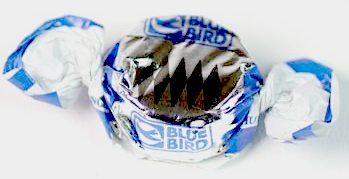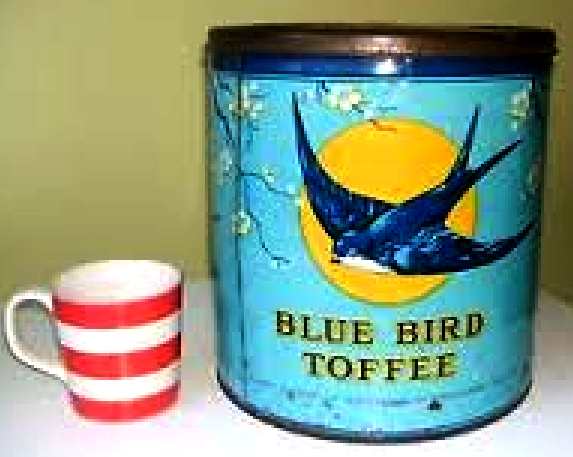 FEBRUARY 2013
Ashbury manufacturers chocolates and toffees for supermarket own-brands and also produces its own-brands: Needler's and Blue Bird.

David Zulman, chairman and CEO of Ashbury, is quoted as saying: "Traditionally it was always a private label version of a branded product, but now retailers are looking to innovative products." Innovative is anything that is "not just copying a major brand" and could include capitalizing on seasonal events such as Christmas, Valentine's Day or Easter, he said. Asked if private label was still suffering a low-quality image problem, Zulman said: "In the last 10 years the market has developed quality substantially to change that perception."

Zulman said that private label chocolate was harder to sell than other supermarket branded products such as ready meals because of the dominance of Cadbury maker Mondelez International, Nestlé and Mars. However, he added that retailers had begun to demand higher quality.
JANUARY 2009
Ashbury Chocolates, which produces Gordon Ramsay's Just Desserts range, said it has made the move in a bid to prevent redundancies and to match production levels.

Letters are due to be given to staff over the next couple of days outlining what hours they will be offered.

It is anticipated the announcement will affect about 100 shopfloor workers at first, but eventually about 185 across the whole business might be affected.

Chief executive Andrew Johnson said: "We have done this to try to prevent redundancies. The reception from staff has been fairly positive and the questions they have asked have been logical and valued."

He said that traditionally this was a quiet time of year for the industry, which was also feeling the effects of a slump in the UK market, but added that the company hoped to secure more export orders after it attends an exhibition in Cologne soon.

One employee, who did not want to be named, said: "This came as quite a shock although everybody knew something was coming.

"At the moment I don't know how much work I will get or how much I will get paid."

Last year Ashbury entered administration after running into financial difficulties. It changed its name from Ashbury Confectionery to Ashbury Chocolates and continued trading under its new name.

Meanwhile, talks have continued between RS Components bosses and Corby MP Phil Hope after this week's shock announcement by RS.

Mr Hope said: "I met USDAW union representatives and the managing director at RS and it is clear this is going to be a very difficult time.

"The company is having a meeting with all the local organisations including the Jobcentre Plus, the Learning and Skills Council and Corby Council and I was quite reassured by the in-house service there. The managing director also gave me assurances that RS is here to stay. It's still the town's biggest employer and they want to be ready to take on more workers when the recession is over."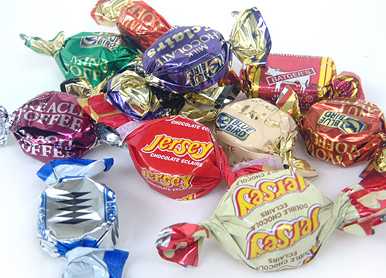 APRIL 2005

Ashbury Confectionery, the UK's largest manufacturer of private label chocolate confectionery, is relaunching its Needlers brand for the independent and convenience channels.

The relaunch includes a new logo, new pack designs and new product.

According to Ashbury managing director, David Zulman, the company is keen to maximise the potential of the Needlers brand, acquired in 2002.

New products include Picked 'n Mixed, a 150g bag range comprising Caramels, Mints, Toffees, Fudges, Eclairs and Chocolate Cremes (rrp is £1.19 per bag) and 150g filled chocolate bars in Caramel, Mint Crème, Orange Crème and Turkish Delight variants (rrp is 99p per bar).

Ashbury is also introducing three new bagged products under the Needlers brand: Toffee Twists, assorted toffees in two flavours; Full o'Fruits, fruit-centred bon bons and Milky Splitz, a white and milk chocolate coated toffee treat. Rrp is £1.19 per 150g bag.

In addition to own label products, which the company supplies to retailers including Tesco, Sainsbury's, Asda and Waitrose, Ashbury has recently won the licence to supply the Duchy Originals brand. It already produces the Gordon Ramsay range of boxed chocolates.
PRODUCTS
Jersey Double Chocolate Éclair | Jersey Éclair | Blue Bird Liquorice Toffee Rolls | Blue Bird Mint Toffee Blue Bird Dairy Toffee | Bluebird Nut Toffee | Blue Bird Treacle Toffee | Blue Bird Rum & Butter Toffee | Blue Bird Liquorice Toffee
Ashbury Confectionery Ltd
Darwin Road
Willowbrook Industrial Estate
Corby
Northamptonshire
NN17 5XZ
United Kingdom
Tel: +44 1536 401229
Fax: +44 1536 401176
For UK sales, Email: sales@ashbury.co.uk
For non-UK sales, Email: export@ashbury.co.uk
LINKS & REFERENCE
https://www.cadbury.co.uk/
http://www.marsbar.co.uk/
http://www.nestle.co.uk/
http://www.tesco.com/
http://www.asda.com/
http://www.talkingretail.com/category-news/supermarket/ashbury-relaunches-needlers-brand/
http://www.northantstelegraph.co.uk/news/top-stories/corby-chocolate-firm-set-to-cut-hours-1-725333
https://opencorporates.com/companies/gb/03429285
Ashbury-Chocolates-chief-spells-out-trends-in-private-label-chocolate
http://www.ashbury.co.uk/
http://en.wikipedia.org/wiki/Blue_Bird_Toffee

The Blueplanet BE3 was inspired by engineer Reid Railton and his designs for the Napier Lion and Rolls Royce engined Blue Bird LSR cars from the 1930s, the BE3 features instant battery recharging using the patent Bluebird™ cartridge exchange system under license from BMS. This LSR is also solar assisted. She is designed for speeds in excess of 350mph using clean electricity. Imagine the spectacle of running this car at classic venues such as Bonneville, Daytona and Pendine.