The design concept was certainly simple. Take a jet engine - run drive shafts out of each end to the front and rear axles and build a steel frame to house the engine driver and wheels. Well, that's how it started. But hundreds of drawings later and £1,000,000 spent, the vehicle sported an aluminium honeycomb chassis, with huge wheels all covered in a voluptuous ally body.

5 miles to go chaps - pushing the jet Bluebird to base
In fact, the shape (aerodynamics) of the cn7 was very similar to John Cobb's Mobil Railton Special which almost acheived 400 mph using petrol engines and no tail fin - dare we say John Cobb's car inspired Donald Campbell and Ken and Louis Norris, the designers of the cn7 = campbell/norris 7.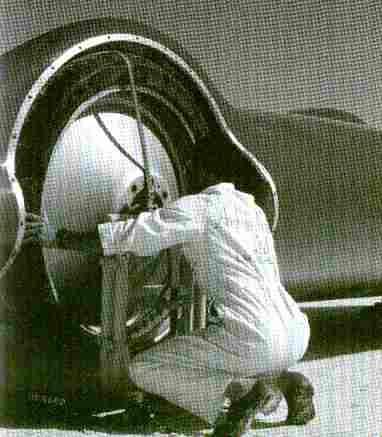 Getting things in proportion - cn7's wheels
Not long after topping John Cobbs 390mph + record, the Summers brothers raised the record above that of the cn7 using 4 petrol engines, comparatively smaller wheels and budget, in Goldenrod. But no-one can deny the spectacle of the cn7, perhaps only eclipsed by Richard Noble's Thrust SSC charging across the desert sands.