BLUEBIRD K4 - K7 and CN7
Donald Malcolm Campbell was born on March 23, 1921 in Horley, Surrey. He was a British car and motorboat driver who broke many speed records. Campbell was the son of Sir Malcolm Campbell. Following his father's career, he strove to set speed records on land and water.
Donald inherited Sir Malcolm's taste for adventure, plus of course a Bluebird boat to start him on the trail to a LSR and WSR career, purchased for a nominal fee, after Sir Malcolm passed away in 1948. The K4 was converted from propeller drive to jet engine, but Major Halford from de Havilland was disinclined to to see Donald use it because of his inexperience. Accordingly, he asked for it to be returned. Hence Vospers were asked to convert it back to propeller drive, which pleased Leo Villa. All that remained was to fit the Rolls Royce engine, then on 10th August, Donald made four runs and later in the week experienced a scary moment or two but nevertheless did not let up.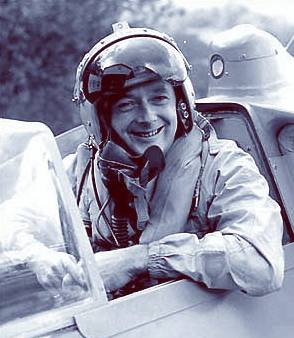 Donald Campbell
Reid Railton brought it to the attention of the team that Stanley Sayers boat used a special propeller that enabled the boat to lift out of the water - a prop rider. Reid Railton had seen K4 in action and noticed it rise a the rear, causing the nose to point down into the water. After this Donald wanted to convert the boat to a full-blown prop rider. Lewis and Ken Norris were commissioned to do the design work. The engine was moved forward to alter the centre of gravity, and the seat was relocated on the port side. A new propeller was also specified.
During this conversion Donald was invited to enter the Oltranza Cup, an Italian event. The race took part on Lake Garda. This was four laps over a 5-mile triangular course; with the winner winning the Grand Prix for the fastest overall speed and the Oltranza cup going to the boat that set the fastest time over two consecutive laps.
The race took place on the 10th of June after being delayed due to bad weather. After failing to start the engine, they were forced to change all 24 spark plugs. Because of this they had no chance of winning the Grand Prix. They could however still win the Oltranza cup. Leo Villa accompanied Donald for a rather exciting ride. The K4 took a bit of a pounding smashing many instruments. The ride was sufficient to draw a few choice words from Leo as to Donald's performance. However they won the Oltranza cup by a convincing margin. This win did wonders for Donald's recognition for his skills as a driver. So began Donald's career in fast boats.
Donald suffered a 156Mph (250 kmh) crash in 1951 in the process destroying the K4. As a result of this crash he developed a completely new boat, the Bluebird K7. This was a jet-propelled hydroplane type with a Metropolitan-Vickers Beryl jet engine producing 4000 lbf (18 kN) of thrust. Campbell set seven world water-speed records between 1955 and 1964. The first was at Lake Ullswater on July 23, 1955, where he set a record of 203 mph (325 km/h). The series of increases peaked in December 31, 1964 at Dumbleyung Lake, Western Australia when he reached 276.33 mph.
This was to prove a formidable steed that saw him set 7 World Water-Speed records between 1955 and 1964. The first was at Lake Ullswater where he set a record of 202Mph. This was raised to 216mph at Lake Mead in 1955. Then began a sequence of record raising runs at Coniston where he attained 248mph in 1958. But to really push out the boat record wise he went to Lake Dumbleyung, Australia, where the K7 set a new world records of 276mph in 1964.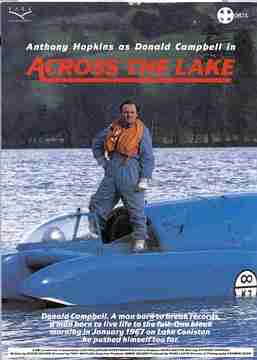 Anthony Hopkins plays Donald Campbell

On land, following a heavy crash at Bonneville with the Bluebird CN7 car in 1960, on July 17, 1964, at Lake Eyre, Australia he set a record of 403.10 mph for jet propelled four-wheeled vehicles (Class A). He became the first person to set both water and land records in the same year. But his land record was short-lived, because rule changes meant that Craig Breedlove's Spirit of America soon set new records.

Three years later, on January 4, 1967, Campbell was killed when the re-engined Bluebird K7 flipped and disintegrated at a speed in excess of 300 mph on Coniston Water in England. The cause of the crash has been variously attributed to Campbell not waiting to refuel after doing a first run of 297 mph, and hence the boat being lighter; the waves caused by his wash; and, most likely, a cut-out of the jet engine.

The wreckage of his craft and the body of Campbell were not recovered until May 28, 2001 when diver Bill Smith was inspired to look for the wreck after hearing the Marillion song "Out Of This World" (from the album Afraid of Sunlight), which was written about Campbell and the Bluebird. The body of Campbell was recovered soon after and was laid to rest in Coniston cemetery.

Donald's career spanned 18 years and finally end in tragedy on Lake Coniston, where he was trying to best his own record to drum up sponsor interest. This tragedy was later made into a film to commemorate the great man starring Anthony Hopkins as Donald Campbell, named 'Across the Lake'. Unfortunately for many enthusiastic about the BBC docudrama, the film is not on general release - although we receive regular enquiries about it. Between them, Donald and his father had set eleven speed records on water and ten on land. Gina Campbell, Donald's daughter, also flipped a water speed boat before setting the record as fastest woman on water and calling a halt.

COURAGE & DETERMINATION

Donald Campbell was the last of this bloodline to challenge and take the outright Land and Water speed records. It takes a special kind of man to look at the world of speed and take on the two most difficult records head on. He didn't consider anything less than the world records, setting that as his goals and not deviating. These were his own projects. He didn't showboat for any other sideshows where he was not the driving force, for that would have lessened his own achievements.

Part of his secret was staying with a good design partnership and playing with a straight bat in his business dealings, even where sponsorship was tight. It would be fair to say that without Ken Norris (the brothers) and their wonderful designs, and Leo Villa the practical engineer, Donald may not have achieved all that he did. Solid teamwork.

HISTORY

Date and Place of Birth: 23rd March 1921, Povey Cross, Horley, Surrey, England.

Family Background: Son of Sir Malcolm Campbell, Land speed record holder.

Education: School at Horsham, then St. Peter's School, Seaford then to Uppingham Public School, Rutland. (The same as his father).

Chronology:

1924: Birth of his sister Jean.

1930's: His first job was as a junior office boy with Alexander Howden and Company, insurance brokers in London.

1939-45: During the period of the Second World War he was turned down as a fighter pilot because of contracting Rheumatic fever when he was younger. Not wanting to join the R.A.F. in a non-flying capacity, he worked for two civilian firms. One making defence equipment for airfields and another making aircraft spares.

1951: Suffered a 170 m.p.h. crash in the boat K4.

1955: 23rd July Ullswater, Cumbria, England. Donald Campbell was the first to complete an officially timed run in a jet-propelled hydroplane (K7) of 202.32 m.p.h.

1960: Crashed in Utah, USA after attempting the land speed record from which he had to spend a long convalescent period.

1964: July 17th: Achieved 403.1 m.p.h. in a jet propelled car at Lake Eyre Salt Flats in Australia. December 31st: Set a water speed record of 276.33 at Durnbleyung Lake in Australia. Thus becoming the only man to achieve land and water speed records in the same year.

1967: (4th January) Achieved a run of 297 m.p.h. on his first leg at Coniston Water, Cumbria and was travelling at over 300 m.p.h. on the return leg when his boat Bluebird flipped over backwards and he crashed to his death. Many theories were advanced as to why he had started too quickly on his return leg but it is clear that the waves on the lake unsettled the boat. Ideas that he had committed suicide were quickly discounted by his family.

(2001): A Diving team from Northumberland finally retrieved Bluebird and later the remains of Donald Campbell so that he could be given a proper burial.

Speed Records:

LAND: July 1964: Lake Eyre, Australia. (403.1 m.p.h.)

WATER:

July 1955: Ullswater, Cumbria. (202.32 m.p.h.)

November 1955: Lake Mead, U.S.A. (216.2 m.p.h.)

September 1956: Coniston Water, Cumbria. (225.63 m.p.h.)

November 1957: Coniston Water, Cumbria. (239.07 m.p.h.)

November 1958: Coniston Water, Cumbria. (248.62 m.p.h.)

May 1959: Coniston Water, Cumbria. (260.33 m.p.h.)

December 1964: Lake Dumbleyung, Australia (276.33 m.p.h.)


Marriage:

1. 1945 to Daphne Harvey, Caxton Hall Registry Office, London under special Licence as Daphne's parents

had forbidden Donald to marry her.
2. To Dorothy McKegg.
3. 24th December 1958 to Tonia Bern, Caxton Hall, Registry Office, London.

Places of Interest:

CUMBRIA:

Coniston Water.
Ruskin Museum, Coniston.

HAMPSHIRE:

National Motor Museum, Beaulieu.

Date and Place of Death:

4th January 1967, Died in accident during a speed record attempt in Bluebird on Coniston Water, Cumbria, England whilst exceeding 300 m.p.h.

Age at Death 45.

Site of Grave:

Bluebird boat and body found and retrieved in May 2001. Remains finally buried in St. Andrew's Church, Coniston, Cumbria, 12th September 2001. Memorial in Coniston, Cumbria, England.

LINKS

Steve Hogarth's account of the raising of the Bluebird