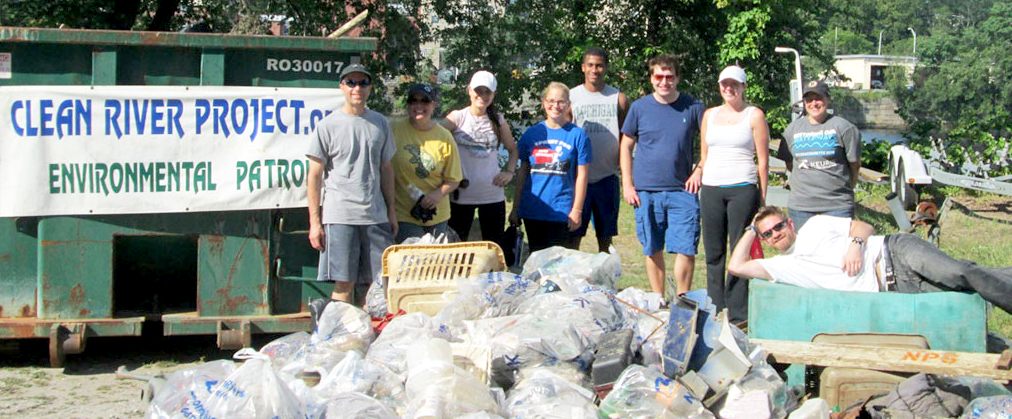 MASSACHUSETTS - Keurg river cleanup project, Massachusetts. Original photos by Lowell George.

It is now practically a national pastime. The USA leads the way with river cleanup projects that are clearly making a big difference to local ecology and river enjoyment. While engaging in local projects, the cumulative effect is to make the rivers exiting into the Atlantic, Gulf of Mexico and Pacific ocean that much cleaner.
What is also clear from a review of just a few projects chosen at random for review, is that without thousands of volunteers it just could not happen. The State could not afford the cleanup bill if there were not so many enthusiastic people willing to give their time on a free basis to do this valuable community work. Sorry we could not mention everyone, but we do think there should be a national register of these projects for other countries to see exactly what it takes to make a difference.
The cost in fuel is the telling issue. To be able to do much of this work, diesel and petrol is being burned creating noxious fumes that add to acid oceans and climate change. Now imagine a vessel that is powered by energy from nature. Imagine also, that very few people have to give up their time for this boat to operate very effectively. At the moment (March 2016) it is just a dream for a small group of enthusiasts in Sussex, England, but with help from enough people who care, it could become a reality in the US and around the world. See SeaVax at the foot of this page, and meantime, give yourselves a huge round of applause for inspiring others to think of ways to solve the never ending task of monitoring our river and oceans.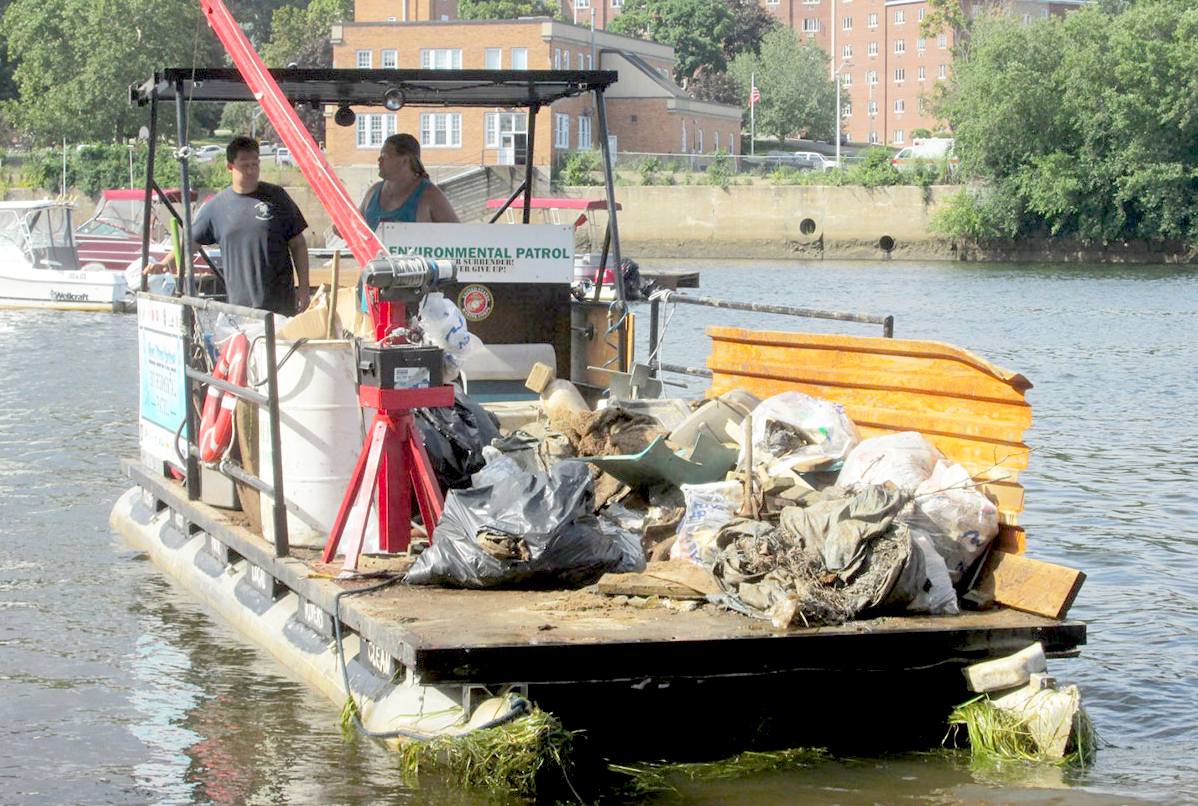 MASSACHUSETTS - River Merrimack, Haverhill river cleaning volunteers.
LAWRENCE & LILLIAN SOLOMON FOUNDATION

Captain Tom McNichol began clearing the Charles River Basin of floating trash back in 2004 – and with the help of dozens of volunteers, he has kept the river clean ever since. The Solomon Foundation supplied him with a specialized boat and equipment for this purpose.
On frequent trips up and down the Charles River, Tom McNichol noticed that he was seeing the same trash over and over. Rafts of trash would pile up at bridge abutments and other obstructions and remain for days. He realized that it might be possible to clean the 8-mile river of trash. In 2004, he bought a boat, established a website asking for volunteers, and proceeded to clean the river. The Solomon Foundation later pitched in to buy his second boat – the boat now in use – named the Lisa S.

Today, Tom McNichol and the volunteers manage to keep the Charles River free of trash from Watertown Dam to the Zakim Bridge. The total cost is about $50,000 per year. Most of that cost is for fuel, insurance, and maintenance. Considering the impact a clean Charles River has on the beauty of Boston, it is hard to imagine that there is $50,000 better spent anywhere in the Boston park system. A great example of one committed person leveraging the power of volunteers to produce enormous results, totally out of proportion to the relatively small amount of money spent.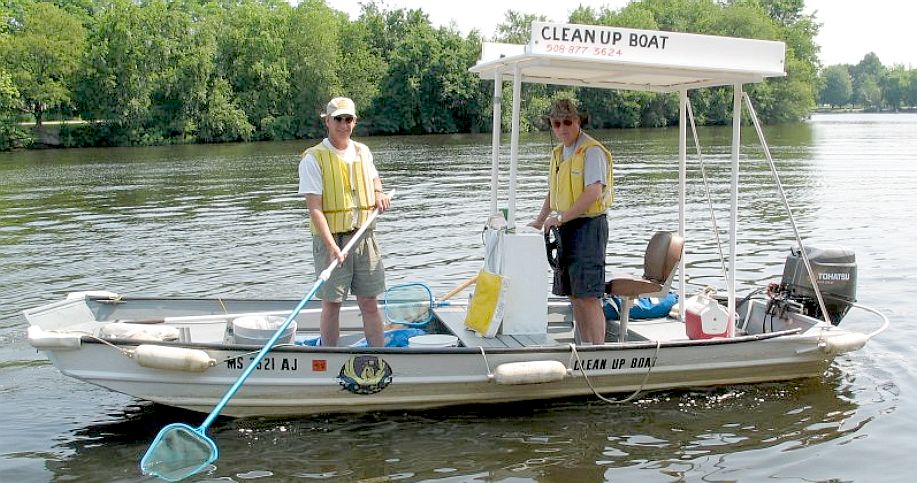 CHARLES RIVER - Tom McNichol captains the clean up boat that keeps the river so pristine. He actively patrols the river basin on top of his fund raising campaign. Well done Tom.
Ten years ago, when parts of the river were still covered with a six-inch-thick carpet of trash, the idea that one man could make a dent in it seemed foolish.

"It was a remarkable idea that he came up with," says James Healy, who has worked for Boston Duck Tours for almost 20 years. "It was something that was really needed. A lot of volunteer organizations would clean up the parks and riverbanks, and no one was out there cleaning up the river. For one man he has made one big difference."

The Charles River Clean Up Boat is part of a larger cleanup effort that began in the 1960s when the 1966 pop song "Dirty Water" immortalized the Charles River's murky problem: The river was polluted. It was not uncommon to see scores of dead fish or strange-colored water (think pink), making swimming unwise (and illegal).

McNichol also approached the Massachusetts Department of Conservation and Recreation. He figured that being short-staffed and having a large workload the state agency wouldn't be able to help financially, but it might be able to haul away the trash. McNichol and the department worked out a system whereby McNichol drops off bags of trash at specific locations and the department disposes of them.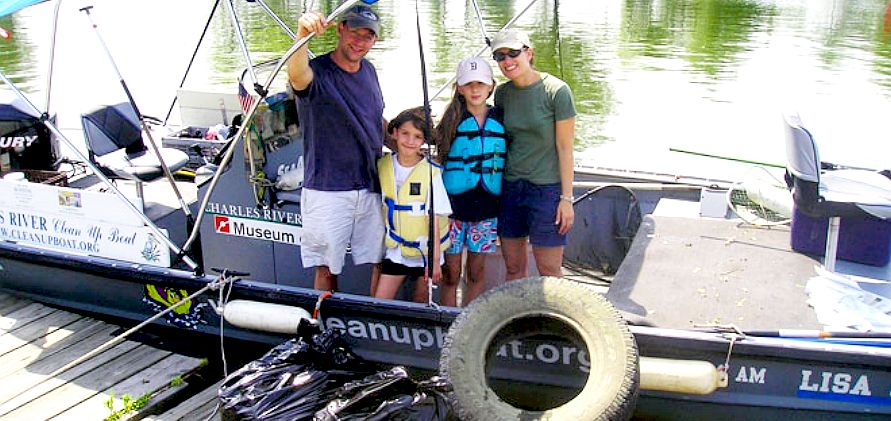 SOLOMON FOUNDATION - River Charles cleanup boat project, supported by the Solomon Foundation.
When McNichol started, trash was everywhere. Now, his boat can cruise for miles without seeing so much as a candy wrapper. On a recent autumn day it took 30 minutes before someone spotted the first piece of trash in the river: a fleece rowing jacket. "This is the way we want the river to be," McNichol says.

He knows to look at a few key bends in the river where trash can collect. A good day means finding less than two bags' worth of trash, he says, something that now happens 85 percent of the time. In the early years, his boat would come back packed with garbage bags.

It takes about $50,000 a year to keep the boat running: He must pay his captains, buy fuel, winterize and store the boat, and keep it maintained. McNichol's fundraising consists of calling around and asking people for donations until he gets what he needs. He's the first to admit it is his least favorite part of the gig.

He puts in as many as 500 hours of work on the boat each year – a quarter of what someone might put in at a "real" job. But McNichol is quick to point out that he gets a lot of help:

"This doesn't happen because of Tom. There are hundreds of volunteers each year – and people who support this effort financially," he says. "All these people want it to happen. Not everyone has the time or the desire to do the footwork. My job is to make it happen."
OCT 7 2015 - AMERICAN RIVERS BLOG

The commitment and energy of these volunteers, and this attitude is not unique to the Merrimack cleanup. Keurig employees turn out in large numbers, over multiple days, in cities and towns across the country to show their dedication to clean rivers. A couple of weeks before, nearly 200 volunteers in Vermont came out over the span of a week to clean up 2,880 pounds of trash and 2,380 pounds of metal. They hauled 105 tires (and an ATM) from the banks and depths of the Winooski River.
Earlier in the summer, volunteers in Knoxville, TN; Windsor, VA; Sumner, WA; and Castroville, CA participated in similar events. Over the course of these six events, 460 volunteers picked up nearly 10,000 pounds of trash.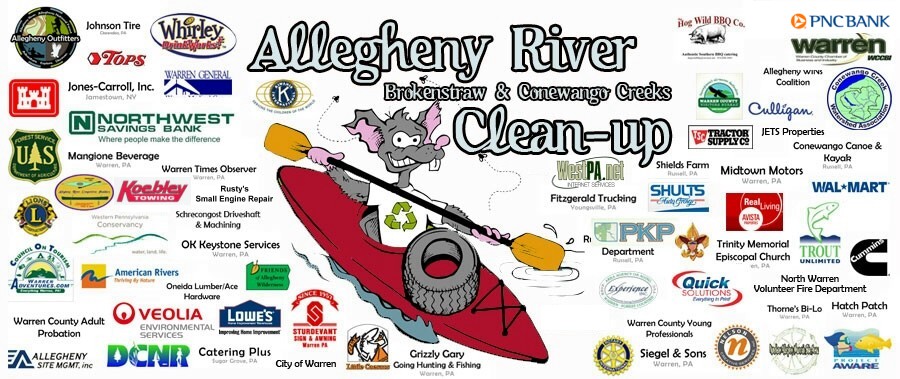 ALLEGHENY RIVER - A great river an creek cleanup campaign poster.
GRAND JUNCTION, COLORADO RIVER CLEANUP AUGUST 2015, KJCT8 NEWS

The 2015 Colorado River Summer Cleanup took place on Saturday with over volunteers giving there time to scour the banks of the Colorado River in search of trash, or junk.

volunteers split into three groups to maximize their range along the river, with many people bringing their own water craft.

Among their finds was an old motorcycle carelessly dumped into the river. In the 2014 river cleanup the team found a hot tub dumped into the river from the Redlands Parkway bridge.

The cleanup was organized by the Western Association To Enjoy Rivers or W.A.T.E.R



CANOES - Boats like this need more people power to clean a river and they cannot handle big items, but they do no pollute the atmosphere with anything other than human emissions.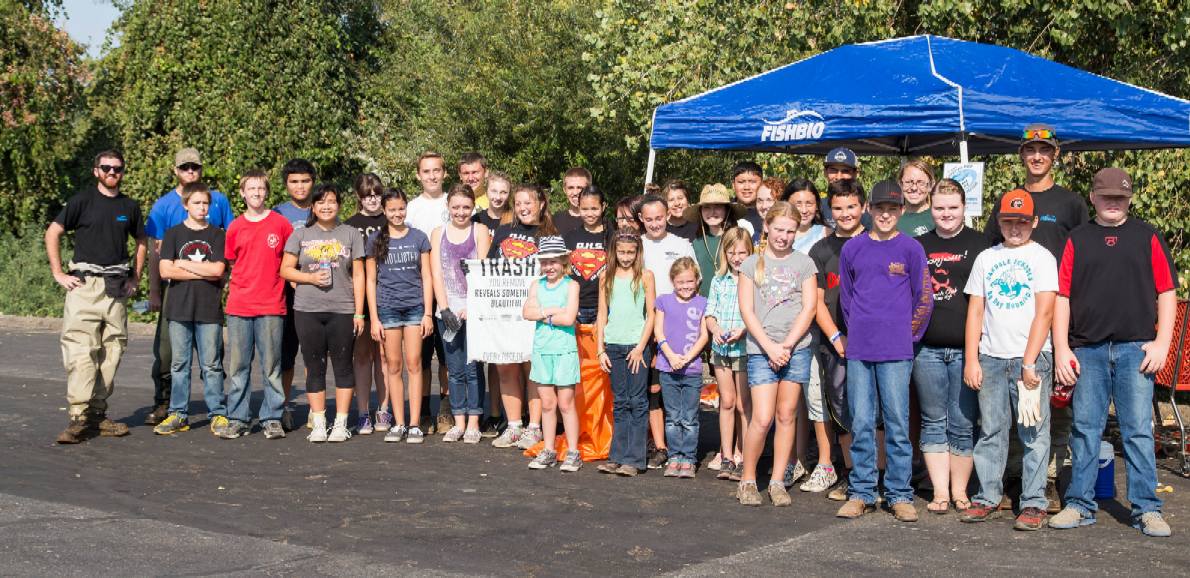 NATIONAL PRIDE - Rivers Feather and Stanislaus cleanup volunteers, what a turnout
FISHBIO - STANISLAUS RIVER CLEANUP - OCTOBER 2014

On Saturday, September 20, FISHBIO joined various volunteer organizations in a number of our local rivers and streams to take part in the Great Sierra River Cleanup. The event was coordinated by the Sierra Nevada Conservancy and is held in conjunction with California Coastal Cleanup Day. In total, an estimated 4,614 volunteers turned out to clean 158 sites, and removed over 111,000 pounds of trash. The event hopes to inspire communities to take responsibility for their local watersheds by seeing firsthand the impact one day's worth of cleanup can make.

Three members from our Oakdale field staff took part in the event at the Highway 120 Bridge river access point on the Stanislaus River. Other volunteers at this site consisted of groups from Sierra 4-H, the Oakdale High School Service Club, East Stanislaus Resource Conservation District (RCD), and several volunteers from the city of Oakdale. Our contingent was responsible for removing close to 2,000 pounds of waste and recyclables, including a bowling ball, a stack of vinyl records, a kiddie pool, and several shopping carts. The East Stan RCD also coordinated events at two other locations along the Stanislaus River. Among the three locations, 132 volunteers participated in clearing refuse from nearly six miles of river.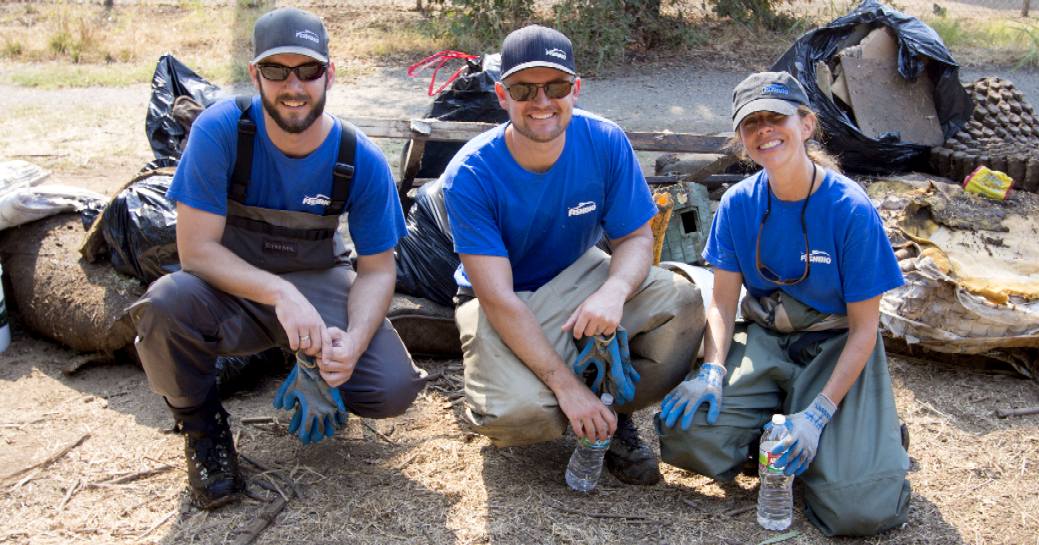 FISHBIO - Volunteers clean the Comanche Creek. Watch where you put those plastic bottles gang. Single use water and soda-pop bottles are some of the major contributors to ocean pollution. Great though they are for convenience, be responsible when disposing of them - like these volunteers. Many river cleaners re-use their polyethylene terephthalate (PET) bottles.
Bottles made of PET can be "recycled" to reuse the material of which they are made so reducing the amount of waste going into landfills. PET is semiporous and absorbs molecules of the food or beverage contained, and the residue is difficult to remove: Heating the plastic enough for sterilization would destroy it. For these reasons most recycled bottles are used to make lower grade products.
A crew of three people from our Chico office volunteered to remove trash from a section of the Feather River, which flows through the town of Oroville. A team of three other FISHBIO employees set out to clean Comanche Creek, a small tributary to Butte Creek that meanders through the southern part of Chico. Our staff focused their attention on a street overpass where litter generally tends to accumulate, and encountered an array of items that likely were the result of numerous temporary encampments. Mattresses, shoes, and toothbrushes were common, and a small birdhouse was a unique find. All four of the removed mattresses were floating in the creek, waterlogged and weighing over 500 pounds each.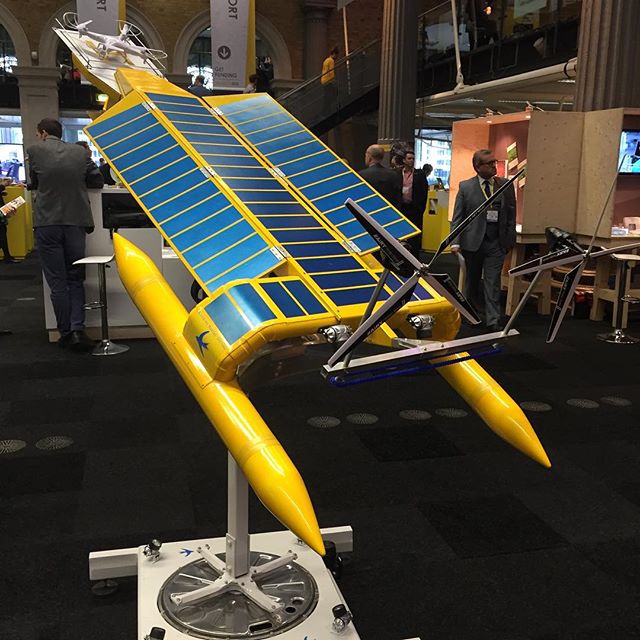 A FUTURE RIVER CLEANER - A modification of the SeaVax above could cleanse river water without adding to climate change. This clean-tech could improve social conditions in many locations around the world and help to prevent effluent discharges into our oceans.
LINKS
KJCT8 home river cleanup headlines
American rivers blog Keurig cleans up across the country
Solomon Foundation projects
Cleanup boat in the news
Allegheny river cleanup.schedule
http://www.kjct8.com/home/headlines/321146731.html
http://www.americanrivers.org/blog/keurig-cleans-up-across-the-country/
http://www.solomonfoundation.org/pages/projects/chb.html
http://cleanupboat.org/in-the-news/
http://www.alleghenyrivercleanup.com/schedule.html
ACIDIFICATION - ADRIATIC - ARCTIC - ATLANTIC - BALTIC - BAY BENGAL - BERING - CARIBBEAN - CORAL - EAST CHINA
ENGLISH CH - GOC - GULF GUINEA - GULF MEXICO - INDIAN - IOC - IRC - MEDITERRANEAN - NORTH SEA - PACIFIC - PERSIAN GULF - SEA JAPAN - STH CHINA - PLASTIC - PLANKTON - PLASTIC OCEANS - SEA LEVEL RISE - UNCLOS - UNEP - WOC - WWF
AMAZON - BURIGANGA - CITARUM - CONGO - CUYAHOGA - GANGES - IRTYSH - JORDAN - LENA - MANTANZA-RIACHUELO
MARILAO - MEKONG - MISSISSIPPI - NIGER - NILE - PARANA - PASIG - SARNO - THAMES - YANGTZE - YAMUNA - YELLOW