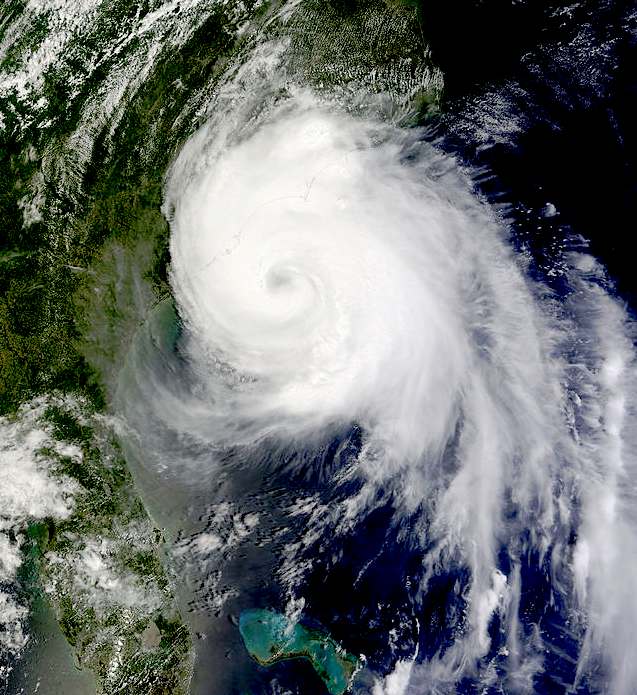 Events like these are happening around the world and the superpowers are still wasting money building giant floating coffins

AUGUST 22 2014

A low-pressure system moved over Puerto Rico on Friday and is expected to veer northeast away from the U.S. East Coast but still has an 80 percent chance of forming into a tropical storm in the next five days, the National Hurricane Center (NHC) said.

"There's a good chance that this system could develop into a (tropical) depression within the next 48 hours," said David Roberts, a Navy hurricane specialist with the NHC.

The storm is expected to lose intensity as it crosses the mountains of Hispaniola, drenching the Dominican Republic and Haiti before regaining strength over open water near the Bahamas, forecasters say.

Despite the northeast shift forecasters said it was too early to declare Florida would be bypassed.

"We have some guidance that suggests it still could affect Florida but there's less of a chance of that than the day before," said Richard Pasch, a hurricane specialist at the NHC.

"It's still something for people in the Florida peninsula to keep an eye on."

Officials in Puerto Rico welcomed the rain during a summer of dry weather that has raised the threat of water rationing in the San Juan metropolitan area, but also warned of flooding expected to begin Friday afternoon.

"We are calling on citizens to remember not to try to cross flooded areas in cars nor try to cross rivers because strong currents can produce unfortunate incidents," said State Emergency Management Agency Executive Director Miguel Rios Torres.

So far this year two hurricanes - Arthur and Bertha - have developed in the Atlantic. Only Arthur, a Category 2 storm, made landfall, swiping North Carolina's Outer Banks in early July.

Federal forecasters in early August downgraded their outlook for the 2014 Atlantic hurricane season, predicting below normal activity with seven to 12 named storms, no more than two of which are expected to reach major hurricane status.

A major hurricane is considered to be Category 3 or above with winds hitting at least 111 miles per hour (178 km per hour).

In its August outlook, the agency cited the strengthening of climate conditions as unfavorable to hurricane development, including cooler than average temperatures in the tropical Atlantic Ocean.

A typical season has 12 named storms, with six hurricanes and three reaching major Category 3 status. The hurricane season runs from June 1 to Nov. 30.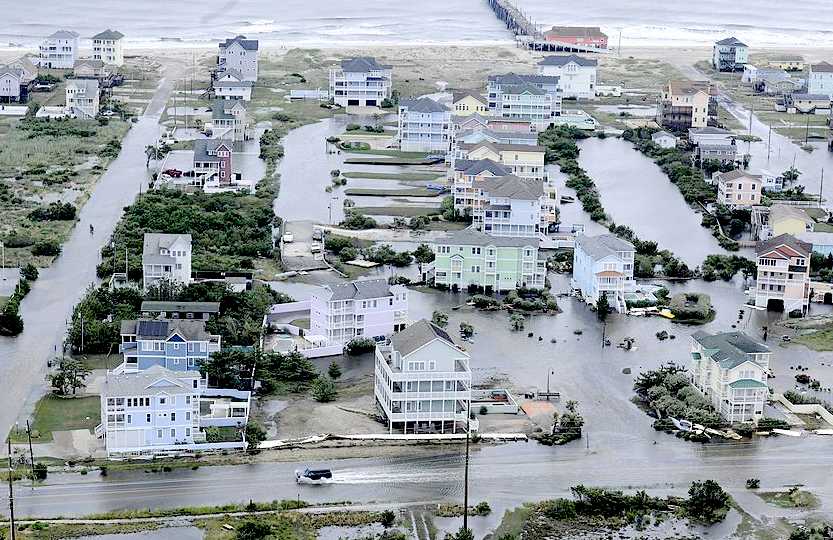 A number of these houses near the pier at Hatteras are built in such a way as to be able to weather the flooding without too much damage.
JUNE 28 2014
Hurricane Arthur became the earliest known hurricane landfall in the U.S. state of North Carolina. The first named storm of the 2014 Atlantic hurricane season, Arthur developed from an initially non-tropical area of low pressure over the Southeastern United States that emerged into the western Atlantic Ocean on June 28. After sufficiently organizing, developing a well-defined circulation and deep convection amid a favorable environment, it was classified a tropical depression on July 1. The system continued to strengthen, and was declared a tropical storm later that day. Drifting northward, the storm reached hurricane status early on July 3 and curved toward the north-northeast. Further structural organization resulted in additional intensification, and by 01:00 UTC on July 4, the system attained its peak winds of 100 mph (160 km/h) as a Category 2 hurricane on the Saffir–Simpson hurricane wind scale. Arthur made landfall at 03:15 UTC over North Carolina's Shackleford Banks, positioned between Cape Lookout and Beaufort, and intensified slightly further, with a minimum atmospheric pressure of 973 mbar (hPa; 28.73 inHg). The storm then trekked swiftly northward, weakening as it passed by Cape Cod and Nantucket before transitioning into an extratropical cyclone and coming ashore at Meteghan, Nova Scotia on July 5. The remnants continued generally northeast through Atlantic Canada and were last noted on July 7 over the Labrador Sea.

Numerous tropical cyclone warnings and watches were issued for areas along the East Coast of the United States. A state of emergency was declared for 26 North Carolina counties, and both mandatory and voluntary evacuations were imposed along the state's coast. Several hundred government personnel were deployed to assist in evacuation and preparation efforts, along with heavy equipment capable of removing sand and debris. Due to the hurricane's timing, many Independence Day activities in the U.S. were cancelled or rescheduled. Damage was limited to strewn debris and inundated roads, and though 44,000 outages were reported and widespread flooding occurred along northern sections of the coast, no deaths or serious injuries were observed. In New England, Arthur brought flash flooding and caused additional power outages, resulting in widespread road closures and suspension of ferry service.

In Atlantic Canada and Quebec, hurricane-force gusts associated Arthur's remnants produced widespread damage. Countless trees and power lines fell across the region, leaving more than 300,000 without electricity. Damage to the power grid in Nova Scotia was regarded as the worst since Hurricane Juan in 2003. Efforts to restore and repair infrastructure were prolonged, with thousands still without power 10 days after the storm. Reviews of Nova Scotia Power (NSP) and New Brunswick Power were called upon due to numerous complaints from customers and politicians alike. A communication breakdown between NSP and the public exacerbated problems and Nova Scotia Premier Stephen McNeil condemned the company's response as "inexcusable."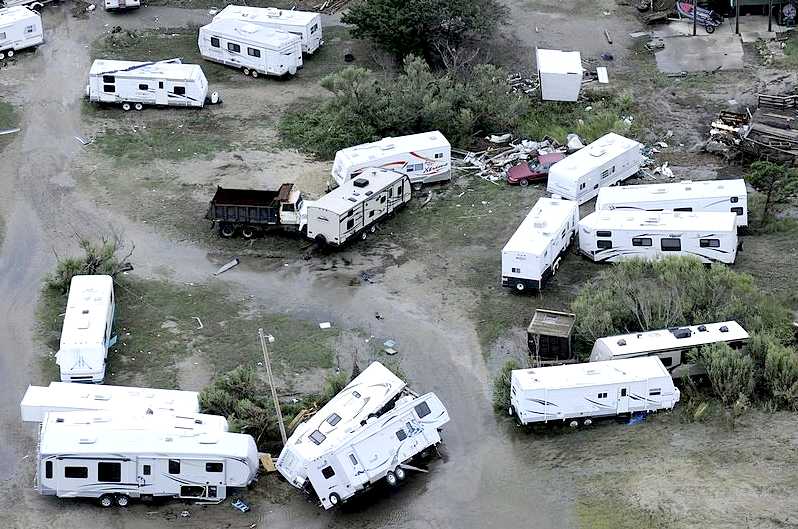 These mobile homes in North Carolina were not so lucky, being blown around like twigs
HISTORY METEOROLOGICAL
On June 25, the National Hurricane Center (NHC) began monitoring the possibility of tropical cyclogenesis over the next week as an area of low pressure was expected to develop off the Southeast United States. On June 27, a non-tropical low formed over South Carolina and moved southeast, emerging over the far western Atlantic Ocean early the next day. Generally favorable environmental conditions fostered further organization of the low, though convection remained minimal for several days. During the latter half of June 30, an United States Air Force weather reconnaissance mission into the system confirmed the presence of a well-organized circulation; however, displacement of showers and thunderstorms from its center delayed its classification. Subsequent organization of convection into a banding feature along the system's southern flank, as depicted by radar imagery, prompted the NHC to designate the low as Tropical Depression One at 03:00 UTC on July 1. Situated 105 mi (169 km) east of Cape Canaveral, Florida, the newly christened depression moved slowly westward within an area of weak steering currents. A turn northward was forecast as a mid-level ridge built over the Atlantic.

Throughout July 1, steady structural organization ensued. Around 15:00 UTC winds of 38 mph (61 km/h) were measured at Settlement Point on Grand Bahama, prompting the NHC to upgrade the depression to a tropical storm and assign it the name Arthur. Though environmental conditions surrounding the cyclone favored development, moderate wind shear and intrusions of dry air into the circulation prolonged organization. The effects of the shear showed clearly on WSR-88D radar imagery from Melbourne, Florida which depicted a mid-level eye feature displaced 30 to 35 mi (48 to 56 km) from the low-level center. By July 2, Arthur acquired a steady northward track as previously forecast. Throughout the day, convection consolidated around a developing eye as wind shear abated and the storm neared hurricane strength, with winds reaching 70 mph (110 km/h).

Early on July 3, data from hurricane hunters flying in the storm indicated that Arthur attained hurricane-status about 190 mi (310 km) south-southwest of Cape Fear, North Carolina. At this time, the hurricane began turning slightly to the north-northeast as it approached a weakness in the subtropical ridge ahead of a deep-layer trough over the Eastern United States. Continued improvement of the storm's convective structure fostered intensification as the storm neared the North Carolina coastline. At 01:00 UTC on July 4, Arthur reached its peak winds of 100 mph (160 km/h), ranking it as a Category 2 hurricane on the Saffir–Simpson hurricane wind scale. It was the first hurricane to reach such strength since Hurricane Sandy in the 2012 Atlantic hurricane season. The storm featured a well-defined 25 to 30 mi (40 to 48 km) wide eye at this time. Thereafter, the hurricane made landfall at 03:30 UTC over the Shackleford Banks of North Carolina, located between Cape Lookout and Beaufort. Slight deepening of the cyclone occurred as it moved over Pamlico Sound, with its barometric pressure bottoming out at 973 mbar (hPa; 28.73 inHg). Continuing across Pamlico Sound, Arthur's eye brushed the coastline of Dare County before striking the northern portion of the Outer Banks at 07:00 and 08:00 UTC, respectively.

After re-emerging over the Atlantic Ocean on July 4 Arthur began to weaken. Though its eye remained well-defined, winds aloft in the storm failed to effectively mix down to the surface. Traversing decreasing sea surface temperatures and amid increasing shear, Arthur began transitioning into an extratropical cyclone later that day. Cloud tops associated with the system warmed and the structure became asymmetric. Reconnaissance continued to indicate strong flight-level winds of 119 mph (192 km/h) but surface winds at the time did not exceed 80 mph (130 km/h). Accelerating ahead a the trough over the East Coast, Arthur's eye dissipated early on July 5; the storm passed within 75 mi (120 km) of Chatham, Massachusetts around 03:00 UTC. Convection became increasingly displaced to the northeast as dry air entrained into the western portions of the circulation. Surface winds decreased below hurricane-force by 09:00 UTC, and Arthur completed its conversion to an extratropical system at 12:00 UTC as it moved over the Bay of Fundy. The NHC subsequently issued its final advisory on the storm and shifted warning responsibility to the Canadian Hurricane Centre, which reported that Arthur came ashore at Meteghan at 10:30 UTC.

The remnants of Arthur re-intensified somewhat as it traversed The Maritimes; a sting jet with gusts of 65–80 mph (100–130 km/h) developed along the storm's backside. The former hurricane made an additional landfall in the region near Fundy National Park by 18:00 UTC. By July 6, the sting jet had dissipated, and steady weakening of the cyclone resumed as only a split jet provided upper-level support to the storm. Turning back to the northeast, Arthur moved through Labrador later that day, and the system was last noted on July 7 over the Labrador Sea.

FLOOD SEQUENCE FOR A BUILDING THAT IS DESIGNED TO FLOAT IN TSUNAMI LIKE CONDITIONS

Moderate flood - no dynamic effect on house, where special design has the building raised

Deep flood - still no dynamic reaction to the house

Serious flooding - begins to affect house dynamically causing lift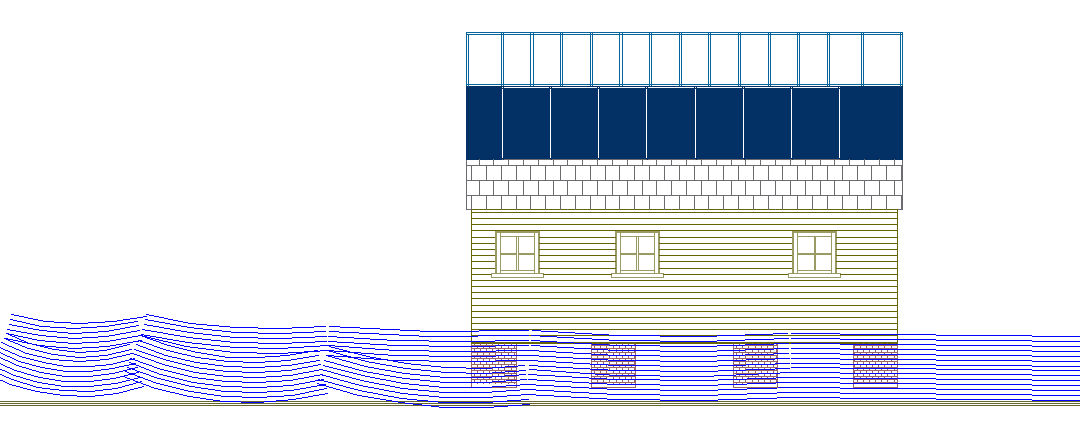 High floodwater - the house lifts off the ground and floats until the floodwater subsides. A special tethering systems absorbs shock and returns the building to its original location. The building is waterproof, so will be undamaged after the flood, with all contents kept dry and safe. If you are planning living in an area subject to seasonal storms, why even consider any other type of home.
The above designs are part of a series of conceptual studies by the Utopia Tristar group in the United Kingdom, a team of planning consultants. The architecture is based on planning consents obtained (on appeal to the Secretary of State) by group members in Sussex, England, where flat-packs construction was involved - and where such units did not require much in the way of modification by way of customizing a house or mobile home to make it float. The UK does not (at the moment) suffer from tsunamis or other giant waves, but is prone to flooding from heavy rains - mostly the result of climate chaos. The other advantage to this kind of building is that it is energy self sufficient, meaning that after a natural disaster, that the families that have such homes will have some electricity, lighting and heating independently of utility supplies. These units are also cheaper to build and are sustainable in terms of their carbon footprint. The concept is to provide a Noah's Ark for the ordinary man.


AFTERMATH

Power outages across Nova Scotia lasted for a week after the storm's passage. This prompted numerous complaints from residents and officials, both criticizing NSP for their slow response. On July 9, NSP President and CEO Bob Hanf issued a public apology for the communication breakdown between his company and customers. By July 11, 2,400 customers remained without electricity with 187 crews working to restore it. The delay in restoration prompted numerous complaints from residents and Nova Scotia Premier Stephen McNeil condemned NSP's response as "inexcusable." McNeil ordered a review of the company to be made by provincial regulators. He and Energy Minister Andrew Younger agreed that there was a total failure of communication, namely through their website, between NSP and residents. One resident in Annapolis Valley stated that the company continuously told her power would be restored soon, when it ultimately took five days for it to return. NSP stated that in the four years prior to Arthur, C$70 million had been spent on improving the electrical infrastructure; however, the storm was of a severity beyond any other since Hurricane Juan.

Similar issues occurred in New Brunswick where 18,000 customers remained without power through July 11. More than 310 crews remained deployed throughout the province with electricity expected to be fully restored by the following week. Costs to repair the power grid were estimated in excess of C$12 million (US$11.1 million). There was criticism that New Brunswick Power did not appropriately prepare for the storm and actually requested assistance from other public power companies and private contractors after the storm had struck. Two public buildings in Fredericton were utilized as recharging centers for residents to charge their phones and shower. An estimated 6,000 people took advantage of this through July 10. Shaved ice was later distributed from the Grant-Harvey Centre in the city while several waste disposal sites were opened for residents to get rid of spoiled food from power outages. Gaëtan Thomas, president and chief executive officer of NB Power, likened the effects of Arthur in the region to Hurricane Katrina along the United States Gulf Coast in August 2005. He referenced that during Katrina, 50 percent of the affected region lost power, while in the wake of Arthur 57 percent of New Brunswick was in the dark over a similar geographic area. Earlier cuts to the company's tree-trimming budget were cited as a possible cause in the scale of damage. As such, their budget for trimming in 2015 was increased from C$6 million to C$8 million.

Emergency management officials in Fredericton stated that it could be years before the city fully recovered from the storm. Power restoration in the province reached over 99 percent on July 16 with only 750 customers still out. However, a thunderstorm that evening revealed the weak nature of the power grid as outages jumped back over 4,000. The following week, Energy Minister Craig Leonard rebutted claims that a public review of NB Power was necessary, despite the longevity and severity of the power outages. New Brunswick's Liberal and Green parties both supported an independent review of the company, while Leonard claimed only an internal review was necessary.

By July 9, 11 municipalities across Quebec were declared disaster areas and made eligible for federal funding. Ten more municipalities were placed under this declaration on July 11 following further damage assessments. The Canadian Red Cross provided residents in Marsoui with food and aid. Quebec Premier Philippe Couillard allocated C$100,000 in aid for the affected areas and promised further funding.

A few weeks after the storm, a severe outbreak of fire blight, a bacterial infection, occurred in the Annapolis Valley of Nova Scotia, affecting as many as 80 percent of the Valley's apple orchards. The storm was blamed for causing microscopic cracks in leaves, which allowed airborne bacteria to enter the plants.

Meteorologists noted to improved accuracy in NOAA's Geophysical Fluid Dynamics Laboratory and Hurricane Weather Research and Forecasting models in predicting the intensity and track of Hurricane Arthur.
LINKS & REFERENCE
Marine Link storms strengthen caribbean
NY Daily News typhoon-survivors-seek-article
RT News Philippines-thousands-feared-dead
The Guardian 2013 typhoon-haiyan-dead-aid
IPO Intellectual Property Office Philippines
http://en.wikipedia.org/wiki/Hurricane_Arthur_%282014%29
http://www.marinelink.com/news/strengthen-caribbean375576.aspx
http://www.gov.ph/
http://www.ipophil.gov.ph/
http://www.lonelyplanet.com/philippines
http://en.wikipedia.org/wiki/Philippines
http://www.nydailynews.com/news/world/typhoon-survivors-seek-article-1.1512313
http://rt.com/news/philippines-thousands-feared-dead-489/
http://www.theguardian.com/world/2013/nov/10/typhoon-haiyan-dead-aid
http://en.wikipedia.org/wiki/Typhoon_Haiyan_%282013%29

ATMOSPHERE | EARTHQUAKES | FLOODS | FORECASTING | HURRICANES | STORMS | TORNADOES |
TSUNAMI | TYPHOONS | WATER CYCLE | VOLCANOES