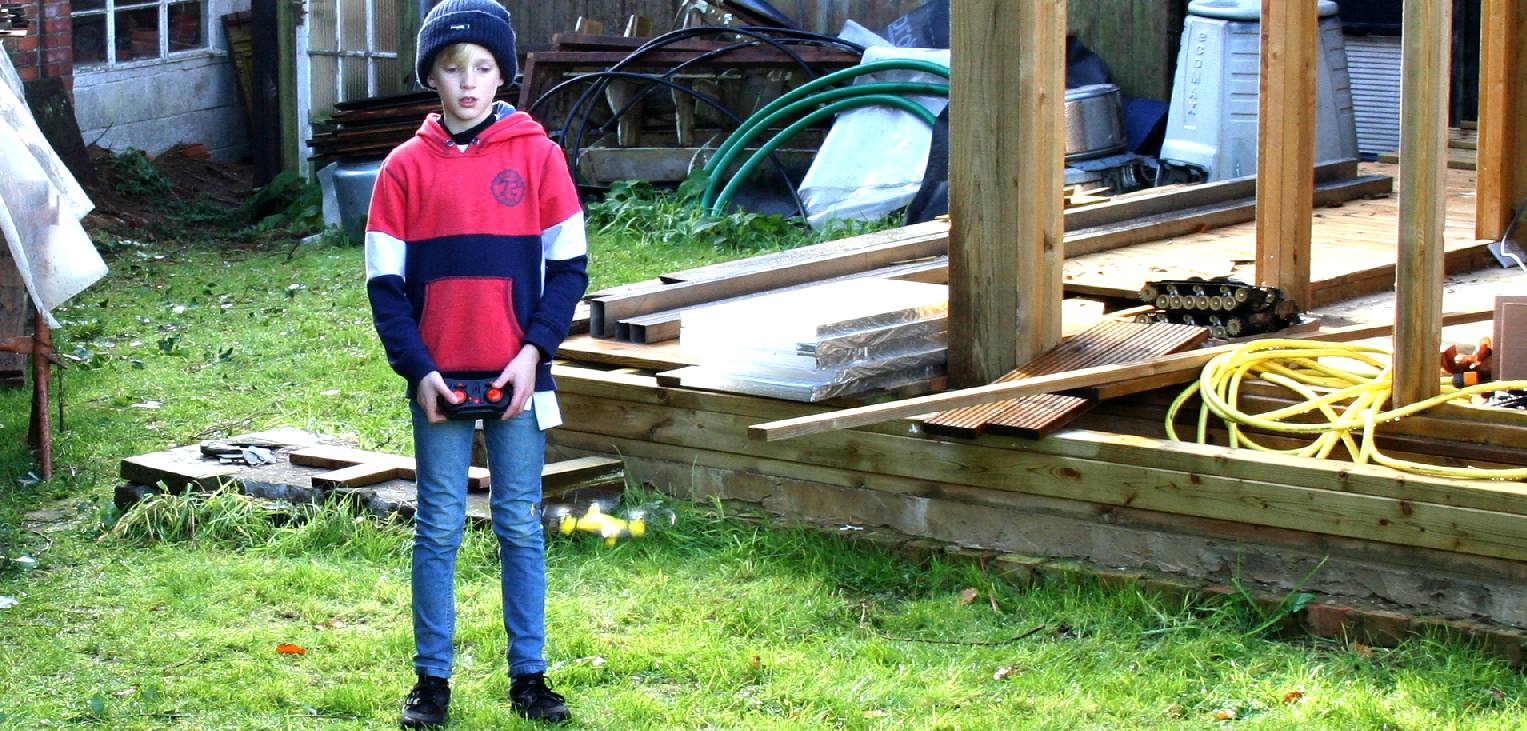 MINIMAX - Ryan is seen here learning to fly a drone quad-copter. The SeaVax carries a drone for anti-piracy patrols and to investigate plastic accumulations and jellyfish blooms. Copyright photograph November 19 2017, all rights reserved. You will need the permission of Bluebird Marine Systems Ltd to reproduce this picture.
This page is supplemental to Ryan's MiniMax project, being all about the scale model drone that accompanies his amphibious portable boat launching dockyard.
Flying this inexpensive unit will improve the skills that Ryan will need to drive and launch his MiniMax and maybe even the AmphiMax model at 1/20th scale.

SEAVAX - The development team did some basic tests with the SeaVax, taking off and landing on the small helipad at the back of the ocean cleaning craft. You can see from these pictures that floats were taped to the Syma quadcopter drone, just in case the aircraft slips overboard during wet trials. The Syma is an affordable battery powered unit that is ideal to learn on.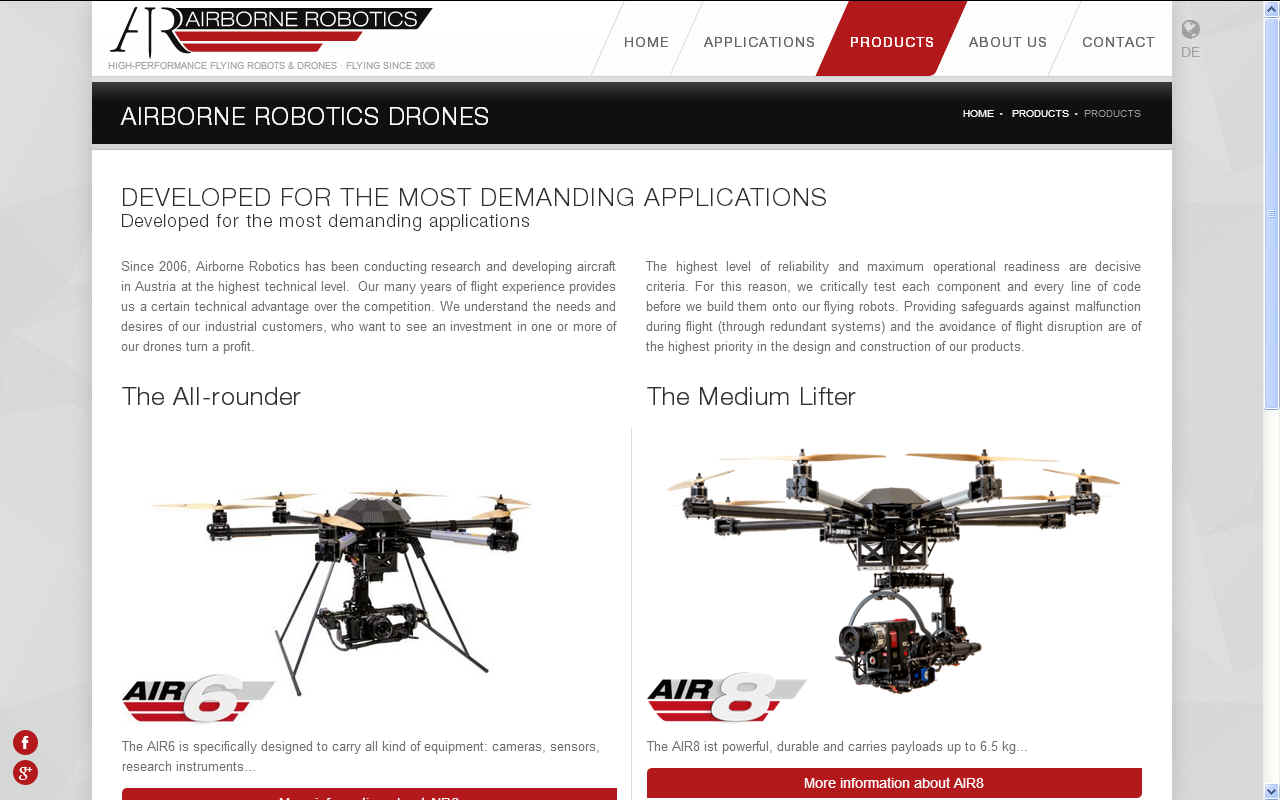 AIRBORNE ROBOTICS - Airborne Robotics has been conducting research and developing aircraft in Austria since 2006. Target customers for their products and services are surveyors (for LiDAR / LaserScan applications) as well as agriculture & forestry companies, professional film producers, photographers with heavy SLR systems, industrial customers and universities / research institutes who need to transport various measuring instruments or high-resolution thermal imaging cameras.

The AIR8 flight system is an eight-motor drone - with 4 or 8 arms - that can be specially tailored to customers' requirements. The recommended additional cargo weight (camera or instrument weight) is 6.5 kg (14.33 lbs). Flight time is quoted as 60 minutes with a battery swap in 30 seconds. This is quite a step up from the drones that Ryan will be piloting in the coming months and a sign of things to come.
CONTACT - AIRBORNE ROBOTICS GmbH, Pharmaziegasse 5, 9020 Klagenfurt am Wörthersee, Austria. Tel: +43 463 273155 Email: info@airborne-robotics.com
In learning to fly a quadcopter Ryan learned a great many things. These included:
1. That care must be taken when flying in a relatively small area.
2. That model aircraft respond quickly to pilot error and crash.
3. That the flying time is short compared to the charging time.
4. How difficult it is to land a basic model on a small pad.
5, To read the instructions carefully.
6. Not to leave a lithium battery discharged.
7. How much model aircraft technology has improved in recent years.
8. How a propeller works to pull an aircraft into the sky.
9. How gusts of wind can upset your flight plans
10. To store models in a dry place that is not too hot.
JULY 3 2014 - PEACEKEEPING MISSION AFRICA - GOMA, Democratic Republic of Congo — The call came after 8 in the evening, from peacekeepers posted in a remote corner of the country's restive east. The troops sensed suspicious movement nearby. Venturing out into the forest at that hour was far too risky. Would ground control send a drone to have a look?

From here, a remotely piloted aircraft set off, its owl eyes designed to peer through the darkness and send back a live picture of what was happening on the ground. In a windowless trailer at the airport here in Goma, pilots steered it past a row of volcanoes toward the jungle.

In an age of ubiquitous surveillance, even rebels in the bush can expect to be tracked, as United Nations troops cautiously deploy a tool familiar to most modern militaries around the world: the drone.

The United Nations insists on calling the aircraft unarmed, unmanned aerial vehicles, the term drone having acquired a bad reputation because of the armed versions that American forces use against targets in Pakistan and elsewhere. United Nations officials insist that they do not plan to use drones to kill anyone, only to get a picture of trouble and grief on the ground, to protect civilians and their own troops.
ARDUINO - ARM HOLDINGS - BEAGLEBOARD - MBED - PCBS - PICAXE - RASPBERRY PI
ANTICS - ARDUINO - ARMOUR - ARTWORK - BIOLOGY - BLACK BOX - COMPUTERS - ELECTRONICS - ENERGY - FRAME - HEAD - JAWS - JIMMY WATSON - KITS - LEGS - MECHANICS - MOTORS - MOVIE - PHOTOGRAPHY - RASPBERRY Pi - R/C DRONE - SENTRY - SOFTWARE - SOUND PROOFING - SPEED - SUSPENSION - TAIL - WEAPONS - WARGAMING
DINOSAURS - DOLPHINS - HUMANOIDS - RAYS - SHARKS - WHALES