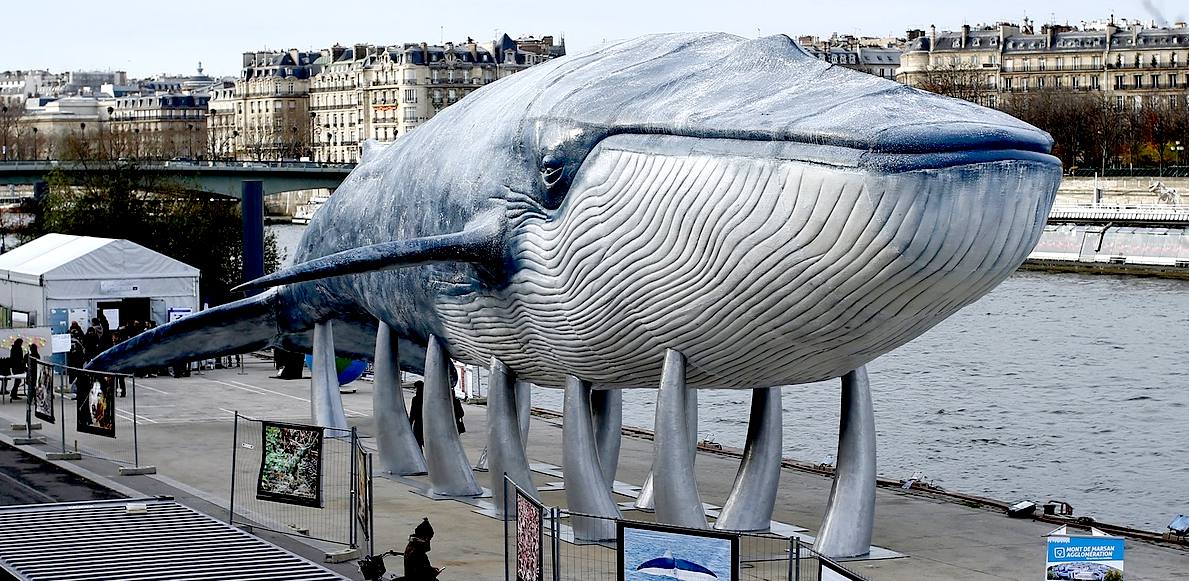 GIANT SCULPTURE - Not a humpback whale, but magnificent nevertheless - on display in Paris on the banks of the River Seine for the climate talks in December 2015, this is the giant metal sculpture of 'Bluebelle,' a whale caught in the South Atlantic Ocean in 1912.
PARIS DECEMBER 7 2014
A life-size installation of a giant blue whale has been erected on the Left Bank of the Seine, intended as a reminder to negotiators at the international climate conference here that the fate of threatened species is also in their hands.

For the teams that built the 110-foot metal sculpture in the image of Bluebelle, as the great beast was named when caught a century ago, the message has also become a timely protest. On Dec. 1, as world leaders gathered here to address the climate conference, Japan's whaling fleet set sail for its annual hunting season in the Antarctic.

"People who care about whales have come to us saying, 'Have you heard the terrible news from Japan?' " said Pierre Douay, a wildlife photographer and one of the organizers of the blue whale installation.

Japan is not the only country to ignore public pleas and international conventions by continuing the centuries-old practice of killing whales; Iceland and Norway are among others. But critics say Japan is the only nation that labels its commercial hunt as "research." And this month, when a factory ship and three fast harpoon vessels left Japan on their way to the Antarctic, the Japanese ignored a ban on this activity issued by the International Court of Justice, the United Nations court in The Hague.

Commercial whaling has been banned since 1986, but the International Whaling Commission made an exception for whale hunting for scientific research. However, in a case brought by Australia, the international court ruled in 2014 that, while Japan had killed thousands of whales since 1987 in the name of research, its program had produced little science and was therefore illegal under international law.
CONTACT THE IWC
International Whaling Commission
The Red House, 135 Station Road,
Impington, Cambridge, CB24 9NP, UK.

Tel: +44 (0) 1223 233 971 Fax: +44 (0) 1223 232 876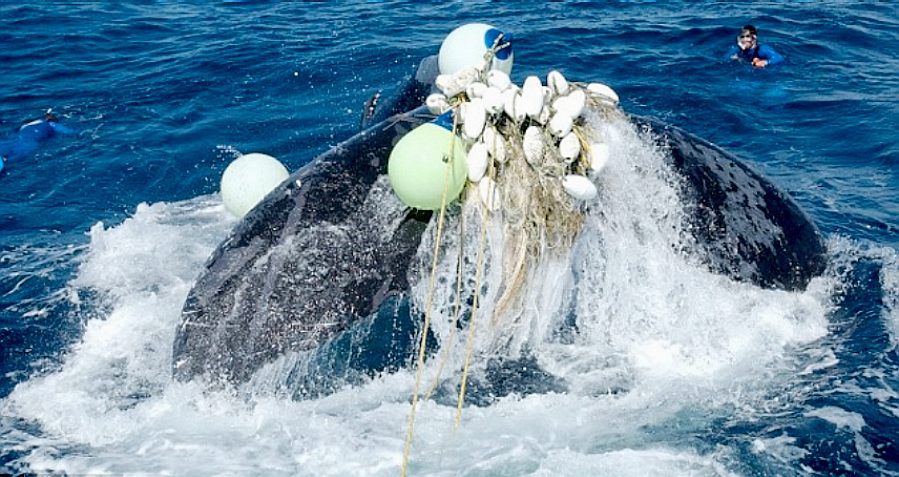 FISHING NETS - A 10-metre humpback whale tangled in a shark net off Main Beach on the Gold Coast. A Sea World rescue team, along with the DPI Boating and Fisheries Patrol, spent three hours cutting the sub adult female whale free from shark nets in rough seas. Another whale was freed from the nets today.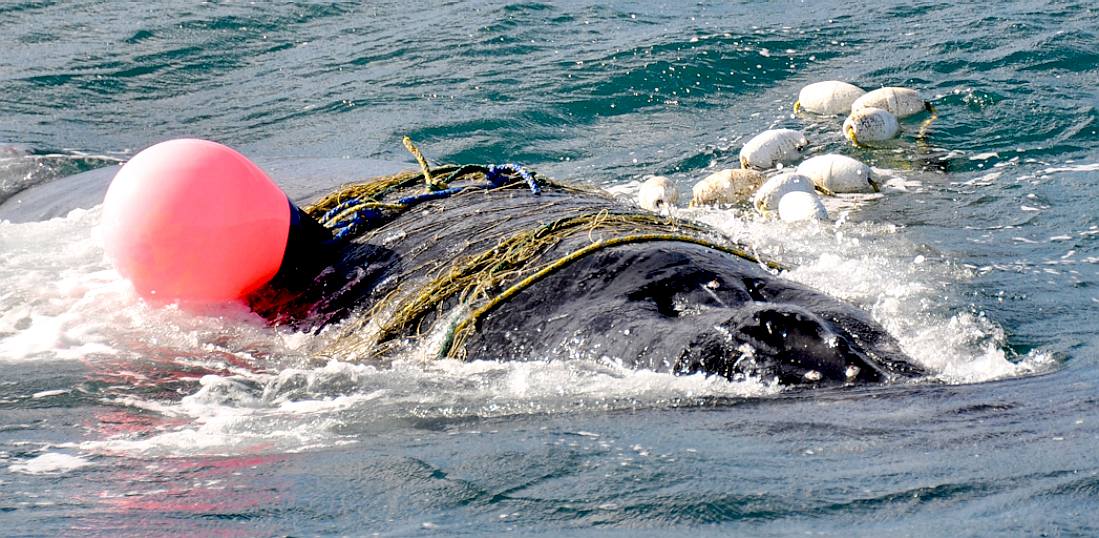 FISHING NETS - How would you like this tied around you neck when you are swimming in the sea gasping for breath.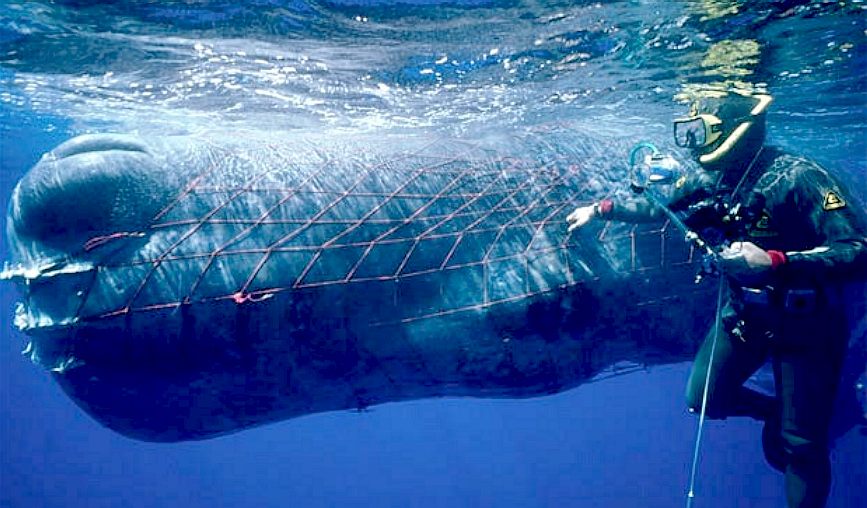 FISHING NETS - All species of whales are liable to get tangled in fishing nets, including this sperm whale. In this picture a daring diver is working to free the crippled animal, a baby Moby-Dick.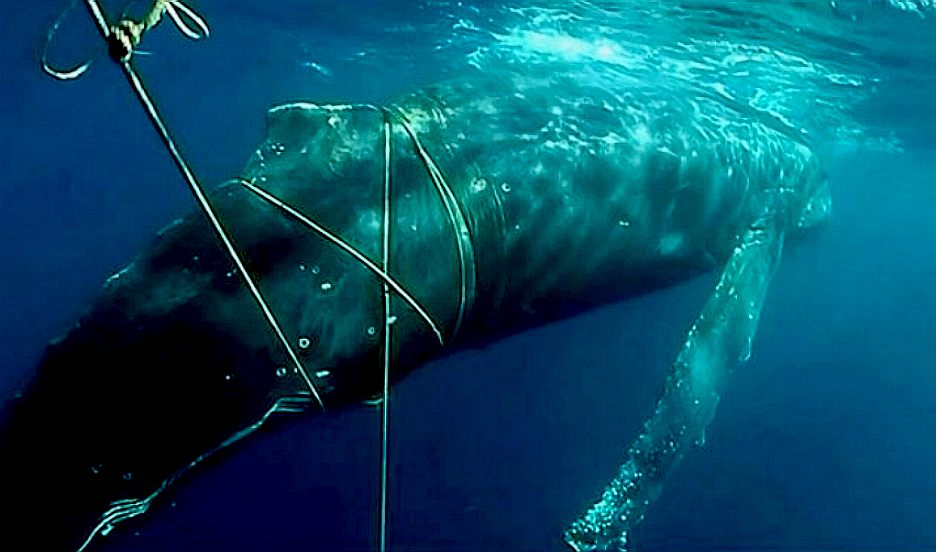 FISHING NETS - Whales routinely get caught up in fishing and lines that man has put into the ocean, without any penalty for endangering marine life.
FISHING NETS - Ref: SF Chronicle on Thursday, Dec 14, 2005, a female humpback whale who had become entangled in a spider web of crab traps and lines. She was weighted down by hundreds of pounds of traps that caused her to struggle to stay afloat. She also had hundreds of yards of line rope wrapped around her body, her tail, her torso and a line in her mouth. A fisherman spotted her just east of the Farralone Islands (outside the Golden Gate) and radioed an environmental group for help.

Within a few hours, the rescue team arrived and determined that she was so badly off that they must act immediately. The only way to save her was to dive in and untangle her, a very dangerous proposition. Just one slap of the tail could kill a rescuer. They worked for hours with curved knives and eventually she was freed.

When she was free, the divers say she swam in what seemed like joyous circles. She then came back to each and every diver, one at a time, and nudged them, pushed them gently around, she was thanking them.. Some said it was the most incredibly beautiful experience of their lives. The guy who cut the rope out of her mouth says her eyes were following him the whole time, and he will never be the same."
UN BANS JAPAN FROM ANTARCTIC WHALING - MARCH 2014
The UN's International Court of Justice (ICJ) has ruled that the Japanese government must halt its whaling program in the Antarctic. It finally agreed with Australia, which had presented the case in May 2010. Australia's case claimed that the Japanese whaling program was not for scientific research as claimed by Tokyo, arguing that the program was commercial whaling in disguise. A score of other countries have condemned Japan for the practice, yet it took 4 years for UN's ICJ to pass its verdict.

The court's decision is considered legally binding. Reading out the verdict, Presiding Judge Peter Tomka said the court had decided, by 12 votes to four, that Japan should withdraw all permits and licenses for whaling in the Antarctic and refrain from issuing any new ones. It said Japan had caught some 3,600 Minke whales since its current program began in 2005, but the scientific output was limited. Japan said it would abide by the decision but added it "regrets and is deeply disappointed by the decision". Japan had argued that the suit brought by Australia was an attempt to impose its cultural norms on Japan. Japan signed up to a moratorium on whaling in 1986, but continued whaling in the north and south Pacific under provisions that allowed for scientific research. Norway and Iceland still reject the provision and continued commercial whaling.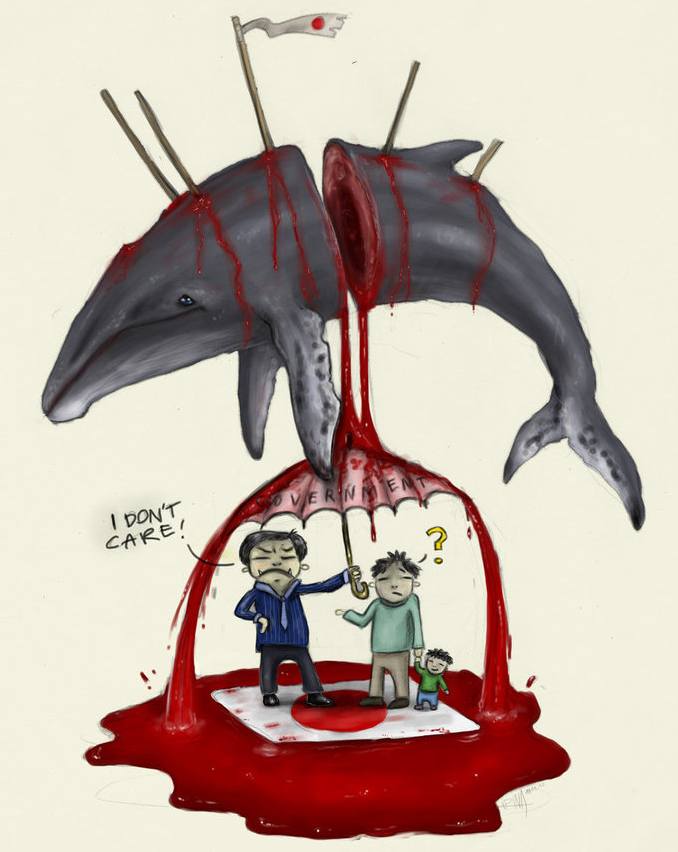 The meat from the slaughtered whales is sold commercially in Japan. Japan has clashed repeatedly with Australia and some other western countries, which strongly oppose whaling on conservation grounds. Japan has argues that Minke whales and a number of other species are plentiful and that its whaling activities are sustainable. A spokesman for Greenpeace UK, Willie MacKenzie, welcomed the ICJ's decision. "The myth that this hunt was in any way scientific can now be dismissed once and for all," he said. No doubt the Sea Shepard organization will also be relieved at the decision, since their ships have been clashing with Japanese whalers in the Southern Ocean for a decade, and have even had one of its support ships rammed by a Japanese whaler. It remains to be seen if the Japanese government will enforce the ICJ verdict.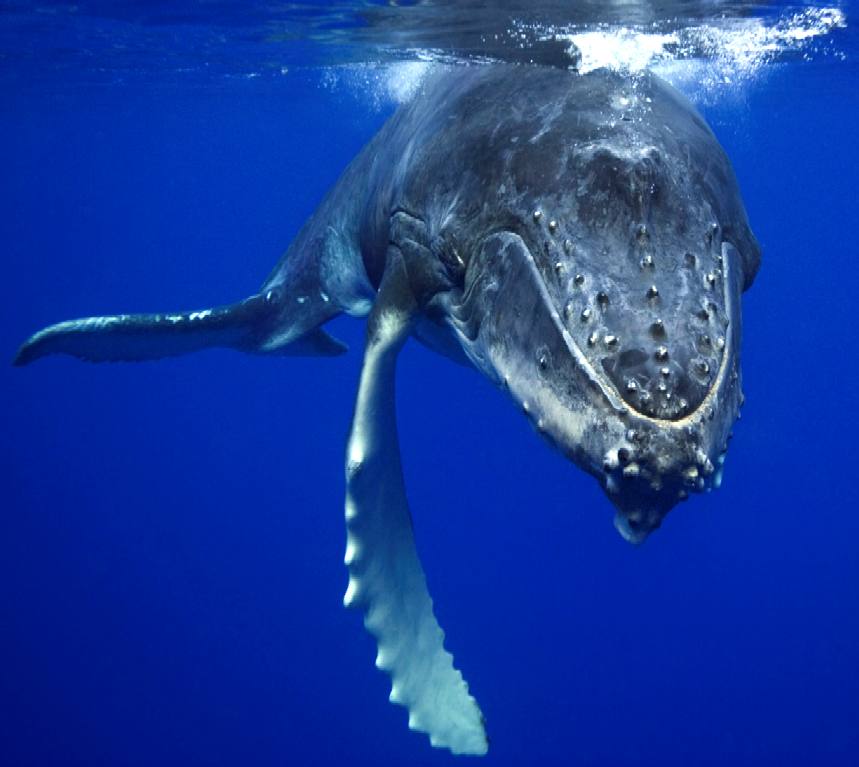 Humpback whales are among the most intelligent of creatures, hunted illegally by certain countries to near extinction, they inspired Jameson Hunter to pen his story about one whale and an adventurer that were bound together on a course with destiny. Sydney harbour is the location for chapter 4 (order may be subject to editorial revision).
Chapter 4 - Sydney Australia 330 S, 1510 E
(extract from: The $Billion Dollar Whale by Jameson Hunter) © 2014
Forty billion years ago Antarctica divided to form a new continent named Australasia, of which the biggest land mass, Australia, is a rugged and dusty land with diverse cultures and intriguing, specialised, marsupial animals not found on other continents. This fact once again reinforces Darwin's principles of evolution by natural selection, in that life adapts to overcome specific geographical challenges. The kangaroo is one such prime example, so too the nomadic lifestyle of the native Aborigines.
The famous British explorer Captain James Cook changed all that for good when he charted this extraordinary landmass during his epic cartographic voyage in 1771, after which emigrants came from all over the world to exploit and develop the continent irreversibly.
Lord Sydney renamed Port Jackson to 'Sydney' in 1788 to found the city that became the state capital of the New South Wales territory, from the first British penal colony. The natural harbour is famous for the dramatic swooping layered roof of the Sydney Opera House resembling sea-shells, or glistening white upturned boat hulls and the steel bridge nicknamed the 'Coat-Hanger.' Sydney is also the financial and industrial hub of this region and home to the offices of 'Franks, Swindles and Gentry', a long established firm of solicitors, well known in the city for handling high level legal cases.
It was a hot summer, two years ago when John Storm arrived late as usual, at these offices in downtown Sydney, for the reading of his uncle's last will and testament. Gliding through two automatic glass doors into the reception area, a well-presented receptionist caught his attention and motioned silently to the next-door down on the right and smiled. John smiled back and let himself in carefully without knocking. The receptionist had obviously been primed to direct the gathering.
Uncharacteristically, John was sporting a blue blazer and tie, chinos and dark brown brogues. The door opening created a sudden inrush of air demanding attention as the relatives gathered in the room turned to acknowledge the late arrival, apparently recognising him after years of little or no contact. He blended into the background as best he could and prepared himself to listen. Everyone was formally dressed in dark clothes. A well-spoken suited man sitting behind an impressive wooden desk, said in a stout English accent:
"Good you could join us. Make yourself comfortable John," intending for John to sit in one of the sumptuous padded leather seats lining the rear office walls.
"Thanks," said John nodding to his host. But he preferred to remain standing in strange situations. As the minutes turned into an hour, he started to think on the snug looking seats as an attractive proposition, but stubbornly stood by his first choice.
Other members of his family - aunties, nieces and cousins, each received substantial cash sums, as George Franks read from a list of names methodically from behind his desk. On hearing of their good fortune the person being named smiled appreciatively, with varying degrees of animation, as others in the group softly murmured approval, trying to mask their delight in being remembered ahead of their cousin. Close friends were left mementos, while the remainder of the estate went to various research charities and it was beginning to dawn on those in the room that John would be left very little. John grinned inwardly; this was just like his uncle. He'd always been taught to fend for himself – to be self reliant. This must be the final lesson.
As the reading concluded, the room emptied slowly, everyone shaking hands and exchanging polite cheek kisses. George Franks got up from his desk and shook hands with everyone as they filed past him toward the door like a vicar after morning service. As John turned to leave the by now empty chambers, George, the most senior partner in this most respected law firm, and trusted to handle his uncle's affairs called out.
"John!"
George directed John to the desk with an authorative hand gesture. He was the kind of man who you immediately felt at ease with. Not because of his impressive chambers, height, and immaculate dress sense, but because of his relaxed Churchillian facial features, fine rimmed gold spectacles and neatly trimmed moustache. George had the ability to slow time down just by engaging you with his intense blue eyes, all together demanding the utmost respect and attention lest you missed just one of his carefully considered words.
For all that George looked like a regular lawyer. If he hadn't engaged you orally, you'd probably not have given him more than a passing thought for the considerate gentleman that he was. Once engaged, you could not help notice that everything about his appearance was faultless. He was wearing a dark pin-stripped suit exquisitely cut from the most expensive wool blend. George stretched out his hand and as John got closer to shake it, he noticed that the solicitor's handkerchief was folded to a perfect pinnacle. On shaking George's hand firmly and unhurriedly, John smelled a combination of exotic spices that he could not quite place, but wanted to sample more. The handshake lasted just that bit longer as the two men finally considered each other. They had spoken on the telephone before, but they'd never met face-to-face or discussed anything of consequence.
George could see that John was all that he'd been led to believe. He'd heard about the lad's wreck diving exploits searching for treasure trove from his uncle, and read about him rock climbing at difficult archaeological sites and just for the hell of it. From his deportment it was obvious that John could handle himself in a tough spot, but he had a ready smile and preferred negotiation to physical contact. George could not help but admire John's rugged good looks and military-cut dark brown hair. He knew that John walked unpredictably on the wild side. He'd heard that John had once dropped everything to join an expedition looking for anthropological relics, about which he was thought to be developing an obsession.
Bringing them both back to the room, George pulled out a faded tan envelope from his left desk drawer and held it up, which John stared at for a few moments, then looked quizzically at the older man.
"This is for you. It's sealed."
It was like a scene from a Bond movie, where 'M' hands 007 a dossier on a suspect. Somewhat reluctantly, John leaned over the desk for a rather exquisite paper knife, which he carefully slid under the larger end flap and cut open. The envelope was very high quality velum and rather tough. Inside were two sheets of paper, which he removed. One sheet was a personal letter, the other some instructions and an address. The letter read:
John my boy,
I'm passing this to you hoping you might appreciate the concept. The family are trusting you to use it in the spirit intended.
Modify her as you see fit. I didn't have time to put her to good use.
Good luck,
Uncle Douglas
"What's this all about?" said John looking to George.
"Well, I'm not entirely sure," said George, "but if you don't want whatever it is, it's to go to the new department of light particle research at CERN in Genève, Switzerland. There are some keys to go with the instructions. Do you want them?"
Thinking for a few moments, John was trying to decide whether he needed yet more hassle in his life, but then, no pain – no gain.
"If I decide to check it out, I can always come back?"
"Of course," said the older man. "If he's expecting too much, your uncle would understand."
John grimaced. Expecting too much, that sounded like responsibility – he'd spent his life avoiding that.
John stretched out his hand to meet that of George Franks again as if he'd decided to shake goodbye and refuse the invitation. George responded.
"Oh, by the by, if you need us for anything, we're here to assist you. I really must emphasize – anything! But, only if you decide to take the keys."
George carefully took a key from his right waistcoat pocket and inserted into the lock of his desk's centre drawer.
"Anything?" said John mystified, watching George slide the draw open and pull out a slim black leather notebook.
"That's a very broad compass. Just where are the boundaries?" George responded eagerly,
"That's for me to decide in the field, as it were."
George opened the notebook and removed two nicely machined brass keys that were taped to the inside cover. This was getting more intriguing by the minute. Just as John went to fire off a barrage of questions, George interrupted.
"John, I know this is all rather irregular, so could I suggest that you look at the lay of the land, then perhaps give me a call to frame your questions." He said this holding up the keys by way of a calculated dare.
John couldn't argue with that, and knew from the tone of voice, that he'd have to see what it was for himself or decline the offer. He'd have to take the keys.
- * -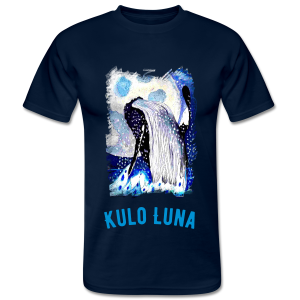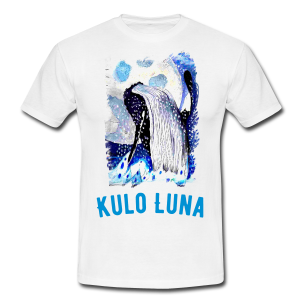 Jameson Hunter, invites scriptwriters to use the Kulo Luna story as the basis for script submissions. Please email growth @ blue-growth.org for confirmation of permission to use the names and characters in the novel and to register your interest. Thank you in advance for supporting our ocean awareness campaigns.
SCENE

DESCRIPTION

LOCATION

Chapter 1

Arctic Melt (Prologue)

580 W, 750 N

Chapter 2

510 30'N, 00

Chapter 3

420 N,

880 W

Chapter 4

330 S, 1510 E

Chapter 5

270 30'S, 1530 E

Chapter 6

330 20'S, 1520 E

Chapter 7

500 N, 1700

W

Chapter 8

200 N, 1600 W

Chapter 9

420 N, 700 W

Chapter 10

330 N, 1290 E

Chapter 11

330 N, 1290 E

Chapter 12

330 N, 1290 E

Chapter 13

200 N, 1600 W

Chapter 14

130 S, 1310 E – 350 S, 1380 E

Chapter 15

200 N, 1600 W

Chapter 16

240 N, 1410 E

Chapter 17

240 N, 1400 E

Chapter 18

40N0, 1550 W (Whale Trust Maui)

Chapter 19

Sky High (deal)

380 S, 1450 E

Chapter 20

200 N, 1600 E (middle of Pacific)

Chapter 21

200 N, 1300 E (off Philippines)

Chapter 22

Open Season (water)

330 N, 1290 E

Chapter 23

470 N, 70 E

Chapter 24

250 N, 1250 E

Chapter 25

200 N, 1600 W

Chapter 26

140 N, 1800 E

Chapter 27

150 N, 1550 E

Chapter 28

100 N, 1650 E

Chapter 29

100 N, 1650 E

Chapter 30

100 N, 1650

E

Chapter 31

100 N, 1650 E

Chapter 32

100 N, 1650 E

Chapter 33

150 S, 1550 E

Chapter 34

150 S, 1570 E

Chapter 35

230 S, 1550 E

Chapter 36

20 S, 1600 E

Chapter 37

20 S, 1600 E

Chapter 38

20 S, 1600 E

Chapter 39

170 S, 1780E

Chapter 40

200 S, 1520 E

Chapter 41

350 S, 1510 E

Chapter 42

250 S, 1530 E

Chapter 43

250 S, 1530 E

Chapter 44

Sweet Sorrow (epilogue)

250 S, 1530 E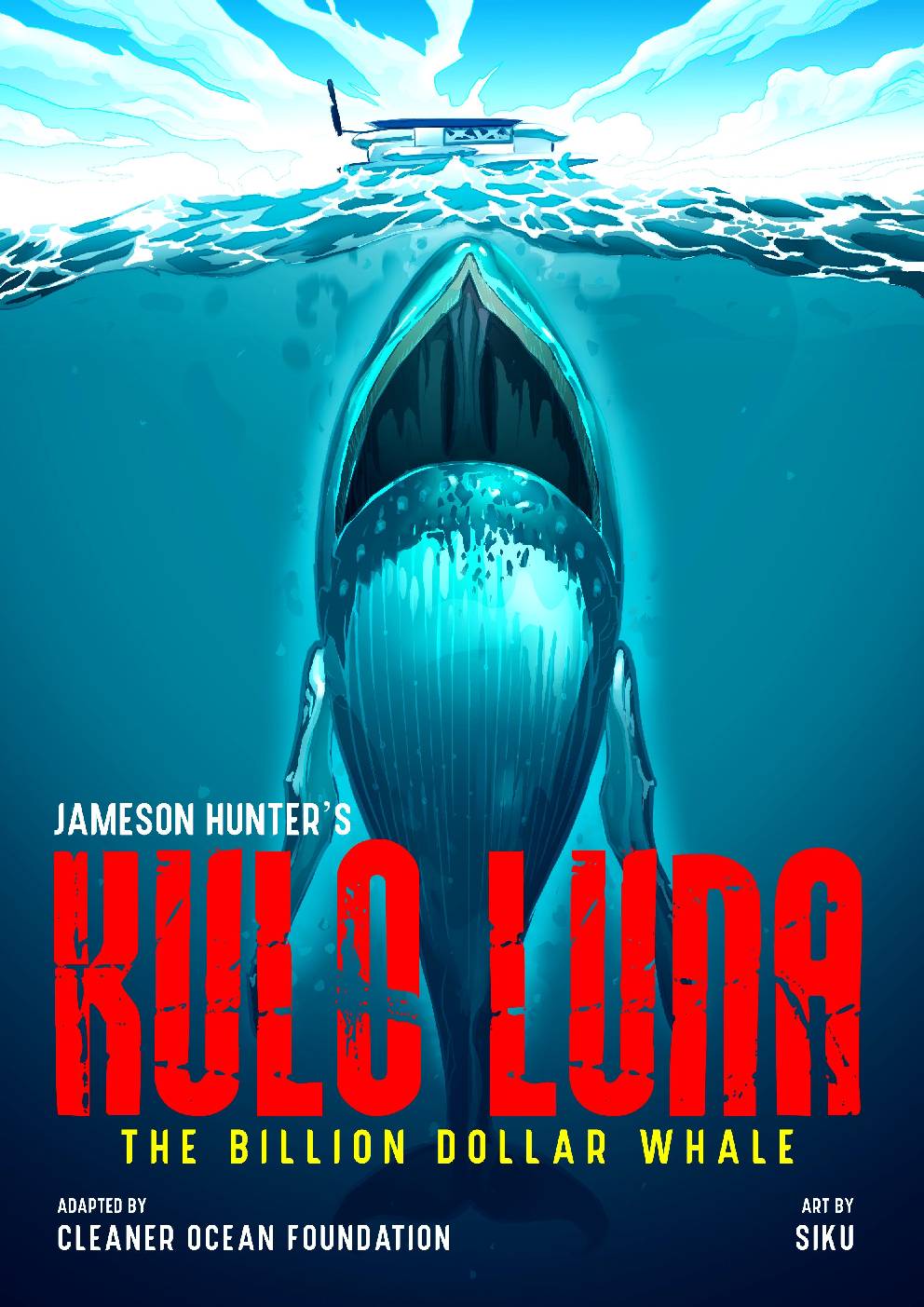 SCREENCRAFT SCREENWRITING FELLOWSHIP - Accepting entries until January 15th 2014
The 2013 ScreenCraft Screenwriting Fellowship is designed to advance the careers of talented screenwriters through ongoing consultation and introductions to key entertainment executives and talent representatives. This is not merely a script contest; it is a chance to enter an intensive program meant to foster relationships between emerging screenwriters and industry professionals. With this first-annual fellowship, we aim to cultivate a growing community of visionary screenwriters with meaningful connections to industry mentors. Since it is our first fellowship, we anticipate a relatively modest number of entries, so enter with your best script and you could be one of our winners!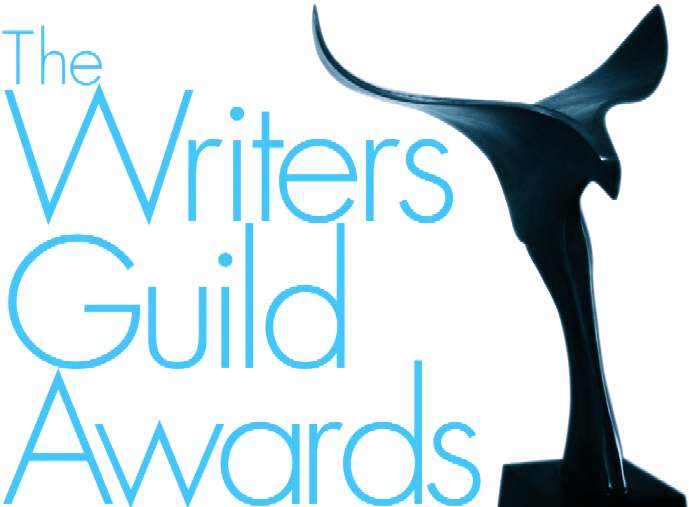 ScreenCraft is an official sponsor of the 66th Annual Writer's Guild of America Awards in New York, and we'll be giving our fellowship winners each a ticket to the WGA Awards at the Edison Ballroom in NYC on February 1st!
PRIZES
* Up to four winners (TV and/or Film) will receive a year of consultation and development, followed by $1,000 stipend and round-trip travel to Los Angeles* to be mentored one-on-one by industry professionals.
* Consultation with Jen Grisanti, acclaimed Story Consultant, International Speaker, Writing Instructor for NBC's Writers on the Verge, Blogger for The Huffington Post and author of many books. Jen's clients have sold dozens of pilots and two have gone to series. She has helped several writers sign with top agencies and she has helped over 40 writers get staffed on shows.
* Coffee with screenwriter/producer Don Handfield — Handfield is producing partners with two-time Academy Award nominee Jeremy Renner at The Combine. The company most recently produced Kill the Messenger (starring Jeremy Renner and Michael Sheen) for Focus Features/Universal. Don wrote and directed Touchback (starring Kurt Russell) for Anchor Bay and has written or sold projects to Paramount, DreamWorks, Warner Brothers, Lionsgate and others.
* Lunch meeting with Michael Colleary, UCLA screenwriting professor and writer of such blockbusters as Face/Off and Lara Croft: Tomb Raider
* Meeting with a literary agent from one of the big five agencies (WME, CAA, UTA, ICM, Paradigm)
Meetings with hand-picked development executives and industry representatives at such companies as:

Warner Brothers
Fox
MGM
Lionsgate
Focus Features
Mosaic Media
Kaplan/Perrone
Walden Media

* 1-year subscription to a Celtx online workspace, Script apps for iOS and Mac OS X, and a one-on-one Celtx consultation to personalize your workflow.
*Round trip flight is covered up to $1,000. In the event that the winner is local to southern California, winner will receive $500 travel stipend. In the event that the winner cannot or does not wish to travel, the meetings and consultations will be coordinated via phone and/or Skype. All travel details will be coordinated with the fellowship recipients' schedules, as much as reasonably possible.
The Fellowship Award recipients will receive a full year of one-on-one development with the ScreenCraft team.
ScreenCraft Fellows are accepted into the program to develop the specific script with which they apply, but the Fellowship is designed to allow for development of additional projects.
Applications will be evaluated based on overall craft, including story, voice, originality, characterization, structure and dialogue. The judging panel, selected by ScreenCraft, will include producer Don Handfield and consultant Jen Grisanti, as well as creative executives from MGM and Lionsgate.
WHERE TO APPLY:
Applications are accepted until the final deadline on midnight Pacific Time, January 15th, 2014. Application entry fee increases to $65 for late entries on January 5th. Due to the volume of applications, we are unable to offer individual feedback; however, information indicating final application status will be sent via email by January 31st, 2014.
To submit your script today click on the blue "Submit Your Screenplay" arrow below - and good luck.

WRITERS GUILD OF AMERICA

The Writers Guild of America is a generic term referring to the joint efforts of two different US labor unions:

1. The Writers Guild of America, East (WGAE), representing TV and film writers East of the Mississippi.

2. The Writers Guild of America, West (WGAW), representing TV and film writers in Hollywood and Southern California.

Although each Guild runs independently, they perform several activities in parallel:

* Writers Guild of America Award, an annual awards show with simultaneous presentations on each coast
* WGA screenwriting credit system, determines how writers' names are listed during the credits
* WGA script registration service, online services to prove when scripts were written and by whom
* International Affiliation of Writers Guilds (IAWG), an international labor federation both Guilds belong to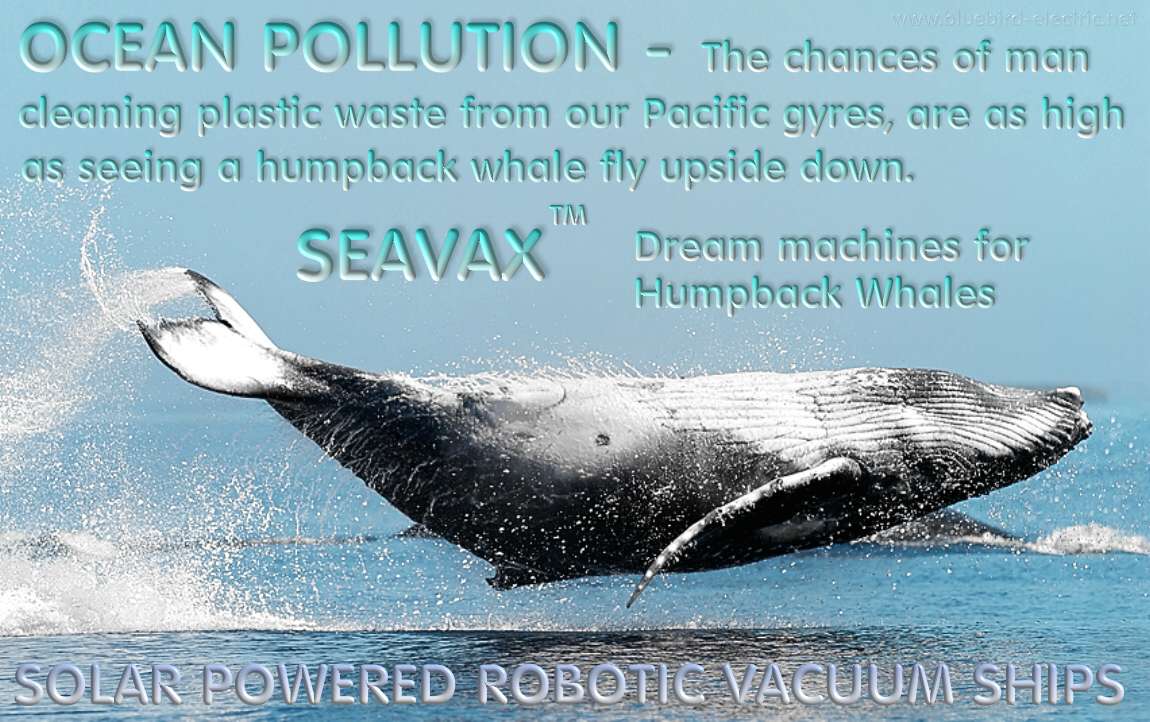 ABOUT SCREENCRAFT
ScreenCraft is dedicated to helping screenwriters and filmmakers succeed. To this end they produce events, host screenwriting contests, offer consultation, and publish inspirational and educational content. ScreenCraft was founded in 2011 by Cameron Cubbison and John Rhodes.
Cameron Cubbison, Co-Founder
Cameron is an experienced reader, script consultant and screenwriter. He has provided notes on well over a thousand screenplays and books for such companies as the Sundance Institute, Lionsgate, Resolution, Penguin Random House, Open Road Films, Attraction Entertainment, Circle Associates, Fresh Voices, and ScreenCraft's script contests. Cameron is a summa cum laude graduate of Emerson College with dual degrees in film production and film studies. He also studied film at USC, UCLA, the New York Film Academy, and Chapman University.
John Rhodes, Co-Founder
John is an independent film producer with experience on many sides of the industry. He worked for domestic distributor Open Road Films' acquisition team as executive assistant to CEO Tom Ortenberg, acquiring and releasing such films as The Grey starring Liam Neeson and End of Watch starring Jake Gyllenhaal. Prior to working as a creative executive at Media Talent Group for clients including Angelina Jolie and Nicole Kidman. John graduated with a Master's in Media Business Management from the Universidad de Navarra in Spain and a BA in English Literature from the University of Dallas in Texas.
Jhan Harp, Screenplay Development Consultant
Jhan Harp holds degrees in both physics and theatre from Purdue University. Since moving to Los Angeles he has worked in the Story Department at Scenario, a literary management and production company. Jhan reads for production companies and consultancies. He writes TV and feature scripts and is represented at Scenario.
Alexandra Evans, News Contributor & Social Media Manager
Alexandra Evans is a graduate of Ithaca College, where she earned a B.A. degree in Documentary Studies and Production. Before writing for ScreenCraft, Alexandra worked as a production intern for The Doctors TV show and as a reporter and editor for multiple Ithaca-area publications, such as The Ithaca Times. Alexandra is passionate about writing, film and art. She grew up in Cincinnati, OH, graduating with an artistic creative writing diploma from the School for Creative and Performing Arts.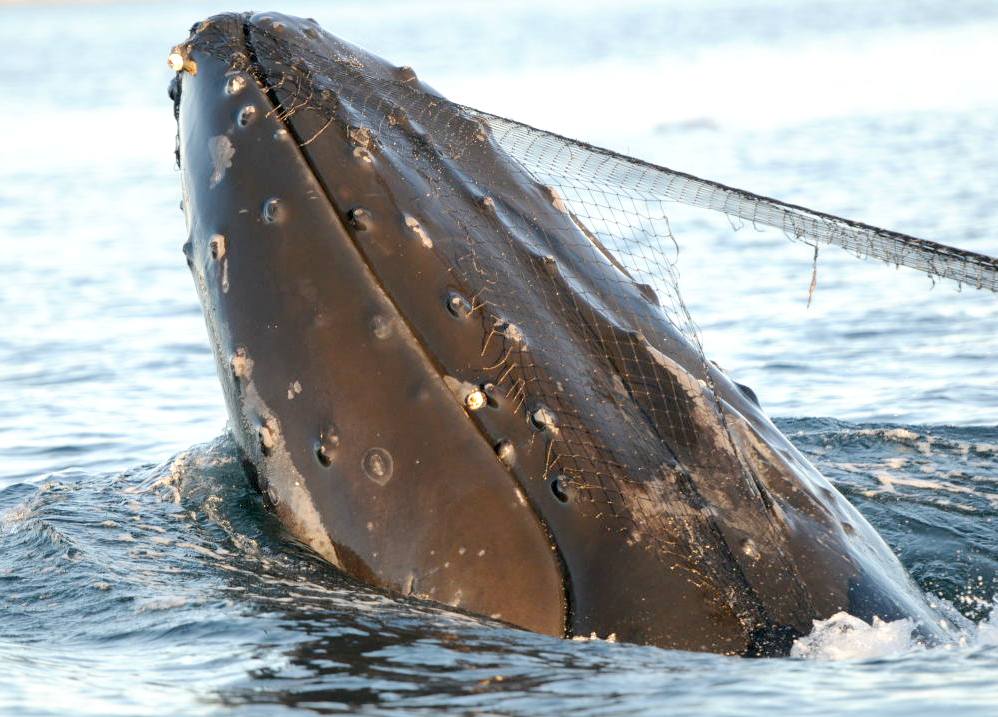 Humpback whales and many other species regularly get caught up in discarded fishing nets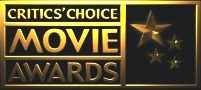 NOMINATIONS - WINNERS TO BE ANNOUNCED 16 JANUARY 2014
BEST PICTURE
American Hustle
Captain Phillips
Dallas Buyers Club
Gravity
Her
Inside Llewyn Davis
Nebraska
Saving Mr. Banks
12 Years a Slave
The Wolf of Wall Street

BEST ACTOR
Christian Bale – American Hustle
Bruce Dern – Nebraska
Chiwetel Ejiofor – 12 Years a Slave
Tom Hanks – Captain Phillips
Matthew McConaughey – Dallas Buyers Club
Robert Redford – All Is Lost

BEST ACTRESS
Cate Blanchett – Blue Jasmine
Sandra Bullock – Gravity
Judi Dench – Philomena
Brie Larson – Short Term 12
Meryl Streep – August: Osage County
Emma Thompson – Saving Mr. Banks

BEST SUPPORTING ACTOR
Barkhad Abdi – Captain Phillips
Daniel Bruhl – Rush
Bradley Cooper – American Hustle
Michael Fassbender – 12 Years a Slave
James Gandolfini – Enough Said
Jared Leto – Dallas Buyers Club

BEST SUPPORTING ACTRESS
Scarlett Johansson – Her
Jennifer Lawrence – American Hustle
Lupita Nyong'o – 12 Years a Slave
Julia Roberts – August: Osage County
June Squibb – Nebraska
Oprah Winfrey – Lee Daniels' The Butler

BEST YOUNG ACTOR/ACTRESS
Asa Butterfield – Ender's Game
Adele Exarchopoulos – Blue Is the Warmest Color
Liam James – The Way Way Back
Sophie Nelisse – The Book Thief
Tye Sheridan – Mud

BEST ACTING ENSEMBLE
American Hustle
August: Osage County
Lee Daniels' The Butler
Nebraska
12 Years a Slave
The Wolf of Wall Street

BEST DIRECTOR
Alfonso Cuaron – Gravity
Paul Greengrass – Captain Phillips
Spike Jonze – Her
Steve McQueen – 12 Years a Slave
David O. Russell – American Hustle
Martin Scorsese – The Wolf of Wall Street

BEST ORIGINAL SCREENPLAY
Eric Singer and David O. Russell – American Hustle
Woody Allen – Blue Jasmine
Spike Jonze – Her
Joel Coen & Ethan Coen – Inside Llewyn Davis
Bob Nelson – Nebraska

BEST ADAPTED SCREENPLAY
Tracy Letts – August: Osage County
Richard Linklater & Julie Delpy & Ethan Hawke – Before Midnight
Billy Ray – Captain Phillips
Steve Coogan and Jeff Pope – Philomena
John Ridley – 12 Years a Slave
Terence Winter – The Wolf of Wall Street

BEST CINEMATOGRAPHY
Emmanuel Lubezki – Gravity
Bruno Delbonnel – Inside Llewyn Davis
Phedon Papamichael – Nebraska
Roger Deakins – Prisoners
Sean Bobbitt – 12 Years a Slave

BEST ART DIRECTION
Andy Nicholson (Production Designer), Rosie Goodwin (Set Decorator) – Gravity
Catherine Martin (Production Designer), Beverley Dunn (Set Decorator) – The Great Gatsby
K.K. Barrett (Production Designer), Gene Serdena (Set Decorator) – Her
Dan Hennah (Production Designer), Simon Bright (Set Decorator), Ra Vincent (Set Decorator) – The Hobbit: The Desolation of Smaug
Adam Stockhausen (Production Designer), Alice Baker (Set Decorator) – 12 Years a Slave

BEST EDITING
Alan Baumgarten, Jay Cassidy, Crispin Struthers – American Hustle
Christopher Rouse – Captain Phillips
Alfonso Cuarón, Mark Sanger – Gravity
Daniel P. Hanley, Mike Hill – Rush
Joe Walker – 12 Years a Slave
Thelma Schoonmaker – The Wolf of Wall Street

BEST COSTUME DESIGN
Michael Wilkinson – American Hustle
Catherine Martin – The Great Gatsby
Bob Buck, Ann Maskrey, Richard Taylor – The Hobbit: The Desolation of Smaug
Daniel Orlandi – Saving Mr. Banks
Patricia Norris – 12 Years a Slave

BEST MAKEUP
American Hustle
The Hobbit: The Desolation of Smaug
Lee Daniels' The Butler
Rush
12 Years a Slave

BEST VISUAL EFFECTS
Gravity
The Hobbit: The Desolation of Smaug
Iron Man 3
Pacific Rim
Star Trek into Darkness

BEST ANIMATED FEATURE
The Croods
Despicable Me 2
Frozen
Monsters University
The Wind Rises

BEST ACTION MOVIE
The Hunger Games: Catching Fire
Iron Man 3
Lone Survivor
Rush
Star Trek into Darkness

BEST ACTOR IN AN ACTION MOVIE
Henry Cavill – Man of Steel
Robert Downey Jr. – Iron Man 3
Brad Pitt – World War Z
Mark Wahlberg – Lone Survivor

BEST ACTRESS IN AN ACTION MOVIE
Sandra Bullock – Gravity
Jennifer Lawrence – The Hunger Games: Catching Fire
Evangeline Lilly – The Hobbit: The Desolation of Smaug
Gwyneth Paltrow – Iron Man 3

BEST COMEDY
American Hustle
Enough Said
The Heat
This Is the End
The Way Way Back
The World's End

BEST ACTOR IN A COMEDY
Christian Bale – American Hustle
Leonardo DiCaprio – The Wolf of Wall Street
James Gandolfini – Enough Said
Simon Pegg – The World's End
Sam Rockwell – The Way Way Back

BEST ACTRESS IN A COMEDY
Amy Adams – American Hustle
Sandra Bullock – The Heat
Greta Gerwig – Frances Ha
Julia Louis-Dreyfus – Enough Said
Melissa McCarthy – The Heat

BEST SCI-FI/HORROR MOVIE
The Conjuring
Gravity
Star Trek into Darkness
World War Z

BEST FOREIGN LANGUAGE FILM
Blue Is the Warmest Color
The Great Beauty
The Hunt
The Past
Wadjda

BEST DOCUMENTARY FEATURE
The Act of Killing
Blackfish
Stories We Tell
Tim's Vermeer
20 Feet from Stardom

BEST SONG
Atlas – Coldplay – The Hunger Games: Catching Fire
Happy – Pharrell Williams – Despicable Me 2
Let It Go – Robert Lopez and Kristen Anderson-Lopez – Frozen
Ordinary Love – U2 – Mandela: Long Walk to Freedom
Please Mr. Kennedy – Justin Timberlake/Oscar Isaac/Adam Driver – Inside Llewyn Davis
Young and Beautiful – Lana Del Rey – The Great Gatsby

BEST SCORE
Steven Price – Gravity
Arcade Fire – Her
Thomas Newman – Saving Mr. Banks
Hans Zimmer – 12 Years a Slave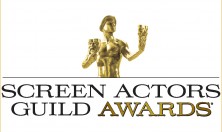 LINKS & REFERENCE
http://www.screencraft.org/feed/rss/
http://delicious.com/url=http+www.screencraft.org
http://www.linkedin.com/http www.screencraft.org%2Faboutus ScreenCraft+Craft+Screenwriting+Business+of+Hollywood
http://twitter.com/home?status=Our+Story%20-%20http%3A%2F%2Fwww.screencraft.org%2Faboutus%2F%20
http://www.facebook.com/share.php?u=http%3A%2F%2Fwww.screencraft.org%2Faboutus%2F&t=Our+Story
https://twitter.com/screencrafting
tattoos fansshare.com sectasaur_antarctic_melt_john_storm_adventure_book_by_jameson_hunter
http://marinemammalscience.org/
https://iwc.int/home
http://www.nytimes.com/2015/12/08/world/europe/blue-whale-size-point-is-made-in-paris-on-threatened-species.html
http://www.dimdex.com/en/warship-display.aspx
http://www.asdwire.com/press-release-8988/
http://www.maritimeaustralia.com.au/
http://www.pacific2013.com.au/innovation-awards/index.html
http://news.seadiscovery.com/post/2014/03/31/UN-Bans-Japan-from-Antarctic-Whaling.aspx
ACIDIFICATION - ADRIATIC - ARCTIC - ATLANTIC - BALTIC - BAY BENGAL - BERING - CARIBBEAN - CORAL - EAST CHINA
ENGLISH CH - GOC - GULF GUINEA - GULF MEXICO - INDIAN - IRC - MEDITERRANEAN - NORTH SEA - PACIFIC - PERSIAN GULF - SEA JAPAN
STH CHINA - PLASTIC - PLANKTON - PLASTIC OCEANS - SEA LEVEL RISE - UNCLOS - UNEP WOC - WWF
AMAZON - BURIGANGA - CITARUM - CONGO - CUYAHOGA - GANGES - IRTYSH - JORDAN - LENA - MANTANZA-RIACHUELO
MARILAO - MEKONG - MISSISSIPPI - NIGER - NILE - PARANA - PASIG - SARNO - THAMES - YANGTZE - YAMUNA - YELLOW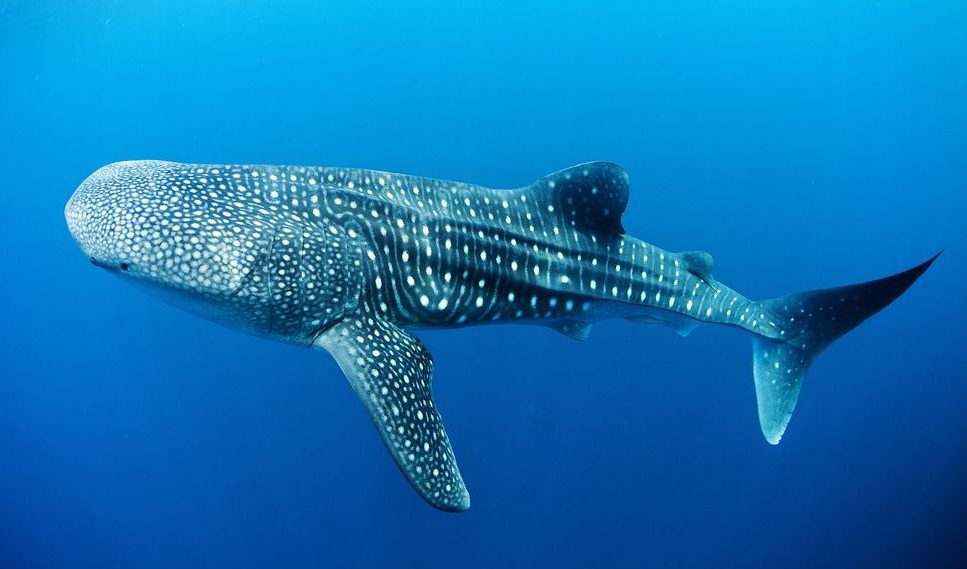 GIANT FISH - Not a whale at all, whale sharks are the largest fish in the sea, reaching lengths of 40 feet (12 meters) or more. They have an enormous menu from which to choose. Fortunately for most sea-dwellers - and humans - their favorite meal is plankton. They scoop these tiny plants and animals up, along with any small fish that happen to be around, with their colossal gaping mouths while swimming close to the water's surface. Although massive, whale sharks are docile fish and sometimes allow swimmers to hitch a ride. They are currently listed as a vulnerable species; however, they continue to be hunted in parts of Asia, such as the Philippines.

The whale shark (like the world's second largest fish) the basking shark, is a filter feeder. In order to eat, these fish jut out their substantial jaws and passively filter everything in its path. The mechanism is theorized to be a technique called "cross-flow filtration," similar to some bony fish and baleen whales.

The whale shark's flattened head sports a blunt snout above its mouth with short barbels protruding from its nostrils. Its back and sides are gray to brown with white spots among pale vertical and horizontal stripes, and its belly is white. Its two dorsal fins are set rearward on its body, which ends in a large dual-lobbed caudal fin (or tail).