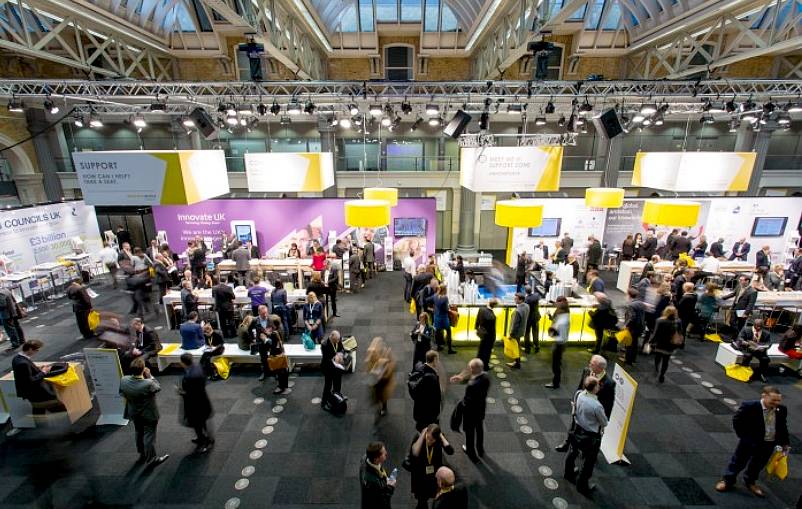 UKTI are thrilled to announce that Innovate UK 2015 will be taking place at Old Billingsgate in November 2015. They're hoping to build a programme that will identify opportunities for innovation, export and investment for the UK's most fortunate companies. Innovate UK is the new name for the Technology Strategy Board.
In London over the 9th and 10th of November join business, government and academic champions who will share their insights to help your business grow through innovation.

Register your details to stay up-to-date with the latest developments. Join Innovate UK 2015 to:

* Connect with other businesses at the UK's largest innovation event
* Showcase your innovations and share latest thinking with the business community
* Develop ideas and explore collaborative opportunities across global markets
* Network with UK and international business, government and academia
Innovate 2015 is a two-day global spotlight on innovation. You will be able to meet inventive and creative companies, explore innovative ideas, discover new export opportunities and hear from original thinkers.

Innovate 2015 provides you with second-to-none networking opportunities, a whole host of fresh thinking and expert advice to help accelerate your company's global growth.

It's the one event that brings together the research base, business, UK and international investors, international buyers from overseas markets and government organisations, to help fund and support your innovative ideas and make a real difference to your company.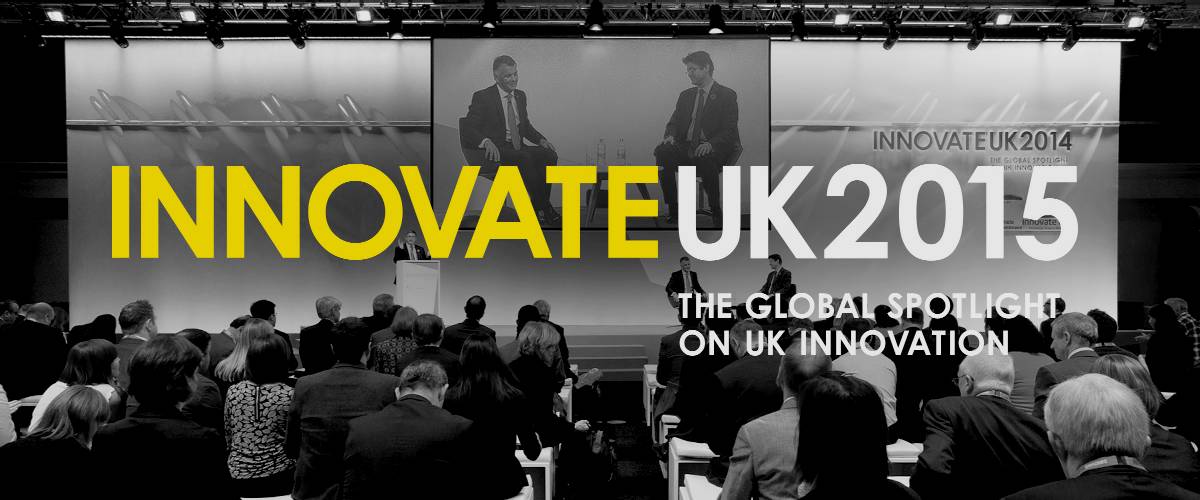 HERE'S A TASTER OF WHAT TO EXPECT AT INNOVATE :

A - A multi-sector technology showcase with global reach
B - Networking opportunities including 1:1 meetings with international investors, buyers and experts
C - A support zone for businesses seeking support in R&D, export and finance
D - Opening remarks from Ruth McKernan, CEO of InnovateUK and Dominic Jermey, CEO of UKTI

DAY 1 - will focus on the wide range of funding and support opportunities available and help in making valuable connections for UK businesses to grow on a global scale.

DAY 2 - will focus on the innovation capabilities of the UK, the vast array of regional funding opportunities and support on offer and help with making the right connections for UK businesses to succeed and grow.

This year's advisory board members include experts from Innovate UK, UKTI, Catapult Centres, Enterprise Europe Network (EEN), Knowledge Transfer Network (KTN) & Research Councils UK.

At Innovate UK 2015 you can discuss your business needs and discover collaboration opportunities with over hundreds of inspirational attendees, speakers and exhibitors. As the only cross-sector innovation event focused on stimulating business deals you'll benefit from the breadth of sectors and disruptive technologies including energy, food, future cities, transport, manufacturing, digital, healthcare and space.

Another key attraction will be the Support Zone where you can find and meet experts who will guide you through the range of public and private support and funding opportunities.

INNOVATION - Bluebird Marine Systems will be attending this event. Please visit the innovation stand and have a chat about ocean pollution in your area and our vision for sustainable fish stocks based on cleaner seas.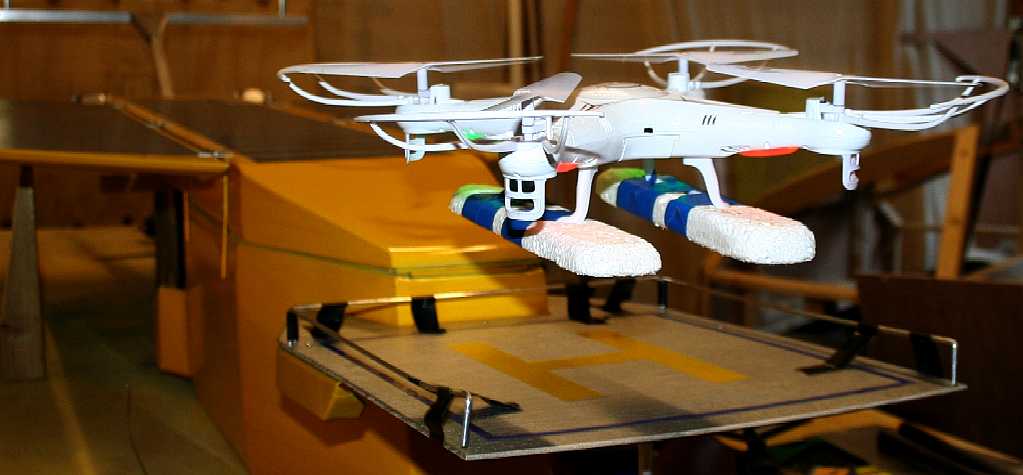 PLASTIC WASTE ADVANCE SCOUTING and ANTI PIRACY - Each SeaVax ship is a multi-million dollar investment in food security for a growing global population. To protect these ships Bluebird Marine Systems are developing drones that act as scouts during normal day-to-day operations, but also investigate suspicious activity at sea, to ward off inquisitive pirates looking for a quick buck. The above picture is of an early test landing of a small UAV on the helipad on a SeaVax development model.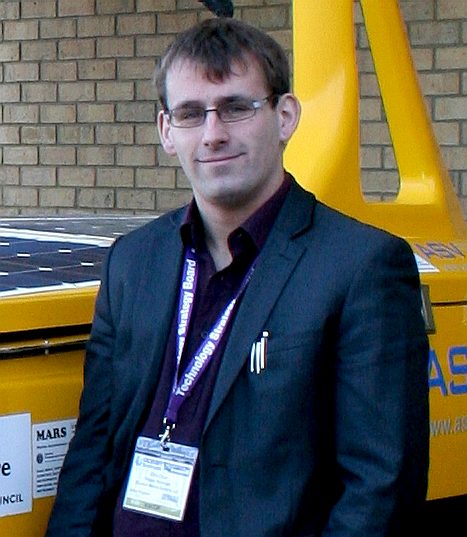 SEAVAX PROJECT MANAGER - Chris Close is leading the charge to clean up our oceans with the SeaVax autonomous workboat, aiming to go full size as soon as possible in 2016. Bluebird Marine Systems needs to attract partners to this project, the financial risks being too great for a product where, at the moment, there is no identified end user. At a conservative estimate, there is 8 million tons of toxic plastic waste in the 5 ocean gyres that have been identified so far.
There are six dedicated innovation streams addressing cross-cutting sectors featuring:

• Ground Floor & Main Stage - The keynote platform at the centre of Innovate UK 2014. Hear from world-class expert speakers on the keynote stage and see ground-breaking technology and innovation in action. Meet 200 of the UK's success stories – the companies and the people behind them

• The Lab - Practical sessions on how to take your ideas and business forward. Cutting-edge solutions, demonstrations of new to market technologies and the skills and tools that can help you achieve your goals

• Go Global - Workshop sessions to help you grow your market share and enter new markets

• Support - For a host of market intelligence, invaluable practical advice and key contacts who can help you to take your business to where you want to go next. Find out about the potential problems and pitfalls, how to avoid them and learn how to maximise the opportunities from your existing capabilities and expertise

• Connect - Find out how to get the most out of the UK's start-up networks and meet the teams that have collaborated to achieve great results. Workshop sessions, real life case studies and success stories will show you how it's really done. Take advantage to build on lessons learnt by others, widen your network of potential partners who can help you to fast-track your business strategy

• Fund - Whether you're looking for funding, or want to identify the best investment prospects, Innovate UK 2015 will put a host of opportunities in front of you. If you're an innovator, find the investors who will work with you to ensure the best possible chance of success for their investment and for your company. You'll also learn how to deliver the perfect pitch, what really swings it with investors and how to make a strong, convincing business case. If you're an investor, find out about the key sectors driving the innovation agenda and the companies and innovations best placed to deliver a return on your investment

Develop fruitful new relationships and partnerships to help your organisation prosper with the opportunity to talk to your peers and fellow professionals from the UK and overseas, build a network with other innovators and investors and of course make new business contacts. Innovate UK 2015 will be an extensive, thought provoking, stimulating, inspiring and challenging two days of business.

Email support@innovateukevent.com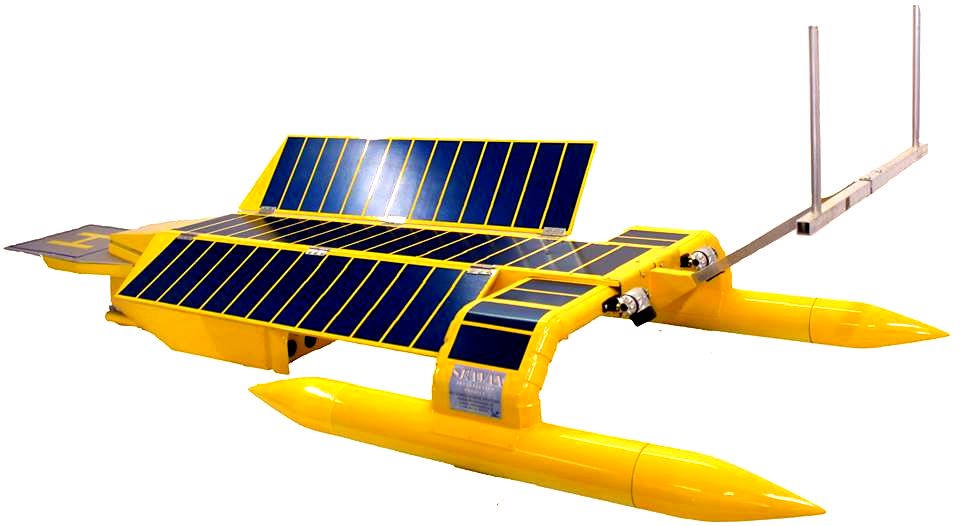 INNOVATION UK - ZERO CARBON TECHNOLOGY: The SeaVax is a solar and wind powered ocean going vacuum ship, that is designed to filter and process plastic waste from seawater for recycling. As a means to kickstart the move to a Blue Ocean Economy, healthy oceans are essential. There are dozens of organizations looking for ways to combat the decline in conditions for fish growth, and the subsequent 39% drop in marine life since 1970. The Global Ocean Commission is not dealing with existing ocean waste, and is disbanding in 2016 having washed their hands of the problem. If you are one of the organizations that is looking to tackle the problem proactively, look no further; this is what you are looking for. See Bluebird Marine Systems at Innovate UK at Old Billingsgate, London on the 9th and 10th of November 2015.

DTI CONTACTS
For all general enquiries about the work of the Technology Strategy Board, telephone: 01793 442700
or email: support@uktieventspecialist.com

Postal addresses

The Technology Strategy Board
North Star House
North Star Avenue
Swindon, SN2 1UE
Email: support@innovateuk.org
Phone: 0300 321 4357.
The Department for Business Innovation and Skills
1 Victoria St, London SW1H 0ET

Tel: 020 7215 5000
ABOUT UKTI

UK Trade & Investment is a UK Government department working with businesses based in the United Kingdom to ensure their success in international markets, and encourage the best overseas companies to look to the UK as their global partner of choice.

Trade and Investment has never been more important to the country's economic prospects.

UKTI helps British companies of all sizes to grow their business through international trade by offering expert advice and practical support through a range of programmes. It also connects businesses to the world's top commercial opportunities and drives targeted campaigns centered around them.

Events and Missions

Events are one of the most effective ways to support companies that are looking for trade opportunities and that are undergoing periods of transition. The UKTI calendar of events has some 400 core events and missions, and 1000 opportunities across TAP "Trade Access Programme" and the English National Regions.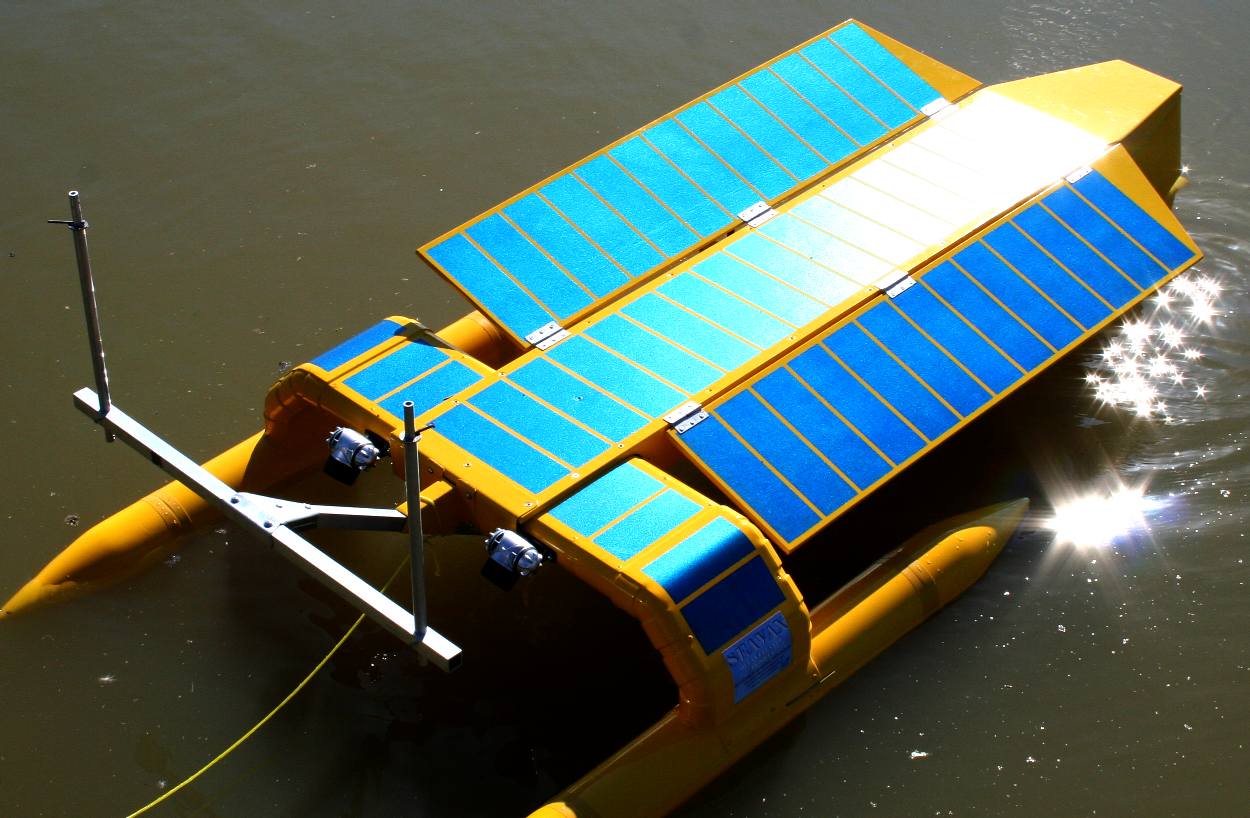 SHOW STAND - For this show, the SeaVax team are hoping to be able to display this model on a purpose designed stand, which, in Circular Economy tradition, is made from recycled steel.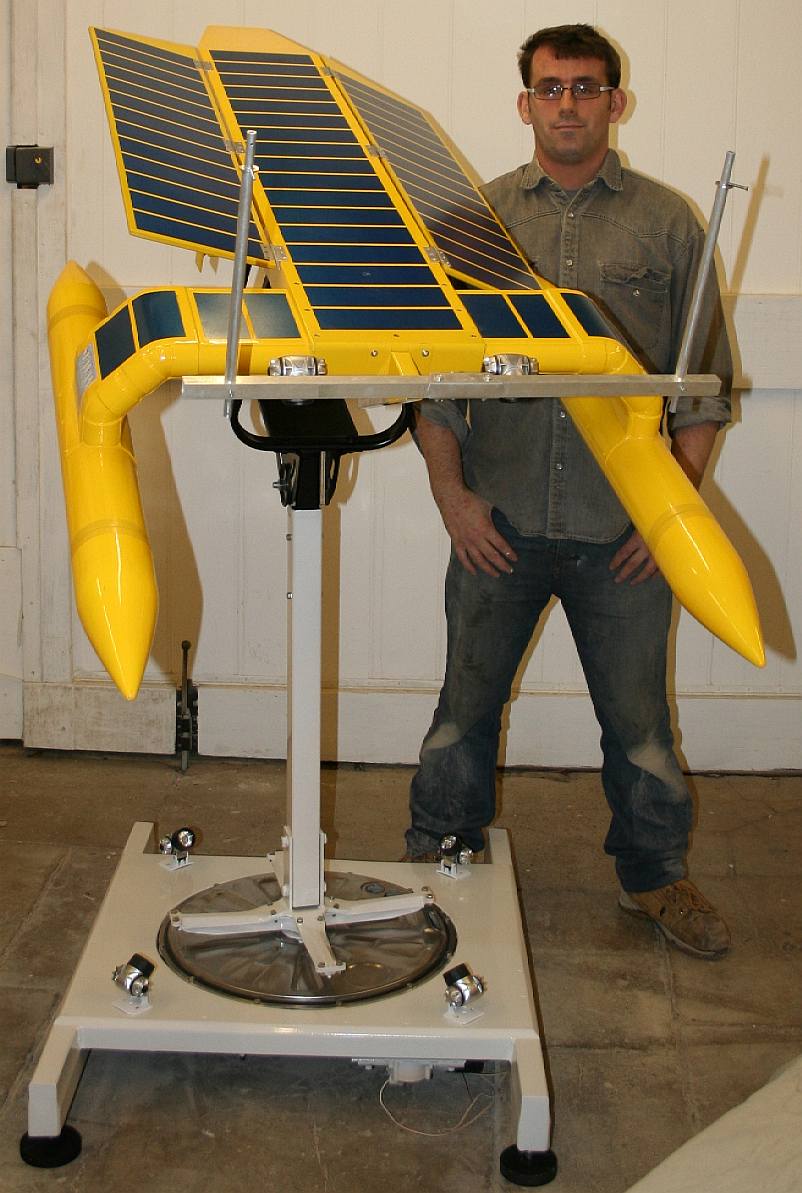 NELSON'S COLUMN - Chris stands by the elegant exhibition stand that is made from 100% recycled steel and plywood, some car and washing machine parts, and a power supply from an old stereo system. If only the Chancellor could do the same with our economy. That is what innovation is all about; adapting to changing circumstances.
The full size SeaVax will be capable of extracting plastic or oil from the ocean. Routine plastic patrols may be interrupted, where a fleet of these ships could be diverted to deal with oil spills. So far there has been only one enquiry on that score for the Gulf of Guinea. We hope to interest some of the energy giants as potential partners to the SeaVax project.
UKTI Events Portal

The UKTI Events Portal provides a single calendar view of all UKTI Events and Missions, and has been developed to provide companies with more detailed information on each event in order to help them decide on the most appropriate event to attend. The calendar can be filtered and searched by sector and/or market.

There are also detailed events websites which include more information about the event and also allow users' to register for an event.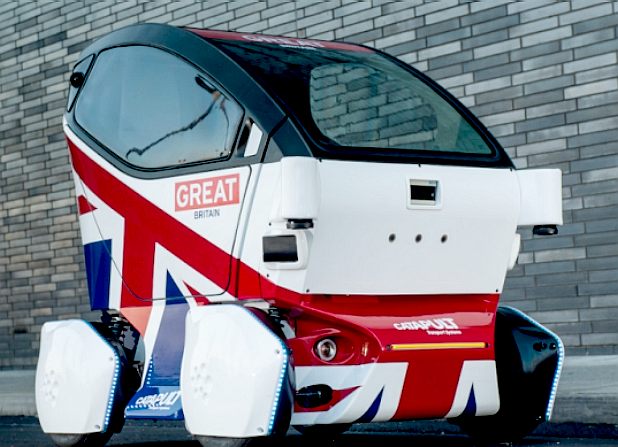 INNOVATION UK - A driverless car, hot on the heels of the Google autonomous vehicle - this one aimed at the City of London.
Other UKTI Services

Business Opportunities

The UKTI Business Opportunities service is a web based system that allows UK companies to register for 1000's of free sales leads in 42 sectors in over 100 countries.

These are sourced by UKTI experts and put you in touch with companies in that market who are looking to source millions of pounds worth of goods and services from the UK.

To register for this free service and tailor your alerts for business opportunities, please visit:
http://www.businessopportunities.ukti.gov.uk/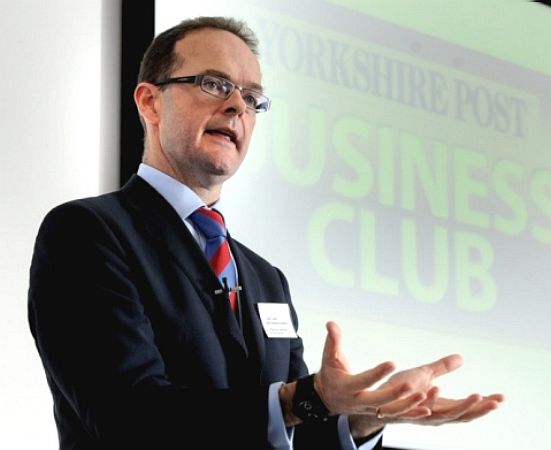 INNOVATION TO EXTREMISM - Dominic Jermey has been appointed FCO International Counter-Extremism Coordinator. This is a new role which reflects the importance this government places on tackling extremism. Dominic will take up his new role on 4 September.

Dominic Jermey joined the FCO in 1993 and prior to his role as UK Trade and Investment (UKTI) Chief Executive was Ambassador to the United Arab Emirates where pursuing UK interests in countering extremism was a key issue. In earlier roles, Dominic was based in Afghanistan with a focus on UK anti-terrorist objectives, led on the threat from Afghanistan-based extremist groups, and worked in Pakistan on Islamist issues affecting the UK.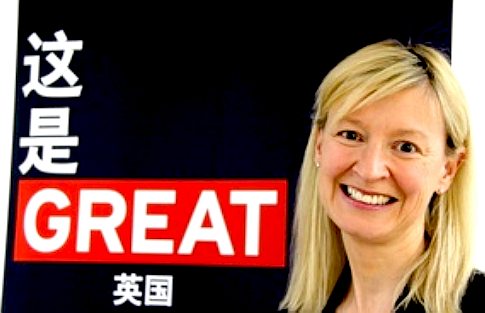 DR CATHERINE RAINES APPOINTED CHIEF EXECUTIVE UKTI - AUGUST 2015

Dr Catherine Raines will become Chief Executive of UK Trade and Investment (UKTI) from 7 September 2015, following current Chief Executive Dominic Jermey's appointment to a new priority position as Foreign and Commonwealth Office (FCO) International Counter-Extremism Coordinator.

Currently Minister and Director-General for UKTI China, Dr Catherine Raines has more than 20 years' experience in FTSE100 business across the UK, Europe, the United States and China, where she variously held senior leadership roles in Operations, Corporate Development and Corporate Audit. Prior to joining the civil service, she also ran her own business as well as holding the role of Deputy Chief Executive at Staffordshire County Council. She takes up the post of UKTI Chief Executive after more than 2 years leading UKTI in China, having overseen an increase in UK business successes attributable to UKTI support from around £300 million a year to more than £3.7 billion.

Dominic Jermey joined the FCO in 1993 and prior to his role as UKTI Chief Executive was Ambassador to the United Arab Emirates, where pursuing UK interests in countering extremism was a key issue. In earlier roles, Dominic was based in Afghanistan with a focus on UK anti-terrorist objectives, led on the threat from Afghanistan-based extremist groups, and worked in Pakistan on Islamist issues affecting the UK. He will take up his new position at FCO on 4 September 2015.

Trade and Investment Minister Lord Maude is quoted as saying:

"The world increasingly sees Britain as the best place to do business in and to do business from. UKTI has a central role in mobilising government support for exports and inward investment. We have made great progress, especially in attracting investment from overseas, where Britain's success among EU countries is second to none."

"I am hugely grateful to Dominic for his leadership of UKTI, and wish him every success in his vital new role. I look forward to working with Catherine, who comes with a high reputation for leading change in both public and private sectors."
UKTI STRUCTURE
UK Trade & Investment is an international organisation with headquarters in London and Glasgow in Scotland. Across its network UK Trade & Investment employs around 2,400 staff and advisers, including overseas in British Embassies, High Commissions, Consulates and trade offices, and regional offices in the nine English regions.

The delivery of many UKTI regional services within the United Kingdom is contracted out to other organisations. In Devon, Cornwall and Somerset, UKTI regional services are now delivered by Serco, In China, the China Britain Business Council, another private body, is the provider.

Business and university leaders work with UKTI as "business ambassadors". They promote the UK internationally and highlight trade and investment opportunities. They focus on helping small and medium-sized enterprises (SMEs).

UK Trade & Investment brings together the work of the Foreign & Commonwealth Office and the Department for Business, Innovation and Skills. The UK Special Representative for International Trade and Investment works as part of UKTI to promote British business and produce.

UK Trade & Investment has public-private partnership agreements with the Federation of International Trade Associations under which they contribute market research and other reports on GlobalTrade.net.

UK Trade & Investment has an arms-trade branch called UKTI DSO (UK Trade & Investment Defence & Security Organisation) headed by Sir Richard Paniguian.
LINKS & REFERENCE
UK Trade and Industry Innovate 2015
Wikipedia /UK_Trade and_Investment
UK Government news Catherine Raines is to be the new-UKTI chief executive
UK Government Dominic Jermey appointed foreign and commonwealth office international counter extremism coordinator
https://www.dstl.gov.uk/insight
http://www.innovate2014.co.uk/
UKTI Innovate 2015 showcase Bluebird Marine Systems Ltd
Events UKTi Innovate 2015 showcases index
https://www.events.ukti.gov.uk/innovate-uk-2015/showcases/index/
https://www.events.ukti.gov.uk/innovate-uk-2015/showcase/bluebird-marine-systems-ltd/
https://uk.linkedin.com/pub/dominic-jermey/11/1a7/a33
https://www.gov.uk/government/news/catherine-raines-to-be-new-ukti-chief-executive
https://en.wikipedia.org/wiki/UK_Trade_%26_Investment
https://www.events.ukti.gov.uk/
http://www.businessopportunities.ukti.gov.uk/
https://www.events.ukti.gov.uk/innovate-uk-2015/registration
https://www.events.ukti.gov.uk/innovate-uk-2015/