Simon Reddy has spent 20 years developing and delivering international policy in areas such as oceans and climate change. Most recently he was Executive Director of the C40 Cities Climate Leadership Group from 2007-2012, during which time the organisation became an internationally recognised global network of 59 cities taking action on climate change. Simon trained as a marine and fisheries biologist.
Simon has spent 20 years developing and delivering international policy in areas such as climate change as it affects the ocean. He is currently the Executive Secretary of the Global Ocean Commission, an independent international Commission comprised of former heads of state, ministers and business leaders, tasked with tackling the current decline of our ocean.
Prior to this, Simon was Executive Director of the C40 Cities Climate Leadership Group (C40) from 2007-2012, during which time the organisation became an internationally recognised global network of 59 cities taking action on climate change. C40 is an alliance of 40 large cities around the world committed to reducing greenhouse gas emissions. The C40 is chaired by Michael Bloomberg, Mayor of New York and in partnership with the Clinton Climate Initiative. The secretariat is run by Simon Reddy from its base in London.
Prior to c44, Simon was a Director of Policy and Solutions at Greenpeace from December 2003 – March 2007. He was Head of the Political Unit at Greenpeace from June 2001 – December 2003 and the Political Adviser at Greenpeace International June 1999 – June 2001.
INTERVIEW TCK TCK TCK, OCTOBER 2011
TCK: At the end of May you finished the Mayors Summit on Climate Leadership in Sao Paulo with mayors from 40 of the largest cities in the world. Can you give us your thoughts on why your efforts could be a game changer for the shift to a low-carbon future?

SIMON REDDY: The C40 is a game changer because cities are on the front lines of climate change. While cities only occupy 2% of the Earth's landmass, they contain over 50% of its population, use two‐thirds of its energy and generate over 70% of its carbon emissions.

Since the C40 was created in London in 2005, the key objective has been to share best practices on GHG reducing initiatives so that cities can learn from each other as we shift to a low carbon future. As Ken Livingston, former Mayor of London and C40 founders said, "we can all be pioneers, but we will get things done quicker if we steal each other's ideas".

Mayors of large cities have statutory powers and responsibilities independent of central government, so whilst nations talk about action on climate change cities can act. Cities are working together on key areas such as energy efficiency, transportation and clean energy generation that will result in cleaner air, lower energy costs, less traffic congestion and improved quality of life — demonstrating that cities and local governments can be a powerful force for global change.

TCK: With many new cities being established every year and mega cities emerging in parts of Asia and Latin America do you see C40 as an organisation that will grow or will you keep to the 40 largest cities in the world (and in that case will the membership change over time)?

SIMON REDDY: It is crucial that C40 is globally representative, both now and into the future. To help us maintain that, the C40 has publicly committed to expand the number of participating cities. We invited a number of emerging megacities to attend the recent C40 Cities Mayors Summit in Sao Paulo and will continue to engage with other global cities that are committed to real and measurable climate action.

TCK: Many of our partner organisations are located in the world's largest cities – what can they be doing in their cities to ensure that urban strategies are implemented to adapt to climate change and mitigate climate impacts?

SIMON REDDY: Many cities have developed climate action plans that set out realistic strategies for GHG reductions and adaptation in cities and are working with third party organisations to deliver actions.

Raising awareness of the implications and impacts of climate change, and the need for such infrastructure change, is crucially important. By working with cities and presenting a unified front, particularly using a common language on climate change and adaptation, you can reach more people and have an even greater impact.

TCK: How do you see the global climate framework, e.g. the UNFCCC and fora such as the G20, relating to the work that you do at national and regional level? Is it possible for cities to lead where countries fail to do so?

SIMON REDDY: The C40 was formed because of inaction on climate change at a global and national level and the realisation that whatever nation states decide, city and local governments will be expected to drive significant changes. To date, 4,734 climate change actions are in effect across the C40 network.

During the C40 Summit we signed a groundbreaking agreement with the World Bank Group to help cities in developing countries accelerate actions to reduce greenhouse gas emissions and become more resilient to climate change. We formed this partnership to address many of the complications that cities face in obtaining financing and technical assistance for projects that, for example, increase energy efficiency, de-carbonize transport or minimise the risks associated with climate change. We want to enable the world's cities to expand mitigation and adaptation actions; strengthen and protect economies; reduce poverty and protect vulnerable populations.

But we know more can be done. We need nations to engage, empower and resource their cities so that together we can combat climate change.

TCK: Given that Rio is a participating city in the C40 initiative and hosting the next Earth Summit in 2012, what are the expectations from other cities on this event? Are you working closely with the Mayor of Rio on the Earth Summit? What should we expect from the summit?

SIMON REDDY: C40 has agreed to provide support to Mayor Eduardo Paes of Rio de Janeiro on the Earth Summit (Rio+20) in 2012. In fact, one of the outcomes of the C40 Summit in Sao Paulo was a letter to Rio+20, United Nations Conference on Sustainable Development (CSD), that was presented at a press conference in Rio on the 3rd of June. The letter was issued on behalf of the C40 Cities Steering Committee and signed by C40 Chair, New York City Mayor Michael R. Bloomberg and the Mayor of Sao Paulo Gilberto Kassab. It was specifically designed to highlight the important role cities are playing in mitigating and adapting to climate change, and calls for city participation and considerations during the Rio+20 negotiations. We also requested greater collaboration with the Rio+20 CSD organisers and committed to an official side-event to highlight the critical role that cities must play in the global climate protection conversation.

We hope that Rio+20 will provide a key opportunity for cities, NGO's and nation states to work together with the common goal of reducing GHG emissions and meeting clear and measurable sustainability objectives. by Heather Libby

GOC OBJECTIVES
The objective of the Global Ocean Commission is to address the issues herein by formulating 'politically and technically feasible short, medium, and long-term recommendations.
These final recommendations were to be published in early 2014, shortly before the UN General Assembly began discussions on protecting high seas biodiversity – a commitment made at the Rio+20 summit in 2013. The work of the Commission thus focuses on four key tasks:

1. To examine key threats, challenges, and changes to the ocean in the 21st century, and identify priority issues. The Commission will utilise both scientific and economic evidence, drawing on existing reports from world experts, as well as commencing original research in partnership with other organisations.

2. To review the effectiveness of the existing legal framework for the high seas in meeting these challenges. According to the Commission, this means a special focus on the effectiveness of regional fisheries management organisations, particularly with respect to their accountability, transparency, and performance. It also means reviewing the governance gap on biodiversity conservation and analysing options for combatting IUU fishing. The Commission will also assess the suitability of the existing legal regime for regulating emerging uses of the global ocean.

3. To engage with interested parties around the world, as well as the general public. The Commission will connect with fishers, military and merchant navies, recreational sailors, seafood companies, conservation groups and the emergent seabed mining business. The Commission also aims to raise understanding among policymakers, economists and other groups, including the general public, of the implications should high seas issues not be reformed.

4. To make recommendations regarding 'cost-effective, pragmatic and politically feasible reforms of high seas governance, management and enforcement.' While the threat analysis will take account of external issues such as climate change, recommendations will focus on reforms that can be achieved by evolving high seas governance. Some may concern the fundamental legal framework under which the global ocean is governed, whereas others may focus on improving the effectiveness of existing mechanisms.

The Global Ocean Commission
Somerville College
Woodstock Road
Oxford, OX2 6HS
Tel: UK+44 (0) 1865 280747
GLOBAL OCEAN COMMISSIONERS - CO-CHAIRS
THE COMMISSIONERS
| | | | | | | |
| --- | --- | --- | --- | --- | --- | --- |
| | | | | | | |
| Carol Browner | Victor Chu | Obiageli Ezekwesili | Luiz Furlan | Vladimir Golitsyn | Robert Hill | Yoriko Kawaguchi |
| . | . | . | . | . | . | . |
| | | | | | | |
| Pascal Lamy | Paul Martin | Sri Mulyani Indrawati | Cristina Narbona | Ratan Tata | Foua Toloa | Andrés Velasco |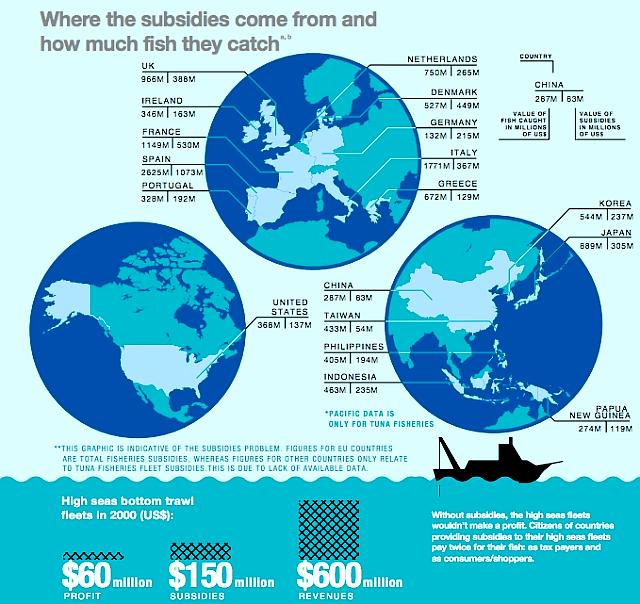 RICH COUNTRIES PAY ZOMBIES $5 BILLION A YEAR IN SUBSIDIES TO PLUNDER THE OCEANS - Without the subsidies, most of these businesses would fail. So thoroughly have industrial fleets over-fished the seas that they couldn't afford the fuel to travel the ever-increasing distance needed to catch the same amount of fish if their governments didn't lavish public funds upon them.

In economics, you'd call these zombies - unprofitable companies that would fail if governments didn't prop them up. There are two big problems with zombies. First, they take resources that could go to support new, productive companies. And by subsidizing zombies, governments allow them to keep prices low, driving productive companies out of business.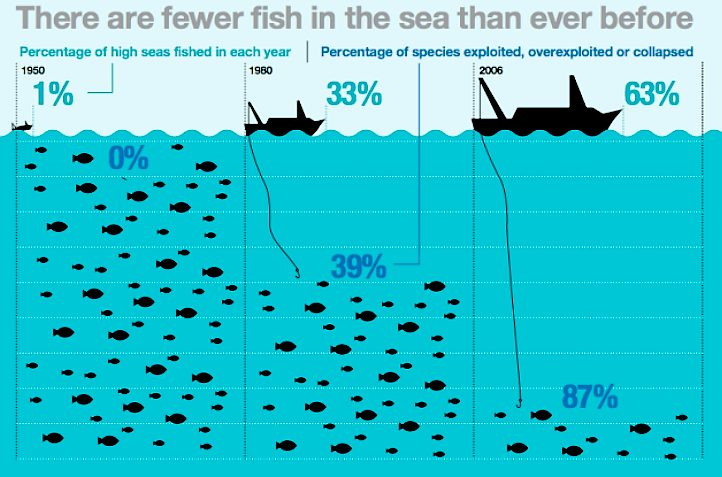 RICH COUNTRIES PAY ZOMBIES $5 BILLION A YEAR IN SUBSIDIES TO PLUNDER THE OCEANS - If industrial fleets weren't subsidized, they'd go out of business. Small-scale fisheries that don't need enormous amounts of fuel to catch huge hauls of fish - i.e. the ones using sustainable fishing practices - would then in theory thrive. Many of these fishermen are in poor countries whose governments can't afford to compete in the industrial looting. Worse, there's a double-whammy zombie effect going on in the fishing context. Government subsidies to highly destructive industrial fleets don't just deprive small-scale fishermen of finite taxpayer dollars and edge them out of the market with cheap prices; they also rob them of current and long-term fishing stocks.

LINKS & REFERENCE
Tck Tck Tck 2011 spotlight Simon Reddy C40 cities climate leadership group
Cape Farewell who we are Simon Reddy
UPI Science News 2014 June group calls for reforms to protect oceans from fishing drilling and pollution
Telegraph US-royal-tour-Prince-of-Wales-makes-plea-for-cleaner-oceans
Prince-of-Wales-speech-hrh-the-prince-of-wales-event-titled-plastic-the-marine-environment-scaling
Daily Mail Charles-horrified-toll-plastic-dumped-sea-Prince-Wales-plea-solve-issue-sake-future-generations
The Guardian environment 2015 March 19 Prince-charles-calls-for-end-to-dumping-of-plastic-in-worlds-oceans
http://abcnews.go.com/US/wireStory/prince-charles-speaks-dangers-plastic-waste-oceans-29736519
National Geographic news 2014 June Global-ocean-commission-report-high-seas-fishing-environment
Virgin leadership and advocacy introducing global ocean commission
Wikipedia European_Commissioner_for_Maritime_Affairs_and_Fisheries
Reuters 2013 US oceans new global group to clean up
National Geographic 2014 global-ocean-commission-report-high-seas-fishing-environment
http://tcktcktck.org/2011/10/spotlight-simon-reddy-c40-cities-climate-leadership-group/
https://uk.linkedin.com/pub/simon-reddy/6/5a8/278
http://www.capefarewell.com/who-we-are/team/board/simon-reddy.html
http://en.wikipedia.org/wiki/European_Commissioner_for_Maritime_Affairs_and_Fisheries
http://www.virgin.com/unite/leadership-and-advocacy/introducing-global-ocean-commission
http://www.scienceifl.com/ocean-plastic-pollution.htm
http://abcnews.go.com/US/wireStory/prince-charles-speaks-dangers-plastic-waste-oceans-29736519
http://www.globaloceancommission.org/
http://time.com/3750375/environment-prince-charles-oceans/
http://news.nationalgeographic.com/2015/03/150318-prince-charles-oceans-trash-plastic-britain/
http://en.wikipedia.org/wiki/Global_Ocean_Commission
http://www.itv.com/news/2015-03-18/prince-charles-makes-impassioned-plea-for-oceans-clean-up/
ACID OCEANS - ARCTIC - ATLANTIC - BALTIC - BERING - CARIBBEAN - CORAL - EAST CHINA - ENGLISH CH
GULF MEXICO - GOC - INDIAN - MEDITERRANEAN - NORTH SEA - PACIFIC - PERSIAN GULF - SEA JAPAN - STH CHINA
PLANKTON - PLASTIC - PLASTIC OCEANS - UNCLOS - UNEP - WWF