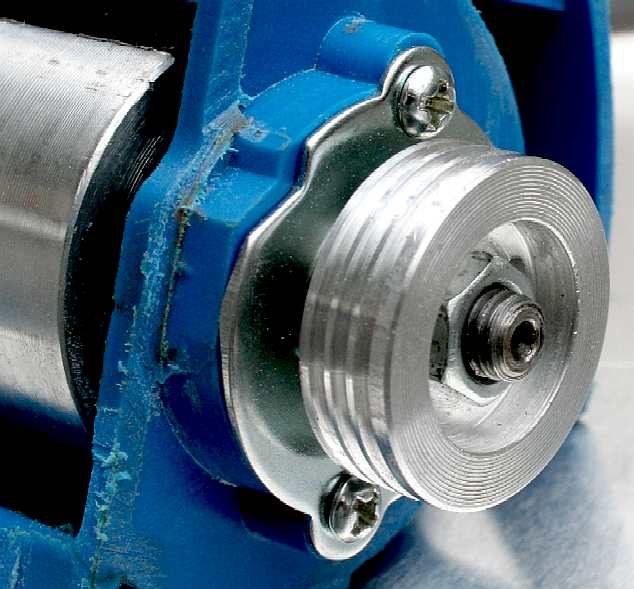 EXPERIMENTAL MILL - The end bearing and pulley wheel of our first plastic shredder.
POWER DRIVEN SHREDDING HEAD
We will be experimenting with different shredding heads, some examples of which are seen below. They almost all use hardened steel cutting blades. It remains to be seen which will be the most (cost) effective.
Initial trials will revolve around a simple planing head as used on most hand-held wood planers. These rotate far too fast for our purposes, and are typically driven by a universal AC motors powered directly from the mains. We will be replacing the AC motor with a 24 volt DC drive, going through a reduction gear-train to give us around 900-1200 revolutions per minute. We may incorporate a safety clutching feature for these trials.
We will incorporate sensors to detect fish movement in the ponds that we are using for tests, that will cut power to the rotating heads. On the full size vessel, more sophisticated fish detecting apparatus is to be used, such as an enhanced fish-finder. Something fishermen could not do without today. A fish finder is a specialized kind of sonar. Sonar is also used by submarines, to track other submarines and ships.
This is a commercially available shredding box costing less than £40. The cutting teeth on the right are assembled over a driven shaft, much the same as some of the industrial shredders that we have been looking at costing thousands of £ pounds.
Another approach is to use a single rotating drum with tungsten steel blades. Drums are available with a helical blade at greater cost. To begin with we will try both methods - to compare with the results from the toothed shredder above. Whatever system is used, it must be capable of dealing with rope and netting as well as plastic solids - to scale of course. This is academic research for which we do not qualify for funding, confirmed to us today (15-1-15) during a telephone conversation with the NERC. We may thus be forced to cease our efforts and hand this side of the project to a not-for-profit concern - like Max Energy Ltd.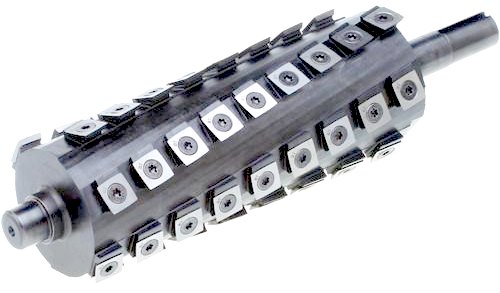 Enter the dragon. This helical planing head suggests a new dimension when it comes to reliable shredding of plastic waste. Certainly, the tungsten carbide cutting blades will last longer and only need local replacement, instead of the full length blades in older rotating systems. But, how much?
SENSORS & MACHINE CONTROL
We can't say too much about this aspect of the research at the moment because of IP restrictions. Suffice to say that the full size craft must be capable of detecting plastic in seawater and also know when organic life is present. Once the plastic size is known, we can re-configure the filtration plant autonomously to extract that size. This requires an electronic feedback loop to control the machinery for maximum efficiency harvesting. Easy-peasy. We also need to be able to ward off curious fish and rescue animals caught up in fishing nets. How do they do that? Sorry, IP forbids. But it is very much on the cards. Our conceptual designer generally figures these things out without too much grief.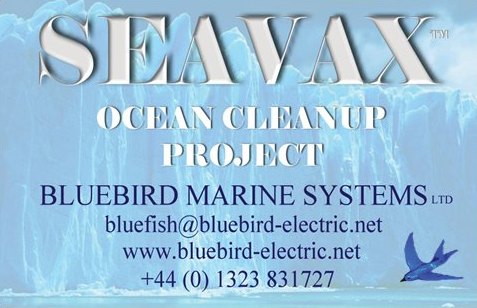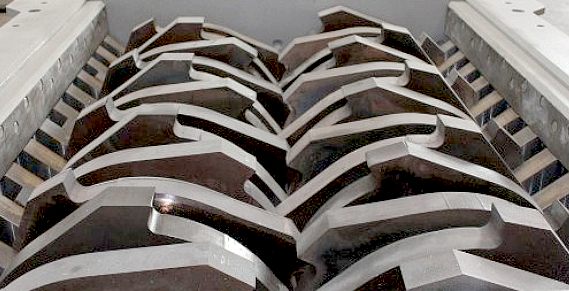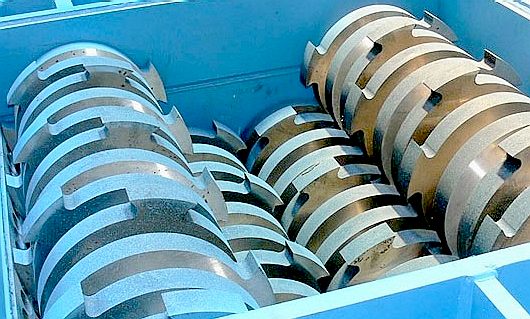 Industrial shredders come in all shapes and sizes. They can deal with just about anything, from tires to fridges, but at a cost. The above machines weigh quite a bit more than we'd like, but of course, you cannot have a sturdy shredding head without a mass compromise.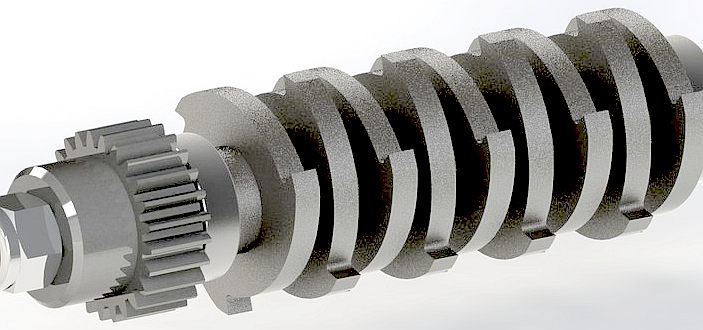 PLASTIC MINI MILLS - These are mini shredders - to be able to recycle plastic at home. They can easily handle Lego blocks, bottle caps and cups. With just a slight adjustment in size downwards they would be ideal to test out our model in 1/20th scale. But they look expensive.
LINKS
vafusa hydrocyclone separators
Vortex depollution products shredders pet bottle perforator
http://www.forbes.com/
http://en.nioc.ir/
http://www.saudiaramco.com/
http://www.shell.com/
http://www.rosneft.com/
http://www.exxonmobil.com/
http://www.gazprom.com/
http://www.petrochina.com.cn/
http://www.pemex.com/
http://www.chevron.com/
https://www.kpc.com.kw/
http://www.petrobras.com.br/
http://www.total.com/
https://www.qp.com.qa/
http://www.adnoc.ae/
http://www.bp.com/
http://www.lukoil.com/
http://www.statoil.com/
http://www.pdvsa.com/
http://www.nrc.oil.gov.iq/
http://www.sonatrach.com/
http://www.vortexdepollution.com/products/shredders/shredders/pet32-perforator
http://www.forrec.eu/dual-shaft-shredders
http://www.machinerydata.com/PlasticLumber.htm
http://www.ksb.com/giw-en/
http://www.hydrocyclone.com/
http://en.wikipedia.org/wiki/Hydrocyclone
https://www.vafusa.com/hydrocyclone-separators.htm
Youtube
ACIDIFICATION - ADRIATIC - ARCTIC - ATLANTIC - BALTIC - BERING - CARIBBEAN - CORAL - EAST CHINA
ENGLISH CH - GOC - GULF MEXICO - INDIAN - IRC - MEDITERRANEAN - NORTH SEA - PACIFIC - PERSIAN GULF - SEA JAPAN
STH CHINA - PLASTIC - PLANKTON - PLASTIC OCEANS - SEA LEVEL RISE - UNCLOS - UNEP WOC - WWF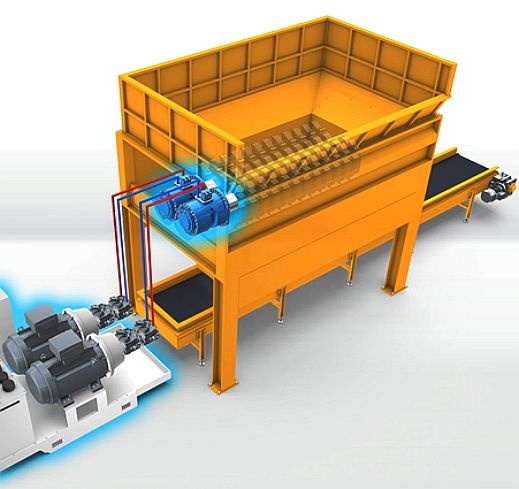 BIG BROTHER - Using hydraulics we overcome a myriad of difficulties in terms of drive shafts. That is not to say that we are discounting electric motors that are directly coupled via gearboxes.