LOGISTICS - BMS is operating on a shoestring budget at the moment, so needs to get to events such as Innovate 2015 as economically as possible. Normally this would mean using a bargain gas guzzling van to be able to accommodate such a large display, and that would have been the case, but for some lateral thinking. Enter the humble Nissan Micra (seen above) that still has plenty of life left in it with only 30,000 miles on the clock. It was ideal for adaptation with a purpose made roof rack - even though our Government would have you scrap such vehicles and buy a new one in our not-quite superheated economy, but certainly debt laden society. The trip to London and back to Herstmonceux in Sussex, which included a leg to overnight accommodation in Woodford from Old Billingsgate (twice), cost the team just £25 in fuel despite the extra drag from the increased frontal area on the vehicle. Now that is what we call low carbon economy motoring. Well done Nissan. On top of this was the Congestion Charge and the Dartford Crossing toll (both of which are our Government charging us twice to use roads that we already pay for with road tax), adding another £13.50. Transport cost excluding wear and tear on the vehicle, insurance and road tax was just £38.50. Imagine what that would have cost using public transport? Hence, we believe that privately owned zero carbon transport is essential for sustainable communities of the future. Public transport (trains, buses) is not that efficient. If they were, they would surely cost less.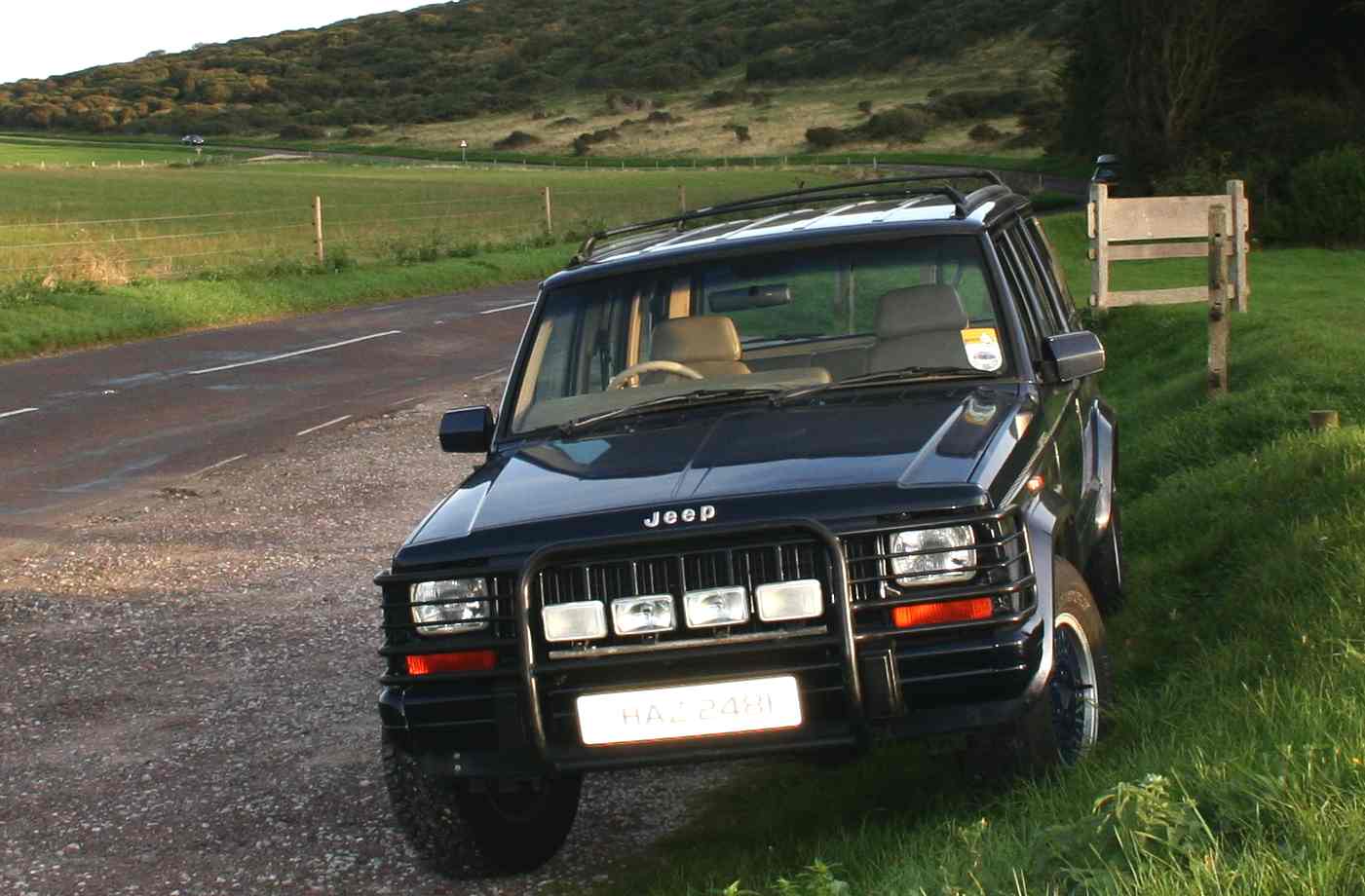 HEAVIER HAULAGE - If we had used our 4x4 (Jeep) for the same journey, it would have cost us £57, more than double. Plus of course the £13.50 additional taxes = £70.50.

SUNDAY 8th NOV - The exhibition hall was full of activity when we finally arrived to unload and set up our stand. We were scheduled to unload from 12:30, but delays in traffic made us late. The organizers were most understanding and flexible in this regard. Mind you we did not take up a lot of room with such a small vehicle. A number of the stands provided by the organizers were plain plywood on bare softwood frames. Other stands were more elaborate, mainly the official Government organizations who were attending.
ABOUT OLD BILLINGSGATE
The magnificent building of Old Billingsgate is in the heart of the City of London, positioned amidst the largest financial centre in Europe, and just a short distance from some of the world's most exclusive residential districts such as Mayfair, Knightsbridge, Chelsea and Kensington.
Old Billingsgate Market is the name given to what is now a hospitality and events venue in the City of London, based in the Victorian building that was originally Billingsgate Fish Market, the world's largest fish market in the 19th century.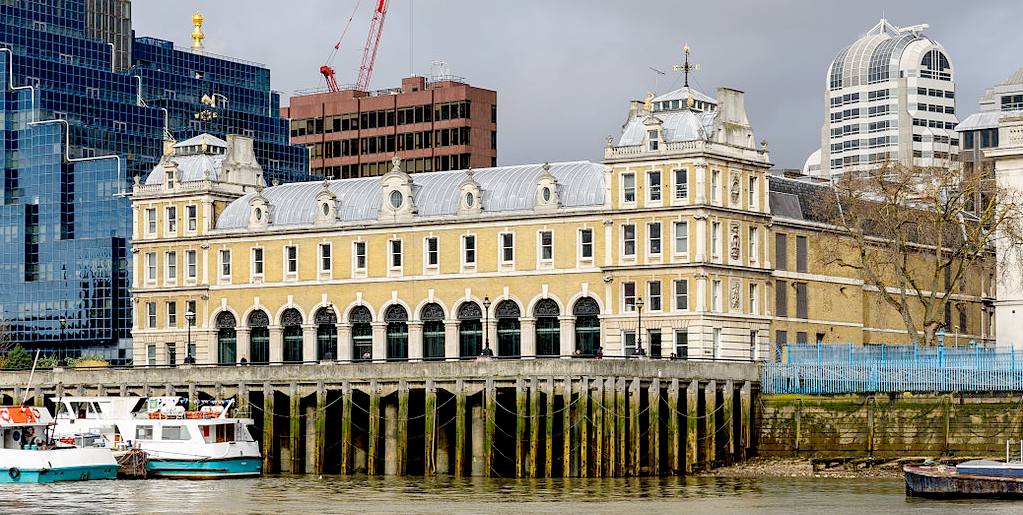 The first Billingsgate Market building was constructed on Lower Thames Street in 1850 by the builder John Jay, and the fish market was moved off the streets into its new riverside building. This was demolished in around 1873 and replaced by an arcaded market hall designed by City architect Horace Jones and built by John Mowlem & Co. in 1875, the building that still stands on the site today.

In 1982, the fish market itself was relocated to a new site on the Isle of Dogs in east London. The 1875 building was then refurbished by architect Richard Rogers, originally to provide office accommodation. Now used as an events venue, it remains a major London landmark and a notable Grade II listed building.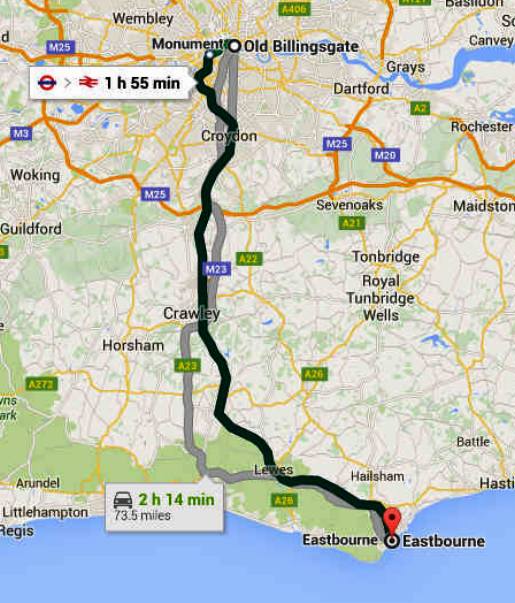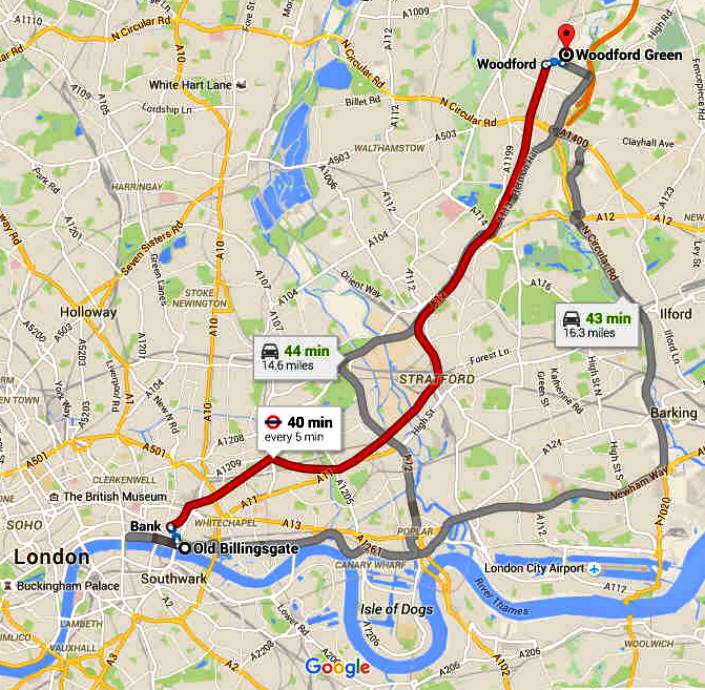 ROUTE MAPS - These are the route maps for the two legs of the journey to Old Billingsgate from the south coast, to Woodford.
3000 DELEGATES - MONDAY 9TH NOVEMBER 2015
More than 3,000 delegates from high-growth innovative businesses, the investment community, academia and government are gathered in London on the 9-10th of November for Innovate 2015 – a global showcase for the best in UK innovation.

Speakers for the 9yh included Facebook vice-president for Europe, Middle East and Africa Nicola Mendelsohn, the Secretary of State for Business, Innovation and Skills Sajid Javid MP, global innovation leader Dr Dave Richards, Cobra Beer founder Lord Bilimoria, and bio-bean founder Arthur Kay.

Many small and medium-sized British companies at the cutting edge of innovation are exhibiting alongside universities; funding and support bodies such as Innovate UK, the Catapults, and the Business Growth Service; and private investors.

Many smaller themed meetings and events are taking place away from the main stage and there are formal and informal networking opportunities for delegates, including the opportunity for one-to-one meetings with investors.

Events on the main stage for the 9th:

9.05am keynote ministerial speech by Sajid Javed

9.25am chief executive of Innovate UK Dr Ruth McKernan on a 5-point plan to accelerate innovation

10.10 Dr Dave Richards, co-founder of MIT Innovation Lab, on the seven sins of innovation

11.15 Nicola Mendelsohn on the relationship between innovation and creativity

1pm angel investor Sherry Coutu on UK progress on the recommendations of The Scale-Up Report on UK Economic Growth

1.50pm Lord Bilimoria on his top 5 tips for business expansion

2.45pm Arthur Kay, the Guardian's Sustainable Business Leader of the Year 2015, on how his idea for bio-bean has changed his life

3.25pm panel discussion about how Catapult innovation centres are driving investment

4.25pm Chris Aylett, chief executive of the Motorsport Industry Association, on how the UK's Motorsport valley cluster is leading the world


TUESDAY 10TH AT INNOVATE 2015

Businesses attending can find out about the wide range of research expertise and government support available to help them to deliver new products and services and to expand both at home and abroad.

Tuesday's schedule focused on the innovation capabilities of the UK and the regional funding and support opportunities available to help businesses succeed and grow.

Speakers included Jo Johnson MP, Minister of State for Universities and Science, Professor Sir Nigel Shadbolt, chairman of the Open Data Institute, and a range of participants in the pioneering Evoque_E collaboration to develop hybrid and electric vehicles based on Range Rover models.
LOGISTICS
Our budget for this show was non-existent. The project team under the leadership of Chris Close, decided to make a stand that revolved, from old equipment and other redundant parts that we sometimes keep on the premises a bit too long before scrapping. Is that a good thing? You bet your life it is.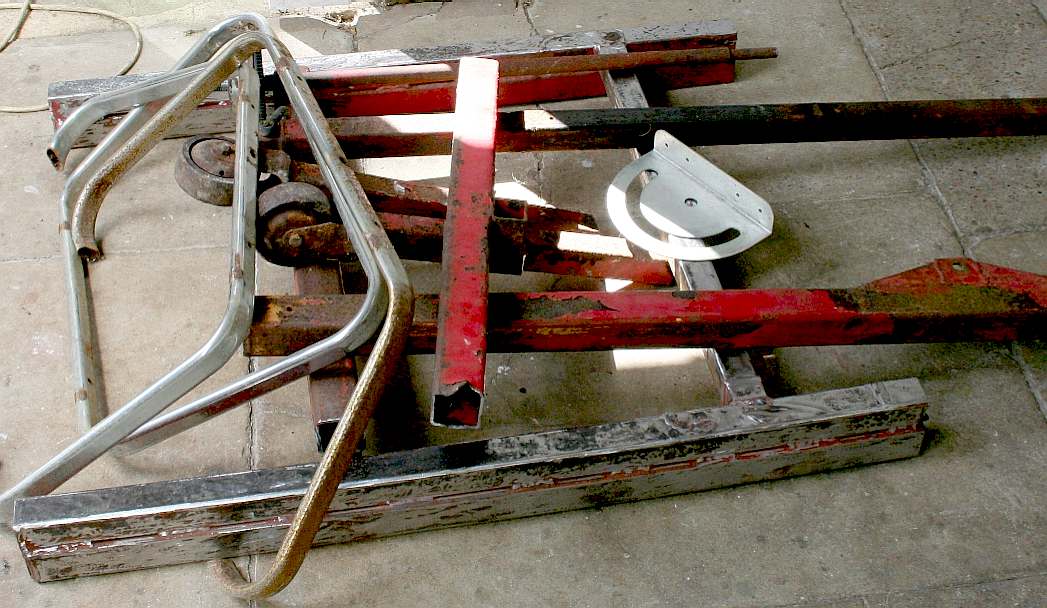 RECYCLING IN INNOVATION - How do you go from this pile of scrap steel to the exhibition quality stand below? Find out by clicking on the picture above and learn how to recycle your waste and fashion something useful, even elegant - in the process saving money that would have been spent on purchasing new goods carrying with them a fresh carbon footprint.
So it was that a consultant designer was brought in to mentor the team to come up with a configuration to reuse scrap parts to make a display stand that fit the bill, in that it was strong, durable and aesthetically pleasing. The stand would also have to break down to fit into or onto the only pool vehicle with a roof rack that the company currently uses. Indeed, some of the roof rack was also fabricated from reused steel as a custom build, because the racks that you could buy from automotive accessory shops or online were not strong enough and expensive to boot.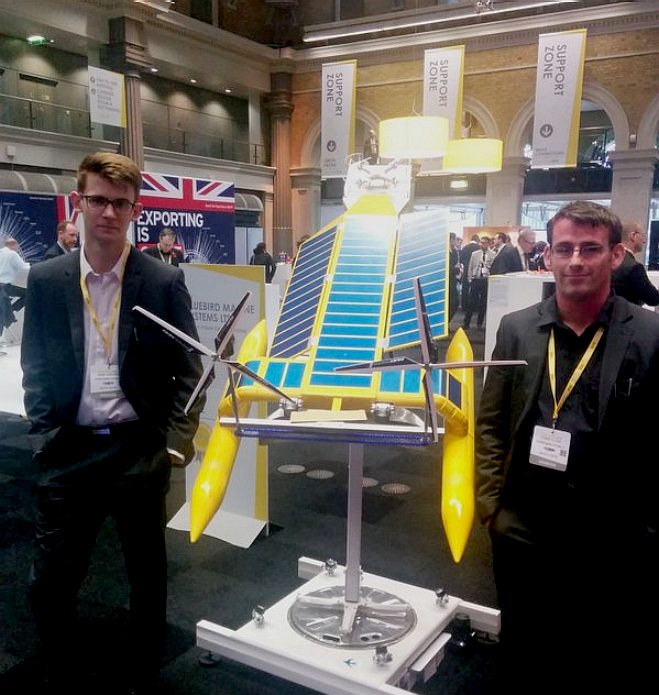 JAMIE & CHRIS - Probably the youngest delegate at the Innovate 2015 show, Jamie (17 left) nicknamed "Q", was allowed special time off (work experience) from his regular studies to be able to attend his first public exhibition. Our SeaVax project manager Chris (right), also had his first outing with the proof of concept boat seen above on its revolving stand. BMS is keen to introduce talent to the commercial arena, teach practical skills for life and watch contributors to the project grow with the project. Apart from aiming for a circular economy in cleaning up our oceans, BMS believes that the future economic prosperity of all nations relies on a skilled workforce in key technological areas such as energy, transport, robotics and communications to underpin sustainable agriculture (including fishing) and house building among other vital support for all life on earth. Conversely, young engineers need interesting engineering projects to encourage entry to a challenging career path. We believe that SeaVax ticks the boxes on all fronts and so offers far more to the UK's skills drive than all the land and water speed record attempts currently proposed, including our own.
IMPROVED FACILITIES
Although it was possible to get to and from this event with the help of some very friendly organizers at Innovate2015, both inside and outside the building, BMS needs a rig that will allow the team to give shows at venues that are popular, such as carnivals and music fests, shopping malls, beach events and so on. The problem with exhibitions in this part of London is that parking is severely limited. That means fast setup and breakdown times and long waiting times for your slot in the queue. The Nissan Micra, though a brilliant car for economy, cannot be modified for practical eventing. Super minis are now on the market that approach 80 mpg. Good news for the motoring public, bad news for oil companies. EVs are also coming on stream, meaning that one day they could be solar and wind powered, just like the SeaVax. Again, good news for the environment, bad news for fossil fuel investors like Bill Gates. Naughty! But then again we still need oil to tide us over until zero carbon transport takes over.
To improve our flexibility and make other venues possible, the team have a modified VW camper van and a trailer earmarked for dedicated conversion to a "rig" for eco Road-Shows. The reason for this is that most people are not aware of the ocean plastic problem, let alone the fact that there is a potential cure in the offing. It must then be that as we have a suitable display that people can enjoy learning from, that we should attend as many popular venues as possible to share information with the man on the street.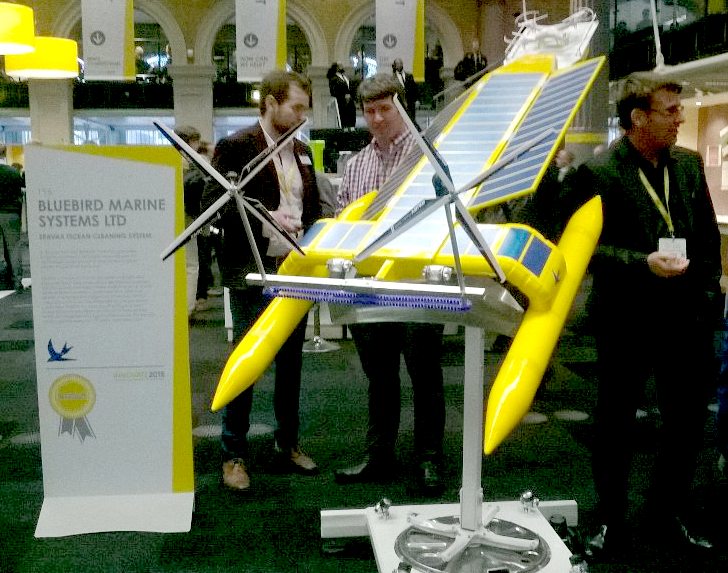 EXHIBITION STAND No 115 - Due to health and safety issues we were not allowed to have the display stand revolving while visitors were in the halls. For our next static event we may solve this limitation by including a large circular base with rope barriers. We were blessed with a superb position adjacent to the LUTZ Pathfinder Pod stand.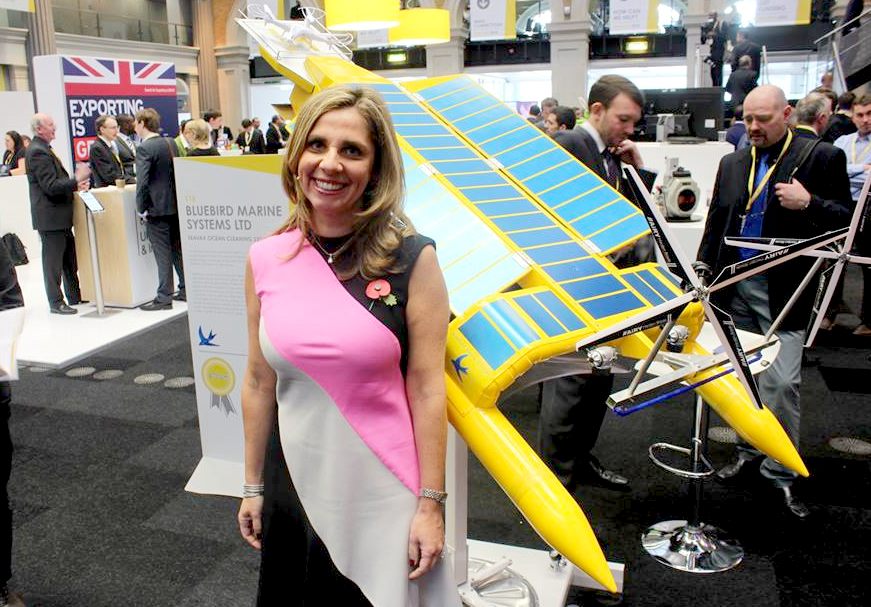 NICOLA MENDELSOHN - We were very pleased to welcome Nicola Mendelsohn when she made time to visit our stand at Innovate 2015. Thanks Nicola. Nicola is Facebook's vice president for Europe, the Middle East and Africa (EMEA). She was a speaker at the Innovate event. Nicola works from the social network's new London office near Euston where her calendar is covered in colour-coded post-it notes to indicate the different regions of the world she is visiting.
This year, Nicola was named a Commander of the Order of the British Empire (CBE) in recognition of her services to the creative industry. She was Executive Chairman at the advertising agency Karmarama. She is the co-chair of the Creative Industries Council a joint forum between the creative industries and UK Government.
Previous roles include being the first woman President of the IPA, Director of the Fragrance Foundation, a board member of CEW, Trustee of the White Ribbon Alliance and Corporate chair of Women's Aid. Nicola serves as non-executive Board Director for Diageo and is Director of the Bailey's Women's Prize for Fiction. Her greatest joy in life comes from her husband Jon and their four children Gabi, Danny, Sam and Zac.
The Telegraph quotes Nicola as saying: "I plan a year ahead, to make sure I visit all the markets and see what's going on. I pay particular attention to different areas that might need me at different times." "It means I'm on the road every single week, but I absolutely love it. I get to spend time with extraordinary people in the most incredible places, and Facebook can help their businesses."

Throughout her 20 years in advertising agencies Mendelsohn insisted on working four days a week, so that she could spend more time with her family. But, when she joined Facebook around two years ago she decided to go full-time saying "because I didn't think I would be able to do the job well on that amount of time, and the kids were older". Like Facebook's chief operating officer, Sheryl Sandberg, she champions diversity in the workplace and recently hosted a breakfast event for around 200 female leaders to celebrate International Women's Day.

During Mendelsohn's two years working at Facebook, the social network has changed dramatically. When she first joined the company in 2012, it had only just acquired Instagram, it hadn't bought WhatsApp, it hadn't bought Oculus, and it hadn't yet separated out Messenger from the the main Facebook app on mobile.

Mendelsohn said that, since 2012, there has been a rapid acceleration in the number of people accessing the social network via mobile devices. In the UK alone, 27m people visit Facebook every day, and 24m of these are coming back on mobile every day. On average, she said, people check Facebook on their mobiles an average of 14 times a day. Video has also exploded on Facebook. The company is now seeing 3bn video views every day, up from 1bn six months ago. This has forced advertisers to completely rethink the way they target customers. There are now 2 million active advertisers on Facebook, up from 1.5 million roughly half a year ago and 1 million a year-and-a-half ago. Follow Nicola on Twitter: Twitter Nicola Mendelsohn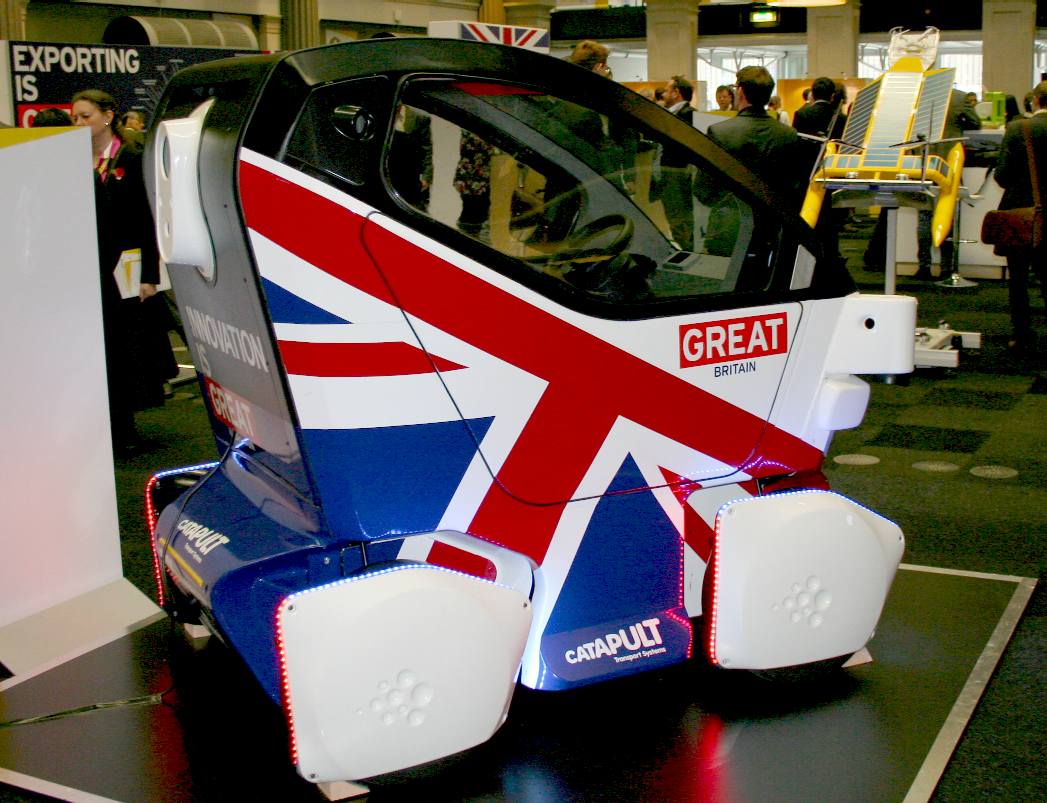 EXHIBITION STAND No C10 - Automated (self-driving) vehicles are seen by many as the future of personal transport, with the eventual promise of fully-automated vehicles expected to bring significant societal benefits. Road safety is perhaps the most important factor, as it has been estimated that human error is at least partly responsible for more than 90% of today's road fatalities.

It's also anticipated that automated vehicle systems will allow for more efficient movement of people and goods – potentially leading to a marked reduction in congestion as well as bringing possible benefits to the environment. If vehicles can be made to run entirely without human drivers, automation could also offer a new lease of mobility to those who cannot currently drive, whether on account of age, disability or simply because they do not own a car. There is still a long way to go until that vision becomes a reality, but the Transport Systems Catapult is helping to ensure that the UK remains at the forefront of this exciting new field of technology, with our LUTZ Pathfinder self-driving pods project about to get underway on pedestrianized areas of Milton Keynes.

Carried out on behalf of the UK Automotive Council and the Department for Business, Innovation and Skills, the LUTZ Pathfinder project will oversee the trial of up to three automated pods within the city centre, and assess their feasibility from both a technological and societal point of view. Designed and manufactured by Coventry-based automotive innovation experts RDM, the electric-powered two-seater pods are equipped with sensor and navigation technology developed by the University of Oxford's world-leading Mobile Robotics Group.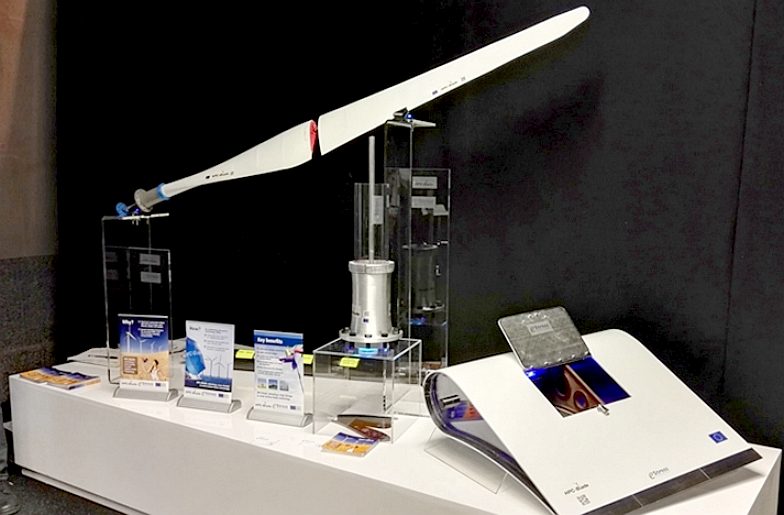 EXHIBITION STAND 74 - eStress specialises in providing engineering analysis and consultancy services within the 'high-tech' and R&D fields ranging from contribution to new product designs, investigation into the structural integrity of existing products and components, failure analysis, heat transfer, and assessment of the impact of modifications on life expectancy and structural performance.
The Organization is based in Bristol and has been operating for more than 20 years. Its success was founded and is still firmly based on the wide ranging practical engineering experience of its 10 strong Top Management and Engineers. Customers include Airbus, BAe Systems, Rolls-Royce, GKN Aerospace, Messier-Bugatti-Dowty and British Energy.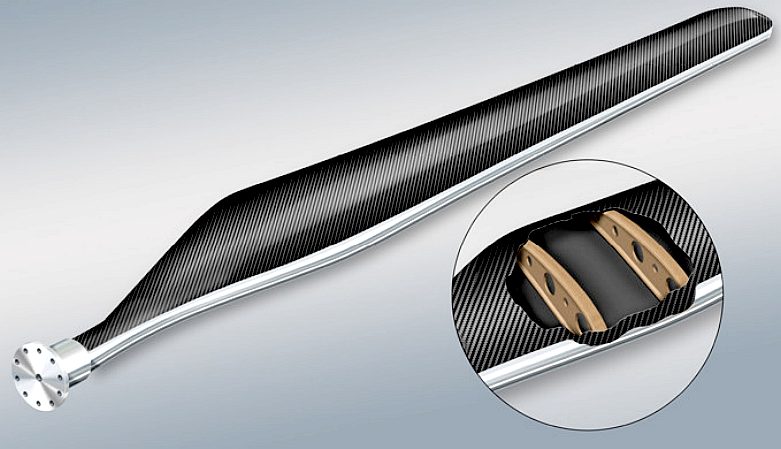 The HPC-Blade product represents a novel design and manufacturing solution for wind-turbine blades. The product assembly facilitates the following technology shifts: progression from a spar and core configuration to a rib-based fully stressed blade skin; elimination of mechanically fastened or bonded composite-metal joints; an optimised and appropriate synthesis of composite and metallic materials.
HPC-Blade offers weight saving, improved reliability, erosion/corrosion resistance, faster manufacture and lower cost when compared to existing products on the market. The unique hub adaptation assembly unlocks the blade retrofit market. The design is scalable, offering benefits to composite blades of many sizes. CONTACT: eStress Ltd, 3 Hide Market, West Street, St Philips, Bristol, BS2 0BH. Tel 0117 954 7147 Email
chris.vaissiere@estressltd.com http://www.hpcblade.com/
INNOVATE 2015
This event is designed to encourage inventive entrepreneurs to take technological ideas to market. The other area for drive was export, so helping budding business persons to start companies to make products to keep the UK competitive, and provide jobs. That said, with robotics being one of the fastest growing areas, jobs may become a thing of the past.
The idea is that the Dti put up a number of grants in selected areas of growth. The grants are between 50-70 percent of a projects costs, meaning that entrepreneurs need to either risk their own cash if they are wealthy, or persuade a bank to lend them what amounts to research and development funding. Typically, existing technology companies with huge reserves will reap the rewards of these grants, because they already have an R&D budget. This innovation showcase is a great place to see the latest ideas and poach one or two for your own company, should an exhibitor not have sewn up their IP rights - so be careful. It's a cut-throat world, especially where devious military interests come into play. They don't want to help you, they want to steal your know-how and will even sign a non-disclosure agreement to find out who your partners are, then walk away once they have that intel. So steer clear of MOD contractors.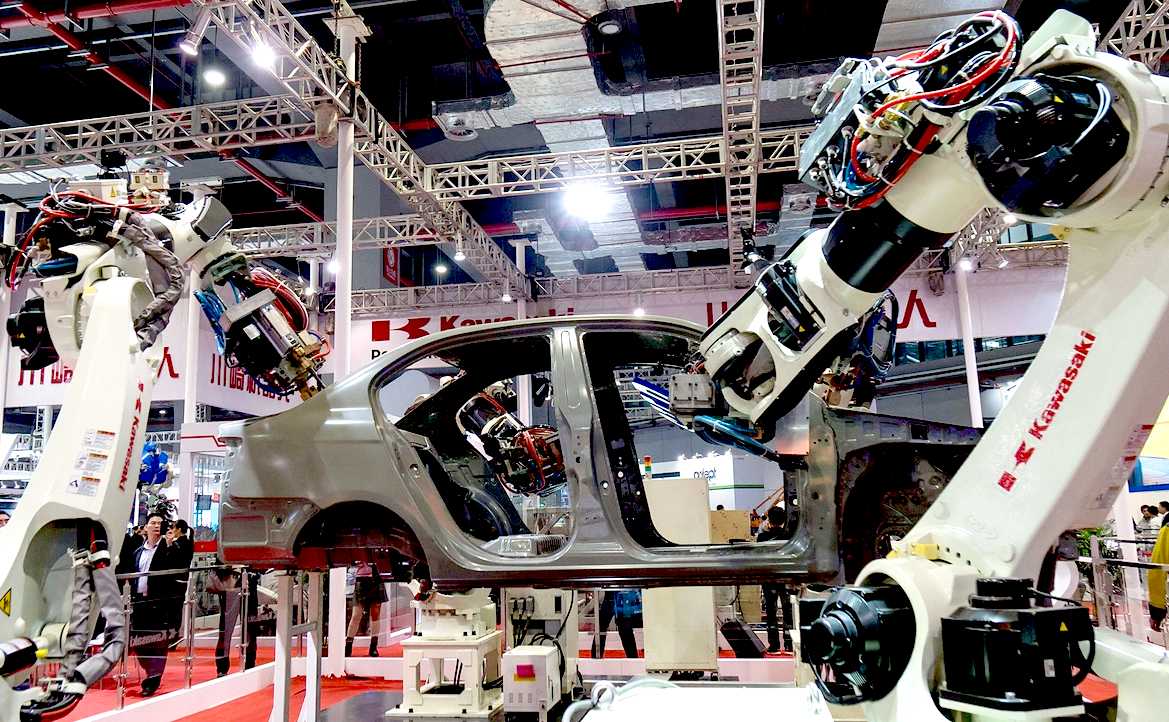 INDUSTRIAL ROBOTS - Without robots making our cars and computers they would cost more and be made to lower tolerances. Robots speed up production and do not need to stop for meals, etc.
THE GUARDIAN NOV 5 2015 - ROBOTIC REVOLUTION
According to the Guardian, In a 300-page report analysts from investment bank Bank of America Merrill Lynch draw on the latest research to outline the impact of what they regard as a fourth industrial revolution, after steam, mass production and electronics.

"We are facing a paradigm shift which will change the way we live and work," the authors are quoted as saying. "The pace of disruptive technological innovation has gone from linear to parabolic in recent years. Penetration of robots and artificial intelligence has hit every industry sector, and has become an integral part of our daily lives."

However, this revolution could leave up to 35% of all workers in the UK, and 47% of those in the US, at risk of being displaced by technology over the next 20 years, according to Oxford University research cited in the report, with job losses likely to be concentrated at the bottom of the income scale.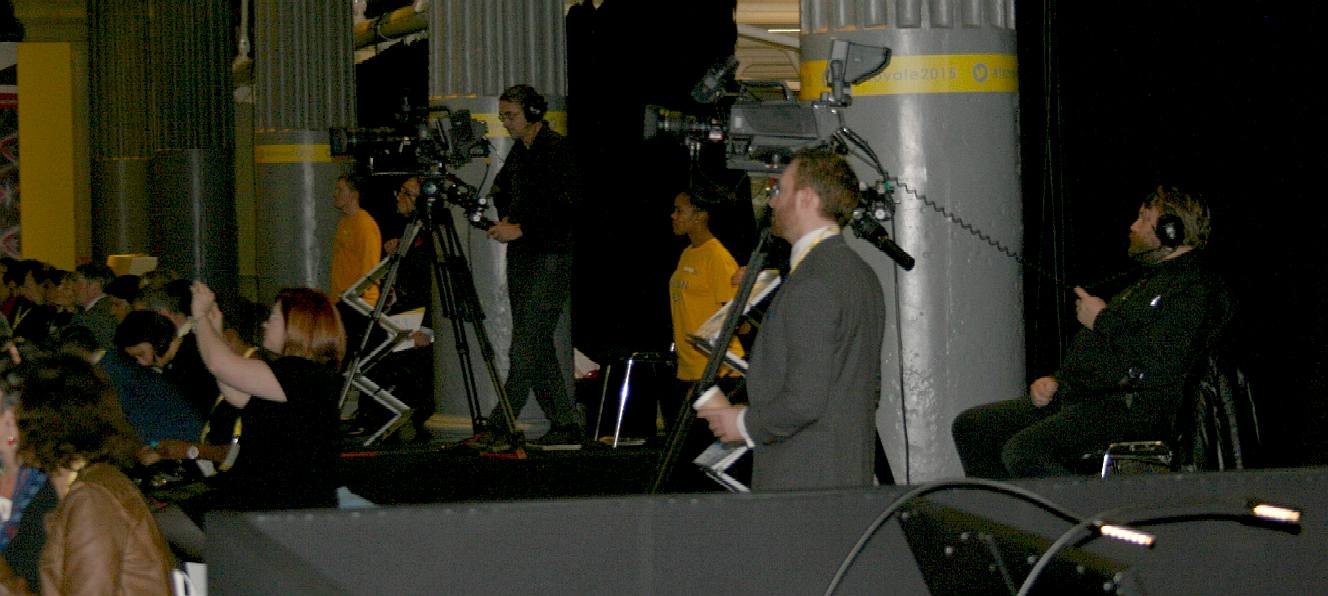 BEHIND THE SCENES - Camera and sound men record the speakers and keep presentations on PowerPoint running smoothly.
"The trend is worrisome in markets like the US because many of the jobs created in recent years are low-paying, manual or services jobs which are generally considered 'high risk' for replacement," the bank says.

"One major risk off the back of the take-up of robots and artificial intelligence is the potential for increasing labour polarisation, particularly for low-paying jobs such as service occupations, and a hollowing-out of middle income manual labour jobs."

The authors calculate that the total global market for robots and artificial intelligence is expected to reach $152.7bn (£99bn) by 2020, and estimate that the adoption of these technologies could improve productivity by 30% in some industries.

They point out that Google bought eight robotics companies in a two-month period in 2014, from Boston Dynamics, which makes the BigDog robot, to DeepMind, specializing in deep learning for artificial intelligence.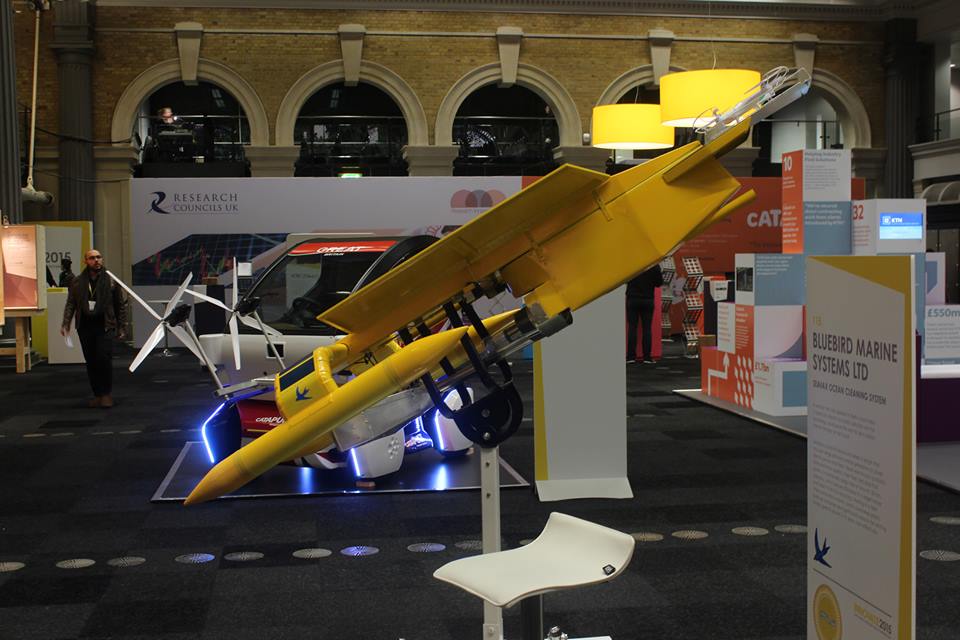 STAR SHIP ENTERPRISE - This may look like a Trekkie treat, and another Star Ship for Admiral James T Kirk or Captain Jean-Luc Picard to go boldly somewhere in the Universe, but they may be surprised to learn that it's not a space ship at all, rather an ocean cleaning workhorse for planet earth.
In the most advanced manufacturing sectors – among Japan's carmakers, for example – robots are already able to work unsupervised round the clock for up to 30 days without interruption. While offshoring manufacturing jobs to low-cost economies can save up to 65% on labour costs, replacing human workers with robots saves up to 90%.

At present, there are on average 66 robots per 10,000 workers worldwide, the report finds; but in the highly automated Japanese car sector there are 1,520. But it is not just low-skilled jobs, such as assembly-line work, that could be replaced: a report from the McKinsey Global Institute in 2013 found that up to $9tn in global wage costs could be saved as computers take over knowledge-intensive tasks such as analysing consumers' credit ratings and providing financial advice.

Enthusiasts for the rise of robots argue that they can overcome the foibles and fallibilities of human workers. The report cites research that showed judges tend to be more draconian in the runup to lunchtime and more lenient once they have eaten, for example.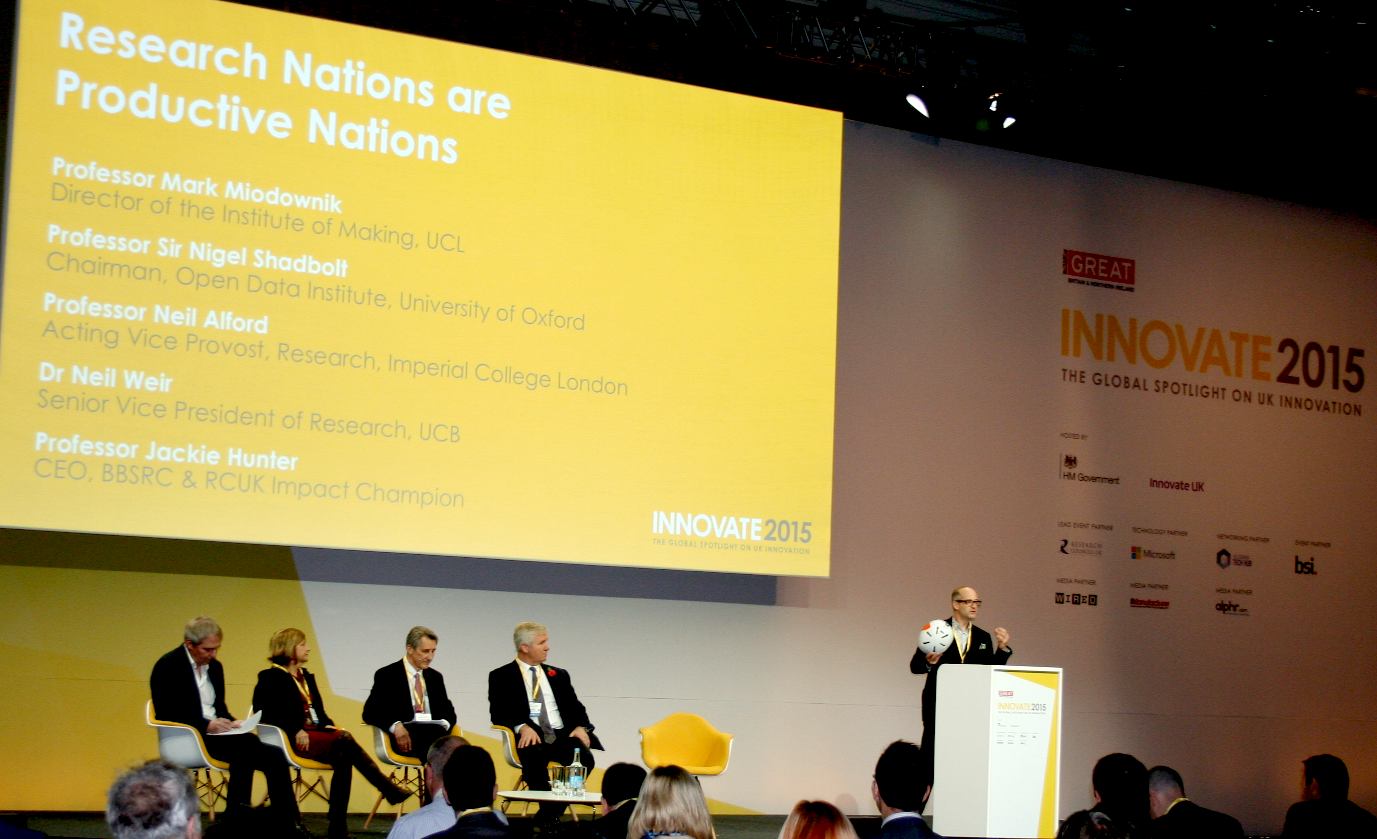 PRESENTERS & PANEL - The Innovate event had a full conference agenda on a variety of topics
It urges consumers to invest in businesses that are already taking advantage of the benefits of the new technologies: "Early adoption will be a key comparative advantage, while those that lag in investment will see their competitiveness slip."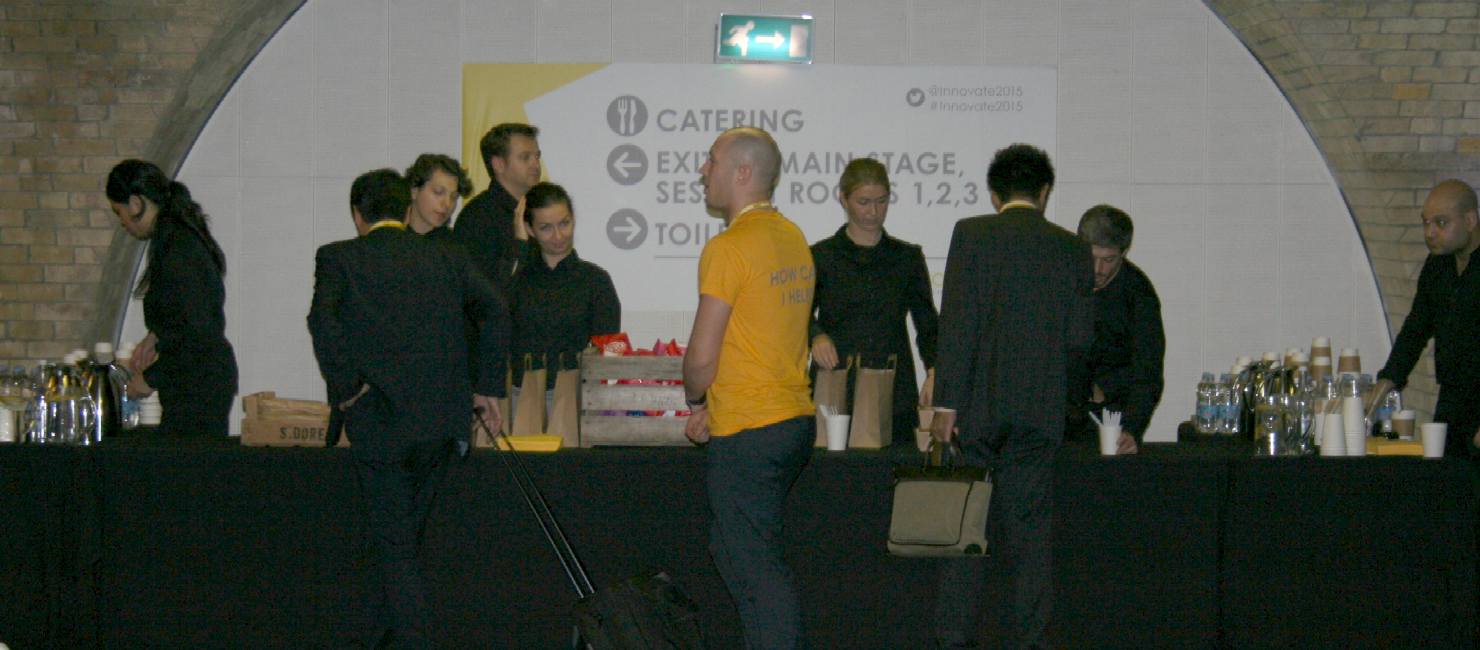 REFRESHMENTS - Coffee, tea and water were served all day. At lunchtime there were filled rolls for carnivores and veggies, and other snacks.
However, the bank also points out that major ethical and social issues will increasingly arise: they cite the moral questions about the growing use of unmanned drones in warfare; and even the emergence of a pressure group called the Campaign Against Sex Robots, where no such machines exist to be able to evaluate any argument one way or the other, though we are sure there would be no shortage of volunteers - and such endeavors could see an end to exploitation of both male and female servitude - and provide companionship for many who prefer less complicated lives. Fears about humans being displaced by machines are not new: in the early 19th century bands of angry Luddites smashed up the steam-powered looms that were throwing hand-weavers out of work.

Beijia Ma, the report's lead author, said that over the past 200 years and more, societies have eventually found ways of turning technological developments to their advantage. She said the best advice for people fearing the rise of the robots is to polish up their skills. "It's not meant to be a doom and gloom report: one of the ways we think people could help themselves here is through education."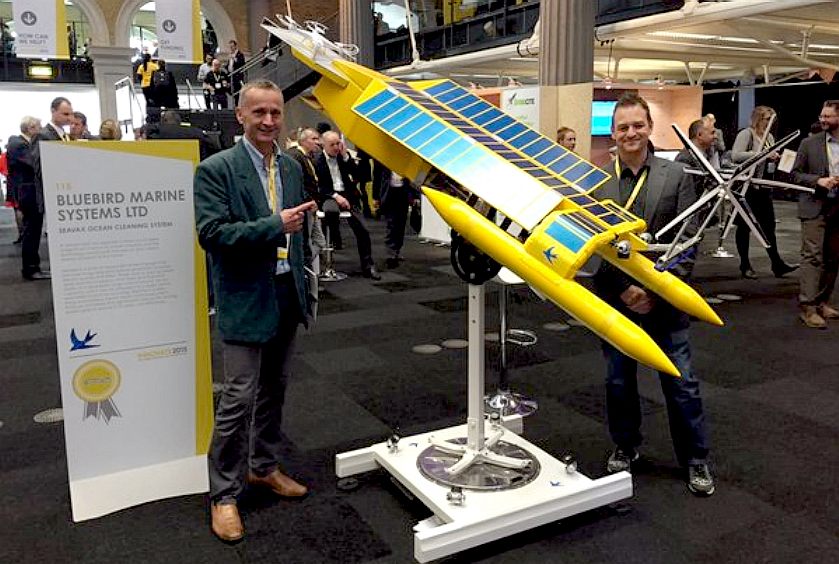 STAND VISITORS - Visitors to our stand were often experts in robotics or other engineering fields. We enjoyed sharing information with them and the media, who were also in force. We were filmed for Japanese and Chinese audiences. We also touched base with Government officials from overseas, some of whom liked the concept of being able to clean up their patch. A big thankyou for all of you who took the time to talk to us and share your views.
Beijia Ma added that a recent survey of industry experts, by the US polling firm Pew, revealed a stark divide between techno-optimists and pessimists. Almost half of them, 48%, believed the rise of robots and artificial intelligence would have "a massive detrimental impact on society, where digital agents displace both blue- and white-collar workers, leading to income inequality and breakdowns in social order".

Meanwhile, 52% "anticipated that human ingenuity would overcome and create new jobs and industries".
Andrew Simms, of thinktank the New Weather Institute, said the rise of new technologies could be an opportunity to realise the aspirations of the economist John Maynard Keynes, who predicted in 1930 that within a century, technology would have enabled the working week to be reduced to 15 hours with the rest of the time devoted to leisure.

Without rethinking the relationship between work and society, the result could be a growing disparity between economic winners and losers. "We are in danger, for the first time in history, of creating a large number of people who are not needed," he said. "The question should be, what sort of economy do you want, and to meet what human needs?"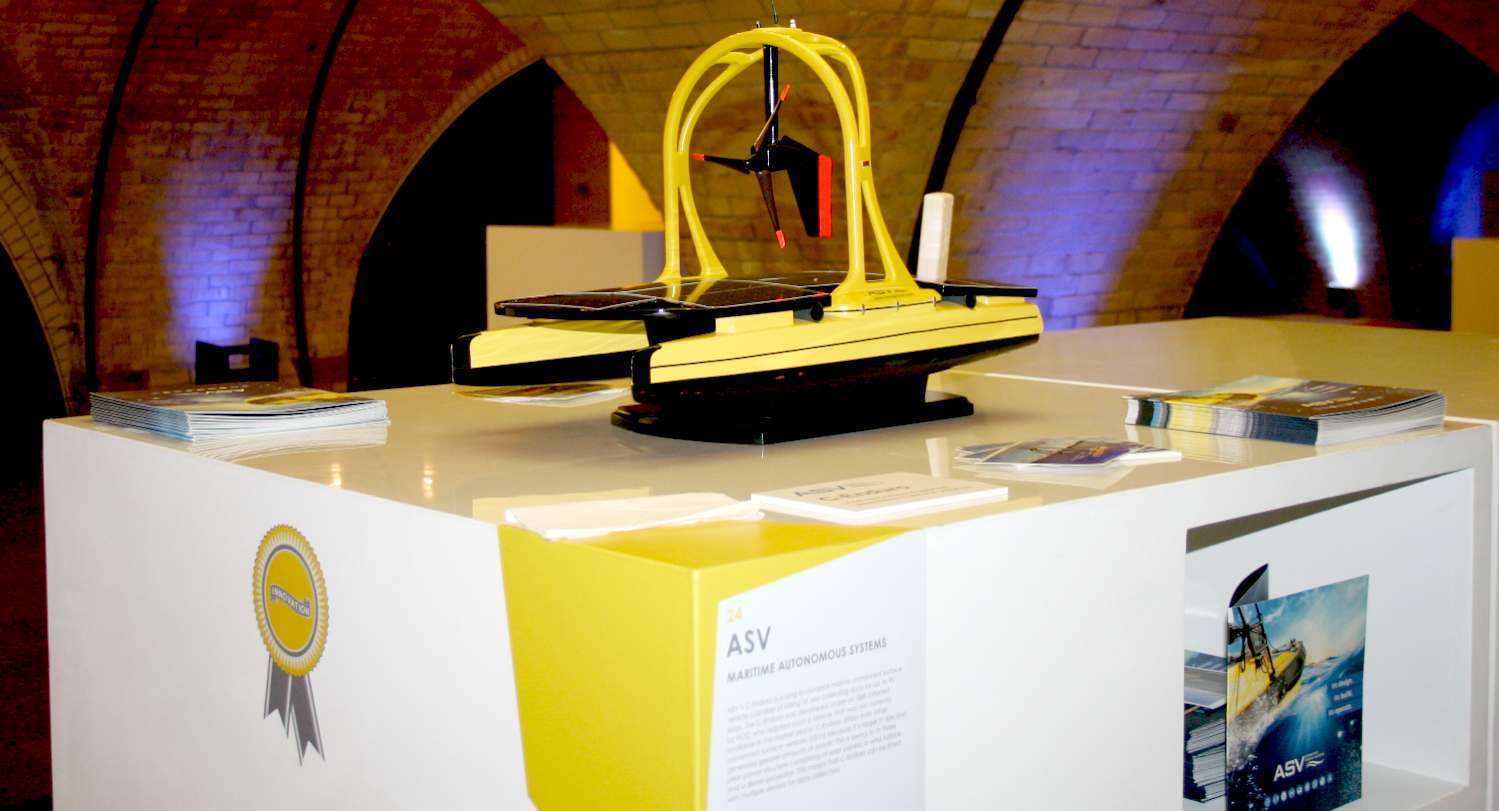 LOWER GROUND FLOOR STAND No 24 - ASV won a place to showcase its product at the UK's largest innovation show. ASV Global had this 500mm (12' x 7' feet full size) long model of their C-Enduro catamaran on display [4 x 2.5 metres full size]. We understand that they have sold at least 3 of these boats since introduction that are solar and wind powered, with a diesel engine in the driveline as the Achilles Heel in the design of a truly long endurance vessel. ASV Global are regularly awarded military contracts by the Royal Navy and other Department of Defense organisations, giving them significant financial reserves to be able to develop both oceanographic survey and war machines. Under the leadership of Dan Hook they now employ around 70 staff largely due to military support, where the Royal Navy is keen to move into the sphere of robotic warfare and is now inviting demonstrations of autonomous marine idea at their 'Unmanned Warrior' DSEI exercise in 2016. Bluebird Marine Systems oppose any form of conflict that puts human lives at risk, and does not seek nor undertake military contracts. If it is absolutely necessary to patrol the oceans as a deterrent, we would prefer to see passive unmanned peacekeeping vehicles that are designed to prevent wars (save lives) - and that are non-polluting. That of course rules out nuclear powered submarines and aircraft carriers. The C-Enduro cannot be described as a war machine. It is mainly used for limited range (coastal) oceanographic surveys.
THE ROBOT REVOLUTION - UNDER THREAT?
A wide range of jobs could eventually be taken over by machines, Bank of America Merrill Lynch's analysts predict. Burger flippers A San Francisco-based start-up called Momentum Machines has designed a robot that would replicate the hot, repetitive tasks of the fast-food worker: shaping burgers from ground meat, grilling them to order, toasting buns, and adding tomatoes, onions and pickles.

Manufacturing workers Relatively low-skilled industrial workers in rich countries have become used to competing against cut-price employees in cheaper economies. But while "offshoring" can cut labour costs by 65%, replacing workers with machines can cut them by up to 90%. The process is well advanced in countries such as Japan and South Korea; as other countries catch up, many more jobs will be taken over by technology.
LOWER GROUND FLOOR STAND No 60 - Potentially of interest to BMS for marine animatronics applications was a linear actuator that is around 65% efficient. Dr Graham Whitely (Tech Dir) and Craig Fletcher (Man Dir) were on the stand to explain the advantages of the system to our roving delegate. Wavedrives Limited are developing a range of what amounts to electro-mechanical muscles for prosthetic or robotic applications. Wavedrives is a spin off of Elumotion Ltd's patent system. Their focus is on sustainable, electro-mechanical and robotic solutions capable of human-compatible motion that is smooth and judder free with fine control.
They claim the product is scalable. Stroke length can be extended without loss of performance. Backdrive force can be tailored for application. While larger diameter SILA units will provide greater force, smaller units will remain power dense. The non-contact transmission has very low noise, no wear, no friction and no risk of jamming. Electromechanical actuators cannot match this adaptability and endurance.

The SILA EC-210 generates less than 48db noise. This offers meaningful reductions in noise levels relative to other actuation technologies. Low lifetime cost and complexity and part count, absence of wearing surfaces, high efficiency and low maintenance requirement all contribute to reducing the lifetime cost of such systems.
CONTACTS - Unit 1, Wansdyke Business Centre, Oldfield Lane, Bath, BA2 3LY. Tel: 01225 466633 Web: http://www.wavedrives.com/
Financial advisers Bespoke financial advice seems like the epitome of a "personal" service; but it could soon be replaced by increasingly sophisticated algorithms that can tailor their responses to an individual's circumstances.

Doctors Some 570,000 "robo-surgery" operations were performed last year. Oncologists at the Memorial Sloan-Kettering Cancer Center in New York have used IBM's Watson supercomputer, which can read 1m textbooks in three seconds, to help them with diagnosis. Other medical applications of computer technology involve everything from microscopic cameras to "robotic controlled catheters".

Care workers Merrill Lynch predicts that the global personal robot market, including so-called "care-bots", could increase to $17bn over the next five years, "driven by rapidly ageing populations, a looming shortfall of care workers, and the need to enhance performance and assist rehabilitation of the elderly and disabled".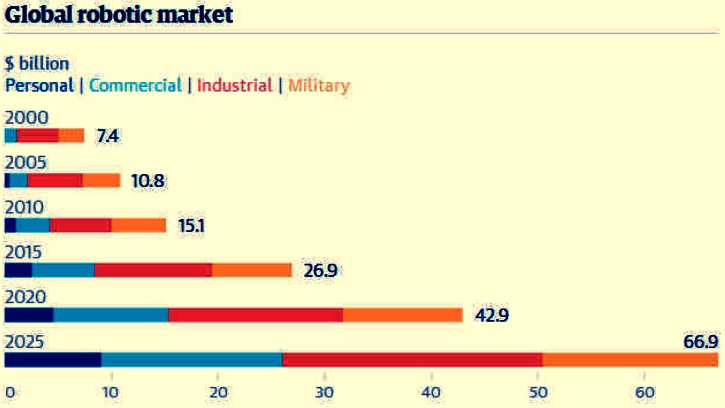 MERRILL LYNCH - A "robot revolution" will transform the global economy over the next 20 years, cutting the costs of doing business but exacerbating social inequality, as machines take over everything from caring for the elderly to flipping burgers, according to a new study.

As well as robots performing manual jobs, such as hoovering the living room or assembling machine parts, the development of artificial intelligence means computers are increasingly able to "think", performing analytical tasks once seen as requiring human judgment.
SHOW HIRE
Event organizers that are looking for an interesting attraction might like to hire the SeaVax road show and a presenter, to give short inspirational talks and demonstrations of the robot ship that could be the answer to declining fish stocks, a subject that is worrying the United Nations and most other world leaders. Not though the Global Ocean Commission who recently recommended doing more of the same: yes that is right - nothing much! Granted we are taking on a lot, but it is a worthy cause and we're bound to learn a great deal in rising to the challenge. We are of course not alone in this quest, we have many academic supporters in principle.
MEZZANINE FLOOR STAND 151 - Boris is a life sized humanoid robot from Globalnet 360 designed for human interaction in a public environment. Boris is fully interactive, multilingual, and user-friendly, making it a perfect device with which to communicate and entertain. He is available for hire to perform at your venues, complete with a roboteer to create custom content. We saw a demonstration where Boris changes from blue to red to simulate anger. His eyes change colour and the machine waves its arms about. In our opinion Boris would benefit from a little work in the facial appearance and muscle department - and the eyes. But to a customer unfamiliar with robots, they would be entertained and it is a very good effort.
CONTACT: 360Globalnet Ltd, Bourne House, 475 Godstone Road, Whyteleafe, Surrey CR3 0BL. Tel: 01883 621000

More to come ......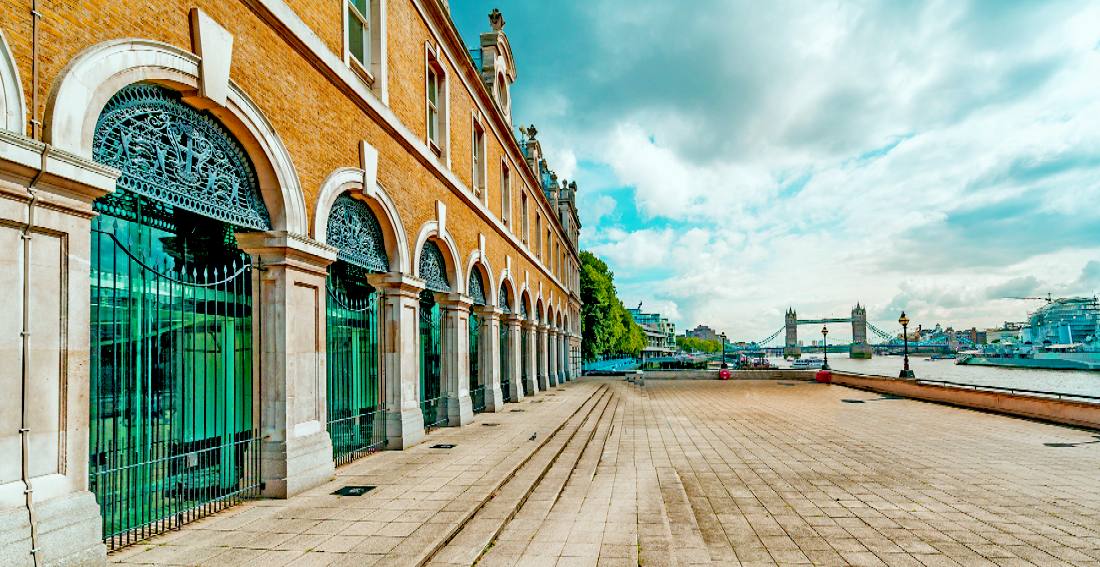 CONTACTS
Oldbillingsgate Ltd
1 Old Billingsgate Walk
London
EC3R 6DX

Call: +44 (0)20 7283 2800
Fax: +44 (0)20 7626 1095
Email: info@oldbillingsgate.co.uk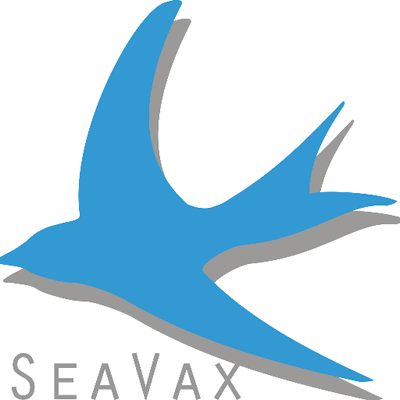 LINKS & REFERENCES
UK Trade and Industry Innovate 2015
http://en.people.cn/n/2015/1112/c98649-8975579-2.html
Government organisations department for business innovation skills
Campaign against sex robots wordpress
Mckinsey insights business_disruptive_technologies
The Guardian technology 2015 November 5 robot revolution rise machines could displace third of uk jobs
Government paying twice for public roads Dartford crossing charge
TFL Transport For London UK driving congestion charge

https://twitter.com/Innovate2015
http://www.instagram24.com/tag/innovate2015
http://www.internationalwomensday.com/
http://www.bostondynamics.com/
https://www.google.co.uk/
http://www.ibm.com/
http://www.janes.com/article/54427/dsei-2015-uk-royal-navy-plans-to-gauge-autonomous-technology-opportunities-in-unmanned-warrior-exercise-in-2016
http://en.people.cn/n/2015/1112/c98649-8975579-2.html
Wikipedia Old_Billingsgate_Market
http://www.360globalnet.com/
http://asvglobal.com/events/innovate-2015/
https://en.wikipedia.org/wiki/Old_Billingsgate_Market
https://www.events.ukti.gov.uk/
http://www.ox.ac.uk/
https://www.gov.uk/government/organisations/department-for-business-innovation-skills
https://twitter.com/nicolamen
http://www.telegraph.co.uk/technology/facebook/11480211/Interview-Facebooks-Nicola-Mendelsohn.html
https://www.ml.com/
https://ts.catapult.org.uk/
https://www.gov.uk/government/organisations/department-for-business-innovation-skills
http://www.rdmgroup.co.uk/
http://www.automotivecouncil.co.uk/
http://mrg.robots.ox.ac.uk/
http://www.newweather.org/
https://campaignagainstsexrobots.wordpress.com/about/
http://www.mckinsey.com/insights/business_technology/disruptive_technologies
http://www.theguardian.com/technology/2015/nov/05/robot-revolution-rise-machines-could-displace-third-of-uk-jobs
https://www.gov.uk/pay-dartford-crossing-charge
https://tfl.gov.uk/modes/driving/congestion-charge