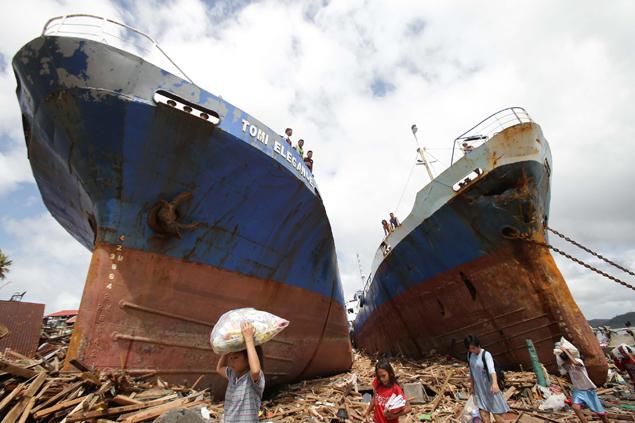 Events like these are happening around the world and the superpowers are still wasting money building giant floating coffins
DEATH TOLL
An estimated 10,000 people might have been killed in the central Philippine province of Leyte alone, which was almost completely destroyed by the powerful typhoon Haiyan, local authorities said.
The typhoon has devastated up to 80 percent of the Leyte province area as it ripped through the Philippines, Chief Superintendent Elmer Soria is quoted as saying:
"We had a meeting last night with the governor and other officials. The governor said based on their estimate, 10,000 died."
Most of the dead drowned or were killed by collapsed buildings, authorities say. The UN's humanitarian agency puts the figure of people displaced at just under 331,000, while those whose lives have also been "affected" by the typhoon number a huge 4.3 million across 36 provinces.

UNICEF estimates that up to 1.7 million children could be affected by the typhoon. "UNICEF's first priorities are focused on life-saving interventions – getting essential medicines, nutrition supplies, safe water and hygiene supplies to children and families," said UNICEF's representative in the Philippines, Tomoo Hozumi.
In addition, the World Food Programme (WFP) has so far allocated $2 million for the response as it sent 40 metric tonnes of high-energy biscuits to the victims. A number of NGOs are also mobilizing their resources to help the families in the Philippines. These include names like Save the Children, World Vision and Habitat for Humanity, as well as an LA-based US relief agency called Operation USA.
Meanwhile, Operation USA, a Los Angeles-based international relief agency is calling for donations to aid recovery efforts and funding for grant distribution to local agencies in the affected areas.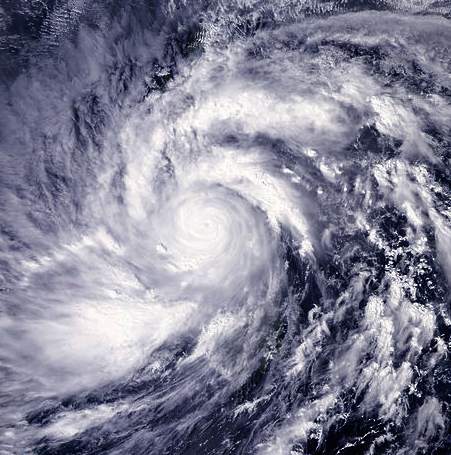 PETITION
The horror of what's happened in the Philippines is unimaginable. Ten thousand people wiped away by a 25ft wall of water driven by 300km/h winds. A city of 200,000 people looks like a nuclear bomb hit it. It's the worst storm on record, but it's just the beginning, unless we act.

Right now the world's powers are in a global climate conference talking about whether to hand over billions promised to help the most vulnerable amongst us when climate change disasters hit. Yeb Sano, the Philippines' chief negotiator, just addressed the room, tearfully pledging a hunger strike until a real deal is reached to help his family, fellow citizens and all the other most vulnerable nations who are at the most risk for violent storms like this one.

Yeb is standing alone, facing a room of bureaucrats who are doing almost nothing to help. But if we bring the power of our 29 million strong community in to stand with him, we could change the tide and push the richest polluters to pay up now. Click below to make it happen:

http://www.avaaz.org/en/petition/Stand_with_the_Philippines/?bzTtBdb&v=31097

Yeb Sano, the climate negotiator for the Philippines, spent hours trying to reach his brother after the storm. He finally found him, part of a crew moving the bodies of victims so relief workers could begin cleanup. After hearing the news he gave an amazingly brave speech to the world's climate delegates, saying:

"I speak for my delegation. But more than that, I speak for the countless people who will no longer be able to speak for themselves after perishing from the storm. I also speak for those who have been orphaned by this tragedy. I also speak for the people now racing against time to save survivors and alleviate the suffering of the people affected by the disaster. We can take drastic action now to ensure that we prevent a future where super typhoons are a way of life... What my country is going through as a result of this extreme climate event is madness. The climate crisis is madness. We can stop this madness. Right here in Warsaw."

We owe it to the victims of Haiyan, and all future storms like it, to think bigger picture than our leaders are. Climate change killed them. And climate change is what we need to stop. A greater commitment to fund climate change management efforts is a key piece in the global deal we desperately need to save the world. And the richest countries have already pledged millions for this effort! So far, almost none of the money promised has arrived, but this can and must change. And the tragedy of the Philippines right in the middle of the climate conference is our chance to make it happen.

Click below to stand with Yeb and his country and with all those who have been and could be victims of climate change disasters:

http://www.avaaz.org/en/petition/Stand_with_the_Philippines/?bzTtBdb&v=31097

Yeb ended his speech by writing a pledge to everyone: "In solidarity with my countrymen who are struggling to find food back home and with my brother who has not had food for the last three days, in all due respect Mr. President, and I mean no disrespect for your kind hospitality, I will now commence a voluntary fasting for the climate. This means I will voluntarily refrain from eating food during this COP until a meaningful outcome is in sight." Together, our movement can rise to this challenge, and bring hope to him and his family and generations of our most vulnerable world citizens.

With hope and determination,

Ricken and the whole Avaaz team

PS - This campaign was started by Yeb Sano, chief climate negotiator for the Philippines. Start yours now and win on any issue - local, national or global: http://www.avaaz.org/en/petition/start_a_petition

More information:

In hard-hit Tacloban, children ripped from arms (CNN)
http://edition.cnn.com/2013/11/09/world/asia/philippines-tacloban/index.html

Typhoon Haiyan: what really alarms Filipinos is the rich world ignoring climate change (The Guardian)
http://www.theguardian.com/2013/nov/08/typhoon-haiyan-rich-ignore-climate-change

Typhoon Haiyan influenced by climate change, scientists say (Sydney Morning Herald)
http://www.smh.com.au/environment/typhoon-haiyan-influenced-by-climate-change-scientists

Typhoon Haiyan: Philippines destruction 'absolute bedlam' (BBC)
http://www.bbc.co.uk/news/world-asia-24894529

Deadly Typhoon Haiyan Devastates the Philippines, Heads for Vietnam (TIME)
http://world.time.com/2013/11/10/deadly-typhoon-haiyan-devastates-the-philippines-vietnam
FLOOD SEQUENCE FOR A BUILDING THAT IS DESIGNED TO FLOAT IN TSUNAMI LIKE CONDITIONS

Moderate flood - no dynamic effect on house, where special design has the building raised

Deep flood - still no dynamic reaction to the house

Serious flooding - begins to affect house dynamically causing lift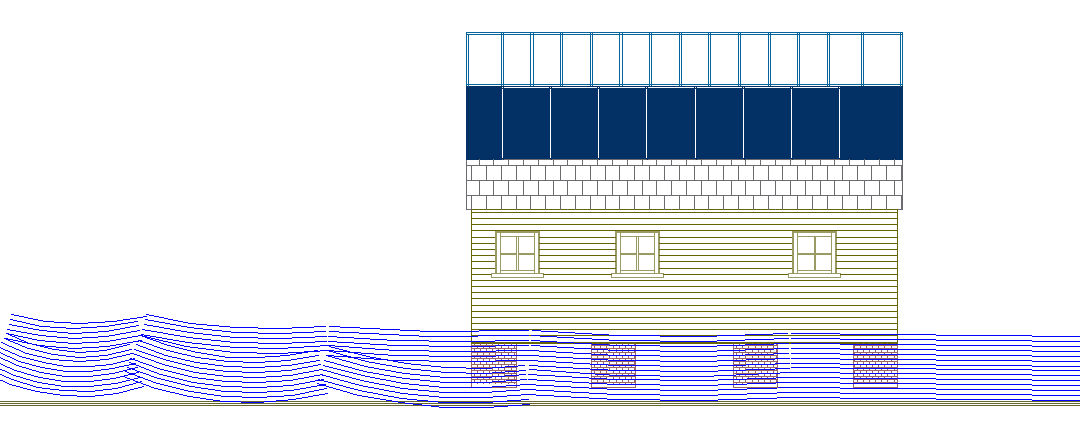 High floodwater - the house lifts off the ground and floats until the floodwater subsides. A special tethering systems absorbs shock and returns the building to its original location. The building is waterproof, so will be undamaged after the flood, with all contents kept dry and safe. If you are planning living in an area subject to seasonal storms, why even consider any other type of home.
The above designs are part of a series of conceptual studies by the Utopia Tristar group in the United Kingdom, a team of planning consultants. The architecture is based on planning consents obtained (on appeal to the Secretary of State) by group members in Sussex, England, where flat-packs construction was involved - and where such units did not require much in the way of modification by way of customizing a house or mobile home to make it float. The UK does not (at the moment) suffer from tsunamis or other giant waves, but is prone to flooding from heavy rains - mostly the result of climate chaos. The other advantage to this kind of building is that it is energy self sufficient, meaning that after a natural disaster, that the families that have such homes will have some electricity, lighting and heating independently of utility supplies. These units are also cheaper to build and are sustainable in terms of their carbon footprint. The concept is to provide a Noah's Ark for the ordinary man.
STRONGEST RECORDED TROPICAL CYCLONE
Typhoon Haiyan (known in the Philippines as Typhoon Yolanda) is unofficially the strongest recorded tropical cyclone to make landfall, with wind speeds up to 315 km/h (195 mph). The thirteenth named storm of the 2013 Pacific typhoon season, Haiyan originated from an area of low pressure several hundred kilometers east-southeast of Pohnpei in the Federated States of Micronesia on November 2. Tracking generally westward, environmental conditions favored tropical cyclogenesis and the system developed into a tropical depression the following day. After becoming a tropical storm and attaining the name Haiyan at 0000 UTC on November 4, the system began a period of rapid intensification that brought it to typhoon intensity by 1800 UTC on November 5. By November 6, the Joint Typhoon Warning Center (JTWC) assessed the system as a Category 5-equivalent super typhoon on the Saffir-Simpson hurricane wind scale; the storm passed over the island of Kayangel in Palau shortly after attaining this strength.

Thereafter, it continued to intensify; at 1200 UTC on November 7, the Japan Meteorological Agency (JMA) upgraded the storm's maximum ten-minute sustained winds to 235 km/h (145 mph), the highest in relation to the cyclone. At 1800 UTC, the JTWC estimated the system's one-minute sustained winds to 315 km/h (195 mph), unofficially making Haiyan the fourth most intense tropical cyclone ever observed. Several hours later, the eye of the cyclone made its first landfall in the Philippines at Guiuan, Eastern Samar, without any change in intensity; if verified, this would make Haiyan the strongest tropical cyclone to make a landfall on record, surpassing the old record of 305 km/h (190 mph) set by Atlantic Hurricane Camille in 1969. Gradually weakening, the storm made five additional landfalls in the country before emerging over the South China Sea. Turning northwestward, the typhoon eventually struck northern Vietnam as a severe tropical storm on November 10. Haiyan was last noted as a tropical depression by the JMA the following day.

The cyclone caused devastation in the Philippines, particularly on Samar Island and Leyte, where the governor estimated that at least 10,000 people may have died in the city of Tacloban alone.

METEOROLOGICAL

On November 2, the Joint Typhoon Warning Center (JTWC) began monitoring a broad area of low pressure located about 425 km (265 mi) east-southeast of Pohnpei, one of the states in the Federated States of Micronesia. The system featured broken banding features alongside steadily consolidating convection. Environmental conditions ahead of the disturbance favored tropical cyclogenesis and dynamic weather forecast models predicted that a well-defined tropical cyclone would form within 72 hours. Early on November 3, the Japan Meteorological Agency (JMA) classified the system as a tropical depression. Owing to a consolidating low-level circulation center with building deep convection, the JTWC also classified the system as a tropical depression, shortly after issuing a Tropical Cyclone Formation Alert. Subsequent intensification resulted in the JMA upgrading the system to a tropical storm and assigning it the name Haiyan (Chinese: 海燕; literally "petrel") at 0000 UTC on November 4. Meanwhile, the JTWC also upgraded it to a tropical storm, when the expansive system was steadily consolidating in an area of weak to moderate vertical wind shear and tracking westward along the southern periphery of a subtropical ridge. By November 5, the storm began to undergo rapid intensification as a prominent central dense overcast (CDO) with an embedded eye began developing. Owing to the formation of an eye, the JTWC estimated Haiyan to have achieved typhoon status around 0000 UTC that day. The JMA followed suit 18 hours later, by which time the JTWC estimated one-minute sustained winds to have reached 195 km/h (120 mph).

A small typhoon, with a core roughly 110 km (70 mi) across, rapid intensification continued through November 6 as a 11 km (7 mi) wide pin-hole eye formed. Upper-level outflow favored further strengthening of the system and was further enhanced by a Tropical Upper Tropospheric Trough to the northeast. Intense banding features along the southern periphery of Haiyan wrapped into the system as well. Early on November 6, the JTWC estimated the system to have achieved super typhoon status. That day, the Philippine Atmospheric, Geophysical and Astronomical Services Administration (PAGASA) assigned the storm the local name Yolanda as it approached their area of responsibility. Intensification slowed somewhat during the day, though the JTWC estimated the storm to have attained Category 5-equivalent status on the Saffir–Simpson hurricane wind scale around 1200 UTC. At this time, Haiyan displayed a 15 km (9 mi) wide eye surrounded by a ring of deep convection. Later, the eye of the typhoon passed over the island of Kayangel in Palau.

Around 1200 UTC on November 7, Haiyan attained its peak intensity with ten-minute sustained winds of 235 km/h (145 mph) and a barometric pressure of 895 mbar (hPa; 26.43 inHg). This made it the second-most intense tropical cyclone in the Northwest Pacific Ocean on record, based on wind speeds alone, along with Bess in 1982 and Megi in 2010, only after Tip in 1979. Six hours later, the JTWC estimated Haiyan to have attained one-minute sustained winds of 315 km/h (195 mph) and gusts up to 378 km/h (235 mph). This unofficially ranks Haiyan as the fourth-strongest tropical cyclone on record in terms of wind speed, only exceeded by Typhoon Ida (325 km/h) in 1958, Typhoon Violet (335 km/h) in 1961, and Typhoon Nancy (345 km/h) in 1961. However, due to the fact the wind recordings in typhoons were erroneously high during the 1950s and 1960s, Haiyan unofficially ranks as the strongest tropical cyclone on record. The storm displayed some characteristics of an annular tropical cyclone, though a strong convective band remained present along the western side of the system. Satellite estimates at the time, using the Dvorak technique, reached the maximum level on the scale: T#8.0. The storm's structure exceeded the maximum intensity on the scale as, the "Dvorak technique makes no allowance for an eye embedded so deeply in cloud tops as cold as [cold dark gray]," as noted by the National Oceanic and Atmospheric Administration's (NOAA) satellite analysis branch. Some automated models initialized its intensity at T#8.1, exceeding the scale's upper bounds. Through satellite estimates, NOAA also estimated that Haiyan achieved a minimum pressure between 858 mbar (hPa; 25.34 inHg) and 884 mbar (hPa; 26.11 inHg).

Around 1900 UTC on November 7, Typhoon Haiyan made landfall in Guiuan, Eastern Samar at peak intensity. Upon doing so, it became one of the strongest landfalling tropical cyclones on record. In terms of one-minute sustained winds from the JTWC, Haiyan was the most powerful storm to strike land on record. Interaction with land caused slight degradation of the storm's structure, though it remained an exceptionally powerful storm when it struck Tolosa, Leyte between 2000 and 2100 UTC. The mountainous terrain of the Philippines disrupted the cyclone's low-level inflow and prompted steady weakening. Convection shallowed somewhat and the eye shrunk and became cloud-filled. The typhoon made five additional landfalls as it traversed the Visayas: Bantayan Island, Daanbantayan, Bogo City, Panay, and Busuanga Island. Haiyan emerged over the South China Sea late on November 8. The storm's core had been substantially disrupted during its passage through the Philippines, with only a partial eyewall remaining intact around a ragged, cloud-filled eye. In contrast to the appearance, the JTWC estimated it to have retained winds of 235 km/h (145 mph) at this time, while the JMA estimated winds at 165 km/h (105 mph).

By November 9, some structural reorganization took place with banding features wrapping tightly around a developing eye. Environmental conditions ahead of the storm soon became less favorable, as cool, stable air began wrapping into the western side of the circulation. This resulted in shallowed convecting over the center. Continuing across the South China Sea, Haiyan turned more northwesterly late on November 9 and through November 10 as it moved around the southwestern edge of the subtropical ridge previously steering it westward. Throughout November 10, interaction with Hainan Island and Vietnam promoted further weakening as the storm moved over the Gulf of Tonkin. Rapid weakening ensued as Haiyan approached its final landfall in Vietnam, with increasing wind shear displacing convection to the north of the center of circulation. Around 2100 UTC, Haiyan made landfall in Haiphong as a severe tropical storm with ten-minute sustained winds of 110 km/h (70 mph).

Apart from better early warning intelligence, areas like the Philippines that are prone to high powered storms should be investing in housing that can take a bashing.

PREPARATIONS

Micronesia and Palau

Upon JTWC's declaration of Tropical Depression 31W on November 3, a tropical storm warning was issued for Chuuk Lagoon, Losap, and Poluwat in the Federated States of Micronesia. Further west, Faraulep, Satawal, and Woleai, were placed under a typhoon watch while Fananu and Ulul were placed under a tropical storm watch. The following day, the tropical storm warning expanded to include Satawal while a typhoon warning was issued for Woleai. Much of Yap State while the islands of Koror and Kayangel in Palau were placed under a typhoon watch later on November 4. The government issued a mandatory evacuation for Kayangel, and although most residents ignored the warning, they all survived the storm. As Haiyan progressed westward, the easternmost advisories were gradually discontinued. As Haiyan intensified into a typhoon on November 5, warnings were raised across Palau and Yap State. Government offices in Melekeok were used as an evacuation building for Palau. Despite mandatory evacuation orders, most residents on Kayangel remained on the island and rode out the typhoon.

Philippines

Shortly before Typhoon Haiyan entered the Philippine area of responsibility on November 6, PAGASA raised Public Storm Warning Signal (PSWS), the lowest of four levels, for much of the Visayas and Mindanao. As the storm continued to approach the country, warnings expanded into Luzon and increased in severity for eastern areas. By the evening of November 7, PSWS, the highest level of warning which indicates winds in excess of 185 km/h (115 mph) are expected, was raised for Biliran Island, Eastern Samar, Leyte, northern Cebu, Samar, and Southern Leyte. Through November 8, the coverage of PSWS continued to expand, with areas in southern Luzon being included.

Officials placed police officers in the Bicol Region ahead of the storm. In the provinces of Samar and Leyte, classes were canceled, and residents in flood- and landslide-prone areas were required to evacuate. Some of the storm-threatened areas were affected by an earlier earthquake in Bohol. The Philippine President requested the military to deploy planes and helicopters to the region expected to be affected. As Haiyan was moving very fast, PAGASA issued warnings at different levels to about 60 of the 80 provinces, including the capital Metro Manila. The International Charter on Space and Major Disasters was activated, providing for widespread charitable satellite coverage.

Vietnam

As of November 9 the storm was heading to Vietnam, where sustained wind speeds at landfall were forecast to be in the region of 120–130 km/h (75–80 mph), with gusts up to 185 km/h (115 mph). 200,000 people were being evacuated in central Vietnam. Schools were being closed and people living in low-lying coastal areas moved to typhoon shelters on higher ground. Shipping was ordered back to port. Some 170,000 soldiers were mobilised to provide emergency relief. Shortly before, central Vietnam had suffered widespread damage from typhoons Wutip and Nari, but Haiyan was expected to be at least twice as powerful, and likely to cause much damage, particularly to houses to which makeshift repairs were made after the earlier typhoons.

Approximately 600,000 people were evacuated ahead of Haiyan's arrival in Vietnam; however, there were complaints by many that the warnings came too late. On the small island of Cồn Cỏ, all residents were relocated to underground shelters with enough supplies for several days. Hundreds of flights were canceled across the country while schools were closed on November 11.

China

The State Flood Control and Drought Relief Headquarters hoisted a level three emergency response in the provinces of Hainan and Guangdong as well as Guangxi Zhuang Autonomous Region. Chinese authorities urged these provinces to be vigilant and prepared for Typhoon Haiyan's potential impact. All fishing vessels were urged to return to ports by noon on November 9.
Hong Kong

Under the combined effects of Haiyan and strong easterlies brought by the subtropical ridge, strong winds have been recorded in Hong Kong since 9th November, 2013. The Hong Kong Observatory has issued the Strong Monsoon Signal at 19:10 HKT on 9th November, 2013, and is still in place as on 11th November. One person was swept away under 3 meter waves off Lower Cheung Sha Beach, Lantau Island.

IMPACT

Micronesia and Palau

On Kayangel in Palau, a high storm surge damaged several houses, while strong winds downed trees. Despite residents' refusal to evacuate, no fatalities or major injuries took place on the island. Helicopters were flown to the island to survey damage and provide relief supplies. The government planned to evacuate those who were left homeless from the island. Koror, Babeldaob and Kayangel each lost access to water and power. In Koror, winds reaching as high as 120 km/h (75 mph) blew out rooftops and downed trees and power lines. A causeway linking an offshore hospital to the main island was temporarily shut down after being inundated by water. On the northern end of Babeldaob, Haiyan damaged schools and buildings. Lying closest to Haiyan at the time of the typhoon's passage, Kayangel was flooded in its entirety, and all homes were destroyed. Though no people were killed there, 69 others were displaced by the storm.

Philippines

In Surigao City, 281.9 mm (11.10 in) of rainfall was recorded, much of which fell in under 12 hours.

Haiyan made its initial landfall in Guiuan, Eastern Samar at 20:45 UTC on November 7, 2013, with preliminarily estimated sustained wind speeds between 147 and 195 miles-per-hour. PAGASA also recorded that Haiyan made landfall on the Visayas region six times. Storm surges were also recorded in many places. In the island of Leyte and Samar, PAGASA measured 5–6 meter (15–19 ft) waves.

As of 10 November 2013, 151 deaths had been confirmed by the National Disaster Risk Reduction and Management Council (NDRRMC). However, an official in Samar reported a death toll of 300.

In Tacloban, Leyte, the terminal building of Tacloban Airport was destroyed by a 5.2 m (17 ft) storm surge up to the height of the second story. Along the airport, a storm surge of 4 m (13 ft) was estimated. Waves of 4.6 m (15 ft) were also estimated. There was widespread devastation from the storm surge, with many buildings being destroyed, trees knocked over or broken, and cars piled up. The low-lying areas on the eastern side of Tacloban city had been most badly affected, with the low-lying populated areas near the coast completely washed away. Flooding also extended for one kilometer inland on the east coast of the province. Preliminary estimates were that more than 1,000 people had died in Tacloban city within Leyte province, with 200 more than in Samar province. 70 to 80% of the province of Leyte has been destroyed, and the governor estimates there are at least 10,000 people dead. As national government authorities started to enter the devastated areas on November 9, the Philippine Daily Inquirer reported that the Philippine Red Cross feared a death toll of around 1,200. On the western coast of Samar the storm surge was not so significant.

Most families in Samar and Leyte have lost some family members or relatives; families are coming in from outlying provinces looking for relatives that may have been washed away, especially children. Speaking from Samar island, Aya Lowe, who drove to Tacloban from Manila to assess the damage, said the roads in and out of the city were at a standstill. "We came across the main bridge towards Tacloban and there was just a huge traffic jam to come in or out," she said. "There were people coming in on mopeds and families trying to find their loved ones, and people coming out with boxes of shampoo and mayonnaise and random stuff." However, government aid eventually arrived into Tacloban city.

Although wind speeds were extreme, the major cause of damage and loss of life appears to have been storm surge. The major focus of devastation appears to have been on the east coast of Samar and Leyte, with a particular focus on Tacloban, because of its location between Samar and Leyte, and the large population in low lying areas. Philippine Interior Secretary Mar Roxas said the scale of the relief operation that was now required was overwhelming, with some places described as a wasteland of mud and debris; "From a helicopter, you can see the extent of devastation. From the shore and moving a kilometre inland, there are no structures standing. It was like a tsunami,". The devastation in Tacloban has been described by journalists on the ground as "off the scale, and apocalyptic". Tacloban has been completely flattened, where not a single building seems to have survived. "The devastation is ... I don't have the words for it," Interior Secretary Mar Roxas said. "It's really horrific. It's a great human tragedy.".

Sebastian Rhodes Stampa, head of a UN disaster assessment co-ordination team, said there was "destruction on a massive scale" in Tacloban. "There are cars thrown like tumbleweed and the streets are strewn with debris. The last time I saw something of this scale was in the aftermath of the [2004] Indian Ocean tsunami." There is little communication in the city, and no mobile phone coverage. Up the east coast of the Leyte there are numerous towns and villages that are completely cut off without any assistance. Large parts of Leyte and Samar are without power and may have no power for a month.

The storm crossed the Visayas region for almost a day, causing widespread flooding. In Cebu and Iloilo, struck by an earthquake two weeks before, cities were also severely devastated. During the morning of November 8, media stations across the country were able to broadcast live the destruction of Haiyan. However, before afternoon, all communications on the Visayas region failed. The Presidential Communications Department of President Benigno Aquino III had difficulty contacting Interior and Local Government Secretary Mar Roxas and Defense Secretary Voltaire Gazmin in Iloilo to plan relief. Widespread power interruptions, landslides and flash floods were also reported. Major roads were blocked by trees, and impassable. 453 domestic and international airline flights were canceled. Some airports were also closed on November 8 and 9. Ferries were affected. Relief and rescue efforts were underway by November 9, but some places remained isolated and out of communication due to severe damage.

China, Taiwan, Vietnam, and Hong Kong

Twenty-six people were swept out to sea at New Taipei, Taiwan by heavy seas credited to Haiyan. Eighteen were rescued but eight died.

A cargo ship broke from its moorings at Sanya, Hainan, China on November 8; the crew of six are listed as missing.

In neighbouring Vietnam, Haiyan made landfall as a severe tropical storm and produced widespread heavy rain. At least ten people were reported killed, mostly by accidents and health complications during preparation works in central provinces affected by the outer bands of the storm.

One person also went missing off the coast of Lantau Island, Hong Kong.


AFTERMATH

Philippines

Throughout Tacloban City, widespread looting took place in the days following Haiyan's passage. In some instances, relief trucks were attacked and had food stolen in the city. Two of the city's malls and numerous grocery stores were subjected to looting. A fuel depot in the city was guarded by armed police while 200 additional officers were dispatched to assist. President Benigno Aquino III considered declaring martial law in hopes of restoring order.

International response

The United Nations said it was going to increase critical relief operations as a result of the "devastation." Its Manila office issued a statement that read: "Access remains a key challenge as some areas are still cut off from relief operations. Unknown numbers of survivors do not have basic necessities such as food, water and medicines and remain inaccessible for relief operations, as roads, airports and bridges were destroyed or covered in wreckage." By November 10, United States President Barack Obama pledged aid to the Philippines. Defense Secretary Chuck Hagel ordered Pacific Command to deploy vessels to the region and aircraft for search-and-rescue missions as well as to deliver relief supplies. The United Nations also began relief operations by this time; however, the severe damage to infrastructure hampered efforts to distribute supplies.

Canada has announced $5 million in immediate aid, as well as matching any contributions Canadians make until December 8th.

The United Kingdom has offered a support package worth more than £10 million along with HMS Daring and an Royal Air Force Boeing C-17 Globemaster III.

The EU has offered $4.2 million, and Australia $10 million. Germany is transporting 23 tons of aid as well as supplying rescue teams. Doctors Without Borders is sending 200 tons of aid, New Zealand has committed $1.78 million, Taiwan $200,000, and Singapore $40,000.

The Chief Executive of Hong Kong expressed his deepest sympathies. There is call to postpone the proposed economic sanctions upon the Philippines as a result of the poor handling of the Manila hostage crisis three years before.

LINKS & REFERENCE
NY Daily News typhoon-survivors-seek-article
RT News Philippines-thousands-feared-dead
The Guardian 2013 typhoon-haiyan-dead-aid
IPO Intellectual Property Office Philippines
http://www.gov.ph/
http://www.ipophil.gov.ph/
http://www.lonelyplanet.com/philippines
http://en.wikipedia.org/wiki/Philippines
http://www.nydailynews.com/news/world/typhoon-survivors-seek-article-1.1512313
http://rt.com/news/philippines-thousands-feared-dead-489/
http://www.theguardian.com/world/2013/nov/10/typhoon-haiyan-dead-aid
http://en.wikipedia.org/wiki/Typhoon_Haiyan_%282013%29

ATMOSPHERE | EARTHQUAKES | FLOODS | FORECASTING | HURRICANES | STORMS | TORNADOES |
TSUNAMI | TYPHOONS | WATER CYCLE | VOLCANOES