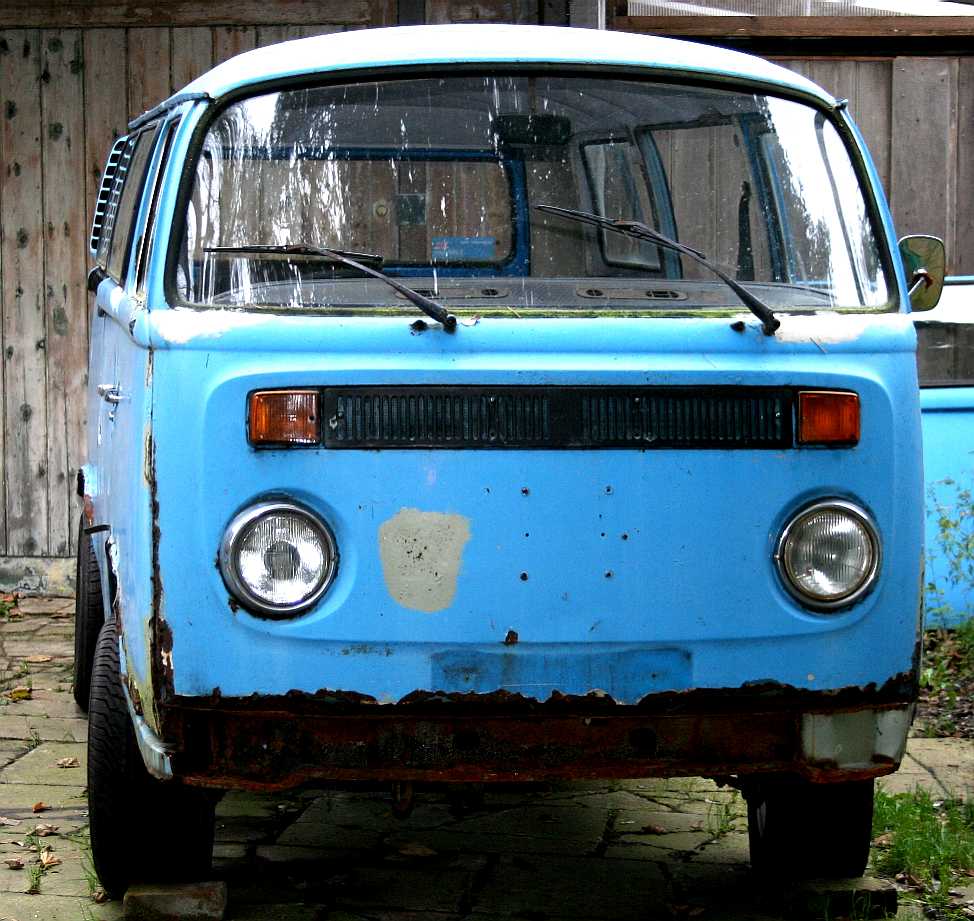 OCEAN PLASTIC TOUR BUS - VW Camper, or Combi vans are symbolic of the earth movement, made famous by the likes of Joss Stone, Jamie Oliver and BBC Top Gear presenter, Richard Hammond - all great fans of Volkswagen campers. The Volkswagen van uses the same air cooled 4-cylinder boxer engine as the famed Beetle designed by Professor Ferdinand Porsche. Seen here the front bumper mount was rusted so badly that it was decided to remove it and weld in more substantial panels. This was long before we were given use of the vehicle. Copyright photograph Blueplanet Universal Holdings Ltd 2007, all rights reserved. You will need the permission of BUH Ltd to reproduce this picture.
The electrical system of these fabulous Volkswagens is relatively simple and a refreshing change from the high-tech electronic systems of a modern car or van.
This wagon is unusual because it has an alternator instead of a dynamo. The regulator is smaller than that found on most Beatles and other vans, but other than that the distributor and coil is the same as other Volkswagens. We use the Bosch blue coil and quality silicone ignition leads and Bosch spark plugs.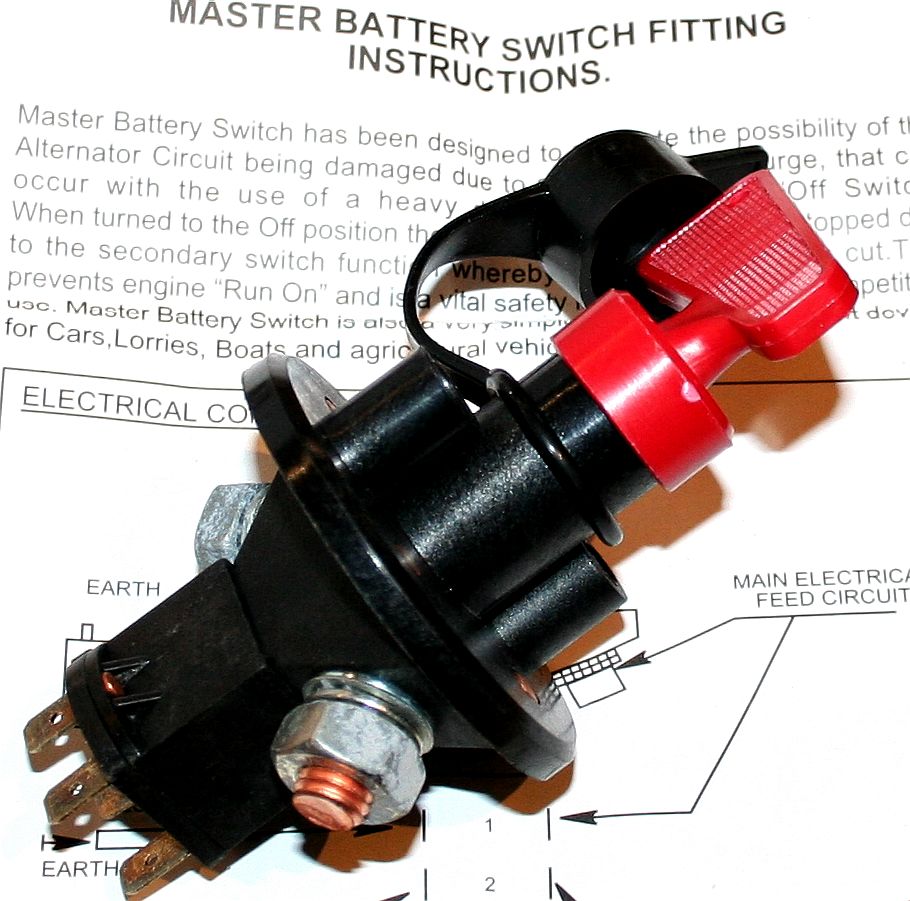 ISOLATED - A good quality battery isolation switch is very useful for stopping drain when standing for long periods, as many classic vehicles tend to do. Copyright photograph © April 27 2017 all rights reserved. You will need the permission of Bluebird Marine Systems Ltd to reproduce this picture.
SOLAR POWER
We are considering whether it is worth fitting solar panels and/or a wind turbine to power our PA for when we are on the road giving presentations on ocean plastic.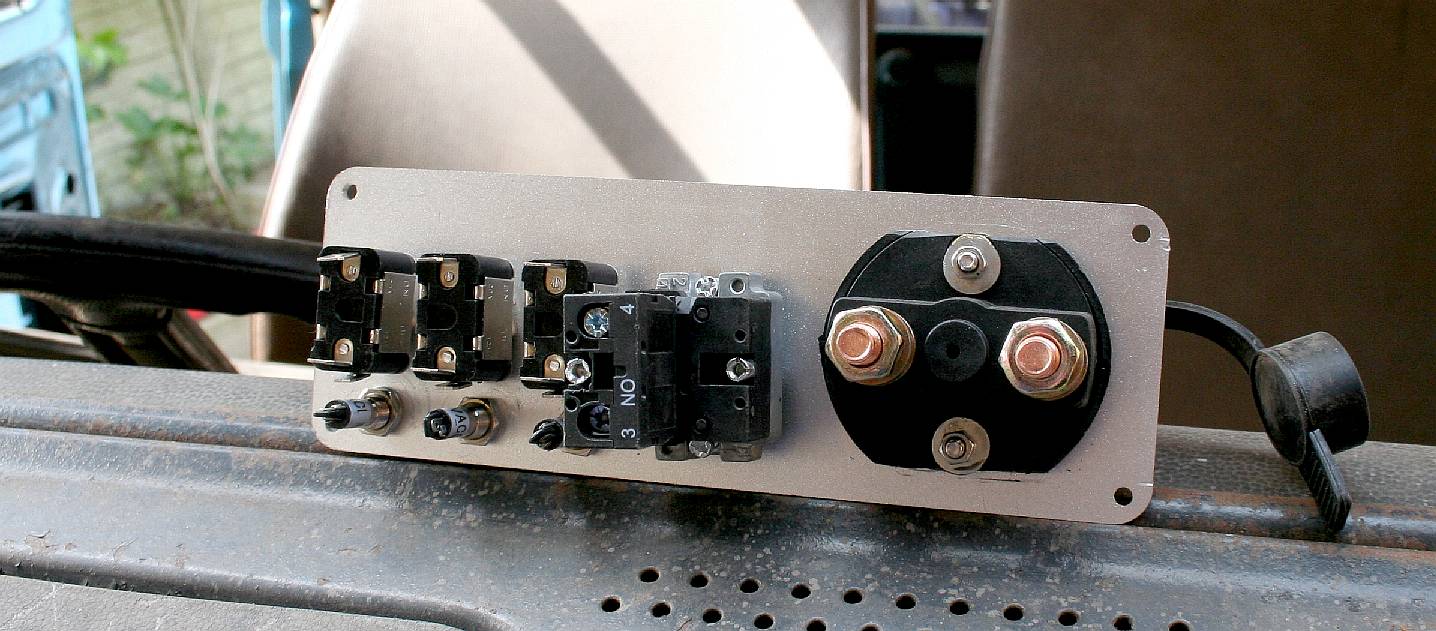 SWITCHES - This is the rear of a panel of switches that replaces the unreliable column key switch. Copyright photograph, 27 April 2017, all rights reserved. You will need the permission of Bluebird Marine Systems Ltd to reproduce this picture.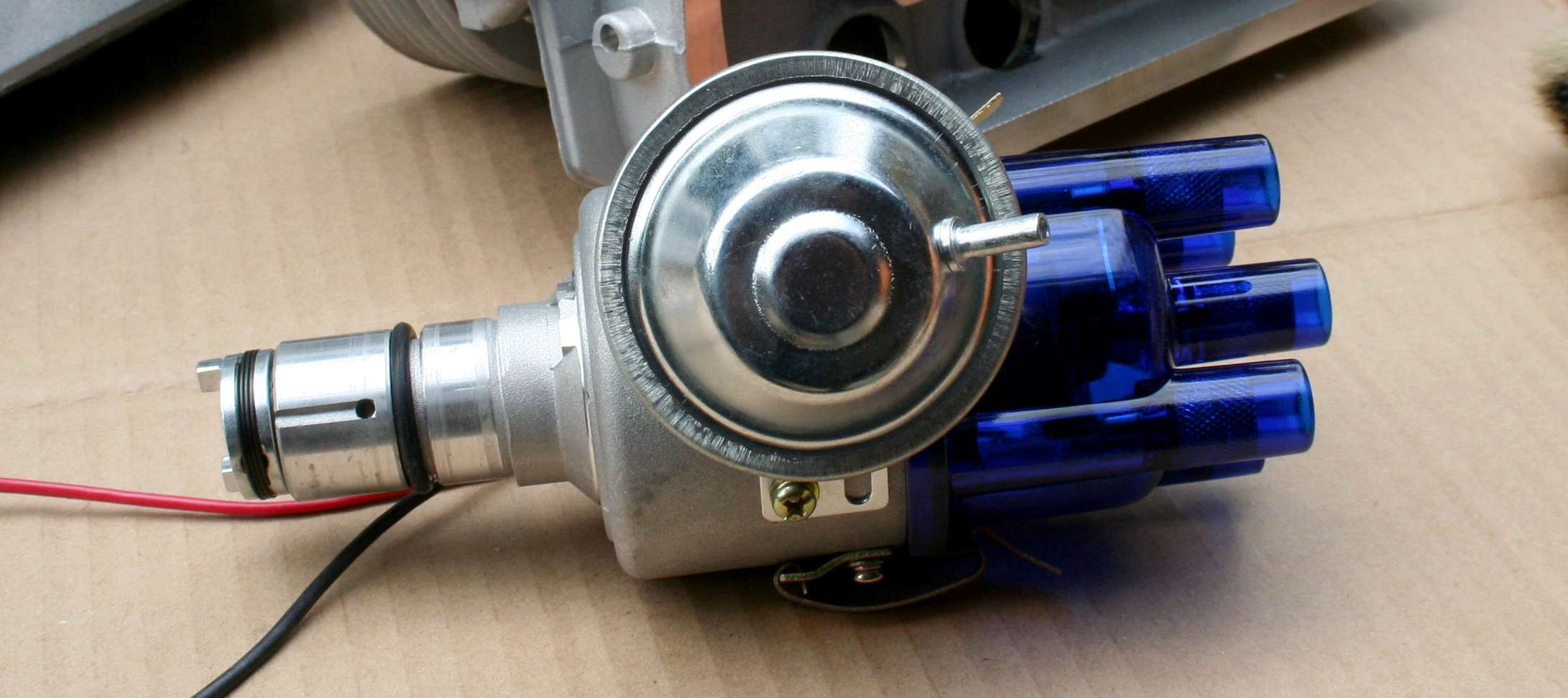 ELECTRONIC - This is a replacement to the trusty Bosch 009 distributor. It is claimed that this unit will get rid of the flat spot in acceleration and improve fuel economy. Another selling points is the elimination of the contact points that wear with each spark (despite a condenser) and need constant adjustment to maintain peak performance. The translucent blue cap is a nice touch that will complement the other engine performance accessories. Copyright photograph, 11 May 2017, all rights reserved. You will need the permission of Bluebird Marine Systems Ltd to reproduce this picture.
PUBLIC ADDRESS SYSTEM
The Europort PPA500BT might look small, and the super-light weight makes it amazingly easy to carry– but it's really BIG on power and features. The internal 500-Watt stereo amplifier is capable of driving the detachable loudspeakers to rich-sounding and room-filling volume levels. High-powered 8" woofers provide punchy low-end and articulate midrange, and the 1.35" aluminum-diaphragm compression drivers offer crystal-clear sonic reproduction.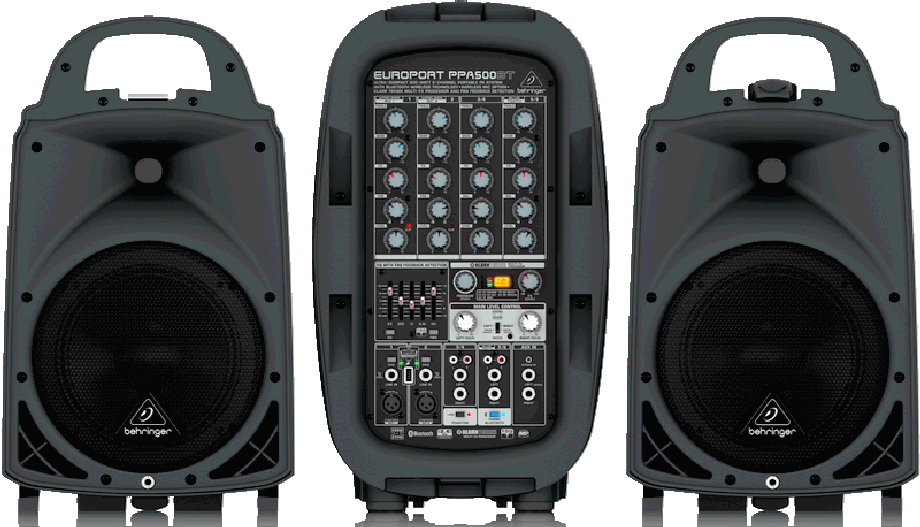 SPECIFICATIONS - Ultra-compact 500W, 6-channel portable PA system. Perfect for parties, schools, presentations, musicians, weddings, and more. Enormous power, incredible sonic performance, and super-light weight. Powerful 8'' woofers and 1.35'' aluminum-diaphragm compression drivers. Connect your iPod, iPhone, iPad or any other MP3 player via Bluetooth. "Wireless ready" for BEHRINGER digital wireless mic system (not included). Ultra-high quality KLARK TEKNIK FX processor with 100 presets. Revolutionary FBQ Feedback Detection system. 6-channel mixer section features 2 mono and 2 stereo channels. 2 high-quality mic preamps with switchable +48 V phantom power. 2-band EQ, switchable Pad and Clip LEDs on all mono channels. Stereo 5-band graphic EQ. Includes BEHRINGER XM1800S mic, mic clip and 20' cables. Integrated storage compartment for microphone, cables, and accessories. "Planet Earth" switching power supply for maximum flexibility.
The PPA500BT packs amazing power and sound quality into a compact, portable suitcase style PA system – that's fast and easy to set up. The PPA500BT's integrated 6-channel mixer has enough inputs for 2 microphones, 2 musical instruments, your favorite MP3 player and more – making it ideal for parties, schools, corporate and educational presentations, working musicians and even weddings. Built-in Bluetooth connectivity allows you to stream music from your smart-phone, tablet or other Bluetooth-equipped device.
For more than 20 years, BEHRINGER has designed and manufactured some of the most successful FBQ Feedback Elimination processors. Now you can own and enjoy the benefits of this technology, as it's been integrated in this product, so your sound system is completely feedback-free, allowing you to focus on your performance. Utilizing an ultra-fast feedback detection system, this ingenious circuitry helps you recognize and tame feedback frequencies immediately. When feedback is sensed in a specific frequency range, the LED on the associated EQ fader illuminates, showing you at a glance which fader to lower to overcome the feedback.

Channels 1 – 2 feature high-quality Invisible Mic Preamps (IMP). A Level control is provided with a Clip LED, so you can dial in the perfect signal level. There's also a Pad switch for those occasions when you have to contend with "hotter" than normal input levels. Additionally, each channel has its own dedicated two-band EQ (Bass and Treble), Pan or Balance (allowing you to place the signal wherever you want within the stereo image) and an FX level control.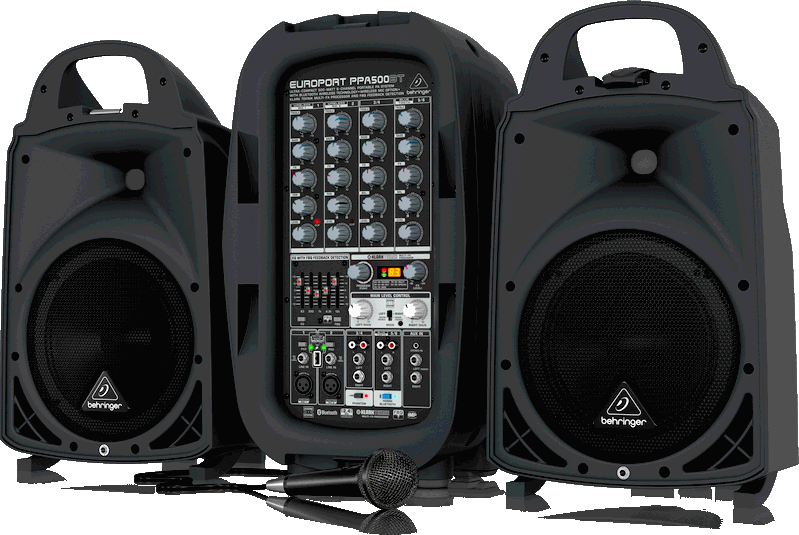 COMPLETE PACKAGE - The EUROPORT PPA500BT has everything you need for virtually any medium to large gathering – a lightweight, 500-Watt "wireless-ready" 6-channel mixer-amplifier with +48 V phantom power that can handle 2 microphones, two stereo or 4 mono musical instruments and your favorite Bluetooth audio player. Plus, you get exceptional 2-band channel EQ – and a 5-band stereo graphic EQ with our revolutionary FBQ Feedback Detection System.

The PPA500BT's two high-quality, detachable loudspeakers and our great-sounding XM1800S microphone (with all the cables and accessories) complete this amazingly powerful and versatile portable PA system. Everything you need packs tidily away in one ultra-lightweight "take-it-with-you" suitcase-style format.
Best of all, the PPA500BT is "wireless ready" for our high-quality ULM Series digital microphones, so you can become completely mobile. This powerful, 500-Watt marvel also features the crème de la crème of professional vocal effects from world-famous KLARK TEKNIK – and our amazing FBQ Feedback Detection System for the ultimate freedom from feedback. We've even included a high-quality microphone, and all the cables and accessories you'll need, so you're ready to go – right-out-of-the-box!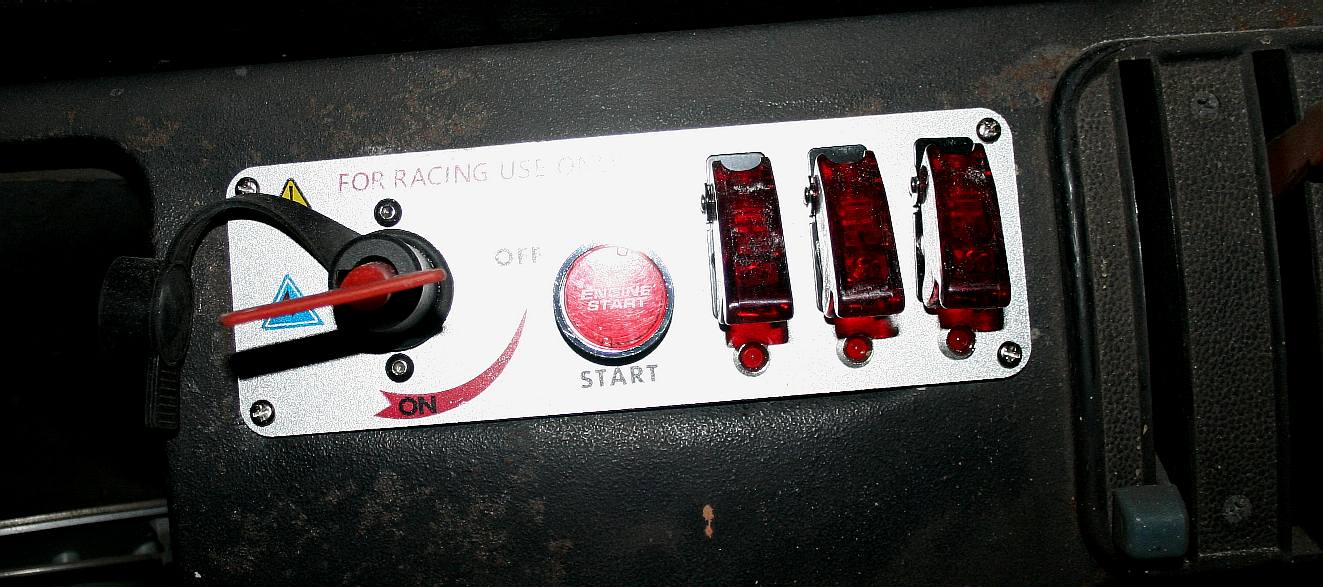 ON THE BUTTON - The gap where the old radio would have been fitted is now filled with this switch panel. The safety rockers are ideal for preventing accidental starting and increases security where if you don't know the sequence, you will have problems. The twist start switch is replaced by a dashboard mounted push button that can only operate when the safety rocker is up. Copyright photograph, 27 April 2017, all rights reserved. You will need the permission of Bluebird Marine Systems Ltd to reproduce this picture.
VW LINKS & REFERENCE
https://www.amazon.com/Behringer-PPA500BT-BEHRINGER-EUROPORT/dp/B00OVAXR50/ref=pd_day0_267_1/145-9975091-3236219
http://www.ebay.com/itm/Behringer-EUROPORT-PPA500BT-Portable-PA-System-500-Watt-6-Channel-w-Bluetooth-/231872663387
http://www.r-techwelding.co.uk/
http://www.alanhschofield.com/
https://www.vwheritage.com/
http://www.coolairvw.co.uk/
http://www.justkampers.com/
http://www.volkszone.com/
http://www.volkswagen.co.uk/
ARCHES - VW HOME - BODYWORK - ENGINE - GOLF - LOGISTICS - STAINLESS STEEL - SUSPENSION & BRAKES - VINYL WRAPPING - WELDING