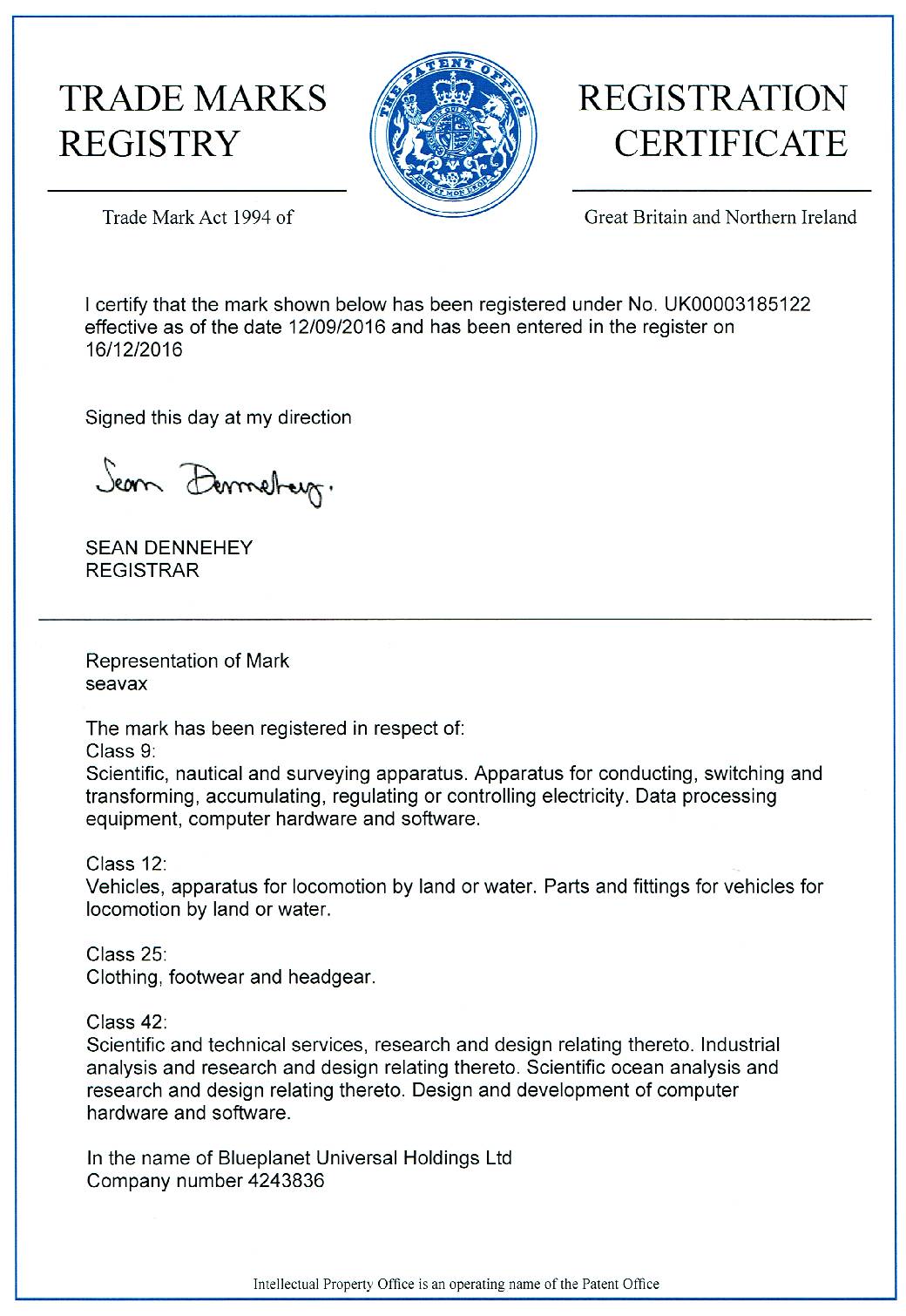 SEAVax™ - A POLLUTION SOLUTION
Bluebird Marine Systems Limited is authorized to use the registered trade name 'SeaVax' and to grant sublicenses by virtue of an Agreement dated the 15th of September 2016. All enquiries as to trademark usage should be directed to Bluebird Marine Systems Ltd.
New Search View historic case details Glossary of terms
Journal Publication 7 October 2016 - No.2016/041
Case details for trade mark UK00003185122

Trade mark: seavax
Status: Examination
Relevant dates: Filing date - 12 September 2016

List of goods and services

Class 9

Scientific, nautical and surveying apparatus. Apparatus for conducting, switching and transforming, accumulating, regulating or controlling electricity. Data processing equipment, computer hardware and software.

Class 12

Vehicles, apparatus for locomotion by land or water. Parts and fittings for vehicles for locomotion by land or water.

Class 25

Clothing, footwear and headgear.

Class 42

Scientific and technical services, research and design relating thereto. Industrial analysis and research and design relating thereto. Scientific ocean analysis and research and design relating thereto. Design and development of computer hardware and software.

Name and Address details:

Owner(s) name

Blueplanet Universal Holdings Ltd
Solar House, Lime Park, Herstmonceux, United Kingdom, BN27 1RF
Country of Incorporation
United Kingdom

Company registration number 4243836