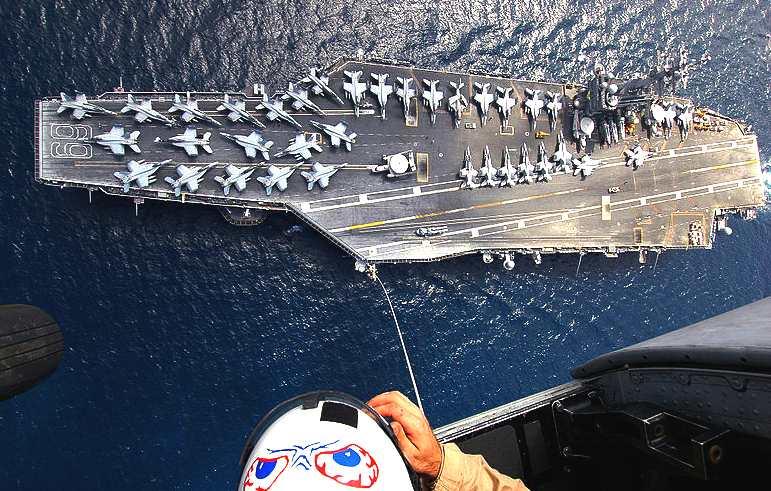 The USS Dwight D. Eisenhower (CVN-69) ("Ike") is an aircraft carrier currently in service with the United States Navy. Commissioned in 1977, the ship is the second of the ten Nimitz-class aircraft carriers currently in service, and is the first ship named after the 34th President of the United States, Dwight D. Eisenhower. The vessel was initially named simply as USS Eisenhower, much like the lead ship of the class Nimitz, but the name was changed to its present form on 25 May 1970. The carrier, like all others of her class, was constructed at Newport News Shipbuilding Company in Virginia, with the same design as the lead ship, although the ship has been overhauled twice to bring her up to the standards of those constructed more recently.

Since commissioning, Dwight D. Eisenhower has participated in deployments including Operation Eagle Claw during the Iran hostage crisis in 1980, as well as the Gulf War in the 1990s, and more recently in support of US military operations in Iraq and Afghanistan.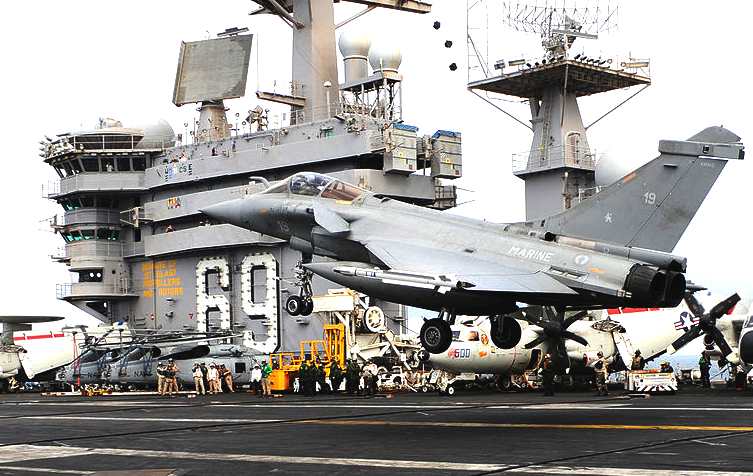 The Nimitz-class supercarriers are a class of ten nuclear-powered aircraft carriers in service with the United States Navy. The lead ship of the class is named for World War II United States Pacific Fleet commander Fleet Admiral Chester W. Nimitz, who was the U.S. Navy's last fleet admiral. With an overall length of 1,092 ft (333 m) and full-load displacements of over 100,000 long tons, they are the largest warships ever built. Instead of the gas turbines or diesel-electric systems used for propulsion on many modern warships, the carriers use two A4W pressurized water reactors which drive four propeller shafts and can produce a maximum speed of over 30 knots (56 km/h) and maximum power of around 260,000 shp (190 MW). As a result of the use of nuclear power, the ships are capable of operating for over 20 years without refueling and are predicted to have a service life of over 50 years. They are categorized as nuclear-powered aircraft carriers and are numbered with consecutive hull numbers between CVN-68 and CVN-77.

All ten carriers were constructed by Newport News Shipbuilding Company in Virginia. USS Nimitz, the lead ship of the class, was commissioned on 3 May 1975, and USS George H.W. Bush, the tenth and last of the class, was commissioned on 10 January 2009. Since the 1970s, Nimitz-class carriers have participated in many conflicts and operations across the world, including Operation Eagle Claw in Iran, the Gulf War, and more recently in Iraq and Afghanistan.

The angled flight decks of the carriers use a CATOBAR arrangement to operate aircraft, with steam catapults and arrestor wires for launch and recovery. As well as speeding up flight deck operations, this allows for a much wider variety of aircraft than with the STOVL arrangement used on smaller carriers. An embarked carrier air wing consisting of up to around 90 aircraft is normally deployed on board. After the retirement of the F-14 Tomcat, the air wings' strike fighters are primarily F/A-18E/F Super Hornets and F/A-18C Hornets. In addition to their aircraft, the vessels carry short-range defensive weaponry for anti-aircraft warfare and missile defense.

STATS

The Nimitz-class carriers have an overall length of 1,092 ft (333 m) and a full-load displacement of about 100,000–104,000 long tons (102,000–106,000 metric tons). They have a beam at the waterline of 135 ft (41 m), and the maximum width of their flight decks is 251 ft 10 in to 257 ft 3 in (77.76 m to 78.41 m) (depending on the variant). The ships' companies can number up to 3,200, not including an air wing of 2,480. The total cost of construction for each ship was around $4.5 billion.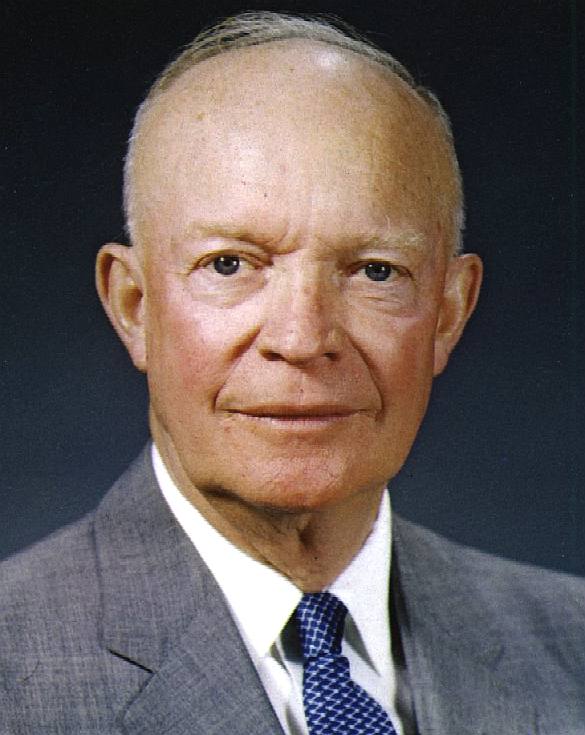 PRESIDENT EISENHOWER
Dwight David "Ike" Eisenhower (October 14, 1890 – March 28, 1969) was the 34th President of the United States from 1953 until 1961. He was a five-star general in the United States Army during World War II and served as Supreme Commander of the Allied Forces in Europe; he had responsibility for planning and supervising the invasion of North Africa in Operation Torch in 1942–43 and the successful invasion of France and Germany in 1944–45 from the Western Front. In 1951, he became the first supreme commander of NATO.

Eisenhower was of Pennsylvania Dutch ancestry and was raised in a large family in Kansas by parents with a strong religious background. He attended and graduated from West Point and later married and had two sons. After World War II, Eisenhower served as Army Chief of Staff under President Harry S. Truman, then assumed the post of President at Columbia University.

Eisenhower entered the 1952 presidential race as a Republican to counter the non-interventionism of Senator Robert A. Taft and to crusade against "Communism, Korea and corruption". He won by a landslide, defeating Democrat Adlai Stevenson and ending two decades of the New Deal Coalition. In the first year of his presidency, Eisenhower deposed the leader of Iran in the 1953 Iranian coup d'état and used nuclear threats to conclude the Korean War with China. His New Look policy of nuclear deterrence gave priority to inexpensive nuclear weapons while reducing the funding for conventional military forces; the goal was to keep pressure on the Soviet Union and reduce federal deficits. In 1954, Eisenhower first articulated the domino theory in his description of the threat presented by the spread of communism. The Congress agreed to his request in 1955 for the Formosa Resolution, which enabled him to prevent Chinese communist aggression against Chinese nationalists and established the U.S. policy of defending Taiwan. When the Soviets launched Sputnik in 1957, he had to play catch-up in the space race. Eisenhower forced Israel, the UK, and France to end their invasion of Egypt during the Suez Crisis of 1956. In 1958, he sent 15,000 U.S. troops to Lebanon to prevent the pro-Western government from falling to a Nasser-inspired revolution. Near the end of his term, his efforts to set up a summit meeting with the Soviets collapsed because of the U-2 incident. In his 1961 farewell address to the nation, Eisenhower expressed his concerns about future dangers of massive military spending, especially deficit spending, and coined the term "military–industrial complex".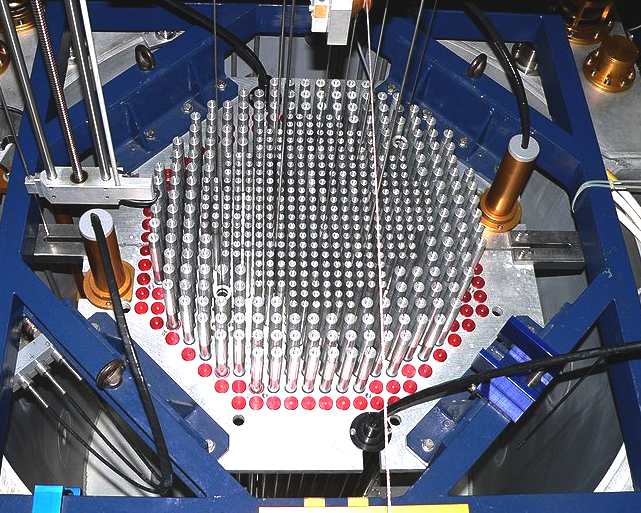 On the domestic front, he covertly opposed Joseph McCarthy and contributed to the end of McCarthyism by openly invoking the modern expanded version of executive privilege. He otherwise left most political activity to his Vice President, Richard Nixon. He was a moderate conservative who continued New Deal agencies and expanded Social Security.

Among his enduring innovations, he launched the Interstate Highway System; the Defense Advanced Research Projects Agency (DARPA), which led to the internet, among many invaluable outputs; the National Aeronautics and Space Administration (NASA), driving peaceful discovery in space; the establishment of strong science education via the National Defense Education Act; and encouraging peaceful use of nuclear power via amendments to the Atomic Energy Act.

In social policy, he sent federal troops to Little Rock, Arkansas, for the first time since Reconstruction to enforce federal court orders to desegregate public schools. He also signed civil rights legislation in 1957 and 1960 to protect the right to vote. He implemented desegregation of the armed forces in two years and made five appointments to the Supreme Court. He was the first term-limited president in accordance with the 22nd Amendment. Eisenhower's two terms were peaceful ones for the most part and saw considerable economic prosperity except for a sharp recession in 1958–59. Eisenhower is often ranked highly among the U.S. presidents.


DINOSAURS & EXTINCTION
Aircraft carriers are an outdated form of battleship that superpowers like to parade about the ocean to demonstrate affluence, in the process polluting the planet massively. The twin nuclear reactors of a Nimitz class carrier represent a huge risk should the vessel be targeted for destruction.
The new US Gerald R Ford class carrier adds to the risk of nuclear debris from sinking. Most navies have retired this class of warship with no plans to commission another. A few navies are newly dabbling with self-build to discover the tremendous cost causing delays to completion. Only the US is investing seriously in replacing the Nimitz class so that they can continue to thumb their noses at poorer less advanced nations like playground bullies.
These days it only takes one torpedo, or one cruise missile to sink a large warship. The larger the conventional warship the more staggering the loss of life - and the blow to the nation concerned. It's a high price to pay for a bit of ocean swagger.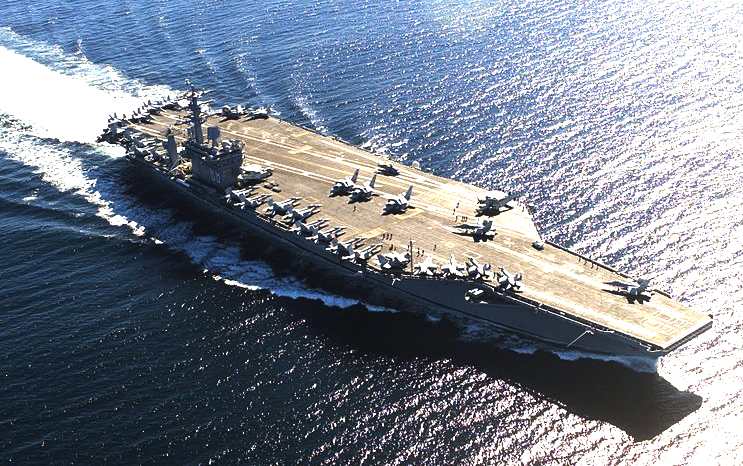 LINKS & REFERENCE
http://en.wikipedia.org/wiki/USS Nimitz_class_aircraft_carrier
http://en.wikipedia.org/wiki/USS_Dwight_D._Eisenhower_%28CVN-69%29
http://en.wikipedia.org/wiki/USS_Enterprise_%28CVN-65%29
http://en.wikipedia.org/wiki/Gerald_R._Ford-class_aircraft_carrier
http://en.wikipedia.org/wiki/Chinese_aircraft_carrier_Liaoning
http://en.wikipedia.org/wiki/Russia Admiral_Kuznetsov-class_aircraft_carrier
http://en.wikipedia.org/wiki/HMS Invincible_class_aircraft_carrier
http://en.wikipedia.org/wiki/Clemenceau_class_aircraft_carrier
http://en.wikipedia.org/wiki/Spanish_aircraft_carrier_Principe_de_Asturias
http://en.wikipedia.org/wiki/Spanish_ship_Juan_Carlos_I_(L61)
http://en.wikipedia.org/wiki/Thai HTMS_Chakri_Naruebet
http://en.wikipedia.org/wiki/Italian_aircraft_carrier_Cavour_(550)
http://en.wikipedia.org/wiki/Japanese Hyuga_class_helicopter_destroyer
http://en.wikipedia.org/wiki/S Korea Dokdo-class_amphibious_assault_ship
http://en.wikipedia.org/wiki/Indian Vikrant-class_aircraft_carrier
http://en.wikipedia.org/wiki/Dwight_D._Eisenhower
SUBMARINE INDEX
Alvin DSV - Woods Hole Oceanographic Institution
HMS Astute 1st of Class
HMS Vanguard- Trident
INS Sindhurakshak - explosion & sinking
Lusitania - Torpedo attack
Nuclear submarines lost at sea
Predator - Covert submarine hunter/killer
Seawolf - Autonomous wolf pack deployment of Predator mini-subs
Torpedoes - UUV anti submarine weapons
U20 - Kapitan Leutnant Walther Schwieger
USS Bluefish WWI submarine
USS Bluefish - Nuclear submarine
USS Jimmy Carter - Seawolf class fast attack nuclear submarine
USS Nautilus - 1st nuclear submarine & subsea north pole passage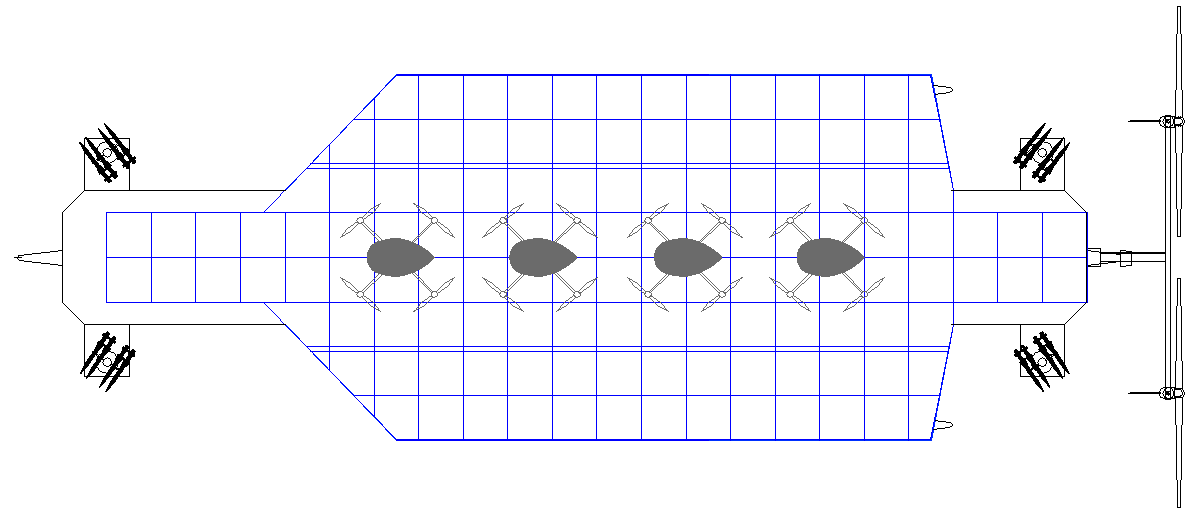 The world's first ever solar powered aircraft carrier, showing a squadron of 4 4.7m drone quadcopters. This ship could easily carry 12 birds. This is also, probably, the world's smallest ever aircraft carrier. A 1/20th scale model of this vessel will take to the water in 2015 for some naval wargaming fun.
AIRCRAFT CARRIER INDEX
Cavour - Italy
Chakri Naruebet - Thailand
Clemenceau - France
Dokdo - Republic Korea
Gerald Ford Class - USA
Hyuga - Japan
Invincible - UK
Kuznetsov - Russia
Liaoning - China
Nimitz - USA
Principe de Asturias - Spain
Queen Elizabeth - UK
Vikrant Class - India
WARSHIPS
Bismarck - Battleship - Germany
Type 23 - Duke class frigate - UK
Type 26 - Global combat ship - UK
Type 45 - Daring class destroyer - UK
Electric prototype - USA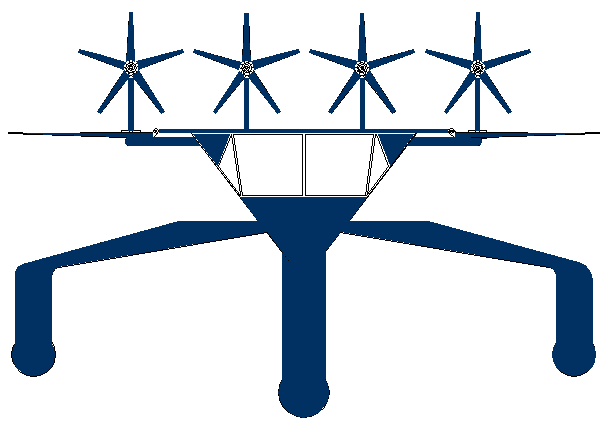 The Bluefish™ platform in a modified form is suitable for adaptation to a robotic battleship as a replacement to the Type 45 destroyers and Type 26 combat vessel. The Wolverine ZCC™ in its ultimate form may carry 4 x Tomahawks, 30 x SAMs, 2 x 12.75" and 2 x 21" torpedoes + an ROV or minisub. Not bad for a 50 ton battleship that needs no crew and runs on clean energy from nature. A zoned network of these ships can police international waters, attack and sink enemy aircraft carriers and submarines in formation and shoot down aircraft that present a potential threat to national security. The development of such ships represents an opportunity for future exports and defence energy reductions.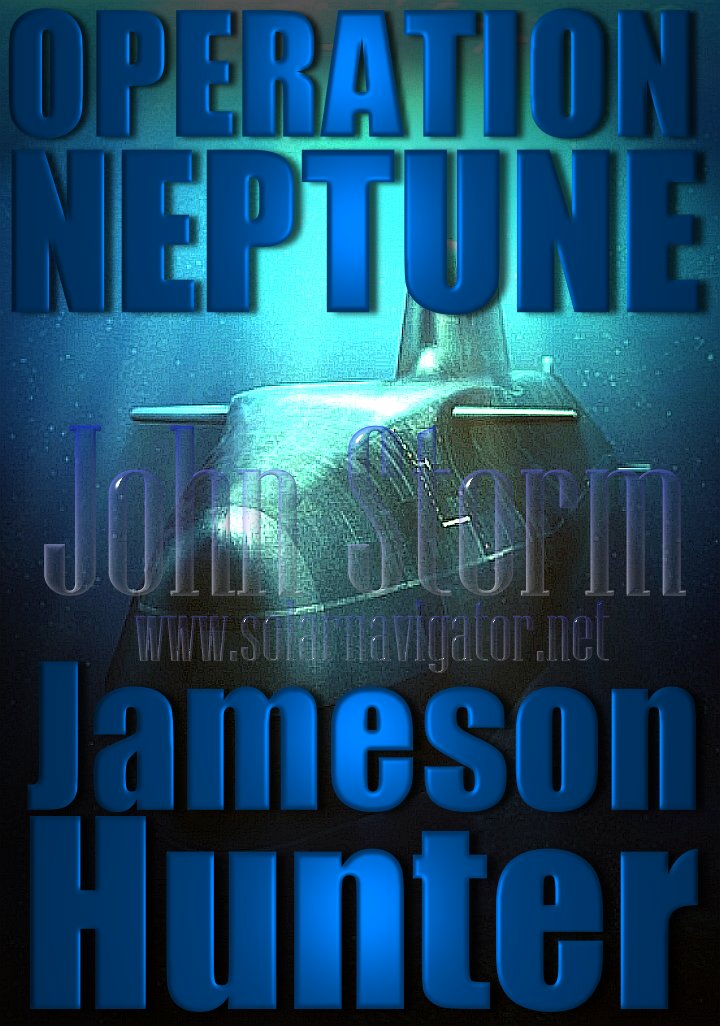 FICTION Operation Neptune - An advanced nuclear submarine is hijacked by environmental extremists intent on stopping pollution from the burning of fossil fuels. The extremists torpedo a number of oil wells as part of a campaign to cause energy chaos, with bigger plans to come. If you enjoyed Under Siege or The Hunt for Red October, this is a must for you.