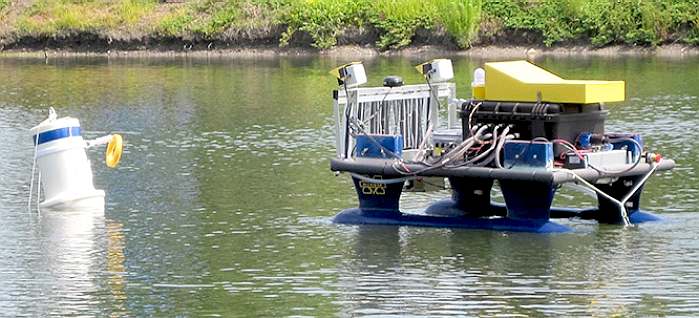 The U-M Autonomy team, which includes students from several Michigan Engineering departments, took first place at the 3rd International Autonomous Surface Vehicle Competition conducted by the Association for Unmanned Vehicle Systems International and the Office of Naval Research, held June 10-13, 2010 in Virginia Beach, VA. The Autonomous Surface Vehicle Competition (ASVC) is a student robotics competition in which teams race ASVs of their own design through an aquatic obstacle course. A lot has happened since then and hundreds of robotics engineers have entered the fray as a result.
APPROACHING A BUSY PORT

The transport of goods underpins our market economy. Globalization of international trade, the development of "just in time" policies, and the increasing demand for responsiveness are continuously fostering the growth of land transport with development of costly highway infrastructures harmful to the environment. Ocean transport is far more sustainable but dependent on operating ports efficiently.
For this reason the approach of larger tankers and cruise liners to a busy port is usually regulated and a time slot reserved for berthing and cargo exchange. For smaller casual and non-commercial visitors there must be a system of safe approach to coincide with timed slots with inbuilt flexibility .......
ONBOARD SYSTEMS
Autonomous navigation on the high seas is relatively easily accomplished, with COLREGs protocols added to comply with the rules of the road. The perceived need to extend automation to include safe docking, requires another layer of robotic controls and effectors if an autonomous boat or ship is to be able to self-berth. This is though a logical next step requiring lateral thinking in terms of achievability .......
PORT AUTHORITY
Larger harbours and ports should be in a position to monitor approaches from a safe distance, and to coordinate entry and exit from harbour, to include provision for smaller robotic craft that for their own agendas (military, commercial and pleasure) may have needed to respond to changing circumstances in unscheduled fashion ..........
AUTOMATIC SHIP IDENTIFICATION (AIS)
AIS is a step in the right direction, but is not sufficiently developed to cope with autonomous or drone mooring ...........
INTERNATIONAL BLUE WATER and AUTONOMOUS TRAFFIC CONTROL
Traffic control is nothing new for aircraft ........
BLUEFISH DEVELOPMENT PROJECT INDEX A-Z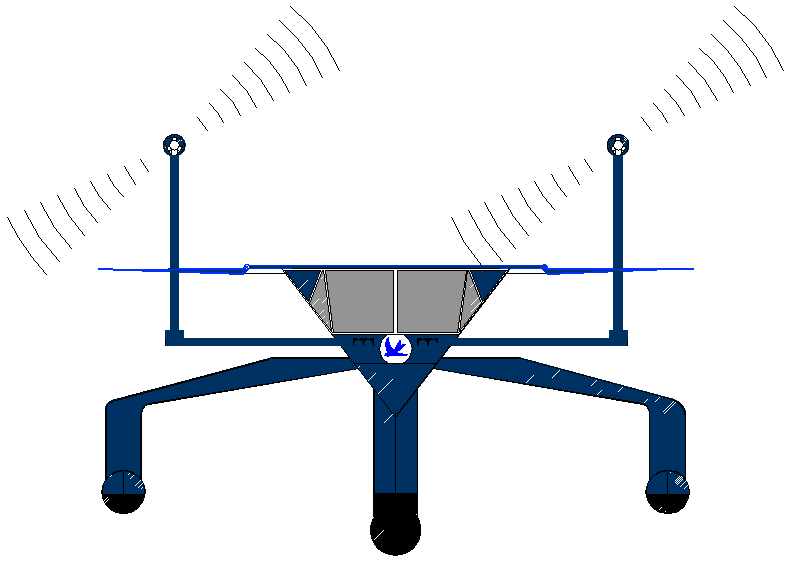 A Bluefish ZCC depicting 40kW wind turbines [low operation mast height]. This is a 50 ton vessel. The total estimated energy harvesting capacity is around 176kW (235hp), giving an Energy Harvested to Displacement ratio (EH/D) of 3.52kW/ton (4.72hp/ton). Larger versions of this format could be the emission free cargo ships of the future.
The cost of diesel fuel to operate this ship continuously for a year is approximately: .29gals/hp x 117 x 24 x 365 = $297,226.80 (£183,393.99) In ten years that would be $2.97M (£1.83M). Fuel for thought!
EXTERNAL REFERENCE
http://www.microstrain.com/energy-harvesting
http://www.energymicro.com/
http://www.linear.com/products/energy_harvesting
Linear-Technology-and-Energy-Micro-Demonstrate-the-Future-of-Smart-Energy-Harvesting
Massive-cargo-ship-will-harness-the-wind
http://www.urbangreenenergy.com/uge-products
Solar House, BN27 1RF, United Kingdom
+ 44 (0) 1323 831727 +44 (0) 7842 607865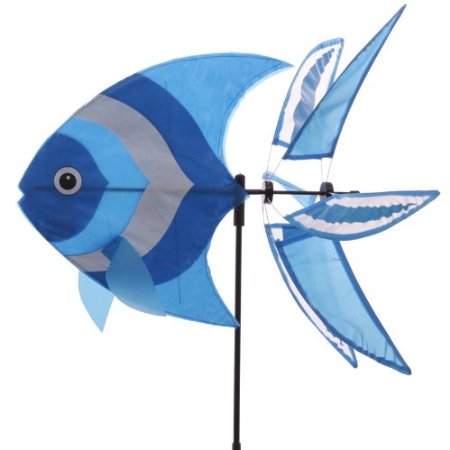 EARLY TEST MODEL BOATS - LINKS
Blackcurrant 1 | Blackcurrant 2 | Catamaran Hull Design Drag | SWASH | SWATH | Trimaran