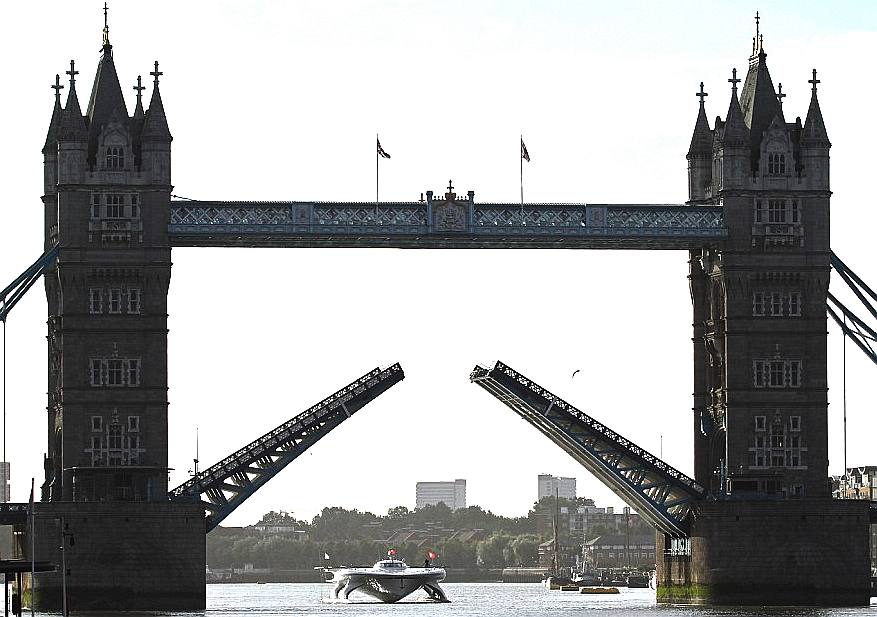 dAfter leaving Oostende (Belgium) on August 30, the largest solar boat in the world reached London a day later, thereby bringing the campaign of scientific measurements along the Gulf Stream (PlanetSolar DeepWater) to a close. The catamaran had been transformed into a scientific platform since the month of June; the onboard team of researchers from the University of Geneva (UNIGE) completed its collection of unprecedented data between Oostende and London. The information gathered will be analyzed at UNIGE. The ship sailed on the Thames for the first time, near the Tower Bridge, and finally moored at the West India Docks in the heart of the British city.

After tracking the Gulf Stream for over 8,000 km, the "PlanetSolar DeepWater" scientific expedition, carried out in collaboration with the University of Geneva (UNIGE), ended in the British capital on Saturday, August 31. The London stopover successfully concluded this unique measurement campaign, which led the ship and her crew, composed of both sailors and researchers, along the trail of the Gulf Stream, the primary regulator of European and North American climate.
DAILY MAIL
The world's largest solar boat has docked in London, its final port of call on an epic voyage of scientific discovery along the Gulf stream. Next stop Paris, France

The MS Tûranor PlanetSolar cruised along the Thames yesterday before docking at Canary Wharf where it will stay until tomorrow.

This is the first time the impressive Catamaran has visited the UK, making its grand entrance by floating under an open Tower Bridge yesterday afternoon.

The eco-friendly boat's crew of nine is collecting data on the sea and atmosphere between the United States and Norway as part of an investigation into climate change.

The impressive vessel crossed the Atlantic in a record breaking 22 days earlier this year when it traveled from Las Palmas, Canary Islands to Saint Martin in the Caribbean.

Its 809 solar panels can generate up to 480 kWh on a sunny day. Launched in Florida, its DeepWater expedition sought to collect a continuous series of physical and biological measurements along the Gulf Stream, both from the water and the atmosphere, using advanced instruments onboard.

It will remain docked at Canary Wharf, London, until tomorrow, giving enthusiasts the opportunity to admire its streamlined design and innovative energy technologies.
The vessel is a scientific research platform for the University of Geneva (UNIGE), has a top speed of 14 knots and is home to up to nine crew members at a time, including scientists. It is stuffed with atmospheric instruments, some of which are prototypes developed by the university.



PROFESSOR MARTIN BENISTON
Led by Professor Martin Beniston, climatologist and director of the Institute of Environmental Sciences at UNIGE, the research team studied the key parameters of climate regulation, focusing on aerosols and phytoplankton. Their aim is to improve the understanding of complex interactions between the ocean and atmosphere, as well as the role these interactions play in climate change.
He said: 'The PlanetSolar DeepWater expedition has allowed intensive testing in real-world conditions of a number of ocean and atmospheric instruments, some of which are prototypes. 'There is now a wealth of physical, chemical, and biological data housed at the University of Geneva, and which is beginning to undergo exhaustive scientific scrutiny. 'Although the data has not been analysed yet, we have noticed some very interesting trends, especially with regards to the production of aerosols by sea sprays,' he said.

The boat is approximately 35m long and 23m wide, depending on whether the solar panels are closed - when it is docked or experiencing very rough conditions at sea - or open, in most instances at sea.
The boat travels at an average speed of five knots and uses a staggering 512 square metres of
photovoltaic panels to power six blocks of lithium-ion batteries. Despite this it is is light, durable and completely silent.
Crossing the Atlantic in 22 days, the speedy solar boat compares favourably with a 40 foot sailing ship, which usually takes around 35 days to cross the ocean. The university believes it clearly demonstrates the possibilities of solar power for sea travel, with massive implications for sustainable tourism and transport. We agree, because the Bluefish platform is considerably faster; already considered suitable for several duties that would have the effect of cutting emissions for operators of hydrographic, oceanographic and persistent military monitoring missions.

With zero fuel requirements and zero carbon emissions, the boat can take to the open seas for months at a time, so long as the sun continues to rise. Professor Beniston said: 'The MS Tûranor PlanetSolar has positive benefits for scientific study and exploration, allowing for pollution-free research to be carried out in the vicinity of the boat.'
The boat also plays an educational role as the scientists are keen to raise awareness about environmental issues. One of the aims of the recent expedition, which stopped at Miami, New York, Boston, Halifax and St. John's before journeying to London, is to promote the use of solar technology.

It was designed by Craig Loomes from New Zealand after months of research into creating the optimum dimensions and design of the double-hulled vessel. Engineers optimised the energy collection and storage as well as the boat's aerodynamics, propulsion systems and choice of building materials.

The light scientific vessel has a carbon structure and is its name is inspired by the literary mythology of J.R.R. Tolkien and literally means 'power of the sun'. After visiting London, the boat will cross the English Channel and will then dock in Paris.

BLUEFISH DESIGN COMPARISON
The latest British 'Bluefish' contender is somewhat longer at 40 meters (130 ft) and 16.2 meters (52.65 ft) wide in the water, yet is considerably lighter with just 300 meters of solar panels giving more than twice the power to weight ratio of Planetsolar. That will make the patent Bluefish platform the largest solar boat in the world, once it is built. The other key features of this advanced design are the deployment of solar energy harvesting devices (panels, etc) robotically and fully autonomous navigation control options for hydrographic and oceanographic duties. The fact the Planetsolar is being deployed in such manner is proof of concept - except that the Bluefish consortium are aiming to extend that concept into the realms of fully robotic automation - with SWASH hull technology to boost operating speeds considerably such that blue water cruising is expected to be around 7-8 knots with sprints of up to 18 knots, depending on the motors fitted.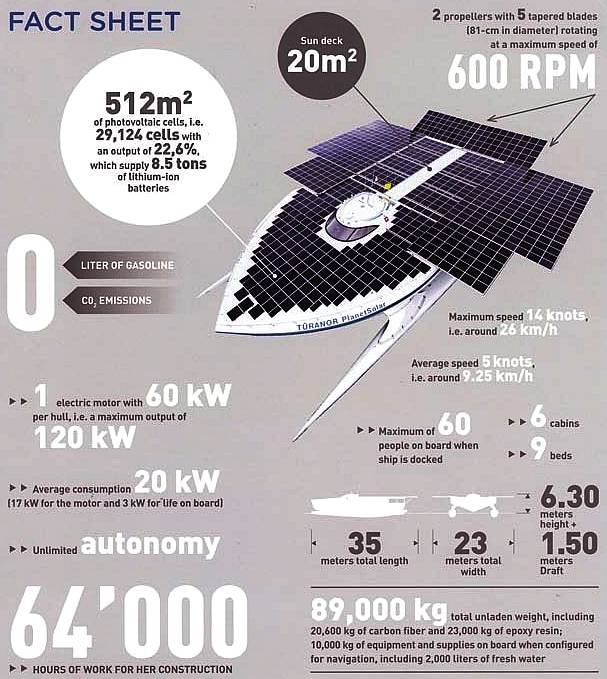 You may notice that the reported speed of Planetsolar differs from one media article to another. We had assumed that the PlanetSolar had set a new Atlantic record on the west-east leg of their journey from St Johns, Newfoundland, to St Levan, Porthcurno, UK, some 2200 - 2500 miles covered in 22 days is equal to 4 - 5 knots average speed, but in fact the east-west leg is the record breaking crossing from the Canary Island to St Martins in the Caribbean - some 2500 miles, so once again about 5 knots average - and so much faster than the world circumnavigation speed of about 2.3084 knots (32,410 nautical miles / 585 days / 24 hours). They did lose two weeks, so adjusted that equals 2.36 knots - and they were not racing between media opportunities.
Having studied the design we can say that this is about what one might expect from a catamaran built like this - and 5 knots across the Atlantic is an impressive performance.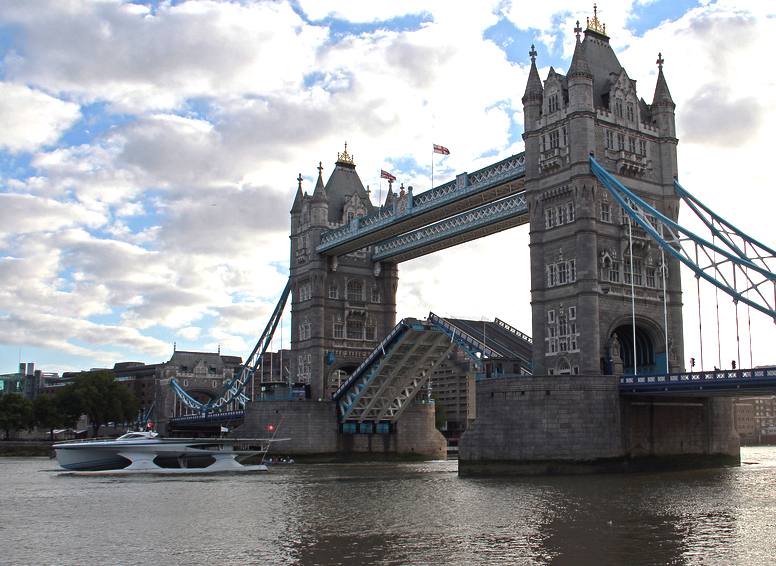 CBS NEWS

Gerard D'Aboville is an experienced navigator - he's rowed alone across both the Atlantic and Pacific oceans. He's accustomed to monitoring the wind and the current.

But as the captain of the Turanor PlanetSolar, the world's largest solar-powered boat, he's had to factor in something else: the sun. And he marvels at its power.

"I can feel it some days," D'Aboville said on a recent overcast day, while the solar ship was docked in Boston Harbor. "It's a lot of energy."

Even with the fog rolling in off the water, hiding the tops of Boston's tallest buildings, the ship's 30,000 photovoltaic cells were busy taking in the rays.

"Today we are producing some electricity but we could produce four or five times more if it was sunny," D'Aboville told CBSNews.com, pointing to a monitor on his dashboard that indicated the kilowatts per hour generated by the boat's shiny black sundeck.

That energy supplies the boat's eight-and-a-half tons of lithium ion batteries. Which answers a key question about any solar vessel: What happens at night?

"We can go without sun for 72 hours. Depends on what speed, if we go fast we do not have the 72 hours."

And there's the catch, or at least one of the catches, with this boat. In 2012, the 100-ton catamaran became the first solar-powered boat to circumnavigate the globe. It traveled 37,000 miles -- without a gallon of gasoline. It just took a while.

"PlanetSolar is not a very fast boat," D'Aboville admitted. Its average speed is 5.5 knots -- the same as jogging a 9.5-minute mile. "We did 10 knots once, but if we do this we do not have power for a long time."

Between its leisurely pace and multimillion-dollar price tag, the Turanor PlanetSolar isn't exactly practical, nor a prototype of boats of the future. D'Aboville entertains no fantasies of future seas filled with solar boats.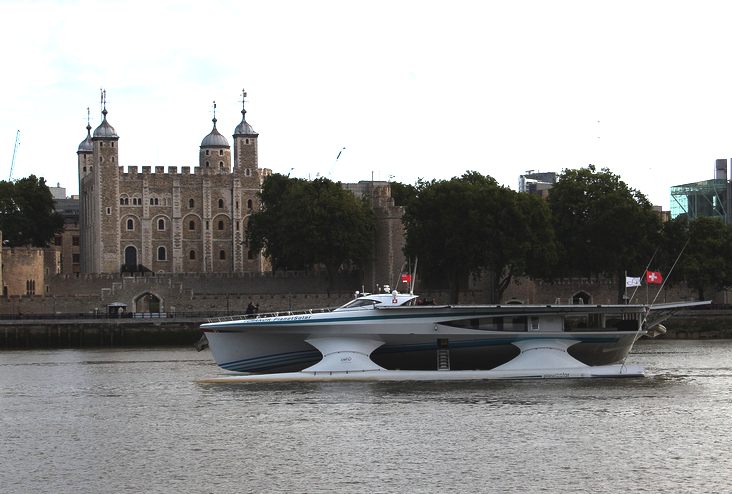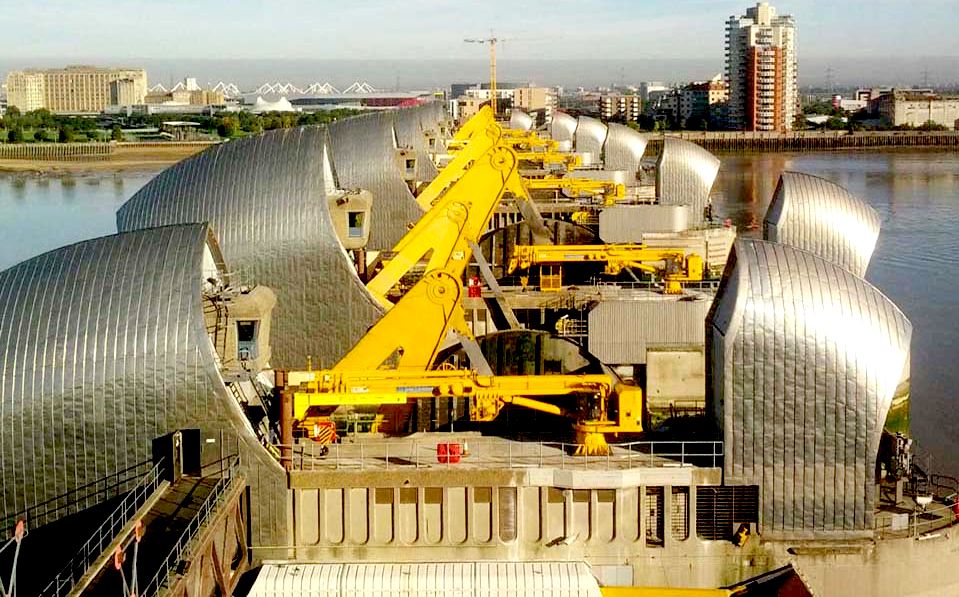 THE THAMES BARRIER - You can see part of the mechanical workings of the Thames Barrier in this picture. Click on it to see more.
"This boat is a wonderful ambassador for solar energy," D'Aboville said. And then, smiling: "I will not pretend that tomorrow's commercial boats will be driven with solar energy."

While the boat may not change water travel, it is an effective - and attention-grabbing - demonstration of the sun's power. "The boat weighs 100 tons. So 100 tons have been circling the world only with solar energy, which is really a big achievement."

It's not just a floating advertisement for photovoltaic harvesting. In its latest incarnation, the Swiss boat has also served as a research vessel. During its current tour of the East Coast, scientists from the University of Geneva have utilized the ship's unique qualities to study the Gulf Stream.

Anh Dao Le, a researcher at the University of Geneva traveling on the boat, explained that a motorized boat with no carbon emissions minimizes the risk of distorting her team's measurements with pollutant gasses.

"There's no outside parameter input into the water mass that we are measuring."

Plus, Dao Le added, a trip powered by solar has its benefits. "We try to understand the natural systems with the natural energies," she said. "Wherever you have the sun, you can continue your journey."

And prototype for future or not, the PlanetSolar boat is a marvel to behold. It's equipped with a kitchen, 6 cabins, and 9 beds. When docked, it can fit 60 people. Its electric motor has an output 120 kilowatts. For comparison, captain D'Aboville estimated that a washing machine takes one to two kilowatts.

"We could have a lot of washing machines on board," he said laughing.

LINKS
http://www.charterworld.com/news/planetsolar-reaches-london-final-stage-deepwater-scientific-expedition
http://www.charterworld.com/news/tranor-planetsolar-catamaran-reaches-canary-islands-1st-solar-boat-expedition
http://www.cbsnews.com/8301-35040_162-57591895/solar-boat-shines-light-on-suns-power/
Worlds-largest-solar-powered-boat-powers-arrives-Britain-spectacular-style.html?ito=feeds-videoxml
http://www.mby.com/news/535154/planetsolar-world-s-largest-solar-powered-boat-visits-london
http://www.wharf.co.uk/2013/08/worlds-largest-solar-powered-s.html#more
The worlds largest SOLAR boat breaks world record crossing Atlantic just 22 days
http://www.nytimes.com/2013/06/25/science/solar-boat-harnessed-for-research.html
New York Times solar boat harnessed for research
http://solar.calfinder.com/blog/solar-politics/solar-boat-lands-cop16/
economic times india ms-turanor-planetsolar-worlds-largest-solar-boat
http://oweolar.info/2012/09/page/33/
http://www.newscientist.com/blogs/shortsharpscience/2011/08/solar-powered-yacht-docks-at-h.html
http://au.businessinsider.com/oceanographic campaign to study the gulf stream
CBS news solar-boat shines light on suns power
http://www.planetsolar.org/follow-us/planetsolar-awards
http://www.ship-technology.com/projects/planetsolar/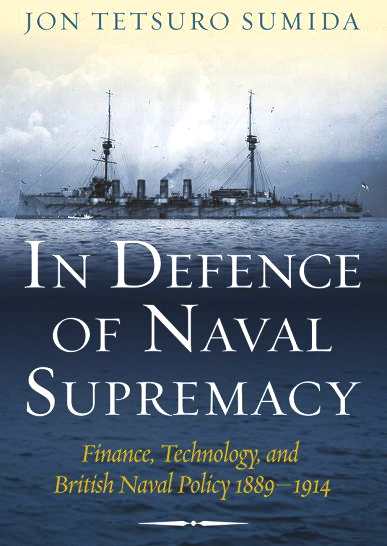 Jon Sumida presents a provocative and authoritative revisionist history of the origins, nature and consequences of the "Dreadnought Revolution" of 1906. Based on intensive and extensive archival research, the book strives to explain vital financial and technical matters which enable readers to observe the complex interplay of fiscal, technical, strategic, and personal factors that shaped the course of British naval decision-making during the critical quarter century that preceded the outbreak of the First World War.
Sumida is the author of Inventing Grand Strategy and Teaching Command: The Classic Works of Alfred Thayer Mahan Reconsidered (1997), and Decoding Clausewitz: A New Approach to On War (2008). He is professor of history at the University of Maryland, College Park.

~ Praise for In Defence of Naval Supremacy ~ "In the 1990s, Jon Sumida and Nicholas Lambert reexamined the British naval building program of 1905 to 1914. . . . Between them, Sumida and Lambert completely overturned the Marder interpretation of British naval policy." —The Journal of Modern History
Design concept - Raphael Domjan - PROMOTIONAL TOUR 2012
English - Swiss - French - History - Links - Homecoming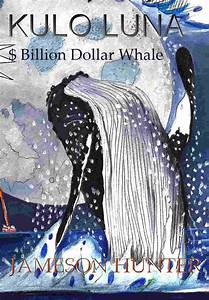 The captain of a solar powered ship take on pirate whalers
with a $Billion dollars riding on the conclusion.
ACIDIFICATION - ADRIATIC - ARCTIC - ATLANTIC - BALTIC - BAY BENGAL - BERING - CARIBBEAN - CORAL - EAST CHINA
ENGLISH CH - GOC - GULF GUINEA - GULF MEXICO - INDIAN - IOC - IRC - MEDITERRANEAN - NORTH SEA - PACIFIC - PERSIAN GULF - SEA JAPAN
STH CHINA - PLASTIC - PLANKTON - PLASTIC OCEANS - SEA LEVEL RISE - UNCLOS - UNEP WOC - WWF

AMAZON - BURIGANGA - CITARUM - CONGO - CUYAHOGA - GANGES - IRTYSH - JORDAN - LENA - MANTANZA-RIACHUELO
MARILAO - MEKONG - MISSISSIPPI - NIGER - NILE - PARANA - PASIG - SARNO - THAMES - YANGTZE - YAMUNA - YELLOW